NFC South:

Ricky Williams
February, 8, 2012
2/08/12
9:23
AM ET
Let's take a look at the top Wednesday morning headlines from around the NFC South.
February, 7, 2012
2/07/12
3:55
PM ET
Tuesday's news that
Baltimore Ravens
running back
Ricky Williams
is
retiring
comes with a bit of an NFC South angle.
Williams once was the biggest thing to ever hit the
New Orleans Saints
. Remember the 1999 draft, when the Saints traded away all their picks from that year, plus a couple more for the following year, for the right to draft Williams?
Yeah, it made headlines all over the place because it was one of the most daring trades ever -- we're talking way more daring and dangerous than what the Falcons gave up to get
Julio Jones
or what the Saints gave up to get
Mark Ingram
in the 2011 draft.
It was the biggest deal coach Mike Ditka made and (along with a 3-13 record that season) it led to the end of his coaching career.
When coach Jim Haslett arrived the next season, Williams had some success. He had two 1,000-yard seasons, but there were issues. Williams was a unique personality. He didn't interact a lot with teammates and often conducted interviews behind the shield of his helmet.
"Ricky's just a different guy," former New Orleans receiver
Joe Horn
once said. "People he wanted to deal with, he did. And people he wanted to have nothing to do with, he didn't. No one could understand that. I don't think guys in the locker room could grasp that he wanted to be to himself -- you know, quiet. If you didn't understand him and didn't know what he was about, it always kept people in suspense."
Haslett was in suspense or, at the very least, never quite could figure out Williams. That's part of the reason
Deuce McAllister
was drafted. By the end of the 2001 season, in which Williams rushed for 1,245 yards and caught 60 passes, Haslett was pretty clear that Williams didn't fit his long-term plans.
In the spring of 2002, the Saints traded Williams to the
Miami Dolphins
. They were able to get back some of what they initially gave up for Williams by getting four draft picks, including two first-round choices, in return.
Williams' career would go on to have all sorts of twists and turns. He had success at times in Miami. He also retired from football in 2004, only to return in 2005. Williams was suspended by the NFL in 2006 and wound up playing for Toronto in the Canadian Football League.
Williams returned to the Dolphins in 2007. He finished his career with Baltimore and ended up with 10,009 rushing yards and 74 total touchdowns (66 of them on the ground).
Not a bad career, especially when you consider all the interruptions.
Would it have somehow worked out better if things had been handled differently and Williams spent his entire career in New Orleans? It's impossible to say for sure.
Williams' track record suggests he might have encountered some of the same, or different, problems if he had been with the Saints the entire time. Things worked out all right for him. They also worked out for the Saints, aside from the initial price tag to get Williams. McAllister ended up having a very nice career.
Reggie Bush
came in and did some nice things at certain times. Along the way, the Saints also added
Pierre Thomas
and
Darren Sproles
, who have done some pretty nice things at running back.
June, 24, 2011
6/24/11
11:42
AM ET
We already have talked quite a bit about players from the NFC South who are expected to become unrestricted free agents. We're going on the assumption that players not under contract who have at least four accrued seasons can become unrestricted free agents.
With that in mind, and with some help from ESPN Stats & Information, let's take a look at some of the more prominent potential free agents from the rest of the league.
QUARTERBACKS:
Marc Bulger
,
Kerry Collins
,
Rex Grossman
,
Matt Hasselbeck
,
Patrick Ramsey
,
Alex Smith
,
Billy Volek
,
Kellen Clemens
,
Brodie Croyle
,
Trent Edwards
,
Bruce Gradkowski
, Tarvaris Jackson,
Matt Leinart
,
Troy Smith
and
Tyler Thigpen
.
RUNNING BACKS:
Cedric Benson
,
Ronnie Brown
,
Kevin Faulk
,
Mewelde Moore
,
Sammy Morris
,
Clinton Portis
,
Dominic Rhodes
,
Tony Richardson
,
Kevin Smith
,
Darren Sproles
,
Fred Taylor
,
Brian Westbrook
,
Ricky Williams
,
Joseph Addai
,
Ahmad Bradshaw
,
Jerome Harrison
,
Brandon Jackson
,
Laurence Maroney
and LeRon McClain.
WIDE RECEIVERS
:
Mark Clayton
,
Braylon Edwards
,
T.J. Houshmandzadeh
,
Randy Moss
,
Santana Moss
,
Terrell Owens
, Donte' Stallworth,
Steve Breaston
,
Malcom Floyd
,
Santonio Holmes
,
James Jones
,
Sidney Rice
,
Mike Sims-Walker
,
Brad Smith
and
Steve Smith
(of the
New York Giants
, not the Steve Smith of Carolina).
TIGHT ENDS:
Desmond Clark
,
Donald Lee
,
Randy McMichael
,
Bo Scaife
,
Kevin Boss
,
Owen Daniels
,
Daniel Fells
,
Zach Miller
,
Ben Patrick
and
Matt Spaeth
.
OFFENSIVE LINEMEN:
David Baas
,
Jammal Brown
,
Robert Gallery
,
Adam Goldberg
,
Kyle Kosier
,
Olin Kreutz
,
Matt Light
,
Sean Locklear
,
Casey Rabach
,
Chris Spencer
,
Langston Walker
,
Casey Wiegmann
,
Floyd Womack
,
Damien Woody
,
Chris Chester
,
Jeromey Clary
,
Daryn Colledge
,
Willie Colon
,
Doug Free
,
Jared Gaither
,
Charlie Johnson
,
Deuce Lutui
,
Samson Satele
,
Lyle Sendlein
and
Marshal Yanda
.
DEFENSIVE TACKLES:
Aubrayo Franklin
,
Tommie Harris
,
Chris Hoke
,
Chris Hovan
,
Kris Jenkins
,
Bryan Robinson
,
Gerard Warren
,
Jamal Williams
,
Pat Williams
,
Alan Branch
,
Barry Cofield
,
John McCargo
and
Brandon Mebane
.
DEFENSIVE ENDS:
Jason Babin
,
Dave Ball
,
Raheem Brock
,
Andre Carter
,
Shaun Ellis
,
Cullen Jenkins
,
Travis LaBoy
,
Trevor Pryce
,
Marcus Spears
,
Ray Edwards
and
Mathias Kiwanuka
.
LINEBACKERS:
Akin Ayodele
,
Keith Bulluck
,
Kevin Burnett
,
Dhani Jones
,
Kirk Morrison
,
Julian Peterson
,
Matt Roth
,
Takeo Spikes
,
Jason Taylor
,
Mike Vrabel
,
Stewart Bradley
,
Bobby Carpenter
,
Manny Lawson
,
Paul Posluszny
,
Ernie Sims
and
Stephen Tulloch
.
CORNERBACKS:
Nnamdi Asomugha
,
Phillip Buchanon
,
Chris Carr
,
Drayton Florence
,
Ellis Hobbs
,
Carlos Rogers
,
Lito Sheppard
,
Ike Taylor
,
Fabian Washington
,
Drew Coleman
,
Antonio Cromartie
,
Chris Houston
,
Johnathan Joseph
,
Dimitri Patterson
,
Josh Wilson
and
Eric Wright
.
SAFETIES:
Aaron Francisco
,
Ken Hamlin
,
Michael Lewis
,
Brandon McGowan
,
Quintin Mikell
,
Lawyer Milloy
,
Brodney Pool
,
Gerald Sensabaugh
,
Roy Williams
,
Gibril Wilson
,
Atari Bigby
,
Melvin Bullitt
,
Abram Elam
,
Dashon Goldson
,
Michael Huff
,
Dawan Landry
,
Danieal Manning
,
Bernard Pollard
,
Eric Weddle
and
Donte Whitner
.
April, 17, 2011
4/17/11
12:11
PM ET
Time for a trip through the headlines around the NFC South.
We've heard plenty of stories about what NFL players are doing during the lockout.
Chad Ochocinco
is playing soccer and others are boxing or taking part in mixed-martial arts. Other guys are working out on their own or in groups and some are doing it in the towns where they went to college or in their hometowns. But here's a story about one member of the
Carolina Panthers
, who is doing something very different. Carolina offensive lineman
Geoff Schwartz
is
working as the pitching coach for a high school baseball team
in South Carolina.
Speaking of football players in different settings, Atlanta defensive tackle
Corey Peters
is one of the players
featured in a documentary
about guys who weren't first-round picks trying to make it in the NFL.
And staying with that theme, Tampa Bay defensive end
Stylez G. White
is
breaking into the field of sports talk radio
.
Mike Triplett takes an in-depth look at
how and why the Saints chose
Deuce McAllister
with the No. 23 overall pick in the 2001 draft. They didn't have running back as a high need because they already had
Ricky Williams
. But they thought McAllister was one of the top players in the draft and they didn't pass him up. He turned into one of the most beloved players in franchise history. Makes you wonder if we could see something similar if Alabama running back
Mark Ingram
is sitting there at No. 24 in this year's draft.
Joe Fortenbaugh writes that the Carolina Panthers
might be setting up a smoke screen
as just about every draft guru has them taking Auburn quarterback
Cam Newton
with the No. 1 overall pick. You always have to wonder about teams playing games at this time of year, and it's possible the Panthers are trying to entice another team to trade up and get Newton. But there are two reasons why I don't think this is the case on this one. First, it's going to be very difficult to find any team willing to trade up to No. 1. Second, Carolina general manager Marty Hurney is a no-frills guy, who doesn't have time for games. I can assure you, Hurney is not calling up select media members and saying "Do me a favor. Write a story that we're going to take Newton and maybe that will convince some other team to want to trade up''.
Bradley Handwerger reports that New Orleans running back
Pierre Thomas
is out of the walking boot
he had been wearing since his ankle surgery.
August, 31, 2010
8/31/10
12:03
PM ET
Just sent the first round of ballots in our contest for the most disliked and most beloved figures in NFC South history into the capable hands of Kevin Little, who is going to be tabulating the results. A senior Sports Business major at Saint Leo University, Kevin's doing an internship with the Gator Bowl and has graciously agreed to do a quasi-internship in helping with this project.
The voting continues, probably for the rest of the week, so
step into the voting booth
if you haven't yet. I scanned the ballots that were just sent off to Kevin and it was fascinating. First off, you're doing a great job
playing by the rules
we set out, although I'm not really sure how we got a ballot that had the most disliked and beloved figures in LSU history -- that one's not going to be tabulated.
I don't want to influence the vote, but I'll throw out a few observations.
Perhaps the thing that struck me most was the range of emotions from Carolina fans on Jake Delhomme and John Kasay. The former quarterback and the current kicker are getting lots of votes in both categories and that makes some sense. I guess some Carolina fans look at Delhomme's whole time there and appreciate his contributions, while others are focusing on the quarterback's horrible final season. Kind of the same with Kasay, the last original Panther. He's getting a lot of credit for his longevity and the way he carries himself. But there also seem to be a lot of Carolina fans with long memories, who can't forget Kasay's lousy kickoff late in the team's only Super Bowl.
Speaking of fans with long memories, Hugh Culverhouse's name seems to be coming in on quite a few ballots in the Tampa Bay precinct and they're not checking off the most beloved box. Tampa often gets labeled as a town full of transplants. But this shows me that Tampa Bay fans haven't forgotten Culverhouse, the team's original owner, and how bad things were in the early years. Bo Jackson also is getting some votes. Even though he never played for the Bucs, let's make it clear he's eligible. The Bucs used a top draft pick on Jackson and it turned out to be a waste when he decided he didn't want to play for the franchise.
I can't say there's anything remarkable coming out of the Atlanta precinct. As you might expect, Bobby Petrino and Michael Vick are dominating the disliked category. Lots of beloved votes are coming in too, but I don't see anyone running away in that category so far.
Saints fans are voting the way you'd expect. Drew Brees is getting a lot of beloved votes. Aaron Brooks, Mike Ditka, Tom Benson and Ricky Williams are all running strong campaigns in the disliked category.
We'll close this out by sharing one New Orleans ballot that I thought was pretty unique and cool.
Scott in St. Amant, La., writes: I'll throw a slight curve here and say Jim Henderson of WWL TV and Radio. He's been the radio play-by-play man for the Saints since 86, and the sports anchor for WWL TV since the late 70's. The radio broadcast of Saints games is such a local institution that everyone has at least one family member who insists on playing the radio broadcast alongside the TV one. Jim Henderson has been the calm in the storm through many years of Saints fans pulling their hair out at the teams bad decisions, bad play, and just plain bad luck, while his rare, well thought out and scathing rants are a sign of impending regime change. He has become as much a part of the local Saints experience in the last quarter century as old- time baseball announcers like Ernie Harwell and Harry Caray were for their teams.
November, 19, 2009
11/19/09
11:51
PM ET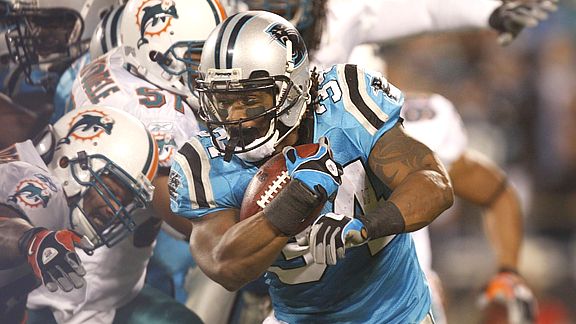 Streeter Lecka/Getty ImagesThe Panthers got a good performance from DeAngelo Williams and the running game.
You can't blame
Jake Delhomme
for this one. Yes, he did throw one interception to end his streak of three games without an interception, but that one didn't crush the Panthers. Overall, Delhomme was fairly efficient and Carolina also had a good night from the running game in
Thursday's 24-17 loss
.
Also, who thought it would be a good idea to have Delhomme throwing the ball 42 times? Hasn't it been well established that Delhomme is a game manager and not the kind of guy you want slinging it 42 times? When you're a team that's supposedly built on the running game, you should stick with the running game.
You can put the blame for this loss on a couple of other things. Let's start with the offensive line. With left tackle
Jordan Gross
out for the season with a broken ankle, the offensive line struggled to protect Delhomme. He was sacked four times and several of those killed drives.
You can also blame the defense and I say that was the biggest culprit of all. A John Fox defense is supposed to be dominant and the Panthers weren't even close. Veteran running back
Ricky Williams
looked like a young Ricky Williams as he ran for 119 yards and two touchdowns. The Dolphins got a very efficient performance from quarterback
Chad Henne
.
Speaking of Henne and the Carolina defense, the Panthers didn't have a single sack.
Julius Peppers
, playing with a broken bone in his hand, was pretty much a non-factor.
October, 3, 2009
10/03/09
10:04
AM ET

Posted by ESPN.com's Pat Yasinskas
Time for the undefeated
New Orleans Saints
in our continuing series of team-by-team mailbags.
Loren in New Orleans writes:
Pat, couldn't help but notice the 3-4 peaking out of the Saints defense against the Bills. I also remember Gregg Williams saying that he built the defense around the players, not the players around the defense. Johnathan Vilma came to the Saints last year admitting he hated the 3-4 when he played for the Jets and that he loved being part of the 4-3 instead because it's what he excels with. Do you think Gregg Williams' G-Fence will continue to show 3-4 packages with a mixture of 4-3 or do you think it's another trendy move to the 3-4 now that we've got the speed on the front line?
Pat Yasinskas:
The base of the New Orleans defense is the 4-3. The Saints have mixed in the 3-4 at times and I suspect that will continue. I think it's a good thing and is healthy because it keeps offenses from locking in on one thing. But this is still largely a 4-3 team and Vilma is a very significant part of this team. He's at his best in the 4-3 and I don't think the Saints want to have him doing something where he's not at his best.
---
Chris in New Orleans writes:
I hate to be the cynical conspiracy theorist, but I have to ask.
Jammal Brown
is obviously disappointed that his season is over. Is this a ploy by the Saints front office to lower his value in a contract year and help their chances to resign him next year? Or are they just concerned of having to deal with Jammal Brown questions and the distractions that come with them? I get a sense that there is more to the story here.
Pat Yasinskas:
No, I think it's really as simple as the Saints found out that Brown's rehab was going to take longer than expected and he wouldn't be able to help them this year. When you're off to a 3-0 start, you don't sit down a Pro Bowl left tackle if there's a possibility he could come back in November or December, especially when
Jermon Bushrod
and
Zach Strief
are your alternatives.
---
Jim in Baton Rouge writes:
Pat, awesome blog, and great insight on the NFC South. A few questions for you here, and hopefully you can get the chance to answer them in the mailbag, as I usually can't participate in the NFC Chats. First, When was the last time in Saints history that they had a running game that exceeded the passing game but such a significant margin? The game Sunday was phenomenal from a running/defensive standpoint, but I can't remember a time that Brees was so off and the running game was so on. Also, I was reading Sando's MVP list and he actually ranked Manning above Brees, but Brees above Brady. What's your take on this? Peyton may have passed for more yards, but overall Brees' QB rating is better, and even with the Bills game, Brees is still, in my opinion, the master at directing an offense.
Pat Yasinskas:
If I was voting for MVP right now, I'd go with
Drew Brees
. You can't argue with his numbers and the Saints are undefeated. That's good enough for me. I seem to recall some days back when
Ricky Williams
was around where the rushing numbers were much greater than the passing numbers, but that was mainly because the passing game was so bad. Can't say I've seen anything like this in the Sean Payton era -- and that's a very good thing.
---
Bijon in Metairie, La., writes:
Hey Pat love the blog. just wonder after look at the first three weeks, how many Pro Bowlers do you see coming from the saints. of course brees but beyond that do you think there is any possibilities? Thanks for your time.
Pat Yasinskas:
All right, we agree Brees is automatic. After him, I'll take
Marques Colston
. I also think the two guards,
Carl Nicks
and
Jahri Evans
deserve strong consideration. Fullback
Heath Evans
has to be a possibility and I'm not ruling out
Jeremy Shockey
. On defense, … wow, we're already talking about Saints defensive players going to the Pro Bowl, well, safety Darren Sharper's putting up the early interception numbers. Vilma's definitely a candidate. I don't want to get carried away on
Will Smith
and
Charles Grant
this early, but they've started well. And I think
Sedrick Ellis
bears watching, too.
---
Richard in Ann Arbor writes:
Ok, so, 3 weeks into the season, and the Saints have more wins than the rest of the division combined. I think we now know for certain that the NFC South is going to get one of those wildcard spots. One. Nothing like the top two teams in a division both going 5 - 1 in divisional play. The real question at this point: Will the NFC Championship be held at the Georgia Dome or the Superdome? This year, my money's on Brees to bring it to the Superdome.
Pat Yasinskas:
So far, I can't argue with that one. The Saints are clicking everywhere. Looking forward to arriving in New Orleans on Saturday afternoon and soaking up some of the undefeated atmosphere.
April, 26, 2009
4/26/09
3:45
PM ET
Posted by ESPN.com's Pat Yasinskas
At the 10-year anniversary of the ESPN The Magazine cover of Mike Ditka and Ricky Williams posing as bride and groom, the NFC South -- which didn't even exist back in 1999 -- has another wedding.
This time, it's Raheem Morris and
Josh Freeman
.
"I am married to him,'' Morris said when he was asked if drafting the quarterback meant the two were going to be married. "There's no 'going to be.'''
That's only a slight stretch. At very least, Morris and Freeman are going to be linked to each other for eternity and they hope this union ends up better than the Ditka-Williams nuptials.
The Saints, who have spent much of the past decade trying to recover from that, didn't have nearly as big a ceremony. They took the methodical approach and, just like the Falcons and Panthers, focused heavily on defensive needs.
The Saints took defensive back Malcolm Jenkins in the first round and the Falcons selected defensive tackle Peria Jerry. The Panthers didn't have a first-round pick in this draft, but they traded next year's choice away to get Florida State defensive end Everette Brown in the second round.
In a way, all four teams now are wed to their top picks.
Best move
| | |
| --- | --- |
| | |
| | Matthew Sharpe/Getty Images |
| | Drafting Ole Miss tackle Peria Jerry was a safe bet for the Falcons. |
It wasn't flashy in any way, but Atlanta's selection of Jerry with the 24th pick was the most fool-proof move by any NFC South team. While there's a bit of uncertainty about whether Jenkins' future is at safety or cornerback, or whether Freeman is polished enough to make an immediate impact or doubts that Brown has the size to be an every-down player, there really isn't much to worry about with Jerry.
He may not have the kind of upside that Freeman, Brown and Jenkins do, but there is little or no downside. Jerry already is what he is. He's a run stopper and a player whom every other team in the NFC South would have been happy with if they had drafted him.
The Falcons got him by patiently waiting for Jerry to come to them. His job will be simple. He'll be expected to come in and take up space in the middle of the defensive line. That's something the Falcons needed after letting veteran Grady Jackson leave.
Coach Mike Smith, who built much of his resumé with Marcus Stroud and John Henderson in the middle of Jacksonville's defensive line, wasn't able to completely build the type of front four he wanted in his first season. This is a big step in getting there because Jerry and Jonathan Babineaux, who was signed to a contract extension midway through last season, have the skills to make Atlanta solid in the middle for a long time to come.
Riskiest move
Nothing else is even remotely close to the Freeman selection when it comes to risk. When you draft a franchise quarterback, something the Bucs hadn't done since Trent Dilfer in 1994, you're obligated to try to build your team around him.
The result almost always is either great or terrible. I'm not doing the math here, but it seems like for every Matt Ryan, there are two or three Joey Harringtons or David Carrs. Tampa Bay's own history with first-round quarterbacks isn't spectacular. Doug Williams worked out for a short stay, but Vinny Testaverde and Dilfer never really prospered in Tampa.
At a time when patience isn't a strong point for most NFL owners, Morris is staking his future on a quarterback who came out of college a year early and is viewed as a raw prospect by a lot of personnel people.
Most surprising move
Carolina trading its 2010 first-round pick to get Brown in the second round this year. That's a gutsy move, but it also is risky. It worked out well last year when the Panthers traded this year's first-round pick to get offensive tackle Jeff Otah. But you can't go without first-round picks for too long without sacrificing talent. But there still is a lot of time between now and next year's draft and I'm guessing the Panthers probably will try to parlay defensive end Julius Peppers into a first-round pick (and more) after this season.
File this away
How many guys does it take to replace Nick Goings? Apparently, two. Goings wasn't a name, but he had a very nice run with the Panthers as a role player, getting time at running back, fullback and on special teams. The Panthers released him in a salary-cap move after last season, but they recognized that created several voids.
That's why they went out and used fourth-round picks on Texas A&M's Mike Goodson and Syracuse fullback Tony Fiammetta. Goodson has some return skills and, like Goings, can catch the ball out of the backfield and provide some depth behind DeAngelo Williams and Jonathan Stewart. Fiammetta is a blocker and might be able to provide some relief for Brad Hoover.
April, 20, 2009
4/20/09
2:59
PM ET
Posted by ESPN.com's Pat Yasinskas
We'll wait until later in the week to predict who NFC teams will draft. But it's time to make five fearless predictions on other events that will happen during the next week.
| | |
| --- | --- |
| | |
| | NFL.com Video |
| | Panthers head coach John Fox looks ahead to the 2009 season. |
1. Let's assume for the moment that the Panthers stay put and have their first pick at No. 59. Coach John Fox is going to come out moments after the pick and declare that whoever the Panthers took was "the best player on our board'' and "we had a first-round grade on him." General manager Marty Hurney, sitting next to Fox will turn red. Out in the hallway after the press conference Hurney will lecture Fox about not giving out too much ammunition for agents to use when it comes time for contract negotiations.
2. The Bucs will come out of the draft still wanting more help at defensive end. They'll end up re-signing Kevin Carter. And Carter will end up with more sacks than Gaines Adams next season.
3. At least 10 times this weekend, Atlanta coach Mike Smith will use the phrase "part of the process'' in talking about how this year's draft class will help the team.
4. Unlike 10 years ago when the Saints traded their draft for Ricky Williams and Mike Ditka and company went golfing, Sean Payton and Mickey Loomis will remain hard at work. At the moment, they've got a first-round pick and don't pick again until the fourth round. Just a hunch, but I think Payton and Loomis will find a way to get a choice in either the second or third round.
5. Despite the wishes of many of their fans, the Panthers won't draft a quarterback -- at least not in the first four rounds. They might take an extra body for training camp after that, but that's all. For better or worse, Fox is going to stick with Jake Delhomme.
April, 9, 2009
4/09/09
4:00
PM ET
Posted by ESPN.com's Pat Yasinskas
Time for a quick look at some headlines across the NFC South:
SAINTS
Ten years after the fact, Paul Augustin Jr. looks back at how trading a slew of draft picks to get Ricky Williams impacted the Saints over the long haul. It's obvious Williams never became what the Saints hoped. It's hindsight, but Augustin makes a very good point when he says the Saints could have had a team that featured Shaun Alexander, Donald Driver, Jevon Kearse, Joey Porter and Brian Urlacher if they hadn't made the Williams deal.
BUCCANEERS
The Glazer family, which owns the Buccaneers, also owns Manchester United. Reportedly, the English soccer club lost almost $66 million last year.
FALCONS
They're probably locked into the Georgia Dome until at least 2015, but the Falcons are starting to explore some possibilities. Owner Arthur Blank said the priority is to get a new stadium downtown, but the Falcons also are doing their homework on several alternative locations.
PANTHERS
John DeLong offers a summary on the situation with Julius Peppers and speculates the defensive end will end up in New England or Philadelphia before all is said and done. I tend to agree.