January, 20, 2011
1/20/11
11:29
AM ET
The coaching carousel is still spinning in the NFC South. Let's take a look at the latest moves.
The Carolina Panthers reportedly
have interviewed Mike Shula
for a position on their offensive staff. Presumably, it's for quarterbacks coach since Rob Chudzinski already is the offensive coordinator. Shula has been the quarterbacks coach in Jacksonville most recently. He also was a head coach at Alabama and an offensive coordinator in Tampa Bay. He also has coached tight ends in the past. The Panthers also are expected to interview John Matsko for the offensive line job today. Matsko recently was fired by Baltimore.
Atlanta quarterbacks coach Bill Musgrave
was hired away to be offensive coordinator in Minnesota
. D. Orlando Ledbetter has a
list of possible candidates
to replace Musgrave, but I'd scratch one name off that list. Jeff Jagodzinski has been fired as coordinator in Tampa Bay and as a head coach in the United Football League. Although he coached Atlanta quarterback Matt Ryan in college, I don't think Jagodzinski is a hot NFL property these days.
Rip Scherer, who was Carolina's quarterbacks coach on John Fox's staff, is headed to the college game. He reportedly
will go to Colorado as quarterbacks coach
.
September, 16, 2010
9/16/10
10:41
AM ET
The
Carolina Panthers
are next in our series of team-by-team mailbags.

Rick in Burlington, N.C., writes:
Is it just me, or does John Fox hate all you media people. I listen to his pressers and I do not know how you all can sit there and stay calm. Someone needs to call him out. Will they kick you out if you give him a hard time? He just seems arrogant with his answers.
Pat Yasinskas:
As someone who's been around Fox for a large chunk of his career as a head coach, I can assure you he does not "hate'' the media. He is just extremely guarded in his news conferences because he is concerned about saying anything that might tip off the other team to an injury situation or anything related to strategy, and he's also very careful (almost paranoid) about never saying anything that will give bulletin-board material to another team. It is extremely frustrating to the media, but Fox is steadfast in his ways. What makes it more frustrating is, it doesn't have to be this way. As soon as the cameras and recorders are off, Fox is generally a very gregarious guy and treats the media with respect. Through the years, I've talked with Fox many times about being more forthcoming with the media. We've usually had those conversations at league meetings, where he's more relaxed. Fox always listens, but says he's got to do what he believes is in the best interest of his football team. He's not alone in this regard. There are a lot of other coaches who handle the media in a similar fashion. I'm not saying I agree with it because I absolutely don't, but I'm just trying to explain why Fox chooses to be that way.
---
Shane in Hickory, N.C., writes:
I saw today on the Charlotte Observer's website that the Panthers still have about 500 tickets left for Sunday's game against the Bucs. If they don't sell them, they may be facing a blackout here locally. Do you think they're really in danger of this happening? That would be terrible. I know you're going, Pat... Why don't you go ahead and buy 'em up??
Pat Yasinskas:
Yes, I will be in Charlotte for Sunday's game, but I don't think I'll have to buy up the tickets. If they were under 500, I think there's a good chance they'll all be gone by this afternoon's deadline for local television blackouts. If not, that's a small number and I'm sure the Panthers will buy them up. This isn't a situation like Tampa Bay, where you're talking about 20,000 unsold tickets. The economy is making it more difficult to sell tickets all around the league, but I don't think the Panthers are in a desperate situation at this point.
---
Scott in Locust, N.C., writes:
While I was pulling for
Matt Moore
to play well, I have always wondered if he would really be the answer at qb. If
Jimmy Clausen
gets the start on Sunday and plays well do you think John Fox will stick with him, or resort back to Matt when he is healthy. I think Fox would go back to matt, what are your thoughts ?
Pat Yasinskas:
First off, it's looking like there's a decent chance Moore will play Sunday. Despite suffering a concussion against the Giants, he practiced on a limited basis Wednesday. However, if Moore doesn't play and Clausen starts and plays well, I think the Panthers would stick with the rookie. Yeah, I know Fox is a creature of habit and all that, but the reality is Clausen is the guy the Panthers used their second-round draft pick on. If he gets in and shows he's ready, I suspect the Panthers will just move on. If Moore plays, he can't have too many more three-interception games or else the Panthers will have to switch to Clausen.
---
Mace in East Chicago, Ind., writes:
Hey Pat with Moore's poor play on Sunday and the uncertainty of rookie Clausen, I was wondering... Does having a veteran QB on the sideline make a huge difference in the career of an up and coming QB? Right now there is no veteran to show the ropes to these two young QB's. Moore had some time with Delhomme but he wasn't the starter then. Does this make any difference in long run when determining who's a great QB and an average one?
Pat Yasinskas:
I don't think having a veteran mentor is necessarily a bad thing. But I don't think it makes a huge difference. The Panthers have offensive coordinator Jeff Davidson and quarterbacks coach Rip Scherer working with the quarterbacks all the time.
July, 1, 2010
7/01/10
1:00
PM ET
»
NFC On the Radar
:
East
|
West
|
North
|
South
»
AFC
:
East
|
West
|
North
|
South
A player, coach or issue that should be on your radar as training camp approaches.
There's a chance some of you have never even heard of Rip Scherer. If you haven't, go ahead and put him on your radar.
He's the quarterbacks coach for the
Carolina Panthers
and that could ultimately put him in a position to influence whether John Fox, who is in the last year of his contract, stays or goes.
[+] Enlarge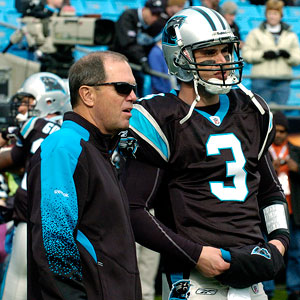 AP Photo/Mike McCarnWith such young quarterbacks, Rip Scherer will have to do a lot of teaching in training camp.
Scherer joined the Panthers last year after long-time quarterbacks coach Mike McCoy took a promotion with Denver. Scherer wasn't able to solve the problems that started for quarterback
Jake Delhomme
at the end of the 2008 season, but I don't think you can hang that on Scherer. Whatever Delhomme's problem was, it was something within him. Delhomme's gone now.
That means Scherer is starting with essentially a fresh slate.
Matt Moore
is the only quarterback with any experience and he'll go to camp as the heavy favorite to open the season as the starter. The Panthers have high hopes for second-round draft pick
Jimmy Clausen
, but it probably would take a horrible preseason by Moore and a great one from Clausen for there to be a switch at the top of the depth chart. Rookie
Tony Pike
and
Hunter Cantwell
will be battling for the No. 3 job.
That's a lot of youth and that means Scherer will have to do a lot of teaching. After a lengthy run as a college assistant, Scherer worked as head coach at James Madison and Memphis and first worked in the NFL in 2005 when he joined the
Cleveland Browns
, where he learned the same system coordinator
Jeff Davidson
now runs in Carolina.
There is no doubt Moore and Clausen have some talent, but it's going to be up to Scherer to get them "coached up'' quickly. With a very strong running game, a good offensive line and wide receiver
Steve Smith
, steady, mistake-free play could make a quarterback a big success in this system. Scherer's job is to have Moore and/or Clausen ready.
January, 13, 2010
1/13/10
10:37
AM ET
Time for a trip through the headlines around the NFC South.
January, 18, 2009
1/18/09
10:30
PM ET

NFC SOUTH SCOREBOARD
Friday, 8/22
Saturday, 8/23