August, 26, 2014
Aug 26
5:00
PM ET
Most significant move:
Releasing linebacker
Victor Butler
was a small surprise, but a huge shame. I was one of many analysts who thought the pass-rush specialist could have a huge impact when he joined the
New Orleans Saints
last year, following defensive coordinator Rob Ryan from Dallas. Unfortunately, Butler missed all of last season with a torn ACL, then he missed three weeks of training camp this year with an ankle injury. In the meantime, the Saints continued to develop two other breakout pass-rushers in
Cameron Jordan
and
Junior Galette
. Hopefully Butler can get healthy and get another opportunity somewhere, because he's an energetic, well-liked guy who showed a ton of promise before the injuries.
One-year wonders:
I was equally surprised to see the Saints release second-year linebacker
Kevin Reddick
, who had been a mainstay on all of their special teams units last season and this preseason. But it goes to show how much depth the Saints have at linebacker. This probably guarantees that guys such as
Keyunta Dawson
and
Kyle Knox
will make the team and maybe open up a spot for undrafted rookie
Kasim Edebali
. ... Cornerback
Rod Sweeting
also got cut after spending all of last season on the roster as an undrafted rookie. And 2013 sixth-round pick
Rufus Johnson Jr.
got waived as well -- less surprising after both had fallen behind in the pecking order throughout the summer.
What's next:
Two of the most compelling battles that will be decided by week's end are at backup quarterback (
Luke McCown
vs.
Ryan Griffin
) and kicker (
Shayne Graham
vs.
Derek Dimke
). It's starting to look more and more like McCown will win the backup job. If that happens, the Saints will probably keep three quarterbacks since they like Griffin's long-term potential. ... I don't anticipate any more veteran surprises, but you can never rule them out. If I had to make my final roster projection right now, I'd have four guys battling for the last three spots (McCown, Edebali, safety
Marcus Ball
and defensive lineman
Brandon Deaderick
).
Saints' cuts:
LB Victor Butler, LB Kevin Reddick, DE Rufus Johnson Jr., CB Rod Sweeting, S
Ty Zimmerman
, DE
George Uko
, WR
Andy Tanner
(injured), QB
Logan Kilgore
, TE Travis Beckum, OT
Manase Foketi
, OT
Ty Nsekhe
(injured).
May, 22, 2014
May 22
1:18
PM ET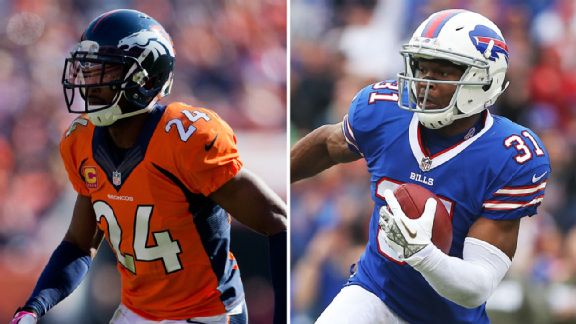 Getty ImagesChamp Bailey, left, and Jairus Byrd further solidify an already talented Saints secondary.
METAIRIE, La. -- The
New Orleans Saints
' defensive backs stand out as a competitive bunch. So it should come as no surprise that they didn't wait for organized team activities next week to find a way to start battling each other on the field.
Spearheaded by cornerback
Keenan Lewis
, who is from the west bank of New Orleans, the Saints' DBs have been getting together this offseason for group workouts at local parks.
That group has included big-name newcomers
Champ Bailey
and
Jairus Byrd
in a secondary that is now jam-packed with talent. But, as Bailey said, that won't do the Saints any good if it doesn't translate onto the field.
"It can look good on paper. I love our potential, but we've got a lot of work to do," said Bailey, a future Hall of Famer with 15 seasons and 12 Pro Bowls under his belt. "We don't want to get ahead of ourselves. We've got to find out how to work together and mesh and improve. Because that's really what wins you games is playing together and being a great team."
So far, though, Bailey said he likes what he has seen from his new teammates.
"A young group. Hungry. I haven't met one guy that didn't work hard or didn't want to be great. So that spells some great things for us," said Bailey, who said his belief in the Saints' championship potential has been strengthened by his early impressions of his new teammates.
"Absolutely," Bailey said. "Everybody carries themselves in a championship manner here. You know, I've been around some good teams. I was on a pretty good team last year [the
Denver Broncos
]. We came up short, and I just want another opportunity. And I think this is a great place for me."
After spending the past 10 years with the Broncos, Bailey said it has been interesting to get to know a whole new group of guys and their personalities.
None has stood out more than Lewis -- again, not surprisingly.
Lewis himself admitted, "Those guys think I'm real funny because I talk a lot. But I just want everybody to feel comfortable in the locker room and, you know, as a family. And we've got one goal we've got to reach."
Bailey laughed when he heard that and said, "He does [talk a lot]. He gets his share of words in. But it's all good stuff. He's a great, positive guy. He works harder than anybody on the team. So it's great to be around a group of guys like that."
Lewis is arguably the most competitive of the bunch, as he made clear last year when he didn't hide his disappointment over being snubbed for his first Pro Bowl. This year, Lewis said he is aiming for his first All-Pro selection instead.
However, Lewis said he is keeping his goal of seven interceptions the same as last year, because he knows it will be tougher with interception-magnet Byrd now roaming the back of the secondary.
"I'm scared to have him back there. I hope he just don't get in the way and take all the interceptions," Lewis said. "That's a ball-hawk type of guy, great to work with. I had the opportunity to play [against] him in college [when Lewis was at Oregon State and Byrd was at Oregon]. So I'm glad to have him as a teammate."
Second-year cornerback
Rod Sweeting
-- who insists that he won't step aside quietly in the competition with veteran corners like Lewis, Bailey,
Corey White
and
Patrick Robinson
-- said the offseason workout sessions have brought out the competitiveness in everyone.
"We have [18] DBs here, so we're all just competing, having a good time, enjoying each other," Sweeting said. "You know, when somebody does something better than the other, then the other one tries to match that."
Lewis said he has been playing the role of quarterback in many of those sessions. "I'm another
Drew Brees
," he joked.
But he said the main focus has been working on those interceptions. Last year, forcing turnovers was the one area where the Saints defense fell short, despite ranking No. 2 in the NFL in pass defense and No. 4 overall.
"We definitely got better," Lewis said. "I wouldn't say we've added the pieces that we missed, because I didn't feel like we had no pieces missing. But we got some guys who can help. ... I'm pretty sure we'll be ready, competing to be one of the best in the league."
Vaccaro healing:
Safety
Kenny Vaccaro
-- another ultracompetitor in the Saints secondary -- was unavailable to the media during teammate Ben Grubbs' charity softball game Wednesday night, when the other defensive backs spoke. But it was worth noting that Vaccaro didn't have any covering over the ankle that he fractured late last season.
It is unclear if Vaccaro will be limited during OTAs next week, but he is expected to be fully healthy in plenty of time for the season.
April, 2, 2014
Apr 2
1:00
PM ET
A look at the
New Orleans Saints
' projected defensive depth chart as it stands today:
DE1 –-
Cameron Jordan
,
Tyrunn Walker
DE2 –-
Akiem Hicks
,
Glenn Foster
NT –-
Brodrick Bunkley
,
John Jenkins
OLB1 –-
Junior Galette
,
Keyunta Dawson
,
Kyle Knox
OLB2 –-
Parys Haralson
,
Victor Butler
,
Rufus Johnson
SILB –-
Curtis Lofton
,
Ramon Humber
WILB –-
David Hawthorne
,
Kevin Reddick
CB1 –-
Keenan Lewis
,
Rod Sweeting
,
A.J. Davis
,
Trevin Wade
CB2 –-
Corey White
,
Patrick Robinson
,
Terrence Frederick
,
Derrius Brooks
SS –-
Kenny Vaccaro
,
Rafael Bush
FS –-
Jairus Byrd
Thoughts:
There aren't too many glaring holes here. I keep ranking cornerback as the Saints' top defensive need because they could use a more proven starter opposite Keenan Lewis. But they obviously have plenty of depth at the position.
Conversely, the Saints don't have much depth at safety. But if they sign a veteran corner such as
Champ Bailey
, they could use him as a pseudo-safety in nickel and dime packages. They could potentially do the same thing with White, who played safety in college.
The one position I really think the Saints need to address at some point in the draft is linebacker. They could use young backups who can play special teams right away and eventually push to replace veterans such as Hawthorne and Haralson.
And as coach Sean Payton said last week, teams are always on the lookout for more pass-rushing help -- though they should be improved in that area with Victor Butler returning from injury and Rufus Johnson having another year to develop.
September, 25, 2013
9/25/13
6:00
PM ET
The
New Orleans Saints
have used six undrafted rookies in their lineup this season after defensive end
Glenn Foster
and tailback
Khiry Robinson
made their debuts last Sunday. (The others are guard
Tim Lelito
, tight end
Josh Hill
, linebacker
Kevin Reddick
and cornerback
Rod Sweeting
.) According to ESPN Stats & Information, that's tied, with Cleveland, for the most in the NFL.
But that's nothing new around New Orleans during the Sean Payton era. The Saints have never been shy about throwing undrafted rookies into the mix – including two of their longtime offensive stars, receiver
Lance Moore
(began with the Browns before joining the Saints in 2006) and tailback
Pierre Thomas
(signed by the Saints after the draft in 2007). As Payton likes to say, the Saints don't care where their players came from. They go by what they see on the field.
The Saints currently have 23 players on their 53-man roster who were undrafted when they came into the NFL, including veteran starters such as cornerback
Jabari Greer
and linebacker
David Hawthorne
who played for other teams before joining the Saints.
According to ESPN Stats & Information, the Saints have used a total of 64 undrafted players since 2006, the third most in the NFL. The league average is 47 during that span. And dating back to 2008, the Saints have had undrafted players take 22.3 percent of all offensive or defensive snaps, the fifth most in the NFL.
Here's the complete list of players on the Saints' 53-man roster who were not drafted (* denotes a starter):
Offense
*WR Lance Moore, *RB Pierre Thomas, *C
Brian de la Puente
, *FB
Jed Collins
, RB
Travaris Cadet
, RB Khiry Robinson, G Tim Lelito, T
Bryce Harris
, TE Josh Hill
Defense
*CB Jabari Greer, *LB David Hawthorne, *LB
Junior Galette
, S
Rafael Bush
, S
Isa Abdul-Quddus
, CB
Chris Carr
, LB
Ramon Humber
, DE
Tom Johnson
, DE
Tyrunn Walker
, DE Glenn Foster, LB Kevin Reddick, CB Rod Sweeting
Special teams
*K
Garrett Hartley
, *LS
Justin Drescher
August, 1, 2013
8/01/13
7:48
AM ET
Let's take a run through the top morning headlines from around the division:
ATLANTA FALCONS
D. Orlando Ledbetter writes that defensive end Kroy Biermann has been
spending a lot of time with the linebackers
, and defensive end Osi Umenyiora has said he's learning to play standing up. Are the Falcons switching to a 3-4 defense? I don't know that they're ready to give up on the 4-3 as their base, but I think we could see a fair amount of 3-4 fronts.
CAROLINA PANTHERS
Although the Panthers drafted Edmund Kugbila and have looked at some veterans, Geoff Hangartner still appears to be the
front-runner
for the starting job at right guard. Kugbila has been dealing with injuries and it seems unlikely he'll be able to beat out Hangartner anytime soon.
NEW ORLEANS SAINTS
Mike Triplett writes that undrafted rookie cornerback Rod Sweeting has been making a
positive impression
so far in camp. With Patrick Robinson dealing with an injury, Sweeting has gotten increased reps. He's been making the most of them and could have a chance at a roster spot.
TAMPA BAY BUCCANEERS
Wide receiver Vincent Jackson is known as a deep threat after averaging 19.2 yards per catch last season. But Jackson wants to be known as more. He wants to be known as a
complete receiver
, who also can go over the middle and catch balls in traffic. Jackson also did some of that last year and has shown he's versatile. But Jackson still is one of the best deep threats in the league and the Bucs aren't going to stop trying to take advantage of that.
June, 4, 2013
6/04/13
2:20
PM ET
METAIRIE, La. -- The
New Orleans Saints
just finished the first practice session of their minicamp.

Let's take a quick run through some notes, highlights and observations:
Cornerback Keenan Lewis was not at practice. Coach Sean Payton said Lewis was "held out'', but did not elaborate on the reason. Update: Nakia Hogan reports that Lewis briefly was hospitalized with stomach pains, but could be back for Wednesday's practice.
Jason Smith, who is competing for the starting left tackle spot, limped off the field about halfway through practice and was taken to the locker room.
Most of the talk about the safeties has centered on veterans Roman Harper and Malcolm Jenkins, and rookie Kenny Vaccaro. Harper and Jenkins worked with the first team Tuesday, and Vaccaro worked with the second team. But the one safety I saw make several big plays was backup Isa Abdul-Quddus.
Payton has said second-year running back Travaris Cadet has some similarities to Darren Sproles. But Cadet will have to come up with some big plays to make Payton and the coaches forget about what happened on a short pass about halfway through practice. The perfectly-thrown pass went right through Cadet's hands and was intercepted by Corey White.
There clearly is a competition for the backup quarterback spot between Luke McCown and Seneca Wallace. I thought Wallace had the better performance Tuesday morning. I also think the Saints might be wise to keep Wallace. His mobility could be used on the scout team to help the defense get ready for the likes of Russell Wilson and Colin Kaepernick.
Wide receiver Jarred Fayson was the first name Payton mentioned when asked which young players stood out to him. Fayson had several nice catches. Fayson and cornerback Rod Sweeting had a brief shoving match after they collided at the end of one of Fayson's catches.
Defensive coordinator Rob Ryan said he was impressed by the performance of rookie linebacker Rufus Johnson. He's working behind Will Smith and Junior Galette at "Jack'' linebacker. I saw Johnson swat down a pass, and he looks like he has some quickness.
Running back Mark Ingram hasn't been much of a threat as a pass-catcher. But the Saints seemed to be throwing to him a fair amount Tuesday. I think that might be a sign of things to come.
I'll have much more on Ryan and the defense in my Thursday column. But, for now, let's just say I was impressed with how many different defensive packages the Saints put on the field Tuesday morning.