July, 1, 2011
7/01/11
1:00
PM ET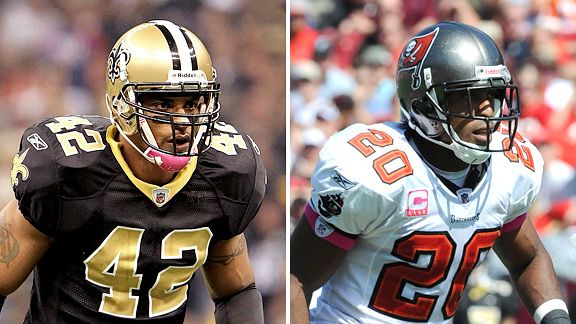 Getty ImagesSafety Darren Sharper, left, and cornerback Ronde Barber could benefit from a few more big seasons to help their Hall of Fame candidacy.
Let's be clear here: We're playing zone, not man-to-man coverage.
We're not putting Saints S
Darren Sharper
and Buccaneers CB
Ronde Barber
against each other straight-up and declaring that one or the other has a better shot at the Pro Football Hall of Fame. We're just lumping these two veteran NFC South defensive backs together and exploring their chances of one day being enshrined in Canton, Ohio. (For what it's worth, voters in our
recent NFC South poll
think Barber has the edge.)
Fans may think Sharper and Barber already are locks for the Hall of Fame because each has put up impressive career statistics. But it's not nearly as easy as you might think to make the Hall of Fame when you're a defensive back, especially when you're a safety like Sharper.
Take a look at this
list of Hall of Fame members
. It's broken down by position, and defensive backs are one of the most exclusive clubs. When Deion Sanders goes in later this summer, the Hall of Fame will be home to 22 defensive backs. That number includes cornerbacks, safeties and guys who were a combination of the two. It also includes some guys like Sanders who were more than defensive backs. Sanders also was a return man, occasionally a wide receiver and, in his prime, one of the most famous athletes on the planet.
Barber and Sharper each have had excellent careers, but I don't think you can look at either of them and say they're sure-fire, first-ballot Hall of Famers. If they're going to get in, it might take some time and some effort in the voting room. It also might take some more work by each of them.
Let's start with Sharper. He's property of the
New Orleans Saints
for the moment, but can become an unrestricted free agent once the lockout is over. We don't know if Sharper will re-sign with the Saints or move on. but we do know he has already put up huge numbers in a career that's been divided between the Packers, Vikings and Saints.
Sharper has 63 interceptions, the most among active players and No. 6 on the all-time list. Sharper's been to five Pro Bowls and made the all-decade team for the 2000s. But he is a safety, and even his spectacular numbers might not be enough.
You want evidence? I give you Paul Krause, a safety with more career interceptions (81) than anyone in history. Krause went to eight Pro Bowls, was All-Pro eight times, and put up his numbers in an era when teams didn't throw nearly as often as they do now. He finished his playing career in 1979, but didn't get into the Hall of Fame until 1998.
Statistically, Krause might have been the best centerfielder safety ever, but voters haven't given easy passes to guys who were pure safeties. Besides Krause, there are only four other enshrinees who played their entire careers at safety. Guys like Ronnie Lott and Rod Woodson spent much of their careers at safety, but also played some cornerback.
Sharper is tied with Lott in career interceptions, and four of the five guys in front of them are in the Hall of Fame. But wherever Sharper plays this season, he needs to keep adding to his numbers to improve his chances at the Hall of Fame.
Sharper played on some good teams in Green Bay and Minnesota, but he didn't win a Super Bowl until he joined the Saints. Another Super Bowl title, or at least a good playoff run, would help. Sharper's biggest strength, besides his interception total, might be what he's done after he's intercepted passes. He's returned 11 interceptions for touchdowns, which puts him second in history.
Still, if Sharper's going to get to Canton, he needs to keep building his numbers this year and maybe even beyond that.
It's a similar story for Barber, who has spent his entire career playing cornerback for Tampa Bay. He's got strong career numbers -- 40 interceptions, 26 sacks -- and Bucs fans will proudly tell you Barber is the only player in history to register at least 40 interceptions and 25 sacks.
That's a neat little bit of trivia, but I don't think being the best pass-rushing cornerback ever will be enough to get Barber automatic entry into the Hall of Fame. That title may be nice, but it sort of equates to being the first baseman with the strongest throwing arm in baseball history. Strong arms for first basemen and pass-rushing skills by cornerbacks aren't bad things to have, but they're not really part of the job description.
Besides, even if you focus just on Barber's interception total and skills in coverage, which is what Hall of Fame voters generally do with cornerbacks, he might be sitting on the bubble at best.
There are scouts, coaches and players who will tell you Barber never has been a dominant shutdown corner. They'll tell you he's a very nice player, but, in his prime, was a product of a Monte Kiffin defense that was built around DT Warren Sapp and LB Derrick Brooks. They'll also tell you offenses never spent a lot of time worrying about Barber because their focus was on Sapp and Brooks.
Those two guys and others also could present another hurdle for Barber. Tampa Bay fans seem to think Brooks, Sapp, Barber, safety John Lynch, fullback Mike Alstott, defensive end Simeon Rice, former coach Tony Dungy and probably even tight end Tyji Armstrong will all waltz right into Canton.
Well, it doesn't quite work that way. The Bucs of that era won precisely one Super Bowl title. They were not the
Pittsburgh Steelers
of the 1970s and voters take that type of stuff into strong consideration. Brooks should have no problem getting into the Hall of Fame and Sapp's right on his heels. Dungy probably gets in, but a good bit of his work was done later with the
Indianapolis Colts
.
That might be it for a Tampa Bay team that was known for its great defense in the late 1990s and early 2000s. Barber and Lynch each have a shot. But, at absolute best, maybe one of them gets in someday.
It should be pointed out Barber has transcended eras. He's continued going strong since the departure of Kiffin after the 2008 season and has provided stability as Tampa Bay has gone through a youth movement.
Barber is 36 and has committed to at least one more season. Durability counts for something, but Barber might need a big 2011 season and maybe more to really get his résumé shining for the Hall of Fame.
Barber's 40 career interceptions rank No. 75 on the all-time list. I'm looking at the guys ahead of him and seeing names like Terrell Buckley, Troy Vincent and
Dre' Bly
. I seriously doubt any of those guys will be in the Hall of Fame. When it comes down to voting time, Barber's going to have to deal with contemporaries like
Champ Bailey
, who has been viewed as a shutdown corner most of his career.
Like Sharper, one of Barber's strengths is what he's done after intercepting passes. He has seven career interception returns for touchdowns, which ranks No. 8 in history, and also has returned four fumble recoveries for touchdowns.
There's one way Barber can make himself a clear Hall of Famer: put up big numbers for another season, or several seasons, and help the Bucs build another great defense. If he can get to somewhere around 50 career interceptions, add a few more playoff wins and maybe even another Super Bowl ring, then Barber's path to the Hall of Fame will be much easier than it is right now.
June, 23, 2011
6/23/11
11:04
AM ET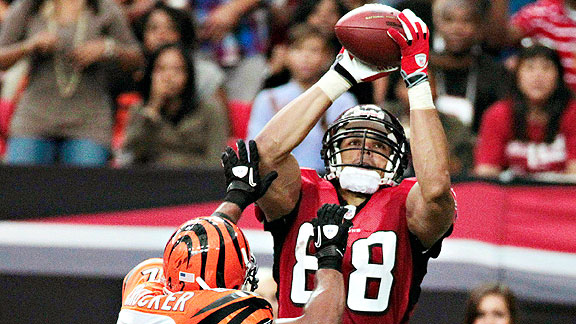 AP Photo/John AmisIs Tony Gonzalez, who holds nearly every tight end record, a first-ballot Hall of Famer?
When it comes to
Tony Gonzalez
the question isn't if he'll get into the Pro Football Hall of Fame. There's no doubt the man with the best tight end statistics in just about every category that can be measured will be selected.
The question is, when will it happen?
Common sense would lead you to believe Gonzalez will retire from the
Atlanta Falcons
and, five years later, he'll get in on the first ballot. But recent history tells us that common sense may not apply when it comes to putting tight ends in the Hall of Fame, especially on the first ballot. Tight end is a unique position, and voters obviously view it that way.
Take a look at
this list of Hall of Famers
, sorted by position. You'll see that kickers are the only group with less representation than tight ends. There are more than double the amount of "contributors'' than there are tight ends in the Hall of Fame. Same for coaches.
There are currently just seven tight ends in the Hall of Fame. That number will increase to eight later this summer when
Shannon Sharpe
is inducted. The mere mention of Sharpe's name and Hall of Fame voting shows that it's not a slam-dunk that Gonzalez will go in on the first ballot.
A few years back, Sharpe was in pretty much the same spot Gonzalez will be in. Sharpe retired in 2003 as the holder of virtually every all-time record for tight ends. He also had three Super Bowl rings.
When Sharpe was first eligible for the Hall of Fame in 2009, he was passed over. The same thing happened in 2010. There's a school of thought that some Hall of Fame voters wanted to make Sharpe wait for a couple of years, simply because he was a tight end.
"When Shannon retired, he was the most prolific tight end in all the categories, and if that's not a Hall of Famer, then I'm trying to figure out what the definition of the Hall of Fame is," Hall of Fame defensive back
Rod Woodson
said after Sharpe came up short in his second year of eligibility. "There hasn't been a tight end ever on the first ballot, but this was his second, so I was thinking and hoping that they would do the right thing.''
[+] Enlarge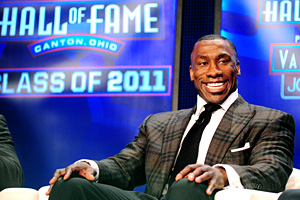 Mark J. Rebilas/US PRESSWIREThe Hall of Fame voters made Shannon Sharpe -- arguably the game's best tight end before Tony Gonzalez -- wait to earn induction into Canton.
I'll make a case right now that the right thing to do with Gonzalez when the time comes is to put him in on the first ballot. Anything else would be flat-out wrong.
Gonzalez is simply the best tight end ever. Sharpe might have held that title for a while. But, within a few of years of Sharpe's retirement, Gonzalez started breaking all of his records. The two aren't even close in most statistical categories anymore. Gonzalez has 12,463 receiving yards. That's almost 2,403 more than Sharpe. Gonzalez has 1,069 career receptions. That's 254 more than Sharpe.
The gap is only going to get bigger. At 35, Gonzalez may not be what he was in his prime as he was back in 2004 with Kansas City when he set a single-season record for catches by a tight end with 102. But in an Atlanta offense that's already good and could be even better with the addition of rookie
Julio Jones
, Gonzalez remains an important role player.
Let's just say Gonzalez has another season something like last year, when he caught 70 passes for 656 yards and six touchdowns. Anything close to that, and he adds another layer of insulation between his records and what Sharpe did.
Anything close to last year and Gonzalez will have numbers that basically double what Hall of Famer
Kellen Winslow
did. With the
San Diego Chargers
back in the 1980s, Winslow revolutionized the tight end position. Tight ends used to be pretty much just blockers, but Winslow made catching passes part of the job description.
In other words, Winslow changed the game and the position. If you do that, you should be a Hall of Famer. Gonzalez has done that. He's left Winslow and Sharpe far behind in the argument about the greatest tight end ever.
Gonzalez is the guy who opened the door for a generation of former basketball players to start becoming as important as wide receivers in many offenses. That brings us to another point about Gonzalez and why he should go in on the first ballot.
He's a tight end, but he's got numbers that are just as good as some Hall of Fame wide receivers. Gonzalez has more receiving yards than guys like Charlie Joiner, Don Maynard,
Michael Irvin
and Lance Alworth.
Yeah, those guys played in different generations when the league wasn't as geared toward the passing game. But Gonzalez created a whole new generation of tight ends. Yeah, it sometimes takes too long even for wide receivers to get into the Hall of Fame. Guys like Lynn Swann and John Stallworth were placed on a waiting list for about two decades and there's a backlog still sitting there.
But Gonzalez shouldn't have to wait just because he's a tight end. Gonzalez currently is No. 6 all-time with 1,069 receptions. The only guys ahead of him are
Jerry Rice
,
Marvin Harrison
,
Cris Carter
,
Tim Brown
and
Terrell Owens
.
If Gonzalez catches 34 more passes, he'll move up to No. 2. He'll be behind only Rice, which says a lot. When Rice was first eligible for the Hall of Fame, voters skipped over the usual ritual of making wide receivers wait. That's because there was a universal agreement that Rice was the best wide receiver ever to play the game.
There's universal agreement Gonzalez is the best tight end ever to play the game, and he deserves the same treatment.
There's one other argument that could be used against Gonzalez. He's never played on a Super Bowl champion. He's never even gone deep into the postseason. For the longest time, a lot of Hall of Fame voters seemed to think a Super Bowl ring was a requirement for selection.
That idea seems to have faded some in recent years. But there is one way Gonzalez can make sure that's not an issue. He can go out and help the Falcons win a Super Bowl this season. Then, he could go out in a blaze of glory or he could even stick around and pad his résumé for another year or two.
But Gonzalez shouldn't have to worry about adding much more to his résumé. He's already done enough to be a first-ballot Hall of Famer.
October, 29, 2009
10/29/09
2:13
PM ET
Posted by ESPN.com's Pat Yasinskas
The NFL just announced that New Orleans safety
Darren Sharper
has been selected as the NFC's Defensive Player of the Month for October.
Can't argue with that one at all. Sharper had two interceptions that he returned for touchdowns in October and three total interceptions for the month. Sharper now has 11 career interception returns for touchdowns. That's second in NFL history, behind Rod Woodson's 12.

NFC SOUTH SCOREBOARD
Thursday, 9/18
Sunday, 9/21