March, 12, 2014
Mar 12
8:00
AM ET
When I looked at
Josh McCown
's bio Tuesday night, I saw Rodney Peete.
I'm talking circa 2002 when Peete quietly landed with the
Carolina Panthers
and ended up as the starter. In my eyes, the McCown of today and the Peete of more than a decade ago are the same guy -- smart, experienced and not prone to mistakes.
McCown
But, just like Peete was for the Panthers, McCown is at absolute best a short-term answer. McCown turns 35 in July.
The
Tampa Bay Buccaneers
have to keep that in mind as McCown makes a free-agent visit that started Tuesday night. McCown isn't going to come in and be the franchise guy for the next five or 10 years. Besides, if McCown was all that great, he would have started more than the 38 games he has in a career that dates to 2002.
At the absolute best, McCown is a "bridge quarterback" in that he could serve as a bridge until the Bucs find their quarterback for the long term. McCown is the kind of guy that can get you by as long as the rest of the team is good. But he's not going to do anything special.
Peete was the ultimate bridge quarterback. He beat out Chris Weinke and started for a year until the Panthers found the guy they were looking for in
Jake
Delhomme
, who took them to a Super Bowl in his first season.
At worst, McCown is a backup. That would be a good thing, because it would mean that
Mike Glennon
, who started 13 games as a rookie, emerges out of training camp and the preseason as the starter. In a perfect world, Glennon never lets go of the job and the Bucs remain happy with him. With Glennon, there is upside and the chance to play more than another decade.
With McCown as the starter, the Bucs would be just buying time.
October, 4, 2012
10/04/12
1:00
PM ET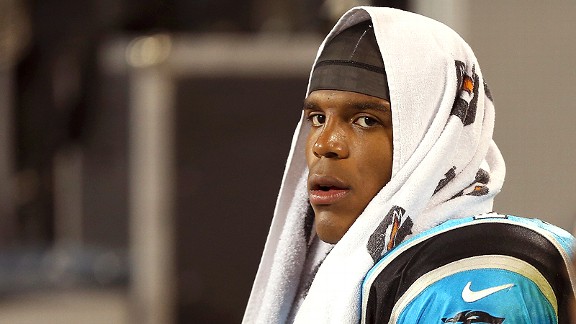 Streeter Lecka/Getty ImagesCam Newton's sideline demeanor has come under scrutiny the past two weeks.
After watching
Cam Newton
in his past two games, it occurred to me: I have seen this act before.
The incredibly talented Carolina quarterback has been sulking on the sidelines when things don't go well, waiting nearly an hour to talk to the media after a game and not saying much when he does. Instead of acting like an NFL quarterback, Newton is acting like a child.
I saw the same thing back in small-town Pennsylvania in the 1970s and '80s. I had a neighbor and friend who was a grade behind me in school. Like Newton, he was a physical specimen. He also had one of those late birthdays, so in his final year of Little League he was playing with kids a grade behind him in school.
You know the type -- at 12, they're 6 feet and 175 pounds. You see one of them carrying a team to Williamsport every year, and that's exactly what was expected of my friend. He hit home runs in bunches and struck out almost every batter he faced during his regular Little League season.
Then he got to an All-Star game against a team from a much larger town. Late in the game, he gave up a crucial home run with a couple of guys on base. In anger, he slung his glove toward the dugout and his athletic career essentially flew with it. He was tossed from the game.
By high school, he'd given up baseball and basketball because he no longer took any joy from them. His final athletic stand came when he was the starting quarterback as a junior, and a team with high expectations started 0-3. I remember thinking it was time for my friend to come down with an injury or simply walk away. In the fourth game, he hurt his knee.
It was the kind of injury that coaches thought might cost him only a few games. But my friend never played again. An enormous amount of athletic talent was wasted, not because he never learned to lose, but because he never learned how to deal with adversity and overcome it.
I'm not drawing the parallel to suggest Newton is going to just give up. He's not, because he's too much of a competitor. But that's part of his problem.
There's no question Newton can play quarterback in the NFL. But, if he wants to truly succeed, he has to start acting like an NFL quarterback and act with some balance.
Watch
Drew Brees
some time. No one is as competitive as Brees. But out on the field, you never see Brees let his emotions get the best of him. It's similar with the other two NFC South quarterbacks,
Matt Ryan
and
Josh Freeman
. Winning or losing, you usually can't tell by their actions or body language.
I think back on quarterbacks through Carolina's history. Steve Beuerlein and Rodney Peete were as even-keeled as they come. Jake Delhomme had a visible competitive edge about him but never freaked out when things didn't go well. In fact, Delhomme was at his best when things got tight.
That's part of being an NFL quarterback. You have to set the tone for your team, and it can't be too high or too low.
There's no question Newton is in a pressure cooker. After a record-setting rookie year, the expectations in Carolina went up about six notches. Center
Ryan Kalil
bought a full-page ad in The Charlotte Observer promising a Super Bowl win. Fans just nodded their heads and agreed.
But the Panthers are off to a 1-3 start, and most of the blame is falling on Newton. Some of that's simply because Newton is the quarterback, so he's always going to warrant attention.
But sometimes it's about how you handle attention that determines perception and reality, and Newton is not doing a great job of that. He has set himself up for the fall by doing his Superman pose when things do go well. And he has made the fall even steeper by pouting when things go wrong.
ESPN's Chris Mortensen reported that Newton has been working with a life coach to help deal with the pressure. Newton denied that report. But maybe Newton should be letting his feelings out privately to someone.
He's not helping anyone by letting his feelings run wild on the field, and he's not helping anyone by being so adamant about not changing.
"Losing is difficult, period," said Newton, who won a national championship in college and junior college. "A person that says losing is not difficult, I don't even want to be around that person. Obviously that person has never won anything relevant in their life. So for a person to say, 'Yeah, we lost and we have to keep going …' yeah, you keep saying that and sooner or later you're going to look up and be 0-16. You have to take it personal. Do I take it personal? Absolutely right. Do I take it too personal? Who knows? But I'd rather take it too personal than lackadaisical."
I respect the fact that Newton doesn't like losing, and that he takes it personally. You want that, to some degree, from every player on your roster.
But Newton, who spent a lot of time in the offseason talking about how he wanted to be a better teammate, isn't helping himself or his team with his actions.
I realize Newton is only 23. Not many of us were finished products at 23. But, then again, not many of us were NFL quarterbacks at 23, or ever.
When you're making millions of dollars and are the face of an NFL franchise, the standards are a lot different, and you can't act like you're 12.
Newton needs to find a new standard -- one that's not too high or too low -- that his teammates can follow. It's time for Newton to grow up, mature or whatever you want to call it.
If he doesn't, you're going to see a lot more people pouting on Carolina's sideline and in the stands.
December, 12, 2011
12/12/11
10:57
AM ET
CHARLOTTE, N.C. -- Carolina's
Steve Smith
became the 35
th
player in NFL history to reach the 10,000-yard receiving mark.
Smith got very reflective after Sunday's loss to Atlanta as he talked about the milestone.
"It's a lot of people, a lot of men and a lot of boys' dream,'' Smith said. "But there are few men who get the opportunity to live out their dream, so I'm fortunate enough. I've had the opportunity for about a decade to do it and it's been enjoyable. I've had fun. I've also had some bonehead situations, but that's the opportunity to live and so it's pretty cool.''
Smith then went on to thank just about every quarterback he ever has played with. He mentioned
Chris Weinke
,
Rodney Peete
,
Jake Delhomme
,
Vinny Testaverde
,
Cam Newton
,
David Carr
,
Brian St. Pierre
,
Jimmy Clausen
and
Matt Moore
.
Smith went on to mention a bunch of receivers he played with through the years.
"Isaac Byrd,
Karl Hankton
,
Ricky Proehl
,
Muhsin Muhammad
and
Donald Hayes
because when I first came here, they were the guys who took me under their wing and showed me how to play,'' Smith said. "There were times I was annoying to them and I followed them and watched them.''
July, 11, 2011
7/11/11
7:44
AM ET
It was very quiet while I was off last week, but there was one story with NFC South roots that deserves some reflection here.
Quarterback
Kerry Collins
retired from the
Tennessee Titans
. Collins played for the
Carolina Panthers
and
New Orleans Saints
before there even was an NFC South. Collins' time in New Orleans was short and uneventful.
But his time in Carolina was anything but dull. Carolina's first draft pick in its expansion season, 1995, Collins quickly became the starter and took the Panthers to the NFC Championship Game in his second season. After the Panthers returned from that trip to Green Bay, Collins stood on the steps of what is now Bank of America Stadium and talked about how Carolina would be a dynasty.
It didn't work out anywhere close to that. Collins began having problems soon after that and was gone before the midway point of the 1998 season. Collins repeatedly has admitted he had a drinking problem in his Carolina days and that issue isolated him from some of his teammates.
Collins deserves lots of credit for straightening out his life when he joined the
New York Giants
and he took that franchise to a Super Bowl. He also spent time with the
Oakland Raiders
and Tennessee Titans and ended his career with more than 40,000 passing yards, which ranks him No. 11 in history. The numbers could have been better if Collins didn't spend part of his career as a backup.
You can't call Collins' career a flop or a disappointment, but those terms can be used to describe his stint in Carolina. Or you can just call it what it was -- a disaster that set the franchise back for years. I arrived in Charlotte and began covering the Panthers a little less than a year after Collins left. The wounds were still fresh and stories were still making the rounds about Collins' wild nights on the town and wilder parties at his house.
Collins had to go because he had some major problems and was in denial as the Panthers tried to get him help. But you can't help but wonder what might have happened for Collins and the Panthers if he had gotten help earlier or avoided his problems in the first place.
The guy was an amazing talent -- big and strong with one of the best throwing arms of his generation. I've been a life-long Penn State fan and Collins was so talented he convinced Joe Paterno to scrap his conservative offense. In 1994, Penn State had one of the nation's best offenses with Collins,
Ki-Jana Carter
,
Bobby Engram
and
Kyle Brady
. The Lions went undefeated, but got robbed of a national championship.
Collins went straight to the NFL and started living like a rock star. If he hadn't, he could have been what Atlanta's
Matt Ryan
and Tampa Bay's
Josh Freeman
probably will be -- a franchise quarterback who will spend his entire career with one team.
Imagine what Collins could have been if he spent his entire career in Carolina and lived his life the way he did in later years? I'm not sure the Panthers would have been the dynasty Collins talked about. That expansion team was built around veterans and it got old right after the NFC Championship Game. There still might have been some ups and downs, but Collins had stayed on the straight and narrow, the valleys the Panthers hit wouldn't have been nearly as deep. He was young, talented, should have continued to get better and the Panthers could have had a franchise quarterback for a generation.
If Collins didn't implode, Dom Capers wouldn't have been fired after the 1998 season and George Seifert never would have been hired. It took years for the Panthers to recover and, for years, they stayed away from drafting quarterbacks early or signing big-name free agents at that position.
Seifert got a couple good years from
Steve Beuerlein
and then put him on the scrap heap for no apparent reason.
Chris Weinke
was next and he never really had a chance. He played on Seifert's last team, which went 1-15.
When John Fox took over in 2002, he needed to get wins quickly and didn't want to let Weinke develop on the field, so he went out and got
Rodney Peete
, who I think might have been offensive coordinator Dan Henning's college roommate. A year later, the Panthers went out and signed career backup
Jake Delhomme
and made him the starter. Delhomme had a nice run and even took the Panthers to a Super Bowl. He was the best quarterback in franchise history, but wasn't a franchise quarterback. He was a nice game manager.
The Panthers drafted
Jimmy Clausen
last year and
Cam Newton
this year and there's hope that one of those guys can become the first true franchise quarterback in Carolina history. Collins could -- and should -- have been that guy. If Collins had done things the right way in Carolina, the dark days at the end of the Capers era and the entire Seifert era never would have happened.
If Collins had still been there when Fox arrived, he would have fit nicely in the system and the Panthers might not have been quite so conservative. Heck, if things had gone differently, Collins could have spent his entire career in Carolina and Fox still might be coaching there.
Collins could have been the most popular athlete ever in Charlotte and, had he stayed, he might still be playing. He could have even spent this year as a mentor to Newton and Clausen. Instead, they'll be trying to become what Collins never was able to become for the Panthers.
May, 25, 2011
5/25/11
1:00
PM ET
Examining the most crucial event in the history of every team in the division.
The most important moment in the history of the
New Orleans Saints
, maybe even in the history of the entire NFC South, might have come when a coach and a quarterback went for a ride and got totally lost.
Drew Brees
and his wife, Brittany, for a ride that seemed misdirected at the time, but turned out to be a drive to destiny. While touring the area, Payton got off Interstate 10 at the wrong exit and started driving on streets he'd never seen before.
"I finally admitted to Drew, 'I have no idea where we are right now,''' Payton wrote in his book, "Home Team.''
It's worth a laugh now. But at the time, Payton, Brees, the Saints and the entire New Orleans region really had no idea where anything was. This was a few months after the devastation of Hurricane Katrina and the Saints didn't even know if they'd be able to stay in New Orleans for the long term.
Brees' future was just as cloudy. He wasn't being brought back by San Diego because he was coming off a major shoulder injury and the Chargers were handing things over to
Philip Rivers
. There was interest from Miami, but the Dolphins weren't sure about Brees' shoulder. Neither were the Saints.
But Payton and general manager Mickey Loomis decided to take a gamble. They offered Brees a big contract and a couple of days after being hopelessly lost, he accepted. The Brees signing was the big winner for the Saints in our Flash Points polls about the make-or-break moment in the history of each NFC South franchise.
Forty-six percent of more than 50,000 voters (the highest of all the NFC South precincts) chose the signing of Brees as the biggest moment in team history. Winning Super Bowl XLIV finished second at 36 percent and the hiring of Payton was third at 17 percent.
No argument here. Hiring Payton was significant, but signing Brees is the biggest reason why the Saints went on to win a Super Bowl and make themselves more a part of the New Orleans fabric than ever before.
Let's turn to a couple of loyal readers for affirmation.
Richard in Ann Arbor, Mich., wrote:
"Signing Drew Brees has to trump all. When you take into account everything that Drew has done off the field since his arrival, winning the Super Bowl may be the least important thing that he has done for the city of New Orleans.''
Fred in New Orleans wrote:
"As much as I would like to say our turning point was hiring Jim Finks or Jim Mora or maybe even Sean Payton, I think the Saints' turning point was actually made by another team -- when the Dolphins refused to make an offer to Drew Brees. If they make a hard push for him who knows what happens next?''
PANTHERS: Jake Delhomme's arrival game
Appearing in Super Bowl XXXVIII was the winner of the popular vote as the Flash Point for the
Carolina Panthers
. That loss to New England drew 42 percent of the vote, and advancing all the way to the NFC Championship Game in only the second season of an expansion franchise finished second at 28 percent.
Rodney Peete
and the Panthers just kept winning all the way to the Super Bowl. I was covering the Panthers on a daily basis as a beat writer at that time and as I think back, Delhomme's emergence in that game was one of the most magical moments I've seen in sports.
Let me add that a vocal group of readers made a strong case that Delhomme's debut should have been on the ballot because that was actually the moment that sparked the whole Super Bowl run. I thought about that for a couple of minutes and decided they were right. So let's hear from a few convincing readers.
Brian in Charlotte wrote:
"Jake Delhomme's halftime entrance into the game versus Jacksonville seems to represent the best of Panthers history. The team marched to an appearance in the Super Bowl that year and, while we may not have had back-to-back winning seasons, provided the Panthers with both stability and leadership at the quarterback position for the next few years.''
Evan in Charlotte wrote:
"Carolina rode on that momentum to eventually go to the Super Bowl. That whole season was Carolina's defining moment, but it all began at that game. Everything about the Carolina Panthers changed at that moment.''
Brian and Evan, you're absolutely right.
BUCCANEERS: Dungy turned the tide
In the closest contest of all our polls, readers voted Tampa Bay's victory against Oakland in Super Bowl XXXVII as the defining moment in Buccaneers' history. That got 39 percent of more than 31,000 votes. The hiring of coach Tony Dungy in 1996 finished a close second at 37 percent and the trade for Jon Gruden, the coach who actually won Tampa Bay's lone Super Bowl, was third at 21 percent.
Tampa Bay is a land of transplants and history sometimes gets lost. But I happened to be a beat writer covering the Buccaneers when Dungy was hired (heck, I was part of a media stakeout outside Bern's Steakhouse as Dungy and ownership were inside sealing the deal).
You have to understand what the Bucs were like before Dungy arrived. They were the joke of the NFL for more than a decade. Former owner Hugh Culverhouse was despised by fans, players and the people who worked for him. The Bucs had gone for more than a decade without a winning season and good coaches such as Ray Perkins and Sam Wyche came to Tampa Bay and became horrible coaches.
Dungy (supported by new owner Malcolm Glazer) quietly changed the entire culture of the Bucs. They began winning and changed uniform colors and logos. Everything changed. Raymond James Stadium was built and filled up every week. The Bucs became consistent winners.
It's true Dungy couldn't get Tampa Bay over the final hump. He was stubborn and conservative on offense and that got him fired. But he had the Bucs built into such a great defensive team that Gruden was able to come in, tweak the offense and win the Super Bowl in his first season. None of that would have been possible without Dungy's contributions. He made the Bucs consistently relevant for the first time in their history.
Let's turn to a couple comments from readers.
Darryl in Springfield, N.J., wrote:
"The hiring of Dungy was huge as he helped to instill a culture of winning. However, I think another important step was drafting
Warren Sapp
and
Derrick Brooks
in 1995 (the moves were made by Wyche and former general manager Rich McKay). Beyond their contributions on the field, Brooks was the heart of the Bucs, and Sapp brought a public swagger to a downtrodden franchise. The history of Sapp and Brooks in Tampa might be different without Dungy, but I think you could also argue that the history of Dungy might be very different without Sapp and Brooks."
Tim in Clearwater, Fla., wrote:
"Sam Wyche drafted two first-ballot Hall of Fame players in Warren Sapp and Derrick Brooks. Without these players, Dungy's tenure in Tampa Bay would likely not have been as long or as successful.''
True, but Sapp and Brooks didn't do much in their one season with Wyche. When Dungy and defensive coordinator Monte Kiffin arrived, they put Sapp and Brooks into a defense that became dominant. In my eyes, it all started with Dungy.
FALCONS: Matt Ryan brought consistent winning
When it came time for Atlanta fans to weigh in on the Falcons' Flash Point, they went with the drafting of quarterback
Michael Vick
. That move won the vote at 39 percent, while the drafting of Ryan in 2008 came in second at 31 percent.
That was at the end of the 2007. A few months later, the Falcons drafted Ryan. Guess what? Since that moment, the Falcons have had three straight winning seasons. Before Ryan's arrival, the franchise never even had back-to-back winning seasons. Atlanta went 13-3 last season before a disappointing playoff loss to Green Bay.
But the Falcons are built around Ryan and he's not going anywhere for a long time. In fact, I think the Falcons are right on the cusp of huge success. Let's turn to a reader for perspective.
Reid in Atlanta wrote:
"The true 'defining moment' for the Falcons is not on your list of choices. It was when Arthur Blank purchased the team from the Smith family, who oversaw a comedy of errors and bad personnel choices for decades. Blank may be responsible for the Petrino fiasco, but otherwise his moves have been solid, and a welcome contrast to what preceded him.''
No argument that Blank has done some great things and made the Falcons more competitive than they ever have been. But I think the best move Blank made was drafting Ryan. That's when things really turned for the Falcons.
May, 16, 2011
5/16/11
11:04
AM ET
The
Carolina Panthers
might be getting more out of Chris Weinke now than they ever did as a player.
Quarterback
Cam Newton
has
been working out
with Weinke at IMG in Bradenton, Fla. In recent weeks. That's not a bad pairing of Heisman Trophy winners.
Although Weinke's career never really took off the way the Panthers hoped when they drafted him in 2001, his preparation was never a problem. Weinke frequently was surly with the media after he became a backup to
Rodney Peete
and
Jake Delhomme
.
But team officials always said they respected the way Weinke handled himself after being demoted from the starting job after his rookie season. He frequently drew praise for his preparation and professionalism from the coaching staff and Delhomme often said he relied on Weinke as another pair of eyes.
May, 14, 2011
5/14/11
11:47
AM ET
Time for a trip into the mailbag to see what's on the minds of readers across the NFC South.
Evan in Charlotte
wrote to say he's bothered by the fact what he thinks was the defining moment in the history of the
Carolina Panthers
was not on the list of choices on our
Flash Point poll
. He said it is was the 2003 regular-season opener when
Jake Delhomme
was inserted after
Rodney Peete
started slowly. Delhomme rallied the Panthers to victory against Jacksonville, and they rode that momentum all the way to the Super Bowl.
Pat Yasinskas:
Excellent point. I was limited to four choices for that poll, and you make a strong case this one should have been included. Go ahead and vote "other'' in that category if you agree with Evan and send me a mailbag note similar to what Evan did. I'll be making the decision on the key moment in each franchise's history, and it won't necessarily be the one that wins the popular vote (that project is scheduled to run May 25). Evan's note has opened my eyes and has me thinking that 2003 Jacksonville game has a chance to be my choice.
---
Martin in Aberdeen
wrote to ask if the Bucs really should be interested in cornerback
Nnamdi Asomugha
because they play a Cover 2 scheme and he excels in man coverage.
Pat Yasinskas:
The Bucs don't play the true Tampa 2 scheme as often as they used to. Raheem Morris has brought twists and turns to it to try to stay ahead of offenses. He's an adaptable coach, and if you gave him one of the league's best cornerbacks, I think he'd find ways to adjust to Asomugha's strengths. By the way, John Clayton and I will be having a Hot Button debate Monday on the best landing spot for Asomugha. My side of the debate might be of particular interest to NFC South readers.
---
Gabe in Port Orange, Fla.
, wrote to say I made a nice (and accurate) call by not including Carolina's Jerry Richardson on my ballot in our
Power Rankings on the owners
. Gabe said Richardson was one of the best owners in the sports world a few years ago but thinks his moves in recent years have been very questionable.
Pat Yasinskas:
Agreed. There was a part of me that was very conflicted on this one. Richardson is the NFC South owner I know and respect the most. He's a brilliant and fascinating man, and I can assure you he cares deeply about his fans and all the people who work for him. He even cares about the media members who cover the team. When my father died, Richardson was one of the first people to call me, and when I got this job he gathered all the local beat writers for a luncheon to celebrate. When another writer was going through a tough personal time, Richardson called me to ask what "we'' could do to help him. This man is a very good human being. But the Panthers have struggled in recent years, and there's no doubt some of Richardson's moves have been questionable. He's heavily involved in the NFL's labor situation, and his hard-line stance is a reason why there hasn't been anything close to a deal. We'll have to see how some of that plays out, and we'll have to see if some of Richardson's moves somehow have a positive flip side. But, right now, I think it's very fair to say Richardson is at a career crossroads. Time will tell if he can get back to a point where he's viewed as one of the league's best owners.
---
James in Shreveport
wrote to thank me for not voting for New Orleans' Tom Benson in the Power Rankings on owners. He said there are a lot of New Orleans fans who will never forgive Benson for trying to move the team in the aftermath of Hurricane Katrina.
Pat Yasinskas:
I'm well aware of those sentiments, and that's why I didn't vote for Benson. Those were some dicey times, and I think former NFL Commissioner Paul Tagliabue was a big part of the reason why the team is in New Orleans. As for Benson, let's at least be fair and acknowledge that once things got settled with the state of Louisiana, he has helped to put the Saints on very firm ground. They're in better shape than ever, and their fan base is incredibly dedicated. I'm glad it all worked out because I couldn't imagine New Orleans without the Saints.
---
David in Cedar Falls, Iowa
, wrote to say he thinks the
Flash Point for the Buccaneers
came when the Glazer family bought the team. He points to the disastrous and comical reign of former owner Hugh Culverhouse and says it all stopped when the Glazers took over.
Pat Yasinskas
: I agree totally, and I'm glad there is at least one fan out there who recognizes this. We've talked about this here before, and I can't understand why Tampa Bay fans have so much venom for the Glazers. No, they might not be perfect, but they're a million times better than Culverhouse and are better than a fair amount of owners currently in the league. They did bring a Super Bowl champion to Tampa, they built a stunning new One Buccaneer Place with their own money and, even though it came with taxpayer money and a lot of bickering, they helped get Raymond James Stadium built. I'll consider the Glazers buying the franchise as a deciding moment when I roll out my NFC South Flash Points on May 25. But I'm going to have a tough time going with that one simply because -- fair or unfair -- so many fans seem to despise everything the Glazers do. I'm leaning toward going with something the Glazers did – hiring coach Tony Dungy in 1996.
September, 19, 2010
9/19/10
7:51
PM ET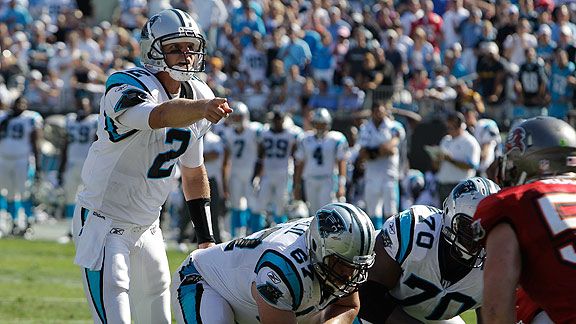 AP Photo/Chuck BurtonPanthers rookie QB Jimmy Clausen could get his first start next week in Cincinnati.
CHARLOTTE, N.C. -- Two games into his ninth season as coach of the
Carolina Panthers
, John Fox clearly is at a crossroads. Heck, he might even be past it.
It's that bad, really. The point of no return, if one actually still existed, may have come Sunday. Fox doesn't have a contract beyond this season, he doesn't have a win yet this season and he sure as heck doesn't have a quarterback.
If you looked around Bank of America Stadium at the end of Carolina's
20-7
loss to Tampa Bay, it looked a lot like it did -- almost empty and virtually silent -- on the last day of the 2001 season when the Panthers finished 1-15.
A day later, owner Jerry Richardson walked into a news conference to announce George Seifert had been fired and talked about how the life had been drained from the franchise. A few weeks later, Richardson hired Fox, who brought life to the Panthers and kept them competitive for quite some time.
Now, it's almost back to Seifert territory.
Fox has no choice now. He needs to start
Jimmy Clausen
at quarterback next week against Cincinnati. It's really the only chance he has to save his job, and it would also be the only decision to make to give himself a better shot at other jobs. He needs to pull the plug now.
"It's way too early,'' Fox said moments after the game. "Right now, I can't make that decision at this point. Matt [Moore] has not been benched by any stretch. We'll go with whoever gives us the best chance to win next week and that will take some time [to decide].''
It's not way too early to make a decision that really shouldn't take any time at all. The concept of giving Moore, a former undrafted free agent, a chance at the starting job seemed like a nice idea when he finished strong after replacing
Jake Delhomme
late last season.
But as nice as it is that Fox believes in loyalty and rewarding guys who have earned a chance, and as much as he despises the idea of playing rookie quarterbacks or even drafting them early, the rest of the world had to know this moment would come the instant the Panthers drafted Clausen in the second round in April.
In a best-case scenario, Fox thought Moore might be what Delhomme once was -- a capable quarterback who didn't turn the ball over --- and he could squeeze a season or two out of a game manager while Clausen took notes.
Once upon a time, Fox might have been able to do that with a ball-control offense and a great defense surrounding an ordinary quarterback. But times have changed on so many levels in Carolina. Despite having
Jonathan Stewart
and
DeAngelo Williams
and an offensive line that's supposed to be great, the Panthers haven't shown any evidence of a ball-control offense in the first two games. The Panthers are young all over, largely because that's what their owner wants, especially on defense. On that side of the ball, the fans who bought into an impressive preseason by the defense bought into a mirage.
As Fox likes to say, "It is what it is.'' What the Panthers are is an extremely young team with a coach and an owner that obviously haven't been on the same page for a while and a general manager (Marty Hurney) who seems to be caught somewhere in a very uncomfortable middle.
"I don't think that's the place of a player,'' said wide receiver
Steve Smith
, when asked who he thought should start at quarterback next week. "That's up to the coaches and management.''
Smith's right, and that should be a decision where everyone's on the same page. It should be a no-brainer. It should be Clausen. Let's face it, Moore threw three interceptions against the Giants in the opener. He threw only one against the Bucs, but he completed only six of 16 passes for 125 yards and was sacked four times.
The offense sputtered. Moore doesn't deserve all the blame, but he's the quarterback Fox chose, so he's going to get it.
Has Moore lost the confidence of his teammates, if he ever had it?
"I didn't really take a poll to find out,'' Smith said.
There's no need for a poll. Moore's a nice guy and he has tried hard. There was a time when Fox could take a guy like
Rodney Peete
or some combination of
Vinny Testaverde
,
David Carr
and even a young Moore and scrape together a 7-9 or 8-8 season and that would be enough to save his job.
[+] Enlarge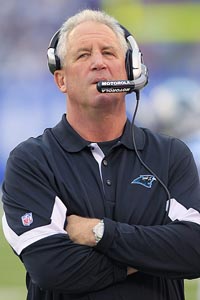 AP Photo/Paul SpinelliIn the final year of his contract, John Fox might need to take some risks after an 0-2 start.
A record like that wouldn't be good enough to get Fox a new contract now and besides, this team, as it stands right now, isn't good enough to get to any record like that. Moore's not going to save Carolina's season or Fox's job.
Clausen?
Well, it's a long shot that he'll come in and make everything right forever and ever. But he did move the team a bit after replacing Moore late in the game. With Moore, there's no longer any hope of an upside. With Clausen, that idea still exists.
There are people in the building who are very high on Clausen and that group includes the owner and general manager. Fox has to join them for at least the next 14 games, even though it's likely Clausen will be with this franchise long after Fox.
Look, this probably was going to be Fox's last season in Carolina no matter what. In his dream scenario, the Panthers would have gone 10-6 or 11-5 with Moore, gone to the playoffs and Richardson would come offering a new contract. In that same dream, Fox would have turned and said, "Thanks for everything, but I'm off to coach the Giants … or the Browns … or somebody else.''
Take a shot on Clausen and maybe the Panthers pull of some sort of miracle in the middle of their youth movement. It would put everyone back on the same page.
That's not a real likely ending now. But Fox no longer is coaching for his future with the Panthers. He's coaching for his coaching future.
Forget Richardson for just a minute and think about other owners. Fox has a good reputation around the league and a decent resume. The knocks on him are that he hasn't been able to put together back-to-back winning seasons and that he's too stubborn or set in his ways.
Sticking with Moore would only enforce that stereotype and it might even force other owners to question Fox's sanity. There's really only one choice.
Start Clausen next week.
June, 28, 2010
6/28/10
10:30
AM ET
Notable players:
RB
Stephen Davis
, QB
Jake Delhomme
, WR
Steve Smith
, WR
Muhsin Muhammad
, DE
Julius Peppers
, DT
Kris Jenkins
, LB
Dan Morgan
.
Analysis:
When owner Jerry Richardson talked about how the life had been drained from his franchise during a disastrous 1-15 season in 2001 under coach George Seifert, he couldn't have expected how dramatic the turnaround would be. Nobody saw the Panthers going to the Super Bowl within two years, but that's exactly what happened with first-time head coach John Fox.
[+] Enlarge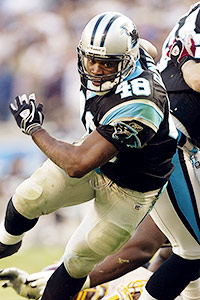 Craig Jones/Getty ImagesStephen Davis rushed for a career-high 1,444 yards in 2003.
In 2002, Fox's team showed some promise, but there was no real reason to think the Panthers were ready for an incredible run. They had the makings of a very good defensive line, but nobody really knew how much Davis had left when the Panthers brought him in and nobody had a clue what Delhomme, who had spent his career on the bench in New Orleans, might bring.
Rodney Peete
opened the season as the starting quarterback and that lasted all of two quarters before Delhomme came on to rally the Panthers and take over the job. With Davis carrying the offense and the defensive line dominating, Delhomme continued to show a knack for leading comebacks.
The Panthers caught lightning in a bottle and also rode the emotion of preseason news that linebackers coach and former team captain
Sam Mills
and starting linebacker
Mark Fields
each had cancer. Carolina finished the regular season 11-5 and won its first NFC South championship.
A playoff victory at home against Dallas wasn't a big surprise, but the Panthers stunned just about everyone by going on the road and winning at St. Louis (in double overtime) and completely dominating the Eagles on a frigid night in Philadelphia.
That put the Panthers into the Super Bowl against New England. A touchdown pass to
Ricky Proehl
with one minute, eight seconds remaining tied the score. But Carolina's chances of pulling the upset faded as
John Kasay
followed up by kicking the ball out of bounds to give New England good field position. The Patriots kicked the game-winning field goal with four seconds remaining.
Most impressive win:
It's tough to top the image of Steve Smith scoring a touchdown on the first play of the second overtime in St. Louis, but players and coaches will tell you the key moment of the season came in Week 2 at Tampa against the defending Super Bowl champions. The Bucs scored a late touchdown and needed only to kick the extra point to win the game. The Panthers blocked the kick, forced overtime and won 12-9.
Research room:
This team was known as the "Cardiac Cats." The reason was simple. The Panthers won seven games in the last two minutes or in overtime.
Honorable mention
1996
: In only the second year of the franchise's existence, coach Dom Capers, quarterback
Kerry Collins
and a great defense took the Panthers all the way to the NFC Championship Game in Green Bay. A home playoff victory against Dallas provided a truly monumental moment for an expansion team and the city of Charlotte.
2005
: Fox's 2004 team underachieved, but the 2005 team overachieved more than any in franchise history. Give the credit to Smith for carrying the Panthers all the way to the NFC Championship Game in Seattle. Injuries to the running backs kept the Panthers from running like Fox wanted to, but Smith and Delhomme had a special chemistry that year.
2008
: A 12-4 record, an NFC South crown and a first-round bye added up to absolutely nothing. In what easily is the most disappointing game in franchise history, Arizona came into Bank of America Stadium and routed the Panthers 33-13. Starting with that game, the normally reliable Delhomme began turning the ball over so frequently that he played his way out of Charlotte.
April, 23, 2010
4/23/10
9:05
PM ET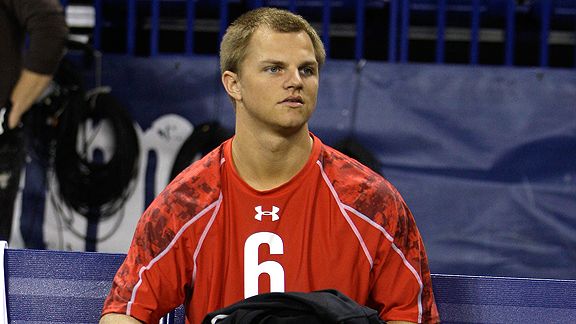 AP Photo/Darron CummingsJimmy Clausen had to wait to be drafted, but may play right away for the Carolina Panthers.
If
Matt Moore
is the starting quarterback for the
Carolina Panthers
when they close the regular season Jan. 2 in Atlanta, John Fox will be the happiest coach in the NFL.
It will mean the Panthers are headed to the playoffs and Fox will have earned the contract extension the Panthers have been so hesitant to give him. If Moore lasts that long, it means everything's gone right for the Panthers. It means they've found a No. 2 receiver, a pass-rusher and a big run-stuffer.
If Moore lasts that long as the starter, I'll be stunned. That's not an indictment of Moore. As Fox likes to say, "It is what it is''.
Here's what it is. The Panthers drafted Notre Dame quarterback
Jimmy Clausen
with the No. 48 overall pick Friday night. He's a second-round pick with first-round talent and he was Carolina's first pick in this draft. The Panthers were trying to trade up to early in the second round to get Clausen, but didn't have enough ammunition to get there.
Clausen still tumbled and the Panthers didn't hesitate. You can read a lot into that and consider it a pretty major statement. Fox and general manager Marty Hurney never have taken a quarterback earlier than the fourth round of the draft and they've spent the offseason singing Moore's praises.
That's great because Moore looked pretty good the last five games of last season. Hurney likes to tell you his mentor, Bobby Beathard, used to say a quarterback has to take advantage when his window opens.
There still might be a window for Moore, but it shut by about 50 percent the minute the Panthers selected Clausen. The Panthers will spend the rest of the offseason saying Clausen and Moore will compete for the job in training camp, while making it sound like Moore has the inside track on the starting position.
Probably true, to a degree. Moore's been in the system for three years and he deserves a shot. When I first started to think through this column, I was planning on saying Clausen instantly becomes the starter. After a little more thought, I'm toning that down, but only a little.
Fox and Hurney are loyal (sometimes to a fault) and you can't question the integrity of either man. They'll give Moore a shot. Unless Clausen totally outplays him in training camp and the preseason, Moore will be the starter on opening day.
It's the fair thing to do. It's probably the prudent thing to do. The Panthers have a good running game, and, if the defense is any good, Moore could be completely functional for this team.
But keep one thing in mind, even as you ponder that whole concept of fairness and loyalty. Moore really isn't Fox and Hurney's guy. He's in this position pretty much by default. Moore was an undrafted free agent plucked off the waiver wire from the Cowboys three years ago. He got thrown into the lineup last year after
Jake Delhomme
was injured, which happened after Delhomme played poorly for most of the season.
[+] Enlarge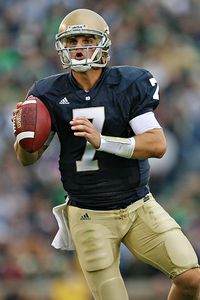 Jonathan Daniel/Getty ImagesJimmy Clausen passed for 3,722 yards and 28 touchdowns for Notre Dame in 2009.
Delhomme was Fox and Hurney's guy. They stuck with him far too long and when they finally cut him in February, Moore became the heir apparent partly because of his play last year, but mainly because he was the only other quarterback on the roster besides
Hunter Cantwell
.
By draft right, and by Fox's close friendship with former Notre Dame coach Charlie Weis, Clausen automatically becomes Fox and Hurney's guy. That carries a lot of implications for a coach and a general manager, who clearly are heading into the season on the hottest of seats.
Let's go on the assumption that Moore starts on opening day. It gives him his shot and it prevents Clausen from having to play his first NFL game in the hostile atmosphere of the new Giants Stadium.
After the trip to New York, the Panthers host the Buccaneers and Bengals. Then, they go to New Orleans before hosting Chicago. After that, they've got their bye week and that's when things could get interesting. Let's say the Panthers are 3-2 or better at that point. Moore stays as the starter.
But let's say they're 2-3 or worse. Let's say Fox and Hurney are scratching and clawing for their jobs and receiver
Steve Smith
relinquishes his position as the president of the Matt Moore Fan Club. At that point, there's no other option.
They have to hand it off to their guy. They have to go to the guy with the Notre Dame pedigree. They have to win, or at least convince owner Jerry Richardson they've found their franchise quarterback and are on the verge of winning big. Anything less than that and Clausen could be playing for Bill Cowher in 2011 -- if there is a 2011 season.
But Fox and Hurney can't worry about the league's uncertain labor situation. They've got a more immediate uncertainty about their own labor situation.
If Clausen sits his entire rookie season, Fox and Hurney will be thrilled they didn't have to throw him into a fire that never got too hot. If they start him, he'll be going into an inferno, but he'll be Fox and Hurney's last chance to put out the flames. Actually, Clausen's the best chance to put out those flames.
What the Panthers did Friday night was draft a potentially better version of a young Delhomme. Remember back in 2003 when Fox and Hurney quietly signed Delhomme as a free agent and opened the season with
Rodney Peete
as their starting quarterback?
How long did that last? Precisely one half of the first game. A few months later, Delhomme had the Panthers in the Super Bowl.
Delhomme was Fox and Hurney's hand-picked guy. Now, Clausen is. The two are a lot alike and I'm using the young Delhomme as a measuring stick. That Delhomme was a gunslinger and so is this Clausen. That Delhomme took chances and this Clausen takes chances. That Delhomme was cocky. So is this Clausen.
The 2003 season was the shining moment for Fox and Hurney. When people have their backs pinned to the wall, they tend to go back in their past to what worked best.
Fox and Hurney would have been thrilled -- and probably stunned -- if Peete had stayed the starter and taken that team to the Super Bowl. But they didn't really give him much of a chance to do that.
At the first sign of trouble, they turned to Delhomme. It's going to be history repeating itself -- at least in theory. Moore's going to get a shot. But the first time the Panthers lose a couple games in a row, Fox and Hurney are going to turn to their guy.
That's Clausen.
September, 14, 2009
9/14/09
1:18
PM ET
Posted by ESPN.com's Pat Yasinskas
John Fox faced the media a little bit ago and said about what you would expect him to say about Carolina's quarterback situation.
Jake Delhomme
remains the starter
. Did you really expect Fox to say anything else?
As bad as Delhomme was on Sunday (and in that playoff loss to Arizona), Fox really doesn't have another option at quarterback. Backup Josh McCown is hurt and the Panthers aren't ready to give up on Delhomme and hand off their season to third-stringer Matt Moore – just yet.
But this can't go on forever. If Delhomme continues to be a turnover machine Sunday in Atlanta, Fox is going to have to make a critical decision. The Panthers still are sorting out the severity of McCown's injury and Fox said not to rule out the possibility of adding another quarterback.
If Fox even acknowledges that possibility, I think there's a pretty good chance the Panthers will add another quarterback. Guys like Jeff Garcia, Joey Harrington and Brian Griese are out there. So is the retired Vinny Testaverde, who is about 72, but started for the Panthers for much of 2007. I think Rodney Peete might be available, too. And don't forget Chris Weinke.
But Garcia, Harrington and Griese would seem like the most realistic possibilities at this point. It's not realistic to imagine any one of them coming in and taking Delhomme's job before Sunday. But if Delhomme gives that job away against the Falcons, you could see major change in Carolina.
November, 21, 2008
11/21/08
12:00
PM ET
| | |
| --- | --- |
| | |
| | Getty Images |
| | Carolina's John Fox (left) and Atlanta's Mike Smith have plenty of similarities in their coaching backgrounds. |
Posted by ESPN.com's Pat Yasinskas
The first time I ever laid eyes on Atlanta coach Mike Smith, it took about three minutes to figure out I'd met him before.
Well, I truly hadn't met Smith before the May night the Falcons had a little get-acquainted reception with the media during an NFL meeting in Atlanta. But I'd met the exact same guy about six years earlier in Charlotte.
When it comes right down to it, the Smith of today is John Fox, circa 2002, and only slightly different now.
When they shake hands before or after what suddenly is an NFC South showdown between the Falcons and Carolina Panthers in the Georgia Dome on Sunday, somebody should snap a picture and see if two different guys really do show up.
Physically, they're the same -- silver hair with the build of former college players who haven't been working out for a while. But it goes way beyond the physical. Fox and Smith think, talk, act and, most important of all, coach alike.
Fox often tells his players "be the same guy" and that's pretty much what he's done since he arrived in Charlotte to clean up George Seifert's 1-15 mess. That's set a pretty nice precedent for success in the NFC South.
There's little doubt Falcons owner Arthur Blank didn't at least consider what Fox had done with the Panthers when he was looking around for someone to clean up Bobby Petrino's mess. Much like Panthers owner Jerry Richardson, Blank wasn't afraid to learn from his mistakes and go with a resume that didn't have much glitz -- but a resume that was exactly what his franchise needed.