January, 18, 2010
1/18/10
11:39
AM ET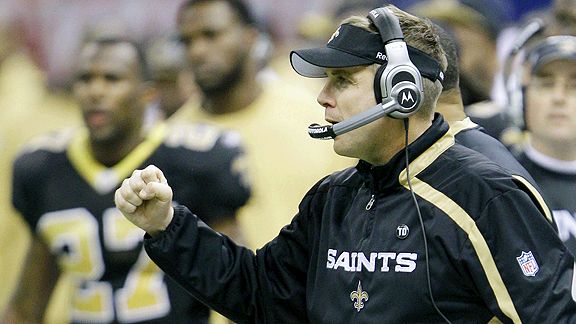 AP Photo/David J. PhillipSean Payton has the New Orleans Saints one victory from a trip to the Super Bowl.
When he came to New Orleans in 2006 and took a beleaguered franchise straight to the NFC Championship Game, we just assumed Sean Payton would do it every year.
He was the next super coach and it would only be a matter of time before he had the
New Orleans Saints
taking the next step. His offensive genius would carry the Saints to win after win and it would seem easy.
The only problem was, it didn't work out anywhere close to that way. Through injuries, bad luck and maybe even some mistakes by Payton, the Saints were mediocre in 2007 and 2008. It wasn't that Payton suddenly went from being a good coach to a bad one or that he was lucky in his first season. This guy always has had some very good things going for him.
In his fourth season, however, it's more than fair to say Payton has grown immensely as a head coach.
"I guess you'd say more traveled in having gone through these games,'' Payton said Sunday. "Each week you learn things about yourself and about your team and about your preparation. I thought last week we had good focus. I felt like our guys were looking forward to playing. The way we practiced was a real good sign that we were ready. To answer your question, I think just from the experience you learn more as a coach, and I think the other thing that's important is that you never want to stop learning."
Give Payton lots of praise for the last part of that answer. It sounds like nothing more than a common-sense answer, but it's significant. Around the league, there are many coaches who believe their system is right and they stubbornly stick to it no matter what. The
Carolina Panthers'
John Fox comes quickly to mind, largely because he's the coach I've dealt with most. Fox has a system he believes in and it's a very good one, but he's been unwilling to show any flexibility. It's one reason he's never had back-to-back playoff seasons.
Payton and Fox are very close friends and came up together as assistants with the
New York Giants
. But there's one difference between Payton and Fox -- and Payton and most coaches, actually -- that's become very evident this season.
Payton's willingness to be introspective and makes changes make him a better coach. That worked marvelously this season, and it's a major reason Payton has the Saints back in the NFC Championship Game.
Let's examine the ways Payton has made himself a better coach.