NFC South:

Rookie of the Year
July, 18, 2013
7/18/13
1:00
PM ET
The NFC South, a division where fans often complain about a perceived lack of national attention, has had one market cornered in recent years.
When it comes to Rookie of the Year awards, "small markets'' haven't stopped NFC South players from receiving big honors.
Carolina quarterback
Cam Newton
won the Associated Press Offensive Rookie of the Year in the 2011 season. Last year, Carolina linebacker
Luke Kuechly
won the defensive award.
Can the trend continue in 2013?
Well, I see at least one potential candidate for each team. But any rookie awards in the NFC South will almost certainly come from the defensive side of the ball because division teams didn't use early draft picks on offensive skill position players.
Let's take a look at the guys I think have a chance to win Defensive Rookie of the Year.
[+] Enlarge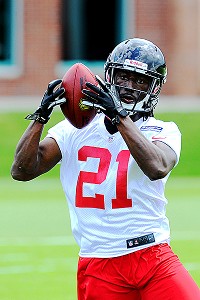 Dale Zanine/USA TODAY SportsThe Falcons will be counting on rookie CB Desmond Trufant to be an impact player immediately.
Atlanta Falcons.
There's a very strong candidate here. That's first-round pick
Desmond Trufant
.
All indications are the Falcons plan to start Trufant immediately after releasing
Dunta Robinson
and letting
Brent Grimes
leave via free agency. Letting those veterans go wasn't an accident. The Falcons wanted to get younger at this position and they also used their second-round pick on cornerback
Robert Alford
.
The hopes also are high for Alford, but it's Trufant that the Falcons are expecting big early returns from. The plan is to start him opposite veteran
Asante Samuel
and let Alford compete with
Robert McClain
for the job at nickel back.
That means Trufant will be targeted early and often because opponents always test rookie cornerbacks. But the Falcons believe Trufant is polished and NFL ready. If he can rise to the challenge, he could put up some big interception numbers and that could make him a candidate for Defensive Rookie of the Year.
Carolina Panthers.
I actually see two candidates here. The Panthers used their first two picks on defensive tackles
Star Lotulelei
and
Kawann Short
. Lotulelei was the first-round choice and his best shot at any postseason honors will come if Carolina's run defense has a strong season. Lotulelei is known more for his run-stuffing abilities than his pass-rushing skills, so he'll really need to dominate in the middle to turn heads.
Sacks are the statistic people look to when they're talking about defensive linemen. That's why I think Short, a second-round pick, might have a better chance to grab attention than Lotulelei. The scouting report on Short is that he can play the run well, but also is capable of generating a pass rush from the interior.
That could translate into big production. Surrounded by the strong duo of defensive ends
Greg Hardy
and
Charles Johnson
, veteran defensive tackle
Dwan Edwards
produced six sacks last season. If Short can beat out Edwards right from the start, I could see him ending up with even more sacks and that could bring awards.
New Orleans Saints.
In recent years, the Saints usually have brought rookies along slowly, often not starting them until their second year. But I get the sense the plan with safety
Kenny Vaccaro
is different this year.
The Saints blew up their defense after ranking last in the league last season. They brought in coordinator Rob Ryan and Vaccaro was the first player drafted to fit his scheme. That means Vaccaro won't be sitting on the bench.
If Vaccaro can put up some significant interception and tackle numbers and the New Orleans defense shows strong improvement, the rookie could be in the spotlight.
Tampa Bay Buccaneers.
The big offseason news in Tampa Bay was the trade for cornerback
Darrelle Revis
and the free-agent signing of safety
Dashon Goldson
. But there's another guy who should benefit tremendously from the those two moves.
That's second-round pick
Johnthan Banks
. He'll either start opposite Revis or get a lot of time in nickel situations if the Bucs elect to start
Eric Wright
.
Either way, Banks could be in a situation where he has a chance to shine. With Revis and Goldson protecting him, Banks could have a chance to come up with a bunch of interceptions.
And keep the Rookie of the Year award in the NFC South.
January, 17, 2012
1/17/12
11:05
AM ET
The Pro Football Weekly/Pro Football Writers of America
All-Rookie team and All-NFL team
are out and we've got some pretty slight NFC South representation.
On the rookie team, Carolina quarterback
Cam Newton
, Atlanta receiver
Julio Jones
, Atlanta punter
Matt Bosher
and Atlanta special teams player
Akeem Dent
all made the team.
Newton also was the Rookie of the Year, but this is not to be confused with the Associated Press Rookie of the Year award, which will be announced at a later date.
Only two division players made the All-NFL team. They were New Orleans guards
Jahri Evans
and
Carl Nicks
.
Also, we should note New Orleans quarterback
Drew Brees
did not win the Most Valuable Player award. As expected that went to Green Bay's
Aaron Rodgers
. Again, this isn't the same as the Associated Press Most Valuable Player award. That's viewed as the most prestigious award and player contracts often include incentives for winning that.
November, 17, 2011
11/17/11
1:00
PM ET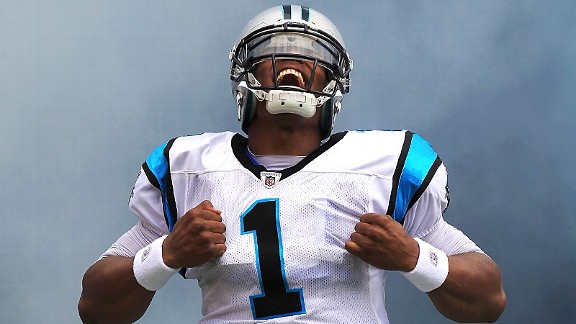 Streeter Lecka/Getty ImagesCam Newton made a statement early, accumulating 854 passing yards in his first two games.
On the surface, it looks like there's a great argument brewing out there about who should be the NFL's Offensive Rookie of the Year.
The names
Cam Newton
,
Andy Dalton
and
DeMarco Murray
are getting tossed around. It makes for great conversation, but let's face reality.
Newton won the award a long time ago. This race was over two weeks into the season. Despite some really nice deeds by Dalton and Murray, nothing really has changed and it's not going to.
As the first overall pick in the draft, Newton came with all sorts of flash and glitter. He was a Heisman Trophy-winning quarterback on a national championship team at Auburn and that made him a strong favorite to win Rookie of the Year before the season ever started.
Newton settled it in two weeks. He threw for more than 400 yards in each of his first two games. No rookie quarterback had ever done that, and that's the kind of thing that's going to stick in the mind of voters.
Speaking of voters, let's be very clear. We're talking about the Associated Press NFL Offensive Rookie of the Year award. There are other rookie honors out there and they matter. Just not as much as the one by the Associated Press.
If you don't believe me, consider this: If a player gets an incentive clause in his contract for winning a Rookie of the Year award, it almost always is stipulated that he only gets paid if it's the one from the Associated Press.
[+] Enlarge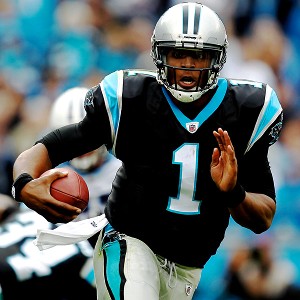 Streeter Lecka/Getty ImagesCam Newton has passed for 2,605 yards this season and 11 touchdowns, and has also rushed for 374 yards and seven more scores.
The way it works is the voters are writers from every NFL city. Majority rules and, unless Newton suffers a season-ending injury very soon, he's going to win.
Yeah, I can hear the arguments coming from Dallas and Cincinnati and I respect them. But those folks can save themselves some pain later by realizing now that Murray and Dalton aren't going to win the award.
I know everything is bigger in Texas and that's why Dallas fans are going crazy about Murray. He has been incredible since
Felix Jones
went down with an injury in mid-October. Murray has 674 rushing yards this season with 601 of them coming in the past four games.
And I understand that the Cowboys are "America's Team,'' and Dallas is a much bigger media market than Charlotte or Cincinnati. But that actually could end up working against Murray. For a long time, there have been grumbles that it's harder for Cowboys to get into the Pro Football Hall of Fame because voters feel saturated by anything to do with Dallas.
A lot of those voters are the same ones who select the Rookie of the Year. The Cowboys haven't had one of those since
Emmitt Smith
in 1990.
Murray is good, but he's not Emmitt Smith. You could make the case that we saw Murray last year. Tampa Bay's
LeGarrette Blount
rushed for 1,000 yards in basically half a season (and for his next trick he's trying to learn how to pass block) and he didn't even come close to winning the award.
Sam Bradford
did.
That's because Bradford is a quarterback. Let's face it, quarterbacks generally are going to win popularity contests simply because they're quarterbacks. Four of the past seven winners have been quarterbacks. Heck, even
Vince Young
won it in 2006.
Once in awhile, as happened in 2007, an
Adrian Peterson
comes along. And in the years when no rookie quarterback does much, the award goes to a
Percy Harvin
or a
Cadillac Williams
. This isn't one of those years.
That brings it down to Dalton and Newton.
Dalton is doing what Bradford did last year and what
Matt Ryan
did in 2008. He's come in, played very well and his team is winning. The Bengals are 6-3 and Dalton has thrown for 1,866 yards and 14 touchdowns. He's smart, doesn't make big mistakes and there's no doubt Dalton is a big reason Cincinnati is one of the league's most surprising teams.
But he's not the only reason. Cincinnati's defense has been shockingly good. Dalton really hasn't been shocking. He has only had one 300-yard game, and only one game in which he's thrown more than two touchdown passes.
Is anybody really ready to call Dalton a franchise quarterback? Yeah, I know it might be a little tempting because it's been tough to even call the Bengals a franchise for most of the time they've been in the league. But Dalton is not Newton. He's not even close.
By about halftime of the opener, the world knew Newton was a franchise quarterback. He threw for 422 yards that day in Arizona. Then, he came back the next week and threw for 432 against Green Bay, and, suddenly, the Panthers had hope for the first time in a long time. They've still got it.
Yeah, both those games were losses, and, despite Newton's play, the Panthers have continued to do a lot of losing. They're 2-7 and we are talking about a game that's supposed to be the ultimate team sport.
But Rookie of the Year isn't a team award, which is significant because if you factored in the play of Carolina's defense, Newton would be wearing heavy anchors on both his legs.
Rookie of the Year is an individual honor, and even if it wasn't, Newton still would have the edge. He's thrown for about 800 yards more than Dalton. Oh, and since we mentioned Newton's legs, let's take a look at rushing stats. Newton has rushed for 374 yards and seven touchdowns.
Dalton has run for 26 yards. If you really want to pad his stats, you could say he's run for 78 feet, which is nice. But we've seen Dalton before. He compares nicely to guys like Ryan, Bradford,
Joe Flacco
and
Mark Sanchez
as rookies.
We've never seen anything like Newton before. You could say he runs like
Tim Tebow
or
Michael Vick
. Or you could say he throws like
Dan Marino
or
Peyton Manning
. You've never been able to say both things about any single quarterback. Until now.
Yeah, Newton's not perfect. He has thrown 10 interceptions (but Dalton has thrown nine on 40 less attempts). It also would be nice to see Newton get some wins. But those will come next season when the Panthers have had time to rebuild a defense that got shredded by injuries.
This is about this year. There's no question Newton and Dalton have turned heads. But Newton is the only rookie who has had heads spinning.
January, 31, 2011
1/31/11
2:36
PM ET
Multiple readers have written to ask why we haven't heard anything on various awards for the 2010 season. That's because they've been pushed back to Super Bowl week.
The announcements will start coming tonight with The Associated Press' Defensive Player of the Year award. The Offensive Player of the Year will be announced Tuesday and Coach of the Year will come Wednesday.
The Pepsi Rookie of the Year will be announced Thursday and the Offensive and Defensive Rookies of the Year will be revealed Friday. The Comeback Player of the Year will be announced Saturday and the Most Valuable Player will be revealed Sunday morning.
I'm thinking the rookie awards might be the place where the NFC South has its best chance for representation. Tampa Bay receiver
Mike Williams
and running back
LeGarrette Blount
have to be strong candidates, although St. Louis quarterback
Sam Bradford
could be an obstacle.
Coach of the Year could go in any number of directions, but Tampa Bay's Raheem Morris and Atlanta's Mike Smith each could have a shot.
January, 20, 2011
1/20/11
2:30
PM ET
By
Patt Yasinskas
| ESPN.com
We've already presented the offense, defense and specialists on our All-NFC South team. Now, it's time for some division-wide awards.
[+] Enlarge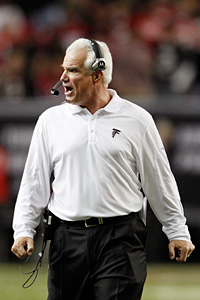 AP Photo/David GoldmanMike Smith led the Falcons to 13 victories this season.
Coach of the Year: Mike Smith, Atlanta Falcons.
There was strong temptation to go with Tampa Bay's Raheem Morris here. He did a fantastic job, but I'm also trying to spread things out. I'll go with Smith. Forget the debacle in the playoff loss to Green Bay. The Falcons won 13 games, and they did that by playing disciplined, smart football.
General Manager of the Year: Mark Dominik, Tampa Bay Buccaneers.
With the league's lowest payroll and a slew of injuries, the Bucs managed to win 10 games. Dominik pulled some rabbits out of a hat by finding some impact players late in the draft, off the waiver wire and off the practice squads of other teams.
Rookie of the Year: Mike Williams, Tampa Bay Buccaneers.
Exhibit A of Dominik's success. Williams was a fourth-round draft pick, but he immediately was Tampa Bay's No. 1 receiver.
Coordinator of the Year: Greg Olson, Tampa Bay Buccaneers.
Atlanta offensive coordinator Mike Mularkey and New Orleans defensive coordinator Gregg Williams are bigger names. But I'll take Olson just on this season. With
Josh Freeman
in his first full season as a starting quarterback, a bunch of young guys playing at receiver and running back, and an offensive line that was hit hard by injuries, Olson still made this the most entertaining offense in franchise history.
Defensive Player of the Year: John Abraham, Atlanta Falcons.
This was probably the hardest choice on this list. It was not a banner year for defense in the NFC South. I narrowed the list to Abraham and New Orleans'
Jonathan Vilma
and
Malcolm Jenkins
. Vilma might be the most consistent and best overall defensive player in the division, and Jenkins probably has the most upside. But Vilma didn't make a lot of big plays, and I'm hesitant to give Jenkins this honor in his first full season as a starter. Abraham had 13 sacks and made more big plays than any defensive player in the division.
Offensive Player of the Year: Roddy White, Atlanta Falcons.
Yes,
Drew Brees
,
Matt Ryan
and Freeman got consideration here. So did Atlanta running back
Michael Turner
. All those guys are good. But when you look at their production this season only, can you really make a case that they were the best in the league at their position? I think you can do that with White, and that's why I'm going with him.
Special Teams Player of the Year:
Eric Weems
, Atlanta Falcons. He did it all for the Falcons, returning kickoffs and punts and also helping out on the coverage units. He became a big-play guy as a return man, and that's why he's going to the Pro Bowl.
Breakout Player of the Year: Malcolm Jenkins, New Orleans Saints.
He moved from cornerback to free safety, and even made a brief return to cornerback when injuries piled up. He made some huge plays and showed signs he could become a force for the long term.
Equipment Manager of the Year: Jackie Miles, Carolina Panthers.
Hey, I had to get the Panthers involved somehow, and there really wasn't a legitimate case for any of their players, coaches or executives. But the one guy with the Panthers who is the absolute best in the league at what he does is Miles. He might not be an owner, player, coach or general manager, but there are times you watch Miles do his thing and you feel like you are watching Ted Williams (the baseball player, not the guy with the big voice) taking batting practice.
Most Valuable Player:
You'll have to wait a bit. That's going to be announced in a column that is to appear Friday afternoon.
December, 23, 2010
12/23/10
9:09
AM ET
Time for what probably will be a final dip into the mailbag before Christmas.
Joey in Marietta, Ga
., asked the usual question about the lack of attention the NFC South -- and particularly the Falcons -- get from the national media and wonders if that will change if the Falcons go deep into the playoffs.
Pat Yasinskas:
Well, I won't promise that it's for the long haul. But I think things are at least starting to change for the short term. With the upcoming "Monday Night Football" game, the Saints and Falcons definitely will be in the spotlight. The Saints certainly got their time in the national media last season. The NFC South is often in a tough spot because the franchises aren't storied and the markets aren't big. But the solution for that is to just go out and there will come a point where you can't be overlooked.
---
Dan in Leesburg, Va.,
showed his appreciation for my reference to the movie "Kingpin'' in Wednesday's
Stock Watch item
on Carolina receivers
Brandon LaFell
and
David Gettis
.
Pat Yasinskas:
Thanks. Glad someone caught it and wasn't too stuck on being literal to appreciate the humor in that one. "Kingpin" was a great movie and you might see another reference to it from time to time. I'm trying to figure out how to reference the scene where Randy Quaid's character Ish tells Roy Munson, played by Woody Harrelson, that he has a 279 average. After he goes out and rolls a game well below that, Munson reminds asks him about the 279 average. Ish confirms it, but quickly adds, "Where I come from we bowl 15 frames." Classic stuff, in my eyes. Some regular readers have noticed that "Caddyshack'' and "Something About Mary'' references sometimes are used here.
---
Eric in Gainesville, Ga.,
asks if I've ever seen more excitement surrounding the
Atlanta Falcons
and also goes on to sing the praises of owner Arthur Blank.
Pat Yasinskas:
It's definitely the most excitement about the Falcons I've seen since I've been in this role, which is nice to see. I'm sure there was plenty of excitement when the Falcons last went to the Super Bowl in the 1998 season, but I wasn't covering the Falcons then, so I can't really offer a good comparison there. However, I will tell you I think the Falcons are a fun team to cover and I think they're a very likable team for fans. Kind of goes back to Joey's question above. If the Falcons keep winning, I think they can develop a decent national following because they've got some high-profile players with interesting personalities. And, yes, I'll side with you on Blank. He clearly is an owner who went through some tough times. But the man learned from his mistakes, fixed them and is a big part of the reason why this team is where it is now.
---
Adam in Gastonia
asks if the Panthers should add a veteran quarterback in free agency, even if they draft another quarterback early next year.
Pat Yasinskas:
Absolutely. I think one of the mistakes the team made this year was not having any real experience at quarterback. The Panthers wanted to find out what they had in
Matt Moore
and they surrounded him with rookies
Jimmy Clausen
and
Tony Pike
. Then, to make matters worse, coach John Fox spent much of training camp giving Hunter Cantwell the second-team work ahead of Clausen and Pike, which infuriated some important people within the organization. No matter what happens, I'm of the opinion that the Panthers should carry at least one veteran quarterback. He doesn't have to be a particularly good one and doesn't even have to play. It would just be nice for the young guys to have someone to lean on as a mentor.
---
Scott in Tampa
asks if Tampa Bay receiver
Mike Williams
and
LeGarrette Blount
have a chance at rookie of the year.
Pat Yasinskas:
They both have been excellent, but I think they'll end up a little short in the voting and St. Louis quarterback
Sam Bradford
will win it. Not saying that's entirely fair, but that's the way it usually works. Bradford is a quarterback, so he's going to draw the attention.
---
Troy in New Orleans writes:
Are you saying Trent Dilfer
presented you with a gift
because he just lit up the NFC South buzz for you or are you saying it to be facetious because you absolutely disagree with him?
Pat Yasinskas:
I was being facetious because Trent created an unexpected buzz and a lot of traffic during a holiday week when things can be a little quiet. I really couldn't care less on what Trent said and, in my role, I'm going to try my best to play it straight down the middle in any arguments over Atlanta and New Orleans. Part of my job is to throw things out there for readers to elicit their reaction. In this case, Trent handed me a waist-high fastball and I tossed it out there as a softball for readers to debate. Judging by the number of comments, it seems to have served its purpose. Thanks to Trent and, now,
Roddy White
, this has become a much more interesting and busy week than I was anticipating, which is nice.