NFC South:

roster bonuses
April, 26, 2011
4/26/11
7:23
AM ET
Like many of you, I don't know exactly what to make of a
judge's decision to immediately end the NFL's lockout of its players
. The league already is asking for relief and an expedited stay, which would mean we'd just stay in limbo (and a lockout) for the immediate future.
One of the reasons I left law school many years ago was because I was bored with studying case law and all the drudgery that comes with it. That's why I'll leave the
legal analysis
to Lester Munson, who knows much more about these matters than I ever want to. According to Munson, this situation is far from over, but this is a huge early victory for the players.
Will the lockout open the door for free agency to start instantly or for players to be traded prior to or during the draft? Will players be allowed to show up at team facilities Tuesday to do all they can to make sure they collect workout and roster bonuses? I don't know for sure, but I'm real curious to see if the possible end to the lockout allows Carolina's brass to take calls from a certain little guy, who may want out and has been filling up the voicemails of an owner, general manager and coach while they weren't allowed to talk to him in the last month or so. I'm also extremely curious to see if this situation prompts some other teams to call Carolina to see if the Panthers might be interested in trading the top pick in the draft.
What I do know with certainty is that we'll be ready to react to whatever comes out of all this as soon as there is some clarity.
I've got a plane ticket to Charlotte for Wednesday because the Panthers hold the No. 1 pick and still seem to control the draft. Whatever happens, we know there definitely will be a draft.
The only other thing I know for sure is that the Power Rankings on quarterbacks, the most important position in the game, will be unveiled around the middle of the day Tuesday on this blog. I've already written the story that goes with those rankings. I can't reveal the results just yet, but I can tell you that it's going to be real interesting to see how
Drew Brees
,
Matt Ryan
and
Josh Freeman
were viewed by the rest of the voters.
Stay tuned.
March, 19, 2011
3/19/11
12:59
PM ET
As ugly as it has been, the NFL lockout really hasn't hit players in the wallet so far. That's because, for the most part, players get paid only during the season.
The way it works is base salaries are paid in 17 checks (including the bye week) during the course of the regular season. That means no player is missing a regular paycheck until September, if the lockout lasts that long.
We've run through the handful of
workout bonuses in the division that could be impacted
. But the players haven't lost that money yet because offseason workouts for most teams weren't scheduled to start until later in March or early in April.
[+] Enlarge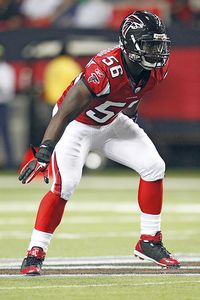 Todd Kirkland/Icon SMIBefore the lockout, Falcons linebacker Sean Weatherspoon was slated to collect a roster bonus of $3.8 million on March 4.
But there are a handful of guys in the NFC South -- and all of them are pretty big names -- who actually have been hit hard by the lockout already. I just took a look at contract information for all four teams and looked at roster bonuses, which generally are payable on the first day of the league year. That was scheduled to be March 4, but the labor situation has prevented the lockout from starting.
So far, the biggest (financial) losers in the lockout are Atlanta linebacker
Sean Weatherspoon
, Tampa Bay quarterback
Josh Freeman
and New Orleans safety
Malcolm Jenkins
. Each of the three already would have received a check for well over $3 million by now if the league year had started.
Weatherspoon was scheduled for a $3.8 million roster bonus. Freeman and Jenkins each were scheduled to get checks for $3.15 million. Some other prominent players around the division who have large roster bonuses are Atlanta's
Tony Gonzalez
($2 million), Tampa Bay's
Earnest Graham
($1.15 million) and
Brian Price
($510,000) and New Orleans'
Patrick Robinson
($391,000).
The other guy in this mix is New Orleans running back
Pierre Thomas
, who signed a four-year contract shortly before the lockout started. The Saints didn't give Thomas a traditional signing bonus, but structured his deal to include a $2.7 million roster bonus.
This isn't lost money because the players will get their roster bonuses as soon as a labor agreement is reached and a new league year officially kicks off. There also is the chance there could be legal action to seek workout bonuses and roster bonuses if the lockout lingers. The theory, among several agents, is that this is money the players are under contract for, but the NFL has prevented them from earning it by locking them out.
Like I said, the players probably will get their roster bonuses at some point. But wouldn't you like to have picked up Weatherspoon's check or Freeman's check back on March 4 and already have collected a few weeks of interest?
Oh, one last thing. In preparing for a lockout long before anyone else, Carolina owner Jerry Richardson and general manager Marty Hurney made sure roster bonuses aren't an issue for the Panthers. Carolina's contract numbers show there's not a single player scheduled to earn a roster bonus in 2011.