NFC South:

Roy E. Williams
December, 17, 2010
12/17/10
1:21
PM ET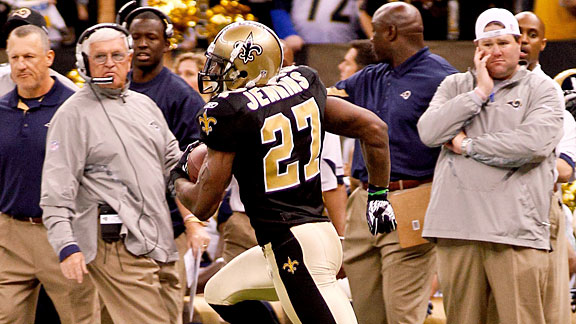 Derick E. Hingle/US PresswireSaints safety Malcolm Jenkins returns an interception for a touchdown against the Rams on Sunday.
Ever since he intercepted a pass and returned it 96 yards for a touchdown Sunday against St. Louis, New Orleans safety
Malcolm Jenkins
has been drawing even more comparisons to
Darren Sharper
.
That's pretty logical, because the play looked almost like a copy of the one Sharper made against the
New York Jets
early last season. Both plays came near the same end zone, went down the same sideline and resulted in touchdowns.
But let's not act like this is a case of Jenkins coming out of nowhere and making Sharper pretty much a non-factor. What you are seeing is Jenkins emerging as one of the best, or at least hottest, safeties in the league.
This was all part of a master plan by the Saints. Although fans didn't want to believe it for most of the offseason, the decision for Jenkins to take Sharper's place was made almost an entire calendar year ago. Sharper is a charismatic veteran beloved by fans and a player who made very big plays during last season's Super Bowl run.
But it also was becoming very obvious during that run that Sharper's time as an elite player was running out quickly. By the time the Saints won the Super Bowl, there was a pretty strong hunch within the coaching staff and management that Sharper no longer was the best safety on the roster.
In their eyes, the best safety on the roster was Jenkins, who played cornerback a year ago. That's why as soon as he showed up to start working out after the Super Bowl celebrations, the Saints sat Jenkins down and told him he was moving to free safety. It turns out that foresight was spot on.
"I don't know if Malcolm is the second coming of Darren Sharper, but he's going to be the first coming of Malcolm Jenkins,'' Sharper told the New Orleans media this week.
Jenkins has become a play-making safety and a legitimate Pro Bowl candidate. When the Saints play the Ravens on Sunday, Baltimore linebacker
Ray Lewis
and safety
Ed Reed
will be the biggest-name defensive players on the field. But they might not be, at this moment, the best defensive players on the field.
That title might belong to Jenkins, who over the past month or so has played as well as any defensive player in the league. Jenkins' two interceptions against the Rams earned him a second NFC Defensive Player of the Week Award. He also won the award in Week 12, after stripping Dallas'
Roy E. Williams
of the ball, recovering the fumble and helping the Saints to a victory on Thanksgiving. It's rare for anyone to get an honor twice in a few weeks. The fact that Jenkins did is a sign that this guy can't be stopped right now.
"The ball seems to find him,'' New Orleans coach Sean Payton said Sunday.
There is something to be said for instincts or having a nose for the ball. Those are the traits of great safeties, but Payton was quick to add that there are a lot of other reasons why Jenkins has become a magnet for the football.
"He's tough,'' Payton said. "He's intelligent. He's a guy who has good instincts. That mental makeup, along with his skill set, serves him well.''
The physical skills were always there. Everybody knew that when Jenkins was a first-round pick out of Ohio State last year. But what you're seeing now is intelligence catching up to, maybe even surpassing, physical ability.
From the moment he was told he was moving to safety, Jenkins became a regular in the film room. He got tips from Sharper, who eventually re-signed with the Saints after testing free agency. But teammates and coaches will tell you Jenkins is the guy who is making it all happen because he has worked so hard to prepare.
"I don't think it's anything special," Jenkins said. "I think (defensive coordinator) Gregg Williams puts us in position to make plays -- and, at the end of the day, talk about the mentality of making plays.''
Jenkins has turned Sharper, a possible Hall of Famer, into a role player. Although the Saints worked Jenkins exclusively at safety in the offseason, they were forced to return him to cornerback briefly when starters
Jabari Greer
and
Tracy Porter
and nickel back
Randall Gay
suffered injuries. When Sharper came off the physically unable to perform list at midseason, Jenkins remained the starter at free safety. He occasionally has played nickel corner when Sharper gets on the field.
Some players might have gotten confused by all the shuffling. Not Jenkins. He has thrived and is talked about as a perennial Pro Bowler by Sharper.
"There's something about a guy who can play both positions, corner and safety in the game, and make plays at both positions,'' Sharper said. "I can say he's going to be a multi-Pro Bowler because that's what a Pro Bowler does: He makes plays. You want to see the safety make those plays. That's what a safety is supposed to do, and he's taking off and running with it.''
December, 1, 2010
12/01/10
1:56
PM ET
The NFC South had a pretty good day Wednesday as the league announced its players of the week. New Orleans safety
Malcolm Jenkins
was named the NFC Defensive Player of the Week.
Jenkins, a second-year pro in his first season as a safety, made a huge play in a Thanksgiving victory over Dallas. With just over three minutes remaining and the Saints trailing, Jenkins knocked the ball loose from Dallas receiver
Roy E. Williams
after a catch. Jenkins also recovered the fumble.
That allowed
Drew Brees
and the offense back on the field. The Saints marched for a game-winning touchdown. This is the first player of the week award of Jenkins' career.
December, 1, 2010
12/01/10
11:15
AM ET
»
NFC Stock Watch
:
East
|
West
|
North
|
South
»
AFC
:
East
|
West
|
North
|
South
FALLING
1. Roddy White, Falcons wide receiver.
Keep in mind, the stock price on White was at an all-time high a few weeks ago. It hasn't fallen through the floor and probably isn't going to. But there has been a minor dip. White was held to five catches for 49 yards Sunday and he hasn't had a touchdown catch in the past two games. White was being mentioned as a candidate for Most Valuable Player a few weeks ago. That's not going to happen unless his numbers jump back up the rest of the way.
2. Josh Freeman, Buccaneers quarterback
. Much like White, this is not an all-out alert to sell Freeman's stock. The price is still pretty high. But Sunday's loss in Baltimore was a reminder that Freeman is not a finished product. He completed less than 50 percent of his passes, although that happened against a very good defense. Freeman can carry the Bucs against average or below average teams. But he needs some help to really shine against good teams.
3. Aqib Talib, Buccaneers cornerback.
No matter how bad a call was by the officials, you don't go chasing them down after a game to argue the point. If you're a cornerback, you have to have a short memory and, when things go wrong, you have to use that to motivate you in a positive way.
RISING
[+] Enlarge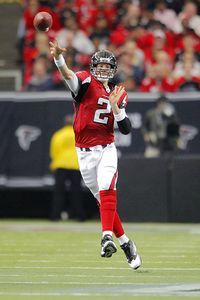 Todd Kirkland/Icon SMIFalcons quarterback Matt Ryan has lead his team to five straight wins.
1. Matt Ryan, Falcons quarterback
. His numbers are not going to be like
Peyton Manning
's because the Falcons never will throw the ball around like the Colts. But Ryan has reached another level this season. He has led the Falcons to five straight wins and they haven't had a turnover in four games. Ryan's game-winning drive against the Packers was a model of efficiency.
2. Drew Brees, Saints quarterback.
The offensive "slump'' the Saints and Brees were in early in the season is over. The Saints have scored 30 or more points in their past three games, all victories. Brees' final drive against Dallas on Thanksgiving was reminiscent of the quarterback who won the Super Bowl last season.
3. Malcolm Jenkins, Saints safety.
The fumble he caused by Dallas receiver
Roy Williams
in the final minutes of the Thanksgiving game is going to be remembered as one of the biggest plays of the season. Only a second-year pro in his first year of playing safety, Jenkins is playing with uncommon intangibles. Veteran
Darren Sharper
is still hanging around, but Jenkins is firmly entrenched as the starter at free safety for the long term.
November, 30, 2010
11/30/10
1:00
PM ET
»
NFC Decisive Moments
:
East
|
West
|
North
|
South
»
AFC
:
East
|
West
|
North
|
South
If the season ended today, what New Orleans safety
Malcolm Jenkins
did in the final minutes of the Thanksgiving game at Dallas would have to be considered one of the top plays in the NFC South this year.
No matter how the rest of the season plays out, Jenkins' play is going to end up very near the top. He prevented the Saints from enduring what would have been an embarrassing and disastrous loss and kept their hopes of winning the NFC South and repeating as Super Bowl champions very much alive.

It was a play that coach Sean Payton used the terms "heart'' and "effort'' to describe. No argument on those descriptions, but let's add "smart,'' maybe even "brilliant."
As Jenkins chased down Cowboys receiver
Roy Williams
in the waning minutes, the second-year safety knew he needed more than a tackle. Simply bringing down Williams after a long reception would have just allowed the Cowboys to run out the clock. Jenkins needed a turnover.
He got it. After taking a bad angle on coverage to help allow Williams to catch a slant pass, Jenkins was left to try to run down the Dallas receiver as he went deep into New Orleans territory. With Williams trying to protect the ball, Jenkins still managed to pop it loose as he caught the receiver at the 11-yard line. The ball fell right into Jenkins' stomach.
Trailing 27-23, the Saints were given new life. Thanks to Jenkins,
Drew Brees
and the offense came onto the field. They moved the ball quickly downfield and Brees hit
Lance Moore
with a touchdown pass that gave the Saints a 30-27 victory.