June, 14, 2011
6/14/11
12:40
PM ET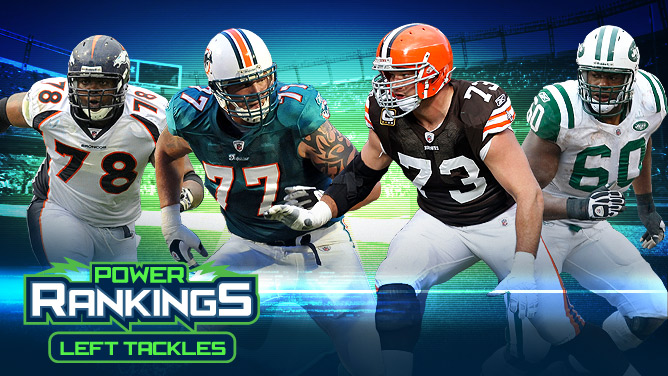 ESPN.com IllustrationOur bloggers say Joe Thomas and Jake Long are the NFL's best left tackles by a wide margin.
ESPN.com ranks the NFL's top 10 at left tackle, one of the most important positions in the league. Next week: Top up-and-coming assistants.
Take a quarter out of your pocket and look at its width. That's basically the difference between the top two left tackles in the ESPN.com Power Rankings.
Cleveland's
Joe Thomas
received 76 points from our eight-person panel of voters. Miami's
Jake Long
received 75. That put them way ahead of the rest of our top 10 list of the NFL's best blindside pass protectors.
Our panel of division bloggers gave Thomas five first-place votes, and Long received three.
"It was pretty much a coin flip for me,'' said NFC East blogger Dan Graziano.
If Graziano's quarter had landed on the other side, we might have had a different outcome. I think the same can be said for some of the other voters. I gave Thomas my top vote only after some strong consideration for Long.
But let's cut to the chase and point out the man who ultimately decided this election. It's AFC South blogger Paul Kuharsky. Every other voter had Thomas and Long in the top two spots. Kuharsky threw things off a bit by putting Long at No. 1 and Tennessee's
Michael Roos
at No. 2. He had Thomas at No. 3.
Let's turn to Kuharsky for his rationale.
"I've seen Long more, which helped him,'' Kuharsky said. "Also, frankly, I knew there could be close to a consensus for Thomas. He's very good. But we're not talking
Orlando Pace
or Jonathan Ogden. The groundswell for Thomas as top left tackle is, in my eyes, more a media creation than the view of players, scouts and coaches. I wanted to note and reflect that.''
Point taken, and I agree that we're not talking the same level as Pace and Ogden -- at least not yet. Thomas and Long are young and it's too early to put them in the category of surefire Hall of Famers. But, aided largely by Kuharsky, Roos did finish No. 6 overall.
Ryan Clady
,
Jordan Gross
and
D'Brickashaw Ferguson
rounded out our top five at Nos. 3, 4 and 5 respectively. After Roos, the rest of the top 10 was filled out by
Jason Peters
(No. 7),
Marcus McNeill
and
Donald Penn
, who tied for No. 8, and
Matt Light
at No. 10.
Let's work our way back toward the top, with one more quick stop at Roos. I had him at No. 8 on my ballot, and James Walker and Kevin Seifert didn't even vote for him. I've had a couple of scouts tell me Roos is a good left tackle, but seemed to take a step backward last season.
Kuharsky heard otherwise.
"I've had a coach and two scouts tell me Roos is as good or better than Thomas and Long,'' Kuharsky said. "I obviously see Roos a lot and think he's quite good, certainly better than he wound up here.''
Roos or ruse? Take your pick, but let's head right back to the top of the voting and back to the argument between Thomas and Long. They were drafted one year apart with Thomas entering the league in 2007 and Long coming in for the 2008 season. Each has made it to the Pro Bowl in every season played.
Kuharsky mentioned the "media creation'' about Thomas. In Cleveland? That's not where you usually turn to find guys to top Power Rankings, so our vote has to say something pretty strong about Thomas. Let's turn to the guy who covers Thomas.
"Thomas has always been focused on doing his job,'' Walker said. "You can't tell whether the Browns are 16-0 or 0-16 with the way he plays, and that's why he's been to four straight Pro Bowls. The NFL has gone the way of speed pass-rushers, and Thomas is the prototype to combat that. He's lean with very good feet and agility, but still strong enough to dominate in the running game. There's really no weakness in his game."
None of our panelists saw a weakness in Long's game.
"I thought Long's run-blocking ability put him a little bit ahead of Thomas,'' Grazianzo said. "I think he's shown improvement every year and is likely to pass Thomas soon if he hasn't already (and for me, these lists are about which guy I'd pick right now, so a guy I think is going to get better is going to get a long look from me). And he earned a bonus point or two from me for playing the last six games of 2010 in a shoulder harness and still being incredible.''
The best news is, these guys are so young we can have this same argument every year for the next decade. Now, let's move on to some other notes about the voting in the Power Rankings for left tackles.
Turn off the Light.
As we mentioned, Light came in at No. 10. That surprised me a bit because he's a big name with three Super Bowl championships and three Pro Bowl selections. I had Light at No. 6 and Walker had him at No. 4. But Light didn't even appear on four ballots, including the one from AFC East representative Tim Graham.
"Matt Light is a quality player, but Stats Inc. blamed him for 10 sacks allowed and four penalties last season, more in each category than his previous two seasons combined,'' Graham said. "I've always thought Light got more recognition simply from being
Tom Brady
's left tackle. Once you name the three or four elite tackles and you rack your brain for the next group, it's easy to understand people sorting through the great quarterbacks and asking, 'Who is so-and-so's left tackle?' Light made the Pro Bowl last year, but as an alternate. Light's reputation also is enhanced by his involvement in the union and being a truly rare species: the gregarious Patriot.''
Also-rans.
Andrew Whitworth
,
Chad Clifton
,
Doug Free
,
Russell Okung
and
Jeff Backus
didn't make the top 10, but each received votes.
"I don't think there are 10 elite or even complete left tackles in the NFL,'' NFC West blogger Mike Sando said. "I list Okung on a very short list of players with the talent and makeup to be elite at that position. Okung hasn't played enough to this point, but I think he'll join that group this season. Listing someone with considerably less ability was the alternative.''
The longest shot.
Somewhere, former Tampa Bay general manager Bruce Allen and coach Jon Gruden are smiling at Penn's name appearing on this list. It's true, they headed the regime that signed Penn as a free agent in 2007 after he was cut by Minnesota in 2006. Then again, they were also the ones who signed Luke Petitgout, and Penn only got a chance to play because Petitgout turned out to be washed up. I used to subscribe to the theory that you needed to use a first-round pick to get a good left tackle. But Penn has shown that's not necessary. In his case, he simply made the most of his shot at playing time and turned it into a $48 million contract as training camp started last year.
April, 21, 2010
4/21/10
1:00
PM ET
»
NFC dream/Plan B
:
East
|
West
|
North
|
South
»
AFC
:
East
|
West
|
North
|
South
»
Draft Watch
:
Biggest needs
(2/17) |
Busts/gems
(2/24) |
Schemes, themes
(3/3) |
Recent history
(3/10) |
Needs revisited
(3/17) |
Under-the-radar needs
(3/26) |
History in that spot
(3/31) |
Draft approach
(4/7) |
Decision-makers
(4/14) |
Dream scenario/Plan B
(4/21)
Each Wednesday leading up to the NFL draft (April 22-24), the ESPN.com blog network will take a division-by-division look at key aspects of the draft. Today's topic: Dream scenario/Plan B.

Atlanta Falcons
Dream scenario:
They get Michigan defensive end
Brandon Graham
with the first-round pick and come back with an outside linebacker and a center in the middle rounds. Graham's been a very productive college player and the risk of him being a bust is low. He can fit a need immediately.
Plan B:
If Graham is somehow gone, that could change things dramatically.
Jason Pierre-Paul
has raw athleticism, but comes with questions. The Falcons may instead look toward linebacker
Sean Weatherspoon
, defensive tackle
Jared Odrick
or even an offensive lineman.

Carolina Panthers
Dream scenario:
A big defensive tackle, like
Terrence Cody
, falls until they have their first pick in the second round. Cody would fill a huge void and make the run defense much better. They could follow him up with a wide receiver and a quarterback who can begin his career behind
Matt Moore
.
Plan B:
If Cody's not there, a true run stuffer might not be available. The Panthers may have to go with a receiver first and that's a dangerous proposition because their draft history with receivers has been terrible.

New Orleans Saints
Dream scenario:
They done such a good job filling in depth at defensive end that it's no longer a huge need. That leaves outside linebacker as the only really big need. The Saints likely would be very happy to land a linebacker like Weatherspoon or
Jerry Hughes
and get some depth at defensive tackle and tight end over the next few rounds.
Plan B:
The Saints aren't desperate in any area. If a linebacker isn't there with value in the first round, they can save that for a bit later and perhaps draft a defensive tackle or tight end first. The Saints are capable of surprises and a running back in the first few rounds isn't out of the realm of possibility.

Tampa Bay Buccaneers
Dream scenario:
There doesn't seem to be a big preference between defensive tackles
Ndamukong Suh
and
Gerald McCoy
. The Bucs gladly would take either one and follow up with a receiver like
Golden Tate
and a cornerback with their two second-round picks.
Plan B:
If the Bucs don't get a defensive tackle first, it's almost a disaster because the need is so great. If Suh and McCoy are somehow gone, they'd have to consider taking offensive tackle
Russell Okung
, safety
Eric Berry
or a defensive end and they'd still have a glaring hole in the middle of their defensive line.
April, 20, 2010
4/20/10
1:00
PM ET
»
NFC Big Question
:
East
|
West
|
North
|
South
»
AFC
:
East
|
West
|
North
|
South
What if defensive tackles Ndamukong Suh and Gerald McCoy are gone before the Buccaneers pick at No. 3?
[+] Enlarge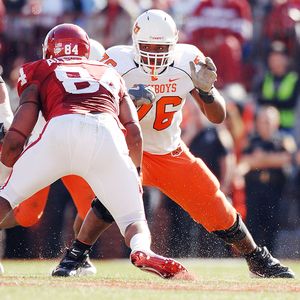 John Rieger/US PresswireIf the top defensive tackles are off the board, the Bucs could consider offensive tackle Russell Okung.
The general consensus is that the Rams will pick quarterback
Sam Bradford
at No. 1 and the Lions will pick one of the two defensive tackles at No. 2, leaving the other for the Buccaneers. But the Rams haven't definitively said they're taking Bradford. It seems as if Suh would be the likely candidate for the Rams if they do pull a surprise.
Let's say they took Suh. Detroit almost certainly will go with McCoy because the Lions need a defensive tackle as much as the Bucs do. If that happens, the Bucs suddenly wouldn't be in a very good spot. Their best hope then would be that someone would be anxious enough to trade up for Bradford. That would be nice because the Bucs probably could get a good player if they move back a few spots and they'd probably be adding at least one more draft pick. But draft trades are easier said than done.
If the Bucs are at No. 3 and Suh and McCoy are gone, the choice likely will come down to safety
Eric Berry
or offensive tackle
Russell Okung
. The argument there opens a whole can of worms. Do you really draft a safety that high? The Bucs certainly could use help back there, and Berry's the best defensive back in the draft. But how many problems is a safety going to solve if you don't upgrade your front four?
Okung would have to be intriguing. He is a franchise left tackle and could protect franchise quarterback
Josh Freeman
. But the Bucs already have a decent left tackle in
Donald Penn
. But Penn has been making some noise about wanting a new, long-term contract. If the defensive tackles are gone, the Bucs might have to switch up and get an offensive tackle.
April, 12, 2010
4/12/10
1:04
PM ET
The full and official mock draft by the ESPN.com Blog Network will come next week. Each of the eight division bloggers will get a chance to play general manager for the teams they cover.
I'm already practicing and a lot of you are asking for a mock draft right now. So let's go ahead and do a practice mock draft for each of the first pick for the four NFC South teams. Obviously, I'm going to have to speculate on what happens with the picks in front of each of the NFC South teams. And, like I said, the real mock draft will come next week and I may change my thoughts between now and then.
No. 3, Tampa Bay: Defensive tackle Gerald McCoy.
I'm going on the assumption that quarterback
Sam Bradford
and defensive tackle
Ndamukong Suh
are the first two picks in the draft. McCoy's the obvious choice for a glaring need. But I wouldn't rule out the possibility of the Bucs taking offensive tackle
Russell Okung
. Restricted free agent
Donald Penn
isn't happy because the Bucs haven't given him a long-term deal. Penn could end up being used as trade bait. He's been a decent left tackle, but he'll never be a Pro Bowler. With
Josh Freeman
as the franchise quarterback, the Bucs might want to get a franchise left tackle.
No. 19, Atlanta:
Defensive end Brandon Graham.
The Falcons want to upgrade their pass rush. Graham is the best defensive end that's going to be available.
No. 32, New Orleans: Defensive tackle Brian Price.
A lot of people are projecting the Saints to go with a defensive end and that certainly could happen. Someone like
Everson Griffen
or
Jerry Hughes
could be available and they could be the choice. But I think the signing of
Alex Brown
gives the Saints decent depth at defensive end. The inside might be more of a need and price might be a better value pick.
No. 48, Carolina: Defensive tackle Terrence Cody.
He seems to have fallen out of first-round consideration because he's a one-dimensional player. All Cody can do is stuff the run, but that's what the Panthers need. John Fox's whole philosophy is built on running the ball on offense and stopping the run on defense. Right now, there's no doubt the Panthers can run the ball, but stopping the run is another matter. Fox has always liked having a big guy in the middle (see
Kris Jenkins
and
Maake Kemoeatu
) and here's his chance to re-load at that position.