November, 16, 2012
11/16/12
1:30
PM ET
»
NFC Final Word
:
East
|
West
|
North
|
South
»
AFC
:
East
|
West
|
North
|
South
Five nuggets of knowledge about the Week 11 games:
Piece of history:
The Falcons have a chance to be a part of history that would be nice for them, but it would put Arizona quarterback
John Skelton
in some pretty bad company. Skelton has thrown an interception in each of his past 12 games. Who was the last quarterback to throw an interception in 13 straight games?
Ryan Leaf
, according to ESPN Stats & Information.
[+] Enlarge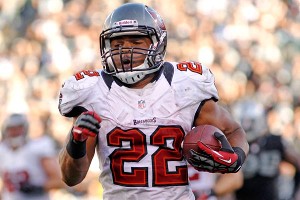 Cary Edmondson/US PresswireThrough nine games, Bucs RB Doug Martin has rushed for 862 yards and seven touchdowns.
Numbers game:
We're about to find out if nine really is an unlucky number for the Falcons. Last week, they had a chance to start 9-0, but lost to New Orleans. On Sunday, they'll have a chance to run their home winning streak to nine consecutive games. That would be the longest streak since the Falcons won 10 straight at home between the 1997 and '98 seasons.
Who needs Nicks?
A lot of people thought Tampa Bay's offensive line would crumble when All-Pro guard
Carl Nicks
went out with a season-ending injury. Surprisingly, the loss of Nicks doesn't seem to be having a negative impact on rookie running back
Doug Martin
. In the two games since Nicks went out, Martin has averaged 8.3 yards per carry when running up the middle or to his left.
Missing the deep ball:
You can put some of the blame for this on a battered and struggling offensive line, but Carolina quarterback
Cam Newton
, who showed a big arm as a rookie last year, hasn't had much success throwing downfield this season. Newton has 31 pass attempts of more than 20 yards without a touchdown. That's the most in the league, by far. Minnesota's
Christian Ponder
is next with 16 downfield attempts without a touchdown.
Rally cry:
The Saints have become just the 10th team since 1966 to start 0-4 and rally to win at least four of their next five games. But their playoff chances remain slim. Of the nine other teams to rally like that after an 0-4 start, only the 1992
San Diego Chargers
made it to the playoffs.
April, 29, 2011
4/29/11
7:02
PM ET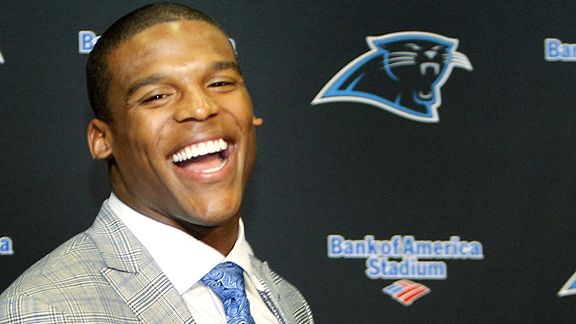 Bob Donnan/US PresswireCam Newton may have enough natural ability to be successful in the NFL if he puts in the work.
CHARLOTTE, N.C. -- Every time the question came, I silently rooted for
Cam Newton
to have some fun.
It's gallows humor, but the question is getting old.
"Do you want to be great?'' the new quarterback of the
Carolina Panthers
was asked in about seven different forms during a 20-minute introductory news conference at Bank of America Stadium on Friday afternoon.
It's a question Newton was repeatedly asked Thursday night, and in the weeks and months leading up to the draft.
I'll tell you what would have been great. Newton should have said something like, "No, I really have no desire to be great. In fact, I'm shooting for mediocrity. I'm thinking I'd like to be some sort of combination of
JaMarcus Russell
,
Ryan Leaf
,
Akili Smith
and
David Carr
. Heck, I think I could be worse than any of them.''
None of that happened. Instead, Newton said all the right things.
"I'm saying it right now: I'm trying to be the best," Newton said. "I strive to be great."
Good answer, but I still think the question is borderline ridiculous. Does anybody really aspire to mediocrity and what does a "desire to be great'' really mean?
Does it mean Newton's got to spend the rest of his life in the film room at Bank of America Stadium except to come out to practice and play in games? Does he need to eat, drink and sleep football to achieve greatness?
I don't think that's really necessary. I think if Newton simply works reasonably hard at his craft, he'll be just fine. The knock by a lot of media members and some anonymous sources as he went through the draft process was that Newton might not totally dedicate himself to the game.
Well, guess what? Everywhere he's been -- high school, junior college and college -- he's done enough to be great.
Yeah, you hear stories about some big-name NFL quarterbacks who spend massive hours watching film and do nothing but work out in their free time. Some of those stories are true and some might be a little inflated.
And sometimes being too driven can be counter-productive. I've been around a few intensely-driven people in my life (a baseball teammate in high school and a couple guys in my current business). They went around beating their chests, telling you they were great and telling anyone who would listen how they worked harder than anybody, even though that wasn't really true. The reality is none of those people were great at what they did. Even with all their effort, they were only good and they never really made it big.
The high school baseball teammate came with the ultimate Little League father, always pushing, but ultimately burning out his son, physically and mentally, for life. Call it the Marv/Todd Marinovich system.
Heck, I think Newton comes with less concerns in this area than
Jimmy Clausen
, the quarterback the Panthers selected in the second round last year. Clausen seemingly has been groomed for greatness all is life, but I don't think you can say he truly has achieved that.
Newton talked a lot about how he plans to put in the work in the NFL and that's great. But he admits it will be a process.
"I understand it's not something that's going to be instant, like instant grits," Newton said. "It's more like collard greens. You've got to let it sit and wait. But at the same time it's going to be a fun process. I know that."
Newton has physical talents as good or perhaps better than any quarterback ever has come into the league with. I think that's the most important thing to start with. No matter how much heart and desire you have, you're not going to achieve greatness if you don't have the physical tools.
Newton doesn't need to go around telling the world he's great or wants to be great. It's a lot more simple than that.
All he has to do is go out and put in a reasonable amount of work, expend a reasonable amount of effort, have some fun, use his natural ability and it just might be easy for him to be great.
April, 7, 2011
4/07/11
12:00
PM ET
»
NFC Draft Watch
:
East
|
West
|
North
|
South
»
AFC
:
East
|
West
|
North
|
South
Each Thursday leading up to the NFL draft (April 28-30), the ESPN.com NFL blog network will take a division-by-division look at key aspects of the draft. Today's topic: history in that spot.

Carolina Panthers
The Panthers' top pick is No. 1 overall. Here are the last seven players taken in that spot, with their NFL team in parentheses:
2010 QB
Sam Bradford
(Rams)
2009: QB
Matthew Stafford
(Lions)
2008: OT
Jake Long
(Dolphins)
2007: QB
JaMarcus Russell
(Raiders)
2006: DE
Mario Williams
(Texans)
2005: QB
Alex Smith
(49ers)
2004: QB
Eli Manning
(Giants via Chargers)
Analysis:
It's still early, but indications are the Panthers are seriously considering taking a quarterback, and that probably narrows it down to Auburn's
Cam Newton
and Missouri's
Blaine Gabbert
. Part of the reason the Panthers are looking down this road is because they saw what the Rams got in Bradford last year. The early results from Bradford and Stafford have been encouraging. But Russell was a tremendous flop, and Smith hasn't been much better. Manning is the only quarterback taken No. 1 overall in this time period to make a Pro Bowl. Even before Manning, the history of quarterbacks at No. 1 was shaky for a long time.
Carson Palmer
and
Michael Vick
have had some good years and some bad ones.
David Carr
and
Tim Couch
rank right up there with Russell. To find a quarterback drafted first overall who has been an unquestioned success, you have to go all the way back to
Peyton Manning
in 1998, and there were some people at the time who thought
Ryan Leaf
could be just as good. Long story short: there might not be such a thing as a surefire quarterback, even with the No. 1 pick.

Tampa Bay Buccaneers
The Buccaneers' top pick is No. 20 overall. Here are the last seven players taken in that spot, with their NFL team in parentheses:
2010: CB
Kareem Jackson
(Texans)
2009: TE
Brandon Pettigrew
(Lions)
2008: CB
Aqib Talib
(Buccaneers)
2007: CB
Aaron Ross
(Giants)
2006: DE
Tamba Hali
(Chiefs)
2005: DE
Marcus Spears
(Cowboys)
2004: DE
Kenechi Udeze
(Vikings)
Analysis:
The Bucs have been in this territory recently and have had tremendous results and one very big complication. The Bucs were at No. 19 heading into the 2009 draft, which was the first for general manager Mark Dominik and coach Raheem Morris. They feared missing out on a chance to get the guy they believed would be their franchise quarterback. That's why they traded up to No. 17 and took
Josh Freeman
. You can't question that move because Freeman single-handedly turned the franchise around last season. Even taking Talib at No. 20 -- and it should be pointed out that move was made by former general manager Bruce Allen and coach Jon Gruden -- brought some positive results. When on the field, Talib showed flashes of being one of the best young cover corners in the game. But the latest in a series of off-field troubles means Talib is probably on his way out of Tampa Bay. The lesson to be learned here is that you can get big-time talent in the draft but it's wise to do your homework on the character and attitudes of players. It's common knowledge the Bucs desperately need a defensive end. Look at Hali and Spears. They represent two ends of the spectrum. Hali came with some questions about being undersized but had no character issues, and he has turned out to be a solid pass-rusher. Spears came with some questions about attitude and never has panned out.

New Orleans Saints
The Saints' top pick is No. 24 overall. Here are the last seven players taken in that spot, with their NFL team in parentheses:
2010: WR
Dez Bryant
(Cowboys)
2009: DT
Peria Jerry
(Falcons)
2008: RB
Chris Johnson
(Titans)
2007: DB
Brandon Meriweather
(Patriots)
2006: CB
Johnathan Joseph
(Bengals)
2005: QB
Aaron Rodgers
(Packers)
2004: RB
Steven Jackson
(Rams)
Analysis:
Johnson, Rodgers and Jackson are proof that you can get a big-time player this late in the round. The Saints aren't looking for a quarterback because they have
Drew Brees
. But running back isn't out of the realm of possibility, and when you see that guys such as Johnson and Jackson have been available at this spot, it makes you wonder about the Saints taking a shot if Alabama's
Mark Ingram
is there. Yes, defensive end and outside linebacker might be greater needs, so those positions are possibilities.
Pierre Thomas
re-signed,
Reggie Bush
is expected to stay and
Chris Ivory
is recovering from injury, but the Saints still have to think back to the end of last year when they basically ran out of running backs.

Atlanta Falcons
The Falcons' top pick is No. 27 overall. Here are the last seven players taken in that spot, with their NFL team in parentheses:
2010: CB
Devin McCourty
(Patriots)
2009: RB
Donald Brown
(Colts)
2008: CB
Antoine Cason
(Cardinals)
2007: WR
Robert Meachem
(Saints)
2006: RB
DeAngelo Williams
(Panthers)
2005: WR
Roddy White
(Falcons)
2004: OLB/DE
Jason Babin
(Texans)
Analysis:
Although nearly every draft guru is projecting that the Falcons will take a defensive end, it's not out of the question that a wide receiver or running back could be the pick here. General manager Thomas Dimitroff and coach Mike Smith have talked a lot about wanting to add explosive players. If they look at their own history and the recent history of NFC South teams that have been in this spot, the idea of going with a receiver or running back could get stronger. Although it took some time for him to develop, White has turned into one of the game's top receivers. Meachem also took some time and dealt with some injuries, but he has emerged as a force in the New Orleans passing game. Williams had some explosiveness as soon as he joined the Panthers.
September, 1, 2010
9/01/10
3:37
PM ET
Time for another edition of the NFC South mailbag. Kind of interesting that the first three questions all come from Texas. Could we be taking over the territory of "The Beast''?
Brendan in Dallas writes:
How do you feel about Darren Sharper coming off this knee surgery? Do you think that he'll be able to have the great season like he did last year or should we expect more of
Malcolm Jenkins
this season? I myself like how Jenkins' been doing this preseason so I wouldn't mind having a younger guy like Jenkins out there.
Pat Yasinskas:
I am extremely interested to see what the Saints do about Sharper in the next few days. All indications are he's not ready to contribute right now and the Saints will have to make a difficult decision. I think the likely scenario is they'll place him on the physically-unable-to-perform list, hope he can heal up and bring him back as insurance for the second half of the season. But I also wouldn't rule out the possibility of the Saints cutting Sharper or him deciding to retire. It's been very clear for some time now that Jenkins will open the season as the starter at free safety. Jenkins is young and very talented. I don't think it's out of the question that he can put up numbers similar to what Sharper did last season.
---
Victor in El Paso, Texas writes:
Now that the Bucs have cut
Derrick Ward
do you think the Bucs will get another running back?
Pat Yasinskas:
I would not totally rule out the Bucs picking up a running back when other teams make their cuts. The Bucs constantly monitor the waiver wire and are always looking to upgrade a roster that clearly still needs some upgrading. But I don't think it's an absolute necessity that the Bucs get a running back. They appear content to head into the season with
Cadillac Williams
and
Kareem Huggins
as their top two running backs.
Clifton Smith
might factor in as a situational player. Plus, fullback
Earnest Graham
has some history at tailback and can always move back over there.
---
Robert in Dallas Texas writes:
Keep up the great work! Two quick questions for you: Do you think the Bucs should make a move on a trade for
Matt Leinart
? Would he be an upgrade compared to
Josh Johnson
?
Pat Yasinskas:
I'm not completely sold on Josh Johnson as a No. 2 quarterback yet. I think he's a legitimate No. 3 with upside. I would like to see the Bucs add a backup with some legitimate NFL experience. But I'm not sure Leinart is the guy they should be looking at. First off, if Arizona's trying to trade the guy they went through the offseason planning to start, that should raise some serious red flags. He's a guy that was a high draft pick and has never done much in the NFL. We might be looking at another Heather Shuler or Ryan Leaf. I'd rather see the Bucs pick up some veteran with a little bit of starting experience that can come in, accept his role as No. 2 to
Josh Freeman
and fit well in the locker room. If the Saints, who may carry only two quarterbacks, decide to cut
Patrick Ramsey
, that's a guy I think the Bucs should be all over.
---
Harris in Weaverville, N.C. writes:
I am a hard-core Panthers fan. However, I can't say that I keep up with every team in the NFL enough to know the answer to this question: Are there any teams in the NFL that are so loaded with wide receivers that there will be some decent pickings when the final cuts are due on Saturday? What are the chances that the Panthers will make a WR move from the waivers?
Pat Yasinskas:
You can bet that Marty Hurney and his staff will be watching to see what wide receivers get cut by other teams by Saturday afternoon's deadline. Given the fact the Panthers don't have a lot of depth at receiver, I think a move is entirely possible. Just to throw a couple of names out there from other NFC South teams that might be available -- Tampa Bay's
Michael Clayton
and New Orleans'
Adrian Arrington
. Yes, Clayton largely has been a bust in Tampa Bay, but he could fit better in Carolina's system. He is a good run blocker and might be a scaled-down version of
Muhsin Muhammad
. Arrington's a guy who's been held back by injuries and a very deep receiving corps in New Orleans, but he's got plenty of upside.
---
Greg in Tampa writes:
Can you explain to us Bucs fans why the NFL waited a whole YEAR to suspend
Aqib Talib
? One would think the league would act when the courts do.
Pat Yasinskas:
A good question and something I've also wondered about. More than anything, I think this one got caught up in red tape. It took some time for the legal system to play out and that's why the NFL didn't take action last year. But couldn't this suspension have been determined much earlier this year? You would think so. But I'm guessing Talib's file was a little lower on Roger Goodell's desk than Ben Roethlisberger's. Goodell has the ultimate say on all suspensions and it sometimes takes some time for that to happen. But it's not like the Bucs didn't see this one coming. They pretty much knew from the end of last season that they'd be opening the season without Talib.
May, 2, 2010
5/02/10
4:14
PM ET
Some final thoughts and observations on Carolina's minicamp now that I'm back home.
First, an update, out of John Fox's wrap-up comments. This one's interesting. Fox talked about the decision to trade safety
Chris Harris
and
said the team's budget
had something to do with the move. In other words, it had a lot to do with the trade and probably prompted it. Consider this another sign that general manager Marty Hurney is probably steering this boat more than ever. Decisions are being made with a possible 2011 lockout in mind and the long-term future a big part of every decision. Yes, we all know Fox is on the hot seat as he heads into the final year of his contract. But I'm not so sure Hurney falls into that category in the eyes of owner Jerry Richardson.
I thought cornerback
Captain Munnerlyn
looked pretty good out there, running with the first-team defense. He was in there because starter
Richard Marshall
is looking for a long term contract and didn't attend. Marshall could be trying to force a trade and I could see the Panthers doing something like that, in part because of the reasons we talked about in the first item. But Marshall, a restricted free agent, isn't really dealing from a position of strength. Yes, the Panthers could definitely use him this year, let Munnerlyn develop as a nickelback for another season and groom some of their young guys for bigger roles. But Munnerlyn might not be that far away from being ready to be a starter.
The single-best play I saw in all the sessions was by the other starting cornerback,
Chris Gamble
. He made a diving interception Saturday on a ball that looked like he had no chance to get. Very quietly, Gamble has been putting together a pretty nice career and I wouldn't be surprised to start seeing this guy get some more recognition.
I came away really impressed by what I saw out of
Armanti Edwards
, the rookie out of Appalachian State. He played quarterback in college, but the Panthers are going to use him as a receiver and a punt returner. This kid is pretty dynamic and can be an instant factor in the slot. Fox and coordinator Jeff Davidson haven't used a slot receiver much in recent years. Might be time to change that and there could be other ways designed to get Edwards some touches. In fact, this kid could turn out to be what some people thought
Tim Tebow
could be. Plus, I think Edwards' throwing motion might be better than Tebow's.
Speaking of Tebow, Fox wasn't sending out any smokescreens when he was singing the praises of the University of Florida product at the owners meeting. Fox really liked Tebow and so did others in the organization. They think he might become a good NFL quarterback, but they never were serious about using an early-round draft pick because they think he'll take time to develop.
Obviously, quarterback
Jimmy Clausen
, who the Panthers believe is much more ready for the NFL than Tebow, was the talk of minicamp. I don't want to declare this kid the next Joe Montana, and I don't want to declare him the next
Ryan Leaf
. It was one minicamp and you really can't tell much from that. But the kid can throw the ball and he seemed to be interacting quite nicely with his new teammates and saying all of the right things to the media. The rest of the offseason and training camp will determine if Clausen's ready to start ahead of
Matt Moore
. Speaking of Moore, I didn't see anything bad out of him in the minicamp, but I didn't see anything spectacular.
One final thought: Receiver
Steve Smith
kept saying throughout the weekend that change can be good. I don't always agree with everything Smith says or does, but I'm going to agree with him strongly on this one. Yes, there are a lot of questions to be answered by a lot of young players, but I walked away thinking the Panthers might have the ingredients to become a pretty good team.
December, 9, 2009
12/09/09
5:43
PM ET
Carolina linebacker Jon Beason
addresses
his recent legal troubles.
Tampa Bay offensive tackle Jeremy Trueblood says he needs to play with more
controlled intensity
after costing the Bucs with an unnecessary roughness penalty in Sunday's loss. While he's at it, Trueblood might want to work on cutting down his false starts. He has seven of them and is tied for the league lead.
Atlanta receiver Troy Bergeron, who seems to be involved in a transaction or two each week, is back with the Falcons. This time, Bergeron was brought back to the practice squad. He's been bouncing between the practice squad and the regular roster through much of this season and he's probably not done yet.
Stat of the day (straight from the NFL public relations office): By virtue of the New Orleans Saints clinching the NFC South this past weekend, 2009 marks the seventh consecutive season that at least one team has gone from last place to first place in its division from one year to the next, the longest such streak in NFL history. Of the 32 teams to go from "worst-to-first" in NFL annals, 15 of them have done so in this decade (2000-2009).
The New York Times takes a look back at the
sequence of events
that put Drew Brees in New Orleans and made Philip Rivers the starter in San Diego. The history is so detailed that even Ryan Leaf and Michael Vick play into this saga.
Quote of the day: "We don't really look at it as the 12-0 Saints. We always concern ourselves about us. It's really about us not our opponent, going out and playing the best we possibly can and going out and executing. It is a big game because it's a division game. I've been in the NFC South. Every game I've been involved with has been very closely contested and it's very competitive, so we're looking forward to going out and playing these guys in the Georgia Dome this week.'' – Atlanta coach Mike Smith on a conference call with the New Orleans media.
May, 1, 2009
5/01/09
6:10
PM ET
| | |
| --- | --- |
| | |
| | J. Meric/Getty Images |
| | The Buccaneers got their first good look at rookie Josh Freeman at minicamp. |
Posted by ESPN.com's Pat Yasinskas
TAMPA, Fla. -- After one full day of minicamp, all we truly know about Tampa Bay quarterback Josh Freeman is this.
"He's 6-foot-5 and 250 pounds,'' coach Raheem Morris said Friday for about the 394th time in the week since Freeman has been drafted.
Yeah, the line's getting old already, but get used to it. You'll probably hear it 1,000 more times before the start of the regular season because it may be months -- maybe even years -- before anyone, including Morris, knows for certain if Freeman is ready to play in the NFL.
You want a scouting report from Freeman's first practice with the Bucs?
Sure, I watched him for an hour and I can tell you this: He's 6-foot-5 and 250 pounds and looks like he can throw the heck out of the football. That's really all that can be said right now.
The portion of practice that was open to the media was nothing more than some stretching, some running, some of Freeman handing off to running backs and a fair amount of him throwing to receivers running routes without any defensive players.
"He looked like a No. 1 should look,'' said Rodney Landers, the only other quarterback in camp.
Landers, a James Madison product, was brought in for the three-day event to give the Bucs another arm besides Freeman. Landers also is getting a look as a running back, receiver, special teams player and he just might earn an invitation to training camp with a chance to be the guy the Bucs turn to if they decide to use some of the Wildcat offense.
Maybe the Bucs can throw Luke McCown, Byron Leftwich, Josh Johnson or Brian Griese into the Wildcat role as well. None of them has a long-term future as Tampa Bay's quarterback.
Only Freeman does.
Remember that as you read one other scouting report from Freeman's first practice.
"He went out there today and took control of the huddle,'' Morris said. "I don't believe he had one bad snap, besides the guard tripping him early in the walkthrough. Other than that, he got every snap, delivered the football, controlled the huddle well, made some nice throws and did some things we liked today.''
So that's really all that Friday showed us. Freeman looks the part, as long as some rookie guard isn't stumbling over him. Ryan Leaf looked the part on his first day of minicamp. So did Matt Ryan.
So which of the Ryan extremes will Freeman turn out to be? There's no telling right now.
The draft experts and some personnel guys will tell you that Freeman was a little raw coming out of Kansas State as a 21-year-old junior and they'll suggest he should sit for a year. That's got Freeman off on the wrong foot with Tampa Bay fans.
| | |
| --- | --- |
| | |
| | (J. Meric/Getty Images) |
| | Josh Freeman didn't get to show much in his first minicamp. |
One side note on that: A lot of Bucs fans also are Rays fans and it's kind of amusing to watch them panicking right now. The Rays, who didn't really even exist before last year's run to the World Series, got off to a slow start and their fans freaked out. That was while we still were in April. It's May now and the Rays have won their last couple and that's removed the heat from the baseball team. The knee-jerk fans in Tampa now already waiting for Freeman to flop. Or flourish.
Wait until August, at least. Freeman was just handed Tampa Bay's playbook Thursday night. He and Landers spent a couple of hours going over the basics. If coordinator Jeff Jagodzinski's terminology were a language, Freeman might be able to say "hello'' right now.
But the question everybody seems to want to know is if Freeman will be ready to say hello to the first-team huddle on the first snap of the regular season.
"I'll answer that one like this: The starting quarterback thing, I'll let you guys know the third preseason game,'' Morris said. "I want these guys to compete.''
Griese or Johnson will be gone even before training camp and the one that isn't won't make it to the regular season. That leaves McCown and Leftwich and this really isn't a competition.
Freeman is Morris' "guy''.
"He's an impressive looking guy now,'' Morris said. "You look at him, you can mistake him for anything. He's just an athletic, big, giant human that's walking the planet.''
Make no mistake. This is Freeman's planet. Sure, McCown or Leftwich could end up starting a few games or maybe an entire season. Or, if Freeman, goes through training camp looking like he has a clue, the Bucs may do the inevitable and throw him in as the starter. The Bucs will decide to play him when the answer is obvious.
It's a process and Friday was a very small step. Think of it as an audition.
Freeman already looks the part. Heck, he's got the part. Once he learns his lines, he'll get to play the part.