NFC South:

Saint Leo University
June, 5, 2011
6/05/11
12:30
PM ET
TAMPA, Fla. -- It's a sad day in the land of the NFC South.
Tom McEwen, one of the men who helped build this division,
has passed away
. The long-time sports editor and columnist for The Tampa Tribune was 88.
[+] Enlarge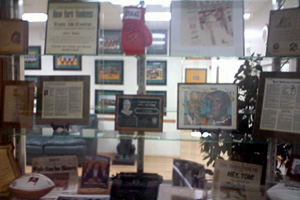 Pat Yasinskas/ESPN.comA display of Tom McEwen's memorabilia at Saint Leo University. The long-time sports editor and columnist for The Tampa Tribune died June 5 at his home on Davis Island, Fla. He was 88.
This one is hitting very close to home because McEwen was the man who gave me my first full-time job in this business. He also gave me a lot of career advice throughout the years and, most important of all, was a great friend. My decision to leave the Tribune for The Charlotte Observer in 1999 was made on McEwen's dock after a lengthy conversation with the greatest mentor of all. When I got hired by ESPN.com, McEwen was one of the first people I called and he was thrilled that I was moving back to Tampa.
For those who don't know the back story on McEwen, he was the point man on Tampa Bay's effort to get an expansion team. He fought hard to keep the Buccaneers in Tampa Bay when it looked like they might be moving in the mid-1990s. He also was instrumental in bringing the Super Bowl here four times and getting Raymond James Stadium built.
But don't think McEwen was just an advocate for Tampa Bay. If you're a fan of the Saints, Falcons and Panthers, you owe this man some gratitude because he helped your teams along the way. McEwen was a power broker in NFL circles and he encouraged the league to give franchises to Atlanta and New Orleans because he knew that putting other teams in the south eventually would help bring a team to Tampa Bay. He also pushed for Atlanta and New Orleans to host Super Bowls.
When Jerry Richardson started trying to get an expansion team for the Carolinas, he found a friend in McEwen, who went to bat for the team that became the Panthers. McEwen also did a lot in bringing hockey's Lightning and baseball's Rays to Tampa Bay.
It's a tragic day and my heart goes out to Tom's wife, Linda, and their family. It might take some time, but I'm going to try to focus on all the positives I gained from knowing Tom.
One recent one comes to mind. Saint Leo University, my alma mater, is home to "Tom McEwen: A Tampa Bay Treasure'', an exhibit of McEwen's memorabilia. I had the honor of picking up the memorabilia at McEwen's house and driving it up to Saint Leo.
I've always been a pretty confident driver. But that 45-minute drive was the most nerve-wracking of my life. The cargo in my car that day included photos of McEwen with the likes of Johnny Unitas, Bear Bryant and George Steinbrenner. It included autographed footballs and hand-written notes from Steve Spurrier and Roger Goodell.
It also included Tom's Red Smith Award. That's the highest honor given in sportswriting. I put that in the passenger's seat, locked the doors and drove as cautiously as I ever have. I'm not sure I exhaled until we got everything under lock and key at Saint Leo.
The cargo I was carrying that day was precious and I'm glad I can stop by Saint Leo and look at the memorabilia and think of Tom. But I don't need the visual reminders to recall all that was great about Tom.
He'll never really be gone. There are thousands of people who were impacted by this great man and we'll all carry pieces of him for years to come.
Tom's legacy was built over the course of many years. Now, it's time for that legacy to shine brighter than ever.
April, 28, 2011
4/28/11
10:57
AM ET
Time for a quick trip through the NFC South headlines.
Although there has been all sorts of speculation about Clemson defensive end Da'Quan Bowers tumbling in the draft, he
says his knee is just fine
. He says reports about having arthritis or needing microfracture surgery are not accurate. Bowers says the surgery was simply to repair a torn meniscus. Still, he's been falling in a lot of mock drafts, and if those are correct, Bowers could be available at No. 20 to the Tampa Bay Buccaneers. Would they take the risk? I think they might. The last time a defensive lineman, who many initially thought would be the No. 1 overall pick was tumbling this fast, the Bucs took him. It was Warren Sapp. The reasons for Sapp's fall were much different, but I think there's a point where you have to take a shot on Bowers and No. 20 could be that point.
D. Orlando Ledbetter scratches defensive ends Cameron Heyward and Adrian Clayborn off Atlanta's board and
suggests five names
the Falcons could be targeting at No. 27. I agree with all five names, but I'd also add Pittsburgh receiver Jonathan Baldwin. If the Falcons don't trade up and still decide to go with a wide receiver at No. 27, it will be either Baldwin or Maryland's Torrey Smith.
Michael Irvin says the Carolina Panthers need to
surround Cam Newton with better players
, if they do make the quarterback the No. 1 pick tonight, as is widely expected. I think there's a misconception here that's tied directly to Carolina's 2-14 record last season. Coach John Fox and his feud with ownership and management had a lot to do with that record. This isn't the typical roster of a 2-14 team. At least at the moment, Steve Smith is still on it. So are guys like DeAngelo Williams, Jonathan Stewart, Jeremy Shockey, a good offensive line and the Panthers like young receivers Brandon LaFell and David Gettis.
Mike Triplett lists the
likely targets for the Saints
. I agree totally with Muhammad Wilkerson, Cameron Heyward, Adrian Clayborn, Phil Taylor, Mark Ingram and Gabe Carimi. But I'd scratch UCLA linebacker Akeem Ayers off the list. I've gotten some indications one thing the Saints won't do is take an outside linebacker in the first round. Yes, they have a need. But that's a spot they think they can address later in the draft or via free agency.
Now, let's skip to two very positive items that aren't related to the draft.
Tampa Bay offensive lineman Ted Larsen reportedly
rescued three teens
from dangerous waters in the Gulf of Mexico.
This one's personal because Tom McEwen is the man who gave me my first job in this business. Tom's the legendary former columnist and sports editor for The Tampa Tribune. He will be
presented an honorary degree
from Saint Leo University during graduation ceremonies Saturday. I've got a degree from Saint Leo that I've always been proud of. But I think the value of that degree gets multiplied by 100 once the man who largely built the sports world in Tampa Bay also has one. Congrats, Dr. McEwen. Wish I could be there to see it, but obviously the draft will have me occupied on Saturday.
November, 3, 2010
11/03/10
1:45
PM ET
With the help of the many fine beat writers and columnists around the NFC South, let's take a look at some of the division's headlines.
Martin Fennelly has a great column on Tuesday's event, where Tom McEwen was declared a "Tampa Bay Treasure'' by Saint Leo University. Martin sums up the event very nicely. When you
click on this piece
, be sure to check out the photo of McEwen with Pro Football Hall of Fame member Lee Roy Selmon that was taken by Bill Ward. I promise there soon will be a copy of that photo hanging on the office wall at NFC South Blog Headquarters.
Joseph Person
has a nice story
on Carolina practice-squad player Shawn Murphy. He's the son of legendary baseball player Dale Murphy.
Tampa Bay center Jeff Faine, who has missed the last three games with a strained quadriceps, said he will attempt to
practice this afternoon
.
Jeff Duncan has a
feature on New Orleans cornerback Leigh Torrence
. The guy has been a career backup and special-teams player. But he came up big for the Saints on Sunday night.
I don't think there truly is a "best team in the NFC'' right now. But I think Jeff Schultz is right on when he says the Falcons have a
chance to prove they deserve that tag
.
November, 2, 2010
11/02/10
11:53
AM ET
Over the next few hours, you'll see some of our regular Tuesday features pop up. We'll have the updated ESPN.com Power Rankings, High Energy Player of the Week and Decisive Moment of the Week.
I've already future posted those items and I'll be monitoring any other news via cell phone and computer from temporary NFC South Blog Headquarters this afternoon. I'll be setting up shop at Saint Leo University, my alma mater, which will be hosting a luncheon and ceremony to unveil what will be contained in the display "Tom McEwen: A Tampa Bay Treasure.''
I
wrote about this several weeks ago
and, for those who don't recall, McEwen is the legendary former sports editor of The Tampa Tribune and played a big role in getting the Buccaneers, Lightning and Rays to town as expansion teams and also helped clear the way for the University of South Florida to start a football program.
Saint Leo will be the permanent home to a collection of McEwen's work and memorabilia that will chronicle the history of sports in the Tampa Bay area. The luncheon is private and the permanent display case is still under construction. I'll let you know when it's ready and open to the public, which should be sometime in the next 60 days or so.
But much of the Tampa Bay sports world will be gathering at Saint Leo to honor Tom this afternoon. ESPN's Sal Paolantonio will serve as master of ceremonies and the guest speakers will include Pro Football Hall of Fame member Lee Roy Selmon, veteran Tampa Tribune writer Joey Johnston and a certain NFC South blogger.
The Bucs, Lightning and Rays each will be sending representatives and there will be a large collection of media members who started their careers working for McEwen. In fact, if you're in the Tampa Bay area, you'll be able to hear from a lot of the guests.
"The Fabulous Sports Babe'' will be broadcasting live from right outside the luncheon room on ESPN Tampa Bay (1040 AM) from noon to 3 p.m. I'll join her for a few minutes at some point. A bunch of media friends also have committed to chat for a bit and you might even hear from some representatives from the Tampa Bay professional sports teams.
August, 30, 2010
8/30/10
4:30
PM ET
It started as a suggestion from loyal reader Mark H. in Greensboro, N.C., and it quickly has grown into what I think could be one of the more interesting projects we've ever attempted on the NFC South blog.
Mark's basic suggestion was to pick the most disliked person for every NFC South team.
We've kicked around parameters for this and you have been phenomenal about providing input to make this work. While on the basketball court, which is where I do some of my best thinking, Sunday afternoon, I thought of a whole other layer for this project. I thought of also including a vote to see who is the most beloved figure for each NFC South franchise and we're going to do that.
I've also settled on the parameters and here they are:
Send votes for the figure you dislike most from your team and the most beloved figure from your team to my mailbag. Some of you have already voted, but that was before we set the rules or added the beloved category. So those votes won't count. Fire away with your new ones and specify the team and the disliked and beloved figures clearly.
By "figure,'' I mean anyone associated with your favorite team. That means players, coaches, general managers and owners. For the beloved category, I'd even nominate Carolina equipment manager Jackie Miles, a legend in his own right, and Jill Hobbs, who started working as a secretary for the Buccaneers back in 1976 when she was something like 4 years old.
After a lot of debate, we're going to open the time frame up on this to the entire history of each franchise. There was some debate about limiting it to current figures or starting the clock when the NFC South officially became a division in 2002. But the narrow consensus was to make it for the entire history of each franchise. In other words, figures such as Hugh Culverhouse, Doug Williams, Derrick Brooks, Warren Sapp, Kerry Collins, Sam Mills, George Seifert, Archie Manning, Mike Ditka, Jeff George and Tommy Nobis are as eligible as figures like Drew Brees, the Glazer family, Matt Ryan and Sean Payton are. I'm not implying disliked or beloved for any of those figures. I'm just using their names to illustrate the time frame. Let's please avoid the votes for guys who only had a cup of coffee in the NFC South – Reggie White, Brett Favre, etc.
I can't ask this one strongly enough: Please limit your votes only for your favorite team. If we let Atlanta fans list Brees as a disliked figure or allowed former Carolina punter Todd Sauerbrun to vote for Martin Gramatica, we'd turn this thing into a shouting match and that's not the goal of this project.
If you only want to vote for a beloved figure or only want to vote for a disliked figure from your team, that's fine. Your vote will still count.
With each of your votes, feel free to include a little of your reasoning. We'll use some samples when we post the results, so keep them clean and at least try to make the grammar reasonable.
Carolina fans, I'm going to impose one special rule on you. Do not vote for Rae Carruth. He's ineligible and any votes for him will not be counted. I understand the venom for Carruth. What he was convicted of was beyond terrible, but it went way beyond the scope of football. So let's just leave that one alone.
Other guys who have had off-field troubles for any of the four teams are eligible.
To ensure the integrity and the accuracy of the voting results, I've gone out and hired a prestigious accounting firm to tabulate the votes. Well, wait, I wasn't able to afford that. But I've done something even better. I've turned to my alma mater, Saint Leo University, and enlisted the help of Kevin Little, who I've been doing some career mentoring with. Kevin is a Sports Business major with a keen interest in the NFL and numbers. Kevin's agreed to help me tabulate the results.
I haven't set an official date for the closing of the polls or when we'll run separate posts on the winners in both categories for each franchise. We'll just kind of play that by ear, but I'm hoping to have it ready for sometime right around the start of the regular season.
October, 29, 2009
10/29/09
9:35
PM ET
Posted by ESPN.com's Pat Yasinskas
We have a policy of staying clear of rumors and speculation here and that's why we stayed clear of things this morning when a Tampa radio broadcaster said the Glazer family, which owns the Buccaneers, "could'' be forced to sell the team because of money lost in investments with Bernie Madoff.
But policy changed once the Bucs responded by sending out a very strong statement saying the team is not for sale. Sorry I wasn't able to post something on this when the Bucs sent out the press release this afternoon, but I had prior commitments to speak to a class at Saint Leo University and make an appearance on Blogger's Blitz on ESPNEWS.
Now, I'll bring you up to speed on the verbal battle in Tampa Bay. The Bucs issued the following statement, attributed to co-chairman Joel Glazer on Thursday afternoon:
"The report today by WDAE's Dan Sileo about our family and the
Tampa Bay Buccaneers
is 100 percent false. The Tampa Bay Buccaneers are not, nor have they ever been for sale. In addition, our family or any of our related companies have never invested one penny with Bernie Madoff. The report is baseless, irresponsible and slanderous. This type of behavior by Mr. Sileo and his company Clear Channel will be dealt with in the appropriate manner."
Wow, that's pretty strong wording for a press release by an NFL team. I've seen several thousand through the years and have never seen anything this strong or confrontational out of the Bucs. They got personal in a way that usually is done only by the Raiders.
The St. Petersburg Times now reports that Sileo has been
suspended
by the station.
I'll leave it up to you to form your own opinion on this one, but I'd be wrong if I didn't point out there have been rumors about the Glazers selling the team for years. But there never have been any substantiated reports to go along with that.
One other thing, and I'm no expert on business, but why do some think the Glazers are looking to sell at this point? I've heard the basic principle in real estate that you can increase your marketability and price tag by sprucing up your property. The Bucs have been gutted by a rebuilding mode in the last few months. That sounds a lot like ruining your house before you try to sell it. Wouldn't this franchise be a lot more attractive and be worth a lot more with Jon Gruden still coaching and
Derrick Brooks
still playing?