NFC South:

Saints-Buccaneers 112209
November, 22, 2009
11/22/09
6:41
PM ET
When tight end
David Thomas
scored a touchdown Sunday, he became the 18th New Orleans player to do so this season.
Sounded like an outrageous number, so I turned to the people at ESPN's Stats & Information for perspective. The Saints haven't broken any records in this department yet, but they have a shot.
They'll have to climb over a bunch of teams who have had 18 or 19 players score. But, if they can do that, they can rank as one of the best of all time.
Here's a look at the teams that have had the most players score in a season:
November, 22, 2009
11/22/09
6:36
PM ET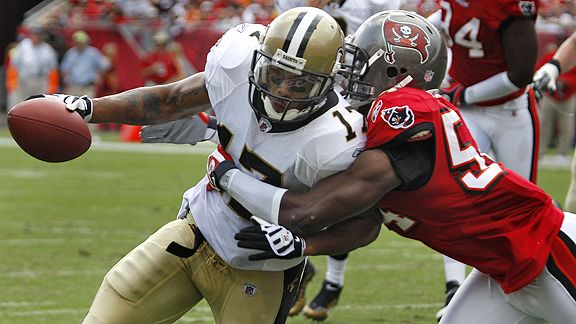 AP Photo/Chris O'Meara Robert Meachem's two touchdowns Sunday gives him four in the Saints' past three games.
TAMPA, Fla. -- They strolled into the locker room with a few references to their 10-0 record, but the
New Orleans Saints
are the first to tell you they're not perfect.
They
rolled through the Tampa Bay Buccaneers, 38-7
, and instantly started pointing out their flaws.
"Let's face it, these are not the Jon Gruden-coached Tampa Bay Buccaneers that we're used to," New Orleans tight end
Jeremy Shockey
said. "No offense to Tampa. They're going to be good in time. But we know we can play better than we did."
Shockey and his teammates have been saying that for the past month or so, but it's time to back up that talk. The Saints play host to the
New England Patriots
on Nov. 30 in a "Monday Night Football" game at the Superdome.
You can get by the likes of St. Louis, Carolina, Atlanta and Miami when you're turning over the ball and your defense is banged up and not playing as well as it did early in the season. But you can't get by the Patriots unless you're at the top of your game.
That's why Sunday's victory over the Bucs was so encouraging. Even if it was against a 1-9 team, the Saints looked better than they have in their past few outings. They didn't turn over the ball, and aside from an impressive opening drive by the Bucs, a defense that was without three injured starters didn't give up much and took the ball away four times.
"I thought we got better today," Saints coach Sean Payton said.
The outlook gets even more positive when you factor in that the Saints have a chance to get injured defensive tackle
Sedrick Ellis
and starting cornerbacks
Jabari Greer
and
Tracy Porter
healthy in time for the Patriots. That trio, running back
Reggie Bush
and receiver
Lance Moore
all sat out against the Bucs.
It's likely the Saints will at least get some of those injured players back as they have eight days between games. And they have to be feeling better about their depth in the secondary after first-round draft pick
Malcolm Jenkins
got a start and produced an interception.
Take all of that as an indication that the Saints are heading in the right direction at the right time. No, they haven't played a perfect game yet and there might not be any such thing. But the Saints got enough things right that they didn't need a big comeback like they did against Miami and Carolina and they didn't let Tampa Bay hang with them the way Atlanta did a few weeks ago.
[+] Enlarge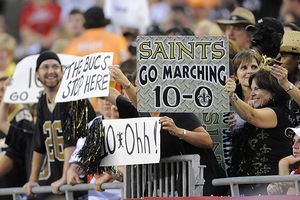 Scott A. Miller/US PresswireSaints fans celebrate as their team is 10-0 for the first time in franchise history.
"Throughout the season, you want to get better," linebacker
Scott Fujita
said. "And I like to think we are getting better. People are going to build this up to be the biggest game in the world. We have to keep our composure, not let anything get in the way and go out and continue to get better in practice each day this week."
In other words, the fans can get caught up in the hype. The players can't afford that because they've got Bill Belichick and the best franchise of the past decade coming to town.
"Our fans are going to be tailgating for about 10 hours before that game," safety
Darren Sharper
said. "It's going to be a great atmosphere."
Understandable because the Saints are 10-0 for the first time in franchise history. They've also won 10 consecutive games for the first time in franchise history. This kind of winning is basically totally new to New Orleans, a city that's supported a team that's been mostly a bunch of loveable losers throughout its existence.
That's not lost on the players and they know they have to keep improving as they get ready for perhaps the biggest game this franchise has played since the Saints made a memorable return to the Superdome in 2006, the year after Hurricane Katrina devastated the Gulf region.
"It only makes it harder because every team we face now would love to give us that first loss," quarterback
Drew Brees
said. "We're building something special this year. In order to get there, we have to win games like the one coming up."
That's the next step for Brees, who got back to being a machine-like passer (he had three touchdowns and a 118.0 rating) against the Bucs after a few up-and-down games. Beating a team like the Patriots would only enhance Brees' common ranking among the league's best quarterbacks along with
Peyton Manning
and
Tom Brady
.
It could even be a step toward the Hall of Fame for a quarterback who has put up big numbers throughout his career, but doesn't have the long list of big wins that Manning and Brady have.
"When we take care of the football and take away negative plays, we're a very, very hard team to beat," Brees said.
More importantly, winning against New England would be a major step for the entire franchise. Remember, the Saints are in uncharted territory.
"For most of us, this is the first time we're 10-0 dating back to high school," Fujita said.
The next step -- and it's obviously a difficult one -- would be getting to 11-0.
"This is going to be a very good test for us," Sharper said. "Coach Payton is always talking about doing things you've never done before. Winning this one would be something this franchise has never done before."
November, 22, 2009
11/22/09
4:04
PM ET
TAMPA, Fla. -- Go ahead and start the tailgate party in New Orleans.


The
Saints are 10-0
for the first time in franchise history and they're about to play one of the biggest games in franchise history. They're going to host the
New England Patriots
in a "Monday Night Football" game Nov. 30 in the Superdome.
For the past month or so, this game's been on the horizon and coach Sean Payton and his troops repeatedly refused to look ahead -- even though some of their recent games looked as if they were glancing ahead to the Patriots.
Now that the Saints have gotten through a soft stretch in their schedule, they can focus all of their attention on the Patriots. If they're going to have a shot at getting through the regular season undefeated, they're going to have to beat the last franchise to accomplish that task.
November, 22, 2009
11/22/09
3:14
PM ET
TAMPA, Fla. -- Before the season, the
New Orleans Saints
didn't know if they'd have defensive end
Will Smith
available for the first four games.
It turns out Smith is having what could be the best season of his career. He has one sack so far today against Tampa Bay and that means Smith now has a sack in each of his last four games. This is the first time in his career he's done that.
Smith now has 8.5 sacks. His career high (10.5) came in 2006, which also was the last time the Saints were in the playoffs.
November, 22, 2009
11/22/09
2:36
PM ET
TAMPA, Fla. -- Here they go ... again?
It seems like every time the
New Orleans Saints
have played in the past month or so, they've let a lesser opponent hang in the game (or lead it) way too long before they get things together.
It's shaping up that way again. At halftime, they're leading Tampa Bay, 17-7. But it was a much tighter game until Brees hit
Robert Meachem
for a touchdown with 28 seconds remaining in the first half. The Bucs led 7-0 at one point, and they've played pretty evenly with the Saints.
Yeah, I know the Bucs are 1-8 and the Saints are 9-0 and reality should kick in at some point in the second half -- if it didn't already with the touchdown drive at the end of the half. But the Saints can't get away with doing this every week.
At some point -- and it probably won't today -- it's going to catch up to them. They've got a huge game coming up against New England and they won't get out of that one playing like this.
November, 22, 2009
11/22/09
1:38
PM ET
TAMPA, Fla. -- Back around the start of the season, I picked New Orleans receiver
Robert Meachem
as the NFC South's breakout player.
I'm feeling a lot better about that choice now. Meachem just caught a touchdown pass from
Drew Brees
. This is the third straight game in which Meachem has caught a touchdown pass. He also has a touchdown catch in four of the past five games.
November, 22, 2009
11/22/09
12:12
PM ET
TAMPA, Fla. -- There's a very interesting pregame development here. The Saints just announced that
Zach Strief
will start at left tackle against the Buccaneers.
Apparently, they're benching
Jermon Bushrod
, who's been starting in the place of injured Pro Bowler
Jammal Brown
most of the season. There are no indications Bushrod is injured, so we have to assume that this move is related to his performance.
Bushrod has been giving up some sacks recently and the Saints must believe that Strief gives them a better matchup against defensive end
Stylez G. White
.
November, 22, 2009
11/22/09
11:50
AM ET
November, 22, 2009
11/22/09
11:45
AM ET
November, 22, 2009
11/22/09
11:04
AM ET
TAMPA, Fla. -- Good morning from Raymond James Stadium.
It's pretty much a picture-perfect day for football, sunny and warm, although it is a little windy. I'm getting set up and will be back with more as the game between the Saints and Buccaneers gets closer.
In other news, ESPN.com's John Clayton reports that Atlanta running back
Michael Turner
will be inactive against the Giants today because of an ankle injury. You may see some of
Jerious Norwood
, but I think
Jason Snelling
will be the main guy in Atlanta's running game.