NFC South:

Saints suspensions lifted
September, 7, 2012
9/07/12
4:51
PM ET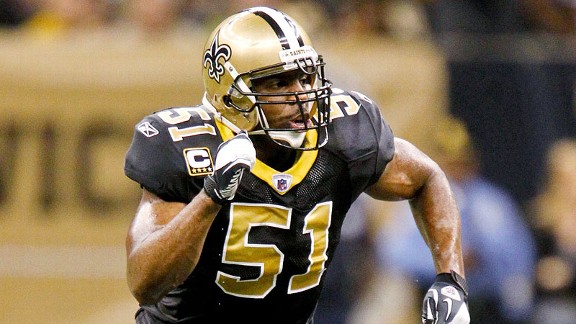 Derick E. Hingle/US PresswireJonathan Vilma will have a great impact on the Saints even if he doesn't start immediately.
Ever since the NFL announced player suspensions for what it called a three-year bounty program by New Orleans, I've said the on-field implications for the Saints weren't that significant.
Linebacker
Jonathan Vilma
was handed a season-long suspension and defensive end
Will Smith
received a four-game suspension. Vilma has been the leader of the defense since his arrival in 2008, but knee problems and age seemed to slow him last season. The Saints signed
Curtis Lofton
in free agency, and I view him as an upgrade over Vilma, who's on the back half of his career. Smith is New Orleans' top pass-rusher, but the Saints could have gotten through those four games without too much trouble. They survived last season when Smith was suspended for the first two games.
But after
hearing Friday's news that an appeals panel has overturned the suspensions
, I've changed my mind. I think having Vilma and Smith back is a huge victory for the Saints and will be significant on the field.
Let's start with Smith. The Saints probably could have gotten by with
Turk McBride
,
Junior Galette
and
Martez Wilson
sharing Smith's spot. But this team is much better with its best pass-rusher, especially when you consider the Saints open against the
Washington Redskins
and rookie quarterback
Robert Griffin III
on Sunday. Smith didn't practice this week, but he went through training camp and is in good shape. I think it's safe to say Smith will be even more motivated than usual this weekend.
Now let's move over to Vilma. Part of the reason the Saints have had one of the best franchises in the NFL the past four seasons is they have outstanding leadership. Everyone knows about quarterback
Drew Brees
' leadership skills. But I don't think people who haven't been around the Saints can really understand what Vilma means to this team. He essentially is to the defense what Brees is to the offense. Vilma is the heart and soul of the unit and is respected every bit as much as Brees is in the locker room.
Vilma was rehabbing his knee before his suspension began and wasn't able to take part in the offseason program. I don't know what Vilma's current health status is. He may not be ready for Sunday's season opener and there's been speculation he might begin the season on the physically unable to perform list.
His health isn't the important thing here. Just having Vilma in the locker room is even more important than having him on the field.
He's smart, he's good with young players and he's a fiery competitor. I have little doubt that all that Vilma has been through recently will not make him even more fiery. The Saints already approached this season with a chip on their shoulder and view themselves in a situation in which the world is against them. Vilma only is going to add to that.
Vilma has been trying to clear his name, and the lifting of the suspension certainly helps. But a lot of people still will look at him and think "bounty." There still is a chance that NFL commissioner Roger Goodell could reissue some sort of punishment, but the panel said that can only happen if there is evidence of more than a pay-for-performance program. That means there still is the possibility of more mudslinging.
But as long as he's reinstated, Vilma holds the upper hand when it comes to clearing his name. The best and purest way to do that is to go out and provide the kind of leadership he always has for his teammates. The Super Bowl is in New Orleans this season. If the Saints can become the first team to play in a Super Bowl in their hometown, Vilma, Smith and the Saints can come out of what was an absolute mess looking very good.
With coach Sean Payton, assistant head coach Joe Vitt and general manager Mickey Loomis still serving suspensions, the Saints need all the leadership they can get. They should get plenty from Vilma, Brees and, to a lesser extent, Smith. But maybe Vilma's even more of a leader than any of us previously realized. He fought his suspension so hard and, at least for the moment, has won. What's happened with Vilma just might lead Payton, Vitt and Loomis to resort to legal action to get their suspensions overturned.
If that happens, Vilma will be New Orleans' most valuable player, even if his knee doesn't allow him to play a down this season.
September, 7, 2012
9/07/12
4:20
PM ET
By
ESPN.com staff
| ESPN.com
ESPN NFL Insider Adam Schefter says suspended players
Jonathan Vilma
,
Will Smith
,
Anthony Hargrove
and
Scott Fujita
won
a major legal victory

and are eligible to play on Sunday. The NFL will appeal. The ramifications are enormous here.
September, 7, 2012
9/07/12
4:02
PM ET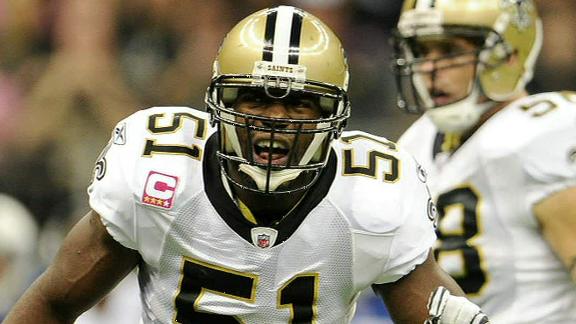 The
New Orleans Saints
have scored their first victory in a long, long time.
After going through arguably one of the harshest offseasons any pro sports franchise has ever faced, the Saints got some very good news Friday afternoon.
A three-member appeals panel has
overturned the player suspensions
that stemmed from what the NFL said was a three-year bounty program. The decision says NFL commissioner Roger Goodell only can reconsider discipline if there is evidence of intent to injure, and that evidence has to show there was more than a performance pool.
Current Saints linebacker
Jonathan Vilma
had been given a season-long suspension, and defensive end
Will Smith
was suspended for the first four games. Former New Orleans linebacker
Scott Fujita
and defensive lineman
Anthony Hargrove
also drew suspensions. But all of those suspensions are now vacated.
"Victory is mine!!!!" Vilma wrote on his
Twitter account
.
Vilma has maintained his innocence all along, and repeatedly insisted the Saints did not run a bounty program. But the victory doesn't belong just to Vilma.
It's a big win for the Saints. The NFL released a statement saying that pending further consideration from Goodell, "the four players are reinstated and eligible to play starting this weekend." So presumably the Saints now can use Smith, their top pass-rusher, in Sunday's season opener against Washington.
It isn't immediately clear if Vilma will be able to play. Prior to the start of his suspension, Vilma was rehabbing an injured knee and it's not known if he's healthy enough to play. It's possible Vilma could open the season on the physically unable to perform list.