NFC South:

San Francisco 49ers
December, 15, 2013
12/15/13
10:00
AM ET
By
ESPN.com staff
| ESPN.com
Join our ESPN.com NFL experts as they break down the San Francisco 49ers' visit to the Tampa Bay Buccaneers. Contribute your thoughts and questions beginning at 1 p.m. ET. And, be sure to visit our
NFL Nation Blitz page
for commentary from every game, as well as fan photos and the latest buzz from Twitter. See you there.
November, 17, 2013
11/17/13
2:00
PM ET
By
ESPN.com staff
| ESPN.com
Join our ESPN.com NFL experts as they break down the San Francisco 49ers' visit to the New Orleans Saints. Contribute your thoughts and questions beginning at 4 p.m. ET. And, be sure to visit our
NFL Nation Blitz page
for commentary from every game, as well as fan photos and the latest buzz from Twitter. See you there.
November, 14, 2013
11/14/13
11:15
AM ET
METAIRIE, La. -- Over the past eight years, few offenses in the NFL have attacked and overwhelmed their opponents quite like the
New Orleans Saints
.
And during that span, few defenses have attacked and overwhelmed the Saints quite like the
San Francisco 49ers
.
When they meet this Sunday in the Mercedes-Benz Superdome, the 49ers (6-3) will try to knock off the Saints (7-2) for the third consecutive year.
[+] Enlarge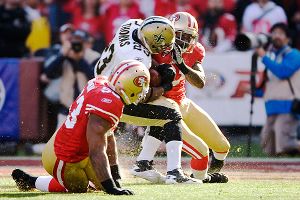 Michael Zagaris/San Francisco 49ers/Getty ImagesThe 49ers knocked out Pierre Thomas early in a divisional round playoff game in 2012.
The 49ers' physical, attacking defense has forced a combined seven turnovers and eight sacks in those two games (a 36-32 playoff victory after the 2011 season at San Francisco and a 31-21 regular-season victory last year in the Superdome).
"Yeah, we kinda owe them a couple knockdowns, you know what I'm saying?" said Saints guard
Jahri Evans
– a four-time first-team All-Pro, who isn't used to seeing many defenses push the Saints around like that. "That's how we feel as a team. And we know it's gonna be physical. They know it's gonna be physical. It's been physical every time we play these guys. And those guys winning the last couple, we definitely feel like we gotta go out there and get the job done."
Players like Evans and quarterback
Drew Brees
readily admit that the 49ers defense in the past two or three years has been as challenging as any opponent they've faced during the Brees/Sean Payton era.
No surprise there. The 49ers defense has been that way for the entire league in recent years as they've continued to add to their arsenal.
Last year, six of their defensive players were selected to the Pro Bowl (inside linebackers
Patrick Willis
and
NaVorro Bowman
, outside linebacker
Aldon Smith
, defensive lineman
Justin Smith
and safeties
Donte Whitner
and
Dashon Goldson
). And that list doesn't include outside linebacker
Ahmad Brooks
, who finished strong last season to earn second-team All-Pro honors.
Goldson left in free agency this offseason, but the rest of the group is still wreaking as much havoc as usual.
"As good as they've ever been," Brees said. "There's an expectation level every time you play those guys. They're extremely disciplined and very talented. A lot of individually great players. Obviously when you put them in there as a unit, they play very, very well together. There's a definite style, a definite scheme that they just execute to perfection.
"I think the biggest areas, things that they kind of pride themselves on, is stopping the run and being physical [and] getting the ball out. They're still [among the] tops in the league in turnovers. You've got a lot of ball hawks on that team."
The Saints have still been able to put up some yards against the 49ers in their previous two matchups -- especially in that playoff game, when Brees nearly led the Saints to a classic rally with a total of 462 passing yards.
But the 49ers have destroyed the Saints with game-changing plays.
Whitner's huge hit and forced fumble against running back
Pierre Thomas
on the Saints' opening drive in that playoff game may have been the single most important play that prevented the Saints from reaching another Super Bowl that year (both because it prevented a touchdown and knocked Thomas out of the game with a concussion).
And last year, both Brooks and Whitner returned interceptions for touchdowns to pull away for a victory.
"Over the last couple years, they've been a defense that's kind of had our number a little bit, whether it be big hits, just getting to the quarterback, stops here and there," Evans said. "At the same time, we've kind of rallied against those guys a couple times too. But they were just making more plays, more plays, more plays. And if you get into a pass situation (trying to come from behind late), you're playing into their hands a little bit."
Brees said he isn't motivated by revenge this week -- because the Saints don't need any added motivation in such a critical matchup in this year's NFC playoff race.
"It's nothing about owing. It's nothing about revenge. This is our next game," Brees said. "It gets us to 8-2 [if we win], and it allows us the opportunity to beat a very, very good opponent. One that you have to sit here and say that there's a great chance that they're going to be in the postseason. I know that's their expectation level. I'd be extremely shocked if they weren't.
"When you have mirroring expectation levels, you just know the type of game it's going to be."
November, 8, 2013
11/08/13
10:00
AM ET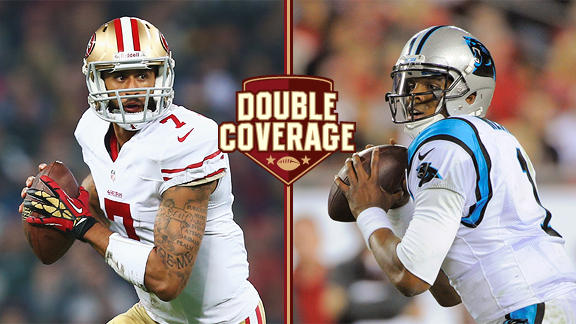 Getty Images, AP PhotoQuarterbacks Colin Kaepernick, left, and Cam Newton highlight a matchup of NFC playoff contenders.
SAN FRANCISCO -- A few weeks ago, this didn't appear to be a premier game.
But the
Carolina Panthers
kept on winning. Now, before the
San Francisco 49ers
have to tangle with potential playoff opponents New Orleans and Seattle in the coming weeks, looms another major NFC test in the form of the Panthers on Sunday at Candlestick Park.
This will be matchup featuring two of the hottest teams in the league. The 49ers have won five straight, the Panthers four straight. ESPN.com 49ers reporter Bill Williamson and Panthers reporter David Newton take a look at the intriguing matchup:
Newton:
These teams appear similar, built around a strong running game, a versatile quarterback and strong defense. Where do you believe the 49ers have the biggest advantage?
Williamson:
They totally believe in what they do. This is a confident team in all phases of the game. San Francisco is deep and focused, and it rarely misfires as a team. The 49ers stick to their plan and have confidence it will eventually wear opponents down. That is particularly true concerning the ground game on both sides of the ball. The 49ers know they are better than most opponents, and they just go out and try to prove it. I think they will try to stuff the Panthers early and get in their heads. David, the Panthers are certainly clicking themselves. Do you think they are up to this task?
Newton:
Because their five wins came against teams with a combined 8-33 record, the critics are wary. So, the Panthers are relishing the opportunity to prove that their winning streak isn't a fluke, that they deserve to be mentioned as a serious contender. The only team they have faced with a record currently above .500 is Seattle, which beat Carolina 12-7 in the season opener. The Panthers believe they should have won that game, too. Like San Francisco, this group is very confident. The Panthers have an attitude and hunger that, with a decent amount of talent, make them dangerous. They won't be intimidated by San Francisco's résumé, particularly Carolina's defense, which is playing as well as any in the league. Just ask the Seahawks, who struggled to score 12 on Carolina, then scored 29 against the 49ers in Week 2. This is a playoff-caliber defense that should keep the Panthers in most games. Their biggest challenge will be stopping
Colin Kaepernick
. He appears to have picked up where he left off last season. How has he improved?
Williamson:
He's a perfect fit for this coaching staff. What coach Jim Harbaugh and offensive coordinator Greg Roman excel at is taking what opposing defenses give them. They will run inside or outside, will use Kaepernick on the ground or through the air and can exploit defenses using receiver
Anquan Boldin
or tight end
Vernon Davis
, depending on what is given to them. Kaepernick plays along perfectly. He is patient and doesn't care about his own stats. He happily executes the game plan. David, do you think Panthers have a chance of frustrating Kaepernick by closing all those gaps?
Newton:
That's the game plan, whether it's a running quarterback such as Kaepernick or a pocket passer. The goal is to stuff the run and make a team one-dimensional, and they've done that well enough to rank second in the league against the run. But running quarterbacks are a concern. Seattle's
Russell Wilson
didn't put up huge numbers in the opener, but he kept the chains moving and completed a high percentage of throws (76 percent, 25 of 33). Buffalo's
EJ Manuel
did the same thing. Carolina had a combined three sacks in those games. The Panthers have averaged more than three a game since. What will the 49ers do to counter the play of
Cam Newton
?
Williamson:
The 49ers respect Newton. They have been talking about how physical Newton is and how they must respect his game. Again, the defense in San Francisco starts with stopping the run. Then, the 49ers tee off on the passing game. This has been a very stingy defense, but Newton is on a roll and will be the best quarterback this San Francisco defense has seen since
Andrew Luck
beat it at home in Week 3. David, do you see Newton succeeding in this game?
Newton:
Most of Newton's success this season has come against defenses ranked in the lower half of the league. Most of it has come because he has gotten comfortable taking what the other team gives him, mostly short stuff, so he's been completing a high percentage of passes the past month. San Francisco has one of the best pass defenses in the league, so I look for Newton to use his legs more early to get into a rhythm, and I look for the Panthers to try to run to take the pressure off Newton. His confidence is at an all-time high, but the 49ers have a defense that can change that quickly.
.
January, 20, 2013
1/20/13
1:00
PM ET
By
ESPN.com staff
| ESPN.com
Join our ESPN.com NFL experts for the NFC Championship Game between the San Francisco 49ers and the Atlanta Falcons.

Contribute your thoughts and questions beginning at 3 p.m. ET. See you there.


November, 14, 2008
11/14/08
12:00
PM ET
| | |
| --- | --- |
| | |
| | AP Photo/Jack Dempsey |
| | Antonio Bryant has made the most of his opportunity in Tampa Bay. |
Posted by ESPN.com's Pat Yasinskas
TAMPA, Fla. -- Exactly a year ago, Antonio Bryant's couch was among the world's most uncomfortable seats.
Week after week, that's where Bryant sat, knowing he was better than most of the wide receivers he watched on television. The torture didn't come so much from the fact Bryant wasn't allowed to play in the NFL as it did from the realization that he put himself in that situation.
A practice jersey thrown in the face of former Dallas coach Bill Parcells and his frequent upstaging of young quarterback Alex Smith in San Francisco left Bryant with a reputation as a bad guy. But his arrest for driving his Lamborghini over 100 mph, driving under the influence and resisting arrest set him apart from the legions of flamboyant wide receivers who push the lines on the football field.
Bryant had gone way over the line and that's why he wound up on the couch and out of football for the entire 2007 season. That's why Bryant showed up in Jon Gruden's office in February asking -- more accurately, begging -- for one thing.
"All I asked Gruden for was a chance to compete," Bryant said. "That's all I wanted."
That's why Bryant said he didn't even look at the one-year $605,000 contract (with the possibility for $50,000 more in incentives) before he signed it.
As it turns out, the Bucs, who often get criticized for taking shots on troubled players (see David Boston) might have gotten the single-best deal in this year's free-agency period. The guy who was suspended for part of last season and unable to get on with any team after reports of a positive drug test surfaced, has turned out to be one of 2008's best receivers.
Through nine games, Bryant has 45 catches for 566 yards and two touchdowns. He's gone from not even knowing if he'd make the roster at the start of training camp to being Tampa Bay's No. 1 receiver, arguably the Bucs' best offensive player and perhaps even a Pro Bowl candidate.
"He does everything I ask," Tampa Bay receivers coach Richard Mann said. "He really works on the details and he's punctual and dedicated. He's been a good guy here. We don't look at the past. He's been good in the receivers room.
"Guys have a tendency to go in a shell when they join a new team and have to deal with new teammates and new coaches. With the success he's had and being around us for a while now, I think he's feeling really comfortable now and feels good about where he's at right now."