October, 7, 2012
10/07/12
6:45
PM ET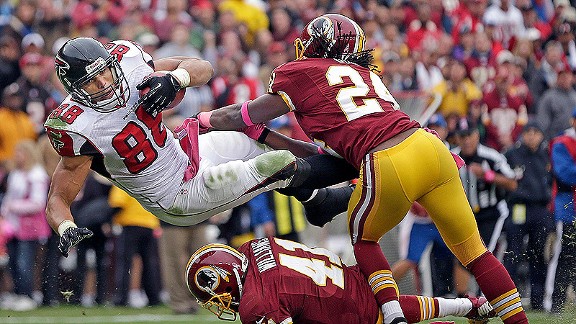 AP Photo/Evan VucciThe Falcons are 5-0 in part because of Tony Gonzalez, who had 13 passes for 123 yards and a TD.
LANDOVER, Md. -- Arthur Blank is a cultured man who has experienced plenty of things in his life.
That's why I'm kind of chuckling at what the owner of the
Atlanta Falcons
said after his team defeated the
Washington Redskins
24-17 on Sunday
at FedEx Field.
As he waited to listen to coach Mike Smith's postgame news conference, Blank walked over to me and sounded like he had a big secret.
"This is the first time this team has been 5-0, and that goes all the way back to 1966," Blank said.
Blank's tone wasn't celebratory or boastful. In fact, he sounded more amazed than anything. You can't blame him, especially when you look at the history of the Falcons.
They'd had only two 4-0 starts in their entire existence. Aside from one glorious run to the Super Bowl in 1998, this is a team without much positive history. The Falcons didn't even have their first back-to-back winning seasons until 2008 and '09.
Blank wasn't the only one who seemed stunned that the Falcons are 5-0. Like Blank, veteran center
Todd McClure
has been around the block. He has the longest tenure of any member of the team, but he sounded almost child-like as he pondered his team's status.
"You know [linebacker]
Mike Peterson
came into the league the same year I did," said McClure, who was a seventh-round pick by Atlanta in 1999. "I went up to him after the game and I asked him, 'Have you ever been 5-0?' He couldn't remember being 5-0."
I double-checked with Peterson, who has played for the Colts, Jaguars and Falcons during his 14-year career.
"Not that I remember," Peterson said. "If I have, it wasn't sweet enough that I could remember. This is very sweet. It's big for the city, the franchise and the owner. Everybody's been pulling for this team to take that next step. You can kind of see it now. We've been fighting this thing the last three or four years."
"The thing" Peterson is talking about is the fact that the Falcons have had four straight winning seasons, but they haven't won a playoff game. They've been a good team, but not quite great.
The Falcons can't do a thing about their playoff jinx until January, but they're putting themselves in a position where they could have the NFC South wrapped up early. If they keep winning, they could rest some starters at the end of the season, have home-field advantage and, maybe, finally get over that hump.
They might have taken a step in that direction Sunday.
"These are the kind of games that you hate to see, but you want to see," defensive end
John Abraham
said. "We didn't play the way we wanted to, but we persevered."
The Falcons weren't sharp early and fell behind when
Ryan Kerrigan
intercepted
Matt Ryan
in the second quarter and returned it for a touchdown. Atlanta hung around, but fell behind again (17-14) early in the fourth quarter when
Santana Moss
caught a 77-yard touchdown pass from rookie quarterback
Kirk Cousins
, who entered the game after fellow rookie
Robert Griffin III
suffered what the Redskins described as a mild concussion in the third quarter.
"We were our own worst enemy in the first half," Smith said.
The Falcons -- and Ryan -- were uncharacteristically sloppy for the better part of three quarters, but they scored 17 points in the fourth quarter. Ryan completed 34 of 52 passes for 345 yards and two touchdowns, and he did that on a day when he didn't look particularly sharp.
For the second consecutive week, Ryan rallied the Falcons to a come-from-behind victory in the fourth quarter. With the game tied (17-17), Ryan and the Falcons got the ball at their own 31-yard line with 5:40 remaining and promptly went on a touchdown drive.
"That's what [Ryan] does," Abraham said. "I never thought we were going to lose that game because nothing he does surprises me."
Ryan didn't have his best day, and neither did the Falcons, but they came away with a win. They did it with solid defense, stopping the Redskins consistently on third downs and coming up with two fourth-quarter interceptions. They also did it because veteran tight end
Tony Gonzalez
had a huge game, catching 13 passes for 123 yards and a touchdown.
"In terms of showing some resiliency, you are going to have to do that," Smith said. "Games are going to be tight and close in this league, and you are going to have to win those close ones."
That's the kind of thing you have to do if you're going to take the next step that Peterson talked about.
"We've got a maturity level on this team," Peterson said. "We were down seven, and it could easily have swung the other way and got away from us. We got down, but we have the maturity to get through that. Nobody got down or started pointing fingers. It just shows how this team has grown over the last few years."
And here might be the scariest thing of all.
"We haven't played our best football yet, but we're 5-0," McClure said. "This team is much better than the way we've played so far. But the nice thing is that it's easy to make corrections when you're 5-0. We still have a lot of room for improvement."
They do. But they're 5-0, and that's something the Falcons never have been able to say before.
August, 5, 2011
8/05/11
9:16
AM ET
FLOWERY BRANCH, Ga. – I'll soon be heading out to watch the Atlanta Falcons practice again. But, first, let's check in on the headlines around the NFC South.
We told you in Thursday's Camp Confidential segment that the Panthers were
still trying to bring in a veteran wide receiver
to go with Steve Smith. They did. They
have added free-agent
Legedu Naanee. He's not as big a name and hasn't been as productive as Santana Moss, who the Panthers pursued unsuccessfully at the start of free agency. But Naanee is coming from San Diego and has ties to offensive coordinator Rob Chudzinski. The Panthers are still high on second-year pros Brandon LaFell and David Gettis, but they wanted a little more experience at the position. As long as we're forecasting personnel moves by the Panthers, I'll go on record and say they're still going to bring in an experienced cornerback at some point.
Atlanta coach Mike Smith said that return man/receiver Eric Weems
had minor knee surgery
in the offseason. But the Falcons are proceeding slowly with Weems early in camp.
Second-year pro Matt Tennant said he's trying to
take advantage of an opportunity
to be New Orleans' starting center. But it's unclear if the Saints are content with sticking with Tennant. There were multiple reports that veteran center Olin Kreutz visited with the team Thursday.
Tampa Bay receiver Arrelious Benn
says he'll be fully healthy
by the regular season. Benn suffered a torn ACL late last season, but has been recovering rapidly.
Carolina linebacker Thomas Davis
got on the field
Thursday night for the first time this camp. As I mentioned Thursday, the linebacker, who is coming off two major knee injuries, was signed to a
contract extension that gives the team some protection
if he's not the player he once was.
August, 4, 2011
8/04/11
8:49
AM ET
SPARTANBURG, S.C. -- You've heard plenty about the lockout over the past few months, but it actually was in effect in Charlotte since 2008.

The moment owners opted out of the previous labor agreement,
Carolina Panthers
owner Jerry Richardson realized there were tough financial times ahead. He immediately decided he wasn't going to spend big money on long-term deals for players or coaches (the Panthers didn't add a single unrestricted free agent in 2009 or 2010) because Richardson wanted to protect everyone else who worked for his franchise during these tough times.
That's why defensive end
Julius Peppers
was allowed to walk in free agency last year. That's why John Fox was allowed to be a lame-duck coach entering a 2010 season that turned into a nightmare. Despite having a roster filled with a reasonable amount of individual talent, the Panthers went 2-14 and fan apathy reached an all-time high.
But Richardson's entire philosophy changed the moment the labor situation was resolved. He took the lock off his checkbook and began paying huge money to keep players such as defensive end
Charles Johnson
, running back
DeAngelo Williams
and linebackers
Jon Beason
,
James Anderson
and
Thomas Davis
. He added free agents such as kicker
Olindo Mare
and traded for tight end
Greg Olsen
. Including rookies, Richardson already has written checks for more than $100 million in signing bonuses.
Throw in the fact that Ron Rivera has replaced Fox and the Panthers chose quarterback
Cam Newton
with the first pick of the draft, and there suddenly is optimism the Panthers can quickly escape the label of being one of the league's worst teams.
"That's the one thing I've learned from being a Carolina Panther for going on nine years is that you never know what kind of a team we're going to field from year to year,'' veteran left tackle
Jordan Gross
said. "Things can change dramatically, and I think they are going to here. I love Coach Rivera's philosophy and the staff he's put together. They're committed to winning, and the organization has shown that as well with what it has done with getting new guys and re-signing our own guys. I think we can be as good as we want to be.''
[+] Enlarge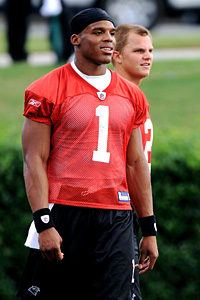 Streeter Lecka/Getty ImagesAs the No. 1 overall pick in April's draft, it is inevitable that Cam Newton will at some point start for the Panthers at quarterback.
THREE HOT ISSUES
1. Will Newton be the savior of this franchise?
It's way too early to even have a clue if the guy who played only one full season at Auburn will succeed in the NFL. But the most important thing to keep in mind is that the Panthers aren't asking Newton to be their savior -- at least not right away.
The hope in Carolina is that Newton will get a reasonable grasp of the offense in training camp and show it in preseason games. If he does, he'll be the opening-day starter. The Panthers don't want to prolong the inevitable and start the season with
Jimmy Clausen
because Newton clearly is their future.
The playbook can expand as time goes on, but the organization believes that Newton can step right in behind an offensive line that should be good and can take advantage of a strong running game, very good tight ends and wide receiver
Steve Smith
.
2. What will the new offense look like?
The popular thing to do in Carolina is assume that the departure of Fox and offensive coordinator Jeff Davidson means the Panthers are suddenly going to start throwing the ball all over the field.
They will throw more, but the Panthers won't pass as often as people think. That would be foolish with a rookie quarterback and it would border on insanity to keep the ball out of the hands of running backs Williams and
Jonathan Stewart
. Under new offensive coordinator Rob Chudzinski, there will be significant differences from the Fox/Davidson era.
Chudzinski came from San Diego and plans to use an offensive scheme that's based on what the Chargers do. You'll see more passes to the tight ends, a big reason the Panthers brought in Olsen and
Jeremy Shockey
. You'll see plays designed to get Smith away from double coverage. But don't expect Newton to step right in and immediately be
Philip Rivers
.
3. What will the defense look like?
Rivera has a defensive background. His coordinator is Sean McDermott, who spent time in Philadelphia. Some personnel changes in the middle of the defensive line will allow Beason, Anderson and Davis to again become play-making linebackers. That's going to make this defense look a little like Fox's defense of a few years back. But the real change will be a new philosophy that involves taking risks and being aggressive. The Panthers didn't blitz much last year and didn't have much success when they did. That's going to change. McDermott's going to use those athletic linebackers as blitzers, and with Johnson and
Greg Hardy
already up front, Carolina suddenly could have a dynamic and disruptive pass rush. The secondary is not loaded with big-time talent, but it could look a lot better if quarterbacks are forced into mistakes.
BIGGEST SURPRISE
[+] Enlarge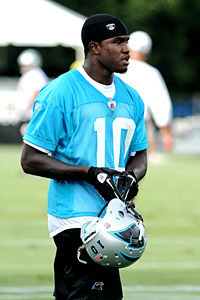 Joshua S. Kelly/US PRESSWIREArmanti Edwards reached out to punter Jason Baker during the offseason to work on fielding punts.
Granted, it's early, but the Panthers are hopeful receiver/return man
Armanti Edwards
will make an impact. A second-round pick last year, Edwards was a nonfactor as a rookie. That was largely because Fox believed the former college quarterback did not belong in the NFL. He barely let Edwards on the field as he made a statement to an owner and front office that wanted the lame-duck coach to embrace a youth movement. But Fox is gone and there's sudden optimism about Edwards. The team didn't know it until after the lockout ended, but it was delighted to find out that Edwards reached out to veteran punter
Jason Baker
during the offseason. The two worked out together frequently and Edwards made dramatic improvement in his ability to catch punts. There's a good chance he could be the main punt and kickoff returner this season. He also could be involved in certain packages as a wide receiver.
BIGGEST DISAPPOINTMENT
The perception is the Panthers have done just about everything they've wanted to in free agency. But that's not quite reality. According to a league source, the team made a strong play for free-agent receiver
Santana Moss
, offering him a three-year deal worth $15 million. Moss took the deal back to the Redskins, who matched it, so he elected to stay in Washington. That one shook the Panthers a bit. Although they have high hopes for young receivers
Brandon LaFell
and
David Gettis
, they want to pair a proven veteran with Smith to start the season. Look for them to bring in another veteran at some point before the start of the regular season.
OBSERVATION DECK
Keep your eye on the cornerbacks who remain on the market or come available over the next few weeks. The Panthers let Richard Marshall leave via free agency. They still have Chris Gamble and Captain Munnerlyn, but a team that has been so aggressive this offseason isn't going to sit still at this position. The Panthers will sign a cornerback with starting experience at some point. They're just waiting for the right guy at the right price.

The Panthers pushed veteran kicker John Kasay out the door and handed Mare a $4 million signing bonus. Kasay, 41, remained accurate on field goals, but the feeling was that he no longer had the leg strength to make long kicks. Mare's 38 and still can make long field goals. But the biggest reason the change was made wasn't about field goals. It was about kickoffs. The Panthers carried a kickoff specialist the past few years and didn't want to waste a roster spot by doing that again. With the league moving kickoffs up 5 yards this year, the team believes Mare can produce a lot of touchbacks.

Don't overlook running back Mike Goodson. As long as Williams and Stewart are healthy, he's not going to get a bunch of carries. But Goodson was one of the few bright spots from last season and the new coaching staff noticed him on film. He can do a lot out of different things out of the backfield, and the coaching staff believes there's a role for Goodson. Think of a scaled-down version of what New Orleans did with Reggie Bush and plans to do with Darren Sproles.

Perhaps the most unsung move the Panthers made all offseason was hiring Mike Shula, the son of legendary coach Don Shula, as quarterbacks coach. He's had ups and downs as an NFL coordinator and college head coach at Alabama. But Shula has grown from it all and is a very good quarterbacks coach and teacher. If Shula can develop Newton or Clausen into a big-time quarterback, the world finally might give this guy his due.

The return of right tackle Jeff Otah is more significant than many realize. Otah missed all of last season with a knee injury but is fully healthy now. That's going to have a huge impact on the running game.

Ryan Kalil signed his $10 million franchise tender and the team hasn't talked to him about a long-term deal. But that's simply because the front office has been so tied up making other moves. This team realizes Kalil is still young and already considered one of the best centers in the game. As soon as things settle down a bit, expect Kalil to be offered a big long-term deal.
June, 24, 2011
6/24/11
11:42
AM ET
We already have talked quite a bit about players from the NFC South who are expected to become unrestricted free agents. We're going on the assumption that players not under contract who have at least four accrued seasons can become unrestricted free agents.
With that in mind, and with some help from ESPN Stats & Information, let's take a look at some of the more prominent potential free agents from the rest of the league.
QUARTERBACKS:
Marc Bulger
,
Kerry Collins
,
Rex Grossman
,
Matt Hasselbeck
,
Patrick Ramsey
,
Alex Smith
,
Billy Volek
,
Kellen Clemens
,
Brodie Croyle
,
Trent Edwards
,
Bruce Gradkowski
, Tarvaris Jackson,
Matt Leinart
,
Troy Smith
and
Tyler Thigpen
.
RUNNING BACKS:
Cedric Benson
,
Ronnie Brown
,
Kevin Faulk
,
Mewelde Moore
,
Sammy Morris
,
Clinton Portis
,
Dominic Rhodes
,
Tony Richardson
,
Kevin Smith
,
Darren Sproles
,
Fred Taylor
,
Brian Westbrook
,
Ricky Williams
,
Joseph Addai
,
Ahmad Bradshaw
,
Jerome Harrison
,
Brandon Jackson
,
Laurence Maroney
and LeRon McClain.
WIDE RECEIVERS
:
Mark Clayton
,
Braylon Edwards
,
T.J. Houshmandzadeh
,
Randy Moss
,
Santana Moss
,
Terrell Owens
, Donte' Stallworth,
Steve Breaston
,
Malcom Floyd
,
Santonio Holmes
,
James Jones
,
Sidney Rice
,
Mike Sims-Walker
,
Brad Smith
and
Steve Smith
(of the
New York Giants
, not the Steve Smith of Carolina).
TIGHT ENDS:
Desmond Clark
,
Donald Lee
,
Randy McMichael
,
Bo Scaife
,
Kevin Boss
,
Owen Daniels
,
Daniel Fells
,
Zach Miller
,
Ben Patrick
and
Matt Spaeth
.
OFFENSIVE LINEMEN:
David Baas
,
Jammal Brown
,
Robert Gallery
,
Adam Goldberg
,
Kyle Kosier
,
Olin Kreutz
,
Matt Light
,
Sean Locklear
,
Casey Rabach
,
Chris Spencer
,
Langston Walker
,
Casey Wiegmann
,
Floyd Womack
,
Damien Woody
,
Chris Chester
,
Jeromey Clary
,
Daryn Colledge
,
Willie Colon
,
Doug Free
,
Jared Gaither
,
Charlie Johnson
,
Deuce Lutui
,
Samson Satele
,
Lyle Sendlein
and
Marshal Yanda
.
DEFENSIVE TACKLES:
Aubrayo Franklin
,
Tommie Harris
,
Chris Hoke
,
Chris Hovan
,
Kris Jenkins
,
Bryan Robinson
,
Gerard Warren
,
Jamal Williams
,
Pat Williams
,
Alan Branch
,
Barry Cofield
,
John McCargo
and
Brandon Mebane
.
DEFENSIVE ENDS:
Jason Babin
,
Dave Ball
,
Raheem Brock
,
Andre Carter
,
Shaun Ellis
,
Cullen Jenkins
,
Travis LaBoy
,
Trevor Pryce
,
Marcus Spears
,
Ray Edwards
and
Mathias Kiwanuka
.
LINEBACKERS:
Akin Ayodele
,
Keith Bulluck
,
Kevin Burnett
,
Dhani Jones
,
Kirk Morrison
,
Julian Peterson
,
Matt Roth
,
Takeo Spikes
,
Jason Taylor
,
Mike Vrabel
,
Stewart Bradley
,
Bobby Carpenter
,
Manny Lawson
,
Paul Posluszny
,
Ernie Sims
and
Stephen Tulloch
.
CORNERBACKS:
Nnamdi Asomugha
,
Phillip Buchanon
,
Chris Carr
,
Drayton Florence
,
Ellis Hobbs
,
Carlos Rogers
,
Lito Sheppard
,
Ike Taylor
,
Fabian Washington
,
Drew Coleman
,
Antonio Cromartie
,
Chris Houston
,
Johnathan Joseph
,
Dimitri Patterson
,
Josh Wilson
and
Eric Wright
.
SAFETIES:
Aaron Francisco
,
Ken Hamlin
,
Michael Lewis
,
Brandon McGowan
,
Quintin Mikell
,
Lawyer Milloy
,
Brodney Pool
,
Gerald Sensabaugh
,
Roy Williams
,
Gibril Wilson
,
Atari Bigby
,
Melvin Bullitt
,
Abram Elam
,
Dashon Goldson
,
Michael Huff
,
Dawan Landry
,
Danieal Manning
,
Bernard Pollard
,
Eric Weddle
and
Donte Whitner
.
October, 4, 2009
10/04/09
5:18
PM ET

Posted by Scouts Inc.'s Matt Williamson
Yes, the Buccaneers held a 10-point lead Sunday and
lost by only three points
on the road, but this team still has a lot of issues.


Early on, quarterback
Josh Johnson
showed the efficiency and valuing of the football that his counterpart,
Jason Campbell
, severely lacked. He did have some first-game moments, however, and the overall speed of the game was a lot for the youngster. Also, Johnson simply has to take more chances downfield. It will be a process for him, but there is a lot to work with in this second-year quarterback.
Wide receiver
Antonio Bryant
scored the Bucs' touchdown and appears to be healthier than he has been to date this season -- but that isn't saying much. If Bryant can be nearly the force he was in 2008, Tampa Bay would have a respectable group of pass-catchers, including
Kellen Winslow
, who can consistently pose matchup problems, and rookie
Sammie Stroughter
. Stroughter has excellent slot receiver skills. But there is a lot of work to be done to improve this passing attack.
The defense held Campbell to only 60 passing yards in the first half. It would be great to give the Bucs' defense the majority of credit for those paltry results, but the fact is that Campbell played horribly and forced the ball into coverage. He did make a few big throws, but for the most part, his play was inexcusable.
The Bucs' cornerbacks deserve quite a bit of credit for their efforts, especially in the first half, but tight end
Chris Cooley
presented problems with his craftiness and after-the-catch abilities. Washington's wide receivers managed only two catches, but the 59-yard touchdown by
Santana Moss
was just him running past
Aqib Talib
, who otherwise made a ton of plays, including three interceptions. Also, often underachieving defensive end
Gaines Adams
really came to play. He looked quick and explosive.
Despite
Clinton Portis
' 50 yards rushing in the first half and 98 yards total, the Buccaneers did not have to consistently dedicate an extra defender to the box to stop the run.
Tampa Bay does have a real issue at the place-kicker position.
Mike Nugent
missed two field goals Sunday and had missed his first four attempts of the season before finally connecting to close out the first half. But that problem is only one of many.
Sadly, this might be as good as it gets for the Buccaneers this season.
August, 20, 2008
8/20/08
4:57
PM ET
Posted by ESPN.com's Pat Yasinskas
With just a little bit of help from his friends, Drew Brees would have completed better than 70 percent of his passes last year.

Brees completed 67.5 percent (440 of 652) last season to finish third in the league in that category. Only Tom Brady (68.9 percent) and Chad Pennington (68.8) were better. But Brees easily could have topped both of them if his teammates held onto a few more passes.
According to STATS, the Saints dropped 41 passes last season. They finished second to the New York Giants, who dropped 42 passes that should have been caught. Thirty-seven of New Orleans' drops came on balls thrown by Brees. Receiver Devery Henderson and running back Reggie Bush tied for third in the league (along with Washington's Santana Moss) with 10 drops each. Indianapolis' Dallas Clark and Cleveland's Braylon Edwards tied for the league lead with 12 drops each.
Henderson's drops were especially troubling because he was only targeted 42 times. That could impact his job security when rosters are cut down. Marques Colston and David Patten are the top two receivers, and young players Robert Meachem and Adrian Arrington could move ahead of Henderson.