June, 25, 2013
6/25/13
10:30
AM ET
By
ESPN.com staff
| ESPN.com
Atlanta Falcons
Defensive end John Abraham is still a free agent, and the Atlanta Journal-Constitution's Jeff Schultz says the
Falcons could use the veteran's help
.
Running back Steven Jackson "has always been among the most impressive physical specimens in the league, and now he'll have a chance to show off the well-rounded game that comes with it,"
writes Robert Mays of Grantland's Triangle blog
.
Here are
five under-the-radar battles that will determine if the Falcons
will have some quality depth in 2013, courtesy of the AJC's D. Orlando Ledbetter.
Falcons rookies are getting pumped up for training camp -- and it's only June. Linebacker
Brian Banks tells the team's website
, "To finally put on pads, to finally get physical out here -- Steven Jackson is the same size as me. It makes no sense how big he is, but I can't wait to go against him and everybody else."
Carolina Panthers
Who is the most overrated player in Panthers' franchise history? If you immediately blurt out Sean Gilbert,
NFL.com has a different suggestion
.
Offensive coordinator
Mike Shula tells the National Football Post that the Panthers
are streamlining the game plan for QB Cam Newton. Shula: "We're looking at different ways for him to think faster and play faster on the field."
Contrary to one online report, running back
Jonathan Stewart does not have cancer
.
Linebacker
Chase Blackburn doesn't hesitate when asked why he wants
to be a Carolina Panther: "I've won two championships; I want to win more."
New Orleans Saints
Marques Colston is now one of 14 players on the Saints' 90-man roster over 30
, and one of the 14 left of the dwindling numbers from the 2009 Super Bowl team, but Katherine Terrell of NOLA.com reports the wide receiver is showing no signs of slowing down.
Athlon Sports analyzes the Saints' 2013 schedule
, including a "3-1 mark to start the year is a very real possibility."
The Times-Picayune continues its series on the Saints' top 25 players,
including No. 19 center Brian de la Puente
.
Tampa Bay Buccaneers
Can the Bucs afford to have the NFL's
highest paid punter in Michael Koenen
?
More from the former NFL players gossip mill,
Tiki Barber responds to former Buccaneer Warren Sapp's comments on Michael Strahan
. "Warren's an idiot. He just wants to say things to be idiotic. I played with Stray for my whole career. He is the greatest of the great. He is a great teammate, he kept things light, but on game day he was as serious as a heart attack and it showed in his play."
April, 25, 2013
4/25/13
11:33
PM ET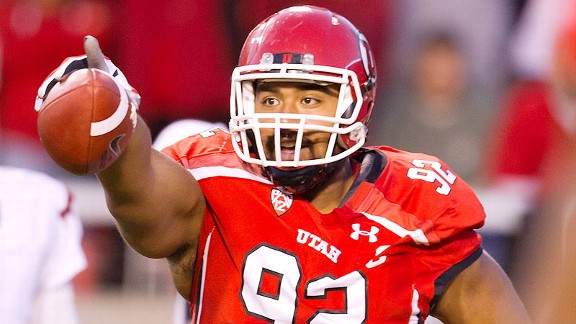 Russ Isabella/USA TODAY SportsCarolina drafted a defensive tackle, Star Lotulelei, in the first round for the first time in team history.
In the first draft of his tenure, Carolina Panthers general manager Dave Gettleman did something predecessor Marty Hurney never did.
Heck, Gettleman did something Bill Polian never did. He did something Dom Capers and George Seifert did in the brief windows when coaches held general-manager powers in Carolina.
Gettleman drafted a defensive tackle in the first round for the first time in franchise history. He drafted Utah's
Star Lotulelei
with the 14
th
overall pick.
It's not a fancy move, but I think this is a great start for Gettleman, who wasn't bluffing when he said at his pre-draft news conference that he believes the game starts up front and that he likes big defensive and offensive linemen.
In Lotulelei, Gettleman and the Panthers are getting a huge defensive tackle that once was being talked about as the potential No. 1 overall pick in this draft. Lotulelei had a bit of a health scare around the scouting combine, but reportedly later received a clean bill of health.
I don't know Gettleman well yet, but I know enough about him and his scouting staff that I'm sure the Panthers wouldn't have taken Lotulelei if they had any doubts about his health.
If they're right, the Panthers got a steal. If they're right, Carolina suddenly has a heck of a defense.
Think about it? Middle linebacker
Luke Kuechly
, last year's NFL Defensive Rookie of the Year, suddenly has someone to jam up the middle. That's going to allow Kuechly to roam freely. Same for outside linebackers
Jon Beason
and
Thomas Davis
.
And picture Lotulelei taking a little blocking attention away from defensive ends
Charles Johnson
and
Greg Hardy
, who each had double-digit sacks last season? Carolina's secondary still isn't loaded with talent, but the front seven might be able to compensate more for that now that Lotulelei is on the roster.
Carolina's defense suddenly is looking like a major strength. It might even be the best in the NFC South.
That's a pretty major statement for a defense that was horrible two years ago. Coach Ron Rivera's tenure got off to a rough start because of the defense in 2011 and coordinator Sean McDermott took a beating from fans.
Things started to improve last season, but there still was a gaping hole in the middle of the defense. The sad part is Hurney, who was promoted to general manager in 2002, might still have the job if he had used a first-round pick on a defensive tackle sometime after 2007.
It was after that season that
Kris Jenkins
, who had a brief stint as the best defensive tackle in the NFL, left the team. Jenkins (a second-round pick in 2001) had to go because there were chemistry issues between him and the coaching staff at the time.
But Hurney never devoted the resources to fully replace Jenkins. He did overspend for veteran
Ron Edwards
coming out of the 2011 lockout. Edwards promptly got hurt in that training camp and never really got healthy. Edwards never really contributed in Carolina and the Panthers released him in one of Gettleman's first personnel moves.
Hurney also tried to address the defensive tackle position by taking
Terrell McClain
and
Sione Fua
in the third round of the 2011 draft. But you don't get stud defensive tackles in the third round. You're rolling the dice and Hurney didn't get lucky with McClain and Fua. McClain no longer is with the team and Fua is best suited to be a backup.
There's only one way to get a dominant defensive tackle (and we're only going to briefly mention how Capers once gave up the farm to get
Sean Gilbert
in a trade that went wildly bad back in 1998). If you want success in the middle of the defensive line, you need to draft a defensive tackle in the first round.
The Panthers never had done that before. That means it's time to review the overall history of this franchise. Since coming into the league in 1995, the Panthers have had only four winning seasons.
Maybe that's largely because the people who ran the show in the past never saw the importance of plugging the middle of the defense with a big-time talent.
Maybe Gettleman just made a move that can help put this franchise on a path to consistent success.
May, 29, 2012
5/29/12
5:26
PM ET
Let's take a look at some of the day's top headlines from around the NFC South.
February, 18, 2011
2/18/11
2:28
PM ET
When we do our Friday NFC South chat, I generally recap it with a few highlights and a link to the complete transcript.
But we're going to take a slightly different approach to today's recap because of some things that came up right at the start and finish of the chat.
We got several questions about Carolina Panthers owner Jerry Richardson, who has been in the news a lot for
allegedly taking a condescending tone toward Peyton Manning during labor talks
the day before the Super Bowl. Let's take a look at a few of the Richardson questions.
Chris (San Diego)
What kind of owner is Jerry Richardson?
Pat Yasinskas:
Overall, I'd say a very good one. Players and employees will tell you he takes very good care of the people who work for them. He's never been anything less than a true gentleman in my dealings with him. He cares deeply about his franchise and his fans. Now, I know recent events have left him open to criticism and questions and I understand that. But I don't think we know the flip side as to why Richardson is doing what he's doing. And I don't think it's fair to call him a bad guy until we know what the flip side is. He's a smart guy and I'm sure he has solid reasoning for taking the approach he's taking.
Mark (NC)
Is the reputation that Richardson is cheap and greedy fair?
Pat Yasinskas:
Not over the long haul. He's spent lots of money in the past -- Sean Gilbert, Ken Lucas, Mike Wahle, renewing Steve Smith, etc. Players have always been treated as first-class citizens. Now, things changed over the last year or so. But, as I said early in the chat, I think we need to see the flip side of Richardson's plan before really judging him.
Kerry (St. Louis)
Is Jerry Richardson a bad person?
Pat Yasinskas:
ABSOLUTELY NOT. I respect the man tremendously.
Here's
the transcript
of the entire chat.
April, 18, 2010
4/18/10
1:11
PM ET
Rum in New Orleans writes: Many times fans claim their team/owner is cheap, but do they really check out the League payroll levels? I guess this is directed at the Bucs, but folks used to claim Mr. Benson was cheap because of the level of our FAs -- but when you'd read the NFL payrolls, the Saints were always near the top. We used to have to OVER-PAY for folks to come down South -- how much do you think Drew Brees, Who Dat Nation, and a Lombardi change recruiting? What are the strong and the weak points of each team in the NFL South?
Pat Yasinskas: Very relevant question right now because I get a steady stream of complaints from Tampa Bay and Carolina fans about their teams being cheap. In Tampa Bay's case, it's hard to argue that, but I just wish fans would look at the bigger picture and stop blaming frugality for all their problems. The Bucs made a conscious decision to start building through the draft. Right or wrong, that's what they're doing and their plan is to not sign big-name free agents, no matter how much their fans scream for them. They're also planning to use some of that money to re-sign some of their own core players -- Barrett Ruud, Donald Penn and Cadillac Williams -- to long-term deals. As far as the Panthers, nobody had ever called Jerry Richardson cheap before this year and it's ironic that he suddenly has that label. Yes, he let some high-priced veterans go and wasn't a big player in free agency. But the Panthers haven't been a big player in free agency since the year the signed Ken Lucas and Mike Wahle. Yes, I think some of what Richardson has done (or hasn't done) this offseason is tied to Richardson's concerns about the labor situation. But the fact is the Panthers have believed in building through the draft throughout the time John Fox and Marty Hurney have been there. Atlanta's another team that believes in building through the draft, but Arthur Blank opens the checkbook now and then and he did it this year for Dunta Robinson. If you've ever seen the Falcons' practice facility, you know Blank is far from cheap. And you're right, Tom Benson used to have a reputation for being cheap and that probably wasn't deserved because the Saints did have to overpay at times. But those days are over. New Orleans is now a place where players want to be.
Andy in Whispering Pines, N.C., writes: I've been reading some of the other blogs and have seen that Albert Haynesworth may be had for a second-round pick. Being that Carolina is in dire need of a defensive lineman, what are thoughts on a trade for a pick. Oh yeah, he is only 28 which is much in line with the youth movement that Fox has been working on!
Pat Yasinskas: There's no doubt Haynesworth could help the Panthers, who desperately need a force in the middle. But I don't see this happening. The Panthers don't have their first-round pick this year. If they trade away their second-round pick, there's a good chance they come out of this draft without any impact players. That just doesn't fit Carolina's philosophy. Plus, Haynesworth comes with the sort of baggage Richardson doesn't like. Also, think back to the early days of the Panthers when they made a trade with Washington for defensive tackle Sean Gilbert. That turned out to be a disaster and I'm sure Richardson remembers that.
Rob in Bush, LA writes: I haven't seen anyone talk about this but maybe I missed it. The NFL Draft starts at 6:30 p.m. New Orleans time Thursday night. In past drafts, each team has 15 minutes to make their selection. 32 teams X 15 minutes each = 8 hours. The Saints, picking at 32, won't be picking until about 2:30 a.m. in the morning local time. How many people will see it "live"? Might not even make the morning edition of the Times-Picayune. Whose idea was this?
Pat Yasinskas: Blame the NFL and television. It's all about ratings and the success of the NBA draft in prime time that has set the stage for this. The good news is that each team will only get 10 minutes this year as opposed to 15. So you're looking at maximum of five hours and 20 minutes as opposed to eight hours. Also, not every team will take the full time allotted for their picks, but it still will be pretty late when New Orleans makes its pick.
Kyle in Peachtree City, Ga., writes: I have been watching USF DE Jason Pierre-Paul lately. And I believe he is the real deal. Is there any way the Atlanta Falcons will trade up to get him or is there any chance he drops to us?
Pat Yasinskas: I think there is a chance Pierre-Paul could be there when the Falcons pick at No. 19. It would be very interesting to see what the Falcons do if he is available. Pierre-Paul is an awesome athlete, perhaps even the best natural athlete in this year's draft. He has the potential to be a tremendous pass rusher, which the Falcons desperately need. The one knock is that Pierre-Paul only played one year at a Division I program and doesn't have a ton of experience against top competition. General manager Thomas Dimitroff seems to prefer guys who have a strong history of production. But I could see him making an exception here because Pierre-Paul's upside is so great.
Ryan in Charlotte writes: With all this talk about Steve Smith needing someone to work with, should the Panthers just let Smitty interview and scout some receiver prospects? Then he can actually find someone he likes and maybe the Panthers draft the guy? Would this ever even be able to happen?
Pat Yasinskas: I wouldn't be at all surprised if something like that already has happened. I'm not saying the Panthers have been sending Smith and a notebook to pro days or that he's been doing in-depth interviews with prospects. But it's not uncommon for teams to use current players as sounding boards on potential picks. They might have asked Smith about which receivers he likes or let him chat with a few of them as they came through for pre-draft visits.
April, 7, 2010
4/07/10
4:26
PM ET
Judging by the mailbag, it appears to be
Albert Haynesworth
Day here in the NFC South. Going on a quick glance, I believe I saw multiple questions about the possibility of Haynesworth landing with each of the four NFC South teams. There was even an inquiry about the Tampa Bay Storm bringing in Haynesworth to play both ways and one about him possibly taking on catching duty for the Braves (that last part's only a joke).
Before we get into the questions, let me start with a little blanket statement. I know it's very easy to sit out there and think of trade scenarios on this one and I do it, too. But to actually pull off a deal for Haynesworth would be very complicated and expensive. I know the Washington Redskins already are on the hook for a large chunk of Haynesworth's existing contract, but the thing was so huge that there's still a lot left. In case you haven't noticed, NFC South teams haven't exactly been spending much money this offseason. Plus, most of the teams in the division really aren't looking to give up any of their draft picks. Also, keep in mind that although Haynesworth has been a very good –- dominant at times -– defensive tackle, there have been a few things that make you question his character. Again, character is a hot-button issue with most of the NFC South teams right now, so that could scare some suitors off.
With that said, let's move on to some of the Haynesworth questions and we'll move address some other issues further below:
GPM in Toronto writes:
What are your thoughts on the idea of the Bucs going after Haynesworth? Could they swing a trade for him by offering a couple picks?
Pat Yasinskas:
I'm not going to say that would be a good or bad move by the Tampa Bay Buccaneers. I'll just say I don't think you'll see it happen. Although Tampa Bay reportedly made a huge offer to Haynesworth last year, I think that was before coach Raheem Morris, general manager Mark Dominik and ownership really grasped what the idea of the youth movement they came up with was really all about. Not saying they have knocked it out of the park yet or ever will, but it seems like they now have a common vision that the way they want to build is through the draft. Dominik and Morris keep pointing to the 11 picks they're holding and I don't see them letting go.
---
Brian in New Orleans writes:
I know this is a pipe dream, but I can't help but think about an Albert Haynesworth for
Jammal Brown
/draft-pick trade. Both obvious needs and would help both sides.
Pat Yasinskas:
Pipe dream, probably. But I'd say it's less of a pipe dream with the New Orleans Saints than Tampa Bay. For that matter, I'll go ahead and say New Orleans is the only team in the division I think would even consider something like a Haynesworth move. Carolina Panthers owner Jerry Richardson is focused on the labor situation so I can't see him taking on Haynesworth's contract -- no matter how much of it has already been taken care of by the Redskins. Besides, coach John Fox and general manager Marty Hurney never have been big on quick fixes. They weren't there at the time, but they still are haunted by the ghost of
Sean Gilbert
. Sort of the same for the Atlanta Falcons. The Falcons made their move for this year (
Dunta Robinson
) and they're focused in on the draft. Back to New Orleans -– I know a lot of fans think Brown is expendable because the Saints won a Super Bowl with
Jermon Bushrod
playing in his place. But they did that with a lot of smoke and mirrors. You really think the Saints want Bushrod protecting
Drew Brees
' blind side for the long term? Yes, Haynesworth would be a nice addition to the defensive line. But if the Saints put a decent draft pick or a mid-level free agent next to a healthy
Sedrick Ellis
, there's no glaring need.
---
JM in Charlotte writes:
In your opinion, what position will the Panthers draft first? Could it be wide receiver or defensive line/end?
Pat Yasinskas:
All right, we now will move past the Haynesworth stuff. Tough call to single out a position for the Panthers because they don't have their first pick until the middle of the second round. I'd really like to see them get a wide receiver, but given Fox's system and history, I have a tough time seeing a rookie receiver come in and make an instant impact. Fox's back is clearly against the wall this season. When you're in that situation, you go back to basics. Fox is a defensive coach at heart. I see him pushing for a defensive end or a defensive tackle. I'd lean toward a defensive tackle because the Panthers think
Everette Brown
and
Charles Johnson
might step up on the outside. They've got some very ordinary guys in the middle, but nothing to build around.
---
Mike in Atlanta writes:
I really enjoy reading your blog. I have a very pedestrian but important question-who is going to be the Falcons' kicker this year? Is the team settled on
Matt Bryant
or are they looking for other options?
Pat Yasinskas:
Agree with you because that is an important question for Atlanta because the kicking game was an issue last year.
Matt Bryant
's going to get the first crack at the job and hopes are high. Bryant had some injury issues when the Bucs let him go. He's healthy now and the Falcons would like to see him win the job. But last year showed they can't afford to sit back in this area. I'm sure they'll bring another kicker to camp and will continue to scour what's available in case they don't like what they see in the preseason.
---
Ryan in Boston writes:
I was wondering what you think the signing of Todd Carter means for the Panthers. Is he just another kickoff specialist like
Rhys Lloyd
, or do you see him eventually taking over for
John Kasay
? I think holding a roster spot for a kickoff specialist proved pretty detrimental to the Panthers' depth last season.
Pat Yasinskas:
For the moment, the Panthers are just hoping Carter can do what Lloyd did the last couple years -– kick off. But Carter has visions of someday being a field-goal kicker and Kasay can't go on forever. This is a chance for Carter to get his foot in the door, but he's got to show he can kick off and make the roster first. By the way, earlier today, I spotted what has to be –- and probably will continue to be unless he kicks his way to the Hall of Fame –- the most
extensive story
ever written about Carter.