NFC South:

Seattle Seahawks
November, 10, 2013
11/10/13
10:00
AM ET
By
ESPN.com staff
| ESPN.com
Join our ESPN.com NFL experts as they break down the Seattle Seahawks' visit to the Atlanta Falcons. Contribute your thoughts and questions beginning at 1 p.m. ET. And, be sure to visit our
NFL Nation Blitz page
for commentary from every game, as well as fan photos and the latest buzz from Twitter. See you there.
September, 8, 2013
9/08/13
12:50
PM ET
By
ESPN.com staff
| ESPN.com
Join our ESPN.com NFL experts as they break down the Seattle Seahawks' visit to the Carolina Panthers. Contribute your thoughts and questions beginning at 1 p.m. ET. See you there.
September, 6, 2013
9/06/13
12:00
PM ET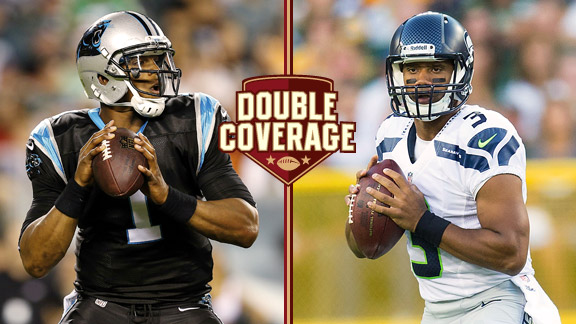 AP Photo, USA TODAY SportsCarolina puts Cam Newton's athleticism on the line versus confident Seattle QB Russell Wilson.
The
Seattle Seahawks
are the sexy pick to win the Super Bowl, with the hot quarterback featured in GQ magazine. The
Carolina Panthers
are the wannabe team with the once-hot quarterback who has lost some of the luster off his cover-boy status.
But there's one thing these teams have in common as they prepare to open the 2013 NFL season on Sunday at 1 p.m. ET.
Slow starts.
Carolina has the worst opening-day record in the league at 6-12. Seattle ranks 30th, with only the
New Orleans Saints
and Panthers behind them. The winner will at least emerge with a chance to change that.
So how do they stack up in what appears a mismatch? Panthers team reporter David Newton and Seahawks reporter Terry Blount are here to tell you.
Let's get right to the question most people are asking: Who is the better quarterback? Carolina's
Cam Newton
or Seattle's
Russell Wilson
?
Newton:
I know Wilson and the Seahawks are the sweethearts of the league after making the playoffs last season. But if I were starting a team, I'd take Newton, and not because we share the same last name. I know the Panthers would. They talked last season about drafting Wilson to back up the first pick of the 2011 draft before Seattle got him in the third round. Backup! Look, Wilson is a solid player who is surrounded by a better supporting cast than Newton has had in his first two seasons and has again this year. Wilson does some great things with his arm and legs. He makes good decisions. Newton would kill for his completion percentage of 64.1 last season. But Newton is one of those special players who, at 6-foot-5 and 245 pounds, can do things the 5-11, 206-pound Wilson can only dream of. Go back and look at the 72-yard touchdown run Newton capped with a flip into the end zone in a 30-20 victory against a one-loss Atlanta team last season and you'll see what I'm talking about. Wilson's biggest edge comes in leadership, and I believe you'll see Newton step it up in that department this year. I see his stock on the rise. Of all the first-year quarterbacks who made the playoffs last year, Wilson is my choice to have a sophomore slump.
Blount:
Newt, I honestly tell you that the Seahawks coaches and players would take Wilson every day of the week, and frankly, I think so would most NFL coaches. In the more than 30 years I've covered sports, I've never met a more impressive young man than Wilson. He's just one of those once-in-a-generation-type athletes who you look at him and listen to him, then you say, "This guy is going places in life." Yes, Cam has more experience, and, obviously, more size. He's an exceptional athlete, a man that Seattle coach Pete Carroll called "a phenomenal talent." But he isn't the team leader that Wilson is, and won't make as many good decisions at key moments as Wilson will.
Let's turn to a team question. Which team will show more improvement this season? Not the better record, but bigger step forward? The Seahawks, who were 11-5 and a playoff team? Or the Panthers, who were 7-9?
Blount:
That's a tough one. I think Carolina could finish with a winning record this season and possibly make the playoffs, which would be a nice improvement over 2012. But since I picked Seattle to go 12-4 and reach the Super Bowl this year, I'll have to go with the Seahawks.
Newton:
Definitely a tough one. I don't see Carolina making the playoffs, but I do see the Panthers coming close to a winning record. And they will improve on defense with the return of
Jon Beason
at linebacker and more talent at tackle. How much they improve overall depends on the progression of the offensive line, which didn't look good during the preseason. Seattle has all the pieces to make a Super Bowl run, but I still think the Seahawks are the second-best team in their division, behind San Francisco. They did so many good things last year it's hard to see them making a substantial improvement. If they do, it really will be Super Bowl or bust.
Now to the game. Last year, Seattle won 16-12 in a defensive struggle in Week 5. Do you see this game being similar?
Newton:
Definitely. And if it's not, Seattle could make it ugly, because Carolina can't win a shootout. The strength of both teams is defense. We're probably looking at two of the top 10 units in the league. Both are used to practicing against the run-option that Newton and Wilson ran well at the end of last season, so they'll be prepared to handle it. The key for Carolina to make this a defensive battle will be the secondary. Will it be the unit that had a league-high 10 interceptions during the preseason, or the one that was soft most of last season?
Blount:
The defenses typically are ahead of the offenses at the start of the season, so that could play into a matchup with two strong defensive units. However, I do expect this game to have a little more scoring than the one last year, because I think both quarterbacks will play better than they did in that game. You're spot-on about the secondary, Newt. I think both secondaries are the key. Seattle might have the best defensive backs in the league and the Panthers looked much improved. But no secondary can cover these receivers forever. What this could come down to is which defensive unit does a better job rushing the passer and which is better able to contain two of the best running quarterbacks in the league.
October, 6, 2012
10/06/12
12:33
PM ET
TAMPA INTERNATIONAL AIRPORT -- I'm getting ready to head toward Washington, D.C. to cover Sunday's game between the
Atlanta Falcons
and
Washington Redskins
.
I'll check in from my hotel in suburban Maryland later this afternoon if there's any news worth noting around the NFC South.
If not, join us Sunday morning. I'll be at FedEx Field a couple hours before game time and will get you pregame notes and inactives. Should be a good day because we've got the three NFC South games in three different time slots.
The Falcons play at 1 p.m. ET, the Panthers take on the Seahawks in the late-afternoon time slot and the Saints host the Chargers on Sunday night.
August, 31, 2008
8/31/08
1:14
PM ET
Posted by ESPN.com's Pat Yasinskas
In the latest installment of the mailbag, we talk about whether or not Reggie Bush is a bust, jump all around the NFC South and even talk a little about the Seahawks. Here it is:
Ricky in Nashville writes: WHY! Why is it that off all the players that came into the NFL the year Bush was drafted, he is the only one labeled a "Bust" I don't understand it. He has had a reasonable career. Nothing to claim HOF yet but there is a certian someone that was drafted right behind him that has BUST pasted to his forehead. Vince Young is one of the most overrated QB's in the NFL. His first year was "reasonable" but when you start 16 games your 2nd year and you throw nearly 2 times as many INTs as TDs there has to be something wrong. Not to mention only having a 6 YPA for the year. Why is it that Bush is the only player from that draft a bust?
Pat Yasinskas: Very good question. I think it's too early to call Reggie Bush a bust, but I know some people have that perception. You're right, his career so far has been reasonable. But he came in with incredible hype and people expected him to be the next Barry Sanders. That hasn't happened. But I think this year will be better for Bush. Let's wait and see what happens this season before judging him.
---
Ronald in Lynchburg, VA writes: Do you see the Falcons making any moves and grabbing some of the big name final cut casualties?
Pat Yasinskas: Anything's possible and I'd like to see them get a cornerback. But I wouldn't look for a lot of moves or big names. This is a team that's committed to rebuilding with young players.
---
Wafic writes: Do you think that the Panthers have a change at the playoffs?, and what do you think their record will be?
Pat Yasinskas: Yes, with a healthy Jake Delhomme, the Panthers definitely have a chance. But so do the Saints and Bucs.
---
Someone who didn't give their name in New Orleans writes: Do you Pat believe the Saints can use Gustav as motivational response to the season? How do you believe the secondary will hold up? I think the linebacking corp should be a phenom and same goes for the d-line.
Pat Yasinskas: I'm just hoping for the best for everyone in the path of Hurricane Gustav. We'll see what the impact is on New Orleans. The Saints were a rallying point for the whole region after Hurricane Katrina. The fan base is stronger than ever and that won't change. As far as the secondary, I think the additions of Tracy Porter and Randall Gay will help a lot.
---
Vince in Raleigh writes: I understand the panthers trading for a backup QB, but did they jump the gun trading a day before final roster cuts? Someone like Simms from Tampa Bay could have fallen in their laps without having to trade away a draft pick. They will already be without a first rounder next year, and it just appears to me that they could have waited until final roster cuts seen if anyone was available, and if not then make the trade.
Pat Yasinskas: You make a very good point. The Panthers could have had their pick of a bunch of quarterback who were cut. But the price tag on Josh McCown was only a seventh-round draft pick. My question is, if the Panthers wanted someone with experience, why didn't they go out and get a quarterback in free agency? Instead, they went through an entire offseason with Jake Delhomme, Moore and Brett Basanez. McCown has to learn a whole new offense very quickly.
---
Jeremy, Olympia WA writes: Hey Pat, thanks for picking the Seahawks to win the NFC Championship. I know there was at least one ESPN guy to be as smart as I am.
Dylan in Seattle writes: In the experts predictions for who wins each division/championship/Super Bowl, you were the only one to list Seattle as winning the NFC championship. Why do you think they have such a good shot at going that deep in the playoffs this year?
Pat Yasinskas: As with any prediction, it's only a prediction and really doesn't mean anything. But I'm just playing a hunch. I think the teams in the other NFC divisions will beat each other up. The Seahawks shouldn't have that problem in the NFC West. I also think they'll rally around Mike Holmgren in his final season.
---
Lee in Cherryville, NC writes: I'd like to preface this by saying that I'm a Panthers fan above all else. However, after that I'm an Appalachian fan and alum (I'm going to watch them beat LSU Saturday). I know how good Dexter Jackson was for us at App and everyone saw that at Michigan. He fell off the media radar after the draft and I haven't heard anything lately? How's that blazing speed fairing on the Bucs? I wish the panthers would have gotten him, but the Bucs saw that Mountaineer skill and grabbed him real early.
Pat Yasinskas: Your question was sent before Thursday night when Jackson had an 83-yard punt return for a touchdown and also was used creatively at wide receiver. Before that, Jackson hadn't shown much and had a very quiet camp and preseason. But Thursday was a demonstration of his potential. You'll see him right away as a return man. He'll probably be the fourth or fifth receiver, but the Bucs will put in a package of plays for him to try to take advantage of his speed.
---
Sharell in Raleigh, NC writes: The Falcons secondary is extremely young. Do you think they should try to go for Lito Shepherd?
Pat Yasinskas: I don't think the Eagles will let Lito go. But I do think the Falcons could use a cornerback with some experience. I'd look for them to bring in someone who just got cut elsewhere today or tomorrow.
---
Rich in Ft. Myers, FL writes: Why is nobody mentioning Michael Bennett when they talk about our backs? I thinks hes looked incredible, even against first team Defenses.
Pat Yasinskas: You're right, Michael Bennett had an excellent preseason. I think you'll see plenty of him this year. The coaches are all fired up about him and I think you'll see a mix of Earnest Graham, Bennett and Warrick Dunn at running back.
July, 3, 2008
7/03/08
3:24
PM ET
Team
Personal Fouls Since 2001
Personal Fouls vs. Opponents
Differential
Oakland
109
80
-29
Miami
110
85
-25
Chicago
112
89
-23
Tennessee
119
97
-22
Tampa Bay
127
110
-17
NY Giants
119
104
-15
Green Bay
101
87
-14
New England
116
102
-14
Washington
117
103
-14
Jacksonville
93
80
-13
Baltimore
108
96
-12
Detroit
124
114
-10
Arizona
124
115
-9
Philadelphia
105
97
-8
Cleveland
95
88
-7
Atlanta
113
108
-5
Cincinnati
104
100
-4
St. Louis
8
6
87
1
Houston
71
75
4
Dallas
93
101
8
NY Jets
87
96
9
New Orleans
108
117
9
Pittsburgh
86
100
14
Denver
95
109
14
San Diego
92
107
15
San Francisco
93
108
15
Minnesota
85
101
16
Kansas City
89
107
18
Indianapolis
77
99
22
Carolina
107
132
25
Buffalo
99
134
35
Seattle
57
93
36
Posted by ESPN.com's Mike Sando
We move from dirty players to dirty teams to the unfortunate case of the Raiders, whose reputation for making their own rules apparently hasn't tarnished opponents.
Oakland has committed 109 personal-foul penalties since 2001, slightly more than average, but officials have flagged their opponents only 80 times, tied with Jacksonville's opponents for the league low.
The Raiders' differential, minus-29, is the biggest in the league.
We cannot know if the Raiders' opponents are getting a pass or if they are simply on their best behavior when they play Oakland.
Bills fans should have no such worries. Officials flagged Buffalo's opponents for 134 personal-foul penalties over the same span.
Officials flagged Carolina's opponents for 132 such penalties.
Buffalo's plus-35 margin was second-highest in the league behind Seattle's plus-36, a total reflecting the Seahawks' league-low 57 personal-foul penalties since 2001.
We'll break it down by head coaches a bit later (see you there, Bill Callahan).