NFC South:

Shannon Sharpe
March, 12, 2013
3/12/13
3:19
PM ET
Tony Gonzalez
, who said multiple times he was 95 percent sure he would retire after last season, showed that numbers don't always tell the whole story Tuesday when he said he was
returning
to the
Atlanta Falcons
next season.
Gonzalez
But I still trust numbers, especially when they come from ESPN Stats & Information. They've got a handy file on Gonzalez and all his numbers. So, on this day when Atlanta fans are celebrating, let's take a look at some of the numbers on Gonzalez.
His 13 Pro Bowls are tied for the second most in history. Only Bruce Matthews (14) has been to more Pro Bowls.
Gonzalez is the all-time leader in receptions by a tight end with 1,242. Shannon Sharpe (815) is second.
Gonzalez is the all-time leader in receiving yards by a tight end with 14,268. Sharpe is second with 10,060.
Gonzalez is the all-time leader in receiving touchdowns by a tight end with 103. Antonio Gates is second with 83.
Gonzalez still played at a high level last season. He ranked second among tight ends with 93 receptions.
Gonzalez will get a chance to build on his lead for regular-season starts by an active player. He has 238 career starts. Tampa Bay's Ronde Barber is second with 232.
Here's a record Gonzalez, who turned 37 in February, should have no problem breaking. The only tight end to have at least 20 catches at age 37 or older was Wesley Walls with 20 catches in 2003.
We'll close it out with an amazing stat. Gonzalez had 27 receptions with no drops on throws of 10 yards or more last season. Since joining the Falcons in 2009, Gonzalez has had only one drop on those throws while making 86 receptions.
January, 21, 2013
1/21/13
11:21
AM ET
ATLANTA -- If Sunday really was the end of the road for Atlanta tight end
Tony Gonzalez
, and he sure made it sound like he's
about to retire
, it's time for some reflection.
At just about every other position, you can sit and argue for days, weeks, months or years about who is the best ever. And usually you can't even come to a universal agreement.
But that's not the case with Gonzalez. When you talk about the greatest tight end ever, the conversation starts and ends with Gonzalez.
Gonzalez
Just on the off chance you still need some convincing, let's turn to ESPN Stats & Information to show you why:
Gonzalez has the most receptions (1,242) ever by a tight end. Shannon Sharpe is second with 815. Gonzalez is second in receptions by any player, trailing only Jerry Rice (1,549).
Gonzalez has more receiving yards (14,268) than any tight end. Sharpe is second with 10,060. Gonzalez ranks seventh on the all-time list for receiving yards.
His 103 receiving touchdowns are the most ever for a tight end. Antonio Gates is next with 83. Gonzalez is sixth among all NFL players in history in receiving touchdowns.
Gonzalez was selected to his 13th Pro Bowl this season. Only Bruce Matthews (14) had more Pro Bowl selections.
Gonzalez was selected first-team All-Pro six times.
If this really is the end, there's still one more honor coming for Gonzalez. It will come in five years when he will be a certain first-ballot selection to the Pro Football Hall of Fame.
June, 25, 2011
6/25/11
10:49
AM ET
Time for a plunge into the NFC South mailbag.
Rick in San Diego
asks what the cap hit would be if the Saints release
Reggie Bush
and wonders if it would be better to trade him.
Pat Yasinskas:
Trading Bush really isn't an option because the new team would have to pick up the final year of his contract, which includes an $11.8 million base salary. He currently is scheduled to cost the Saints $16 million against this year's cap. If they release him, they still would take a $3.5 million cap hit for pro-rated bonus money, but it would be a savings of $12.5 million in cap space compared to where things currently stand.
---
Zac in Pfafftown, N.C.,
asks about the possibility of trading
Jimmy Clausen
and what his value might be.
PY:
Nice idea and a lot of Panthers fans are wondering about trading Clausen. But really it makes no sense at this point and it's not in their plans. Yes, the Panthers just drafted quarterback
Cam Newton
essentially to replace Clausen. But they still need a backup for Newton and it's possible Clausen could be the opening-day starter if Newton is slow to pick up the playbook in training camp. There also are people within the organization who believe Clausen still has a chance to be a good NFL quarterback and was simply put in a bad spot last season. Besides, after last season, Clausen really wouldn't have much trade value right now.
Let things play out. Clausen could play some this season and maybe he plays well and that jacks up his trade value. The Panthers could end up with a situation like the Falcons had a few years ago when they were able to get quality draft picks by trading
Matt Schaub
. But Clausen doesn't have that kind of value right now and the Panthers still need him in case Newton's not ready right away.
---
Matt in West Palm Beach
says my
column
on
Drew Brees
never mentioned my thoughts on if he's a first-ballot Hall of Famer while my column on
Tony Gonzalez
was very clear that the Atlanta tight end
should go in on the first ballot
.
PY:
I'm doing periodic looks at potential Hall of Famers from the NFC South and I started with Brees and Gonzalez. There's no set formula for this project. In fact, the approach I'll take in some upcoming installments will be far different from what you already have seen. I'm thinking about doing a combo piece where I explore the chances for veteran defensive backs
Darren Sharper
and
Ronde Barber
. I may do something similar with receivers
Roddy White
and
Steve Smith
.
The columns were written with different premises. In Brees' case, I was only writing about his chances of making the Pro Football Hall of Fame and speculating ahead because he likely will be playing for at least a few more years. In Gonzalez's case, I was arguing he should go in on the first ballot. That's a pretty big issue in Gonzalez's situation because voters have traditionally been reluctant to let tight ends go in on the first ballot.
Shannon Sharpe
had to wait until his third year of eligibility and will be inducted this summer.
But, if you're asking for my thoughts on if Brees will go in on the first ballot, I think he's got a real shot. But it will depend on if he can put up big numbers for at least a few more seasons and it wouldn't hurt if the Saints win another championship or two.
---
Karim in Chicago
asks if defensive end
Ray Edwards
really is worth the money many are expecting the Falcons to throw at him in free agency.
PY:
If you look at Edwards' sack totals, they're not overwhelming. He had eight last season and 8.5 the year before that. He never got above five sacks in the first three seasons of his career. But the past two seasons showed an upward trend and Edwards is only 26. In these situations teams have to look at their system and personnel and project a guy into that and ask if they think he can thrive.
Lots of scouts around the league think Edwards can produce double-digit sacks in a season, but it's not like he's got the resume of a
Julius Peppers
. Conventional wisdom is that Edwards is the guy the Falcons will target, but we don't know that for sure. Carolina's
Charles Johnson
could be a target if the Panthers don't re-sign him and there could be another guy or two the Falcons like.
---
Alex in Rochester, N.Y.,
wrote to say all the quarterback talk in Carolina is about Newton and Clausen. He wonders if
Tony Pike
is so bad that he doesn't deserve mention.
PY:
Pike was a sixth-round pick for a reason last season and it's rare for a sixth-round pick to become anything more than a backup quarterback. I'm the first to admit Carolina had a unique situation last year because former coach John Fox was so opposed to the youth movement. He grudgingly played Clausen when he had no choice. When Clausen and
Matt Moore
were both out with injuries, the Panthers signed veteran
Brian St. Pierre
off the street and started him ahead of Pike.
The word out of Carolina was that Pike had shown no signs of progress in practice and that's why Fox went with St. Pierre. I'm sure Pike will get a look from the new staff in training camp, but he better show something. Clausen and Newton are practically guaranteed roster spots and there's talk the Panthers might bring in a veteran to mentor them. Unless he has a very strong camp, Pike might not have a roster spot.
---
Matt in Houston
says he repeatedly has heard about the Saints' offseason workouts, led by Brees, and wonders if other teams have been less active.
PY:
Any workouts that have been done around the league have been positive because they help players stay somewhat sharp so they'll be ready when the lockout ends. But none of these workouts are even close to what usually happens in the offseason when coaches are working with players. I'm sure Brees has done a great job with the Saints' workouts and all indications are attendance has been great.Not to sell their efforts short in any way and I think the Saints are in the best shape of any division team coming out of the lockout, but I should point out their workouts have been open to the media and drawn far more attention than in most places.
Matt Ryan
's been doing similar workouts with the Falcons, but Atlanta is a one-newspaper town and the television stations don't come out for every workout, so it's not like there's been wall-to-wall coverage. The Panthers didn't do anything formal until a few weeks ago and only opened the last workout to the media.
Josh Freeman
has been leading workouts for offensive skill-position players for the Bucs since March, but he tried to keep them pretty private and didn't allow much media access. The Bucs will be doing a minicamp -- that will include defensive players but won't be too heavy on linemen on either side of the ball -- next week that will be open to the media and it should get plenty of coverage.
But the bottom line is that while workouts may help a little bit, they're no substitute for working with the coaches. Every team around the league is going to have to do some serious catching up in training camp.
June, 23, 2011
6/23/11
11:04
AM ET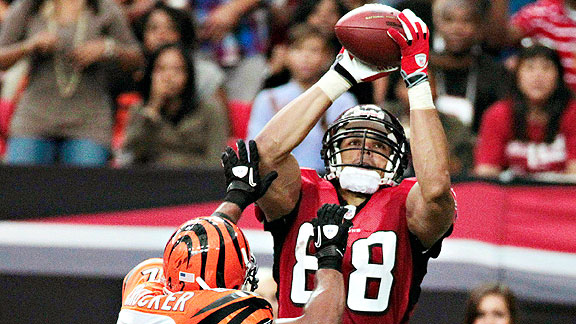 AP Photo/John AmisIs Tony Gonzalez, who holds nearly every tight end record, a first-ballot Hall of Famer?
When it comes to
Tony Gonzalez
the question isn't if he'll get into the Pro Football Hall of Fame. There's no doubt the man with the best tight end statistics in just about every category that can be measured will be selected.
The question is, when will it happen?
Common sense would lead you to believe Gonzalez will retire from the
Atlanta Falcons
and, five years later, he'll get in on the first ballot. But recent history tells us that common sense may not apply when it comes to putting tight ends in the Hall of Fame, especially on the first ballot. Tight end is a unique position, and voters obviously view it that way.
Take a look at
this list of Hall of Famers
, sorted by position. You'll see that kickers are the only group with less representation than tight ends. There are more than double the amount of "contributors'' than there are tight ends in the Hall of Fame. Same for coaches.
There are currently just seven tight ends in the Hall of Fame. That number will increase to eight later this summer when
Shannon Sharpe
is inducted. The mere mention of Sharpe's name and Hall of Fame voting shows that it's not a slam-dunk that Gonzalez will go in on the first ballot.
A few years back, Sharpe was in pretty much the same spot Gonzalez will be in. Sharpe retired in 2003 as the holder of virtually every all-time record for tight ends. He also had three Super Bowl rings.
When Sharpe was first eligible for the Hall of Fame in 2009, he was passed over. The same thing happened in 2010. There's a school of thought that some Hall of Fame voters wanted to make Sharpe wait for a couple of years, simply because he was a tight end.
"When Shannon retired, he was the most prolific tight end in all the categories, and if that's not a Hall of Famer, then I'm trying to figure out what the definition of the Hall of Fame is," Hall of Fame defensive back
Rod Woodson
said after Sharpe came up short in his second year of eligibility. "There hasn't been a tight end ever on the first ballot, but this was his second, so I was thinking and hoping that they would do the right thing.''
[+] Enlarge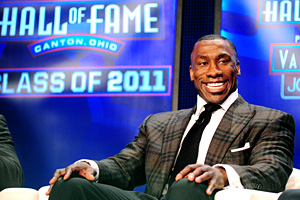 Mark J. Rebilas/US PRESSWIREThe Hall of Fame voters made Shannon Sharpe -- arguably the game's best tight end before Tony Gonzalez -- wait to earn induction into Canton.
I'll make a case right now that the right thing to do with Gonzalez when the time comes is to put him in on the first ballot. Anything else would be flat-out wrong.
Gonzalez is simply the best tight end ever. Sharpe might have held that title for a while. But, within a few of years of Sharpe's retirement, Gonzalez started breaking all of his records. The two aren't even close in most statistical categories anymore. Gonzalez has 12,463 receiving yards. That's almost 2,403 more than Sharpe. Gonzalez has 1,069 career receptions. That's 254 more than Sharpe.
The gap is only going to get bigger. At 35, Gonzalez may not be what he was in his prime as he was back in 2004 with Kansas City when he set a single-season record for catches by a tight end with 102. But in an Atlanta offense that's already good and could be even better with the addition of rookie
Julio Jones
, Gonzalez remains an important role player.
Let's just say Gonzalez has another season something like last year, when he caught 70 passes for 656 yards and six touchdowns. Anything close to that, and he adds another layer of insulation between his records and what Sharpe did.
Anything close to last year and Gonzalez will have numbers that basically double what Hall of Famer
Kellen Winslow
did. With the
San Diego Chargers
back in the 1980s, Winslow revolutionized the tight end position. Tight ends used to be pretty much just blockers, but Winslow made catching passes part of the job description.
In other words, Winslow changed the game and the position. If you do that, you should be a Hall of Famer. Gonzalez has done that. He's left Winslow and Sharpe far behind in the argument about the greatest tight end ever.
Gonzalez is the guy who opened the door for a generation of former basketball players to start becoming as important as wide receivers in many offenses. That brings us to another point about Gonzalez and why he should go in on the first ballot.
He's a tight end, but he's got numbers that are just as good as some Hall of Fame wide receivers. Gonzalez has more receiving yards than guys like Charlie Joiner, Don Maynard,
Michael Irvin
and Lance Alworth.
Yeah, those guys played in different generations when the league wasn't as geared toward the passing game. But Gonzalez created a whole new generation of tight ends. Yeah, it sometimes takes too long even for wide receivers to get into the Hall of Fame. Guys like Lynn Swann and John Stallworth were placed on a waiting list for about two decades and there's a backlog still sitting there.
But Gonzalez shouldn't have to wait just because he's a tight end. Gonzalez currently is No. 6 all-time with 1,069 receptions. The only guys ahead of him are
Jerry Rice
,
Marvin Harrison
,
Cris Carter
,
Tim Brown
and
Terrell Owens
.
If Gonzalez catches 34 more passes, he'll move up to No. 2. He'll be behind only Rice, which says a lot. When Rice was first eligible for the Hall of Fame, voters skipped over the usual ritual of making wide receivers wait. That's because there was a universal agreement that Rice was the best wide receiver ever to play the game.
There's universal agreement Gonzalez is the best tight end ever to play the game, and he deserves the same treatment.
There's one other argument that could be used against Gonzalez. He's never played on a Super Bowl champion. He's never even gone deep into the postseason. For the longest time, a lot of Hall of Fame voters seemed to think a Super Bowl ring was a requirement for selection.
That idea seems to have faded some in recent years. But there is one way Gonzalez can make sure that's not an issue. He can go out and help the Falcons win a Super Bowl this season. Then, he could go out in a blaze of glory or he could even stick around and pad his résumé for another year or two.
But Gonzalez shouldn't have to worry about adding much more to his résumé. He's already done enough to be a first-ballot Hall of Famer.