February, 28, 2013
2/28/13
9:21
AM ET
Time for a morning look at the top headlines from around the NFC South:
ATLANTA FALCONS
Tim Tucker points out that teams with stadiums with retractable roofs have played 66 percent of their games with the
roofs closed
. But Falcons president Rich McKay said the team would keep the roof open as much as possible if it gets a new stadium. Weather is unpredictable, but I can remember several days last season when I walked into the Georgia Dome thinking it was a perfect day to be watching a game outdoors.
CAROLINA PANTHERS
Wide receiver Steve Smith said the Panthers
should take
Missouri defensive tackle Sheldon Richardson in the first round of the draft. I'm with Smith on this one. It looks like Florida defensive tackle Sharrif Floyd will be gone before the Panthers get on the clock. But Richardson is in the same class as Floyd and the Panthers need to take him to solidify their defensive line.
NEW ORLEANS SAINTS
While restructuring contracts is getting the Saints close to the 2013 salary cap, Larry Holder points out the Saints are
adding to their cap commitment
for future years. That's the downside of restructures. The Saints are getting themselves out of cap trouble this year, but they're going to have to do it again next year.
TAMPA BAY BUCCANEERS
Greg Schiano sounds like he's
more comfortable
with his coaching staff heading into his second year. That's logical because Schiano had to throw together a staff last year after most staffs around the league already were filled and he didn't always land his first choices. But, this year, Schiano has brought in guys like special teams coach Dave Wannstedt and quarterbacks coach John McNulty, that he has worked with in the past.
February, 27, 2013
2/27/13
5:12
PM ET
Time for a run through some odds and ends from around the division:
ATLANTA FALCONS
General manager Thomas Dimitroff said this year's draft class is short on "wow'' factor, but
long on depth
. That's not a bad thing for the Falcons, who hold the No. 30 overall pick in the draft. Dimitroff said he's confident the Falcons can get a good player at that spot.
CAROLINA PANTHERS
Joseph Person has his list of combine
winners and losers
. Florida defensive tackle Sharrif Floyd is one of his winners. Floyd probably assured himself a spot in the top 10 picks, which means it's unlikely the Panthers are going to have a shot at him.
NEW ORLEANS SAINTS
The manager of the Mercedes-Benz Superdome is recommending an
engineering study
be done to potentially change the stadium's emergency power systems. That's a good idea. New Orleans is very much in the mix for future Super Bowls. But NFL owners, who vote to award those games, likely would feel a lot better if they know for sure steps have been taken to prevent another power outage like the one that interrupted this year's Super Bowl.
TAMPA BAY BUCCANEERS
Stephen Holder writes that whatever happens with free safety
Ronde Barber
ultimately will impact
strong safety
Mark Barron
. Their roles were somewhat blurred last season, with Barber often playing in the box and Barron drawing deep coverage assignments. If Barber retires or isn't re-signed, that would allow Barron more room to do the things he does best.
February, 21, 2013
2/21/13
1:00
PM ET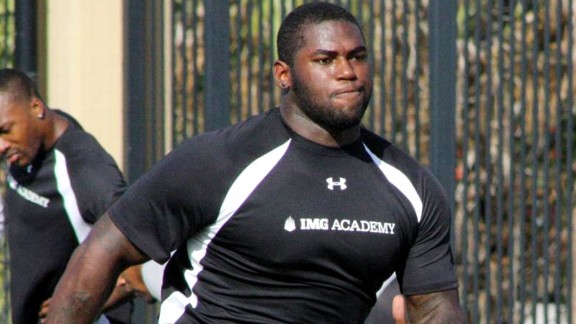 Courtesy of IMG AcademySharrif Floyd, who endured a tough childhood in Philadelphia, is likely to be a first-round pick in April.
BRADENTON, Fla. -- On a sun-splashed Florida afternoon,
Sharrif Floyd
sat and chatted about where he's been and where he's going. It's a remarkable story, one that should fill Floyd with a sense of accomplishment.
But that's not the case.
"Someone told me recently to look in the mirror and reflect on everything," Floyd said. "But I'm not ready yet. It's not time to reflect."
The time is coming, and Floyd knows it. The University of Florida defensive tackle is expected to be a first-round pick in April's NFL draft, and that means he'll get a contract worth millions of dollars. It's so close that Floyd can see it, but he doesn't want to jinx anything. He said he's treating this week's scouting combine as a way to seal his future.
If he does what he's supposed to do in Indianapolis over the coming days, he'll hear his name called in the first round in April. Only then will he pause to reflect.
Only then will he stop to think about how far he's come from his early life in North Philadelphia. Sitting on the posh campus of IMG Academy, where he spent the past six weeks getting ready for the combine, was about as far from North Philadelphia as Floyd could get.
"I grew up in a bad neighborhood," Floyd said. "I didn't have much coming up. My father was in and out of jail. Going to elementary school, I wore the same pair of clothes every day and I was picked on all the time. I wanted to drop out of elementary school."
Aside from sports, nothing came easy. Things weren't easy on the home front.
"I think it's fair to say I was abused growing up," Floyd said. "Pretty much every day or every other day. Extension cords, belts, broomsticks, bamboo sticks, whatever."
Floyd said that came from the man he grew up thinking was his father, but there's another cruel twist involved.
"I found out when I was 16 that he wasn't my real father," Floyd said. "Once I found that out, I moved out. Bounced around and stayed with my grandmother, stayed with my guidance counselor and stayed with some of the other football players. I got it together, hung in there, and I've gotten to where I need to be."
Floyd didn't want to name the man he thought was his father and said he's put distance on that period of his life.
"I don't wake up thinking about it," Floyd said. "But I do use it to remind myself to just work hard, because that's how I got out of a bad situation and I want to stay in a good situation. Once I got into football, I got a lot of good guidance and support."
The best advice of all might have come from Floyd's middle school basketball coach, Michael Edwards, who told him his future might be in football. Floyd didn't start playing football until the eighth grade. But once he started, he didn't stop.
At George Washington High School, Floyd became one of the biggest recruits in Philadelphia history. Still, life wasn't easy. Floyd was chosen for the U.S. Army All-American Combine in 2009, but he couldn't afford the cost of the travel to San Antonio. Other students at his high school made brownies and sold them to make sure Floyd could go.
Floyd landed a scholarship to Florida and immediately earned a starting job. He moved to defensive end as a sophomore and back to defensive tackle last season. Floyd decided to pass up his final season at Florida to enter the draft.
That appears to be a smart move, because most draft experts and scouts rank Floyd as one of the top two or three defensive tackles in the draft. Most projections have him going in the middle of the first round. Coincidentally, the
Carolina Panthers
and
New Orleans Saints
, who both have major needs at defensive tackle, are sitting right in the middle of the first round.
"Sharrif is a guy that has all the tools," said IMG Academy director of football operations Chris Weinke, a former NFL quarterback. "He's going to be a guy that can go in and cause some havoc early on. His quickness for a big man is unmatched. The combination of power and speed with that guy really separates himself at that position. I see him being a real force in the NFL."
Maybe he'll be a force with the Panthers. Or maybe the Saints. Or maybe with some other NFL team.
It doesn't matter to Floyd. He said he doesn't have a particular dream scenario of what team he would like to go to. He just wants to be a first-round pick.
"Right now, I'm still grinding and focused on my goals," Floyd said. "Once this next goal is accomplished, you'll probably see a little bit of excitement and a little bit of tears out of me, and I'll reflect on where I came from. But I'm not there yet."
February, 18, 2013
2/18/13
5:37
PM ET
I just returned to NFC South headquarters after spending most of the day watching draft prospects prepare for the combine at IMG Academy.
I started off with this item on former Notre Dame linebacker
Manti Te'o
because he obviously has been one of the biggest stories of the last month or so and that will only continue when he gets to the combine. I don't know if Te'o will end up in the NFC South or not, but I did see several prospects I think could be natural fits in the division.
I sat down with Florida defensive tackle
Sharrif Floyd
, Missouri defensive tackle
Sheldon Richardson
, Notre Dame tight end
Tyler Eifert
, Wisconsin running back
Montee Ball
and SMU defensive end
Margus Hunt
. I've got a tape recorder filled with interviews to transcribe and I'll be writing about each of those players in the coming days.
In the meantime, why don't you have some fun and discuss in the comments section below where in the NFC South you can see Floyd, Richardson, Eifert, Ball and Hunt landing. In a couple of cases, I can see potential targets for more than one NFC South team.
February, 18, 2013
2/18/13
7:47
AM ET
I'm about to begin my annual pilgrimage down to IMG Academy in Bradenton, Fla. To do some pre-combine stories.
IMG has more than 30 prospects who have been doing its combine preparation, which is run by former NFL quarterback Chris Weinke. Ironically, or maybe no coincidence whatsoever, Weinke spent most of his career with Carolina and the Panthers have used their last two first-round picks on players who have trained at IMG (Cam Newton and Luke Kuechly).
I'll try to pin Weinke down and see if I can get an early read on who Carolina's top pick will be this year. I'm only kidding – sort of – on that part, but I'll be getting scouting reports from Weinke and talking to several players, and that will lead to several stories in the coming days. I'll be back later on after watching the workouts and doing interviews.
Here's the list of prospects who have been working out at the facility, according to IMG Academy:
Offensive tackle Luke Joeckel, Texas A&M
Quarterback Geno Smith, West Virginia
Defensive end Bjoern Werner, Florida State
Defensive tackle Sheldon Richardson, Missouri
Tight end Tyler Eifert, Notre Dame
Defensive tackle Sharrif Floyd, Florida
Receiver DeAndre Hopkins, Clemson
Safety Eric Reid, LSU
Guard/center Barrett Jones, Alabama
Quarterback Tyler Wilson, Arkansas
Receiver Justin Hunter, Tennessee
Quarterback Zac Dysert, Miami (Ohio)
Defensive end Margus Hunt, Southern Methodist
Running back Montee Ball, Wisconsin
Cornerback Blidi Wreh-Wilson, Connecticut
Cornerback Robert Alford, Southeastern Louisiana
Receiver Aaron Dobson, Marshall
Offensive tackle Menelik Watson, Florida State
Linebacker Trevardo Williams, Connecticut
Linebacker Gerald Hodges, Penn State
Defensive tackle Everett Dawkins, Florida State
Defensive tackle Kwame Geathers, Georgia
Fullback Tommy Bohanon, Wake Forest
Tight end Gavin Escobar, San Diego State
Fullback Zach Line, Southern Methodist
Tight end Vance McDonald, Rice
Guard J.C. Tretter, Cornell
Linebacker Albert Rosette, Nevada
Offensive tackle John Wetzel, Boston College
Linebacker Ty Powell, Harding
Offensive lineman Garrett Gilkey, Chadron State
Cornerback Devin Smith, Wisconsin
Defensive tackle Nick Williams, Stanford
Running back Covaughn DeBoskie-Johnson
February, 14, 2013
2/14/13
9:31
AM ET
Time for a run through the top headlines from around the division.
ATLANTA FALCONS
The latest in the quest for a new stadium had team president Rich McKay telling the Atlanta City Council that the Falcons will
look to the suburbs
if they can't reach a deal for a new stadium downtown. McKay said team owner Arthur Blank wants to make things work downtown. But, if the city isn't going to help with the funding, the Falcons may have to look to the suburbs. I think that will only come as a last resort because Blank seems intent on a downtown stadium.
CAROLINA PANTHERS
Mel Kiper Jr. has the Panther taking Missouri defensive tackle Sheldon Richardson in the first round of the draft. But Kiper said this
draft class is deep
at the position and the Panthers still could get a quality defensive tackle in the second or third round.
NEW ORLEANS SAINTS
Kiper also made it sound as if there's a
good possibility
the Saints go with a defensive tackle in the first round and pointed to Florida's Sharrif Floyd as a candidate. But there is some debate about whether Floyd is better-suited for the 3-4 scheme the Saints are switching to or a 4-3 system.
TAMPA BAY BUCCANEERS
Roy Cummings writes that the Bucs are well-positioned to make a
big splash
in free agency for the second straight year. I think the Bucs will be active in free agency, but the splurge might not be as big as last year when the team signed Vincent Jackson, Carl Nicks and Eric Wright. The Bucs have about $30 million in cap space, but that number will be chopped down a bit if the team re-signs defensive end Michael Bennett and defensive tackle Roy Miller.
March, 3, 2010
3/03/10
5:30
PM ET
Just heard from the Maxwell Football Club that New Orleans coach Sean Payton and quarterback
Drew Brees
have earned some more accolades (and hardware) for their magnificent season.
Brees has been selected as the 2009 Bert Bell Professional Football Player of the Year. Payton has been chosen as the Greasy Neale Professional Coach of the Year.
The awards will be presented Friday along with some other very prestigious honors. Texas quarterback Colt McCoy is the winner of the 73rd Maxwell Award as college player of the year. Nebraska's Ndamukong Suh will receive the Chuck Bednarik Award as the national college defensive player of the year. U.S. Army All-American and Florida signee Sharrif Floyd will be recognized as the high school player of the year.