NFC South:

St. Louis Rams
December, 19, 2013
12/19/13
10:00
AM ET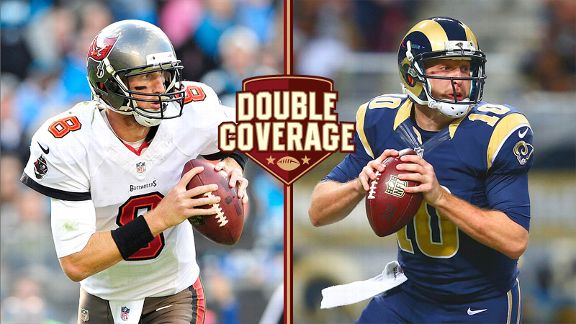 Getty ImagesMike Glennon's Bucs and Kellen Clemens' Rams have remained competitive down the stretch.
The
St. Louis Rams
will wear their throwback uniforms Sunday when they take on the
Tampa Bay Buccaneers
. The old school blue and yellow is intended to spark memories of the famous NFC Championship Game the two sides played after the 1999 season.
It's also going to serve as a reminder of how far both teams have to go to get back to a place where they're competing for Super Bowls. The Rams are 6-8 and Tampa Bay is 4-10, leaving both squads on the outside looking in for the postseason.
Despite the knowledge they'll be home in January, both teams have remained competitive which should make for an interesting matchup when they renew acquaintances at the Edward Jones Dome.
ESPN.com Rams reporter Nick Wagoner and Buccaneers reporter Pat Yasinskas discuss Sunday's game.
Wagoner:
After a rough start, it seems the Bucs have somewhat righted the ship here (pun unmercifully intended) toward the end of the season. How have they been able to do that, and do you think Greg Schiano has made a case to keep his job?
Yasinskas:
The amazing thing is, despite the 0-8 start, the Bucs never stopped playing hard. That's led to wins in four of their last six games. That's happened mostly because the defense has played very well and the offense has played just well enough. Still, it remains to be seen if Schiano has done enough to keep his job after this season. My personal opinion is the ownership likes him and likes how he's cleaned up the locker room, but I think he needs to win these final two games to have any chance of staying.
The Rams obviously aren't going to the playoffs either. What's left for them to play for?
Wagoner:
Nothing particularly tangible is out there save for a chance to finish .500 for the first time since 2006 and only the third time since 2004. In St. Louis, that does represent progress given the last decade has been such a disaster in terms of wins and losses. Since Jeff Fisher and general manager Les Snead arrived, they've quietly targeted 2014 as the breakout season for this young team. Any progress they can make toward that is a good thing. It would serve them well to engender confidence among the fan base that the 2013 team is better at the end of the year than the 2012 team was.
You mentioned the work of the defense in keeping the Bucs competitive this year. It seems linebacker
Lavonte David
is quietly having a huge year and defensive tackle
Gerald McCoy
is also enjoying a second straight big season. You see those guys every day. Are they receiving proper credit for the job they've done or is it lost in the mix of a losing season?
Yasinskas:
McCoy went to the Pro Bowl last year, so he's not a complete unknown. He should go to the Pro Bowl again this season. He already has eight sacks and is shooting for double digits. David isn't nearly as well known outside of Tampa Bay, where fans already are comparing him to
Derrick Brooks
. David is having a phenomenal season. He has six sacks and five interceptions. That makes him just the seventh player in NFL history to have at least five sacks and at least five interceptions in the same season. There even has been talk of David as a defensive player of the year candidate. I think his play makes that a legitimate possibility. But Tampa Bay's losing record probably will work against him.
Speaking of defensive player of the year candidates on non-playoff teams, St. Louis defensive end
Robert Quinn
deserves to be in the conversation. Do you think he's earned a chance?
Wagoner:
With two games to go, I think a legitimate argument can be made that he should not only be in the mix but also win the award. He's become the dominant and disruptive pass-rusher everyone expected him to be and he's drastically improved as a run defender, which allows him to stay on the field for all three downs. And he's not just doing it against bad teams. He is second in the league in sacks, first in forced fumbles and has countless quarterback pressures and hits. He's done a lot of that damage without the benefit of a lead and ample pass rush opportunities to boot. He's also two sacks from tying
Kevin Carter
for the most in a season in the history of the St. Louis version of the Rams.
I'm curious about the guy Quinn and Co. will be chasing Sunday. It looked like the Bucs had quite a quarterback conundrum on their hands earlier this year, but the switch to
Mike Glennon
has calmed things quite a bit. What does Glennon bring to the table and do you believe he's done enough to cement himself as the guy moving forward?
Yasinskas:
Glennon has been a pleasant surprise after the
Josh Freeman
mess early in the season. Glennon brings a big arm and is naturally poised. He's been slowed a bit recently as he ran into some good defenses (Carolina and San Francisco), but the Bucs still think his trajectory is pointing up. As for whether Glennon is the quarterback for the long term, a lot depends on what happens with Schiano. If there's a new coach, he might elect to bring in his own quarterback. But Glennon is Schiano's quarterback. Schiano tried (unsuccessfully) to recruit Glennon to Rutgers and has been infatuated with him ever since.
Speaking of rookies who are having a big impact, tell us what running back
Zac Stacy
has brought to the St. Louis offense.
Wagoner:
Simply put, Stacy's emergence in the run game has been the key to the Rams' turning it around after one of the worst rushing starts to a season in franchise history. He's not going to wow anyone with his speed or flashy moves in the open field. But he's physical, intelligent and extremely patient. When the Rams have success on offense, it's a direct result of the run game working, usually with Stacy as the centerpiece. He opens things up for backup quarterback
Kellen Clemens
in the pass game and helps keep defenses off-balance. He's been a revelation as a fifth-round draft choice.
December, 13, 2013
12/13/13
10:00
AM ET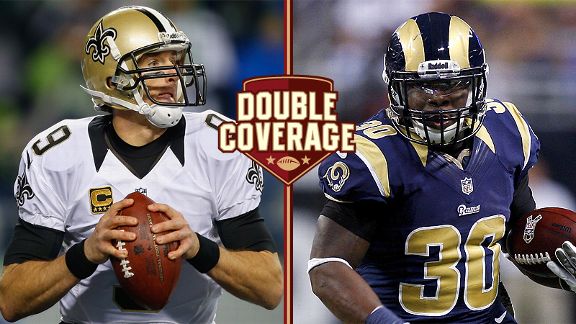 Getty Images, USA TODAY SportsDrew Brees and the Saints are piling up numbers, but Zac Stacy and the Rams may give them trouble.
While the
New Orleans Saints
come to the Edward Jones Dome on Sunday with plenty to play for, the
St. Louis Rams
have been eliminated from playoff contention.
The scenario of the Rams playing out the string and the Saints pushing for prime seeding in the NFC is one we've seen before. But, for whatever reason, the Rams have beaten or played the Saints tough in recent meetings. In addition, Rams coach Jeff Fisher has a history of success against New Orleans.
In this week's edition of Double Coverage, ESPN.com Rams reporter Nick Wagoner and Saints reporter Mike Triplett discuss the Rams' relative success against the Saints, and much more.
Wagoner:
The Rams are out of the mix for the postseason and again playing a much better New Orleans team at home. In 2011, the Rams stunned everyone by knocking off the Saints in a somewhat similar situation. It seems New Orleans has struggled to find traction on the road this year. Anything in particular you can point to for those problems?
Triplett:
Well, first of all, the Saints hate that question. But it keeps coming up this year because they have struggled quite a bit on the road -- they're 3-3, and two of their wins were surprisingly low-scoring. The Saints actually have the best road record in the NFL since 2009 (24-14). But part of the reason they catch so much heat for looking so human on the road is because they play so super-human at home (as former linebacker
Scott Shanle
said recently).
There's no one real consistent theme for their road struggles. Sometimes it has been weather conditions or footing -- neither of which will be an issue on Sunday. And sometimes, of course, they just come out flat. But I don't expect that from the Saints this week since they know how much is on the line with the playoffs looming.
Nick, with no playoff hopes to inspire the Rams, do you see them treating this game with the same intensity? I know they're coming off two losses on the road. Have you seen any signs that they can bounce back and cause trouble for the Saints?
Wagoner:
Speaking of questions teams hate, Fisher doesn't appreciate anything that looks at the big picture or beyond the next game. For all the problems this team has, effort and buy-in aren't on the list. The Rams have nothing tangible to play for this season, but this is the youngest team in the league and there are plenty at Rams Park who have long insisted that the target year for a breakout is 2014. To get there, they need to continue to make strides over the final three weeks, so I would expect them to put up more of a fight to close out the season.
As it pertains to the Saints specifically, the Rams have a habit this season of playing good teams pretty tough, save for San Francisco. They've beaten Arizona, Indianapolis and Chicago, and they gave Seattle all it could handle at home. There's no guarantee they can carry that over to Sunday, but after two bad performances the past two weeks, I expect a more representative performance against New Orleans.
One storyline that intrigues me here is the presence of Rob Ryan. The Saints went from a former Rams head coach at defensive coordinator (Steve Spagnuolo) in 2012 to one who looked like he was about to become the Rams' coordinator this year. How has Ryan been able to turn around that defense in one year, and what are the biggest differences?
Triplett:
Yeah, the Saints definitely owe the Rams an apology for that one -- or a thank-you note. Ryan has made a huge impact. His two most important qualities are probably his attitude and his creativity. Players immediately responded to his enthusiasm and his energy level. They say Ryan makes the game fun, something players have said about him throughout his career. Just as important, he has shown enough flexibility to mold his defense around the players he's working with (which became a necessity when they suffered a handful of key summer injuries).
I've been especially impressed by the way Ryan has featured young pass-rushers
Cameron Jordan
and
Junior Galette
and rookie safety
Kenny Vaccaro
, among others. And he'll throw a ton of different looks at teams from week to week and series to series. I'm shocked that this is the first time Ryan's had a winning season as a defensive coordinator. He obviously found the right fit for himself in New Orleans.
Tell me about the Rams' defense. Any chance they can hang with the Saints' potent offense? Who might match up against tight end
Jimmy Graham
and the running backs who catch passes out of the backfield?
Wagoner:
The Rams' defense has been especially hard to figure. They expected to be a top-10 group but haven't been able to do it for a few reasons. The pass rush has games where it absolutely dominates and takes over.
Robert Quinn
has emerged as one of the game's best and
Chris Long
is still dangerous. When the pass rush is humming, it makes life miserable for opponents. That's the Rams' best hope for slowing down the Saints.
But the Rams don't match up all that well with New Orleans on the back end. The secondary has struggled mightily, especially at safety. Graham is a matchup nightmare for all teams, and he could really expose the Rams' issues at safety. The Rams drafted linebacker
Alec Ogletree
to help neutralize guys like Graham, and he could get the call on Sunday. He's a former safety playing linebacker and has at times flashed elite cover skills for a linebacker. But I think he's flattened out a bit in that area in recent weeks while his run-stopping skills have improved. The secondary is going to require major upgrades in the offseason, and given the Saints' weapons, anything short of a dominant pass rush will make for a long day for the Rams.
While we're talking about the Saints' offense, it seems like it's as good as ever, with
Drew Brees
putting together another monster season. You see that group every day and every week in games. Are there weaknesses that can be exploited, and how have teams found success in slowing them down?
Triplett:
Every once in a while, the Saints' passing offense does get slowed down. The best way to succeed against them is to get physical and disruptive in coverage -- bumping and chipping guys at the line, pushing the envelope within the five yards of contact and trying to stay tight on them down the field. It worked for New England (in heavy man coverage) and Seattle (more zone coverage). But it's easier said than done. The Panthers tried to play physical this past week, but they didn't have the manpower to stop Graham and receiver
Marques Colston
. The Saints usually burn defenses with their "pick your poison" offense since they are so deep and versatile.
Interesting that you brought up Ogletree. I liked him as a possible pick for the Saints in April. Instead, they drafted another disruptive athlete -- Vaccaro -- who has made a nice impact in a versatile role. One of the main reasons the Saints drafted Vaccaro was because they liked his ability to cover slot receivers like
Tavon Austin
. I saw Austin's breakout performance a couple weeks ago. Any chance he can be that X factor on Sunday?
Wagoner:
Well, Austin suffered an ankle injury against Arizona last week and Fisher has called him day to day. If Austin plays, it's possible his ankle could slow him down a bit. Considering his game relies so much on speed and elusiveness, an ankle injury could affect him more than it might other players. If he's OK, he certainly could be an X factor. Without
Sam Bradford
at quarterback, the Rams really struggle to put together long drives. They need big plays to keep up in most games, and Austin is the one guy capable of consistently providing them. If they don't have him, it's going to make an already difficult task even tougher.
October, 20, 2013
10/20/13
10:00
AM ET
By
ESPN.com staff
| ESPN.com
Join our ESPN.com NFL experts as they break down the St. Louis Rams' visit to the Carolina Panthers. Contribute your thoughts and questions beginning at 1 p.m. ET. And, be sure to visit our
NFL Nation Blitz page
for commentary from every game, as well as fan photos and the latest buzz from Twitter. See you there.
December, 20, 2012
12/20/12
11:00
AM ET
By
ESPN.com staff
| ESPN.com
August, 31, 2012
8/31/12
12:27
PM ET
The professional sports team that uses its money most wisely is located in NFC South territory. But it's not any of the four NFC South teams.
Bloomberg Businessweek has its second annual ranking of the
smartest spenders
in sports, and baseball's Tampa Bay Rays came in at No. 1. The rankings also include NFL, NHL and NBA teams, and are based on how much teams spent per win over the past five seasons. Every team then was compared to the league average to produce an efficiency index.
When it comes to the four NFC South teams, the
New Orleans Saints
had the best ranking. They're No. 5 among NFL teams and No. 23 in the four major sports. The
Atlanta Falcons
also cracked the top 10 for NFL teams. They're No. 9 in the NFL and No. 40 overall.
The
Tampa Bay Buccaneers
are right in the middle of the pack. They're No. 15 in the NFL and No. 59 overall. The
Carolina Panthers
finished last among NFC South teams. They're No. 24 in the NFL and No. 84 overall.
For context, the
New England Patriots
were No. 1 among NFL teams and the
St. Louis Rams
were No. 32.
January, 12, 2012
1/12/12
8:36
PM ET
New Orleans coach Sean Payton confirmed reports Thursday that offensive line coach Aaron Kromer will interview for the job as head coach of the
St. Louis Rams
. Payton gave Kromer a ringing endorsement.
"He's been a huge asset to us,'' Payton said. "He came initially as a running backs coach and then moved to the offensive line, handles our run game and is a real good talent. Again, he's a big reason for our success offensively. These types of things come with the success we're having. We talked about Curtis (Johnson going to Tulane) already and going back to Doug Marrone (leaving for Syracuse). Those opportunities I think are good ones."
Although Kromer has never been a coordinator, Payton said he has no doubt he could handle the leap to becoming a head coach.
"In our league, it's a very small circle,'' Payton said. "I think people know the talents prior to beginning a job search and what they're looking for. He's been a good addition for us."
January, 11, 2012
1/11/12
10:56
AM ET
Just when it seemed like the
Carolina Panthers
would not lose offensive coordinator Rob Chudzinski, he's been tied to another job as a head coach.
The
St. Louis Rams
reportedly have asked the Panthers for permission to interview Chudzinski. Jeff Fisher is believed to be the Rams' top choice, but the team is waiting for him to make a decision and wants other options in case Fisher ends up elsewhere.
Chudzinski previously interviewed for the Jacksonville job, but that went to Atlanta offensive coordinator Mike Mularkey.
Chudzinski joined Carolina's staff in 2011 and, in his first season as an NFL coordinator, worked wonders with rookie
Cam Newton
and installed a scheme that helped make the Panthers one of the league's top offenses.
October, 29, 2011
10/29/11
10:00
AM ET


The New Orleans Saints are coming off a 62-point outburst against the Indianapolis Colts. They face the winless St. Louis Rams on Sunday. The Saints can set the modern-day two-game record for points scored if they score 41 points or more. The game is in St. Louis, but the Saints are the overwhelming favorite. Accuscore's Prim Siripipat goes inside the numbers on this matchup.
August, 26, 2009
8/26/09
4:29
PM ET
Posted by ESPN.com's Pat Yasinskas

TAMPA, Fla. -- There could be even another element to the quarterback situation for the Buccaneers.

The team could be looking to trade one of its quarterbacks for a draft pick. Coach Raheem Morris wouldn't confirm an NFL.com report that the Bucs are shopping three of their quarterbacks for a trade, but he didn't deny it either.

"Oh, man, they're Nostradamus," Morris said when asked about the report. "Everybody in this league, all 32 teams around this time start calling front offices. I can't control who calls us. Everybody's interested in everybody's roster and everybody's looking to nit-pick off everybody's roster. Everybody has talent and you're trying to accumulate the best talent on your football team. That's just all that talk is what that is."

But it makes total sense for the Bucs to at least try to find out what the market value might be for Byron Leftwich, Luke McCown or Josh Johnson. They're not about to let go of rookie Josh Freeman, who they call their franchise quarterback.

But that's likely in the future. For now, it appears the Bucs will open the season with either Leftwich or McCown as their starter. They're about even at this point and a potential trade could play into Morris' decision, although the Bucs likely would be able to get only a late-round pick (at best) for any of their quarterbacks.

Leftwich, a former starter in Jacksonville, probably has more trade value because of his experience. McCown has only seven starts. Johnson, a second-year pro, has yet to play in an NFL game and probably wouldn't bring much in a trade.
August, 22, 2009
8/22/09
2:22
AM ET
Posted by ESPN.com's Pat Yasinskas
I wasn't able to get a television broadcast of Atlanta's 20-13 preseason victory against St. Louis where I live Friday night, but I went for a really long drive and was able to pick up much of the game on satellite radio.
Thanks to the Falcons' radio broadcast team of Wes Durham and Dave Archer, I was able to come up with some audio observations.
Matt Ryan, Michael Turner and the rest of the first-team offense are ready for the regular season.
Really cool stat from the radio crew: The last preseason meeting between Atlanta and St. Louis came in 1991. Brett Favre, then an Atlanta rookie, was the starting quarterback for the Falcons.
According to Durham and Archer, cornerback Brent Grimes played very well. He was around the ball every time it was thrown his way. Then again, he was covering Laurent Robinson, who the Falcons were happy to trade to the Rams.
D.J. Shockley got to come in at quarterback after Ryan. Can't say he didn't look good because I didn't see it. But it didn't sound too good. Shockley's first pass should have been intercepted, but Will Witherspoon dropped it, according to the radio crew.
Shockley's next pass was intercepted by James Laurinitis. Looks like another year of Chris Redman as Ryan's backup.
According to the radio crew, backup running back Jerious Norwood has put on eight pounds of muscle in the offseason. That's great because the Falcons want Turner to cut down on the 376 carries he had last season. But I still would not expect Norwood to get significantly more carries than he did last year. He might get a few more, but you don't want to take the ball out of Turner's hands too much.
Rookie Lawrence Sidbury had two sacks. The Falcons drafted him for a reason. That reason is to give him playing time if third-year pro Jamaal Anderson continues to stumble.
February, 27, 2009
2/27/09
12:43
AM ET
Posted by ESPN.com's Pat Yasinskas
The New Orleans Saints have been saying for weeks they won't be major players in free agency. That still may turn out to be true, but the Saints aren't going about it passively.
John Clayton reports the Saints contacted the agent for cornerback Ron Bartell soon after the free-agency period began, and have set up a visit for Friday. That doesn't mean the Saints, who are tight against the salary cap, will sign Bartell, but they're at least pursuing a player at one of the positions they need to address most.
New Orleans' secondary was a problem throughout much of last season, and adding a player like Bartell could help solidify things as new defensive coordinator Gregg Williams takes over.
Bartell, 27, was a second-round pick by the St. Louis Rams in 2005 and has been a starter most of the past two seasons. At 6-foot-1 and 209 pounds, he can line up against some of the league's bigger receivers.
The Saints have high hopes for Tracy Porter, who will be returning after an injury suffered near the midpoint of his rookie season. Veteran Mike McKenzie remains on the roster, but is recovering from his second major injury in two years.
The Saints also are expected to look for help at free safety, where Kevin Kaesviharn struggled much of last season.
February, 1, 2009
2/01/09
5:16
PM ET
Posted by ESPN.com's Pat Yasinskas
TAMPA, Fla. -- Had an interesting chat with former NFL receiver Ricky Proehl the other day about Kurt Warner.
The Arizona quarterback played with Proehl when the two were with the Rams. Proehl played with numerous quarterbacks throughout his career and said Warner is the best.
"Kurt throws such a nice ball,'' Proehl said. "It's easy to catch his passes. He always anticipates where to put the ball. Some guys throw a heavy ball. His is easy to catch. His knowledge of the game is incredible and he knows what defenses are trying to do and how to beat them. If you give him time, he'll pick you apart.''
But Proehl said what sets Warner apart more than anything comes off the field.
"Kurt is probably the most confident person I've ever met,'' Proehl said. "The more you get to know him, the more you realize it. Everybody knows the story about Kurt bagging groceries and then playing in Europe. But I'll bet you that, even when he was bagging groceries, Kurt was telling people he could play in the NFL.
"I think you can best summarize Kurt with a story I heard about (former baseball pitcher) John Wetteland. He gave up a grand slam once and his response was, 'Hey, the guy hit a great pitch.' Kurt's the same way. He'll throw an interception and he'll say the defender made a great play. He can throw 20 bad balls, but the next one is going to perfect.''
December, 3, 2008
12/03/08
7:51
PM ET
Posted by ESPN.com's Pat Yasinskas
St. Louis coach Jim Haslett has been gone from New Orleans for nearly three years, but he came to the defense of some of his former players Wednesday.
Haslett was asked about the suspensions of six players around the league, including New Orleans' Deuce McAllister, Charles Grant and Will Smith for testing positive for a banned substance.
"I don't like commenting on some of these things because I don't know the situation with (Minnesota's) Pat and Kevin (Williams),'' Haslett told the St. Louis media. "Three of the guys I did have in New Orleans and I know those guys; they're not taking steroids. I promise you that and they're not trying to hide anything. With Deuce and Charles it's always been a weight issue and they always try to keep their weight down, so they were probably taking something to keep their weight down. But I'm not speaking for them because I don't know that. But, when I was with them at the time, I know they were trying to do the right things, but those guys have weight issues.''