NFC South:

Stansly Maponga
May, 15, 2014
5/15/14
11:00
AM ET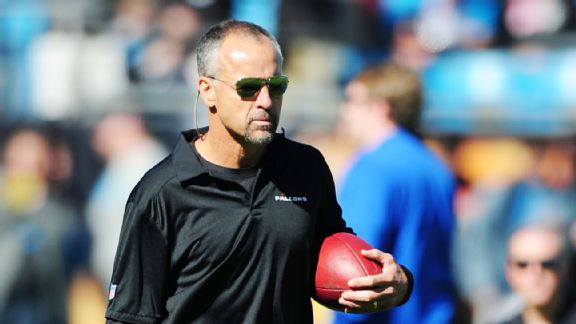 Scott Cunningham/Getty ImagesFalcons defensive coordinator Mike Nolan won't be lacking depth up front in 2014.
The
Atlanta Falcons
aren't panicking -- at least not yet -- over their inability to secure a top pass-rusher this offseason.
Sure, it would have been a nice luxury to land a proven talent such as
Brian Orakpo
or even a promising rookie such as
Jadeveon Clowney
,
Khalil Mack
or
Dee Ford
. But the Falcons have a game plan, regardless of what outside perception might say.
The coaches and players fully understand the urgency. They know how pathetic the pass rush was last season, when the Falcons sacked or put quarterbacks under duress on just 22.4 percent of dropbacks, second-worst in the NFL. Not to mention the Falcons allowed opponents to convert 45.93 percent on third down, resulting in the league's worst third-down defense.
You know you're in trouble when you make
Geno Smith
look like an All-Pro.
So how are things supposed to improve? There is plenty of reason to be skeptical, including the absence of a speed-rusher. But I believe a collective effort will help the Falcons take significant strides with their defensive pressure and compensate for the lack of an elite pass-rusher.
[+] Enlarge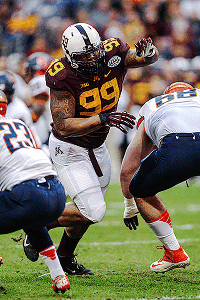 Troy Taormina/USA TODAY SportsAthletic rookie Ra'Shede Hageman could give a boost to the Falcons' pass rush in 2014.
Really. I do.
Altering the defensive approach is the first step. Although coach Mike Smith continues to preach defensive multiplicity without revealing much detail, the Falcons
will
have more of a 3-4 look in 2014. Believe that. It was obvious when players started talking about it immediately after last season. Then the Falcons added bulky nose tackle
Paul Soliai
and defensive end
Tyson Jackson
up front. Drafting defensive end
Ra'Shede Hageman
was further confirmation.
Think of it more as the Falcons building toward a 5-2 alignment, with three linemen and two outside linebackers getting pressure. As long as the Falcons can do so with consistency, they'll be fine.
The Falcons hope that having heavy hitters up front will create more stress on opposing offensive linemen and open lanes for the linebackers to make plays. And if he develops quickly, Hageman has the potential to be an outstanding inside rusher and a
J.J. Watt
-type pass-deflector. He is the wild card in this whole equation. He'll be motivated by fiery defensive line coach Bryan Cox.
In regard to the true pass-rushers, the Falcons have plenty of faith in third-year player
Jonathan Massaquoi
, who had four sacks last season and has played defensive end. His athleticism should be on display more often from the outside linebacker spot in 2014. Massaquoi told me this offseason that he feels the need to atone for not taking advantage of his opportunities last year.
Stansly Maponga
and rookie
Prince Shembo
are the other two young players that intrigue me. Both have pass-rush ability, although Maponga was used sporadically last season. Folks who watched every game Shembo played at Notre Dame believe he is a much better pass-rusher than run defender or coverage guy.
And don't forget about veteran
Osi Umenyiora
. He led the team with 7.5 sacks but wore down as the season went along. Yes, he's 32 years old and his best days are behind him. But the Falcons could get a lot out of him as a strictly designated pass-rusher, the same role he played at the end of last season. Umenyiora has spent a significant amount of time trying to improve his technique and speed this offseason. To me, that sounds like a veteran determined not to go out with a thud.
When guys like Massaquoi, Maponga and even Umenyiora don't have to bang against offensive tackles regularly, like they did most of the time in a typical 4-3 alignment, they'll be fresher and able to sustain a consistent pass rush. The defensive linemen also should benefit from a strong rotation, considering the Falcons brought back
Jonathan Babineaux
,
Corey Peters
and
Peria Jerry
while adding Soliai, Jackson and Hageman.
There will be an adjustment period all around, particularly for those players getting accustomed to standing up rather than playing with their hands in the ground. The guy who shouldn't flinch is
Kroy Biermann
, who has experience in both roles. But Biermann -- who played just two games in 2013 because of an Achilles injury -- will be counted upon more against the run than the pass.
Of course, let's not forget the key figure in this whole equation: defensive coordinator Mike Nolan. Last year wasn't indicative of what type of defensive mind he is. He's had success in the past out of a 3-4 base. He couldn't be too "multiple" last season, based on personnel. Nolan knows how to disguise coverages and dial up blitzes, when needed. And he'll have more to work with this season, including more capable bodies to sub in and out to keep the pressure consistent.
When you talk about facing the likes of
Drew Brees
and
Cam Newton
twice a year and having to contend with a pair of 6-foot-5 receivers in Tampa Bay's
Vincent Jackson
and
Mike Evans
, it only emphasizes the importance of pressure for a Falcons team trying to return to playoff contention. It won't be about a guy such as Massaquoi suddenly exploding with double-digit sacks, though the Falcons would take it. It will be more about consistency, getting contributions from a number of different players, and keeping bodies fresh over the duration of 60 minutes.
A more balanced offensive attack with a little more emphasis on the run surely wouldn't hurt in terms of keeping the defense off the field. But when it comes down to it, the Falcons' defenders have to pin their ears back and have the desire to get after it.
The pressure is on.
May, 21, 2013
5/21/13
11:00
AM ET
By
ESPN.com staff
| ESPN.com
Atlanta Falcons
Coach Mike Smith
reveals the process of persuading Tony Gonzalez
to return to the Falcons for one more season, including a personal visit to Gonzalez' home in California.
Five finalists, according to the Atlanta Business Chronicle, are in the running
to build the new $1 billion stadium for the Falcons
.
Which player is the
wildcard to boost the Falcons' pass rush
? Jay Adams, of the team's website, says look no further than Stansly Maponga.
Central Florida's Kemal Ishmael
"looks to have all the potential in the world
on paper, and comes into next week's start of OTAs with a solid college career," Adams reports.
Carolina Panthers
On Tuesday, the Panthers begin their first of 10 OTAs, and CarolinaPanthers.com writer Max Henson
lists five storylines to watch
, focusing on Mike Shula running the offense and cornerback depth. Also, the Charlotte Observer's Joseph Person
lists his own OTA storylines
, including Jon Beason's status, and areas for Cam Newton to work on.
The Salt Lake Tribune
profiles Panthers' first-round pick Star Lotulelei
, who was "once a 'lazy' student, by his coach's account, Star is now a husband, father and good example to a brother, Lowell, who will follow him in the University of Utah's program. Lotulelei also is about to become only the sixth first-round draft choice from a Utah high school."
Defensive tackle Colin Cole, who signed with the Panthers in February,
is working hard to return from injury
and show he can be a starter again.
New Orleans Saints
A potential bidder for
Super Bowl LII in 2018 includes New Orleans
. The Times-Picayune's Jeff Duncan writes "New Orleans is expected to go 'all in' for the event, which would highlight the city's yearlong tricentennial celebration."
The Saints began their transition to a 3-4 defense with defensive captain
Will Smith working at outside linebacker
, rather than the defensive end spot.
New Orleans has
waived defensive end Braylon Broughton
. His roster spot will be filled by defensive tackle Isaako Aaitui.
How
Sean Payton's third defensive coordinator in three seasons
handles the defense after last season is one of the major questions on the field as the Saints begin OTAs Tuesday, according to the Times-Picayune's Larry Holder.
Tampa Bay Buccaneers
New Buccaneers cornerback
Darrelle Revis talks with NFL.com's Andrea Kremer
about his attitude toward returning to the field with a new team and in a new city. Revis: "This ain't like New York. Sunny all day, every day."
Following the first practice of OTAs on Monday, Bucs coach
Greg Schiano told local reporters that there is no quarterback controversy
in Tampa Bay. "We have our starting quarterback. It's Josh Freeman," Schiano said.
This is the age of the young quarterback, writes NFL.com, which is counting down the top 10 quarterbacks 25 or under during the next two weeks. The
series kicks off Tuesday with Tampa Bay's Josh Freeman
, who is a talented quarterback, but "can be a different player from quarter-to-quarter, game-to-game."
May, 17, 2013
5/17/13
4:30
PM ET
May, 15, 2013
5/15/13
1:57
PM ET
Football Outsiders is doing a league-wide series of posts called "Red Flags," which take a look at the biggest remaining issue facing each team. Today's
Insider post

is on the NFC South and I'll break it up into four smaller posts to explore the red flags for each team.

We'll start it off with the
Atlanta Falcons
. Football Outsiders chose defensive end as Atlanta's red flag and here's the crux of their rationale:
"The Falcons addressed this by releasing
John Abraham
and signing
Osi Umenyiora
in free agency, but it's hard to call that an upgrade. Since missing all of 2008 with a knee injury, Umenyiora has 33.5 sacks. In the same four seasons, Abraham has 38.0 sacks, and he has had more sacks than Umenyiora in each of the past three years. Umenyiora is three years younger than Abraham, which is significant, but this still looks like a lateral move at best.''
Maybe so, but the Falcons are simply counting on Umenyiora to be what Abraham was last year. They're counting on generating more of a pass rush from elsewhere.
Kroy Biermann
is the other starter and he only has been average as a pass-rusher.
But I think those that think the Falcons are going to bring in another pass-rusher from outside are mistaken. They drafted
Stansly Maponga
and
Malliciah Goodman
this year. They have two other young ends in
Jonathan Massaquoi
and
Cliff Matthews
.
The Falcons don't have the cap room to add high-priced veterans. They're going to throw their young defensive ends out there and see if someone steps up.
May, 6, 2013
5/06/13
9:34
AM ET
The
Atlanta Falcons
let go of
John Abraham
before the start of free agency. It might be time for their fans to finally let Abraham go.
Abraham
The veteran defensive end remains an unsigned free agent. Recent tweets suggesting he was retiring were quickly deleted and a source said Abraham wants to
continue playing
. But that latest twist shouldn't fuel the group of fans that think Abraham should re-sign with the Falcons.
That probably isn't going to happen. The Falcons didn't release Abraham with the intention of bringing back. When you release a player of Abraham's magnitude, it's not something you do lightly. The Falcons looked at Abraham's age and salary and decided it was time to part ways. If they wanted to keep Abraham at a reduced salary, they probably would have asked him to take a cut in pay before releasing him.
Instead, the Falcons have moved forward. They signed
Osi Umenyiora
to replace Abraham as their main pass rusher. Then, they went out and drafted
Malliciah Goodman
and
Stansly Maponga
. They already had two other young defensive ends in
Jonathan Massaquoi
and
Cliff Matthews
.
General manager Thomas Dimitroff and coach Mike Smith believe in having a mixture of experience and youth on their roster. They want to start getting some of those young defensive ends on the field. Bringing back Abraham wouldn't help that process.
The Falcons are looking to take a step forward. It doesn't make a lot of sense to take a step back.
April, 30, 2013
4/30/13
2:04
PM ET
RISING
Matt Ryan.
With Green Bay's
Aaron Rodgers
signing a huge contract extension, Ryan and his agent have stepped out of the on-deck circle and are walking toward the plate. Ryan's going to get money similar to what Rodgers and
Joe Flacco
got. I wouldn't look for a drawn-out negotiating period. The market value has been set and the Falcons and Ryan know they want to be together for the long haul.
Lamar Holmes.
The fact the Falcons didn't draft a single offensive lineman is a good indication of how they feel about Holmes, a third-round pick last year. It now is looking like Holmes is the heir apparent to right tackle
Tyson Clabo
, who was released.
Eric Washington.
He's the defensive line coach for the
Carolina Panthers
and already was a rising star after
Charles Johnson
and
Greg Hardy
each produced double-digit sacks last year. Now, Washington will get a chance to really bolster his reputation (and perhaps eventually become a defensive coordinator after the Panthers used their top two picks on defensive tackles
Star Lotulelei
and
Kawann Short
. On paper at least, Washington has enough talent to whip up one of the league's best defensive lines.
FALLING
Ronde Barber.
The Buccaneers say they still want the veteran defensive back to return for another year. But in what capacity? He's not going to start at free safety because the Bucs signed
Dashon Goldson
. A return to cornerback is possible, but Barber likely would be behind
Darrelle Revis
,
Eric Wright
and rookie
Johnthan Banks
. Backup safeties and fourth cornerbacks almost always have to play special teams. Do you honestly see Barber doing that at this point in his career? If he wants to keep playing, there might be a place or two where he can still be a starter and that could mean he won't play his entire career with the Bucs.
Charles Brown and Jason Smith.
The
New Orleans Saints
used a third-round draft pick on offensive tackle
Terron Armstead
. That means they aren't sold on Brown or Smith as their left tackle. Armstead won't be handed the job, but he'll compete with Brown and Smith in training camp.
John Abraham.
There has been a lot of talk from Atlanta fans about the Falcons perhaps re-signing the veteran defensive end. I've said all along that's a long shot. After the draft, I think it's an even longer shot. The Falcons drafted defensive ends
Malliciah Goodman
(fourth round) and
Stansly Maponga
(fifth round). They also have a couple of other young defensive ends on the roster in
Jonathan Massaquoi
and
Cliff Matthews
. It doesn't look like there's room on the roster to bring back an aging player who already was released.
April, 27, 2013
4/27/13
3:36
PM ET
The fifth round of the NFL draft is over, so let's take a look at what the NFC South teams did.
At No. 144, the
New Orleans Saints
selected Oklahoma wide receiver
Kenny Stills
. The Saints have
Marques Colston
and
Lance Moore
, but they're revamping their depth after those two. Stills will get a chance to compete with
Nick Toon
and Joseph Morgan for playing time.
At No. 147, the
Tampa Bay Buccaneers
drafted University of Buffalo outside linebacker
Steven Means
. The Bucs have an opening on the strong side after releasing
Quincy Black
. Free-agent pickup
Jonathan Casillas
probably will get the first shot at that job, but Means could at least be in the competition and he'll probably be a regular on special teams.
At No. 148, the
Carolina Panthers
chose Iowa State linebacker
A.J. Klein
. He can play inside and outside and can provide depth behind
Luke Kuechly
,
Jon Beason
and
Thomas Davis
. But Klein's initial role is likely to be as a special-teams player.
At No. 153, the
Atlanta Falcons
traded up and drafted TCU defensive end
Stansly Maponga
. That came after the Falcons took defensive end
Malliciah Goodman
in the third round. It's pretty obvious the Falcons are taking a scatter-shot approach and hoping one of their young defensive ends can provide a pass-rush complement to
Osi Umenyiora
.