NFC South:

Stephon Gilmore
December, 6, 2013
12/06/13
10:00
AM ET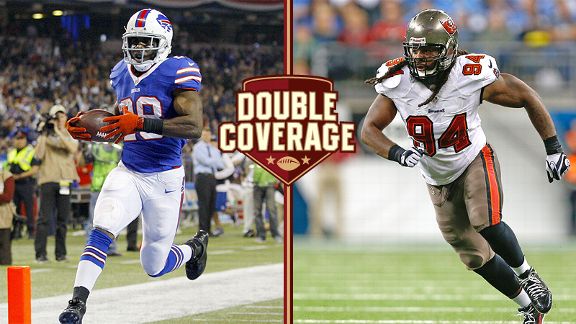 USA Today Sports; AP PhotoC.J. Spiller's Bills and Adrian Clayborn's Bucs are playing for pride -- with draft positioning at stake.
Aside from 2014 draft position, Sunday's game between the
Buffalo Bills
and
Tampa Bay Buccaneers
doesn't have a lot of obvious meaning.
At the moment, the Bucs (3-9) would hold the No. 5 overall pick in next year's draft, while the Bills (4-8) would hold the No. 9 pick. But Sunday's result could shake that order up.
ESPN.com Bills reporter Mike Rodak and Buccaneers reporter Pat Yasinskas examine the matchup.
Yasinskas:
Mike, this game features two rookie quarterbacks. Tampa Bay's
Mike Glennon
and Buffalo's
EJ Manuel
. Glennon is coming off his worst game of the season against Carolina. But, other than that, he has been fairly efficient. What's your assessment of how Manuel has played so far?
Rodak:
Manuel has been up and down, both before his knee injury and after it. The 16th overall pick of the 2013 draft missed four games in the middle of the season after he took a shot to the side of his knee against the Browns in Week 5. The Bills' brass has liked to say that Manuel was on the right track before the injury, but the reality is that he had a completion rate below 50 percent in Weeks 3 and 4 and had three turnovers in that Week 4 win over the
Baltimore Ravens
. When Manuel came back in Week 10, he had perhaps his worst game of the season, in Pittsburgh. Those have been the low points.
On the other end of the spectrum, Manuel led the Bills on a game-winning drive over the
Carolina Panthers
in Week 2 and posted a passer rating of 121.9 against the Jets in Week 11. Those have been the high points. But on average, he has been a below-average NFL quarterback to this point, posting a 45.5 QBR for the season.
Pat, the Bucs looked like a disaster about two months ago. Now they have won three of their past four games. What has changed for them?
Yasinskas:
The Bucs were in utter disarray at the start of the season. But, aside from Sunday's loss to Carolina, they've played much better over the past month or so. Part of it has to do with Glennon's steady improvement. He has shown signs he can be more than just a game manager. The other thing that has stood out has been how this team has stuck together. Despite some speculative reports to the contrary, coach Greg Schiano never lost the locker room. His players still believe in his system and have been playing hard for him. Finally, the defense, which has a lot of individual talent, has started to click and that coincided with the turnaround.
Speaking of defense, the Bills lead the league with 43 sacks, but they're allowing 25.6 points a game, which ranks 24th. What has gone wrong with this defense?
Rodak:
Earlier in the season, much of the problem was with the secondary. The Bills battled through some injuries -- safety
Jairus Byrd
and cornerback
Stephon Gilmore
both missed time -- and they got torched by some teams early. But they've been healthy back there for a while now, and the results have been better.
The problem recently has been with the run defense. The Bills rank 24th in the NFL, allowing 121.5 rushing yards per game, and allow 4.18 yards per carry. Some of that has to do with time of possession. The Bills' offense ranks 31st in the NFL, which has put some stress on the defense. More alarmingly for Buffalo, the run defense has gotten worse as the season has gone on. The Bills allowed 5.83 yards per carry to the Jets and 5.03 yards to the Falcons, including two long touchdown runs. There's a lot of talent on this defense, but the consistency isn't there.
Pat, there was a lot of talk this offseason about the moves the Buccaneers made in their secondary. They drafted
Johnthan Banks
in the second round, traded for
Darrelle Revis
and signed
Dashon Goldson
. How have those moves paid off?
Yasinskas:
The Bucs went overboard making moves in the secondary because they had the league's worst pass defense in 2012. There has been a noticeable improvement this year. But it hasn't been all roses. Banks has looked good at times, but also has had some rookie moments. Goldson missed two games due to injury and was suspended for another game for an illegal hit. Revis has been solid, although the Bucs brought him along slowly early in the year because he was coming off knee surgery. Overall, this is a decent secondary, but it has yet to approach its true potential.
Mike, what's your read on
C.J. Spiller
? He seems to be having an up-and-down season to this point. How much has his ankle injury been a factor?
Rodak:
He has been a tough one to pin down. This much is for certain: He hasn't lived up to the expectations many on the outside had for him entering this season, and his ankle is a big factor in that. But even after coach Doug Marrone removed Spiller from the injury report about a month ago, things still weren't right. He had disappointing games in Weeks 10 and 11, rushing a combined 21 times for 29 yards. But then, out of the blue, he broke open a 77-yard run Sunday, the longest of his career. He followed that with a 36-yard touchdown run and finished with one of the best games of his career, tallying 149 yards.
Going forward, I'm not really sure what to expect with Spiller. This could be his identity within this offense: a home run hitter who is prone to more strikeouts than the norm.
Pat, speaking of running backs,
Bobby Rainey
seems to have cooled off since his huge game against Atlanta a few weeks ago. What has happened to the Bucs' running game?
Yasinskas:
Rainey rushed for 163 yards against the Falcons, but has averaged just 49 yards in the two games since then. What's happening is that opposing defenses are loading the box to stop the running game. They're daring Glennon to beat them and he hasn't really done that. Until Glennon starts having more luck with the downfield passing game, defenses are going to continue to focus on bottling up the running game.
May, 4, 2012
5/04/12
2:50
PM ET
Lots of readers in our NFC South chat were asking about the possibility of the
Tampa Bay Buccaneers
being interested in cornerback
Drayton Florence
, who
was released
by the
Buffalo Bills
on Friday.
General manager Mark Dominik isn't going to tip his hand on interest in any free agent, but I think it's at least worth keeping an eye to see if the Bucs do show interest. Bringing in 31-year-old cornerbacks doesn't exactly fit with what the Bucs are doing these days, so I'd call this a long shot. But I wouldn't completely rule it out.
Florence
Drayton's a smart and experienced player and his production didn't slide in Buffalo. He was released simply because the Bills wanted to get younger at the position and they just drafted
Stephon Gilmore
.
The reason I think there's at least a chance the Bucs show interest in Florence is because they have some uncertainty at cornerback.
Aqib Talib
is awaiting trial on an assault charge in Texas and he could face prison time or an NFL suspension. The Bucs also have talked about moving veteran cornerback
Ronde Barber
to safety. The possibility of that move seemed to diminish when the Bucs drafted safety
Mark Barron
in the first round, but it still is possible the Bucs could use Barber at safety.
Aside from Talib and Barber, the Bucs have
Eric Wright
, whom they signed as a free agent. After that, they have guys such as
E.J. Biggers
,
Myron Lewis
and
Anthony Gaitor
, who haven't shown real strong signs they're ready to start. The Bucs did draft West Virginia cornerback
Keith Tandy
, but it likely will take some time for him to develop.
If the Bucs decide they need a quick fix -- and, again, that's not really what they're all about -- then Florence could be a possibility, if he comes at the right price.
But the Bucs aren't the only NFC South team that possibly could have interest in Florence. You can scratch the Falcons off the list because they just traded for
Asante Samuel
. But Carolina and New Orleans could be possibilities. Aside from
Chris Gamble
, the Panthers aren't loaded with talent at cornerback.
The Saints, who have shown more willingness to bring in older players than any other NFC South team, are set with
Jabari Greer
and
Patrick Robinson
as their starters.
Johnny Patrick
appears likely to step into the nickelback role, but the Saints have brought in older players in front of younger players before. New Orleans doesn't have a great salary-cap situation, but Florence shouldn't command a huge salary.
April, 25, 2012
4/25/12
5:17
PM ET
We ran through the NFC South portion of Todd McShay's latest mock draft earlier. Now, let's turn to ESPN's other draft guru.
Check out this Insider post in which Mel Kiper Jr. unveils his latest
mock draft

. Kiper differs significantly from McShay when it comes to the only two NFC South teams with first-round picks.
In Kiper's draft, LSU cornerback
Morris Claiborne
and Alabama running back
Trent Richardson
are gone before the Bucs pick at No. 5. As recently as a week ago, the consensus was at least one of those two players would be available for the Bucs. But the consensus seems to be changing and I'm sure the Bucs have been preparing themselves for all scenarios.
Kiper gave the USC offensive tackle
Matt Kalil
to the Bucs and I don't think that's at all out of the realm of possibility. Yeah, Tampa Bay could take Boston College linebacker
Luke Kuechly
and fill a big need. Or the Bucs could take Oklahoma State receiver
Justin Blackmon
to give quarterback
Josh Freeman
another play-maker to go with
Vincent Jackson
.
But Kalil makes some sense. He's viewed as pretty much a can't-miss prospect. The Bucs already have
Donald Penn
at left tackle, but right tackle
Jeremy Trueblood
is a bit of a question mark and he's heading into the final year of his contract. Kalil could step in and play the left side immediately and Penn could switch to the right side. Or Penn could stay on the left side for now and let Kalil begin his career on the right side.
At No. 9, Kiper, who had been giving the Panthers a steady diet of defensive tackles in the past, made a significant change. He has the Panthers taking Kuechly. Makes total sense. Kuechly might be the best player on the board at that point and the Panthers have linebackers
Thomas Davis
and
Jon Beason
returning from major injuries.
But I also could see Carolina going with South Carolina cornerback
Stephon Gilmore
or North Carolina defensive end
Quinton Coples
if Kiper's first eight picks come true.
April, 25, 2012
4/25/12
4:27
PM ET
Todd McShay has his latest
mock draft

out and it includes some major changes from what he's had in the past for the NFC South.
This draft goes seven rounds deep and McShay has help from Steve Meunch and Kevin Weidl. But we'll just focus on the first round here and that means we're talking about the Bucs and Panthers, the only two division teams with first-round picks.
It long has been thought that Tampa Bay's choice at No. 5 would come down to LSU cornerback
Morris Claiborne
and Alabama running back
Trent Richardson
. But McShay is buying into growing speculation that Minnesota is going to throw off the direction many saw this draft going. McShay now has the Vikings taking Claiborne at No. 3. He follows that up by giving Richardson to Cleveland at No. 4.
Then he goes in a direction that many suddenly seem to be headed. He has Tampa Bay taking Boston College linebacker
Luke Kuechly
at No. 5. I don't have a big problem with that scenario, assuming new coach Greg Schiano's defense is ready to put increased emphasis on the middle linebacker position. Back in the Cover 2 days, middle linebacker wasn't all that important and the Bucs relied on outside linebacker Derrick Brooks to make the big plays.
If the Bucs want a strong presence and are willing to make a significant investment on middle linebacker, then go with Kuechly. He's viewed as a can't-miss prospect with no real questions on or off the field. (That in itself would be a departure from the approach Tampa Bay took with some picks in the past.)
But, I also see some other scenarios for the Bucs if Claiborne and Richardson are gone. They probably could trade down a few picks and still get Kuechly and they also would add a pick or two.
Even if the Bucs stay put, I'm not certain Kuechly really is the guy they would take. They at least would have to consider Southern California offensive tackle
Matt Kalil
or Oklahoma State receiver
Justin Blackmon
. Neither plays a position where the Bucs have a huge need, but they might be hard to pass up. Kalil is viewed as the kind of guy who can be an elite left tackle for a decade.
The Bucs are pretty well set on the offensive line. The interior is very strong and left tackle
Donald Penn
is above average. Right tackle
Jeremy Trueblood
is a bit of a question mark. The Bucs could take Kalil and start him off on the right side and eventually have him switch spots with Penn. Or the Bucs could take Kalil and switch Penn, who has a history of getting off to fast starts and then not playing as well down the stretch, to the right side. That could give them one of the league's best offensive lines and it's become clear one of Schiano's priorities is to structure this team to help quarterback
Josh Freeman
.
Speaking of helping Freeman, Blackmon also could do that. I know the Bucs just signed
Vincent Jackson
and they have a bunch of young guys with potential. But
Mike Williams
and
Arrelious Benn
haven't really shown they are big-time players. The Bucs already have given Freeman one big playmaker in Jackson. They could give him two if they take Blackmon.
McShay also departs from previous conventional wisdom by selecting South Carolina cornerback
Stephon Gilmore
for Carolina at No. 9. There are rumblings that Gilmore is a player on the rise. He's also a local kid. He grew up just over the South Carolina border in what qualifies as a suburb of Charlotte. Cornerback is certainly a need and owner Jerry Richardson likes to bring in players from the Carolinas. I can see this one happening. But there's another local guy who could be in the mix. That's North Carolina defensive end
Quinton Coples
. General manager Marty Hurney and coach Ron Rivera drove up to Chapel Hill for a meeting with Coples on Monday and I don't think they would have made that trip if they weren't seriously considering him.
April, 16, 2012
4/16/12
10:22
AM ET
Time for a look at the top headlines around the division.
April, 13, 2012
4/13/12
7:09
AM ET
It's looking like there's a good chance the players the
Tampa Bay Buccaneers
and
Carolina Panthers
choose in the first round of this year's NFL draft will be in New York that night.
The league has announced that an all-time high 26 players will be at Radio City Music Hall for the first round. I'm looking at the list and the three realistic candidates for the Bucs at No. 5 -- LSU cornerback
Morris Claiborne
, Alabama running back
Trent Richardson
and Oklahoma State receiver
Justin Blackmon
-- are scheduled to be in New York.
The Panthers have the No. 9 overall pick in the draft. I'm looking at the list and seeing multiple players that have a chance to end up in Carolina, including Blackmon, LSU defensive tackle
Michael Brockers
, North Carolina defensive end
Quinton Coples
, Mississippi State defensive tackle
Fletcher Cox
, Georgia offensive tackle
Cordy Glenn
, Memphis defensive tackle
Dontari Poe
and Penn State defensive tackle
Devon Still
. I also think Boston College linebacker
Luke Kuechly
and Iowa offensive tackle
Riley Reiff
are also possibilities for the Panthers, but they're not scheduled to be in New York.
Aside from the players mentioned above, here's the rest of the list of guys scheduled to be in New York for the draft: