NFC South:

Steve Beuerlein
October, 4, 2012
10/04/12
1:00
PM ET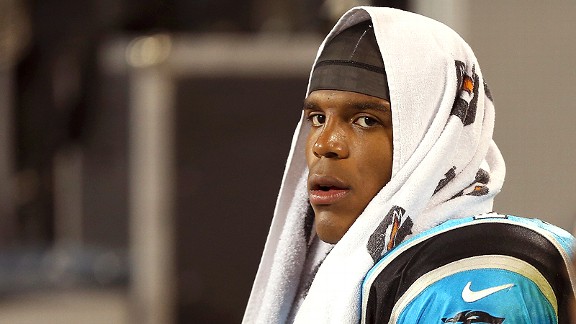 Streeter Lecka/Getty ImagesCam Newton's sideline demeanor has come under scrutiny the past two weeks.
After watching
Cam Newton
in his past two games, it occurred to me: I have seen this act before.
The incredibly talented Carolina quarterback has been sulking on the sidelines when things don't go well, waiting nearly an hour to talk to the media after a game and not saying much when he does. Instead of acting like an NFL quarterback, Newton is acting like a child.
I saw the same thing back in small-town Pennsylvania in the 1970s and '80s. I had a neighbor and friend who was a grade behind me in school. Like Newton, he was a physical specimen. He also had one of those late birthdays, so in his final year of Little League he was playing with kids a grade behind him in school.
You know the type -- at 12, they're 6 feet and 175 pounds. You see one of them carrying a team to Williamsport every year, and that's exactly what was expected of my friend. He hit home runs in bunches and struck out almost every batter he faced during his regular Little League season.
Then he got to an All-Star game against a team from a much larger town. Late in the game, he gave up a crucial home run with a couple of guys on base. In anger, he slung his glove toward the dugout and his athletic career essentially flew with it. He was tossed from the game.
By high school, he'd given up baseball and basketball because he no longer took any joy from them. His final athletic stand came when he was the starting quarterback as a junior, and a team with high expectations started 0-3. I remember thinking it was time for my friend to come down with an injury or simply walk away. In the fourth game, he hurt his knee.
It was the kind of injury that coaches thought might cost him only a few games. But my friend never played again. An enormous amount of athletic talent was wasted, not because he never learned to lose, but because he never learned how to deal with adversity and overcome it.
I'm not drawing the parallel to suggest Newton is going to just give up. He's not, because he's too much of a competitor. But that's part of his problem.
There's no question Newton can play quarterback in the NFL. But, if he wants to truly succeed, he has to start acting like an NFL quarterback and act with some balance.
Watch
Drew Brees
some time. No one is as competitive as Brees. But out on the field, you never see Brees let his emotions get the best of him. It's similar with the other two NFC South quarterbacks,
Matt Ryan
and
Josh Freeman
. Winning or losing, you usually can't tell by their actions or body language.
I think back on quarterbacks through Carolina's history. Steve Beuerlein and Rodney Peete were as even-keeled as they come. Jake Delhomme had a visible competitive edge about him but never freaked out when things didn't go well. In fact, Delhomme was at his best when things got tight.
That's part of being an NFL quarterback. You have to set the tone for your team, and it can't be too high or too low.
There's no question Newton is in a pressure cooker. After a record-setting rookie year, the expectations in Carolina went up about six notches. Center
Ryan Kalil
bought a full-page ad in The Charlotte Observer promising a Super Bowl win. Fans just nodded their heads and agreed.
But the Panthers are off to a 1-3 start, and most of the blame is falling on Newton. Some of that's simply because Newton is the quarterback, so he's always going to warrant attention.
But sometimes it's about how you handle attention that determines perception and reality, and Newton is not doing a great job of that. He has set himself up for the fall by doing his Superman pose when things do go well. And he has made the fall even steeper by pouting when things go wrong.
ESPN's Chris Mortensen reported that Newton has been working with a life coach to help deal with the pressure. Newton denied that report. But maybe Newton should be letting his feelings out privately to someone.
He's not helping anyone by letting his feelings run wild on the field, and he's not helping anyone by being so adamant about not changing.
"Losing is difficult, period," said Newton, who won a national championship in college and junior college. "A person that says losing is not difficult, I don't even want to be around that person. Obviously that person has never won anything relevant in their life. So for a person to say, 'Yeah, we lost and we have to keep going …' yeah, you keep saying that and sooner or later you're going to look up and be 0-16. You have to take it personal. Do I take it personal? Absolutely right. Do I take it too personal? Who knows? But I'd rather take it too personal than lackadaisical."
I respect the fact that Newton doesn't like losing, and that he takes it personally. You want that, to some degree, from every player on your roster.
But Newton, who spent a lot of time in the offseason talking about how he wanted to be a better teammate, isn't helping himself or his team with his actions.
I realize Newton is only 23. Not many of us were finished products at 23. But, then again, not many of us were NFL quarterbacks at 23, or ever.
When you're making millions of dollars and are the face of an NFL franchise, the standards are a lot different, and you can't act like you're 12.
Newton needs to find a new standard -- one that's not too high or too low -- that his teammates can follow. It's time for Newton to grow up, mature or whatever you want to call it.
If he doesn't, you're going to see a lot more people pouting on Carolina's sideline and in the stands.
July, 11, 2011
7/11/11
7:44
AM ET
It was very quiet while I was off last week, but there was one story with NFC South roots that deserves some reflection here.
Quarterback
Kerry Collins
retired from the
Tennessee Titans
. Collins played for the
Carolina Panthers
and
New Orleans Saints
before there even was an NFC South. Collins' time in New Orleans was short and uneventful.
But his time in Carolina was anything but dull. Carolina's first draft pick in its expansion season, 1995, Collins quickly became the starter and took the Panthers to the NFC Championship Game in his second season. After the Panthers returned from that trip to Green Bay, Collins stood on the steps of what is now Bank of America Stadium and talked about how Carolina would be a dynasty.
It didn't work out anywhere close to that. Collins began having problems soon after that and was gone before the midway point of the 1998 season. Collins repeatedly has admitted he had a drinking problem in his Carolina days and that issue isolated him from some of his teammates.
Collins deserves lots of credit for straightening out his life when he joined the
New York Giants
and he took that franchise to a Super Bowl. He also spent time with the
Oakland Raiders
and Tennessee Titans and ended his career with more than 40,000 passing yards, which ranks him No. 11 in history. The numbers could have been better if Collins didn't spend part of his career as a backup.
You can't call Collins' career a flop or a disappointment, but those terms can be used to describe his stint in Carolina. Or you can just call it what it was -- a disaster that set the franchise back for years. I arrived in Charlotte and began covering the Panthers a little less than a year after Collins left. The wounds were still fresh and stories were still making the rounds about Collins' wild nights on the town and wilder parties at his house.
Collins had to go because he had some major problems and was in denial as the Panthers tried to get him help. But you can't help but wonder what might have happened for Collins and the Panthers if he had gotten help earlier or avoided his problems in the first place.
The guy was an amazing talent -- big and strong with one of the best throwing arms of his generation. I've been a life-long Penn State fan and Collins was so talented he convinced Joe Paterno to scrap his conservative offense. In 1994, Penn State had one of the nation's best offenses with Collins,
Ki-Jana Carter
,
Bobby Engram
and
Kyle Brady
. The Lions went undefeated, but got robbed of a national championship.
Collins went straight to the NFL and started living like a rock star. If he hadn't, he could have been what Atlanta's
Matt Ryan
and Tampa Bay's
Josh Freeman
probably will be -- a franchise quarterback who will spend his entire career with one team.
Imagine what Collins could have been if he spent his entire career in Carolina and lived his life the way he did in later years? I'm not sure the Panthers would have been the dynasty Collins talked about. That expansion team was built around veterans and it got old right after the NFC Championship Game. There still might have been some ups and downs, but Collins had stayed on the straight and narrow, the valleys the Panthers hit wouldn't have been nearly as deep. He was young, talented, should have continued to get better and the Panthers could have had a franchise quarterback for a generation.
If Collins didn't implode, Dom Capers wouldn't have been fired after the 1998 season and George Seifert never would have been hired. It took years for the Panthers to recover and, for years, they stayed away from drafting quarterbacks early or signing big-name free agents at that position.
Seifert got a couple good years from
Steve Beuerlein
and then put him on the scrap heap for no apparent reason.
Chris Weinke
was next and he never really had a chance. He played on Seifert's last team, which went 1-15.
When John Fox took over in 2002, he needed to get wins quickly and didn't want to let Weinke develop on the field, so he went out and got
Rodney Peete
, who I think might have been offensive coordinator Dan Henning's college roommate. A year later, the Panthers went out and signed career backup
Jake Delhomme
and made him the starter. Delhomme had a nice run and even took the Panthers to a Super Bowl. He was the best quarterback in franchise history, but wasn't a franchise quarterback. He was a nice game manager.
The Panthers drafted
Jimmy Clausen
last year and
Cam Newton
this year and there's hope that one of those guys can become the first true franchise quarterback in Carolina history. Collins could -- and should -- have been that guy. If Collins had done things the right way in Carolina, the dark days at the end of the Capers era and the entire Seifert era never would have happened.
If Collins had still been there when Fox arrived, he would have fit nicely in the system and the Panthers might not have been quite so conservative. Heck, if things had gone differently, Collins could have spent his entire career in Carolina and Fox still might be coaching there.
Collins could have been the most popular athlete ever in Charlotte and, had he stayed, he might still be playing. He could have even spent this year as a mentor to Newton and Clausen. Instead, they'll be trying to become what Collins never was able to become for the Panthers.
April, 22, 2011
4/22/11
2:46
PM ET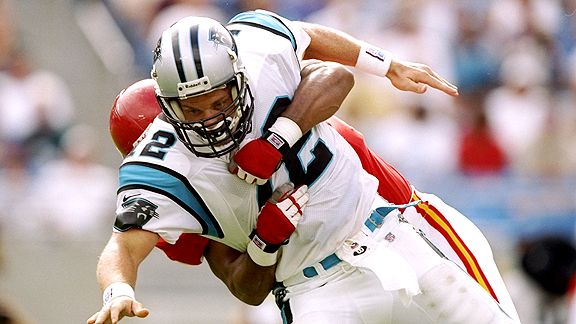 Andy Lyons /Allsport Kerry Collins -- the Panthers first "franchise" quarterback -- had off-the-field issues in Charlotte.
In the months before the 1995 draft, the throwing motion of Penn State quarterback
Kerry Collins
came under intense scrutiny. Supposedly, Collins had a hitch somewhere in the middle of his motion.
As it turned out, Collins never had any problems throwing. The problems were everywhere else.
When the expansion
Carolina Panthers
used the fifth overall pick on Collins, he started down a treacherous path in which the team's first "franchise''
quarterback would drink his way out of Charlotte
. Collins, unavailable for comment, has talked openly many times about the Carolina days, typically emphasizing he was the root of his problems there.
It's no wonder then that the Panthers have not used a first-round pick on a quarterback since Collins. Scarred by his demise, the franchise has for more than a decade tried to get by with veterans such as
Steve Beuerlein
and
Jake Delhomme
.
But the NFL has become more of a passing league, and coming off a 2-14 season, the Panthers realize it is time once again to target a franchise quarterback. They hold the No. 1 overall pick in the draft, and all indications are they're ready to take the plunge on Auburn's
Cam Newton
, who may or may not come with a hitch or two of his own.
Let's be clear: Newton's issues are much, much different than Collins', but they're still issues when you're talking about a franchise quarterback. Newton comes with questions about background and character and whether he'll be able to adjust to an NFL offense after running a different attack in college.
The Panthers' coaching staff has changed several times over and so has the front office since Collins was drafted in 1995. But Jerry Richardson has been the owner from the start and you can bet that the Panthers are looking back at Collins' downfall, analyzing what went wrong and thinking about what they can do better to make life easier for Newton and enhance his chances for success if they draft him.
"We know anybody we take, franchise quarterback or another position, you have to have a support plan in place because it's such a difficult task coming in as a rookie,'' Carolina general manager Marty Hurney said.
Hurney admitted he has thought extensively about a support system to help Newton if the Panthers draft him at No. 1. He didn't want to detail the plan. But the Panthers might be wise to use the Collins fiasco as a guide.
"We did our homework on Kerry as thoroughly as possible,'' said one person who worked in Carolina's personnel department in the early years. "...Yeah, there might have been rumblings Kerry was something like a frat boy who liked to have fun, but there were no screaming red flags.''
In talking to numerous people who were with the Panthers at the time, there were not any major problems in Collins' first two years. With team president Mike McCormack, general manager Bill Polian and coach Dom Capers running the show, the initial plan was to bring Collins along slowly.
The Panthers brought in veteran
Frank Reich
to serve as a mentor and a bridge. But the bridge collapsed. Reich bombed in three starts and a team that had the luxury of a built-in honeymoon period got impatient and threw Collins into the starting lineup.
He started 13 games, the Panthers went a somewhat-surprising 7-9 and the next season Collins and Charlotte partied. With a very good defense and Collins leading an efficient offense, the Panthers went all the way to the NFC Championship Game, where they lost to the Packers. They came back to Charlotte after losing in Green Bay and Collins stood on the steps of Bank of America Stadium and proclaimed the Panthers would win Super Bowls and become a "dynasty."
[+] Enlarge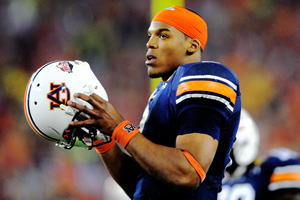 Mark J. Rebilas/US PRESSWIREIf the Panthers take Cam Newton with the No. 1 overall pick, they'll have a plan in place to keep him from the pitfalls that befell Kerry Collins.
Those were heady times in a city that was new to the NFL, and doors around town were open to Collins. It was at that time he started falling through a trap door. The future was so bright, Collins had to wear shades -- for all the wrong reasons.
Every person interviewed for this story said the signs of Collins having a problem began showing in the run to the NFC title game and expanded rapidly in the months that followed.
On the final night of 1997 training camp, reports -- which Collins never has disputed -- said the quarterback was out at a Spartanburg, S.C., bar
when he hurled racial slurs at two teammates
. One, offensive lineman Norberto Garrido, reportedly got into a physical altercation with Collins.
"We got back to Charlotte to check into the team hotel the night before a preseason game and Kerry was walking around inside with sunglasses,'' said one person who was with the team at the time. "He was coming out of a meeting room later and he took them off for just a second to wipe his eye and you could see a big shiner. I was like, 'Oh no, what did he do now?''"
That sentiment echoed throughout the building for more than a year. In a 2003 interview, I asked Capers, then the coach of the
Houston Texans
, if the Panthers did all they could to get Collins under control. Capers sighed and then said the Panthers did everything you'd expect and much more. He also said Collins simply refused help.
People who were with the team at that time said that's all true. Speaking days before leading the
New York Giants
against the
Baltimore Ravens
in Super Bowl XXXV, Collins admitted he was in denial at the time and summed up his flawed philosophy.
"I'll show you. I'll hurt me,'' Collins said.
Collins hurt more than himself. With McCormack retired, Polian gone and Capers running essentially a one-man show in 1998, things got worse. After four ugly games, Capers told the media that Collins said his heart no longer was in the game and had quit the team.
"I'm not sure the interventions you see and hear so much about today were legal or even done at that time,'' a former team employee said. "But I can assure you that organization did at least everything else. I mean, we had Donnie Shell [the former NFL safety who was the team's longtime director of player programs], the team chaplain, the coaches, his teammates and ownership all over Kerry to straighten up. If Mike and Bill weren't gone, maybe things could have worked out better or been handled better, but I seriously doubt it.''
The Panthers released Collins, who then signed with New Orleans and got arrested for drunk driving when the Saints came to Charlotte to play a game later that season. Collins went to the Giants in 1999 and stopped drinking. He revived his career and has had a productive run with the Giants, Raiders and Titans.
Collins is 38 now and started seven games for Tennessee last year. He has patched up relationships with just about everyone who was involved with the Panthers in those dreadful days.
It makes you wonder what could have been. If things had gone differently, maybe Collins still would be with the Panthers, maybe they would have won Super Bowls and become a dynasty.
Maybe they'd still be drafting Newton. But maybe it would be to replace one franchise quarterback with another. The reality is the saga caused enormous problems for the Panthers.
But, hey, maybe one old wound can help prevent a new one.
December, 15, 2010
12/15/10
4:47
PM ET
It seems like just about every week we talk about how much
Josh Freeman
grew up on Sunday. Well, I think we saw another step in the process of becoming a true franchise quarterback and it happened on a Wednesday.
In light of the
Tampa Bay Buccaneers
and coach Raheem Morris suddenly taking a lot of heat after linebacker
Geno Hayes
became the latest player to get into off-field trouble, Freeman stepped up twice -- once very publicly and once very privately -- and did exactly what a franchise quarterback should do.
Freeman took the heat off Morris and pointed the blame firmly where it belongs. That part happened in a public venue, as Freeman
met with the media
.
"I don't think it says anything about the type of coach Raheem is,'' Freeman said. "I think some people could look at it that way. But honestly, the circumstances where the stuff occurred, it is all on the player. I mean, his job is to coach us and put us in position to win football games. He's done just that. When we get done with football, you can't expect Raheem to go to everybody's house at a certain hour. It is the NFL. We have to take a higher level of responsibility on ourselves from college. As team captains and team leaders, we've been stressing that a lot lately.''
The last part of that quote, about captains and team leaders, leads us to the private area. There was a players-only meeting Wednesday, according to a team source, and Freeman and veteran cornerback
Ronde Barber
were the ones running the show. Freeman's election as a team captain at the start of the season was a sign that the second-year player already had the respect of his teammates. But the fact that he was the one telling 52 other guys to be responsible on Wednesday shows that Freeman's role as a captain isn't just some meaningless title.
Quarterbacks are the faces of franchises and Freeman's actions reminded me of a couple of things I've seen through the years in the NFC South, even in times before there was the existing NFC South.
Let's start with
Steve Beuerlein
and the
Carolina Panthers
in 1999. In one of the worst off-field incidents in NFL history, wide receiver
Rae Carruth
eventually was charged and convicted with arranging the murder of his pregnant girlfriend. Carruth obviously disappeared immediately, but the spotlight stayed on the Panthers.
Camera crews from national news networks showed up on a regular basis and, understandably, a lot of players hid because Carruth's problem wasn't really their territory. Even coach George Seifert kept a very low profile.
That left Beuerlein to stand and face the music day after day. Beuerlein might not have been the greatest quarterback ever, but he understood his role. He was the leader of the team. No matter how tired he might have been about answering questions about a teammate he barely knew, Beuerlein handled every day with grace. He said all the right things about how the Panthers were just praying for everyone involved and it took the heat off his coaches and teammates. Beuerlein and the Panthers actually had a pretty decent season on the field and there was no doubt about who was running the team.
Now, let's move on to a current NFC South quarterback, who might be the best example of what Freeman seems to be headed for. That's New Orleans quarterback
Drew Brees
. If you have ever been around the Saints, you almost instantly realize they operate out of Brees' locker room.
Nobody crosses Brees and that's not just because he's one of the best on-field quarterbacks in the league. Brees totally gets what it takes to be a champion (he's got the Lombardi Trophy to prove it) and he constantly spreads that message to his teammates. Publicly, he says all the right things. Privately, he does it even more firmly.
If a guy isn't working as hard as he should be or is heading down a bad road off the field, Brees often gets in that guy's ear before the coaches and front office have to. You want an example of how sternly Brees runs the locker room?
Take the case of
Jeremy Shockey
. In his days with the
New York Giants
, Shockey pushed around quarterback
Eli Manning
and usually not in a good way. That led to dysfunction and eventually got Shockey traded.
In New Orleans, Shockey hasn't been nearly as flamboyant and it has been that way right from the start. That's because Shockey knew coming in that you do things Brees' way. He has, and it's part of the reason the Saints won the Super Bowl last season.
It's early in the process, but Freeman is showing a lot of the same traits as Brees. He's playing well and leading his team to victories on the field. During the offseason, you heard stories about how no player was spending more time around One Buccaneer Place than Freeman. He's also showing a growing knack for saying all the right things.
Lots of guys come into the league looking the part of a franchise quarterback, but never really act the part. Freeman is doing both. Contrary to popular belief, the Bucs aren't some team running amok. Yes, they have some issues. But they have the one guy in the locker room who, with a few words, can straighten out a lot of things by standing up and taking control.
July, 27, 2010
7/27/10
2:50
PM ET
As we count down the hours to training camp and, hopefully, get a few more draft picks signed Tuesday afternoon, I was just thinking of some of my favorite or most memorable stories of training camps past. Apologies to Atlanta and New Orleans fans –- I'll try to include a story or two on your teams, but most of my newspaper days were spent covering the Panthers and Buccaneers, so I might be a little heavy on them.
Let's start with an Atlanta tale while I've got one. If there was an omen for the Falcons in 2009, it might have come on one of the first days of camp as the Falcons were coming off an 11-5 season. For reasons beyond me, a bird flew into the closed glass door to the media room. It did not end well and some suggest that set the tone for an up-and-down season by the Falcons.
Sam Wyche was probably the most colorful coach I've ever covered. Lots of coaches like to yell out situations -- "It's fourth down, there are five seconds left in the game and we've got the ball at their 32-yard line." Generally players go out and run the play and that's the end of it. Wyche, who coached some pretty horrible Tampa Bay teams, had a knack for yelling things like "Wait, there was a penalty. Let's try it again." He'd do that until the play ended well and that made for some very long practices.
I believe I witnessed Tony Dungy getting as mad as he's ever been. It happened one day during a practice at the University of Tampa where linebacker Hardy Nickerson got into a fight with a team the Bucs were scrimmaging (I believe, but am not entirely certain, it was either the Dolphins or Redskins). Dungy, who usually looks very placid, dashed over to Nickerson and said something. He didn't yell. But Nickerson quickly was on his way to the locker room and got the rest of the day off.
At Panthers' camp, if you stand on the wooded side of the field that George Seifert used to refer to as the jungle, insects can be a problem. Carolina's public relations staff is very generous in sharing insect repellent with members of the media. But there was a morning a few years back when the repellent couldn't be found. A wise former co-worker I'll call "Stan'' gave this bit of advice: "The first line of defense is to pull up your socks." Of course Stan, who I believe parked cars at Woodstock, is one of those guys who always wears his socks just below his knees.
Fights are common in training camp, but the one I saw in Carolina two years ago was far from common. The offense and defense had just finished a session and the special teams came onto the field. Suddenly, I caught movement out of the corner of my eye. I looked and saw coach John Fox and quarterback Jake Delhomme jumping into a pile to try to pull the participants apart. If the coach and the quarterback are jumping in, you know it's got to be bad and I knew right away Steve Smith had to be involved. He was. He had just slugged Ken Lucas.
The most painful moment I ever witnessed in a training camp didn't take place on the field. It took place on the way to the Carolina locker room. Former Carolina defensive tackle Kris Jenkins, who had various times weighed more than 350 pounds, somehow commandeered a golf cart and decided to back up. Carolina security director Gene Brown, a very pleasant man, happened to be standing behind the cart. Jenkins accidently ran him over. Luckily, Brown recovered and I haven't seen a Carolina player get near a golf cart since.
This one actually happened before my time in Carolina, but it's the stuff of legend. The life of a sports writer isn't as glamorous as you might think. We spend a lot of time standing around and that can get the creative juices flowing. That's what happened in Carolina when Dom Capers, a coach who did not believe in the shotgun formation, was still there. One day, a writer I'll call "Newt'' missed practice because of some car trouble. The other writers got quarterback Steve Beuerlein, who is as good a guy as you'll ever meet, to play along with a prank. When "Newt'' arrived, the other writers happily detailed how the Panthers had spent the entire practice installing the shotgun. One of the writers then handed "Newt'' a tape recorder that had Beuerlein talking all about how the team was looking forward to the shotgun. "Newt'' hurriedly began listening to the tape and writing his story. Seconds before he was about to send the story, the other writers finally informed him it was all a joke.
April, 30, 2010
4/30/10
5:54
PM ET
CHARLOTTE, N.C. -- As much as we've talked about Carolina's youth movement, it was kind of ironic to walk out to the Panthers' afternoon minicamp session and see
Steve Beuerlein
,
Wesley Walls
and a whole bunch of other former players.
It was nothing formal, really, but it was a nice little touch. New team president Danny Morrison came up with the idea to invite a bunch of past players out to watch practice. In addition to Beuerlein and Walls, I also saw
Kevin Donnalley
, Tshimanga Biakabutuka,
Matt Willig
,
Dwight Stone
,
Jeff Mitchell
and
Ricky Proehl
. Heck, Kevin "The Rocket'' Hurney, who used to work in the equipment department, even came down from North Carolina State, where he now runs the equipment department, for the day.
The players were scattered around the edges of the practice field and most of them got to spend some time speaking with team owner Jerry Richardson, who was watching practice from his golf cart.
Speaking of Richardson, I got to catch up with him after practice. He didn't want to do any formal interviews because he likes to stay out of the spotlight. But I got to visit with him a bit and am glad to see him continuing to get stronger after having a heart transplant more than a year ago.
July, 3, 2008
7/03/08
3:20
PM ET
Posted by ESPN.com's Pat Yasinskas
Just read an item in the Charlotte Observer in which former co-worker Scott Fowler selects the two greatest Carolina Panthers of all time. He comes up with two answers based on class and production, and I agree with both of his choices.
He lists linebacker Sam Mills as the classiest Carolina player ever. I didn't get to Charlotte in time to cover Mills' career as a player, but he was working as an assistant coach and still making a huge impact on the entire organization. The guy was nothing but class right up through the final days of his brutal battle with cancer. Let's take it a little further in this category. I'll go with former Carolina quarterback Steve Beuerlein, who took on the role of team spokesman during the Rae Carruth saga, at No. 2 and former linebacker Dan Morgan third. I'll round out the top five with Mike Rucker and Mike Minter.
Fowler's other category is based solely on production and the easy winner there is receiver Steve Smith. Just like Rucker and Minter wouldn't get a lot of consideration for greatest player based solely on production, Smith probably wouldn't stand a chance in the class category. His behavior has been boorish at times and he's nicknamed "The Little Monster'' by the Carolina media.
But that's not important because we're basing this on what Smith has done on the field and nobody's done more for the Panthers than he has. He could end up being the team's first Hall of Famer. Former tight end Wesley Walls would be my No. 2 because he was very good for a long time. No. 3 will draw some argument because this guy was never very popular or appreciated by fans, but when Kris Jenkins was taking care of himself and before he hit a couple of major injuries, he was the best defensive tackle in the league. Go back and look up his Pro Bowl appearances. Quarterback Jake Delhomme, who's better than a lot of people give him credit for, is No. 4. Five is a tough call because there are probably four or five guys for whom you could make a case.