NFC South:

Steve Spurrier
November, 17, 2013
11/17/13
6:51
PM ET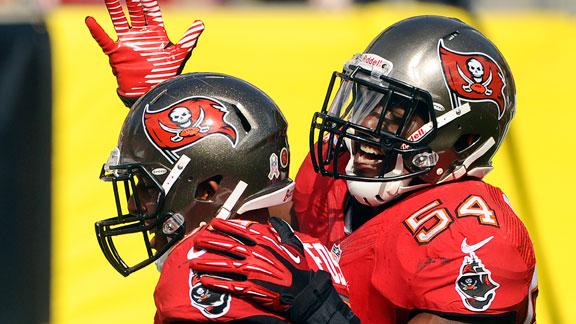 TAMPA, Fla. -- For weeks now, coach Greg Schiano steadfastly has said that once the
Tampa Bay Buccaneers
started winning football games, they wouldn't stop.
We all laughed.
As it turns out, maybe the man had a point. Maybe, just maybe, Schiano will have a job next year that many expected him to lose.
The Buccaneers defeated the
Atlanta Falcons
, 41-28, on Sunday at Raymond James Stadium. That came six days after the Bucs got a Monday night win against the
Miami Dolphins
for their first victory of the season.
"It's something that we can build on, for sure," Schiano said.
[+] Enlarge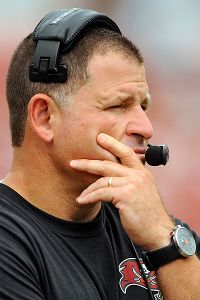 AP Photo/Brian BlancoGreg Schiano had the Buccaneers playing hard despite an 0-8 start. The result? Two straight victories.
Let's make no mistake: The Bucs are 2-8 and Schiano remains very much on the hot seat. But that seat is a little cooler than it was a few weeks ago. It might seem hard to imagine, but maybe the billboards calling for Schiano's firing will come down, maybe fans will jump off his back and onto his bandwagon, and maybe he still will be the coach in 2014.
"We've got a lot of pride," left tackle
Donald Penn
said. "We've got to play for our coach. Everybody's doubting our coach. We're behind him 120 percent."
That's the very reason I've held off on joining the masses in calling for Schiano's job. I'm not saying Schiano is a great coach, and I still don't know if his ways will work in the NFL. But the fact is, he never lost the locker room during an 0-8 start. His players never stopped playing hard.
I saw Tampa Bay teams totally pack it in at the end of the Raheem Morris and Sam Wyche eras. That, along with dismal records, is why Morris and Wyche were fired.
"A lot of people could have just folded," Penn said. "We're still fighting. Hopefully, we can keep building. I'm happy. For once, I can say I'm happy."
Let's not get too carried away with the sudden happiness. Schiano's record (9-17 overall) is dismal. Schiano has lost a lot of games, but he hasn't lost his players.
That counts for a lot, in my eyes.
Schiano is still facing an uphill battle. But I can see a scenario in which he could end up sticking around. I don't know if the Glazer family, which owns the team, has some magic number of wins in mind for Schiano to keep his job. Maybe Schiano needs to run the table, win the next six games and finish 8-8. Or maybe something like winning six of the final eight games will be enough to bring Schiano back.
He does have three more years left on his contract, and ownership likely won't be eager to pay the salaries for two head coaches at once. Or maybe the Bucs lose their next six and Schiano follows the route of Bobby Petrino, Steve Spurrier and Nick Saban and goes back to coaching a college program.
But the point is Schiano still has a shot in the NFL, if he can win some more games down the stretch. That no longer seems as unfathomable as it did a few weeks ago.
If the Bucs can play the rest of the way like they did Sunday, they could win more than they lose in their remaining games. It could happen.
It could happen because
Gerald McCoy
(three sacks on Sunday) suddenly is playing as well as any defensive tackle in the league. It could happen because the Bucs appear to have found a hidden gem in running back
Bobby Rainey
(163 rushing yards). It could happen because rookie quarterback
Mike Glennon
(only three incompletions against the Falcons) continues to get better each week.
And let's not overlook the possibility that Schiano might be starting to catch onto what the NFL is all about. Did you see the onside kick, the tailback pass and Glennon's two deep throws to
Vincent Jackson
? This team isn't playing nearly as conservatively as it did early in the season. Maybe Schiano is changing -- for the better.
In recent weeks, it hasn't taken too much observation to see a difference in Schiano. On the practice field, he has been joking around more with his players. When talking to the media, Schiano has seemed more relaxed, even approaching humor at times.
Maybe Schiano realized he needed to be less stubborn and stern. Maybe changing his personality and his play calling is Schiano's way of fighting for his job.
And, as long has his team keeps fighting, maybe he'll get to keep it.
November, 15, 2012
11/15/12
11:30
AM ET
This really has been true for only five weeks, but I don't think I'm going out on a limb by saying the
Tampa Bay Buccaneers
have the most exciting offense in franchise history and they have a true franchise quarterback for the first time.
Start thinking about the history of this franchise, because that's a part of why I feel comfortable making those statements. We'll run through that inglorious history in just a moment, but let's start with the past five games.
In that stretch,
Josh Freeman
, who entered the season as a huge question mark, has established himself as a big-time quarterback. Rookie running back
Doug Martin
has become such a phenomenon that he finally might have shed
that nickname
he doesn't like. And wide receiver
Vincent Jackson
has turned out to be worth every penny of that five-year, $55 million contract he signed back in March.
In each of the past five games, the Bucs have scored at least 28 points. When's the last time that happened?
Never.
What's happened in the past five games has vaulted the Bucs into the league lead in average yards per play (6.21). They're averaging 28.9 points per game, which ranks them behind only New England (see
Brady, Tom
) and Denver (see
Manning, Peyton
). Speaking of Manning, he's second in the league with an average of 8.20 yards per pass attempt. Freeman is No. 1 at 8.27.
Martin had a 251-yard, four-touchdown game at Oakland and has turned out to be the "all-purpose back" that coach Greg Schiano and general manager Mark Dominik talked about on the night they drafted him.
Jackson's leading the league among players with at least 30 receptions by averaging 21.4 yards per reception. Heck, teammate
Mike Williams
is second at 18.3.
Heck, if this keeps up, we might be calling Freeman, Martin and Jackson "The Triplets," the way Troy Aikman, Emmitt Smith and Michael Irvin used to be referred to in their Dallas glory days. At times, some people got carried away and called the Cowboys' stars "The Quadruplets" because they actually thought Alvin Harper was good.
That's a perfect way to jump back into the history of offensive football and the Buccaneers. Harper was the receiver the Bucs signed in the mid-1990s to be their Irvin. Instead, the thing most Tampa Bay fans remember about him is that he got part of his finger sliced off in a training room accident.
For their entire existence, including the good years, the Bucs have been anywhere from dismal to mediocre on offense. They won a Super Bowl with Brad Johnson as their quarterback and Monte Kiffin commanding a defense for the ages. They won a lot of games and tasted their first sustained success under coach Tony Dungy ... with Kiffin commanding a defense for the ages.
At one point in the 1990s, Tampa Bay's bread-and-butter offensive play was having Errict Rhett run into Mike Alstott's back and fall as far forward as possible. They later upgraded and had Warrick Dunn run into Alstott's back and actually make a cut or two.
Even back during the first rise to prominence (1979), Tampa Bay was much more defined by Lee Roy Selmon and the defense than it was by the offense and Doug Williams.
Speaking of Williams, he was the best quarterback in franchise history -- until Freeman's emergence. Between them, the Bucs have trotted out the likes of Steve Young (before he became Steve Young in San Francisco), Vinny Testaverde, Craig Erickson, Trent Dilfer, Shaun King, Brian Griese and Jeff Garcia.
[+] Enlarge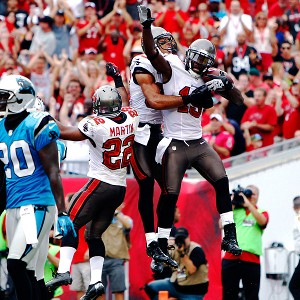 Matt Stamey/US PresswireA supporting cast that features receivers Mike Williams (19) and Vincent Jackson (83) and running back Doug Martin makes the Bucs' offense so fearsome.
Although Young, Testaverde and Dilfer had talent, they never had a chance in Tampa Bay because they didn't have a supporting cast. Williams was easily the best quarterback in Tampa Bay history, but I'm not sure you can call him a franchise quarterback because his tenure lasted from 1978 until he left for the United States Football League in a contract squabble following the 1982 season.
Freeman's not going to follow a similar route. He's under contract through 2013, but, after what he has shown this season, I think it's safe to say Freeman's going to be around a lot longer than that. Sometime in the offseason, the Bucs almost certainly will give Freeman a big contract extension.
Freeman has bounced back from the disastrous final season of the Raheem Morris era. He's turned out to be everything Schiano and offensive coordinator Mike Sullivan said he would be upon their arrival. Schiano and Sullivan said they wanted to build an offense that ran the ball consistently and they wanted to take some shots downfield in the passing game.
That formula's working. According to ESPN Stats & Information, Freeman leads the league with 19 completions on throws of 20 yards or more. Jackson leads the NFL with 10 receptions on throws of 20 yards or more.
Mike Williams has revived a career that seemed to stall last year. The Bucs plucked receiver
Tiquan Underwood
off the scrap heap and he's turning in big plays. Martin is making things happen in the running game and as a receiver, and the offense is clicking, despite the fact the Bucs are without injured Pro Bowl guards
Carl Nicks
and
Davin Joseph
.
For the longest time, there was a joke in Tampa that the most exciting offense the region ever saw was the "Fun and Gun" orchestrated by Steve Spurrier and the USFL's Tampa Bay Bandits, who, briefly, were more popular than the Bucs in the 1980s.
Those Bandits were wildly entertaining, but part of the reason they're so fondly remembered is because the Bucs always were boring -- and usually bad -- on offense.
Until now.
November, 2, 2012
11/02/12
12:24
PM ET
South Carolina coach Steve Spurrier caused a
bit of stir
when he said the University of Alabama could beat some NFL teams.
Ordinarily, I'd say that's a ridiculous statement. Ordinarily, I'd say the best college team would have absolutely no chance against any NFL team.
But this isn't an ordinary year.
The
Carolina Panthers
are in
complete disarray
. They've got problems on and off the field.
Could the Crimson Tide knock off the Panthers? As bad as Carolina is, I think I'd still give the Panthers a slight edge. Carolina quarterback
Cam Newton
did rally Auburn to victory against Alabama after falling behind, 24-0, in 2010.
And, hey, while we're at it, could Alabama beat the
New Orleans Saints
, who just might have the worst defense in NFL history?
I'd still take
Drew Brees
and the Saints.
But let's hear your thoughts in the comments section below.
April, 19, 2012
4/19/12
10:03
AM ET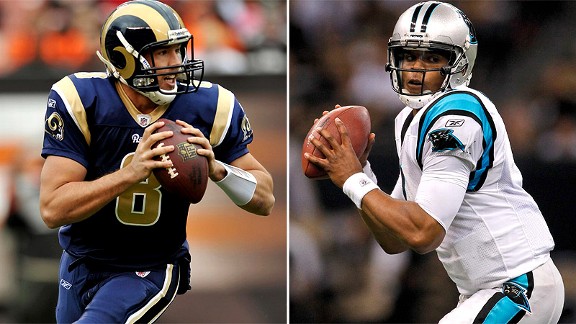 US PresswireSt. Louis' Sam Bradford, left, and Carolina's Cam Newton have helped change the thinking that a Heisman Trophy-winning quarterback won't be successful in the NFL.
There was a time -- like pretty much the last 50 years -- when a Heisman Trophy wasn't a very good thing for a quarterback to have on his résumé as he entered the NFL.
When Baylor's
Robert Griffin III
gets taken early in next week's NFL draft, he could be the latest piece in the trend of turning around the apparent curse on quarterbacks who won the Heisman. It has started to change only recently, but all of the sudden it's looking like the trophy isn't an anchor guaranteeing NFL mediocrity or obscurity for a quarterback.
Look back at 2010 winner
Cam Newton
. He was last year's offensive rookie of the year for the
Carolina Panthers
and set all sorts of rookie passing (and rushing) records. There's big hope in St. Louis that 2008 winner
Sam Bradford
can get back to the promise he showed as a rookie after struggling through a rough 2010 season. Then there's 2007 winner
Tim Tebow
. He couldn't throw spirals in Denver, but he won games. That at least created a market for Tebow to get traded to the
New York Jets
, where it remains to be seen if he'll ever be able to win the starting job away from
Mark Sanchez
.
But there's at least hope that Griffin, Newton, Bradford and Tebow can go on to have long and prosperous NFL careers. Before they came along, there were decades of evidence that suggested quarterbacks should just quit the game after winning the Heisman.
Remember
Troy Smith
,
Eric Crouch
,
Danny Wuerffel
, Charlie Ward and
Gino Torretta
? How about
Ty Detmer
,
Andre Ware
or Pat Sullivan?
They had little to no success in the NFL.
And remember Jason White?
I honestly did not at first. I had to go back and look up White, who won the trophy not all that long ago. He won it in 2003 while putting up some gaudy numbers at the University of Oklahoma. White didn't even get drafted and quit football altogether after a short training-camp stint with the
Tennessee Titans
. He never even played in a regular-season NFL game.
[+] Enlarge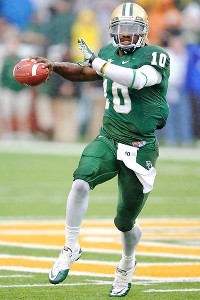 Jerome Miron/US PresswireRobert Griffin III threw for 4,293 yards and 37 touchdowns on his way to winning the Heisman Trophy last season.
Guys like White, Smith, Crouch, Wuerffel, Ward, Torretta, Detmer, Ware and Sullivan all had some things in common. In general, they were able to win the Heisman because they put up big statistics at programs where they were surrounded by elite players. They also had limitations -- usually in size, speed or arm strength -- that prevented them from being taken very seriously by NFL talent evaluators.
But those same evaluators also missed on some Heisman winners who seemed to have what the NFL wanted. Remember
Matt Leinart
?
He came from one of those football factories (USC), where he was surrounded by guys like
Reggie Bush
, but Leinart was supposed to be the one whose college success could transfer to the NFL. That's why the
Arizona Cardinals
drafted him in the first round. But Leinart was nothing short of a tremendous disappointment.
When he flopped, it looked like there really was something to the Heisman Curse.
Prior to Tebow, Bradford, Newton and Griffin, you've got to look at a list of 18 quarterbacks who won the Heisman before you find one who really made it big. You've got to go all the way back to Roger Staubach, who won it for Navy in 1963. He went on to have a great career for the
Dallas Cowboys
and earned a spot in the Pro Football Hall of Fame. Since Staubach won the Heisman, other quarterbacks have had to settle for just getting into the College Football Hall of Fame.
Sure, there have been a few Heisman winners to come out and have some success. Jim Plunkett won two Super Bowls, but his career didn't really take off until he landed with the Raiders after mediocre stints in New England and San Francisco.
Vinny Testaverde had an extremely long NFL career and the longevity led to some impressive career statistics. But Testaverde never had the kind of career so many people imagined when he was coming out of the University of Miami and taken No. 1 overall by the
Tampa Bay Buccaneers
in 1987.
Guys like Steve Spurrier and
Doug Flutie
bounced around and had some success. Then there's
Carson Palmer
, who has had some bright moments, but still is trying to fully live up to the Heisman hype.
But Newton, Griffin, Tebow and Bradford finally might be able to put a stop to the near-half-decade drought of Heisman Trophy winners truly excelling in the NFL.
"Cam Newton is the best thing to ever happen to Robert Griffin III,'' former NFL quarterback
Chris Weinke
said as we discussed this year's crop of quarterbacks back in February. "Just like
Drew Brees
is the best thing to happen to [Wisconsin draft prospect Russell Wilson]. Cam showed that a big, athletic quarterback that can run can be great in the NFL. Brees showed that a guy that's not 6-foot-4 or 6-foot-5 can throw for 5,000 yards in an NFL season. We all know the NFL is a copycat league. Cam's success and Drew's success helps the draft stock of guys like Robert and Russell.''
Ironically, Weinke's name is another one on that
Heisman list
. His story might be the most unique of all the Heisman-winning quarterbacks. Weinke enrolled at Florida State after giving up a minor-league baseball career. He won the Heisman in 2000 and seemed to have the talent of a classic drop-back passer, but the fact he would turn 29 in his rookie training camp, pushed him into the fourth round of the 2001 draft. The Carolina Panthers took him and he started under coach George Seifert as a rookie, but never could quite won over John Fox, who took over the next year.
Weinke spent the next five seasons as a backup in Carolina and finished his career in 2007 with San Francisco.
These days, Weinke has carved a niche as a quarterback guru. He is the director of football operations at IMG Academies in Bradenton, Fla. He has worked extensively with Newton and some other quarterback prospects over the past few years.
Weinke says he's seen the game change just since his playing days ended. Like just about everyone else, he says the NFL has become more driven by quarterbacks. He says natural talent is a prerequisite for NFL success and he points to guys like Newton and Griffin, saying they could be a new prototype. And he goes back to his point about the NFL being a copycat league.
"People are always looking for what works,'' Weinke said. "Cam obviously had a fantastic rookie season. So people look at Robert and say he can do the same thing because the skill sets are similar.''
For Griffin, Newton and Bradford -- and perhaps even Tebow in his own way -- maybe the skill sets are so good that it no longer matters if a quarterback is lugging around a Heisman Trophy.
January, 26, 2012
1/26/12
6:31
PM ET
By
Patrick Yasinskas
| ESPN.com
With Greg Schiano leaving Rutgers to take over the
Tampa Bay Buccaneers
, it naturally brings to mind other college coaches who have gone to the NFL.
The general rule of thumb, at least in recent years, is most of those guys don't have a lot of success. But San Francisco's Jim Harbaugh kind of broke that rule in 2011.
With some help from ESPN Stats & Information, let's take a look at some notable coaches who have jumped from college to the NFL and their records in their first pro year:
2011 Jim Harbaugh, 49ers, 13-3
2010-11 Pete Carroll, Seahawks, (Carroll previously was an NFL head coach twice)
2007 Bobby Petrino, Falcons, 3-10
2005-06 Nick Saban, Dolphins, 15-17
2002-03 Steve Spurrier, Redskins, 12-20
2001-04 Butch Davis, Browns, 24-34
1999-2001 Mike Riley, Chargers, 14-34
June, 13, 2011
6/13/11
8:08
AM ET
I'm back at it Monday morning after burning some time off, which I figured I'd better take because there won't be a dull moment for months once the lockout ends.
First off, although things were pretty quiet while I was gone, there are two things I'd like to weigh in on.
Friday's
memorial service
for legendary Tampa Tribune sports editor Tom McEwen was every bit as spectacular as you would expect. Steve Spurrier, Lee Roy Selmon and Leonard Levy (a Tampa businessman, community activist and McEwen friend) were outstanding with their eulogies. Spurrier, in particular, had everyone laughing as he delivered an uplifting speech that made us remember Tom's legacy is staying with us. There was also a moment when McEwen's true power really hit me. As a general rule, a lot of guys don't sing out loud in public and I'm one of them. At one point, a song was being played and I looked across the church. In my line of vision, I saw football's Jon Gruden, hockey's Phil Esposito and baseball's Tino Martinez all singing. Only McEwen could have created that scene.
On a lighter note, there was a little bit of excitement in Carolina last week when center
Ryan Kalil
sent out a tweet that suggested the Panthers will be the team featured on HBO's "Hard Knocks'' this summer. That's not happening. The Panthers haven't had any
conversations with the people who run the show
. There have been a lot of rumors about "Hard Knocks'' and NFC South teams in the last few months. Let's just clarify what's real and what's not. The
Tampa Bay Buccaneers
received an offer to be the featured team. They declined. There have been no talks with the Panthers or Falcons. I'm not sure if the Saints were ever approached or not, but they have no interest in being on the show. In other words, even if training camps take place, "Hard Knocks'' is not coming to the NFC South this year.
Moving forward, I'm responsible for writing our story on the Power Rankings for left tackles that will appear Tuesday afternoon. I can't reveal results yet, but I can tell you Carolina's
Jordan Gross
and Tampa Bay's
Donald Penn
were on my ballot. We'll see if the rest of the voters thought enough of them to put them in the top 10.
We'll stay on lockout watch, continue to monitor player workouts and be ready to dive into free agency if something breaks. Also, we'll resume the NFC South chat Friday at 1 p.m. I'll put up a reminder and a link later in the week.
June, 5, 2011
6/05/11
12:30
PM ET
TAMPA, Fla. -- It's a sad day in the land of the NFC South.
Tom McEwen, one of the men who helped build this division,
has passed away
. The long-time sports editor and columnist for The Tampa Tribune was 88.
[+] Enlarge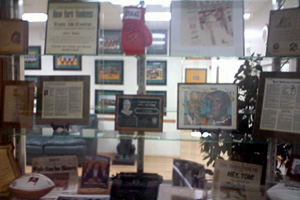 Pat Yasinskas/ESPN.comA display of Tom McEwen's memorabilia at Saint Leo University. The long-time sports editor and columnist for The Tampa Tribune died June 5 at his home on Davis Island, Fla. He was 88.
This one is hitting very close to home because McEwen was the man who gave me my first full-time job in this business. He also gave me a lot of career advice throughout the years and, most important of all, was a great friend. My decision to leave the Tribune for The Charlotte Observer in 1999 was made on McEwen's dock after a lengthy conversation with the greatest mentor of all. When I got hired by ESPN.com, McEwen was one of the first people I called and he was thrilled that I was moving back to Tampa.
For those who don't know the back story on McEwen, he was the point man on Tampa Bay's effort to get an expansion team. He fought hard to keep the Buccaneers in Tampa Bay when it looked like they might be moving in the mid-1990s. He also was instrumental in bringing the Super Bowl here four times and getting Raymond James Stadium built.
But don't think McEwen was just an advocate for Tampa Bay. If you're a fan of the Saints, Falcons and Panthers, you owe this man some gratitude because he helped your teams along the way. McEwen was a power broker in NFL circles and he encouraged the league to give franchises to Atlanta and New Orleans because he knew that putting other teams in the south eventually would help bring a team to Tampa Bay. He also pushed for Atlanta and New Orleans to host Super Bowls.
When Jerry Richardson started trying to get an expansion team for the Carolinas, he found a friend in McEwen, who went to bat for the team that became the Panthers. McEwen also did a lot in bringing hockey's Lightning and baseball's Rays to Tampa Bay.
It's a tragic day and my heart goes out to Tom's wife, Linda, and their family. It might take some time, but I'm going to try to focus on all the positives I gained from knowing Tom.
One recent one comes to mind. Saint Leo University, my alma mater, is home to "Tom McEwen: A Tampa Bay Treasure'', an exhibit of McEwen's memorabilia. I had the honor of picking up the memorabilia at McEwen's house and driving it up to Saint Leo.
I've always been a pretty confident driver. But that 45-minute drive was the most nerve-wracking of my life. The cargo in my car that day included photos of McEwen with the likes of Johnny Unitas, Bear Bryant and George Steinbrenner. It included autographed footballs and hand-written notes from Steve Spurrier and Roger Goodell.
It also included Tom's Red Smith Award. That's the highest honor given in sportswriting. I put that in the passenger's seat, locked the doors and drove as cautiously as I ever have. I'm not sure I exhaled until we got everything under lock and key at Saint Leo.
The cargo I was carrying that day was precious and I'm glad I can stop by Saint Leo and look at the memorabilia and think of Tom. But I don't need the visual reminders to recall all that was great about Tom.
He'll never really be gone. There are thousands of people who were impacted by this great man and we'll all carry pieces of him for years to come.
Tom's legacy was built over the course of many years. Now, it's time for that legacy to shine brighter than ever.
December, 15, 2010
12/15/10
8:00
AM ET
»
NFC Stock Watch
:
East
|
West
|
North
|
South
»
AFC
:
East
|
West
|
North
|
South
FALLING
1. Jeff Davidson, Panthers offensive coordinator.
It's kind of tough to come up with guys whose stock is falling when three NFC South teams are coming off victories and virtually everybody with the Panthers has been used in this category at one point or another. So we're going to be creative -- in other words, something Davidson is not. I know the head coach sets the tone for what his coordinators do and there's no question John Fox has limited his offense for virtually his entire tenure. But Davidson deserves some heavy blame. I mean, at least try to come up with ways to get
Steve Smith
the ball. As Fox's time in Carolina comes to an end and I reflect on it, I think one of the worst moves was making Dan Henning the scapegoat for a disappointing 2006 season. Fans thought Henning lacked imagination. After four years of watching Davidson's offense, Henning's offense, in hindsight, looks like the Tampa Bay Bandits of Steve Spurrier in the United States Football League. Fox's staff will be scrambling for jobs. Davidson might have to return to his roots as an offensive line coach because his coordinator résumé isn't looking too good.
2. Geno Hayes, Buccaneers linebacker.
He's doing fine on the field, but he
got into trouble
in the wee hours of Monday morning. If the Bucs really are a playoff team, they should be focused entirely on football at this time of year.
[+] Enlarge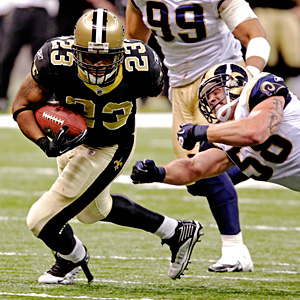 AP Photo/Bill HaberPierre Thomas accounted for 68 yards of offense in his first action since Week 3.
3. Charter flights for the Falcons
. They have to cross the country to Seattle this weekend after playing road games at Carolina and Tampa Bay. But if the Falcons keep doing what they're doing, they won't have to get on a plane again this season -- unless it's to Texas for the Super Bowl.
RISING
1. Pierre Thomas, Saints running back.
Thomas, who injured his ankle in late September, returned to the playing field Sunday when the Saints defeated the Rams. He wound up probably getting even more playing time than the Saints envisioned. The logical thing to do would have been to ease Thomas back into a rotation with
Chris Ivory
and
Reggie Bush
. But that plan went out the window when Ivory started experiencing hamstring issues early in the game. Thomas ended up carrying 12 times and catching four passes. His numbers weren't overhelming (39 rushing yards and 29 receiving yards), but he held up well. Thomas' long-term future in New Orleans might not be all that bright because of Ivory's emergence. But a strong finish could help Thomas get a nice contract somewhere else.
2. Michael Turner, Falcons running back.
With backup
Jason Snelling
banged up, the Falcons have been riding Turner even more than usual. He carried 28 times in Sunday's victory against Carolina and produced 112 yards and three touchdowns. Turner has rushed for more than 100 yards in three of the past four games and five times in Atlanta's seven-game winning streak. He has scored at least one touchdown in four straight games.
3. Arrelious Benn, Buccaneers wide receiver
. He was chosen in the second round of this year's draft and fellow receiver
Mike Williams
was picked in the fourth round. But Williams emerged instantly as the No. 1 receiver and Benn wasn't much of a factor early on. But Benn had a huge game in Sunday's victory at Washington. He had a career-high four catches for a career-high 122 yards.
November, 14, 2010
11/14/10
6:44
PM ET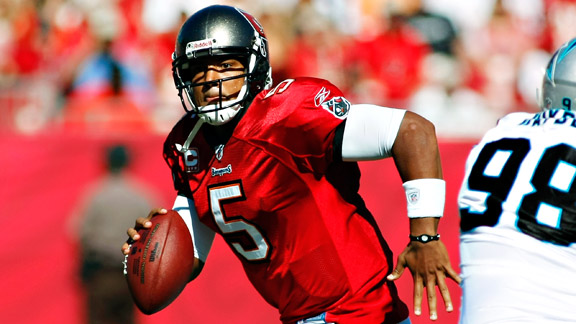 AP Photo/Brian BlancoBucs QB Josh Freeman completed 18 of 24 passes for 241 yards and two TDs against Carolina.
TAMPA, Fla. -- Once upon a time -- as in any time before Sunday -- the talk in these parts was about if the
Tampa Bay Buccaneers
could make the playoffs. Times have changed. Fact is, the Bucs
should
make the playoffs.
Look at their schedule. If the Bucs simply do what they should do, they will be in the playoffs.
That's precisely what the Bucs did Sunday as they defeated the
Carolina Panthers
31-16
. It wasn't particularly pretty and it came against a very bad team.
But guess what? The Bucs are now 6-3. Look at their remaining schedule. In San Francisco, Washington, Detroit and Seattle, the Bucs have four opponents that aren't much better than the Panthers. They've also got games with Baltimore, Atlanta and New Orleans. Pull off a surprise in one of those and the Bucs could even end up with an NFC South title or at least be above the No. 6 seed in the playoffs.
"We'll get better and better as the process of the season goes on,'' Tampa Bay coach Raheem Morris said.
They might because they already have improved more than anyone could have imagined in doubling their win total from last season. But just for the moment, let's say the Bucs go 4-3 the rest of the way and let's also say the
Atlanta Falcons
and
New Orleans Saints
do what they're supposed to do.
There could be a few variables from the NFC East and NFC North. But let's forget variables for now. If the Bucs do what they should do, they're 10-6, and that should get them into the playoffs and could give the NFC South three teams in the postseason.
You couldn't judge it from the crowd because Raymond James Stadium was far from sold out again. But some people are starting to believe.
"We feel as a whole in this locker room that there's unfinished business,'' said veteran center
Jeff Faine
.
There was some evidence of that on the field as Carolina's 16 points basically represented an offensive explosion for the Panthers, fourth-string running back
Mike Goodson
rushed for 100 yards and the Bucs committed 10 penalties for 80 yards.
Keep in mind, though, Tampa Bay started seven rookies Sunday, some by choice and some because of injuries.
"We like to say it's the non-blink factor,'' Morris said. "All these guys have the ability to go out and contribute.''
The Bucs didn't do much blinking as rookie
Arrelious Benn
caught a touchdown pass for the second straight game and rookie running back
LeGarrette Blount
rushed for 91 yards and a touchdown. All that came a week after the Bucs lost an emotional and physical game to Atlanta in the final minutes.
Pretenders blink after a loss like the one in Atlanta. Contenders do what the Bucs did against the Panthers.
As they've done all season, the Bucs simply relied on second-year quarterback
Josh Freeman
and hoped a few other guys stepped up. Freeman, who seems to get better each week, turned in a nearly flawless performance. He completed 18 of 24 passes for 241 yards, two touchdowns, no interceptions and had a 134.2 passer rating. He also found tight end
Kellen Winslow
in the end zone for the first time this season.
"When we took over this program, [general manager] Mark Dominik and I sat down together and said we know it's a lot easier to win with a quarterback,'' Morris said. "It wasn't a popular decision at the time to go against our defensive town, but it's a lot more fun to win like this with a quarterback. And it's a lot easier to win when you have a quarterback of this caliber that can go out there and get the ball to all these weapons.''
There now is no doubt drafting Freeman last year was the right call. And it sure looks like the Bucs made the right calls in the offseason to set him up with a good, although extremely young, receiving corps. For the first time in franchise history, the Bucs are a team that can win with the quarterback after generations of playing great defense and asking the quarterback to be a game manager.
"I keep saying it, but it is fun to watch,'' Morris said.
Morris was talking about watching the emergence of guys like Freeman, Benn, Blount and rookie receiver
Mike Williams
. He's right. These Buccaneers could be the most exciting offense Tampa Bay has seen since the days when Steve Spurrier was calling the plays for the Bandits of the United States Football League.
It's kind of sad, though, that much of Tampa Bay isn't seeing it in person or live on television. Last year's 3-13 record, the economy and Florida's transient population often are cited as reasons the Bucs haven't had a sellout this season after selling out every previous home game since Raymond James Stadium opened in 1998.
According to the Bucs, Sunday's paid attendance was 44,264, and the game was blacked out on television in the Tampa Bay market. The sudden winning hasn't caused attendance to jump -- yet.
Intentionally or not, the Bucs might have pulled off a marketing coup last week when they announced 2011 ticket prices would either stay the same or drop (depending on the location) and offered a 10-month payment plan.
Gee, Christmas is coming and maybe more than a few stockings will be stuffed with season tickets. Much like it's easier to win with a quarterback, it's easier to sell tickets when you've got a serious playoff contender with lots of upside for the future. Even though the Bucs are probably another offseason away from having the talent to go deep in the playoffs, they should at least get there, if they just do what they're supposed to do.
"We have the skill level to get things done and take care of business,'' Faine said. "It's going to be competitive all the way down to the end.
"And it's definitely going to be a good race.''
October, 8, 2010
10/08/10
4:20
PM ET
I don't know that I've ever been happier to post an item on the NFC South Blog than this one.

Let's go ahead and declare Nov. 2 a holiday or day of celebration throughout the entire NFC South. On that day, Saint Leo University (my alma mater) will host a luncheon to announce the exhibit "Tom McEwen: A Tampa Bay Treasure.''

McEwen was the longtime sports editor and columnist for The Tampa Tribune. For those in other NFC South cities, don't stop reading because McEwen also had an impact on each of your franchises and cities.

In fact, I'm going to make a case right now that McEwen is the single most important figure in the history of the NFC South -- owners, players and coaches come and go, but Tom has been a presence through all of it. Tom came from a different era, when columnists were more like ambassadors or sports mayors of their cities. In that regard, McEwen was the king.

He was the driving force behind the effort that landed Tampa Bay an expansion team. The NFL granted the franchise to Tampa Bay before it even had an owner in place and the Bucs began play in 1976. That's when McEwen really started to develop clout with owners across the NFL and in the league office in New York.

He's a big part of the reason Tampa has become a regular Super Bowl host. McEwen also was instrumental in keeping the Bucs in Tampa Bay when they were looking for a new stadium in the mid-1990s. McEwen worked behind the scenes with NFL officials and owners to make sure the Bucs didn't leave and that resulted in the construction of Raymond James Stadium.

The greatest demonstration of the power of McEwen might have been when he helped get Lee Roy Selmon elected to the Pro Football Hall of Fame. I've been in that room on a couple of election days and I know how things work. Unless you're the prototypical first-ballot guy, your candidacy depends largely on the guy who is making your case. I wasn't in the room the day Selmon got elected, but I spent most of the rest of the day with McEwen. Other voters repeatedly came up to him and said he made the most convincing case they'd ever seen.


January, 26, 2009
1/26/09
12:00
PM ET
Posted by ESPN.com's Pat Yasinskas
TAMPA, Fla. -- There obviously isn't an NFC South team in this Super Bowl, but the fact the game is being played in Tampa gives the division a strong connection to the game. The Buccaneers are the face of the NFL in Tampa Bay -- but it hasn't always been a pretty face.
| | |
| --- | --- |
| | |
| | David Boss/US Presswire |
| | John McKay left USC to take over the expansion Tampa Bay Buccaneers. |
Here's a look back at the early years of the Bucs:
In the very beginning -- out at that primitive facility alongside a Tampa International Airport runway with rodents scurrying the hallways -- the Tampa Bay Buccaneers were a National Football League franchise in name only.
It was 1976 and what showed for the first practice at One Buccaneer Place wasn't pretty. The brand new team, which had joined the league with the Seattle Seahawks, had coach John McKay (who had jumped to NFL riches from the University of Southern California), first-round pick draft Lee Roy Selmon, and ... absolutely nothing else.
"The biggest cast of characters and misfits you've ever seen," jokes current Atlanta Falcons president Rich McKay, the son of John McKay.
Rich McKay was about to begin his senior year as a quarterback at nearby Tampa Jesuit High School and worked as a ball boy that first season. The high school kid had a résumé as good as some of the players who showed and was healthier than most of them.
Back in those days, the NFL's expansion rules just weren't very friendly. There was no free agency, a resource Carolina and Jacksonville used to build quickly when they joined the league in 1995. The expansion draft wasn't much help either. The Bucs and the Seahawks didn't even get the list of players available until 24 hours before the draft and couldn't bring players in for medical exams.
"Over 50 percent of the guys on the list couldn't even pass a physical," Rich McKay says. "I think if my dad had known what the expansion rules were and how everything was going to be stacked against the team, he probably would have stayed at USC. Seriously, it made no sense to give a city a franchise and then give them absolutely no chance for success."
January, 16, 2009
1/16/09
11:35
PM ET
Posted by ESPN.com's Pat Yasinskas
| | |
| --- | --- |
| | |
| | Al Messerschmidt/Getty Images |
| | The Glazers, known for pursuing big names, opted for a relative unknown in Raheem Morris. |
TAMPA, Fla. -- In the past, they've flirted with the likes of Bill Parcells and Steve Spurrier (back when he was a big name) and sold their souls (and two first-round picks, two second-round picks and $8 million in cash) to get Jon Gruden.
They even went out and bought the fabled Manchester United soccer team.
In short, the Glazer family -- Malcolm and sons Joel, Bryan and Ed -- like big names. So, how in the heck are the Glazers hiring Raheem Morris as the head coach of the Buccaneers?
Well, to make a long story short, he's Tony Dungy. Or Mike Tomlin. Or Lovie Smith. Or Rod Marinelli, back when it looked as if he could win a few games.
Morris also is, in a lot of ways, the anti-Gruden. All of that factored into the decision the Glazers made Friday, firing Gruden and general manager Bruce Allen and putting Morris and long-time personnel executive Mark Dominik in their spots.
So who is Morris?
We'll likely find out a lot more Saturday, when an introductory news conference is expected to be held. But here's the short version. Morris is 32. He was Tampa Bay's defensive coordinator -- for about two weeks.
Before that, Morris was Tampa Bay's defensive backs coach for two seasons in his second stint with the team. He first joined the Bucs in 2002 and stayed until he went to Kansas State as defensive coordinator for one season in 2006. Morris also played college football at Hofstra.
That's the bio, but here's the stuff that goes deeper than that. Morris was going to be a head coach in this league someday. Coaches who've worked with him rave about him and players who play for him do it even more vocally.
This guy is a true players' coach. He's also going to be a true fans' coach, but it might take a while to get to know him. All indications are Tampa Bay fans are going to love Morris.
| | |
| --- | --- |
| | |
| | NFL.com Video |
| | Breaking down the Buccaneers' decision to fire Jon Gruden as head coach. |
That's something that couldn't be said about Gruden. His act had worn thin in Tampa and fell apart completely when the Bucs lost their last four games to finish 9-7 and out of the playoffs. Tampa Bay fans were outraged.
The Glazers, known for their quiet and calm, apparently were outraged as well. They took their time (three weeks) and did their homework. These guys are sharp and they talked to players and assistant coaches. Word is, Gruden didn't get glowing reviews. I think that was Jeff Garcia I saw doing cartwheels up and down Dale Mabry Highway when the firing was announced.
Part of Gruden's problem might have been that he was a bit of a showman and people stopped buying that when he didn't win a playoff game after the Super Bowl. They also stopped buying it when, year after year, Gruden and Allen just patched together the Bucs without anything that looked remotely close to a long-term plan.
That's why Gruden and Allen are gone and Morris and Dominik are getting promoted. The Bucs once ran Dungy out of town because he couldn't win the big one. They also watched as Tomlin, Smith and Marinelli worked as Tampa Bay assistants and left for head jobs and, for the most part, great success.
Maybe the Glazers looked at the Bill Cowhers and Mike Shanahans of the world before making their decision and realized what they had in their own backyard. They had a future star in Morris and the anti-Allen in Dominik, who at least has social skills. Dominik also has a strong reputation as a personnel evaluator.
And maybe the Glazers looked around the league and saw men such as Atlanta's Mike Smith and Baltimore's John Harbaugh having success in their first seasons as head coaches on any level.
The Gruden-Allen era in Tampa Bay is over. The Morris-Dominik era is about to start. Give credit to the Glazers for keeping an open mind on this and not just going out and hiring the biggest name. That worked briefly with Gruden, but there didn't seem to be any real direction for this franchise in the last few years.
You'll hear a lot more about Morris and Dominik once the Bucs make this official, and I'm guessing they'll sound more like Dungy and former general manager Rich McKay than like Gruden and Allen. They may or may not bring instant success.
But Morris and Dominik may get a honeymoon period that had long ago expired on Gruden and Allen, and fans may have to be a little patient in the growing process.
I'm guessing Tampa Bay fans won't mind because they'll have a coach and general manager who actually are following a plan.