NFC South:

substance abuse policy
November, 1, 2011
11/01/11
7:43
AM ET
A week ago, we told you New Orleans defensive end
Will Smith
was
not on the ballot for the Pro Bowl
. We also told you Tampa Bay safety
Tanard Jackson
is on the Pro Bowl ballot.
Smith
Jackson
Both players were suspended at the start of the season. Smith missed the first two games of the season. Jackson missed the first five games before his suspension, which started last year, came to an end.
When I first saw Smith wasn't on the ballot, I thought it might be because of his suspension. But, then, I saw Jackson was on the ballot, so I was thinking Smith's suspension had nothing to do with his absence from the ballot.
But it turns out Smith and Jackson fell into different categories on this issue.
Bradley Handwerger
got clarification
from the NFL on the matter.
"Any player suspended for a violation of the league's policy on anabolic steroids and related substances will not be eligible for selection to the Pro Bowl,'' an NFL spokesperson said. "Tanard Jackson was suspended for violating the NFL policy and program for substances of abuse.''
So let me get this straight. Smith was suspended for testing positive for the diuretic Star Caps, which was billed as a weight-loss supplement. When Smith first tested positive in 2008, Star Caps were commonly sold at health food stores, although the Food and Drug Administration later
declared the product unsafe
.
Jackson was suspended for just more than a year for violating the league's substance-abuse policy. He also was suspended for the same thing once before. So we know Jackson failed at least two drug tests.
The problem I'm seeing here is it doesn't seem fair that Jackson's on the ballot and Smith isn't.
Although the supplement was banned by the NFL at the time Smith tested positive, it was not illegal. The substance Jackson was using was illegal and his suspensions showed he used it at least twice.
I'm not saying Smith was right in using a banned supplement, but he wasn't breaking the law. Jackson was.
If the rule was the other way around and Smith was on the ballot and Jackson wasn't, I could understand that. But, at least to me, it sure looks like the NFL got this rule backwards.
Oh, by the way, I checked out the details of Smith's contract. His absence from the ballot could cost him a nice chunk of change. Smith has an incentive clause that calls for him to get a $250,000 bonus each time he's selected to the Pro Bowl.
September, 22, 2010
9/22/10
5:34
PM ET
The undefeated
Tampa Bay Buccaneers
just suffered their first loss of the season and it's a really big one.
[+] Enlarge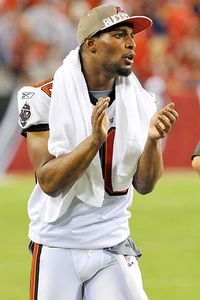 Al Messerschmidt/Getty ImagesTampa Bay safety Tanard Jackson has been suspended by the NFL for the rest of the season.
The team just announced that safety
Tanard Jackson
has been suspended for at least a year for violating the NFL's substance abuse policy. Jackson will miss the rest of this season and will not be eligible to apply for reinstatement until Sept. 22, 2011. He will not be paid during that time.
Jackson also was suspended for the first four games of the 2009 season for violating the same policy and the length of this suspension suggests he has had at least three positive tests for banned substances.
This is a particularly crushing blow to a team that is off to a fast start and has been relatively controversy free after a tumultuous 2009 season. Along with cornerback
Aqib Talib
, Jackson formed the core of a secondary that was developing into a team strength.
Jackson, 25, has been viewed as one of the league's better young free safeties and some members of the organization have said they thought he had Pro Bowl potential. There likely will be a big dropoff from Jackson to whoever replaces him and the options aren't many.
Rookie
Cody Grimm
, a seventh-round pick, is listed as the top backup on Tampa Bay's depth chart.
Corey Lynch
, a third-year player, is listed as the third-team free safety. Lynch has never been much more than a special-teams player. Grimm lacks experience, but had an impressive training camp and preseason.
Some teams like to say the safety positions are interchangeable, but neither of Tampa Bay's strong safeties appear likely candidates for a move. Veteran
Sean Jones
is the starter at strong safety, but he might be the best bet for a move. Jones has some ball skills as evidenced by his 16 career interceptions.
Jones replaced
Sabby Piscitelli
, last year's starting strong safety. Piscitelli is not known for being especially good in coverage and he lacks ball skills. It's also possible the Bucs could bring in a safety from somewhere else, but there aren't a lot of starting-caliber safeties sitting out there that could step right into the lineup.
One other long-shot scenario would be moving veteran cornerback
Ronde Barber
to safety. It's not uncommon for cornerbacks to move to safety late in their careers. But it would be unusual and difficult to make the transition in the middle of a season. At 5-foot-10 and 184 pounds, Barber doesn't have the size of most safeties, but the Bucs do have some depth at cornerback with
E.J. Biggers
,
Elbert Mack
and
Myron Lewis
currently in backup roles.
August, 3, 2010
8/03/10
7:12
PM ET
The NFL's announcement that Atlanta defensive tackle
Jonathan Babineaux
will be
suspended for the season opener
is not good news in any way. But it certainly wasn't unexpected and it absolutely was something the Falcons prepared for.

Babineaux
Babineaux got into some legal trouble last year and the one-game suspension is officially for violating the league's substance abuse policy. The Falcons almost certainly knew this was coming throughout the entire offseason and they had time to prepare for the fallout.
This is part of the reason they used a third-round pick on defensive tackle
Corey Peters
. They're also expecting last year's first-round pick,
Peria Jerry,
to be back from an injury that forced him to miss almost his entire rookie season. There are plenty of other options.
"Last year on our depth chart
Vance Walker
played (Babineaux's) position and DT
Trey Lewis
would have backed up on the other side, but the positions are interchangeable,'' coach
Mike Smith
said. "We are playing both left and right defensive tackles."
Babineaux's spot in the starting lineup for the long term is safe because he was the team's best defensive lineman last year. The Falcons also slide defensive end
Jamaal Anderson
inside sometimes, so there are plenty of options and veteran
Thomas Johnson
got 10 starts last year.
Sure, the absence of Babineaux is in no way a positive. But it's only for one game. Keep in mind, that game is against Pittsburgh, which will be without quarterback
Ben Roethlisberger
.
For the record, Babineaux will be allowed to continue practicing and playing through the preseason. He'll have to be away from the team starting exactly one week before the opener. He'll be eligible to return to practice the day after the game with the Steelers.