October, 17, 2012
10/17/12
9:39
AM ET
Time for a Wednesday morning run through the top headlines from around the NFC South:
TAMPA BAY BUCCANEERS
Defensive end Da'Quan Bowers, who has been on the physically unable to perform list, could begin practicing as early as Wednesday. As Stephen Holder notes, look for the Bucs to bring Bowers
along slowly
. Michael Bennett has been playing well and Daniel Te'o-Nesheim has shown promise since taking over for an injured Adrian Clayborn. The best tact might be for the Bucs to use Bowers as a situational pass-rusher early in his return.
Martin Fennelly takes a look at the
receiver tandem
of Vincent Jackson and Mike Williams. The two look like they're starting to click. If that continues, this could be the best tandem in franchise history, partly because the Bucs haven't had many strong receiver pairings throughout their existence.
NEW ORLEANS SAINTS
New Orleans (and Tampa and Atlanta) are not in the running for Super Bowl L (the 50th Super Bowl). The NFL said Tuesday that San Francisco and South Florida are
the finalists for the game
. I'd look for New Orleans and Tampa to get involved in the bidding for the 2017 game. And, if Atlanta gets its new stadium in 2017, it could be a candidate to host the Super Bowl as early as 2018.
With Jonathan Vilma, who has been on the physically unable to perform list, expected to begin practicing, his health isn't the only issue. The Saints have been getting
quality play
out of middle linebacker Curtis Lofton and I don't see him moving. If Vilma is healthy enough to be more than a backup, he could be moved to the outside.
CAROLINA PANTHERS
The Cowboys will be without DeMarco Murray on Sunday due to injury. But a Dallas running game that
produced 227 yards
against Baltimore remains very dangerous. It's especially dangerous against a Carolina rushing defense that's allowing 127.4 yards per game.
Although he's out for the season and the Panthers are 1-4, center Ryan Kalil said he has
no regrets
about taking out a full-page newspaper ad, promising a Super Bowl win, in the preseason. Kalil shouldn't have any regrets. At the time, he believed the Panthers were capable of something like that and he wanted to excite a fan base that hasn't had much to be excited about in recent years.
ATLANTA FALCONS
Daniel Cox points out that since coach Mike Smith took over in 2008, the Falcons have the NFL's
third-best home record
with 29 wins. I used to question how much of a role the Georgia Dome played in the Falcons' success at home. In recent years, it's been filled with decent audiences, but those crowds never seemed to have much impact on the game. I'm sensing that's changing this year. When I've been to the Georgia Dome this year, the crowds have seemed more festive before the game and much louder during it.
Smith said a decision will be made soon on when defensive tackle Corey Peters, who has been on the physically unable to perform list, will
begin practicing
. I'd look for that to happen next week, when the Falcons resume practicing after their bye.
March, 29, 2012
3/29/12
5:59
PM ET
At the end of the owners meeting Wednesday, NFL commissioner Roger Goodell got hit with questions about the New Orleans Saints' bounty program and the salary-cap fiasco with the Redskins and Cowboys. But somebody slipped in a question about when the NFL's 50
th
Super Bowl will be awarded.
Goodell said he expects that to come at the NFL's fall meeting and then he
mentioned something
about plans to make the 2016 game "spectacular." My first reaction to that was, "That means there's no way Tampa's getting that game." Tampa narrowly has lost out on the 2014 and 2015 games -- awarded to the New York and Phoenix areas, respectively. Logic would say that would put Tampa in line for the next available game.
[+] Enlarge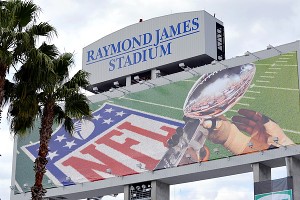 Matt Cashore/US PRESSWIREThe last time Tampa's Raymond James Stadium hosted the Super Bowl was in February 2009. The Steelers defeated the Cardinals 27-23.
But logic kind of goes out the window when you're talking about the 50
th
anniversary of the game (for those keeping score in Roman numerals, that's Super Bowl L). The NFL wants spectacular, and, at first blush, Tampa doesn't fit the profile.
The implication is the NFL truly wants to make a splash with this one and there are venues that have much more glitz than Tampa. If Los Angeles could somehow get a stadium built in time, I think the NFL would love to put the 50
th
game there. If not, maybe a return trip to the Dallas area, where everything is bigger, is possible. Or maybe if the New York Super Bowl (think outdoors) goes well, the league could consider suburban Washington because a game like that near the nation's capital certainly could be spectacular. Miami, a cosmopolitan city with great weather, could be in the mix if it can make some stadium upgrades. Or maybe Goodell really goes outside the box and does something he's hinted at as a future goal -- put the game in London.
Goodell said he doesn't know which cities will bid yet.
As I drove home from the owners meeting, I thought a bit more about Tampa's prospects of landing this game and my mindset changed. Why not Tampa?
I may be a little biased because I live in Tampa -- by choice. But I'll freely admit it doesn't have some of the things Los Angeles, Dallas, Washington, Miami and London have. But Tampa has positives that not all of those cities do. Start with the weather and beaches within 30 miles. Throw in Raymond James Stadium, which still remains one of the league's top facilities, even as it nears middle age. Don't forget that good golf courses and nightlife can score points in the eyes of NFL owners. Many of those same owners have seen how well Tampa has handled previous Super Bowls -- the infrastructure, with the stadium close to the airport and hotels means a lot.
I say Tampa should make a hard push for Super Bowl L. Tampa has a lot of great things to offer. Just bring the Super Bowl -- and all the things that naturally come with it -- and it truly could be spectacular.