NFC South:

Tagliabue bounty ruling
December, 11, 2012
12/11/12
5:52
PM ET
I just finished reading the
entire order
by former NFL commissioner Paul Tagliabue that
vacated player suspensions
in the
New Orleans Saints
bounty matter.
Tagliabue's ruling is very lengthy (22 pages), so if you don't have time to read it all, let me summarize it and provide some highlights.
First off, Tagliabue makes it abundantly clear on repeated occasions that he found current commissioner Roger Goodell's findings that the Saints ran a three-year bounty program to be accurate. Tagliabue said linebacker
Jonathan Vilma
, defensive end
Will Smith
and former New Orleans defensive lineman
Anthony Hargrove
engaged in conduct detrimental to the game, although he ruled that former New Orleans linebacker
Scott Fujita
did not take part in detrimental conduct.
Tagliabue criticized the behavior of New Orleans players that took part in the bounty program, but, as I read the ruling, it became very clear that he's shifting most of the blame to coaches and the front office.
The biggest theme I saw as I went through the document was Tagliabue pointing to the behavior of coach Sean Payton, assistant head coach Joe Vitt, former defensive coordinator Gregg Williams and general manager Mickey Loomis as being way out of bounds.
Below are some excerpts where Tagliabue addresses that theme:
"The Program eventually led to allegations of a bounty being placed on (former Minnesota quarterback Brett) Favre. Making matters far more serious -- as well as challenging for Commissioner Goodell and League investigators -- Saints' coaches and managers led a deliberate, unprecedented and effective effort to obstruct the NFL's investigation into the Program and the alleged bounty.''
"These suspensions thus deprived the Saints of vitally important coaching and leadership talent, and they represented a severe competitive penalty for the Saints' team, its fans and indirectly for the New Orleans / Gulf Coast region. Commissioner Goodell's findings and the resulting suspensions of these Saints' personnel are final and no longer subject to appeal.''
"There is evidence in the record that suggests that Commissioner Goodell could have disciplined a greater number of Saints' players for the events that occurred here. This sad chapter in the otherwise praiseworthy history of the New Orleans Saints casts no executive, coach or player in a favorable light.
"It is important to note that Commissioner Goodell has been forced to address the issues of misconduct by some individuals in the Saints' organization since early 2010 to the present. Due to the indefensible obstruction of justice by Saints' personnel, which included admitted efforts of coaches to mislead or otherwise deny the existence of a bounty or the Program, a disciplinary process that should have taken weeks is verging on three years."
"Vitt admitted to NFL investigators in 2012 that he "fabricated the truth" when he spoke to an NFL investigator in March 2010 about whether there had been a bounty on Favre. He later claimed that his admitted fabrication was just "stretching the truth" because he failed to describe for investigators the emotionalism of the defensive team meeting the night before the NFC Championship Game."
"There is no question that Coach Williams and other coaches orchestrated the Program to incentivize cart-offs and knockouts; carefully choreographed defensive team meetings, including presenting graphic slide presentations showing injuries to opposing players; ensured that any player who would speak at team meetings was adequately prepared or supported; and generally created an atmosphere in the 2009 season and playoffs that suggested to Saints' players that offering a $10,000 bounty to injure an opposing player was permissible behavior."
December, 11, 2012
12/11/12
3:45
PM ET
By now, we know that former NFL commissioner Paul Tagliabue, acting as an appeals officer,
vacated all player discipline
in the
New Orleans Saints
bounty case.

As I
wrote earlier
, this comes across as convoluted because Tagliabue also said he found the fact finding of current commissioner Roger Goodell to be correct and the Saints did run a three-year bounty program. But mixed messages like that often happen when you get lawyers involved and people are worried about covering every angle.
But let's boil this whole thing down to one simple question and let's put the answer in your hands: Did Tagliabue make the right call?
Look to your right and cast your vote in our SportsNation poll. Then, share your logic in the comments section below.
December, 11, 2012
12/11/12
3:06
PM ET
I've been in contact with ESPN business analyst Andrew Brandt ever since the news came out that former NFL commissioner Paul Tagliabue
vacated the player suspensions
in the New Orleans Saints' bounty case.
The one thing Brandt repeatedly has said is that the players continued to get their paychecks throughout the process. That's significant because we're talking about a huge amount of money for the two guys -- linebacker
Jonathan Vilma
and defensive end
Will Smith
-- that still are playing for the Saints.
Vilma previously faced a full-season suspension and Smith initially was supposed to be suspended for four games.
Let's start with Vilma, who opened the season on the physically unable to perform list, but has been paid all throughout the appeals process. Vilma got a $1 million signing bonus when he restructured his contract back in March. Tagliabue's ruling also clears the way for Vilma to earn his full $1.6 million base salary this season. Vilma already received a $100,000 workout bonus and $600,000 roster bonus before the season ever started. Vilma's contract also has a clause that could allow him to earn up to $2.2 million in not-likely-to-be-earned incentives that are tied to the number of games he's been on the active roster and his playing time. We're not sure of the details of the clause, but Vilma did miss the first five games of the season.
Smith also restructured his contract back in March and received a $6.175 million signing bonus. He now will get to make his full $825,000 base salary this season. Smith already received a $1 million roster bonus and a $150,000 workout bonus in the preseason.
December, 11, 2012
12/11/12
2:40
PM ET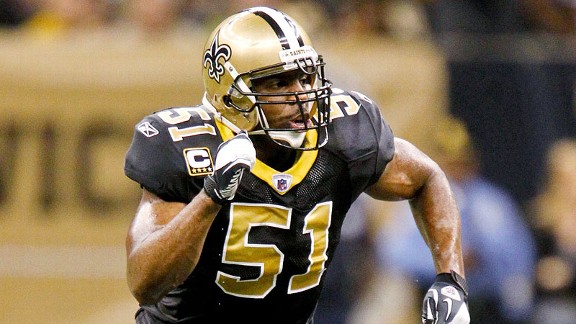 Derick E. Hingle/US PresswireJonathan Vilma and other players implicated in the Saints bounty scandal have had their penalties overturned by Paul Tagliabue.
Let me get this straight.
Former NFL commissioner Paul Tagliabue has found that current commissioner Roger Goodell was spot on in his finding of facts in the
New Orleans Saints
bounty saga? But Tagliabue has
vacated all player discipline
?
That's more than a little contradictory. In fact, it's ridiculous.
Tagliabue is agreeing with Goodell that the Saints ran a bounty program for three years, but
Jonathan Vilma
,
Will Smith
,
Anthony Hargrove
and
Scott Fujita
no longer are facing suspensions.
Heck, they probably won't even face fines, unless Goodell oversteps Tagliabue -- but I think Goodell is planning on staying in his own lane now.
"My affirmation of commissioner Goodell's findings could certainly justify the issuance of fines,'' Tagliabue said in part of his statement. "However, this entire case has been contaminated by the coaches and others in the Saints' organization.''
Sounds to me like Tagliabue and the NFL are taking the easy way out of this one. They're pointing their fingers squarely at coach Sean Payton, former defensive coordinator Gregg Williams, general manager Mickey Loomis and assistant head coach Joe Vitt.
There's one huge difference between the coaches and general manager and the four players: The players are represented by the NFL Players Association, which challenged every step of the process, even though you could make a case that the union was siding with the best interest of four players over the safety of hundreds of others.
The NFLPA appealed every decision, and it ultimately won. Vilma doesn't have to face a season-long suspension. Smith doesn't have to miss eight games. Hargrove, who is currently out of the league, doesn't face a seven-game suspension. Fujita, who might have suffered a career-ending injury this season, doesn't face a one-game suspension.
The league still is saying the players did what the league alleged from the start, and Tagliabue's statement reiterates that he found convincing evidence that there was a bounty on Minnesota quarterback
Brett Favre
in the NFC Championship Game of the 2009 season.
But the players aren't getting suspended, they're not losing paychecks and they're not getting fined. They're getting off pretty much free, except for whatever damage was done to their reputations by this whole sordid saga.
That damage was significant, and we might not have heard the last of it on that front. Vilma still has a defamation lawsuit against Goodell. If I'm Vilma, I'm not dropping that lawsuit.
Vilma has shown that you can take on what was supposed to be an almighty commissioner and win. It's hard to win a defamation lawsuit because you have to prove intent to put out statements you knew were untrue, but Vilma is on a roll, so why not continue pursuing it?
Vilma's attorney, Peter R. Ginsberg, already has said the defamation suit isn't going away.
"We are obviously relieved and gratified that Jonathan no longer needs to worry about facing an unjustified suspension,'' Ginsberg said in a statement. "On the other hand, commissioner Tagliabue's rationalization of commissioner Goodell's actions does nothing to rectify the harm done by the baseless allegations lodged against Jonathan. Jonathan has a right and every intention to pursue proving what really occurred and we look forward to returning to a public forum where the true facts can see the light of day.''
Maybe Vilma can get the NFL to keep backtracking and say there was no bounty on Favre, because it sure looks like the league doesn't want to fight anymore.
Apparently, the league's approach now is to just blame it all on Loomis, who already has served an eight-game suspension, and Vitt, who already has served a six-game suspension. And put even more blame on Payton, who is serving a season-long suspension, and Williams, who is banned indefinitely.
Those four are the easy targets because they exhausted their appeals long ago. The only option they had was to appeal their decision to one judge. That was Goodell, back in the spring, and he upheld his own punishments and the clock on those suspensions started ticking.
But the hands of the clock on player punishments were tied up by constant appeals and Vilma's lawsuit.
Makes you wonder whether Payton, Loomis, Vitt and Williams might have taken a different tack if they knew in the spring what they know now.
There's no absolute vindication for anyone because Tagliabue and the league still are saying the Saints ran a bounty program.
But one group of the alleged culprits is walking away without any punishment, and the other already has served or is serving its punishment.
That's because the players fought it and, in the end, Tagliabue grabbed the NFL by its shoulders and pulled the league out of the fight.
December, 11, 2012
12/11/12
1:23
PM ET
Former NFL commissioner Paul Tagliabue has
issued a ruling in the bounty matter
that vacates all player discipline.
Here's
the statement
, via Twitter, that was just issued by NFL spokesperson Greg Aiello, in which Tagliabue is quoted:
"Tagliabue affirms factual findings of Commissioner [Roger] Goodell...concludes Hargrove, Smith, Vilma 'engaged in conduct detrimental' and vacates all player discipline. 'Unlike Saints' broad organizational misconduct, player appeals involve sharply focused issues of alleged individual player misconduct in several different aspects. My affirmation of Commissioner Goodell's findings could certainly justify the issuance of fines. However, this entire case has been contaminated by the coaches and others in the Saints' organization. Having reviewed the testimony very carefully, including documentary evidence that is at the center of the conflict, and having assessed the credibility of the four central witnesses on these matters, I find there is more than enough evidence to support Commissioner Goodell's findings that Mr. Vilma offered such a bounty (on Brett Favre)."

Here's the NFL's statement:

"We respect Mr. Tagliabue's decision, which underscores the due process afforded players in NFL disciplinary matters. This matter has now been reviewed by Commissioner Goodell, two CBA grievance arbitrators, the CBA Appeals Panel, and Mr. Tag[liabue] as Commissioner Goodell's designated appeals officer. The decisions have made clear that the Saints operated a bounty program in violation of league rules for three years, that the program endangered player safety, and that the commissioner has the authority under the CBA to impose discipline for those actions as conduct detrimental to the league. Strong action was taken in this matter to protect player safety and ensure that bounties would be eliminated from football."
Let me digest this and see if the NFL has any more to say and I'll be back in a bit with analysis.