December, 27, 2013
12/27/13
9:12
PM ET
TAMPA, Fla. --
Gerald McCoy
and
Darrelle Revis
made the Pro Bowl.
Lavonte David
didn't.

Something's right with this picture and something is very wrong. McCoy and Revis belong in the Pro Bowl. But so does David. Shockingly, the second-year linebacker did not make the Pro Bowl roster.
John Abraham
,
Ahmad Brooks
,
Tamba Hali
,
Justin Houston
,
Robert Mathis
and
Terrell Suggs
are the outside linebackers to make the Pro Bowl. Let's not take anything away from any of those guys. But David deserved to be selected.
David had a breakout season and became only the seventh player in NFL history to record five sacks and five interceptions in the same season. But that wasn't enough to get David to the Pro Bowl. Blame it on Tampa Bay's 4-11 record, but this is a pretty major oversight.
McCoy and Revis both belong in the Pro Bowl, but David should be there with them.
Click here
for the complete Pro Bowl roster.
September, 7, 2012
9/07/12
1:30
PM ET
»
NFC Final Word
:
East
|
West
|
North
|
South
»
AFC
:
East
|
West
|
North
|
South
Five nuggets of knowledge about Week 1:
My favorite matchup:
Carolina receiver
Steve Smith
and Tampa Bay cornerback
Aqib Talib
have each talked about how they've matured this offseason. There might be some truth to that. But these are two of the most competitive people on the planet. Both like to talk on the field. They could end up lining up against each other often, and that's where things could get entertaining. We might find out how much volatility Talib and Smith have left.
[+] Enlarge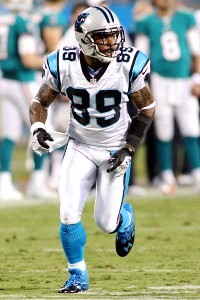 Jeremy Brevard/US PresswireFor the majority of his career, Steve Smith has been Carolina's lone receiving threat.
The streak will end:
I'm not big on predictions, but I'll make one here. New Orleans safeties
Malcolm Jenkins
and
Roman Harper
went through all of last season without an interception. They've got rookie quarterback
Robert Griffin III
coming into what should be a hostile Mercedes-Benz Superdome. New defensive coordinator Steve Spagnuolo will be looking to force some rookie mistakes. Either Jenkins or Harper (maybe both) will come up with a pick.
Milestone time:
Barring a tie against Kansas City, the Falcons will make history Sunday. Atlanta enters the game with the Chiefs with an all-time 299-399-6 record. If the Falcons win, they'll be the 24th team to reach 300 wins. If they lose, they'll be the 15th team with 400 losses.
Play it again:
I've got a hunch this might be the last time we use this stat, or at least one of the final times. That's because I think this is the year Atlanta quarterback
Matt Ryan
finally shows he can throw the deep ball. However, until he shows that, it's worth a reminder that long passes haven't been Ryan's strength in the past. According to ESPN Stats & Information, Ryan has the second-worst completion percentage on throws of more than 20 air yards (minimum 75 attempts) since the start of the 2009 season. Ryan has completed just 27.4 percent of those throws. Only Buffalo's
Ryan Fitzpatrick
(26.2) has been worse. On the positive side, Ryan might have time to throw the deep ball because Kansas City's best pass-rusher,
Tamba Hali
, is suspended for the game.
Chasing Freeman:
Carolina coach Ron Rivera and defensive coordinator Sean McDermott like to get after the quarterback in any game. But they might have a stronger desire than usual to do that against Tampa Bay's
Josh Freeman
. We all know how Freeman dropped off from a strong season in 2010 to a poor one last year. The drop-off was particularly noticeable in how Freeman performed against the blitz. In 2010, he completed 61 percent of his passes with 14 touchdowns, five interceptions and a 53.9 Total QBR when facing at least five pass-rushers. In similar situations last year, Freeman's completion percentage dropped to 54.8 with four touchdowns, nine interceptions and a 34.9 Total QBR.
June, 16, 2011
6/16/11
11:00
AM ET
With optimism rising on the labor front, the fine folks at ESPN Stats & Information have sent out a free-agency primer to help us prepare for whenever the league year starts.
I'll be sharing bits and pieces of that with you over the coming days to help us all get ready for what should be a very busy free-agent season. We'll start with the franchise tag and, keep in mind, we don't know with absolute certainty that the tags will be valid in the new agreement.
But the tag traditionally has been used to protect marquee players and that entails the offer of a one-year contract equal to the average of the top five salaries at that player's position or 120 percent of that player's previous year's salary, whichever is greater. Teams can designate a player as an "exclusive" or "non-exclusive" franchise player.
Here's the definition on those two categories.
Exclusive franchise players:
players who have been offered a one-year contract equal to the average of the top five salaries at their position for the current year or the average of the top five salaries at their position at the end of last season or 120 percent of their previous year's salary, whichever is greatest. Exclusive franchise players cannot sign with another club.
Non-exclusive franchise players:
players who have been offered a one-year contract equal to the average of the top five salaries at their position at the end of last season or 120 percent of their previous year's salary, whichever is greater. Can negotiate with other clubs but current team has the opportunity to match any offer. If they do not, they will receive two first-round draft picks from player's new team as compensation.
Prior to the lockout, 14 teams designated franchise players, including the
Carolina Panthers
with center
Ryan Kalil
. That ties the record, set in 2009, for the most use of the franchise tag since free agency began in 1993. Only Indianapolis'
Peyton Manning
and Philadelphia's
Michael Vick
were given exclusive franchise tags.
Here's a list of players who were given the franchise tag and whether or not they signed the tender.
April, 12, 2011
4/12/11
1:10
PM ET
Our Power Rankings for the linebackers are out and Carolina's
Jon Beason
is the only NFC South representative.
He finished in a tie for ninth place with Kansas City's
Tamba Hali
. This was an especially tough vote because we had to factor in 3-4 linebackers like Hali,
DeMarcus Ware
and other pass-rushers with guys who play the middle in the 4-3, like Beason.
I put Beason No. 6 on my ballot and NFC West colleague Mike Sando had him at No 5. But three panelists left Beason completely off their ballots. I think Beason has been forgotten a bit around the league because of what's happened in Carolina, but he's still the best linebacker in the NFC South.
Beason was the only linebacker from the division on my ballot and was the only NFC South linebacker to receive any votes from any of the panelists. For the record, I gave strong consideration to New Orleans'
Jonathan Vilma
. He would have made my ballot if so many pass-rushers didn't get in the way and those guys do make a big impact.
Atlanta's
Curtis Lofton
and Tampa Bay's
Barrett Ruud
? Both are very solid middle linebackers, but they don't make many game-changing plays. I also would have given Carolina outside linebacker
Thomas Davis
a vote if he hadn't missed last season with an injury. When healthy, Davis is on par with Beason.
April, 8, 2011
4/08/11
11:34
AM ET
We'll continue our Power Rankings series Tuesday with the linebackers.
I filled out my ballot last night and can tell you Carolina's
Jon Beason
, New Orleans'
Jonathan Vilma
and Atlanta's
Curtis Lofton
all got strong consideration. I even gave some thought to Tampa Bay's
Barrett Ruud
, but I'll go ahead and reveal now that he didn't make my final ballot.
This might have been the toughest vote of the Power Rankings series so far. That's because linebacker is such a broad position in the NFL these days. I think of guys like Beason, Vilma and Lofton as traditional linebackers because they all play in the middle of 4-3 defenses.
But look around the league and you see guys like
DeMarcus Ware
,
Tamba Hali
and
Terrell Suggs
. They're pass-rushers. But they're also linebackers, so those three and some others were very much in the mix on my ballot.
I talked to several of the other voters and we're in agreement that we have to be creative with the parameters on this vote. It's hard to compare someone like Beason to someone like Ware because they don't really play the same position.
In the end, my ballot included apples and oranges. I kept that in mind and just tried to look at how all the different types of linebackers impact their teams. Should be interesting to see the results once all the ballots are in.
April, 7, 2011
4/07/11
12:00
PM ET
»
NFC Draft Watch
:
East
|
West
|
North
|
South
»
AFC
:
East
|
West
|
North
|
South
Each Thursday leading up to the NFL draft (April 28-30), the ESPN.com NFL blog network will take a division-by-division look at key aspects of the draft. Today's topic: history in that spot.

Carolina Panthers
The Panthers' top pick is No. 1 overall. Here are the last seven players taken in that spot, with their NFL team in parentheses:
2010 QB
Sam Bradford
(Rams)
2009: QB
Matthew Stafford
(Lions)
2008: OT
Jake Long
(Dolphins)
2007: QB
JaMarcus Russell
(Raiders)
2006: DE
Mario Williams
(Texans)
2005: QB
Alex Smith
(49ers)
2004: QB
Eli Manning
(Giants via Chargers)
Analysis:
It's still early, but indications are the Panthers are seriously considering taking a quarterback, and that probably narrows it down to Auburn's
Cam Newton
and Missouri's
Blaine Gabbert
. Part of the reason the Panthers are looking down this road is because they saw what the Rams got in Bradford last year. The early results from Bradford and Stafford have been encouraging. But Russell was a tremendous flop, and Smith hasn't been much better. Manning is the only quarterback taken No. 1 overall in this time period to make a Pro Bowl. Even before Manning, the history of quarterbacks at No. 1 was shaky for a long time.
Carson Palmer
and
Michael Vick
have had some good years and some bad ones.
David Carr
and
Tim Couch
rank right up there with Russell. To find a quarterback drafted first overall who has been an unquestioned success, you have to go all the way back to
Peyton Manning
in 1998, and there were some people at the time who thought
Ryan Leaf
could be just as good. Long story short: there might not be such a thing as a surefire quarterback, even with the No. 1 pick.

Tampa Bay Buccaneers
The Buccaneers' top pick is No. 20 overall. Here are the last seven players taken in that spot, with their NFL team in parentheses:
2010: CB
Kareem Jackson
(Texans)
2009: TE
Brandon Pettigrew
(Lions)
2008: CB
Aqib Talib
(Buccaneers)
2007: CB
Aaron Ross
(Giants)
2006: DE
Tamba Hali
(Chiefs)
2005: DE
Marcus Spears
(Cowboys)
2004: DE
Kenechi Udeze
(Vikings)
Analysis:
The Bucs have been in this territory recently and have had tremendous results and one very big complication. The Bucs were at No. 19 heading into the 2009 draft, which was the first for general manager Mark Dominik and coach Raheem Morris. They feared missing out on a chance to get the guy they believed would be their franchise quarterback. That's why they traded up to No. 17 and took
Josh Freeman
. You can't question that move because Freeman single-handedly turned the franchise around last season. Even taking Talib at No. 20 -- and it should be pointed out that move was made by former general manager Bruce Allen and coach Jon Gruden -- brought some positive results. When on the field, Talib showed flashes of being one of the best young cover corners in the game. But the latest in a series of off-field troubles means Talib is probably on his way out of Tampa Bay. The lesson to be learned here is that you can get big-time talent in the draft but it's wise to do your homework on the character and attitudes of players. It's common knowledge the Bucs desperately need a defensive end. Look at Hali and Spears. They represent two ends of the spectrum. Hali came with some questions about being undersized but had no character issues, and he has turned out to be a solid pass-rusher. Spears came with some questions about attitude and never has panned out.

New Orleans Saints
The Saints' top pick is No. 24 overall. Here are the last seven players taken in that spot, with their NFL team in parentheses:
2010: WR
Dez Bryant
(Cowboys)
2009: DT
Peria Jerry
(Falcons)
2008: RB
Chris Johnson
(Titans)
2007: DB
Brandon Meriweather
(Patriots)
2006: CB
Johnathan Joseph
(Bengals)
2005: QB
Aaron Rodgers
(Packers)
2004: RB
Steven Jackson
(Rams)
Analysis:
Johnson, Rodgers and Jackson are proof that you can get a big-time player this late in the round. The Saints aren't looking for a quarterback because they have
Drew Brees
. But running back isn't out of the realm of possibility, and when you see that guys such as Johnson and Jackson have been available at this spot, it makes you wonder about the Saints taking a shot if Alabama's
Mark Ingram
is there. Yes, defensive end and outside linebacker might be greater needs, so those positions are possibilities.
Pierre Thomas
re-signed,
Reggie Bush
is expected to stay and
Chris Ivory
is recovering from injury, but the Saints still have to think back to the end of last year when they basically ran out of running backs.

Atlanta Falcons
The Falcons' top pick is No. 27 overall. Here are the last seven players taken in that spot, with their NFL team in parentheses:
2010: CB
Devin McCourty
(Patriots)
2009: RB
Donald Brown
(Colts)
2008: CB
Antoine Cason
(Cardinals)
2007: WR
Robert Meachem
(Saints)
2006: RB
DeAngelo Williams
(Panthers)
2005: WR
Roddy White
(Falcons)
2004: OLB/DE
Jason Babin
(Texans)
Analysis:
Although nearly every draft guru is projecting that the Falcons will take a defensive end, it's not out of the question that a wide receiver or running back could be the pick here. General manager Thomas Dimitroff and coach Mike Smith have talked a lot about wanting to add explosive players. If they look at their own history and the recent history of NFC South teams that have been in this spot, the idea of going with a receiver or running back could get stronger. Although it took some time for him to develop, White has turned into one of the game's top receivers. Meachem also took some time and dealt with some injuries, but he has emerged as a force in the New Orleans passing game. Williams had some explosiveness as soon as he joined the Panthers.