NFC South:

Tampa Sports Authority
March, 16, 2011
3/16/11
10:45
AM ET
Time for a quick trip through some headlines from around the NFC South.
New Orleans general manager Mickey Loomis said the team's personnel department and coaching staff are going on with "business as usual'' in draft preparation and are
ready to hit the ground running
in free agency if the labor situation is resolved.
Tom Sorensen writes that
all signs are pointing to the Panthers taking Auburn quarterback Cam Newton
with the No. 1 pick in the draft. I know Tom well and he wouldn't be writing this if he didn't have a pretty strong vibe. Sorensen also brings up the point that it might be wise to sign a veteran to allow Newton some time to absorb the game. If he's on the sideline, that's not going to sit well with Carolina fans, who can be a little impatient and certainly have a right to be after what has gone on recently. But think back to how Tampa Bay handled Josh Freeman's rookie year. The plan was to make sure he didn't start for the first half of that season. In the long run, that turned out to be a great move.
The Buccaneers
are offering to cover potential budget shortfalls
for the Tampa Sports Authority, which runs Raymond James Stadium if the lockout cuts into preseason or regular-season NFL games. That would prevent a sharp rise in parking and food prices at concerts and other events at the stadium. But the team is asking to be reimbursed by the authority over the long term and the issue will be discussed at a Tampa City Council meeting Thursday.
Here's a look at how Georgia's Justin Houston
could fit into Atlanta's draft plans
. Some think Houston is a better fit as a linebacker in a 3-4 defense. The Falcons run a 4-3 defense and likely would look at Houston as a defensive end. Even if he's a "tweener," Houston is worth a look because of his pass-rush skills.
December, 3, 2010
12/03/10
12:00
PM ET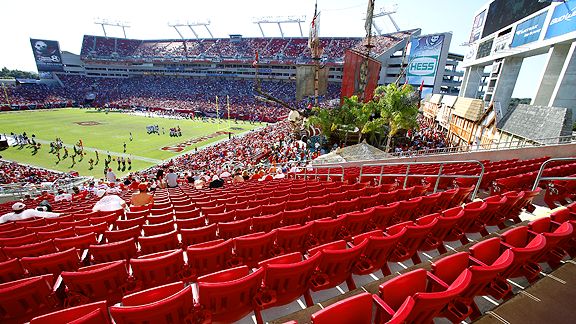 AP Photo/Brian BlancoParts of Raymond James Stadium are expected to be empty when the 9-2 Falcons play the 7-4 Bucs.
TAMPA, Fla. -- Of all the people I know in the Tampa Bay area, a friend I'll call "Dan'' is the biggest sports fan.
Literally -- he's 6-foot-7 and a former college basketball player. And figuratively -- he listens to sports-talk radio all day, reads the NFC South Blog and the rest of the sports internet world and still subscribes to two daily newspapers. He's the only person I know under 50 who still subscribes to two daily newspapers.
He can name the full rosters of every pro sports team in Tampa Bay and every big football and basketball college program in the state of Florida. Heck, Dan even got emotional the other day when the Buccaneers cut
Sabby Piscitelli
.
So, when I talked to Dan the other night, I asked if he was going to Sunday's game between the
Tampa Bay Buccaneers
and
Atlanta Falcons
at Raymond James Stadium. He said no and I asked him why.
"I can't afford it,'' Dan said. "I'll listen to it on the radio.''
Like a lot of people in Florida, Dan lost his job because of an economic downturn that has hit Florida especially hard. He used to make very good money. But, even in those days, he didn't have season tickets and he went to games only on rare occasions.
But what if things were still good? Would Dan buy a ticket for Sunday?
"Nah,'' he said. "Maybe if it were a playoff game.''
Well, guess what? Sunday essentially is a playoff game for the Buccaneers. They're 7-4 and they need a win against the Falcons to have any chance to win the NFC South. They need a win to remain firmly in the playoff picture.
Even without Dan, you'd think the Bucs would have no trouble selling out this game. The game has been "flexed'' to the 4:15 p.m. time slot, the Bucs will be inducting former coach John McKay into the Ring of Honor and will be wearing their creamsicle-color throwback uniforms. The game is being played in one of the league's nicest stadiums.
[+] Enlarge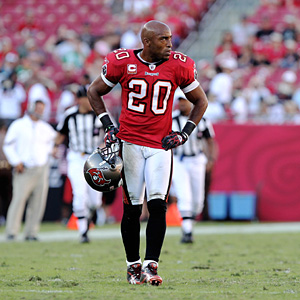 Kim Klement/US PRESSWIREA team official guessed that Ronde Barber and the Buccaneers should expect to see about 45,000 fans at Sunday's game.
But selling out is not going to happen. It's not even going to come close to happening. I talked to a team official the other day and he said the Bucs are guessing they'll be lucky to sell 50,000 tickets and actually get 45,000 to show up at the stadium, which seats more than 65,000.
This is nothing new this year. After selling out every home game since the opening of Raymond James Stadium in 1998, the Bucs haven't sold out a home game this season. That means they haven't had a home game aired on local television this year. At most of their games, they've announced that tickets distributed were somewhere in the 40,000s, and the Tampa Sports Authority, which runs the stadium, usually says the actual turnstile count is somewhere in the upper 30,000s or lower 40,000s.
I understand the economy and have seen lots of other friends besides Dan lose their jobs or take cuts in pay. I understand that Florida is full of transplants from elsewhere who would rather stay home and watch the team from their old hometown on television. I understand Florida's weather is nice and there are a lot of other things to do on a Sunday and some of them are free or inexpensive.
But I can't understand why the Atlanta game isn't selling out or at least coming close to it. Back in the offseason, when the Bucs started sending out subtle messages about the strong possibility of television blackouts, I believed them. But I also thought that if the team played well, all those people who filled the stadium for a decade would come flocking back and the attendance problem would fix itself.
It hasn't, and I'm at a loss to explain it. I understand season tickets cost thousands of dollars and are a luxury for the majority of people in Tampa Bay. But single-game tickets are a different story, and the winning by the Bucs hasn't made much difference in walk-up sales.
That's more than a little surprising, especially for this game. If there's one game this year worth plopping down, let's just say, $50 for, this would have to be it. As I mentioned, it is essentially a playoff game.
The Bucs have done their part. They've put a good product on the field. With quarterback
Josh Freeman
and a group of play-making young receivers, they have the most exciting and entertaining offense in franchise history. Their defense isn't quite up to the old Tony Dungy/Monte Kiffin level, but it has come on strong in recent weeks.
Nobody seems to have noticed. I've got a couple of other theories on all this, but I'm fast running out of them.
First, last year's 3-13 record didn't help. Neither did the release of
Derrick Brooks
and a few other popular veterans following the 2008 season. There was some bitterness about all that, and it's understandable. But we live in a knee-jerk society and you'd think the Bucs' winning football would have erased this by now.
Second, the fans seem to dislike the Glazer family, which owns the team. The perception is that the Glazers are "cheap'' because they haven't signed a lot of free agents and have had one of the league's lowest payrolls the past couple years. There may be a bit of truth to that. But, overall, I think the perception is unfair and inaccurate. The Glazers are businessmen, but they also want to win. They brought Tampa Bay its only Super Bowl title and years of competitive teams. They've got a competitive team right now. Tampa Bay has a large transient population, but there still are enough natives or longtime residents who should remember what things were like back when Hugh Culverhouse ran the team.
Culverhouse operated in a day when there was no salary cap or floor. He always had the league's lowest payrolls and he didn't care if the Bucs won because he was pocketing millions off television contracts. The Glazers might not be the best owners in the league, but they're not the worst. And compared to Culverhouse, they are gems.
Next year the Bucs are not raising season-ticket prices and they're offering fans a 10-month payment plan. Indications from team officials are those sales are going fairly well, but they haven't produced overwhelming results.
But let's stick to this season. Let's say the Bucs knock off Atlanta and go to Washington and beat the Redskins. Then, they come home for a Dec. 19 game with Detroit, which will probably draw about 40,000 people. Let's give the Bucs a win against the Lions too. That puts them at 10-4 heading into a Dec. 26 game with Seattle. The game is scheduled for 1 p.m.
It could have big playoff implications for the Bucs and even the Seahawks in the crazy NFC West. It could get flexed into a better time slot by the league and television networks.
Day after Christmas? Bucs and Seahawks? It'll be a Christmas miracle if more than 40,000 people show up. Let's take it one step further and say the Bucs do get into the playoffs and somehow end up hosting a game.
Do they sell it out?
I doubt it. They can't sell out the Atlanta game, which is pretty much the same thing as a playoff game.
You know that old riddle -- if a tree falls in the forest and no one is around to hear it, does it make a sound? Well, I've never been able to figure that one out or spent a lot of time trying. But I do know one thing for certain: There's a very nice football tree growing on Dale Mabry Highway right now. But, for whatever reason, Tampa Bay doesn't seem to be noticing.
March, 19, 2009
3/19/09
9:17
PM ET
Posted by ESPN.com's Pat Yasinskas
The Mobile Arts and Sports Association (MASA) just sent out a strong statement about recent reports that the Senior Bowl might be moving to Tampa.
The statement comes from Victor H. Lott, the chairman of MASA's board of trustees, and it categorizes the reports of a possible move as a "falsehood."
In short, Lott said MASA and the Senior Bowl organization have not been in contact with anyone representing Tampa. That part may be true, but a report in The Tampa Tribune quoted Mickey Farrell, the interim director of the Tampa Sports Authority, as saying he had talked to representatives of Under Armour, the company that has sponsored the Senior Bowl in recent years, about a possible move.
Lott also said MASA continues to look forward to a contract proposal from the Ladd-Peebles Stadium Board to continue playing the game in Mobile. Lott acknowledges MASA has solicited additional funds from the City of Mobile in the past two years, but said that process started after it was specifically suggested by city officials.
Lott closes the statement by saying MASA "did not start these rumors and [does] not intend to stoop into any finger-pointing contests or smear campaigns."
The Senior Bowl has been played in Mobile since 1951 and has become essentially a scouting convention for NFL coaches and personnel workers.