September, 4, 2010
9/04/10
7:26
PM ET
Click
here
for a full list of Carolina's roster moves.

Biggest surprise:
There really were no surprise cuts, so the real surprise might be who actually did make the roster. The biggest shocker is that undrafted free agent
Andre Neblett
still is on the roster as a defensive tackle. A Temple product, Neblett took the Panthers by surprise and allowed them to cut
Corvey Irvin
and
Tank Tyler
, who went to camp looking like they had shots at roster spots.
No-brainer:
When the Panthers went through their June workouts, and even at the start of training camp,
Hunter Cantwell
was working as the No. 2 quarterback behind
Matt Moore
. A lot of fans read way too much into that and the proof came as Cantwell was cut Saturday. Although the Panthers liked the guy who spent some time on their practice squad last year, Cantwell never really had a chance. With the Panthers taking
Jimmy Clausen
in the second round and
Tony Pike
in the sixth, it was clear Cantwell's days were numbered. Coach John Fox is a creature of habit and Cantwell got some time in the No. 2 role simply because he knew the offense. As soon as Clausen had the playbook memorized, he stepped into the backup role. That left a minor competition between Cantwell and Pike. As the draft pick, the only way Pike was going to lose out was if he had a disastrous preseason. He did not.
What's next:
In the old days, Fox and general manager Marty Hurney usually set their opening roster in stone and didn't touch it unless there were injuries. But these aren't the old days with Carolina deeply into a youth movement. Hurney was active at this time last year, touching up the defensive tackle jobs and he's likely to be active in several areas this year. The Panthers don't feel great about their linebacker depth beyond
Jamar Williams
. Depth at wide receiver also looks to be an area the Panthers might be looking to improve.
August, 5, 2010
8/05/10
2:58
PM ET
ESPN.com NFL Power Ranking (pre-camp): 22
SPARTANBURG, S.C. -- In the kindest of terms, fans and media are referring to the
Carolina Panthers
as a team in a youth movement.
There's some basis for that as they opened camp with the league's third-youngest roster after saying farewell to popular veterans such as
Julius Peppers
,
Jake Delhomme
and
Brad Hoover
.
In the harshest of terms, fans and media have referred to those departures as a "bloodletting'' and are talking about the Panthers as a team without an identity, a team that's not going to be very good.
Now, let's turn to two guys who beg to differ.
"How do you say we're going through a youth movement, when we beat those teams late in the season using the same key components?'' running back
DeAngelo Williams
said. "People can say what they want to say. But we know what it takes to win and we have what it takes to win.''
"The way I look at it is, I like our core guys,'' linebacker
Jon Beason
said. "I think we have a great nucleus. Now we're looking for a few good men, a few young guys who are talented. For those young guys, it's an opportunity to come in and do great things.''
Maybe Beason and Williams have valid points. They're two team leaders with a pretty good feel for the pulse of the locker room. They also have impressive résumés. Williams was one of two Carolina running backs (
Jonathan Stewart
was the other) to run for 1,100 yards last season. Scouts, coaches and players everywhere will tell you Beason is one of the best linebackers in the NFL.
Can you really call the Panthers a team without a face?
That's kind of a difficult statement to make when you look at Carolina's roster and see Beason and Williams. Then, keep looking and you see Stewart, left tackle
Jordan Gross
, center
Ryan Kalil
, right tackle
Jeff Otah
, receiver
Steve Smith
and cornerbacks
Chris Gamble
and
Richard Marshall
. Those are all guys the Panthers view as core players. Look around the league and see how many teams have that many core players in place.
"There are question marks, sure,'' coach John Fox said. "Anytime you have question marks, the expectations on the outside might not be that high. But on the inside, we know we've got some very good core players and those core players are going to have to have big seasons.
THREE HOT ISSUES
[+] Enlarge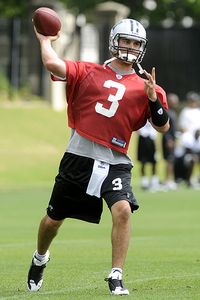 Sam Sharpe/US PresswireThe Panthers' confidence in quarterback Matt Moore appears to be growing.
1. Can this team win with Matt Moore as the quarterback?
Let's cut to the chase. This team already has won with Moore as the quarterback. Moore started the final five games of last season after Delhomme was injured. The Panthers won four of those games and Moore looked sharp the entire time.
Sure, that's not the longest of track records and the Panthers did draft
Jimmy Clausen
in the second round. But this isn't the Carolina camp of 2001, where the Panthers were kind of expecting Jeff Lewis to fail and to hand the job to rookie Chris Weinke.
Williams' point about the youth movement taking place last year might be right. Moore won this job with his play down the stretch and, so far in camp, the team's confidence in him is only growing.
"Matt Moore is a gamer,'' Williams said. "When he mentally locks in, the game comes easy for him. All quarterbacks in the league are pretty much the same. They can all throw the ball or they wouldn't be here. The thing that separates the good ones from the bad ones is decision making. Matt Moore can make decisions. Matt's going to be fine.''
Let's keep one other thing in mind. With an excellent offensive line, two very good running backs and Smith at wide receiver, Moore has a pretty strong supporting cast. He doesn't need to be
Peyton Manning
or
Drew Brees
. He just needs to keep mistakes to a minimum and the job can be his as long as he wants.
2. Can the defensive line be any good?
For much of Fox's tenure, the defensive line has been the foundation of the team. But Peppers was the last in a line of supernovas that used to include
Mike Rucker
,
Kris Jenkins
and
Brentson Buckner
. There are no current stars on this defensive front.
But Fox and the Panthers don't appear to view that as a bad thing. They're not expecting any single guy to come in and replace Peppers. They believe they can get quality out of quantity and are hoping the defensive front can attack in waves. They've got high hopes for
Charles Johnson
and
Everette Brown
, and rookies
Eric Norwood
and
Greg Hardy
have been very impressive in camp. They brought back
Tyler Brayton
for a bit of continuity, but they feel they've got some pass-rushers who can emerge.
They also have a better feeling about defensive tackles
Louis Leonard
,
Tank Tyler
and
Ed Johnson
than a lot of people realize. This might not be the traditional Fox defensive front with a huge run-stuffer in the middle and a big name on the outside. But, keep in mind, the Panthers brought in Ron Meeks as defensive coordinator last year and his system is based more on speed than power up front.
"We were eighth in the league in defense a year ago with a new scheme,'' Fox said. "It's kind of early to tell, but we should be better with our scheme the second time around.''
[+] Enlarge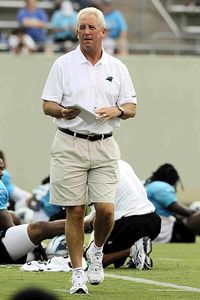 AP Photo/Chuck BurtonJohn Fox owns a 71-57 record in eight seasons with the Panthers.
3. Does all this talk about Fox being in the last year of his contract really make a difference?
Not at all. Fox is a creature of habit and he's going to coach the way he always has coached.
He's a confident guy with a pretty solid résumé. He's not losing sleep because he knows he can get another job if it comes to that. But he wants to make it work in Carolina, a place where his family has set down roots. Keep in mind, Fox never has had a truly bad season. There have been some disappointing years, but the record's always been close to or above .500. He's sometimes stumbled a bit when expectations were high, but he always has done his best job when people weren't counting on much out of the Panthers.
BIGGEST SURPRISE
Greg Hardy. The defensive end was a sixth-round draft pick because his college career didn't end all that well. But the Panthers took a shot because they thought there was uncommon physical talent sitting out there late in the draft. So far, they feel as if they might have hit a home run. Hardy has looked great in camp. Coaches are noticing him and so are other players. There were some questions about Hardy's ability to focus on football at the pro level. But so far, so good on that end. Brayton, Johnson and Brown are competing for the starting jobs, but Hardy appears to be carving out some playing time.
BIGGEST DISAPPOINTMENT
Dwayne Jarrett
. As they've been doing for his entire career, the Panthers are hoping the light suddenly comes on for this wide receiver. He's still running with the first team, but all indications are it's just not happening for Jarrett. There's still some work to be done and polish to be added, but the Panthers are starting to think rookie
Brandon LaFell
is their best option at the starting position opposite Smith. Jarrett basically is fighting for a roster spot at this point. The fact he's still making mental mistakes this far into his career means there's a good chance he's gone before the preseason is over.
[+] Enlarge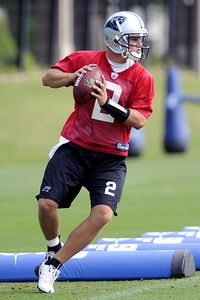 Sam Sharpe/US PresswireCarolina has been pleased with how Jimmy Clausen has looked in the early part of camp.
OBSERVATION DECK
As mentioned above, the Panthers are singing Moore's praises and that's all very legitimate. But behind the scenes, the Panthers also are thrilled with what they've seen from Clausen. His physical skills and mechanics are as solid as expected and Clausen's doing everything right on and off the field. There's not a sense of urgency to play him because Moore has looked so solid. But the Panthers believe they got a steal when they took Clausen in the second round.

There's been a lot of hype about third-round draft pick Armanti Edwards. Understandable because he was a college quarterback and came from Appalachian State, which automatically makes him popular in the Carolinas. The Panthers aren't disappointed with Edwards by any means, but the reality is he's just feeling his way as a receiver and a return man. Don't look for him to be a huge contributor instantly. There's big upside here because Edwards is so dynamic and he might be in a few packages early on. But it's going to take some time for him to become a staple in this offense.

The Panthers let go of Keydrick Vincent, who played every snap at right guard last season, for a reason. He was older and they had Duke Robinson waiting in the wings. Coaches, players and the front office believe Robinson can be a punishing run-blocker. Put him on the right side with Otah and the Panthers believe that side of the line can be just as good as the left, where Gross and Travelle Wharton are outstanding.

If you're looking for a long shot to make the roster, I'll throw out Trent Guy's name. This is a tiny wide receiver, but every time I looked up during my visit to Wofford College, Guy seemed to be making a play. He's got rare speed and good hands, and also could be a factor in the return game.

Thomas Davis, who had major knee surgery in June, has been hanging around at camp and working hard at his rehab. The Panthers haven't ruled out a possible return for him later this season, but I don't see that happening for a guy who has torn his ACL twice in less than a year. The Panthers wouldn't have moved Beason from the middle to the weak side unless they thought he'd stay there for the long haul. At the moment, they're happy with what they've seen from Dan Connor in the middle and James Anderson on the strong side. That better stay that way because, aside from Jamar Williams, there's no real depth at linebacker.

A lot of people have questioned why the Panthers would take Beason out of the middle where he's been such a dominant player. The answer is simple. Under Meeks, the Panthers run the "Tampa 2'' defense. In that scheme, everything goes through the Will linebacker. Think Derrick Brooks.
June, 30, 2010
6/30/10
12:00
PM ET
By
Scouts Inc.'s Matt Williamson
| ESPN.com
»
NFC South Weaknesses
:
Falcons (6/29)
|
Panthers (6/30)
|
Saints (7/1)
| Bucs (7/2)
Steve Smith
broke his arm and outside of him, this team has had very little in terms of receiving options of late. Without him, the Panthers will be among the weakest teams in this regard in the NFL -- even with a few rookie pass-catchers added to the equation. It seems as though there is a good chance Smith will be ready for the opener, but even if he is unable to go, the Panthers have a bigger weakness than their pass-catchers.
Even the most casual of fans realize Carolina lost
Julius Peppers
during free agency, but there is some young talent there in
Charles Johnson
and
Everette Brown
. At defensive tackle,
Damione Lewis
and
Maake Kemoeatu
are gone, and what remains is frankly very disturbing.
[+] Enlarge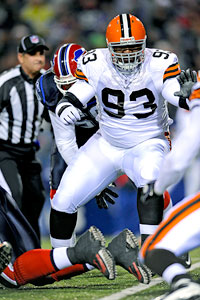 Ed Wolfstein/Icon SMIThe Panthers traded for Louis Leonard last September, but he played in only two games before breaking his ankle.
As of today, the foursome that should expect to see playing time at tackle consists of
Nick Hayden
,
Louis Leonard
,
Tank Tyler
and
Corvey Irvin
. And maybe
Ed Johnson
or
Derek Landri
will factor in. Seriously? Let me just go on record to say that this is the worst group of defensive tackles in the league, and I am not even sure that dubious competition is close.
I understand you can sometimes get away with tough guys who play hard and hold their ground at this position to help free up those around them, and I understand that several of these guys battled injury last season, but there isn't a playmaker in this bunch, nor is there a guy who commands a double-team in the run game. Compounding matters for the long term, there isn't a young pup in the group who has yet to develop and is dripping with upside. I really don't see a lot of hope here.
The Panthers' run defense wasn't very good last season. With this group of defensive tackles and now the loss of LB
Thomas Davis
(knee injury), expect it to be even worse in 2010. If the defense can't get off the field, it will certainly make playing a ball-control, run-first style on offense all the more difficult.
March, 19, 2010
3/19/10
12:35
PM ET
Time for the Friday edition of the NFC South mailbag.
James in Austin, Texas, writes:
Do you think by the Bucs signing
Sean Jones
, he is just a 'safety' net because both
Tanard Jackson
and
Jermaine Phillips
didn't play the full length of the season? Does it mean they are not going to draft Eric Berry? Instead they could draft Jason Pierre-Paul who would be crucial in the Tampa 2.
Pat Yasinskas:
I think the best way to summarize the Sean Jones signing is that he gives them flexibility at safety and in the draft. I don't think you can rule out the possibility of them taking Berry at No. 3 if the two defensive tackles are not available. But I think the arrival of Jones means the Bucs don't have to absolutely draft a safety early.
---
Dave in Valdosta, Ga., writes:
Any chance on the Bucs looking at T.O. for their receiver? It seems he did a really good job for the Bills. He seemed to be a team player. This way the Bucs could draft a good WR but not have to throw to him in on every play. I know the Bucs are trying to get younger but sign him to a 1-year contract. What do you think?
Pat Yasinskas:
I just don't think
Terrell Owens
fits the plan in Tampa Bay. Sure, he's a talented receiver, but he's older. Also, it's all about
Josh Freeman
in Tampa Bay. Yes, Owens can help a quarterback, but he also has the ability to ruin a quarterback. I think the downside is too much here.
---
Neil in Jackson, Miss., writes:
You mentioned that the Saints don't have to lose a free agent to sign
Justin Fargas
because he was released by the Raiders. But couldn't we sign him anyways because of the
Scott Fujita
signing? Surely we aren't planning to pay Justin Fargas more than we were willing to pay Scott Fujita.
Pat Yasinskas:
The Saints could sign Fargas and it would have nothing to do with them losing Fujita. As part of the final eight, the Saints can only sign an unrestricted free agent when they lose one. Yes, they have lost Fujita and that clears the way for them to sign a free agent at a similar price. But Fargas is not a true unrestricted free agent because he was released by the Raiders. There are no limitations on the Saints signing players released by other teams.
---
Mario in Panama writes:
I put a lot of importance on a position people don't: fullback. In my view,
Heath Evans
was on its way to a Pro Bowl season when he went down, and Saints overall offensive production incidentally went down, after that. What do you think about it and how is his recovery going?
Pat Yasinskas:
Agree totally. Thought Evans was a great addition to the Saints and there was a visible drop-off in the offense in the first few games after he got hurt. Everything I've heard is that he's on track for a full recovery.
---
Ned in parts unknown writes:
Since the Falcons don't have a second round pick, do you think packaging
John Abraham
and
Jamaal Anderson
into a deal for a team's second-round pick would pay off for the falcons?
Pat Yasinskas:
If some team were willing to make that deal, I'm sure the Falcons would jump on it. Fact is, Abraham and Anderson aren't going to get you a second-round pick. They simply don't have that kind of value. Abraham is old and Anderson never has played up to his potential.
---
Al in Washington, D.C., writes:
I'm intrigued by your take on the Panthers' DTs. I feel good about a starting rotation of
Louis Leonard
,
Tank Tyler
, and
Ed Johnson
.
Corvey Irvin
is a project with a lot of upside, which would give us 4 guys. Ron Meeks likes to move DTs inside anyway, and
Tyler Brayton
and
Charles Johnson
can handle that. Granted, I wouldn't like to see
Nick Hayden
and
Derek Landri
pressed into significant service at this point, but I won't be upset if this is our opening day roster. Am I putting too much faith in those first three, or undervaluing experienced depth?
Pat Yasinskas:
In my opinion, Leonard, Tyler and Johnson aren't guys I'd want to count on as the definitive starters. Yes, they have some good qualities. But the John Fox defense always has been built around the defensive line. Right now, the Panthers have "just guys'' at defensive tackle. I think they need to add one quality defensive tackle.
---
Randy in Hampton, Va., writes:
I know the Falcons organization is turning itself around and looking for quality "good" character guys. Do you think that the Falcons would release
Jonathan Babineaux
given his off-field trouble, or is it safe to say that with the D-line being so bad they wouldn't?
Pat Yasinskas:
I don't think Babineaux is going anywhere. He is the best defensive lineman the Falcons have. Yes, he had some trouble off the field last year. But I think that has been dealt with and Babineaux has been told that can't happen again.
March, 5, 2010
3/05/10
12:42
PM ET
There have been a lot of reports out there in recent days about restricted free agents and the tenders they received. Most of the reports were accurate, but a few were not. For clarity's sake, I thought I would share with you the NFC South portion of the official list of restricted free agents and tenders sent out by the NFL this morning. ROFR stands for right of first refusal.

Atlanta
Carolina
New Orleans
Tampa Bay

March, 4, 2010
3/04/10
10:27
AM ET

Atlanta Falcons
Potential unrestricted free agents:
CB
Brian Williams
, WR
Marty Booker
, QB
Chris Redman
.
Potential restricted free agents:
RB
Jason Snelling
, RB
Jerious Norwood
, P
Michael Koenen
, CB
Brent Grimes
, OL
Quinn Ojinnaka
, T
Tyson Clabo
, G
Harvey Dahl
.
Franchise player:
None.
What to expect:
General manager Thomas Dimitroff repeatedly has used the phrase "fiscally responsible'' when talking about the approach to free agency. In other words, the Falcons aren't going to go on some wild spending spree. This organization prefers to build through the draft. But history has shown the Falcons aren't afraid to make a strategic strike or two in free agency. They have a huge need at defensive end and that's a tough spot to get guaranteed production from when you've got the No. 19 overall pick in the draft. The Falcons aren't likely to target elite free-agent DE
Julius Peppers
, but you could see them make a move for another pass-rusher.

Carolina Panthers
Potential unrestricted free agents:
DE Julius Peppers, WR
Muhsin Muhammad
, QB
Josh McCown
, QB
A.J. Feeley
.
Potential restricted free agents:
LB
Thomas Davis
, QB
Matt Moore
, TE
Jeff King
, CB
Richard Marshall
, DT
Louis Leonard
, LB
James Anderson
, DT
Tank Tyler
, CB
C.J. Wilson
.
Franchise player:
None.
What to expect:
Owner Jerry Richardson is very concerned about the uncertain labor situation and that may keep him from spending big money in free agency. The Panthers avoided a $20 million hit by not placing the franchise tag on Peppers, but that doesn't mean all of that money is going to be used in free agency. The Panthers traditionally are a team that builds through the draft and they didn't sign a single UFA last year. But look for at least a few smaller moves because coach John Fox has to win this year and needs to improve this roster, especially on the defensive line, at wide receiver and perhaps at quarterback.

New Orleans Saints
Potential unrestricted free agents:
QB
Mark Brunell
, S
Darren Sharper
, TE
Dan Campbell
, TE
Darnell Dinkins
, DT
Kendrick Clancy
, LB
Scott Fujita
, S
Pierson Prioleau
, LS
Jason Kyle
.
Potential restricted free agents:
G
Jahri Evans
, RB
Mike Bell
, RB
Pierre Thomas
, WR
Lance Moore
, TE
David Thomas
, T
Jermon Bushrod
, S
Roman Harper
, S
Usama Young
, DT
Remi Ayodele
, DT
Anthony Hargrove
, T
Zach Strief
, S
Chris Reis
, WR
Courtney Roby
, LB
Marvin Mitchell
.
Franchise player:
None
What to expect:
As a final-four team the Saints aren't allowed to sign any unrestricted free agents unless they lose one of their own at a similar price tag. That's likely to keep the Saints from being big players in free agency. But the good news is they don't have a lot of dramatic needs. They will have to keep a protective eye on some of their restricted free agents, who may draw interest from other teams.

Tampa Bay Buccaneers
Potential unrestricted free agents:
WR
Antonio Bryant
, DE
Jimmy Wilkerson
, S
Will Allen
, LB
Angelo Crowell
, S
Jermaine Phillips
.
Potential restricted free agents:
RB
Cadillac Williams
, LB
Barrett Ruud
, T
Donald Penn
, WR
Maurice Stovall
, T
Jeremy Trueblood
.
Franchise player:
None.
What to expect:
The Bucs haven't spent a lot of money in free agency in recent years and they've been sending out signals this year won't be much different. They're focused on the 10 draft picks they hold. But the Bucs could pull a small surprise or two. They've got a restless fan base and more needs than those draft picks can handle. A couple of signings in free agency could energize the fan base and help the rebuilding process. The Bucs really need a No. 1 wide receiver and they're not truly positioned to get that in the draft.
October, 19, 2009
10/19/09
9:40
PM ET
Posted by ESPN.com's Pat Yasinskas
The
Carolina Panthers
, a team usually very hesitant to make trades, has made one. It's a desperation effort to solidify the middle of their patchwork defensive line and, by extension, help the rest of a struggling defense.
Carolina's deal with Kansas City for defensive tackle
Tank Tyler
, comes before tomorrow's trading deadline. Tyler, a North Carolina State product, was in his third season with the Chiefs. Not known as a pass-rusher (Tyler doesn't have a career sack), he has played the run well. The Panthers parted with a fifth-round draft pick in 2010 to get Tyler.
He had 41 tackles while starting all 16 games last season and has 22 tackles so far this season.
The Panthers have struggled to find a decent replacement since
Maake Kemoeatu
went down with a season-ending injury on the first day of training camp. They've gone through other injuries at the position and tried several candidates that haven't worked out.
Nick Hayden
has been starting in Kemoeatu's place next to
Damione Lewis
. It's likely Tyler will step right in as no worse than the third member of the rotation and could challenge for a starting job before long. The Panthers also have recently added veteran
Hollis Thomas
, another run-stuffer.