May, 7, 2014
May 7
11:42
AM ET
It's possible the
Tampa Bay Buccaneers
could take an offensive lineman with their first-round draft pick. So let's take a look at the top three linemen in the draft.
You can make a numerical case that Michigan's
Taylor Lewan
is the draft's best pass blocker. The Wolverines had 371 pass plays last year and Lewan allowed just two sacks, according to STATS. Lewan also allowed 10 pressures.
Auburn's
Greg Robinson
allowed four sacks and eight pressures on 273 pass plays. Texas A&M's
Jake Matthews
allowed six sacks and 21 pressures. But it's important to note the Aggies passed on 52.7 percent (473) of their offensive plays.
I don't think there's much difference among Robinson, Matthews and Lewan, and the Bucs would be happy if they end up with any of the three. The Bucs could use the rookie at guard to start off with. Or they could move left tackle
Anthony Collins
to guard and start a rookie on the outside.
It's hard to find statistics on offensive linemen. But, thanks to STATS, we've got some.
May, 6, 2014
May 6
8:00
AM ET
The NFL Nation mock draft starts at 1 p.m. ET on Tuesday and I'll be picking for the
Tampa Bay Buccaneers
.
Much is going to depend on what happens with the six picks ahead of me, but I'm confident one of the scenarios listed below will play out.
If quarterback
Johnny Manziel
is there, I'm taking him. The Bucs need a quarterback for the long term and
Josh McCown
is only a short-term answer. Manziel might be a franchise quarterback and Johnny Football would create some excitement for a fan base that needs something to get excited about.
If Manziel is gone before Tampa Bay's pick, I probably will go with his college teammate, wide receiver
Mike Evans
. The Bucs have a glaring need opposite
Vincent Jackson
. I'd prefer
Sammy Watkins
because he's more of a speed receiver than Evans, but it's likely Watkins will be gone. Evans is a clone of Jackson in a lot of ways. That's not a bad thing. Jackson already is over 30 and Evans eventually can replace him as the No. 1 receiver.
What if Manziel and Evans both are gone? I've got a plan for that. I'd take an offensive lineman.
Greg Robinson
,
Jake Matthews
and
Taylor Lewan
-- in that order -- would be my fallback options. They're all tackles, but the Bucs' big need is at guard. Maybe a rookie could slide inside or maybe
Anthony Collins
, who has played some guard in the past, can make the move from left tackles.
Please join us for the mock draft.
April, 30, 2014
Apr 30
1:02
PM ET
Virtually every mock draft I've seen recently has the
Tampa Bay Buccaneers
taking either a wide receiver or a quarterback.
Texas A&M's
Mike Evans
is the popular pick among receivers, and his college teammate, quarterback
Johnny Manziel
, has been frequently tied to the Bucs.
Matthews

Lewan
But let's turn hypothetical here. Let's say that Evans and Manziel are drafted before Tampa Bay picks at No. 7. Or let's say the hidden reality is that the Bucs don't like Evans or Manziel as much as everyone seems to think.
Is there a Plan B in place?
Coach Lovie Smith and general manager Jason Licht are bright guys, and you can bet they have contingency plans ready. Licht has made it abundantly clear that the Bucs would be
willing to trade down
, which I think is a real possibility.
But let's stick with our hypothetical here and say the Bucs stay at No. 7 and either can't or don't want to draft Manziel or Evans. What direction does Tampa Bay go in that scenario?
This is just a hunch, but I wouldn't rule out the offensive line. Yeah, the Bucs spent good money to get left tackle
Anthony Collins
and center
Evan Dietrich-Smith
. But there still is uncertainty on the offensive line.
The job at right guard is wide open, and it's unclear if guard
Carl Nicks
can fully recover from a toe injury. Nicks has said there is nerve damage and he might have to play in pain for the rest of his career.
That is why I'm thinking there is a real chance the Bucs select an offensive lineman at No. 7. There aren't any true guards worthy of that pick. But there are three tackles that could be available, and none of them would be a bad choice.
Greg Robinson
,
Jake Matthews
and
Taylor Lewan
all could be available when Tampa Bay picks. The consensus is that Robinson is slightly ahead of Matthews and Lewan, but some mocks have all three going in the top 10 picks.
I can see the Bucs taking any one of the three. They could plug that player in at guard for the short term and eventually move him to tackle. That would give Tampa Bay's offensive line a big boost and firm up one of the few glaring weaknesses.
It's just a thought, but going with an offensive lineman might not be a bad option for the Bucs.
April, 30, 2014
Apr 30
8:00
AM ET
Let's say
Carolina Panthers
general manager Dave Gettleman is right and there are only a combined nine or 10 offensive tackles and wide receivers worthy of going in the first round of the upcoming NFL draft.
Now let's say there are about 12 (at least by my count) teams interested in drafting a player at one of those positions ahead of Carolina at No. 28. And one or two teams without a primary need at those spots might go there because the player is too good to pass up among the top five.
Do the math.
[+] Enlarge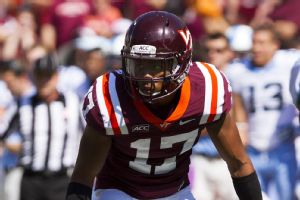 Lee Coleman/Icon SMIDon't be surprised if the Panthers draft a defender like Virginia Tech cornerback Kyle Fuller rather than reach to fill a need on offense.
There is a very good chance a first-round worthy wide receiver or tackle -- both great needs for the reigning NFC South champion -- won't be around when Carolina picks.
This is why Gettleman isn't married to a position with his first pick. This is why the man who introduced us to "hog mollies" a year ago when he drafted defensive tackles in the first two rounds, introduced us on Tuesday to the term "blue goose" when referring to pass-rushers and defensive tackles with a talent as rare as the bird.
Gettleman didn't spend the past few months sending his scouts all over the country looking at players and racking up frequent flier points just so he could select in the first round a player the staff rated as a second- or third-rounder.
So when he says he'll take the best player available, bank on it.
To reach for a player at a position just because you have a need to fill, Gettleman reminded over and over, "more often than not you're going to make a mistake." General managers that make mistakes, particularly with first-round picks, often lose their jobs.
What we don't know is how many of those nine to 10 players Gettleman has at tackle or wide receiver. Does he have six wide receivers and four tackles, or five of each?
What if it's really a combined nine and not 10?
For the sake of argument, let's go on the conservative side and say five wide receivers and four tackles. Based on what most of the so-called draft experts project, the surefire first-rounders at wide receiver would be:
Sammy Watkins
, Clemson;
Mike Evans
, Texas A&M;
Odell Beckham Jr.
, LSU;
Marqise Lee
, Southern Cal; and
Brandin Cooks
, Oregon State.
The surefire offensive tackles would be:
Greg Robinson
, Auburn;
Jake Matthews
, Texas A&M;
Taylor Lewan
, Michigan; and
Zack Martin
, Notre Dame.
And many project Martin as a guard.
If you want to stretch it to five each, add Alabama tackle
Cyrus Kouandjio
, whose stock has been downgraded by many because of medical reports on his knees.
Now let's look at the competition. Among the teams that appear to be looking at wide receiver: Pittsburgh, New Orleans, New York Jets, San Francisco, St. Louis, Tampa Bay, Jacksonville and Philadelphia. Those interested in tackle help: Baltimore, Kansas City, Miami, New Orleans and Cincinnati.
There is overlap here as you can see.
But if each of those teams goes for a tackle or receiver, where do the Panthers turn? They could get a top cornerback. Gettleman said he wouldn't be "sad" to see one of those fall to him.
Among the possibilities could be
Kyle Fuller
of Virginia Tech or
Jason Verrett
of Texas Christian.
Missouri defensive end
Kony Ealy
could be there if Carolina decides to go with a "blue goose" defensive end. There is no guarantee the Panthers sign
Greg Hardy
to a long-term deal, and
Charles Johnson
is going into his eighth season. Johnson also had knee issues last season.
You never can have too many great pass-rushers.
Or what if there is a top defensive tackle on the board such as Notre Dame's
Louis Nix III
? Or Minnesota's
Ra'Shede Hageman
?
Dwan Edwards
and
Colin Cole
both are getting up there in age and have deals that expire after this season.
"If there's a great player there [defensive tackle] were going to take him," Gettleman said. "Everybody's got a philosophy of how they're going to construct their team, and you guys have figured out that we believe in defense."
They also believe in taking the best player available in the draft, and this one will be no different, no matter how great the needs are at tackle and wide receiver.
Bank on it.
April, 2, 2014
Apr 2
12:00
PM ET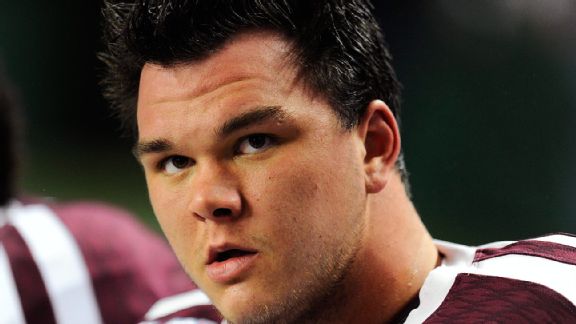 Dale Zanine/USA TODAY SportsDraft prospect Jake Matthews of Texas A&M has experience at both left and right tackle.
In February, it seemed logical to raise the possibility of the
Atlanta Falcons
trading up to draft South Carolina defensive end
Jadeveon Clowney
.
But opinions can be altered. Such is the case for me in this particular scenario.
As of today, a little more than a month away from the NFL draft, the Falcons still need to add a game-changing pass-rusher. Yet shoring up the offensive line has to be the primary emphasis going into the draft.
True, the Falcons took a positive step by adding a stout pass protector in offensive guard
Jon Asamoah
. However, one single player can't make up for how atrocious Atlanta's line was in 2013.
If the Falcons stand pat with the sixth overall pick, they would be smart to target one of the top three offensive tackles: Auburn's
Greg Robinson
, Texas A&M's
Jake Matthews
or Michigan's
Taylor Lewan
. I'd even be somewhat tempted to trade up for Robinson, considering his tremendous upside.
Solidifying the line will be critical for the Falcons' worst-to-first aspirations in the NFC South, following last year's 4-12 implosion.
Matt Ryan
looked far from a $100 million quarterback because he was under extreme duress more often than not, and Atlanta couldn't rely on the line to clear holes in the run game to establish offensive balance.
The Falcons certainly believe Ryan would be among the league's best if given the time to throw. Former NFL executive Bill Polian, now an analyst for ESPN, told me he thinks Ryan is a Super Bowl win away from being labeled elite. But Ryan won't even lead his team to the playoffs playing behind the same tackles from last season.
In all fairness to left tackle
Sam Baker
, his sudden decline was primarily attributed to a lingering knee issue he had surgically repaired. Now the question is whether or not he'll regain the form he displayed during the 2012 season, when he played more like a first-round pick.
As for
Lamar Holmes
, it's hard to imagine the Falcons still sticking with him and touting him as a player with Pro Bowl potential, as they did last season. He could be a decent backup if he keeps working on his game and remains in shape.
General manager Thomas Dimitroff and head coach Mike Smith talked about this draft being deep at offensive tackle. But the Falcons can't gamble on a later pick stepping in and contributing immediately to a team that should be in win-now mode, not the rebuilding phase.
Matthews seems like the most NFL-ready of the draft trio mentioned above. He certainly has the bloodlines, being the son of Hall of Famer Bruce Matthews.
Folks wonder how Robinson will transition into pass protecting at the next level after coming from an Auburn program built around the run. Anyone who has stood next to the mammoth Robinson in a room would say he should have no problem keeping defenders off a quarterback.
Then there's Lewan, a guy with the kind of mean streak the Falcons are looking for up front. But is he too nasty, as his recent misdemeanor assault charges might suggest? Honestly, that shouldn't affect his draft status. Lewan reportedly worked out for the Falcons this week, according to NFL.com senior analyst and long-time NFL executive Gil Brandt
When I look at the Falcons going into 2014, I see a team that won't have it easy against a strong group of pass-rushers in the NFC South. I see a menacing duo in Carolina with
Greg Hardy
and
Charles Johnson
. I see a dangerous tandem in Tampa with
Michael Johnson
off the edge and
Gerald McCoy
through the middle. And I see pressure coming from every which direction in Rob Ryan's scheme down in New Orleans.
Eighteen of Matt Ryan's career-high 44 sacks last season came at the hands of the Panthers and Saints. Pressure contributed to Ryan throwing a career-high 17 interceptions, though he also attempted a career-high 651 passes.
No matter if the Falcons stick with a pass-happy offense or move toward a more grounded attack, they need to find a balance along the offensive line. Adding a tough line coach, Mike Tice, should have a tremendous impact, but Tice needs more talent to shape and mold.
The argument for the Falcons to draft a pass-rusher in the first round is understandable, particularly when you recall how the Falcons made Jets rookie quarterback
Geno Smith
look like an All-Pro last season. I'm confident defensive coordinator Mike Nolan will make do, even without
Khalil Mack
or Clowney.
But Ryan won't make it through the season without better protection. That's why the Falcons need to tackle the issue with their first draft pick.
March, 13, 2014
Mar 13
2:00
PM ET
ESPN draft analyst Mel Kiper Jr. went exactly in the direction I expect the
Atlanta Falcons
to go in the first round of this year's NFL draft: offensive tackle.

Kiper has the Falcons taking Texas A&M offensive tackle
Jake Matthews
with the sixth overall pick in his latest mock draft. He has Matthews as the second offensive tackle to be drafted, following Auburn's
Greg Robinson
at No. 2 to the Rams.
The Falcons are destined to take a close look at Matthews, Robinson and Michigan's
Taylor Lewan
as they try to fix the line going into the 2014 season. A lot of folks would say a pass-rusher is a more pressing need after the Falcons decided to add nose tackle
Paul Soliai
and run-stuffing defensive end
Tyson Jackson
via free agency. True, adding a pass-rusher is a great need, but maybe the Falcons can gamble on getting one in the second round. The trading-down scenario always is in play, too.
Among the top three tackles, Robinson would be the best fit for the Falcons in terms of bringing that gritty nature the Falcons need up front. But Matthews could be the most NFL-ready of the three.
While Matthews could be a safe pick, he might underwhelm. One scout I talked to said Matthews was "a little overrated" and would lean toward Lewan between the two. Kiper even mentioned on a conference call Thursday how Matthews sometimes gets in trouble facing quick defenders. At the same time, Kiper praised Matthews, Robinson and Lewan as a trio.
"Right now, I would have Robinson as having the most upside," Kiper said. "He's a tremendously gifted player. He's got some work to do in pass protection. Obviously, he came out of a run-oriented attack. But he's an incredibly gifted football player. That's why he's going to go in the top 2-6.
"I think you look at Jake Matthews, the bloodlines [Hall of Famer Bruce Matthews' son], the fact that he plays right tackle so effectively. He played left tackle very well. Now, he had some trouble with the quick guys, the explosive guys in a couple games when you watch him. But he's a guy who's going to be solid, consistent, and reliable. ... Taylor Lewan had a really good year. I think people were critical of Lewan based on the line play at Michigan. But if they watched the games -- which some people were making comments about Lewan that were inaccurate -- he played well. ... I think he's deserving of being in the top seven. Probably won't go that high just because we get into needs again."
The bottom line is, the Falcons need to protect
Matt Ryan
. Matthews might not be my first choice, but he certainly would be a tremendous upgrade.