November, 21, 2013
Nov 21
10:00
AM ET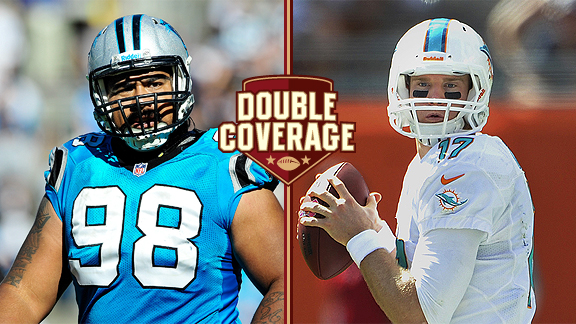 Getty ImagesStar Lotulelei and the Panthers' front four will bring pressure on Dolphins quarterback Ryan Tannehill.
Two teams battling for playoff positioning will face off Sunday when the
Carolina Panthers
travel to play the
Miami Dolphins
.
Carolina (7-3) is one of the hottest teams in the NFL behind a stout defense and improved play from quarterback and MVP candidate
Cam Newton
. The Dolphins (5-5) have fought through off-the-field distractions to win two of their past three games and are just a tiebreaker behind the
New York Jets
for the final wild-card spot in the AFC.
Who will prevail? ESPN Panthers reporter David Newton and Dolphins reporter James Walker weigh in.
James Walker:
This looks like a game of matchups. One that looks concerning from Miami's perspective is Carolina's aggressive, physical defense against the Dolphins' inconsistent offense. The Dolphins are still searching for an offensive identity 10 games into their season. There is nothing they do particularly well on that side of the football: Miami is ranked 20th in passing and 24th in rushing. In fact, the Dolphins haven't scored more than 27 points in a game all season.
Is Carolina's defense as good as advertised? What kind of challenge can Miami's offense expect?
David Newton:
It's hard to argue the numbers Carolina's defense has put up, particularly against the run, allowing just 84.5 yards per game. The front seven is as good as there is at making a game one-dimensional and forcing teams to pass; the defensive line can apply pressure on the quarterback, which allows seven, and sometimes eight, to drop back into coverage. It's really an unselfish group that is working as well together as any unit I've seen this season. The return of defensive tackle
Dwan Edwards
from a hamstring injury three weeks ago has added a more consistent third-down inside pass rush and made this unit even stronger. The defense that helped the 2003 Panthers get to the Super Bowl was good, but I believe this one is better.
The Dolphins bounced back from the loss to the
Tampa Bay Buccaneers
with a solid effort at San Diego. Has this team put the off-the-field issues behind it completely?
Walker:
I wouldn't say completely, because the investigation is ongoing. I don't see an end to the
Richie Incognito
-
Jonathan Martin
saga for at least several more weeks, if not longer. The NFL spent a lot of time at the Dolphins' training facility this week to try to get to the bottom of things, and the NFLPA will reportedly do its own investigation soon.
I thought Miami handled this situation better against San Diego, and it showed in the Dolphins' preparation. Miami put together a focused effort to pick up a big win. I think the team was a bit shell-shocked by the circumstances and the amount of media scrutiny leading up to the Tampa Bay game when everything first came out. It's really going to be a week-to-week scenario with the Dolphins as this investigation unfolds.
Carolina is coming off a short week of preparation after winning a thriller against the
New England Patriots
on "Monday Night Football." Is this a concern, especially going on the road, where the Panthers are 3-2?
Newton:
The short week shouldn't be a problem. They had a Thursday night game a few weeks ago at Tampa and played well for having only a few days of preparation. The coaching staff has really gotten into a groove with knowing when to go hard and when to back off in practice. From a defensive standpoint, because they don't rely on a lot of fancy formations with the front four so solid, it really just comes down to tweaking things for individual matchups.
The biggest issue might be from wear and tear. They played three games in a span of 12 days a few weeks ago, and they're coming off consecutive games against San Francisco and New England, elite teams that really get after you.
Speaking of physical teams, what problems will Miami's defense cause Newton and the Carolina offense?
Walker:
Miami's defense has been an enigma. There is talent and depth, especially in the front seven, but the defense hasn't lived up to its potential. The Dolphins' best chance to rattle Newton is to stop Carolina's running game and make the Panthers one-dimensional. That's a tall order. I thought Miami's defense had the talent on paper to be top 10 against the run, but that's far from the case. The Dolphins are 25th against the run.
But in games when the Dolphins have earned a second-half lead, their pass rush has been able to cause problems. Pro Bowl defensive end
Cameron Wake
is healthy again and back to his old self; he has four sacks in his past three games and 6.5 overall. Fellow defensive end
Olivier Vernon
(5.5 sacks) has been a pleasant surprise. The Dolphins have four players with three sacks or more this season. They have the ability to pin their ears back and get to the quarterback. But the Dolphins haven't had enough leads late in games.
David, one area in which Carolina has struggled is its 28th-ranked passing offense. How can the Panthers improve?
Newton:
Carolina's ranking is a bit misleading. The key number is Newton's efficiency. He's completing a much higher percentage of passes -- 63.2 -- than in his previous two seasons. He's also throwing more short passes as the offense goes with more ball control. He's more or less taking what defenses are giving him better than he has before. Because the Panthers are so balanced in rushing and passing, Newton's passing yards are down. But they have deep threats when they need them in
Steve Smith
and
Ted Ginn
. They just haven't needed them because, for most of the past two months, they've been getting big leads and running more.
James, my last question to you is, do you believe the Dolphins are a playoff team?
Walker:
The Dolphins feel confident because they are still in the hunt. They are just a tiebreaker behind the Jets, and the teams still have two games against one another. But I haven't seen any consistency from Miami since its 3-0 start. Since then, the Dolphins have gone 2-5, so there isn't much reason to believe they can go 5-1 or 4-2 down the stretch to get into the playoffs. Miami has a huge three-week stretch ahead, with Carolina and games at the Jets and at Pittsburgh. All of these games are going to be tough.
April, 14, 2010
4/14/10
4:47
PM ET
Good news for Atlanta fans. You're going to get almost a double dose of a Falcons' mailbag. Your responses to the item from a few days back about Atlanta's struggles in play-action passing were so strong and diverse that I'm going to do a separate post to highlight some of your replies. I'll do that one either tonight or Thursday.
But, first, here's the Atlanta stop on our tour of team-by-team mailbags.
Jeff in Atlanta writes:
I was just looking at the insider article about what round defensive players should be taken. I see they have
Brandon Graham
slated as an outside linebacker. Does this mean the "experts" don't think he would be as productive in a 4-3 DE position as he would in a 3-4 as an OLB?
Pat Yasinskas:
I don't break down film like Mel Kiper and Todd McShay. But the word I've heard on Graham is that he could fit in either system. Obviously, the Falcons run a 4-3 defense and I see Graham as a very real possibility with their first-round pick. The thing I like best about Graham is that he produced at a pretty high level throughout almost his entire career and he did it against some strong competition. He might not have the upside of some of the other defensive ends in this draft, but I think the bust factor is pretty low with this guy.
---
Ned in Canada writes:
Reports are Ted Ginn is on the block, I believe Atlanta should send a 4th or 5th round pick for him. It's not a big risk if he flops as a WR you still get an elite return specialist, and if he does well as a WR he would solidify their WR core. What do you think?
Pat Yasinskas:
Rarely do you ever rule anything out and I'm not going to rule this one out because the Falcons could use some depth at wide receiver. That said, I think it's a long shot because the Falcons firmly believe in building through the draft and don't like to part with their picks. Receiver is not an area of desperation. They've got
Roddy White
as their No. 1 guy and
Michael Jenkins
as their No. 2. I know a lot of people don't think that highly of Jenkins. But I will say this, he fills the role the Falcons want at that spot. With White and tight end
Tony Gonzalez
, they're not looking for a No. 2 receiver to produce 80 catches. They want someone who can block and catch the ball in traffic. Jenkins does those things. They also have high hopes for
Harry Douglas
as he returns from an injury and
Brian Finneran
is a dependable veteran backup.
---
Jeff in Charleston, S.C., writes:
Have you heard any whispers that the Falcons are looking to make a trade offer for Vikings DE
Ray Edwards
(RFA)? I don't believe Edwards has signed his tender yet and he has until Thursday if I'm not mistaken, correct?
Pat Yasinskas:
Nope, haven't heard anything on that one at all. Deadline to make offers to restricted free agents is Thursday.
---
Adam in Atlanta writes:
Something hit me this morning about the draft. What do you think about the Falcons taking
Taylor Mays
to play outside linebacker at 19? Kind of like the Panthers did with
Thomas Davis
. He's definitely fast enough and he hits like a freight train. Is it too much of a risk that early?
Pat Yasinskas:
Hmm, I hadn't really thought of that one. Actually, might not be a bad idea. But I still think the Falcons go with a defensive end in the first round. I think upgrading their pass rush is, by far, their biggest need.
April, 14, 2010
4/14/10
4:24
PM ET
The
Tampa Bay Buccaneers
are next in our series of team-by-team mailbags.
Nick in London, Ontario, Canada, writes:
I was wondering why the Bucs wouldn't even try to acquire a
Santonio Holmes
or a
Brandon Marshall
?
Pat Yasinskas:
Nick's question was asked in various ways by a whole bunch of Tampa Bay fans. I'll try to answer them all right here. I realize it's fun, easy and popular to see a big name on the market and automatically say the Bucs should go after that guy. It's natural, but you're getting away from reality. Fact is, like it or not, the Bucs are going through a rebuilding process and it's not always going to be pretty or popular. But they're sticking with their plan of building through the draft and that means it's probably going to take time for this team to become good. The days of the short-term fix ended when Jon Gruden and Bruce Allen were shown the door. Yes, Holmes and Marshall are still relatively young, but they bring up another reality check as to what's going on in Tampa Bay these days. Throughout the Tony Dungy days, the Bucs were big on character. When Gruden and Allen came in, things loosened up in that regard. Mark Dominik and Raheem Morris might not be quite as extreme about character as Dungy was, but they pay close attention to it. Holmes is facing a suspension at the start of this season. If he was a good guy that just needed a change of scenery, Pittsburgh coach Mike Tomlin probably would have told his good buddy Morris to give the guy a chance. That didn't happen. Marshall also carries baggage. The Bucs are building this franchise around
Josh Freeman
and they're not going to bring in a receiver with the potential to destroy their quarterback. For the record, the Bucs had a No. 1 receiver in
Antonio Bryant
. He ripped Freeman and criticized the coaching staff and front office last year. Did you notice how quickly the Bucs pushed him out the door when free agency started?
JP in Inverness, Fla., writes:
Since the Bucs passed on Brandon Marshall (which I am still not sure the risk was not worth it) might they be interested in
Ted Ginn
? I do not see that he would cost much, and while he is definitely not a number 1, he might be a number two and getting him for a fifth or sixth round pick could not hurt, right?
Pat Yasinskas:
I'm definitely keeping my eyes and ears open on this one. Ginn doesn't come with baggage and it sure looks likely that the Dolphins are trying to move him. Ginn never quite lived up to his draft status and his skill set doesn't fit with the current Miami offense. But there is some talent there and you could throw him into the mix with
Reggie Brown
,
Michael Clayton
and all those other receivers the Bucs have and see who rises up as the No. 2 guy (while still looking for an answer at No. 1). I think this one is at least a possibility, although it's hard to imagine the Bucs parting with any of their draft picks.
Scott in Tampa writes:
Matt Mosley suggested that the Redskins may be willing to part with
Albert Haynesworth
for a package including a second round pick. Since the Bucs have two picks in the second round this year, do you see any way this could go down? It would allow us to use maybe use our No. 3 pick on a top offensive tackle like
Russell Okung
instead of
Ndamukong Suh
or
Gerald McCoy
.
Pat Yasinskas:
Very doubtful and it kind of goes hand-in-hand with my answer to the first question on receivers. The Bucs made a play at Haynesworth last year, but that was before they really locked into the whole idea of building with youth. They're very serious about that. They value this year's draft pick tremendously and don't want to part with them. Plus, like the receivers, Haynesworth would come with some baggage.
April, 14, 2010
4/14/10
3:58
PM ET
Just took a look at the mailbag and it was overflowing. I'm going to go ahead and try to knock out a series of team-by-team mailbags. If I don't get all the way through Wednesday, I'll finish it up Thursday.
We're going in random order and we're going to go ahead and start with the
Carolina Panthers
.
Brad in Charlotte writes:
With the recent acquisition of
Brandon Marshall
and the claim from within the Dolphins organization that they "might" get a 5th round pick for
Ted Ginn
, why don't the Panthers make a play for him? We do not have a 5th rounder, so why not offer our non-compensatory 6th round pick, or a combination of our 6th and 7th rounders? I am in no way saying we should trade one of our first 3 picks, but Ginn would immediately step in and be that return man we desperately need and contribute in the slot. This way we can focus on our #2 receiver early and not settle for Jacoby Ford, Armanti Edwards, Scott Long or any other speedy unproven slots at the tail end of the draft.
Pat Yasinskas:
I'm with you on this one. You're theories are all very logical. Let's see if John Fox and Marty Hurney agree.
---
Joel in Endicott, N.Y., writes:
You've said that Carolina wouldn't go after someone like
Michael Vick
or Brandon Marshall because of off-field questions. Bill Parcells was the one who got Marshall and he's all about character guys. At what point does Carolina put its pride aside and take a chance on someone who might not be the kind of guy they want but the kind of player they need?
Pat Yasinskas:
Yep, I've said it before and I'll say it again. As long as Jerry Richardson owns this franchise, the Panthers aren't going after anyone with major off-field issues in their background. If you know anything about Richardson, you know that the man was deeply scarred by what happened with
Rae Carruth
and
Kerry Collins
in the early years of the Panthers. I'm not saying Richardson is right or wrong, but I'm just telling you his philosophy. Although some people might point at
Steve Smith
and say the Panthers have bent their rules for him, they haven't bent them for anyone else. Also, I think Fox and Hurney believe strongly in that philosophy. A guy like Parcells might take a chance on a guy with issues because he has confidence that his organization might be able to keep things under control. Richardson doesn't take chances like that.
---
Cory in Knoxville, Tenn., writes:
If you did this and I missed it please excuse me, but what do you think Carolina would do if they had their #17 pick?
Pat Yasinskas:
Good question. That pick is in the hands of San Francisco after the Panthers dealt it last year to get
Everette Brown
in the second round. If Carolina still had this pick, I'm guessing they would go with a defensive lineman. I'd say either Michigan defensive end Brandon Graham or Penn State defensive tackle Jared Odrick.
December, 25, 2008
12/25/08
12:00
PM ET
Posted by ESPN.com's Tim Graham, James Walker and Pat Yasinskas
The debate over who should be the NFL's coach of the year begins with three rookies who assumed control of woebegone teams and brought them back to relevancy.

Atlanta Falcons coach Mike Smith, Miami Dolphins coach Tony Sparano and Baltimore Ravens coach John Harbaugh have been sideline miracle workers. The Falcons already have clinched a playoff berth. On Sunday, the Dolphins can claim the AFC East, and the Ravens can clinch the final wild-card berth.

ESPN.com bloggers Pat Yasinskas, Tim Graham and James Walker discuss whom is more deserving of the award, breaking down the debate into the three significant issues: team infrastructure, personnel at their disposal and obliterating expectations.

Which coach had to deal with the most daunting organizational strife?
Tim Graham: The Dolphins blew themselves up at the start of the year. Bill Parcells arrived late in 2007 and didn't see much he liked from a team about to miss the playoffs a seventh straight season. The team was going through the motions of a 1-15 campaign that was even more ridiculously bad than the record indicated. So the Dolphins started from scratch. Parcells fired the general manager, the head coach and got rid of all the captains.
Tony Sparano became the fifth head coach in the past five years, taking over a team that hadn't recorded double-digit wins since the glorious Jay Fiedler era. Dolphins owner Wayne Huizenga, meanwhile, was unloading a good portion of the team, creating a widespread uneasiness at the Davie, Fla., headquarters even in the offices outside of the football operations department.
A good time was not being had by all.
Pat Yasinskas: Sorry fellas, but this one's not even a contest. Yeah, the Ravens and Dolphins had their problems. But let's face it, at the end of last year, the Falcons were the most dysfunctional franchise in the history of football. Their franchise quarterback, Michael Vick, had just gone off to jail.
Their coach, Bobby Petrino, had walked out on them for a more talented roster at the University of Arkansas. The city, which never truly embraced the Falcons, now turned its back on them completely. Even Rich McKay, the team's general manager, president and perhaps only lingering thread of sanity, got pushed out of the football side and into the business side of things. Then owner Arthur Blank did the most daring thing of all and hired Mike Smith, who had never been a head coach before, and Thomas Dimitroff, who had never been a general manager before. It looked as if it was going to be a classic case of the blind leading the blind.

James Walker: Let me add this, Pat and Tim. Much is being made of Miami's 1-15 record last year, but keep in mind which team that victory came against. Yes, it was the Baltimore Ravens. That was a rock-bottom moment, not only for the season but I think for the 12-year history of the franchise.

Baltimore's biggest issue moving forward was where it would go from there. The Ravens' situation was unique in that they had to consider what type of transition to make.

Was Baltimore in need of a complete overhaul or just retooling? Sometimes, that's harder to accomplish in the NFL than what the Dolphins and Falcons did by completely starting over. Those two teams at least knew their direction early on.

The Ravens had to tread a more delicate path in bringing in some new coaches such as Harbaugh and offensive coordinator Cam Cameron, while keeping others such as defensive coordinator Rex Ryan. They brought in some new players to help certain spots and trusted others to bounce back, either from injury or poor performance.

Baltimore also traded down in the draft to land more picks and first-round quarterback Joe Flacco, who was a bigger unknown than Matt Ryan or Jake Long. So there were certainly some issues with the Ravens. It just happened that Baltimore general manager Ozzie Newsome pushed most of the right buttons.
---
TG:
Excellent points, James. You make an intriguing case for the Ravens in this area that I didn't think could be made compared to the Falcons or Dolphins. Mediocrity sometimes is harder to overcome than wretchedness, and the Ravens seemed stuck in neutral.
But let me remind everybody that Cameron was the Dolphins' head coach last year and ran their offense. He also had a huge say in personnel, which included the ill-fated addition of quarterback Trent Green and drafting return specialist Ted Ginn with the ninth overall pick. Cameron has returned to genius status with the Ravens. I think that speaks not to some sort of professional rebirth as much as it does that the infrastructure that was in place. There already was decent talent on the roster and good football people in the front office to lean on. The Dolphins didn't have an Ozzie Newsome.
As for the Falcons, do you mean to tell me, Pat, that overcoming all those travails you outlined are a big deal? Puh-lease. Teams handle that sort of turmoil every year, don't they? OK, maybe not.
PY: All right, I'm going to move on with how the Falcons began to rebuild their infrastructure and this brings up what seems like a very subtle point, but, as much as anything aside from drafting Matt Ryan and signing Michael Turner, it has been a key for the dramatic turnaround. Quite simply, Mike Smith put together an all-star team as a coaching staff.
He got former head coach Mike Mularkey to be the offensive coordinator, quarterback teacher Bill Musgrave to work with Matt Ryan (before the Falcons even knew they had Ryan) and kept defensive backs coach Emmitt Thomas on staff. That was hugely important because Thomas was the guy who coached the team when Petrino left and the players trusted him. Smith completed the roster by getting veteran position coaches such as Paul Boudreau, who has taken very ordinary talent on the offensive line and kept Ryan standing upright and opened all sorts of holes for Turner.
It was kind of the same with Dimitroff, who knew a lot about evaluating players, but had never negotiated a contract. People like to say McKay is completely out of the football end of things and assume there's a rift between him and the guy who filled his general manager duties. But that's just not the case. McKay's one of the smartest people in the NFL and it makes some sense to at least let him keep a hand in the football side. McKay's the one who did Ryan's contract and he has been guiding Dimitroff and his staff on other contracts. From what was a totally dysfunctional organization, the Falcons have patched together one that now works very smoothly with good people in every spot.
JW: The Ravens, more than anything, needed a culture change. I think that should d
efinitely be considered when it comes time to vote.

Harbaugh had to come in and quickly tear down the relaxed, country-club atmosphere that Brian Billick left behind. The training camps were harder. The practices were more up tempo, and when you have a lot of strong-minded veterans that were there before the head coach, that can become dicey.

But the leaders in Baltimore's locker room bought into Harbaugh's message early and everyone else fell in line. Once that happened, it was no longer Billick's team. Winning early also helped, but this situation had the potential to be a major challenge that Harbaugh defused early on.

I don't think either Smith or Sparano faced the same issues, because those rosters were gutted and infused with youthful players who were easier to mold.
---
Which coach coped with the worst personnel entering the season?
PY: I remember standing at Falcons training camp and thinking, "This is not an NFL team." I looked out and saw Keith Brooking, John Abraham and Lawyer Milloy as the only big names, and they're all closing in on the end of their careers. The cupboard appeared to be absolutely bare.
I know everyone likes to think the Michael Vick thing is what left the Falcons so short-handed. It really wasn't. When Smith and Dimitroff came in, one of the first things they did was to gut the roster. They unloaded big names such as DeAngelo Hall, Alge Crumpler and Warrick Dunn, so a bad roster suddenly looked even worse. Back on that day in training camp, I played a little game and asked myself how many Falcons could start for another team? My answer was brief -- Abraham and fullback Ovie Mughelli. That's it.
JW: The Ravens had good personnel, but much of it was aging. Baltimore entered the season with seven starters with at least 10 years of experience, and many of those key players were coming off injuries the year before.
So although Harbaugh had veterans such as Ray Lewis, Samari Rolle and Trevor Pryce, the big unknown was how would they hold up for a 16-game season. The Ravens have had injuries this year but they've been fortunate for the most part with their older players, and it's one of the reasons they are having a winning season.
Even though Miami beat Baltimore last year, I would still say the Dolphins' personnel was considered the thinnest coming in. Would you agree, Tim?
TG: Oh, the Dolphins looked thinner than Manute Bol in pinstripes. What strikes me most when reflecting on Miami's training camp was the dearth of significant names on either side of scrimmage. A casual NFL fan couldn't name five guys on their roster, and the most well-known players came with serious question marks.
Ronnie Brown was returning from season-ending knee surgery. His backfield mate, Ricky Williams, is 31 years old and a known head case. Joey Porter was viewed as the NFL's most egregious free-agency error of 2007. Even Chad Pennington, once he arrived, was considered a washout just clinging to a career. Before leading target Greg Camarillo suffered a knee injury in Week 12, Miami's game-day receiving corps consisted of only one player who had been drafted, Ted Ginn. And he's considered a bust by most Dolfans.
---
PY: With such poor personnel, Smith and Dimitroff knew they had to work their tails off to rebuild the roster. It looked as if it might take a couple of years for them to assemble a roster capable of even challenging for the playoffs. Obviously, they've moved far ahead of schedule and that's because they were lucky and good as they went about the process. The first piece of the puzzle was signing Turner. He was viewed as the biggest prize in free agency, so why would he want to go to a team like the Falcons?
After four seasons of playing in the shadows of LaDainian Tomlinson in San Diego, Turner was looking for a place where he could be "the guy." The Falcons told him they'd give him 20 or 30 carries a game. They had him show up at an Arena Football League game and the crowd went nuts. If that didn't make Turner feel welcome enough, the Falcons wouldn't let him leave the building without signing a contract.
As good as Ryan has turned out, it was still a gamble to take any quarterback with the third overall pick and start him right away. But Dimitroff did an enormous amount of homework on Ryan and firmly believed he was exactly whom the Falcons needed to be their new quarterback and face of the franchise. Dimitroff's draft preparation didn't stop there. He traded back into the first round to get left tackle Sam Baker to protect Ryan's blindside, got a defensive quarterback in middle linebacker Curtis Lofton in the second and a third receiver and return man in Harry Douglas in the third. Those four rookies plus defensive back Chevis Jackson each have played huge roles in the turnaround.
JW: Pat and Tim, let me end this with a quick story that relates to both of your teams.

I live in Cleveland and attended the rookie orientation at the Hall of Fame in Canton, Ohio for both of these teams. I was working on a story this summer and picked the brains of about a half-dozen rookies that day such as Long, Chad Henne, Ryan and Baker, and I got the sense early that these were respectful, mature players that appreciated the opportunity to play in the NFL. So I'm not surprised Atlanta and Miami have young talent playing beyond their years.

But what was funny was the number of players that were brought in. The orientation was for rookies only, but I remember thinking the Dolphins and Falcons brought their entire 53-man rosters to Canton. There were at least 15 rookies and undrafted free agents coming off the bus from each team, and it could have been closer to 20 players.

Obviously some rookies and rookie free agents never made it past training camp, but it illustrates the point you two were making about gutting the rosters. In that respect, Miami and Atlanta definitely had a farther starting point than the Ravens.
---
Which coach prompted the lowest expectations?
JW: Without a doubt, all three teams and coaches came in with question marks. Most experts picked the Dolphins, Falcons and Ravens to finish either third or last in their respective divisions at the beginning of the season. But in terms of coaches, Harbaugh was the biggest unknown.

Two years ago Harbaugh was a longtime special teams coach for the Philadelphia Eagles. He was promoted to secondary coach under Philadelphia's Andy Reid for one year before impressing the Ravens enough to lead their team.

There were certainly doubters locally and nationally. The biggest question was can a coach that spent most of his career running special teams handle all the strong personalities as the leader of the Ravens? But Harbaugh had the charisma and intensity to pull it off and was very smart to put together an A-list staff of assistants to back him.

As far as the team, no one knew what to expect from Baltimore. Were the Ravens a five-win team of 2007 or the 13-win team of '06? Maybe they were somewhere in between?

With decent quarterback play, I felt this team could win seven or eight games this year. My prediction was higher than most, but the Ravens have far exceeded even my expectations.
PY: If the expectations in Detroit this year were what they were in Atlanta, Matt Millen would still have a job and Rod Marinelli would be viewed as a decent coach. Seriously, after what happened to the Falcons last year, there were no expectations in Atlanta. Three or four wins and less than three major off-field controversies would have been considered a nice season. People were hoping the Braves went deep enough into the playoffs that there wouldn't be much gap before the Hawks started playing some preseason games because, as far as Falcons fans were concerned, there was going to be no reason to watch the Falcons.
In large part, I think that turned out to be a good thing. The incredibly low expectations allowed the Falcons to decide to start Ryan from Day One because fans wouldn't have the lofty expectations for him that they usually do for a first-round quarterback. Ryan didn't have to start the season under a microscope and that gave him a chance to get comfortable in a hurry. Even at midseason, Atlanta fans still were looking at the Falcons with guarded optimism. It has only been in recent weeks that people have started to even think about the playoffs.
TG: James, I have to disagree with you that Harbaugh was the most unknown of the new coaches. People at least knew him by his last name, his father being a well-known college coach and his brother playing NFL quarterback before embarking on a coaching career of his own. People still think the name of the new Dolphins coach is Tony Soprano.
As for expectations, no sane individual ever would have predicted Miami would finish with double-digit wins or be in position to make the playoffs in Week 17. But that was no more unfathomable than what's transpired in Atlanta.
But here's where Sparano will be taken for granted when it comes time for people to consider coach-of-the-year honors. Parcells, with his mere presence, inflated expectations. Fans weren't bold enough to consider an AFC title, but seven or eight wins was within the realm of possibility. And when people judge Miami's turnaround, the first person they will give credit to is Parcells.
JW: Tony Sparano had the catchy name, he was a Parcells guy, and he came from "America's Team," the Dallas Cowboys. By the time he was hired in Miami, he was on the radar of sports fans. Harbaugh's hiring had people looking through media guides to double-check his pedigree.
We'll just have to agree to disagree, Tim.
But speaking of taking things for granted, let's not overlook the strength of schedule the Ravens had coming into the season. Baltimore had the fifth-toughest schedule in the league that included non-division opponents such as the Tennessee Titans (13-2), Indianapolis Colts (11-4) and the entire NFC East division.
Although some things changed during the course of a season, Atlanta entered the year with the No. 21-rated schedule and Miami's was No. 23.
Baltimore is in control of its playoff chances this week, in part because it went 3-1 against the NFC East, which is a mark the Dolphins and Falcons probably couldn't match if given the chance. Also, if head-to-head meetings have anything to do with coach of the year voting, Harbaugh and the Ravens did go into Miami and beat the Dolphins by two touchdowns in Week 7.
PY: James and Tim, I think we can all agree none of these three guys were household names in comparison to some of the veteran head coaches. But Harbaugh did have the bloodlines of his father and brother and was well-known as one of the league's top special-teams coaches. Sparano wasn't an unknown because the assistants in Dallas are as well known as head coaches most places. Smith was easily the least known of the trio of new coaches.
He'd been a coordinator in Jacksonville, where media attention is minimal, and he spent a bunch of years coaching in some small stops through the college ranks. The only area where Smith stood out was the fact he was tremendously ordinary. Even his name is ordinary.
I remember at the NFL owners' meeting last spring, ESPN's Michael Smith and I had breakfast with Smith. They were joking about having the same names. I remember thinking, "My television colleague is the more famous of these two." With apologies to Michael Smith, it's no longer that way. Mike Smith has become famous because he is the Coach of the Year.
TG: Mike Smith sounds like the name people use when they check into motels that charge by the hour, and I wondered if his coaching career would be measured in the same increments given the circumstances he was headed into.
But when you look at the turnaround of each club, the Dolphins have been the most dramatic. Sparano has overseen one of the biggest one-season improvements in NFL history. No one-victory team has won 10 games the next season, and the Dolphins could finish with 11 and a playoff berth, another unprecedented feat.
The Falcons' and Ravens' turnarounds have been remarkable, but the Dolphins' has been historic.