NFC South:

Terry Bradshaw
September, 20, 2012
9/20/12
1:22
PM ET
CHARLOTTE, N.C. -- As we get ready for Thursday night's game between the Panthers and Giants, let's turn to ESPN Stats & Information for some numbers on Carolina and New York.
Eli Manning threw for 510 yards in Sunday's victory against Tampa Bay. The last Giants quarterback to throw for 500 yards in a game was Phil Simms with 513 in 1985. Simms followed that up with 196 passing yards in his next game.
The Giants will be without injured receiver Hakeem Nicks and running back Ahmad Bradshaw. So far this season Nicks and Bradshaw have accounted for 39.6 percent of the team's total yards from scrimmage. Last season, Nicks and Bradshaw accounted for 34.4 percent of the Giants' total yards from scrimmage.
There have been 20 quarterbacks taken with the No. 1 overall pick in the draft (since 1967). Carolina's Cam Newton will become just the third to face off against the defending Super Bowl champion in each of his first two seasons. Newton and the Panthers lost to Green Bay last year. The only other two No. 1 overall draft picks to face Super Bowl champions in each of their first two seasons were Sam Bradford and Terry Bradshaw (Bradshaw didn't start, but came off the bench in a 1970 game against Kansas City). Both went 0-2.
September, 2, 2011
9/02/11
4:17
PM ET
Now that we're getting down to some real football, I'm happy that I can start interacting more with my friends at ESPN Stats & Information.
They supply some wonderful stuff, much of which you can't get anywhere else, and we'll lean heavily on them during the regular season. Heck, we'll start it a little before the regular season.
Now that we know for certain
Cam Newton
will be the starting quarterback for the
Carolina Panthers
on opening day, it's time to look at some history.
Here's a look at quarterbacks drafted No. 1 overall (since 1966) who started a season opener and how they fared in that game.
2010: Sam Bradford, Loss
2009: Matthew Stafford, Loss
2002: David Carr, Win
1998: Peyton Manning, Loss
1993: Drew Bledsoe, Loss
1990: Jeff George, Loss
1989: Troy Aikman, Loss
1983: John Elway, Win
1975: Steve Bartkowski, Loss
1971: Jim Plunkett, Win
1970: Terry Bradshaw, Loss
None of the above finished the season with a winning record as a starter. In other not-so-encouraging news in this department, all rookie quarterbacks starting an opener since 1970 are a combined 10-16. But, hey, there's one bit of good news for Carolina fans. One of those 10 wins came by Carolina with
Chris Weinke
in 2001.
June, 16, 2011
6/16/11
1:00
PM ET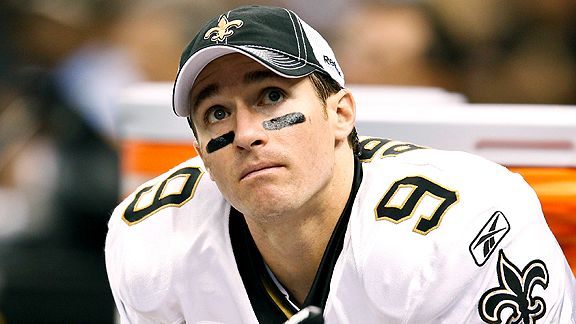 Derick E. Hingle/US PresswireDrew Brees will need to separate himself from quarterbacks like Vinny Testaverde and Drew Bledsoe.
He already has thrown for 7,000 more yards than Terry Bradshaw, completed one fewer touchdown pass than George Blanda and won one more Super Bowl championship than
Jim Kelly
and Fran Tarkenton combined.
So they already should be carving
Drew Brees
from the shoulders up in Canton, Ohio, right? The quarterback of the
New Orleans Saints
could retire tomorrow and waltz straight to the Pro Football Hall of Fame in five years, correct?
Well, it's not quite that easy. At least not yet.
Brees has 35,266 career passing yards. He should soar past Kelly in the first game of this season and should end the year somewhere pretty close to Johnny Unitas, who ranks No. 12 all-time with 40,238 passing yards.
If Brees throws 33 touchdown passes this season, the same number he threw last season, he'll have 268 for his career. That number would put him in the top 10, just behind
Joe Montana
at 273.
If you're putting up numbers like Unitas and Montana, shouldn't you be an automatic Hall of Famer? Yes, if Brees had played in the same era as Unitas or Montana.
But times have changed, and if you don't believe me, let me throw out three names:
Vinny Testaverde
,
Drew Bledsoe
and
Kerry Collins
. All three rank well ahead of Brees in career passing yards, and Collins might not be done yet. Bledsoe and Testaverde also rank ahead of Brees in career touchdown passes.
Bledsoe, Testaverde and Collins are pretty good quarterbacks, and their stats were helped by longevity. That's not a bad attribute, but nobody is ever going to argue that Testaverde, Bledsoe or Collins belongs in the Hall of Fame.
What they represent is the middle ground of the last generation. Brees has to cross that -- and then some -- to assure himself a spot in Canton.
Testaverde had 46,233 career passing yards, which ranks seventh. Bledsoe is one spot behind him at 44,611 yards. Collins is No. 11 at 40,441 yards. Testaverde is No. 8 in career touchdowns with 275, and Bledsoe is No. 14 with 251.
As a member of this generation of quarterbacks, Brees has to go beyond the numbers of guys like that. The bar has been raised, and it's still rising.
Assuming
Brett Favre
stays retired this time, he finished his career leading in passing yards (71,838) and touchdown passes (508). Then, you've got guys like
Peyton Manning
, who is 34, still going strong with 54,828 passing yards and 399 touchdowns and
Tom Brady
, who is 33, with 34,744 yards, 251 touchdowns and a handful of Super Bowl rings.
Manning and Brady are going to continue to increase their numbers, and Brees has to stay on a similar pace. I've had the honor to vote for the Hall of Fame twice, and I can assure you voters pay very close attention to a player's contemporaries. Brees isn't going to get in simply by putting up numbers close to Testaverde, Collins and Bledsoe.
He's got to stay somewhere close to Manning and Brady. It would help if Brees could avoid seasons like last year when he threw a career-high 22 interceptions and the Saints got bounced by Seattle in the first round of the playoffs.
I'm not trying to cast gloom on Brees' Hall of Fame chances. I seriously think he'll get there, but I'm just saying there's some work left to be done.
Brees had some knee problems last season but still threw for 4,620 yards and 33 touchdowns. Those numbers are pretty comparable to an average of the two seasons before that.
Let's assume the knee is healthy and say Brees goes out and plays four more seasons with numbers like that. It's fairly realistic, as long as Sean Payton's calling the plays,
Marques Colston
is catching the passes and
Jahri Evans
and
Carl Nicks
are blocking up front.
That would put Brees at 53,746 passing yards and 367 touchdown passes. That would put him fourth on the all-time passing yards list and fourth on the list of all-time touchdown passes, as they now stand.
That would be an automatic pass into Canton. Brees doesn't even need to reach those numbers to get there. He just needs to move ahead of the middle-of-the-pack guys, and a few more playoff wins wouldn't hurt. Brees is approaching the doors to Canton. He just needs to keep going straight up a few more steps.
November, 30, 2010
11/30/10
9:28
AM ET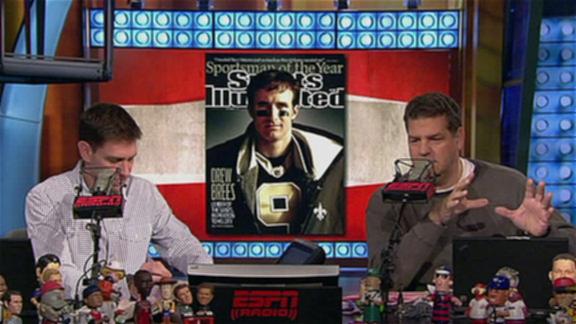 Sports Illustrated just made a pretty major announcement involving the NFC South.
New Orleans Saints
quarterback
Drew Brees
has been named the magazine's Sportsman of the Year for 2010.
Brees will be featured in a cover story that details how the quarterback still is helping a city on the rebound from Hurricane Katrina. Brees will be honored in New York at a ceremony this evening, where he'll be joined by previous award winners Bill Russell, Billie Jean King, Mike Eruzione, Joe Montana and Curt Schilling.
Brees is the third NFL quarterback to win the award in the past six years.
Tom Brady
won it in 2005 and
Brett Favre
won it in 2007. Prior to that, the only NFL quarterbacks to win the award were Terry Bradshaw (1979) and Montana (1990).
July, 27, 2009
7/27/09
4:15
PM ET
Posted by ESPN.com's Pat Yasinskas
Just moments after he walked into One Buccaneer Place (the old dump out on the airport runway) in 1996, Tony Dungy showed Lamar Thomas and Tyji Armstrong the door.
Thomas was going through some ugly domestic issues and Armstrong had run up a lengthy rap sheet under former coach Sam Wyche. That was Dungy's way of telling his team he wasn't going to put up with trouble.
He never went out and sought guys with character questions, and he even kept Warren Sapp in check. In the early days of Dungy's regime in Tampa, watching practice often gave you the feel you were at a church league flag football game. I think it stayed that way into his later days in Tampa and on to Indianapolis.
If a player played for Dungy or a coach coached under him, he was almost always a nice, well-behaved guy with no character issues.
So what is Dungy doing now? He's reaching out to Michael Vick.
Dungy and Vick is a mismatch if ever there was one, it seems. But this pairing could turn out to be great.
Dungy is going to work as Vick's mentor as the former Atlanta quarterback tries to get fully reinstated into the league. When Dungy left coaching last year, he said it was partly because he wanted to do something more than coach. The fact is, Dungy always was a mentor while he was a coach, maybe even more of a mentor than a coach.
Here comes his next challenge. I've got no doubt about what Dungy brings to the table. I had the pleasure of covering him for The Tampa Tribune and learned a lot about life just by watching how the man conducts himself. That was from a distance.
Vick's going to get the up-close class and they're going to be cramming. It's actually a wonderful opportunity for Vick. Say what you want about the horrible things he did to put himself in this spot. They were despicable and then some.
But if Vick really is contrite and really wants to straighten out his life, there's no one better to help him than Dungy. I've had a chance to talk with former Atlanta coach Dan Reeves several times and some other people who have been with the Falcons. They're all sour on what Vick did, but they also say he's a young man with some good qualities if he can just make better decisions and stay away from some of his friends who drag him down.
If Vick can just reach out to Dungy, the coach is going to pull him up higher than he's ever been. I've long said Dungy should be in the Hall of Fame when his time comes. If he gets Vick to fly right and resurrect his career, Dungy's got an automatic pass to Canton.
Virginia Tech coach Frank Beamer talks about Vick's conditional reinstatement.