NFC South:

Terry Robiskie
October, 24, 2013
10/24/13
8:45
PM ET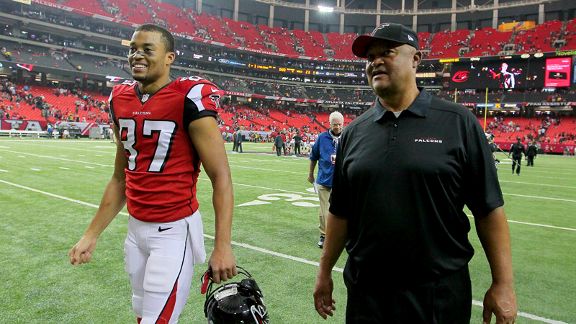 Todd Kirkland/Icon SMIBrian Robiskie and Terry Robiskie enjoyed their first game together, a Falcons victory.
FLOWERY BRANCH, Ga. -- If there was one thing Terry Robiskie always preached to his oldest son, Brian, it was not to worry about being pretty.
The advice had nothing to do with time spent in front of mirror or inside a high-end department store. It had everything to do with the manner in which the elder Robiskie, the
Atlanta Falcons
' assistant head coach, viewed the change in attitude for wide receivers over the years.
"These guys coming out of college now, they're always trying to worry about how they look," said Terry Robiskie, who works with the Falcons' receivers. "They always have their gloves on. They have their high stockings. Some of them have the white sleeves on. And when they run their routes, they run them to be pretty.
"I'm not concerned with you looking pretty. I'm concerned with you playing fast and making a play. I don't care how dirty and ugly and bad you look. But do it fast, and go make a play."
It the past, Terry Robiskie's only method of reiterating those words to his son was via telephone. He never coached Brian at any level and didn't try to intervene with his son's coaches.
[+] Enlarge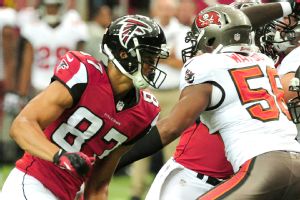 Scott Cunningham/Getty ImagesBrian Robiskie played mostly on special teams during his Falcons debut.
So when Brian, a former second-round pick of the
Cleveland Browns
in 2009, joined the Falcons' receiving corps on Oct. 10, you could imagine the feeling that trickled down the father's spine.
"It's a good feeling -- a great feeling -- being able to coach your son," Terry said. "I'm going to enjoy it. I'm going to have a great time with it.
"I was able to sit and watch him all those years and call him and say, 'Hey, you did this wrong. This was nice. This was wrong.' Now I've got a chance to stand up next to him and say, 'Do it this way, don't do it that way.' We just have to see if we can carry it over into the game."
Brian Robiskie
saw his first action for the Falcons last week with two snaps on offense and 11 on special teams. He didn't catch pass in his Falcons debut, but he was targeted once in the end zone.
It remains unclear if he'll have an increased role on offense Sunday at Arizona. But the 25-year-old already has made an impression on special teams, head coach Mike Smith said.
No matter how the remainder of the season unfolds, Brian Robiskie is sure to relish the experience of working alongside his father. He already appreciates the tough love given to him throughout the years.
"I remember one time in high school, I had like 10 catches in a game my junior year," Brian Robiskie recalled. "I thought I played well. My dad got the tape and looked at it and didn't like how I was blocking. He took me out the next day, found a field, and we were out there doing blocking drills until 10 p.m.
"I enjoy him all the time. I've got a dad who is coaching football, so he understands everything I'm going through."
It's no surprise who Brian turned to during the difficult times in his short NFL career. He came to the NFL with great promise out of Ohio State but didn't fulfill those expectations. His stint with the Browns lasted 31 games before he got released. He had a short stay in Jacksonville when current Falcons offensive coordinator Dirk Koetter orchestrated the Jaguars' offense, but Robiskie never appeared in a regular-season game while there.
"

It's a good feeling -- a great feeling -- being able to coach your son. I'm going to enjoy it. I'm going to have a great time with it.

"

-- Terry Robiskie
Last season, Brian played in six games for Detroit and even caught a pass in front of his father when the Falcons beat the Lions, 31-18. But he was released twice by the Lions this past offseason.
"My dad just told me to control the things I could control," Brian said. "That was something I didn't really understand at first. But there are only so many things you can do. And the end of the day, you have to just do your job."
Although the younger Robiskie made no excuses for why his NFL career hasn't panned out thus far, the father had no problem speaking up on his son's behalf.
"As you've watched over the years, I think Cleveland has gone through a lot of changes and a lot of things have happened," said Terry Robiskie, once the interim head coach for the Browns (2004). "I think sometimes, kids just end up in situations where you don't really get to jell. They ended up taking a quarterback -- Colt [McCoy, in 2010]. Then we went on strike. They had the lockout [in 2011]. Next thing you know, they're all down in Texas just kind of throwing the ball around. And everybody thinks that's football. It's not organized football. They never jelled.
"I thought Brian had a pretty good stint for Jacksonville. But Jacksonville, at that particular time, had a lot of money tied up in their receiver spots. I think he was going to be No. 5 or No. 6. Unfortunately, they had a guy they liked better on special teams. So he went to Detroit, and I thought he did well. Then unfortunately this summer, he was in the weight room doing some benching and he hurts his back. And lo and behold, they say it's going to be an eight-week injury, so Detroit decided to let him go."
Season-ending foot surgery for
Julio Jones
and lingering hamstring and ankle injuries to
Roddy White
have given Brian Robiskie a chance to stick with the Falcons. The father vowed not to be partial toward his son, despite the circumstances. In fact, he stopped and yelled at his son during their first practice together.
"It might be a different deal that I'm coaching a kid named Brian Robiskie," Terry Robiskie said, "but I tell people all the time that Roddy White isn't Roddy White and Julio Jones isn't Julio Jones. Roddy is Roddy Robiskie. Julio is Julio Robiskie.
Harry Douglas
is Harry Robiskie.
"All my guys that I coach, I coach them the same. I think the difference is with this one, I'm sleeping next to his mom."
October, 9, 2013
10/09/13
8:40
PM ET
Following the loss of top receiver
Julio Jones
to season-ending foot surgery, the
Atlanta Falcons
have agreed to terms with free-agent receiver
Brian Robiskie
on a one-year contract, a league source confirmed to ESPN.com.
Robiskie
The 6-foot-4, 212-pound Robiskie has the size to fill the role of a big receiver. He was a second-round pick of the
Cleveland Browns
in 2009 following a stellar career at Ohio State. Robiskie started 14 games in three seasons with the Browns. He then spent time with Jacksonville, and last season played in six games for Detroit.
Robiskie has 43 career receptions for 485 yards and four touchdowns. His longest reception was a 46-yard touchdown with the Browns. The Falcons became accustomed to such explosive-type plays with Jones.
Jones is scheduled to have surgery Monday, and will be placed on season-ending injured reserve. Robiskie will fill Jones' roster spot.
Robiskie is the son of Falcons assistant head coach Terry Robiskie, who works with the wide receivers.
June, 3, 2013
6/03/13
10:15
AM ET
Very quietly, the
Atlanta Falcons
made a significant move to their coaching staff over the weekend.
On Saturday afternoon, they announced that wide receivers coach Terry Robiskie has taken on the added title of assistant head coach.
"Terry has played an important role in our success over the last five years," said head coach
Mike Smith
. "His experience is invaluable to our coaching staff and to our team. We are fortunate to have him on our coaching staff."
This is more than just some sort of ceremonial title. This is about making a staff that already was good even stronger. Robiskie likely will take on some administrative duties to help Smith out. He also would be next in line if Smith were to have to miss time for any reason.
Robiskie previously was an interim head coach in Washington and Cleveland. He arguably is one of the best receivers coaches in the NFL -- just look at the numbers of
Julio Jones
and
Roddy White
in recent years.
But Robiskie now is more than just the receivers coach. He's second in command and the new power structure gives the Falcons even more depth on their coaching staff.
September, 4, 2012
9/04/12
9:51
AM ET
Let's take a run through the Tuesday morning headlines from around the NFC South:
ATLANTA FALCONS
Although former Atlanta fullback
Ovie Mughelli
was released by the Rams, general manager Thomas Dimitroff made it sound like the Falcons
will stick
with
Lousaka Polite
as the only true fullback on their roster. Running back
Jason Snelling
also can play fullback.
Atlanta receivers coach Terry Robiskie, like many around the league, believes it takes a young wide receiver three years to fully develop. But there are
strong signs
that
Julio Jones
is ahead of the curve. He had a good rookie season, despite injuries and has been outstanding in the preseason. Of all the players I saw in my tour of NFC South training camps, none stood out more than Jones. Also, keep in mind, he had a full offseason program this year. That's something he lacked as a rookie, due to the lockout.
CAROLINA PANTHERS
The team will practice one more time at home before turning Bank of America Stadium over to the Democratic National Convention. The Panthers will
leave for Florida
on Tuesday afternoon and spend the rest of the week working out at IMG Academies in Bradenton before playing the Buccaneers in Tampa Bay on Sunday.
Rookie cornerback
Josh Norman
was honored by Coastal Carolina on Saturday. More importantly, Norman shed some light on what his role will be with the Panthers. Norman said he's been told he'll
play outside
on passing situations. That means the team will be able to move
Captain Munnerlyn
inside on passing situations, which is what the coaching staff has wanted to do all along.
NEW ORLEANS SAINTS
Middle linebacker
Curtis Lofton
, who has been out with an injury, said he'll be
ready to play
Sunday against Washington. Same for wide receiver
Adrian Arrington
. Linebacker
David Hawthorne
, who had surgery to fix a torn meniscus, wasn't so sure. He said that decision will be up to the trainers. I'm thinking Hawthorne may have to sit an extra week or two. But if the Saints have Lofton on the field for opening day, their linebacker corps will be a lot better than it was in the final weeks of the preseason.
More good news for the Saints on the injury front. Cornerback
Jabari Greer
, who had surgery to fix a sports hernia in August, said he'll be
ready to go
Sunday.
Rookie receiver
Nick Toon
, who already was placed on injured reserve, is expected to have
surgery on his left foo
t. That's the same foot Toon had surgery on before his final season at Wisconsin.
TAMPA BAY BUCCANEERS
Defensive tackle
Amobi Okoye
who was released by the Bucs on Friday and signed by the Bears, said he left
questioning the character
of coach Greg Schiano. Okoye implied he was told his injured knee would be allowed to heal and, when it wasn't coming along quickly enough, he was pushed to the door.
Newly-acquired running back
D.J. Ware
thinks Tampa Bay's Mike Sullivan is ready to be a
successful offensive coordinator
. The two were together with the
New York Giants
and won two Super Bowls.
February, 14, 2012
2/14/12
7:25
AM ET
Let's take a look at the top headlines from around the division.
Tom Sorensen makes a
compelling case
for the Panthers to sign receiver Randy Moss, who says he wants to come out of retirement. As Sorensen points out, the Panthers have shown a little more flexibility lately in being willing to take chances on players with reputations (see Cam Newton and Jeremy Shockey) and there's no doubt Moss has had some issues in his past. But Moss always had the ability to stretch the field and that's something the Panthers could use to take coverage away from Steve Smith. But they also think third-year pro Brandon LaFell might be ready to blossom and David Gettis will be returning from an injury.
Speaking of compelling arguments and veteran receivers, John Manasso makes a pretty
strong case
that the Falcons should sign Hines Ward if, as is expected, he is released by the Pittsburgh Steelers. My first reaction was that the Falcons really don't need to add a receiver who is about to turn 36. But Manasso points to Ward's strong roots to the Atlanta area, his reputation as a locker-room leader and his experience as a winner. It's tough to argue that the Falcons couldn't use a few more players who have experience winning in the postseason.
Speaking of the Falcons and receivers, Atlanta reportedly has
denied Jacksonville's request
to interview receivers coach Terry Robiskie for the same job. Former Atlanta offensive coordinator Mike Mularkey is now Jacksonville's head coach and he brought quarterbacks coach Bob Bratkowski along with him as offensive coordinator. Those were steps up and weren't blocked by the Falcons, but this would have been a lateral move for Robiskie and the Falcons don't want to lose him.
Roy Cummings writes that new Tampa Bay offensive coordinator Mike Sullivan was noted for putting players through
quirky drills
when he was quarterbacks coach of the New York Giants. But the unconventional methods were used to get a conventional result -- sound decision making. That's what Sullivan will be working to get out of quarterback Josh Freeman.
October, 23, 2009
10/23/09
1:00
PM ET
| | |
| --- | --- |
| | |
| | Kevin C. Cox/Getty Images |
| | Mike Smith's stable of coaches is one of the reasons for Atlanta's revival. |
Posted by ESPN.com's Pat Yasinskas
When he found out he was interviewing for the coach job with the
Atlanta Falcons
in 2008, the first thing Mike Smith did was assemble an imaginary three-deep depth chart. He wasn't stacking players. He was lining up coaches.
Smith was envisioning who he would hire as his assistants. He drew up a wish list that turned into a dream team. With the possible exception of drafting quarterback
Matt Ryan
, that might have been the single-best move Smith has made.
I'll make the argument that Smith's stable of assistants is one of the main reasons he took a franchise out of the dumpster and took it to the playoffs last season and has the Falcons off to a 4-1 start heading into Sunday's game against Dallas. I'll also make the argument that, from top to bottom, Atlanta's coaching staff is as good as any in the league.
That's no accident. Smith put as much time into putting this group together as he did studying Ryan before last year's draft. In both cases, he hit the jackpot.
"I always say there are more unsuccessful coaching staffs than unsuccessful head coaches,'' Smith said. "You all have to have same philosophy and, as a head coach, you have to empower them to do their job.''
Smith's staff does its job very well. Look at what offensive line coach Paul Boudreau has done with a group that includes only one blue-chip player (left tackle
Sam Baker
), look at what coordinator Brian VanGorder has done with a defense that had very little individual talent last year and only slightly more this season or look at how offensive coordinator Mike Mularkey and quarterbacks coach Bill Musgrave have made Ryan so good so fast.
How much difference can a coaching staff really make?
"First and foremost, you have to have players,'' Smith said. "Rosters around the NFL aren't all that much different from one through 32. There are lots of great players everywhere across the league. But I think it's very important your team is fundamentally and schematically sound. You have to be good Xs and Os guys and you have to be able to work in a team framework and know dynamics of a team change every day.''
Those were high on the list of qualities Smith was looking for as he assembled a staff that now has a collective 207 years of experience coaching in the NFL. Heck, when you look at how much experience each of Atlanta's 17 coaches have in the NFL, Smith is tied with Musgrave for ninth place with 11 years.
But Smith was looking for more than experience as he put together this group. Sure, he jumped right on assistant head coach/secondary coach Emmitt Thomas, who had been on the previous Atlanta staff and he was quick to scoop up Boudreau, receivers coach Terry Robiskie and defensive line coach Ray Hamilton, who each have at least 22 years of NFL experience. But Smith was also looking for balance and that's why he went out and hired guys like running backs coach Gerald Brown and tight ends coach Chris Scelfo, who were coaching in the college ranks, but had never coached in the NFL.
"I wanted to have some guys that could deal with young players because I knew we were going to be a very young team,'' Smith said.
Other than sharing his basic philosophies, Smith was looking for balance, not any across-the-board requirements. Different strokes for different coaches. Thomas, a Hall of Fame player, Robiskie, Hamilton and Musgrave were hired only in part because they were good coaches.
"I wanted to have some former NFL players on the staff,'' Smith said. "I think that's important. Emmitt, Terry, Ray and Bill are guys who have sat in the locker room and they know what the players go through.''
Ask Smith what was his single-most important answer and he doesn't give you coach speak and try to dance around the topic to avoid hurting feelings.
"Getting Mike Mularkey was the first thing on my list,'' Smith said. "My background is defense. To have a guy with Mike's offensive experience and success is a big advantage.''
Smith didn't know Mularkey personally before interviewing him.
"I had to coach against him when he was with Pittsburgh and I was in Baltimore,'' Smith said. "I was always impressed with his offenses. They were a running team, always physical, but Mike always made it hard because you had to spend lot of time figuring out what he was doing on formations. He was the first guy I talked to. We talked a couple times mainly to find out what kind of guy each other was.''
It also didn't hurt that Mularkey had been head coach of the
Buffalo Bills
. For that matter, Thomas and Robiskie had been head coaches on an interim basis and VanGorder had been a head coach on the college level. Some first-time coaches might not have wanted guys who were potential threats around. But Smith, who doesn't have a massive ego, didn't see it that way.
"I don't have problem bouncing things off them,'' Smith said. "In fact, I want it to be that way. I believe you have to have interaction with staff. These guys have seen it all and I value their opinions.''
Even in the younger coaches, Smith wanted guys who eventually could grow into bigger roles.
"The one thing I learned from Brian Billick in Baltimore was the importance of putting a good staff together,'' Smith said. "I mean Brian had guys like Jack Del Rio, Rex Ryan, Mike Nolan and Marvin Lewis. You want guys who have been coordinators or are going to be coordinators someday. They all have to understand the coordinator's role.
That brings us to the one potential downer about the staff Smith has. If the Falcons keep having success, it might not stay together. Each win might put Mularkey and VanGorder closer to a head job or Musgrave and Hamilton closer to a spot as a coordinator elsewhere.
"I hope we have a whole bunch of success and these guys want to stay around forever,'' Smith said.
But Smith is a realist.
"I know that all the guys on our staff are going to have chance to advance at some time,'' Smith said. "I know it's a possibility. You have to have a succession plan if that were to happen.''
There is a succession plan already in place that Smith won't reveal unless he needs to. But somewhere in Smith's desk at the Falcons' Flowery Branch facility, there's a continually-updated depth chart that goes at least three deep at every coaching position.
March, 29, 2009
3/29/09
3:04
PM ET
Posted by ESPN.com's Pat Yasinskas
Thanks for the overwhelming amount of letters to the mailbag. There were over 300 that came in just in the last 24 hours. Obviously, I can't answer them all, but I'll try to touch on the questions that represent a lot of you.
We'll talk Atlanta Falcons here and come back in a bit with the Carolina Panthers. Also, my time slot on ESPNews to talk about Atlanta's draft possibilities has been pushed back to 3:20 p.m. ET, if you want to catch it.
BigB in Covington, GA writes: Hey Pat, Just wondering you know H ear alot of names being thrown around for the falcons on their number 24 pick in the upcoming draft. With names like Michael Johnson, Brian Cushing and Clay Matthews and Louis Delmas, but what are the chances of the falcons trading out of the 24th pick to gain extra picks?
Pat Yasinskas: That's a scenario that's definitely possible. General manager Thomas Dimitroff comes from the New England school of stockpiling draft picks and I think trading down to add a pick or two is something he'll definitely consider. In fact, I'm thinking the Falcons are in an excellent spot to trade down because I anticipate a run on offensive linemen at the end of the first round. The Falcons don't need a lineman and I think they still can get very good value for a defensive player at the very end of the first round or the top of the second, as well as add an extra pick or two.
---
Zack in Atlanta writes: If your paying a guy 1st rd. money he will start for you,so what pos. does Atl. need a starter the most?
Pat Yasinskas: The needs are defensive line, outside linebacker and safety. The biggest need is probably safety. In your scenario, the Falcons could get someone like Western Michigan's Louis Delmas in the first round. Wouldn't be surprised if it happens.
---
Caleb in parts unknown writes:
I've been wondering if the
Michael Vick
situation might have anything to do with the lack of free agent activity by the Falcons. I understand Dimitroff and Smith want to work through the draft but we don't even seem to going for many mid-levels at the moment. The Vick connection would arrise form the fact that when Vick is reinstated he goes back on the cap so I can understand the Falcon'snot wanting to sign contracts that they will have to renegociate when Vick comes back. I know Vick is never going to play for the Falcons again (nor would I want him to) but do you think that Blank and the Falcons will try to get Vick reinstated quickly to get rid of this looming cap room as soon as possible?
Pat Yasinskas: There's no doubt the Michael Vick situation has played into Atlanta's quiet offseason. They still have about $15 million in pro-rated bonus money that's just kind of hanging in limbo. Obviously, the Falcons have made it clear they don't want Vick back and they've made it public that they would gladly trade his rights, even before he's reinstated. Nobody seems to be jumping forward to trade for Vick because there's no guarantee the NFL will reinstate him. The Falcons may just have to keep waiting. If Vick is reinstated, they may just have to release him and take the salary-cap hit. Owner Arthur Blank has said he believes in second chances and would talk to commissioner Roger Goodell on Vick's behalf if he believes the quarterback truly is ready to move on from his legal troubles.
---
Alden in Roswell writes: I know this question seems a little out of place with the draft coming up, but I was just wondering whether or not you think it was that our recievers were really that bad before last year, or if it was Vick. I mean the year vick is not playing suddenly Roddy White doesnt stink, then the following year he's in the pro-bowl. Not to mention michael jenkins emergence. Seems like a little to much blame was thrown on the recievers when actually it was where the ball was coming from.
Pat Yasinskas: I think some of the blame can fall on Vick. But there are several other factors to be considered that may have come into play in the emergence of Roddy White and Michael Jenkins last season. First, it sometimes takes several years for receivers to really develop (see Dexter Jackson, Dwayne Jarrett and Robert Meachem elsewhere in the division). Second, and don't undersell this theory, I think the coaching last year was hugely important for White and Jenkins. Offensive coordinator Mike Mularkey and receivers coach Terry Robiskie deserve tons of credit for putting these receivers in positions to succeed. Finally, I think Matt Ryan made a big difference. He came in and was accurate right from the start and he developed a chemistry with White and Jenkins that should continue to get better.

---
Greg in Cleveland writes:
I have to question your insistence that TD is looking at Johnson of GT. TD is HUGE into the tape, and the tape on Johnson isn't that pretty when one factors in a) plays taken off, b) lack of variety of pass rush moves, and c) his inability to hold POA on rushes to his side. Do you know something we don't?
Pat Yasinskas: Not really. I'm not saying the Falcons are definitely going to draft Georgia Tech defensive end Michael Johnson. I'm just saying there's a need at defensive end and he could be available at No. 24. I've also said repeatedly that linebacker or safety also could be possibilities in the first round. I'm familiar with the knocks on Johnson and they may scare Dimitroff and the Falcons away. But Johnson also has tremendous potential. His scouting report sounds a lot like Julius Peppers' did back when he was coming out in 2002 and Peppers has made it to four Pro Bowls. Again, the knocks on Johnson could be a concern. But, with pass rushers, you sometimes have to take a shot on potential.
February, 6, 2009
2/06/09
1:08
PM ET
| | |
| --- | --- |
| | |
| | Getty Images |
| | The NFC South has three head coaches returning from last season, but which team has the best coaching staff? |
Posted by ESPN.com's Pat Yasinskas
Free agency is still a few weeks away, but the Atlanta Falcons and New Orleans Saints are the NFC South's two biggest winners in the first phase of the offseason. The Carolina Panthers might have been the biggest loser and it's too early to fully judge the Tampa Bay Buccaneers.
In a very busy few weeks for most of the division's coaching staffs, Atlanta was able to keep its stellar group largely in place for the most part. The Saints didn't sit still and they made some moves that will make them a better team. Carolina curiously had most of its defensive staff walk away and also lost a very underrated offensive assistant.
The Bucs were the only team to make a change at the top, replacing Jon Gruden with Raheem Morris, and that led to an overhaul of most of the staff.
With all those changes so fresh, I'm going to rank the coaching staffs for the four NFC South teams. Keep in mind, the head coach certainly factors into this, but this ranking is for the entire coaching staff.

1. Atlanta Falcons. The best thing Mike Smith did when he took over as coach of the Falcons a year ago was to assemble an all-star team of assistants that included the likes of Mike Mularkey, Emmitt Thomas and Terry Robiskie. There's no doubt that coaching staff played a huge role in Atlanta's dramatic turnaround.
The best thing Smith has done so far this offseason was keep that staff pretty much intact. Some of that's just plain luck. Mularkey and Robiskie were mentioned in connection with head-coaching jobs, but neither became serious players. That's a huge stroke of luck because it gives the Falcons continuity on the coaching staff as they head into the second year of what Smith likes to call "the process."
That process is going to be a lot smoother because the Falcons can hit the ground running. If Mularkey and quarterbacks coach Bill Musgrave were able to get so much out of quarterback Matt Ryan in his rookie year, imagine what they can do when they've got him for a full offseason.
That's kind of the same story for this entire coaching staff. After a surprising 11-5 season, it's easy to forget that Atlanta's roster wasn't fully stocked last season. In particular, offensive line coach Paul Boudreau, Thomas and defensive coordinator Brian Van Gorder squeezed far more out of their groups than they had any right to.
Give general manager Thomas Dimitroff another offseason to fully get the roster where he wants and this coaching staff could really make the Falcons special.

2. New Orleans Saints. The jury still is very much out on head coach Sean Payton. He had a great rookie season in 2006, but the Saints have disappointed the last two seasons. There's a lot of personnel work to be done in the coming months, but Payton has made some strong moves with his coaching staff.
There's change at both coordinator positions and Payton did the smart thing by sticking with what's been working and blowing up what hasn't. After offensive coordinator Doug Marrone left for the head job at Syracuse, Payton promoted Pete Carmichael Jr. to his spot, basically tweaking an offensive staff that's had one of the league's most-productive units in recent years.
Payton took a dramatically different approach on defense, where he fired coordinator Gary Gibbs, whose group underachieved the last two years. In a move that's critical to Payton's future, he went out and (after some heavy bidding against other teams) got the best defensive coordinator available. That's Gregg Williams. There's no doubt Williams can coach and he'll bring an aggressive style to a defense that's been too passive. Now, it's up to general manager Mickey Loomis to get Williams some more players.

3. Carolina Panthers. Once upon a time -- like back in 2003 -- broadcaster and former NFL coach Jimmy Johnson said John Fox had the league's best group of assistants. You can't say that right now. Continuity had been one of the best virtues of this coaching staff -- until now. In a bizarre series of events, almost the entire defensive staff walked away from the Panthers.
A lot of fans got excited when defensive coordinator Mike Trgovac declined a new contract with the Panthers and left to become Green Bay's defensive line coach. But the venom from fans toward Trgovac the last few years was misdirected. Fox was the one ultimately calling the defensive shots and Trgovac was working within his parameters.
The Panthers brought in Ron Meeks to replace Trgovac, who might look a lot better in hindsight. Although Meeks officially resigned as defensive coordinator in Indianapolis, the fact is he was forced out. Oh, and defense wasn't exactly a big part of the reason the Colts had all those 12-win seasons.
On a more subtle note, the Panthers lost quarterbacks coach/passing game coordinator Mike McCoy to the offensive coordinator spot in Denver. This will hurt the Panthers more than many realize. McCoy was very instrumental in running this offense and the former Utah quarterback also was one of the guys the team relied on to try to keep receiver Steve Smith on an even keel.

4. Tampa Bay Buccaneers. In time, Morris might turn out to be a great head coach. But it's too early to tell if the 32-year-old, who served as a coordinator for all of two weeks, will succeed. Give Morris credit for assembling a decent staff at a time when a lot of positions around the league already had been filled.
He made a great hire in bringing in veteran defensive coordinator Jim Bates. In a lot of ways, Bates' experience will give the Bucs someone similar to former coordinator Monte Kiffin.
Morris' most critical hire was Jeff Jagodzinski as offensive coordinator. The former Boston College head coach has been a coordinator in the NFL before and he likes to throw the ball downfield. That's something Gruden's offense rarely did. In theory, Jagodzinski should be a good fit. In reality, he's going to need a very productive offseason from general manager Mark Dominik. The Bucs need to re-sign receiver Antonio Bryant and get a few more receivers. But the biggest challenge is going to be deciding on a quarterback and letting Jagodzinski, who worked with Matt Ryan at Boston College, develop
him.
December, 28, 2008
12/28/08
7:12
PM ET
| | |
| --- | --- |
| | |
| | Kevin Terrell/Getty Images |
| | Mike Smith, left, and Matt Ryan have the Atlanta Falcons on a roll heading into the playoffs. |
Posted by ESPN.com's Pat Yasinskas
ATLANTA -- In the postgame locker room Sunday at the Georgia Dome, a slogan was reborn.
What it lacks in originality is made up for by the possibility that it just might fit the Atlanta Falcons better than any team that ever has used the rallying cry.
"The message is, 'Why not us?'" coach Mike Smith said.
Why not?
As they enter the playoffs, the Falcons just might be the most dangerous team in the NFC. They're the hottest, entering the playoffs on a three-game winning streak. The top-seeded Giants and No. 2 Carolina are the obvious favorites and the most complete teams in the NFC.
"Why not us?" Atlanta receiver Roddy White said. "We're a good team. We beat a lot of good teams."
The Falcons just might have a point. At the moment, Atlanta has as much going for it as any team. Here are five reasons why the Falcons could win the NFC: