NFC South:

'The Fabulous Sports Babe''
January, 8, 2012
1/08/12
12:30
PM ET
EAST RUTHERFORD, N.J. –
Houston Texans
defensive coordinator Wade Phillips is on the radar for the
Tampa Bay Buccaneers
as they search for a head coach, ESPN's Chris Mortensen reported.
I'd heard some rumblings on this last week and Phillips was the guy I was referring to Friday when I was talking with ESPN Tampa Bay Radio's "The Fabulous Sports Babe'' and said there was one potential candidate who could raise some eyebrows.
That's because Phillips had seemed to be a forgotten man as people talked about candidates for the Tampa Bay job and other openings around the league. Phillips has had some success as a head coach and has done a remarkable job with Houston's defense this season.
You could make the case that Phillips is the "hottest'' name we've heard so far in Tampa Bay's search. We know the Bucs have interviewed Mike Sherman and Jerry Gray. Phillips has had more recent NFL experience and success than Sherman and Gray never has been an NFL head coach.
Mortensen also reported that the Bucs have interest in Cincinnati defensive coordinator Mike Zimmer and former NFL coach Marty Schottenheimer.
But age could work against Phillips, 64, and Schottenheimer, 68. But the Bucs do appear intent on going in a different direction after firing Raheem's Morris, whose age and maturity became issues as the Bucs went on a 10-game losing streak to end the season.
November, 14, 2011
11/14/11
1:03
PM ET
ATLANTA -- I'm about to travel home to NFC South blog headquarters. We'll check in later this afternoon on what all the NFC South coaches had to say in their day-after meetings with the media.
I'd imagine Sean Payton will be the only one in anything close to a good mood because the Saints were the only NFC South team to win Sunday.
For those in the Tampa Bay area, I'll be joining "The Fabulous Sports Babe" on ESPN Florida Radio (1040 AM) soon after I land in Tampa on Monday afternoon. We're scheduled to talk at approximately 2:20 p.m. ET. For those outside the Tampa Bay area, hit the
station's website
and you can listen live.
April, 27, 2011
4/27/11
7:15
AM ET
It's time to talk draft, so I'll be talking a lot about the draft on the radio the next few days.
Just a quick heads-up on some scheduled appearances. On Wednesday at approximately 9:30 a.m. ET, I'll join my good friend Bill Rosinski on
730 AM in Charlotte
. Rosinski is the former radio play-by-play guy for the
Carolina Panthers
and he and I once wrote a book together on the team. I'll do that interview from Tampa, before heading to Charlotte later in the day.
On Thursday, we'll flip that around. I'll be in Charlotte, but I'm scheduled to join
The Fabulous Sports Babe
at approximately 12:20 p.m. ET on ESPN Tampa Bay (1040 AM). I'll be back on that same station on Saturday at approximately 11 p.m. ET to chat about the first two days of the draft.
Also, a note to my good friend
Bobby Hebert
in New Orleans: I know you're going to call and I'll gladly take care of you. But, sometimes, a little advance notice can be helpful at this time of year because it helps me mark off time in my schedule. But, hey, I'll always make time whenever the "Cajun Cannon" calls.
April, 15, 2011
4/15/11
10:38
AM ET
We're inside the two-week mark until the NFL draft and that means some busy times, despite the NFL's labor lockout.
We've got a pretty full schedule from now right through the NFL draft, so let's give you a little preview of what's coming.
Our weekly NFC South chat will be held Friday at 1 p.m. ET. Here's
the link
.
Soon after I finish with the chat, I'll be
chatting with The Fabulous Sports Babe
on ESPN Tampa Bay. That's 1040 on your AM radio dial in Tampa Bay. If you're not in Tampa Bay or don't want to turn on the radio, you can listen live by
clicking here
. We're scheduled to chat at approximately 2:20 p.m.
We'll continue the Power Rankings series Tuesday with the cornerbacks. I haven't seen the results of the voting yet, but I can tell you I included two NFC South cornerbacks on my ballot. I'll be the one writing the story on our Power Rankings for quarterbacks the following Tuesday. I'm thinking three NFC South quarterbacks might show up on my ballot. I haven't really crunched the numbers yet, but I'm thinking one of those NFC South guys might split the almighty top-two duo of Tom Brady and Peyton Manning. We'll see what I decide, but I'm thinking this guy has won a Super Bowl more recently than Manning and I think his stats over the last three or four seasons stack up pretty well.
We'll conclude our Draft Watch series Thursday with dream scenarios. In the case of the Carolina Panthers, I'm thinking that means Andrew Luck suddenly decides he wants to enter this year's draft and gets a court injunction to make him eligible.
Speaking of the draft, I've got my ticket for Charlotte, where I'll be spending all three days of the draft. Obviously, the focus is on the Panthers because they have the top pick, but I'll be monitoring and analyzing the picks for all NFC South teams from the media cave that lies deep within Bank of America Stadium.
March, 28, 2011
3/28/11
12:55
PM ET
A quick heads up to those in the Tampa Bay area: I'll be
talking about the Aqib Talib situation
with "The Fabulous Sports Babe'' on ESPN Tampa Radio (1040 AM) momentarily.
I'm still waiting on an exact time, but I believe we'll be chatting shortly after Babe finishes her 1 p.m. commercial break. UPDATE: We're going live at 1:05 p.m.
November, 2, 2010
11/02/10
11:53
AM ET
Over the next few hours, you'll see some of our regular Tuesday features pop up. We'll have the updated ESPN.com Power Rankings, High Energy Player of the Week and Decisive Moment of the Week.
I've already future posted those items and I'll be monitoring any other news via cell phone and computer from temporary NFC South Blog Headquarters this afternoon. I'll be setting up shop at Saint Leo University, my alma mater, which will be hosting a luncheon and ceremony to unveil what will be contained in the display "Tom McEwen: A Tampa Bay Treasure.''
I
wrote about this several weeks ago
and, for those who don't recall, McEwen is the legendary former sports editor of The Tampa Tribune and played a big role in getting the Buccaneers, Lightning and Rays to town as expansion teams and also helped clear the way for the University of South Florida to start a football program.
Saint Leo will be the permanent home to a collection of McEwen's work and memorabilia that will chronicle the history of sports in the Tampa Bay area. The luncheon is private and the permanent display case is still under construction. I'll let you know when it's ready and open to the public, which should be sometime in the next 60 days or so.
But much of the Tampa Bay sports world will be gathering at Saint Leo to honor Tom this afternoon. ESPN's Sal Paolantonio will serve as master of ceremonies and the guest speakers will include Pro Football Hall of Fame member Lee Roy Selmon, veteran Tampa Tribune writer Joey Johnston and a certain NFC South blogger.
The Bucs, Lightning and Rays each will be sending representatives and there will be a large collection of media members who started their careers working for McEwen. In fact, if you're in the Tampa Bay area, you'll be able to hear from a lot of the guests.
"The Fabulous Sports Babe'' will be broadcasting live from right outside the luncheon room on ESPN Tampa Bay (1040 AM) from noon to 3 p.m. I'll join her for a few minutes at some point. A bunch of media friends also have committed to chat for a bit and you might even hear from some representatives from the Tampa Bay professional sports teams.
September, 17, 2010
9/17/10
12:49
PM ET
It's turning out to be a very chatty Friday in the NFC South.
In addition to our
regular 1 p.m. ET chat on SportsNation
, I'll be doing a radio interview with my long-time friend,
"The Fabulous Sports Babe
." I'll have to jump off the chat promptly at 2 p.m., because the interview with "The Babe'' is scheduled for 2:05 p.m. on 1040 (AM) ESPN Tampa Bay.
I'm sure we'll be talking plenty about the Buccaneers and Panthers playing each other Sunday. But "The Babe" keeps a pretty close eye on the whole NFL, so I wouldn't be surprised if we also talk a little about the Falcons and Saints.
As a matter of fact, so I don't feel like I'm shorting you at the end of the chat. I'm going to go ahead and jump in a little bit early -- as in right now.
August, 18, 2010
8/18/10
12:31
PM ET
For those in the Tampa Bay region, I'm scheduled to talk with "The Fabulous Sports Babe'' at approximately 1:40 p.m. ET on Wednesday.
That's on
ESPN Tampa Bay radio (1040 AM)
and I'm sure we'll be talking plenty about the Buccaneers and probably a little about the rest of the NFC South. The Babe and I don't have to script it because we're old friends.
I remember spending more than a few hours with the Babe in the old media trailer at the former One Buccaneer Place back in the Sam Wyche days.
April, 21, 2010
4/21/10
6:00
PM ET
Some random notes and thoughts on the eve of the draft.
I wasn't sure how I felt about the draft's new format when it was first announced. But I'm thinking I like it now as I look ahead to Thursday. My plan is to hit the gym in the morning, join "The Fabulous Sports Babe'' on ESPN Radio Tampa Bay live from Peggy O'Neill's Irish Pub and Eatery at 13910 W. Hillsborough Ave. in Tampa from 2 p.m. to 3 p.m. ET and then head out to One Buc Place, where I'll be spending much of the night Thursday and Friday. Relax Atlanta and New Orleans fans, I'll be reporting on your picks from out there, too. And we'll get around to the Panthers on Friday when they finally make a draft pick. Also, Carolina fans, I'll be coming to Charlotte for minicamp next week.
On my earlier post about guys who should be nervous about the draft, I cut the number off at five. But we'll throw out an honorable mention here to Tampa Bay receiver Michael Clayton. The Bucs are going to come out of this draft with at least one receiver, probably two. Even if those guys are raw and inexperienced they might have an edge on Clayton, who hasn't been seen since his rookie year.
Scott Reynolds made the pick for the Buccaneers on NFL Network. He said the same thing I've been saying –- defensive tackle Gerald McCoy.
I'm still thinking defensive end Brandon Graham for the Falcons, if he's still available. But I keep hearing this voice in the back of my head that I heard from someone with the Falcons soon after their brass attended Penn State's pro day –- "Keep an eye on that one.'' Presumably, the reference was to defensive tackle Jared Odrick. It could have also meant linebacker Navarro Bowman, but I think he comes with more questions than the Falcons want.
Suggestion for any NFC South general manager looking for a safety: You should take a look at some talk-radio producers. These people are relentless. Their hosts give them instructions to track down writers to take part in mock drafts and they'll chase you every way they can. Not sure about their measurables, but they are fearless. Anybody that knows me, knows it's not a real good idea to call my cell phone before 7 a.m.
I still am a little amazed that so many Carolina fans think something incredibly dramatic is going to happen with the Panthers during the draft. I understand your frustration. But if the Panthers were going to make some major trade or sign a big-name free agent, they would already have done some things like this. John Fox and Marty Hurney are sticking to their principles even as they sit on the hot seat.
Mike Triplett points out one of the best draft facts I've seen this year and it's especially relevant to his audience because the Saints hold the 32nd overall pick. Exactly nine years ago, No. 32 overall was Drew Brees to San Diego. Yeah, you just might be able to find a player at No. 32.
April, 20, 2010
4/20/10
11:00
AM ET
We have started what should be the most interesting week of the offseason and it will really kick into high gear tonight when the NFL announces its 2010 regular-season schedule at 7 p.m. ET.

Very soon after that, I'll do an analysis on the schedule for each of the four teams in the NFC South. We'll continue with all our advance looks at the draft today, Wednesday and before it kicks off Thursday night.

Speaking of draft day, I'll be joining my good friend, "The Fabulous Sports Babe'', on ESPN Radio Tampa Bay for the final hour of her show Thursday. That will be from 2 to 3 p.m. and we'll be coming to you live from Peggy O'Neill's Irish Pub and Eatery at 13910 W. Hillsborough Ave. in Tampa.

Once The Babe and I are finished, I'll head over to One Buc Place to get set up for the first night of the draft.
February, 28, 2010
2/28/10
11:35
AM ET
Time for a weekend trip through the mailbag.
Rich in Estero, Fla., writes:
Pat, I absolutely loved the
piece you did
on
Josh Freeman
! He really is a standup guy (even more than I thought.) A lot of times in the recent years you've been critical of Tampa and rightfully so. This is the kind of article that semi-confirms my thought about the Bucs: We're moving in the right direction, not just to be one-year wonders, but to be perennial contenders. I know Freeman hit a few bumps in the road, but do you see him as being one of the ELITE QBs within the next 3 years? I know it's hard to speculate so far into the future, but give it a shot!
Pat Yasinskas:
I think Josh Freeman has a chance to be a very good quarterback, maybe even elite. I think you have to be encouraged by what he showed as a rookie. Sure, he had some rookie moments, but he also made some plays with a bad team around him. With a full offseason and stability on the coaching staff, I look for Freeman to take a big step forward next season. Understandably, people are critical of the Bucs. But Freeman is the focal point of this whole building process, and I think that's reason enough to be encouraged. As far as Freeman being a "stand-up guy,'' I always thought he did a good job of carrying himself with the media. After sitting down with him the other day, I was even more impressed than before. He's poised and engaging and he's also very genuine. A lot of times when athletes make an appearance, they're gone as soon as their obligation is over. Freeman stayed around and just chatted with "The Fabulous Sports Babe'' and me and took pictures with Babe.
---
Robbie in Murphy, N.C., writes:
It's being reported that the Panthers offered
Julius Peppers
a long-term contract that would have paid him between 13-14 million annually. I think Peppers is crazy for thinking that any other team will beat that deal, he may even find it hard for a team to match that deal.
Pat Yasinskas:
Agree totally. I think Peppers might have a hard time getting more than $10 million a year. He's 30 and he hasn't always been consistent. Plus, I think most owners are going to be very conservative with their money because of the uncertain labor situation. Then again, it's only going to take one owner to change that and Peppers' athletic ability could tempt someone into breaking the bank. But I don't think Peppers' issues in Carolina were all about money. I think he just wanted out of there.
---
Jeremy in Wilmington, N.C., writes:
Hey Pat, thanks for always keeping us readers up to date on everything in the NFC South. Just read one of the Miami articles and saw that
Chad Pennington
is going to be an unrestricted free agent next year. I realize he is coming off of his 3rd surgery, but I wonder what the possibilities are of the Panthers going after him? He seems to be a decent quarterback and Miami was doing well with him before he went down. If anything, he managed the games well with the duo of Brown and Williams--similar to what Fox likes and not to mention
DeAngelo Williams
and
Jonathan Stewart
could take some load off his shoulders. Everyone saw potential in
Matt Moore
but like you said we probably need another option. Any thoughts?
Pat Yasinskas:
Not saying they will do it, but I think Pennington would be a perfect fit. He's a dependable game manager and is a guy who has been a leader wherever he's been. Yep, I like what Moore did at the end of last season, but I don't think you can definitively say he's the answer yet. And, sadly, I think it's become obvious
Jake Delhomme
's not the answer. I think the Panthers should bring in someone like Pennington. If Moore steps up and wins the job, great. If not, Carolina would have a viable alternative.
---
Bryan in Sydney writes:
Hi Pat, Do the restrictions on free agency for the top eight teams still apply to players that have been cut, or to all UFA's? So, would the Saints be able to pursue someone like
Joey Porter
(if/when he gets cut), or would they have to lose a similarly priced veteran? If you're concerned about the locker room fit, Sean Payton could keep him in a "Cone of Silence" a la Get Smart until game days.
Pat Yasinskas:
No, the rules apply only to unrestricted free agents. If a player is cut by another team, the Saints are free to pursue him. But I'm not sure Joey Porter is someone the Saints would have any interest in.
---
Robert in Washington, D.C. writes:
Hey Pat, If he falls to the 95th pick, I feel like Sean Payton might be able to talk himself into Tim Tebow. What do you think? I think with Payton's offensive mind, Tebow could look like an awesome new toy.
Pat Yasinskas:
It's true Payton is a brilliant offensive mind. However, I remember being out at Saints practice last year and asking Payton about possible interest in
Michael Vick
, who was available at the time. His response was something like, "Why would I even consider taking the ball out of Drew Brees' hands?'' Can't argue with him on that one.
February, 26, 2010
2/26/10
5:27
PM ET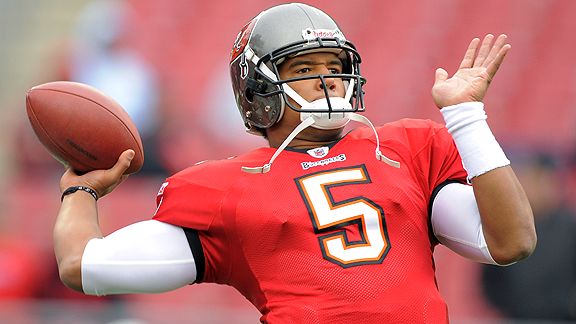 Scott A. Miller/US PresswireQuarterback Josh Freeman is helping the Bucs prepare for the upcoming draft.
LAKE BUENA VISTA, Fla. -- There's a new guy helping the
Tampa Bay Buccaneers
as they scout the prospects for this year's NFL draft.
It's quarterback
Josh Freeman
-- the same guy their drafted with their top pick. Yes, he's part franchise quarterback and part scout and he'll even tip his hand and tell you some of the guys he thinks the Bucs should take.
"I've been in watching film of different receivers with the offensive coordinator and the quarterback coach,'' Freeman said Friday. "You might not have the
Michael Crabtree
or the Darius Heyward-Bey, but it's a pretty talented receiver group coming out this year. There's
Dez Bryant
and I'm a big fan out
Jordan Shipley
out of Texas.''
Along with "The Fabulous Sports Babe'' of ESPN Radio Tampa, I got to spend about 20 minutes chatting with Freeman on Friday afternoon as he attended "ESPN The Weekend'' and the re-branding of ESPN's Wide World of Sports. It was just a momentary break for Freeman, who soon will be back in Tampa, working out and scouting.
Yes, the Bucs really are asking Freeman for his opinions. That may sound a little bit out of the ordinary, but it's actually a very smart move. Freeman, after all, is the franchise quarterback and the most positive thing the Bucs have going for them at this moment. It only makes sense to hear his thoughts.
You might be a little surprised to hear that Freeman's first choice isn't to get a wide receiver. Freeman said, if the draft were today and he was in the shoes of general manager Mark Dominik, he would take Nebraska defensive tackle
Ndamukong Suh
.
"I would love to see Suh here,'' Freeman said.
The Bucs would be wise to listen to Freeman's thoughts on Suh because their quarterback knows the defensive tackle very well. They first became friends as teammates in a high-school all-star game, saw each other frequently as college foes and were hanging out together at the Super Bowl in Miami a few weeks ago.
"He basically lived in my backfield every time I played against Nebraska,'' said Freeman, who played at Kansas State. "The drive that that guy has is unbelievable. He's going to be a great teammate for whoever he goes to. The guy makes plays. He gets in the backfield and nobody can block him. They're trying to figure out what's going to help our team the most. If it's a receiver, it's a receiver. If it's get Suh, it's getting Suh. Anyway you look at it, I'm excited.''
Freeman should be excited. After a 3-13 season in which Freeman took over as the starter near the halfway point, the Bucs have 10 picks in this year's draft, including five in the top 99. If they can get Suh with the third overall pick, wide receiver could be a target area for one of their two second-round picks.
The Bucs already have made it clear they'll let last year's No. 1 wide receiver,
Antonio Bryant
, leave as a free agent.
"Antonio's a great player,'' Freeman said. "He makes a lot of plays. Obviously, the franchise -- the owners, GM and the coaches -- didn't feel like he'd be able to help us next year. The time I got to spend with Antonio Bryant, I treasured it and he made a lot of great plays for me. I wish him luck with the rest of his career even though he's not going to be in Tampa next season.''
Freeman praised Bryant, but that formula didn't always work in reverse. At one point last season, Bryant said his lack of production was due to playing with a rookie quarterback. That may be part of the reason why Bryant is on his way out of Tampa Bay.
You don't criticize the franchise and Freeman is the franchise here. Freeman also praised
Michael Clayton
,
Maurice Stovall
and
Sammie Stroughter
, but he made no secret of the fact the Bucs are looking for a No. 1 receiver in the draft or free agency.
"Looking at our roster right now, we've got a lot of guys that can make plays,'' Freeman said. "But we really don't have that burner, the guy you can just send him on a Go (route), throw it up 70 yards and let him run under it.''
The Bucs have that guy who can throw it up 70 yards in Freeman and they're going to try to get him every toy possible because he is the franchise. At very least, Freeman's going to have some say in who that guy is and, listening to him talk Friday, he's more of a student of the game than I ever realized. Freeman talked extensively about college players at all positions and sounded a little like a draftnik.
That's a good thing and talk about the draft wasn't the only positive thing coming from Freeman. Although team offseason workouts don't start for nearly another month, Tampa Bay fans will be happy to know that Freeman already has been working (not just scouting) for the last few weeks.
"You take a little break and after about two weeks, I was kind of like, "Man, I'm kind of tired of this. I'm ready to get back into the football mood,''' Freeman said. "I've started working out with our new quarterbacks coach Alex Van Pelt and our offensive coordinator (Greg Olson). I've been working. I can't wait for the second season.''
Freeman has seemed pretty poised ever since the Bucs drafted him. But I thought he seemed even more mature Friday. That may be because he already has seen so much. The Bucs fired offensive coordinator Jeff Jagodzinski just before the season and the team struggled under first-year coach Raheem Morris for much of the season.
But there was some hope later in the season, after Freeman started playing. He had some good games and led a victory over Super Bowl champion New Orleans. Freeman said the game slowed down for him as the season went on and he's looking forward to having an entire offseason working in Olson's offense.
He also said he's looking forward to Morris returning for his second season.
"It was kind of evident during the early part of the season, he was feeling his way around just like any rookie,'' Freeman said. "They did the stuff with the coordinators and you could see later in the season we were playing better and better. You could tell he's getting the grasp for it and he's getting it fast. I'm excited to see him coach this year.''
Funny, but that sounds a lot like the scouting report on the quarterback. Freeman went through a lot of the things rookie quarterbacks do. Late in the year, he did some really good things. You could tell he was grasping it and maybe he's right about Morris grasping it.
Maybe the Bucs are just a few pieces from turning the corner. Maybe, with Freeman helping as a scout, the Bucs will figure out exactly what to put next to their franchise.
May, 7, 2009
5/07/09
2:20
PM ET
Posted by ESPN.com's Pat Yasinskas
I'm about to begin the trek from Tampa to Flowery Branch, Ga., where I'll be covering Falcons' minicamp, which begins Friday morning.
Some story lines I'll be following:
Tony Gonzalez's first practice with the Falcons.
What Atlanta's defense looks like after a massive overhaul in the offseason.
How Matt Ryan is looking to beat the "sophomore slump.''
A look at the safety position after the departure of Lawyer Milloy.
And I'll be looking to see if there are any signs of the Falcons looking to give Jerious Norwood a few more carries to ease the load on Michael Turner.
Also, for those in the Tampa Bay area, I'm scheduled for an interview on the NFC South on ESPN Radio Tampa Bay on Friday at 10:10 a.m. The interview will be with "The Fabulous Sports Babe'', which you can find at 1040 on your AM dial.