December, 23, 2012
12/23/12
7:02
AM ET
DETROIT -- With some help from ESPN Stats & Information and the Falcons' media relations department, let's take a by-the-numbers look back at how Atlanta defeated Detroit, 31-18, Saturday night at Ford Field.
The Falcons won for the fourth time on prime-time television this season. Since 2008, the Falcons are 8-4 in prime-time games.
Coach Mike Smith posted his 56th career win. Smith's record is 56-23. That's the second-best record in five seasons in NFL history. Former San Francisco coach George Seifert is No. 1 at 62-18.
Quarterback Matt Ryan completed 25 of 32 passes for 279 yards with four touchdowns and a 142.6 passer rating. That's the exact same passer rating Ryan posted in last week's win against the New York Giants.
The Falcons are 32-1 when Ryan has a passer rating of 100 or better. His passer rating is 100.2 for the season and he has a chance to become only the second quarterback in franchise history to post a passer rating of at least 100 for a season. Chris Chandler had a 100.9 passer rating in the 1998 season -- the only time the Falcons reached the Super Bowl.
The four touchdowns matched Ryan's career high and he now is tied for the franchise record for touchdown passes in a season (31) with Steve Bartkowski.
Ryan was especially good on play-action passes. He completed all seven of his attempts for 109 yards and three touchdowns.
Only three of Ryan's passes (excluding throwaways) were incomplete due to an overthrow or underthrow. Ryan leads the NFL with only 13.4 percent of his passes falling off target.
Receiver Roddy White joined Marvin Harrison, Torry Holt, Jerry Rice, Tim Brown and Reggie Wayne as the only players in NFL history to record six straight seasons with 80 catches and 1,000 yards.
White finished with eight catches for 153 yards and two touchdowns. It marked the 35th 100-yard game of his career, and White tied his franchise record for 100-yard games in a season (seven).
With one game remaining, White is 81 yards shy of breaking the franchise record for receiving yards in a season (1,389) that he set in 2010.
Detroit's Matthew Stafford didn't have a passing touchdown. That marked the fifth time in the last six games the Falcons have not allowed a touchdown pass.
The defense had three takeaways and the Falcons produced points each time. Atlanta now has 96 points off 29 takeaways this season.
October, 11, 2012
10/11/12
3:30
PM ET
Tony Gonzalez
seems ageless.
At 36, he leads the NFL with 39 receptions through five games. With some help from ESPN Stats & Information, let's put some historical perspective on that.
The 39 receptions through five games are the most in NFL history -- by far -- by a player 36 or older.
Jerry Rice
and
Terrell Owens
are tied for the next spot on the list with 31 catches. Rice did that in 2002, when he was 39. Owens did it in 2010, when he was 36. The fourth-best start in history, also belongs to Rice -- 25 receptions to start the 2001 season. The top five is rounded out by
Tim Brown
, who had 24 catches through five games in 2002.
Gonzalez also is one touchdown short of becoming the eighth player in NFL history with 100 receiving touchdowns. He currently is tied with Don Hutson with 99 touchdown catches. The next touchdown catch by Gonzalez will put him into a tie with Brown and Steve Largent.
We've talked a lot about how Atlanta tight end
October, 8, 2012
10/08/12
9:24
AM ET
With some help from ESPN Stats & Information and Atlanta's media-relations team, let's take a run through the statistical highlights of the Falcons'
24-17 victory
against the
Washington Redskins
.
Washington did a good job keeping Atlanta's passing game in check inside the numbers. But Matt Ryan was able to carve up the edges of the field. On throws outside the numbers, Ryan was 19 of 25 (76 percent) for 184 yards and both of his touchdowns.
Tight end Tony Gonzalez had a huge day, catching 13 passes for 123 yards and a touchdown. Gonzalez was targeted 14 times, the most he's been targeted since joining the Falcons. Gonzalez's touchdown was his 24th catch on an end-zone target since the start of the 2008 season -- the most by any tight end during that span.
Gonzalez's 13 receptions were the second-highest total of his career. He had 14 catches while playing for Kansas City on Christmas Day 2004.
Coach Mike Smith now has a 48-21 record. With a win next week, he'll tie Dan Reeves for most victories in franchise history. Reeves was 49-59-1.
Gonzalez tied Don Hutson for eighth place on the NFL's all-time touchdown receptions list. Tim Brown and Steve Largent, who each had 100 touchdown catches, are the next players ahead of Gonzalez.
Ryan led a game-winning drive in the fourth quarter Sunday. He also did that the previous week against Carolina. In his five-year career, Ryan now has 18 game-winning drives in the fourth quarter or overtime.
Ryan has thrown at least one touchdown pass in 20 straight games. He also has thrown two or more touchdowns in each of his last six games.
The Atlanta defense held the Redskins to 12 first downs and allowed Washington to convert on one of nine third-down attempts.
Matt Bryant now has made a 53-yard field goal in the fourth quarter, the longest road field goal of his career. Bryant also has made 23 straight field goals. He set the franchise record with 30 straight between 2010 and '11.
Roddy White had four catches for 68 yards. He now has 561 career receptions. He needs 13 more to pass Terance Mathis as the franchise's all-time leader.
January, 7, 2012
1/07/12
6:56
PM ET
NEWARK, N.J. -- I'm not quite in New York, but I can see it across the river.
Anyway, lots to deal with before we get ready for Sunday's playoff game between the Falcons and Giants. Most importantly, we'll have Saturday night's game between the Saints and Lions.
I'll be taking part in the
Countdown Live chat
throughout the game. I'll be joining colleagues Kevin Seifert and Jeff Chadiha, who will be at the game, along with Scouts Inc.'s Matt Williamson and ESPN Stats & Information. I'll also provide a wrap-up soon after the game ends.
Also, a couple of other NFC South notes to catch up on. The Pro Football Hall of Fame announced its list of 15 finalists from the modern era for the Class of 2012 and we have four guys with NFC South ties. The main one is former New Orleans offensive tackle Willie Roaf. The others are Chris Doleman, Kevin Greene and Tim Brown, who each had brief stops in the NFC South. The final voting will be held the day before the Super Bowl in February.
Also, the Falcons have
granted permission
for offensive coordinator Mike Mularkey to interview with the Miami Dolphins for their opening for a head coach. The Falcons previously gave Jacksonville permission to interview Mularkey. The Tampa Bay Buccaneers also have a vacancy and it wouldn't be a shock if Mularkey becomes a candidate for that job.
November, 22, 2011
11/22/11
5:58
PM ET
The Pro Football Hall of Fame just announced its list of 26 semifinalists for the Class of 2012 and we've got some NFC South ties.
Former New Orleans offensive tackle
Willie Roaf
has the strongest ties to the division, even though he left the Saints just as the NFC South was created. Roaf, who finished his career with Kansas City, narrowly missed election last year.
Then, we've got some other guys that weren't primarily NFC South players, but spent small parts of their careers playing for teams in the division.
That includes former Carolina linebacker
Kevin Greene
and former Atlanta linebacker
Clay Matthews
and Falcons defensive end/linebacker
Chris Doleman
. After that you have to scrape for guys with NFC South ties.
Receiver
Tim Brown
finished his career with Tampa Bay. Longtime front-office leader Ron Wolf is best known for his work in Green Bay, but he did spend a few years with the Buccaneers in the 1970s.
Oh, there also is Bill Parcells, who
almost
coached the Buccaneers -- twice.
The semifinalists came after voters narrowed the list from 105 preliminary nominees. The list will again be reduced to 15 finalists in January and the final voting will take place the day before the Super Bowl.
October, 3, 2011
10/03/11
10:39
AM ET
With some help from ESPN Stats & Information and the individual NFC South teams, let's take a look at some interesting numbers and facts after Sunday's games.
New Orleans' Drew Brees now has thrown a touchdown pass in 31 straight games. That broke his tie with Dan Marino and gives Brees the third-longest streak in NFL history. Johnny Unitas (47) holds the record and Brett Favre (36) is second.
New Orleans' Jimmy Graham caught 10 passes for 132 yards and a touchdown Sunday. That makes him the first primary tight end (not including wide receivers who sometimes lined up at tight end) to catch 10 passes in a game for the Saints since Cam Cleeland on Dec. 27, 1998.
New Orleans' win was the first regular-season victory ever for an NFC South team in Jacksonville. Prior to Sunday, the four NFC South teams were a combined 0-8 in Jacksonville.
Carolina's run defense continued to struggle against Chicago. Matt Forte rushed for a career-high 205 yards on 25 carries. That's the most by a Chicago player since Walter Payton ran for 275 yards in Week 10 of the 1977 season.
Carolina rookie quarterback Cam Newton completed 27 of 46 passes for 374 yards with one passing touchdown and two rushing touchdowns. He and Steve Young (Week 3 of the 1994 season) are the only players since the AFL-NFL merger to have 350 passing yards, a passing touchdown and two rushing touchdowns in a game.
Newton has 1,386 passing yards in the first four games of his career. That's 286 more yards than Billy Volek, who held the previous record.
Carolina receiver Steve Smith had 181 receiving yards Sunday. He is the first player since Tim Brown in 1997 to have at least 150 receiving yards in three of his team's first four games.
Atlanta's Michael Turner carried 26 times against Seattle. The Falcons now are 23-1 in games in which Turner has at least 25 carries.
Julio Jones had his second straight 100-yard receiving game. He's the first Atlanta rookie receiver to have multiple 100-yard receiving games in a season since Alfred Jackson in 1978.
The Falcons scored a touchdown on their opening drive for the first time this season.
Atlanta now has forced a turnover in 23 consecutive regular-season games, the longest such streak in the league.
The Falcons now are 5-0 in regular-season West Coast games since Mike Smith took over as coach in 2008.
Under Smith, the Falcons are 13-3 following a loss.
June, 23, 2011
6/23/11
11:04
AM ET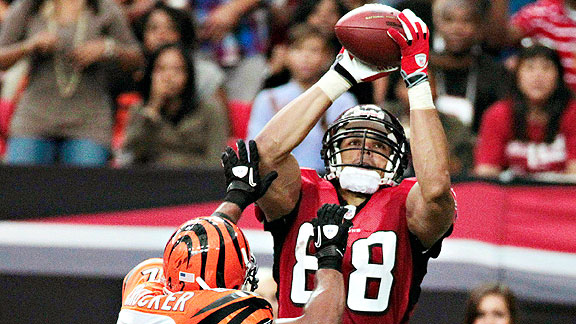 AP Photo/John AmisIs Tony Gonzalez, who holds nearly every tight end record, a first-ballot Hall of Famer?
When it comes to
Tony Gonzalez
the question isn't if he'll get into the Pro Football Hall of Fame. There's no doubt the man with the best tight end statistics in just about every category that can be measured will be selected.
The question is, when will it happen?
Common sense would lead you to believe Gonzalez will retire from the
Atlanta Falcons
and, five years later, he'll get in on the first ballot. But recent history tells us that common sense may not apply when it comes to putting tight ends in the Hall of Fame, especially on the first ballot. Tight end is a unique position, and voters obviously view it that way.
Take a look at
this list of Hall of Famers
, sorted by position. You'll see that kickers are the only group with less representation than tight ends. There are more than double the amount of "contributors'' than there are tight ends in the Hall of Fame. Same for coaches.
There are currently just seven tight ends in the Hall of Fame. That number will increase to eight later this summer when
Shannon Sharpe
is inducted. The mere mention of Sharpe's name and Hall of Fame voting shows that it's not a slam-dunk that Gonzalez will go in on the first ballot.
A few years back, Sharpe was in pretty much the same spot Gonzalez will be in. Sharpe retired in 2003 as the holder of virtually every all-time record for tight ends. He also had three Super Bowl rings.
When Sharpe was first eligible for the Hall of Fame in 2009, he was passed over. The same thing happened in 2010. There's a school of thought that some Hall of Fame voters wanted to make Sharpe wait for a couple of years, simply because he was a tight end.
"When Shannon retired, he was the most prolific tight end in all the categories, and if that's not a Hall of Famer, then I'm trying to figure out what the definition of the Hall of Fame is," Hall of Fame defensive back
Rod Woodson
said after Sharpe came up short in his second year of eligibility. "There hasn't been a tight end ever on the first ballot, but this was his second, so I was thinking and hoping that they would do the right thing.''
[+] Enlarge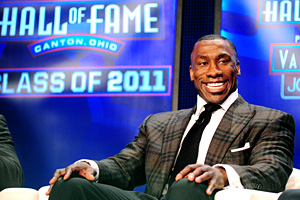 Mark J. Rebilas/US PRESSWIREThe Hall of Fame voters made Shannon Sharpe -- arguably the game's best tight end before Tony Gonzalez -- wait to earn induction into Canton.
I'll make a case right now that the right thing to do with Gonzalez when the time comes is to put him in on the first ballot. Anything else would be flat-out wrong.
Gonzalez is simply the best tight end ever. Sharpe might have held that title for a while. But, within a few of years of Sharpe's retirement, Gonzalez started breaking all of his records. The two aren't even close in most statistical categories anymore. Gonzalez has 12,463 receiving yards. That's almost 2,403 more than Sharpe. Gonzalez has 1,069 career receptions. That's 254 more than Sharpe.
The gap is only going to get bigger. At 35, Gonzalez may not be what he was in his prime as he was back in 2004 with Kansas City when he set a single-season record for catches by a tight end with 102. But in an Atlanta offense that's already good and could be even better with the addition of rookie
Julio Jones
, Gonzalez remains an important role player.
Let's just say Gonzalez has another season something like last year, when he caught 70 passes for 656 yards and six touchdowns. Anything close to that, and he adds another layer of insulation between his records and what Sharpe did.
Anything close to last year and Gonzalez will have numbers that basically double what Hall of Famer
Kellen Winslow
did. With the
San Diego Chargers
back in the 1980s, Winslow revolutionized the tight end position. Tight ends used to be pretty much just blockers, but Winslow made catching passes part of the job description.
In other words, Winslow changed the game and the position. If you do that, you should be a Hall of Famer. Gonzalez has done that. He's left Winslow and Sharpe far behind in the argument about the greatest tight end ever.
Gonzalez is the guy who opened the door for a generation of former basketball players to start becoming as important as wide receivers in many offenses. That brings us to another point about Gonzalez and why he should go in on the first ballot.
He's a tight end, but he's got numbers that are just as good as some Hall of Fame wide receivers. Gonzalez has more receiving yards than guys like Charlie Joiner, Don Maynard,
Michael Irvin
and Lance Alworth.
Yeah, those guys played in different generations when the league wasn't as geared toward the passing game. But Gonzalez created a whole new generation of tight ends. Yeah, it sometimes takes too long even for wide receivers to get into the Hall of Fame. Guys like Lynn Swann and John Stallworth were placed on a waiting list for about two decades and there's a backlog still sitting there.
But Gonzalez shouldn't have to wait just because he's a tight end. Gonzalez currently is No. 6 all-time with 1,069 receptions. The only guys ahead of him are
Jerry Rice
,
Marvin Harrison
,
Cris Carter
,
Tim Brown
and
Terrell Owens
.
If Gonzalez catches 34 more passes, he'll move up to No. 2. He'll be behind only Rice, which says a lot. When Rice was first eligible for the Hall of Fame, voters skipped over the usual ritual of making wide receivers wait. That's because there was a universal agreement that Rice was the best wide receiver ever to play the game.
There's universal agreement Gonzalez is the best tight end ever to play the game, and he deserves the same treatment.
There's one other argument that could be used against Gonzalez. He's never played on a Super Bowl champion. He's never even gone deep into the postseason. For the longest time, a lot of Hall of Fame voters seemed to think a Super Bowl ring was a requirement for selection.
That idea seems to have faded some in recent years. But there is one way Gonzalez can make sure that's not an issue. He can go out and help the Falcons win a Super Bowl this season. Then, he could go out in a blaze of glory or he could even stick around and pad his résumé for another year or two.
But Gonzalez shouldn't have to worry about adding much more to his résumé. He's already done enough to be a first-ballot Hall of Famer.
February, 5, 2011
2/05/11
12:58
PM ET
The election process for the 2011 class of members for the Pro Football Hall of Fame is being held right now.

The official announcement will come at 7 p.m. ET tonight, so keep an eye on the headlines section of our main NFL page right around that time. As soon as we get word, I'll post an analysis on this blog on how the three guys with NFC South ties -- Willie Roaf, Deion Sanders and Tim Brown -- fared.

If Roaf or Sanders get in, I'll do individual posts, reflecting on their time with the Saints and Falcons, respectively. We'll leave Brown up to AFC West blogger Bill Williamson because Brown only spent the final year of his career in Tampa Bay and didn't do anything of significance there.
February, 2, 2011
2/02/11
1:18
PM ET
With the voting for the 2011 class of Pro Football Hall of Fame members coming up Saturday, we previously have talked about
Willie Roaf
and
Deion Sanders
as the NFC South candidates.
Even that's not entirely true. Roaf spent time with Kansas City at the end of his career. But he spent the bulk of his career with New Orleans, so he's typically viewed as a Saint. Sanders bounced around quite a bit and might have had a higher profile in stretches with Dallas and San Francisco, but he spent a good chunk of his career in Atlanta, so a lot of people will view him as a Falcon.
[+] Enlarge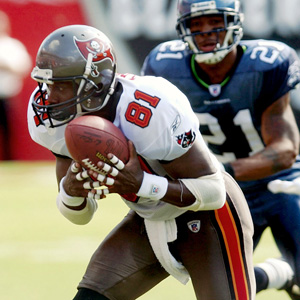 AP Photo/Chris O'MearaTim Brown finished up his 17-season career in Tampa Bay.
But there's one other guy who played in the NFC South that we haven't talked about here who has a real chance to get in.
That's wide receiver Tim Brown
. Yes, he really did play in the NFC South and unlike Roaf and Sanders, he actually played in the division after it came into existence. Roaf left New Orleans for Kansas City in 2002, the year the NFC South started, and Sanders' time in Atlanta was long before divisional realignment.
But Brown played for Tampa Bay in 2004, the last year of his career. He spent the rest of his career with the Raiders and came to Tampa Bay to finish up with former Oakland coach Jon Gruden.
Brown didn't do much in that season with the Bucs. He appeared in 15 games, started four, made 24 catches for 200 yards and a touchdown. If he goes in, you won't view him as Tampa Bay's second Hall of Famer after Lee Roy Selmon. It's kind of the same thing as
Steve Young
, who spent a couple years with the Bucs early in his career, not being considered a true Tampa Bay guy.
The next real Hall of Famer from the Bucs will be either
Derrick Brooks
or
Warren Sapp
. But Brown could at least give the Bucs a sliver of representation in the Hall of Fame.
January, 9, 2011
1/09/11
12:34
PM ET
SEATTLE -- The Pro Football Hall of Fame announced its 15 modern-era finalists for this year's class Sunday and the list includes former New Orleans offensive tackle
Willie Roaf
.
Three other players with NFC South ties also made they cut.
Deion Sanders
and
Chris Doleman
, who spent part of their careers with the
Atlanta Falcons
, and
Tim Brown
, who ended his career with Tampa Bay also are among the finalists. The vote for this year's class will be held Feb. 5 in Dallas.
Sanders and Roaf are eligible for the first time this year. Roaf played for the Saints from 1993 through 2001 before finishing his career with Kansas City.
Rickey Jackson
became the first player who spent most of his career with New Orleans to make the Hall of Fame last year, and Roaf has a chance to give the Saints inductees in consecutive years.
November, 28, 2010
11/28/10
12:41
PM ET
ATLANTA -- The Pro Football Hall of Fame just sent out its list of semifinalists for the 2011 election and there's not much in the way of NFC South ties.
It basically is only Deion Sanders, who spent part of his career with Atlanta, and Kevin Greene, who spent only a small part of his career with Carolina, who are the only ones with anything close to strong NFC South ties.
Tim Brown, who spent a little time with the
Tampa Bay Buccaneers
at the end of his career, also made the cut.
November, 28, 2009
11/28/09
2:21
PM ET
The Pro Football Hall of Fame just announced the 25 semifinalists for the Class of 2010 and former New Orleans linebacker Rickey Jackson has made the cut.
The list will be reduced to 15 in January and the final vote will be in February.
There is one player with ties to the other three NFC South teams on the list. But I don't think Kevin Greene, Tim Brown and Chris Doleman, who spent brief stints with Carolina, Tampa Bay and Atlanta, respectively, truly qualify as NFC South guys.
Just a reminder, you can vote on who should be in the Hall of Fame
here
. I should note, your vote doesn't really count toward anything, but at least you get a chance to get your opinion out there.