December, 26, 2011
12/26/11
1:47
PM ET
Coach Raheem Morris met with the Tampa Bay media Monday, which is a pretty strong sign he at least will coach the final game of the season (Sunday at Atlanta). But Morris' future is still open to plenty of speculation.
Morris made it sound like he plans on
being back next season
.
[+] Enlarge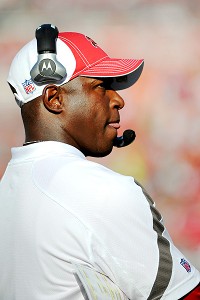 AP Photo/Brian BlancoDespite a nine-game losing streak, coach Raheem Morris says he believes in the Bucs' future.
"I will never fire myself,'' Morris said. "We go out and you don't go from being a Coach of the Year candidate to being the worst coach in the league to getting fired within a year. It's about us. It's a little bit of everything. I believe in my guys. I believe in the system, I believe in the program, in what we do and in everybody in this building, so it's a buying in factor. And either you're buying in or you [aren't]. We wanted to build this thing young and develop a team that goes out and wins and wins consistently."
Morris is accurate about the team being young. The Bucs are the NFL's youngest team for the second straight year. But the part about being a candidate for Coach of the Year one season and not getting fired the next season, doesn't exactly hold up to recent league history. The
Kansas City Chiefs
fired third-year coach Todd Haley after they started 5-8 this season. Haley and the Chiefs went 10-6 last season and made the playoffs.
The Bucs went 10-6 last season and didn't make the playoffs. They started 4-2 this season, but have lost nine consecutive games. What's more troubling is the Bucs seem to have regressed as the season has gone on. They recently have been blown out by teams with records below .500 (Carolina twice and Jacksonville).
Morris said what's happening this season is part of the growing pains of a youth movement.
"We made a collective agreement to go young when we took over this program,'' Morris said. "That's something we wanted to do. In order to upgrade at certain positions, sometimes you have to get worse before you get better. And going out and getting a young middle linebacker [
Mason Foster
] was something that we decided to do and we did it. Whether or not at the beginning we were both on the same page or all three of us including the Glazers were on the same page doesn't matter. At the end of the day, we decided to do it and we went out and did it.''
Morris is talking like he still plans to be around, but that doesn't mean he'll be back. The ultimate decision will be up to ownership. One way or the other, I would expect some sort of decision shortly after the Bucs finish their season.
February, 2, 2011
2/02/11
1:00
PM ET
At 7 p.m. ET Wednesday, The Associated Press will announce its Coach of the Year.
The Offensive and Defensive Player of the Year awards already have been awarded to New England's
Tom Brady
and Pittsburgh's
Troy Polamalu
. But the coaching category might be the first award where the NFC South has a chance at a winner.
You have to at least consider Atlanta's Mike Smith and Tampa Bay's Raheem Morris. Smith won an NFC-best 13 games. Morris guided a turnaround as the Bucs went from 3-13 in 2009 to 10-6 this year. Kansas City's Todd Haley and a few other coaches are going to be in the mix as well. But I don't think Morris or Smith would be a bad choice.
The question I struggle with is who had the better year of the two? Back when I did our
All-NFC South postseason awards
, I went with Smith as Coach of the Year. In all honesty, that call was basically a coin flip and part of the reason I went with Smith was to create some balance in representing the NFC South teams (although Carolina was in a different class than New Orleans, Atlanta and Tampa Bay).
Truthfully, I see the jobs Smith and Morris did this year as equal. Smith took a talented team with high expectations and won 13 games. He could have put himself over the top with a playoff victory or two, but that didn't happen. Morris engineered a tremendous upward swing by the Buccaneers. He could have put himself over the top with a playoff berth, but that didn't happen.
I basically see it as a tie between Smith and Morris. But let's hear what you have to say. Hit the mailbag or the comments section below.
December, 7, 2010
12/07/10
11:27
AM ET
When it comes to replay challenges, New Orleans coach Sean Payton is clearly the king of the NFC South and one of the best in the entire NFL.

Payton has used eight challenges and been successful on six of them. That's 75 percent and only Kansas City's Todd Haley, who has been successful on all four of his challenges, and Indianapolis' Jim Caldwell (four out of five) have better percentages.

Payton's six overturned calls tie him with Tom Coughlin and Pete Carroll for most in the league, but both of those coaches have challenged more frequently than Payton. After Payton, there's a sharp drop off in challenge success for NFC South coaches.

Tampa Bay's Raheem Morris is next at 42.9 percent as he has had three of seven challenges overturned. Atlanta's Mike Smith is three of eight (37.5 percent). And, finally, Carolina's John Fox is at 20 percent (two of 10).
October, 28, 2009
10/28/09
1:00
PM ET
| | |
| --- | --- |
| | |
| | Getty Images |
| | Kurt Warner's Cardinals and Jake Delhomme's Panthers have gone in different directions since their playoff meeting last season. |
Posted by ESPN.com's Mike Sando and Pat Yasinskas
The
Arizona Cardinals
did more than knock the
Carolina Panthers
from the 2008 postseason.
Their 33-13 victory in Charlotte delivered a knockout blow from which the Panthers' organization has yet to recover. What should be a Week 8 grudge match between playoff contenders is looking more like a mismatch.
Arizona is 4-2 and riding high following a nationally televised victory over the Giants, the Cardinals' fourth consecutive road victory dating to their divisional-round upset of Carolina. The Panthers are 2-4 and contemplating whether to bench veteran quarterback
Jake Delhomme
, who has more interceptions through six games (13) than he had in 16 starts last season (12).
What happened?
NFC West blogger Mike Sando and NFC South counterpart Pat Yasinskas pick up the discussion.
Pat Yasinskas:
That playoff game changed the momentum for both franchises. Going into that game, the thinking was how the Panthers would thump the Cardinals. Arizona had beaten Atlanta in the wild-card round to get its playoff victory, but the Cardinals were ultimately a 9-7 team from a weak division. They would be no match on the road against a 12-4 team. The upset vaulted the Cardinals toward the Super Bowl while absolutely crumbling the Panthers. Carolina hasn't recovered from it, starting with the quarterback and extending to the defense. The game led to changes on the coaching staff. The Panthers still could have a mental block heading into the rematch at University of Phoenix Stadium.
Mike Sando:
These teams share quite a few similarities. Both re-signed older quarterbacks during the offseason. Both made significant changes to their coaching staffs. Both faced salary-cap limitations in free agency after naming franchise players. The results have been vastly different.
Fateful QB decisions
| | |
| --- | --- |
| | |
| | Chris Keane/Icon SMI |
| | Jake Delhomme and the Panthers haven't been the same since last season's playoff loss to Arizona. |
Pat Yasinskas:
After the playoff game, I personally had some doubts about Delhomme, as did a lot of fans. He threw those five picks and I thought there was a chance they would at least bring in someone to compete with him -- not to replace him, but to compete with him. They did not do that. He had one year left on his deal and they signed him to a contract extension. I understand the loyalty coach John Fox and general manager Marty Hurney felt toward Delhomme because he has obviously done a lot for that franchise and he is a leader in the locker room. But in hindsight, that game against the Cardinals and even a few late-season games last year showed that he was declining and they should have sought out alternatives.
Mike Sando:
The Cardinals had little choice but to re-sign Warner. In the back of their minds, though, they would have been entitled to wonder when Warner might hit the wall. Quite a few other quarterbacks have faded at around age 38. Would Warner be next? He made the trip to San Francisco in free agency, but there was still a sense the Cardinals were bidding against themselves. Committing $22 million to him over two seasons was a necessary risk. In the end, Arizona could not walk away from the quarterback who put them ahead in the final stages of Super Bowl XLIII. The Cardinals made the right move.
Coaching turnover
Pat Yasinskas:
I think the playoff debacle against Arizona contributed to a rift on the Panthers' coaching staff over the direction of the team. Defensive coordinator Mike Trgovac decided he no longer wanted to be a coordinator. His departure started a near-total disbandment of the defensive staff. Line coach Sal Sunseri left for the University of Alabama. Linebackers coach Ken Flajole bolted to become defensive coordinator for the Rams. Secondary coach Tim Lewis left for the Seahawks. On the offensive side, Delhomme's longtime position coach, Mike McCoy, became offensive coordinator in Denver. Fox had passed over him for the same position on his staff a couple of years earlier. Some on the staff felt McCoy should have gotten that job.
| | |
| --- | --- |
| | |
| | Jason Bridge/US Presswire |
| | Kurt Warner has thrown for 1,672 yards and nine touchdowns this season. |
Mike Sando:
The Cardinals had a good thing going on the offensive staff when coordinator Todd Haley left to coach the Chiefs. I think Arizona is still sorting through the aftermath of that one. Haley and Warner were tight. Haley knew how to push players' buttons. He called the plays and the offense was in a rhythm. The offense is still finding its identity a little bit. On defense, Whisenhunt failed to land Keith Butler from the Steelers after firing coordinator Clancy Pendergast. He promoted linebackers coach Bill Davis instead. Either way, the defense was going to become more straightforward, with an emphasis on reducing big plays allowed. It's still too early to pass judgment on Davis, but the defense has played very well recently. Overall, Whisenhunt is certainly on the rise, whereas there's a perception Fox has possibly run his course in Carolina.
Pat Yasinskas:
Absolutely, Mike. There's a sense of that.
Julius Peppers
asked out after last season, shocking given that Fox is supposedly a defensive wizard. There was precedent for this.
Kris Jenkins
asked out for two years before Peppers did. People shrugged and said Jenkins was a flake. But when Peppers, who was born and raised in North Carolina, asked for the same, it raised some eyebrows. Fox used to build his team around the defensive line and suddenly you had the two cornerstones of that line asking to get out of there. That tells you something pretty major right there.
Salary-cap limitations
Pat Yasinskas:
Franchising Peppers cost about $18 million total in cap space. The Panthers re-signed tackle
Jordan Gross
to a long-term deal. With those moves, they tied up their cap to a point where they could not do anything else. They did not sign any free agents. They had to let veteran cornerback
Ken Lucas
go. They could not even re-sign veteran snapper
Jason Kyle
, even though the savings for letting him go was only $600,000. That severely affected their depth across the board, which was demonstrated when defensive tackle
Ma'ake Kemoeatu
went down with an injury on the first day of training camp and there were no decent replacements behind him. The Panthers have struggled on the interior of their defensive line ever since. They bragged coming into the season that they had 21 of 22 starters back, but the salary-cap issues meant they had absolutely no depth behind those starters.
Mike Sando:
The Cardinals charged $9.678 million against their cap by naming
Karlos Dansby
their franchise player. They paid more than $10 million per year to Warner.
Larry Fitzgerald
was already making that kind of money. Re-signing
Adrian Wilson
ate up another huge chunk of cap room, although some of that seemed by design. Arizona did manage to sign cornerback
Bryant McFadden
from the Steelers in free agency. When defensive end
Antonio Smith
left in free agency for $8 million a year, the Cardinals plugged in second-year player
Calais Campbell
, who has played well. Again, the Cardinals' moves have simply worked out better.
Divergent outlooks
Pat Yasinskas:
I think we're seeing the end of the Fox era in Carolina. The Panthers still have talent, but Delhomme appears finished. It's time to blow up the roster and rebuild.
Mike Sando:
The Cardinals are a good team with the potential to get better. The Cardinals were 4-2 at this point last season heading into their 30-24 regular-season defeat at Carolina. They should beat the Panthers this time. The rest of the schedule sets up favorably. Some of the games that once appeared toughest this season -- at Seattle, at the Giants, at Tennessee -- are either in the bank already or looking like they will be.
February, 26, 2009
2/26/09
4:23
PM ET
Posted by ESPN.com's Pat Yasinskas
Had a great conversation with sports consultant Marc Ganis the other day as I worked on a project about how the economic downturn is affecting the NFL and how it could factor into free agency.
Ganis, who has consulted with many teams and leagues about stadiums and arenas in his career, covered lots of ground as we talked and, obviously, this is a subject with many aspects. Even in the online world we do have constraints on how long a story can be and this is a topic about which a book could be written right now. One point Ganis brought up that didn't make it into the story because it would have opened a whole different can of worms was his thought on a recent NFL trend that's developed.
"I don't think it's any coincidence we're seeing so many young head coaches," Ganis said.
Excellent point. What Ganis is suggesting is the economy might be part of the reason we've seen so many teams hire first-time head coaches. It's basic economics, really. As we point out in the main story about the economy, teams -- like businesses everywhere right now -- are trying to control costs in every way possible in just about every area except players' salaries because there is a salary floor ($107 million) along with the much-publicized salary cap.
You can hire someone like Tampa Bay's Raheem Morris or Kansas City's Todd Haley for, perhaps, about $2 million a year. That's a lot less than, let's just say, throwing someone like Bill Cowher something like $8 million (again, I'm just throwing out a rough guesstimate) a year.
Makes sense from an economic standpoint. It probably makes a lot more sense to owners after seeing what Atlanta's Mike Smith and Baltimore's John Harbaugh did last season in their first years as head coaches.