December, 2, 2010
12/02/10
3:35
PM ET
TAMPA, Fla. -- Ask
Gerald McCoy
about the turning point in his rookie season and the
Tampa Bay Buccaneers
defensive tackle brings the answer as quickly as a bull rush.
"It was chapel service before the game in Atlanta,'' McCoy said. "The guest speaker [former
Cleveland Browns
tight end Rickey Bolden] said, 'if you're not seeing the mental or physical results that you want, then you need to change what you're doing.' It hit me right in the face.''
That was on Nov. 7 and the Bucs went out and lost a close game to the Falcons that day. There was no noticeable difference in McCoy's play that day. But take a look at what the No. 3 overall pick in this year's draft has done since then.
[+] Enlarge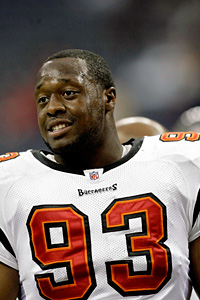 Brett Davis/US PresswireGerald McCoy has made changes off the field that have helped him on it.
In a Nov. 14 win against Carolina, he had a career-best five tackles. He also was credited with two passes defensed and a forced fumble. In a shutout victory at San Francisco the next week, McCoy recorded two half-sacks. Last week against Baltimore, he had two sacks. He now has three for the season after being held without a sack through the first nine games.
"You know, it's been coming all year," Raheem Morris said. "We all want oatmeal and grits. You open it up and add water and you drink it, but our game is not played that way. Our game is played through attrition, it's played through battles, it's played through tough-testing, and he has certainly went through the fire. I'm glad [the media] sparked a little fire in him with the negative stories and negative criticisms. All that stuff drives him. It makes him hungry to come to work with an angry mentality and attitude ... and that's what we want."
That's pretty good insight on how high the expectations were for McCoy and how a lot of fans simply expected him to come in and immediately dominate. But the fuel that comes from the early criticism doesn't come close to what really turned the light on for McCoy. That, he says, truly came in the chapel service.
"I was out of whack in my life,'' McCoy said. "I wasn't out drinking or carousing or anything like that. I just had the wrong mindset. We do not have entitlement and I had kind of developed a sense of entitlement. We're here to serve God and, although I've always believed in that, I wasn't quite living my life that way.''
McCoy now reads the Bible and prays every day. Those were things he did before, but on a more sporadic basis.
If you want the change in simpler terms, let's turn to Kelli Masters, one of McCoy's agents.
"I think you could say that Gerald just focused on taking care of the inner things and living his life the way he truly believes it should be led,'' Masters said. "Once he started doing that, the results started coming on the outside and the football side.''
That's been obvious as McCoy suddenly has emerged as a force on a defensive line that doesn't have anything close to a force. Tampa Bay's entire defense has suddenly been a lot better and so has McCoy's mood.
"It feels good simply because I'm helping the team more,'' McCoy said. "I'm finally doing what they brought me here to do, which is to make plays at game-changing times.''
Even in the early days of the season, McCoy wasn't playing as badly as a lot of people thought.
"He was grading out well all year,'' defensive line coach Todd Wash said. "He just wasn't making the splash plays he wanted to make. The thing about Gerald is that he's his own worst critic and he was getting on himself hard because he wasn't making those splash plays.''
The chapel service was the main thing, but a few other things helped.
"We haven't changed all that much,'' Wash said. "We are playing more aggressively and we are cutting him loose a bit more. But, more than anything, I think it's just a matter of Gerald understanding things and understanding what's expected of him. We had some discussions about how he was not where he wanted to be and what he wanted to be known for. It wasn't any big mysterious thing that turned it. It was just a matter of him working on a few little details and he's done that. Because of where he was drafted, everything is magnified. He just focused in on doing what's expected and understanding things better. He addressed it and he's become a better pro because of it.''
But the side of McCoy that's overly self-critical has not changed.
"Early on, Gerald would call and he'd just be beating himself up,'' Masters said. "I tried to tell him to just relax and things would come with time. But Gerald doesn't really listen to that because he puts so much pressure on himself. Even now that he's producing with big plays, he's still very hard on himself and wants more.''
That's not necessarily a bad thing.
"I think it's one of Gerald's great qualities,'' Wash said. "Gerald is the kind of guy that's never going to be satisfied. If he gets two sacks one week, he wants to go out and get three or four the next week. He wants perfection and that's not a bad thing.''
That critical nature and quest to be the best isn't going to change.
"That's who I am,'' McCoy said. "I want to be the best and I'm always going to take that very seriously. I made some changes to put myself on a better path and I'm always going to be looking for ways to make myself better.''
November, 11, 2010
11/11/10
12:42
PM ET
The
Tampa Bay Buccaneers
are the final stop in today's team-by-team mailbags.
Jesse in Trezevant, Tenn., writes:
How is
Roddy White
the MVP of the division? The Falcons could still win without him (they did so against TB). On the other hand, more so than any other player in the division, TB needs Freeman. TB needs Freeman to win; Falcons do not need White to win. I don't care if he is the best WR in the NFL, the MVP is not about PMS (Player with the Most Stats) - pardon the acronym. Freeman is more valuable than White.
Pat Yasinskas:
Believe me, I fully recognize
Josh Freeman
's value to the Bucs. In fact, I think there will come a day when Freeman will be contending for league-wide MVP honors. But he's not there yet. He's done some great things this season and will continue to, but he also still makes some of the mistakes that go along with being a young quarterback. White is having a tremendous season and has been the best wide receiver in the league. He single-handedly has won at least a couple games for the Falcons and they are the first-place team in the division at the moment.
---
Tony in Lakeland, Fla., writes:
Another website brought up the fact the Bucs should fire d-line coach Todd Wash, and I have to agree with this one as the d-line has really underachieved this year and they have been horrendous at times. Your thoughts?
Pat Yasinskas:
The Bucs are 5-3 and you're talking about firing assistant coaches? Give it some time and try to be realistic. The Bucs drafted defensive tackles
Gerald McCoy
and
Brian Price
with their first two draft picks and second-year pro
Roy Miller
has been one of the starting defensive tackles. Price got hurt. McCoy hasn't been dominant, but it's not realistic to expect him to be dominant right off the bat. Besides that, he's got nothing around him. The Bucs probably have the league's worst set of defensive ends. They knew coming in that defensive end was not a position of strength and I'm sure that position will be addressed in the offseason. I can't put the blame on a coach when he's got nothing to work with. His job the rest of this season is to keep working on McCoy. Next season, the Bucs can bring in help at defensive end and McCoy should take a big step forward.
---
Chris in Jacksonville, Fla., writes:
I am beginning to wonder about the defense. Do you think it is time to consider a defensive coordinator for this team and let Raheem focus on being the head coach, or is this defense just really lacking talent in a few key areas (ie DE's and MLB)?
Pat Yasinskas:
I think Raheem Morris is very capable of handling the defense as well as his head-coaching duties. You can't build a defense overnight, and the Bucs obviously have some holes. But they also have some good parts in place. As I said in the answer above, they need to improve at defensive end and I think you'll see middle linebacker
Barrett Ruud
move on after the season and someone else come in. I also think you'll see them try to upgrade the talent at safety in the offseason.
February, 4, 2010
2/04/10
12:53
PM ET
MIAMI -- Before jumping back into Super Bowl stuff, time for a quick update on the Buccaneers.
They sent out a release this morning announcing they finalized their 2010 coaching staff. Most of the moves were reported over the past few weeks. But if you missed any of them, here's a look at how Tampa Bay's coaching staff now stands:
Raheem Morris -- Head Coach
Greg Olson -- Offensive Coordinator
Richard Bisaccia -- Associate Head Coach/Special Teams Coordinator
Joe Baker -- Linebackers Coach
Tim Berbenich -- Assistant Wide Receivers Coach
Tim Holt -- Offensive Assistant Coach
Jay Kaiser -- Assistant to the Head Coach
Chris Keenan -- Assistant Strength and Conditioning Coach
Jimmy Lake -- Defensive Backs Coach
Steve Logan -- Running Backs Coach
Pete Mangurian -- Offensive Line Coach
Chris Mosley -- Defensive Assistant Coach
Alfredo Roberts -- Tight Ends Coach
Kurtis Shultz -- Head Strength and Conditioning Coach
Dwayne Stukes -- Assistant Defensive Backs Coach
Alex Van Pelt -- Quarterbacks Coach
Todd Wash -- Defensive Line Coach
Eric Yarber -- Wide Receivers Coach
May, 29, 2009
5/29/09
12:30
PM ET
| | |
| --- | --- |
| | |
| | G. Newman Lowrance/Getty Images |
| | Gaines Adams has worked on becoming more than a one-move guy in his pass rush. |
Posted by ESPN.com's Pat Yasinskas
TAMPA, Fla. -- Listen to Gaines Adams and Todd Wash talk a bit. You'll hear some refreshing honesty and maybe get some legitimate hope that Adams finally is ready to justify his lofty draft status.
It would be easy for Adams, a third-year defensive end with the Tampa Bay Buccaneers, and Wash, his position coach, to fall back on the old line about how "sacks don't tell the whole story." Give them both credit for giving the hard -- and honest -- answer.
When it comes to a defensive end, who was drafted fourth overall in 2007, it's all about sacks. When you walk out of Clemson tied with Michael Dean Perry for the school record with 28 sacks and have a set of skills similar to Jevon Kearse or Jason Taylor, you're supposed to step right into the NFL and produce double-digit sacks every season.
When you run the 40-yard dash in 4.6 seconds at your pre-draft workout and sign a six-year contract worth $46 million, it's supposed to be easy.
Fact is, it hasn't been and Adams and Wash freely admit that and tell you how they're trying to fix it.
"We're hoping his numbers come up from the past years," Wash said. "He's had good pressure on quarterbacks, but he just hasn't had the numbers that we were anticipating out of him."
You can point to someone like Atlanta's Jamaal Anderson, who was a top-10 pick in the same draft, and make a case that Adams hasn't been a total bust in his first two seasons. He had six sacks as a rookie and 6.5 last year while making 38 tackles each season. But those numbers, Adams and Wash say, aren't good enough -- and they're right.
"A lot of people want the stats right away," Adams said. "As a football player, I wanted the same and I expected the same. But now I realize there are a lot of things you have to do to make those stats happen and I wasn't doing all of those things. Now I am and I hope that will make a difference."
May, 13, 2009
5/13/09
2:30
PM ET
Posted by ESPN.com's Pat Yasinskas
Ray Hamilton, Brian Baker, Bill Johnson, Todd Wash and Robert Nunn have more in common than being defensive line coaches in the NFC South.
They also might face the biggest challenges of any coach on their individual staffs this season. There's a common theme through all the NFC South teams this year -- the defensive lines have to get better.
That's going to be largely up to the guys in charge of the defensive lines. Here's a look at the NFC South defensive line coaches and the challenges they face.
ATLANTA FALCONS

Ray Hamilton. He's a veteran and has long been recognized as being one of the best in the business. Hamilton did a fine job last year as veteran end John Abraham had a huge season and the Falcons were able to get by with the aging Grady Jackson in the middle of their line. But the Falcons had almost no pass rush outside of Abraham and Jackson is now gone. That brings new challenges for Hamilton. He's worked very hard this offseason with underachieving end Jamaal Anderson and there's hope Anderson can emerge in his third year. But the Falcons have Chauncey Davis as an insurance policy and drafted a project in Lawrence Sidbury. In a perfect world, Anderson steps up, Davis plays a role and Sidbury can be groomed as an eventual replacement for Abraham. Hamilton's also got a lot of work to do in the interior. Jonathan Babineaux has emerged as a very solid tackle, but Hamilton will have to break in rookie Peria Jerry next to him.
CAROLINA PANTHERS

Brian Baker. He's new to the Panthers and so is most of the defensive staff. Baker has a fine resume and has gotten big results out of Leonard Little, Robert Porcher, Luther Elliss and Kevin Williams in his previous stops. That's a good start because the coaching of the defensive line has been a controversial issue for the Panthers for most of John Fox's tenure. Once upon a time, the Panthers had Julius Peppers, Mike Rucker, Kris Jenkins and Brentson Buckner up front and they were coached by Mike Trgovac, who was regarded as one of the best defensive line coaches in the game. But Trgovac moved up to coordinator in his second season. That led to the hiring of Sal Sunseri as defensive line coach and some raised eyebrows around the league. A lot of people thought Sunseri, who was new to the NFL and had a background with linebackers, wasn't ready for the position and was hired because he was Fox's friend. Some players on the defensive line also held that view and the perception never went away. For reasons that haven't been fully explained, Jenkins asked out and got traded to the Jets, and Peppers still is asking out. Sunseri left after the season to coach at Alabama. Baker inherits a group that doesn't have nearly the talent level the Panthers once did, even if Peppers stays. He's going to have to coach up rookie Everette Brown very quickly and get some role players to overachieve. In the old days, Fox's teams were built around the defensive line. That's no longer the reality, but Baker has to bring this unit up to a respectable level.
NEW ORLEANS SAINTS

Bill Johnson. This was a critical hire as the Saints, once again, overhauled their defense and brought in coordinator Gregg Williams and a bunch of new personnel. Johnson's inheriting a group with lots of talent, but some players who haven't consistently lived up to their potential. It's Johnson's job to draw that from them and he'll start with defensive ends Charles Grant and Will Smith. In his first season with Denver, Johnson helped second-year pro Elvis Dumervil get 12.5 sacks. There's no reason why Smith and Grant both shouldn't be around the double-digit mark in sacks. One way Johnson will try to help those two is to give them some help from the inside, and the Saints have the potential to get that from second-year pro Sedrick Ellis, who had a solid rookie season. But Johnson's not counting on just Ellis. He helped bring veteran Rod Coleman out of retirement. There's history with Johnson and Coleman. They worked together in Atlanta and Coleman produced 28 sacks in their time together. Coleman's age may prevent him from being the force he once was, but he gives Johnson another guy who can make things happen up front.
TAMPA BAY BUCCANEERS

Todd Wash and Robert Nunn. Wash is coaching the defensive ends and Nunn is handling the defensive tackles. That combo approach is probably a good thing because the Bucs need all the help they can get up front. The defensive line was a major player in last year's late-season collapse, and there will be at least two new starters as end Kevin Carter and tackle Jovan Haye have left the team. Wash's main task is to get third-year end Gaines Adams to be more productive. There's talent there, but Adams needs to add some moves to go with his physical skills. Nunn's got to get young tackles Roy Miller and Dre Moore ready quickly because Chris Hovan didn't look like he had a lot left at the end of last season, and Ryan Sims and Jimmy Wilkerson are role players. New coordinator Jim Bates is bringing a whole new scheme to the Bucs, but that transition should be helped by the fact that Nunn worked with Bates in Miami and Green Bay.