January, 23, 2012
1/23/12
9:34
AM ET
Oregon coach Chip Kelly reportedly
backed out
just as it appeared he was about to become the head coach of the Tampa Bay Buccaneers.
Kelly reportedly had been in the final stages of negotiating a deal with Tampa Bay. But general manager Mark Dominik said Monday morning that Kelly informed the Bucs he'll be staying at Oregon.
So where does that leave Tampa Bay's coaching search?
Well, Kelly may have been the first choice, but the cupboard is far from empty. Of the candidates known to have interviewed, only Joe Philbin, now the head coach of the Miami Dolphins, is officially out of the picture.
Former NFL head coaches Mike Sherman, Marty Schottenheimer and Brad Childress already have interviewed. So have NFL assistants Tom Clements, Mike Zimmer, Jerry Gray and Rob Chudzinski.
The Bucs could turn to one of them. The Bucs also could seek to talk to other NFL assistants. Or they may have another surprise candidate like Kelly. It hadn't been reported that Kelly was even on Tampa Bay's radar until Sunday night, when he appeared close to a deal. It turned out the Bucs quietly had interviewed Kelly last week.
January, 23, 2012
1/23/12
8:47
AM ET
In their search for a new head coach, the
Tampa Bay Buccaneers
have sent strong signals they want to fix their offense.
As they attempt to
put the finishing touches
on a deal that would put Oregon coach Chip Kelly in that role, the Bucs might be coming out ahead of where they would be if they hired Mike Sherman, Tom Clements, Rob Chudzinski or Brad Childress. While all of those might come from strong offensive backgrounds, Kelly could have the best offensive background.
Kelly runs the spread offense at Oregon with lots of success. As offensive coordinator in 2007 and '08 and head coach since 2009, Kelly has run one of the nation's most prolific offenses.
The Bucs have made it obvious that they plan to build their offense around quarterback
Josh Freeman
, who had a disappointing 2011 season. Freeman showed great promise in 2010 when he threw for 25 touchdowns and just six interceptions.
Kelly also had great success as offensive coordinator at the University of New Hampshire. His offensive background could make him a better offensive fit than any of the other offensive candidates the Bucs looked at. There is no doubt the Bucs also need to improve on defense. But Kelly's background means he could put the offense ahead of any other candidate and that's of particular importance to the Bucs.
January, 20, 2012
1/20/12
7:10
PM ET
Scratch Joe Philbin off the list of candidates to coach the Tampa Bay Buccaneers. He
reportedly is headed
to the Miami Dolphins.
I don't think that's left the Bucs suddenly hopeless. As I mentioned Thursday, I had Philbin at No. 7 on
my rankings
of the eight candidates known to have interviewed for the Tampa Bay job. Yes, the Bucs interviewed Philbin and may have liked him, but I don't think he was all that high on their list.
As we've mentioned many times, the other known candidates are Mike Sherman, Mike Zimmer, Tom Clements, Marty Schottenheimer, Jerry Gray, Brad Childress and Rob Chudzinski. In fact, I don't think a sudden exit by any of those candidates would shatter Tampa Bay's plans.
I believe the Bucs think several of the candidates could be good fits for their job and are just trying to figure out who they think is the right guy. I also think it's entirely possible Tampa Bay's list could grow after this weekend's championship games.
There's a school of thought out there that the Bucs could be waiting to interview New York Giants defensive coordinator Perry Fewell and I wouldn't be surprised if that happens. I wouldn't be surprised if the Bucs also want to interview another candidate or two that's been tied up with the postseason.
The only way this development hurts Tampa Bay is that Philbin will start hiring his staff for the Dolphins. That will narrow the pool of assistants available to the Bucs whenever they do hire a head coach.
January, 19, 2012
1/19/12
10:30
AM ET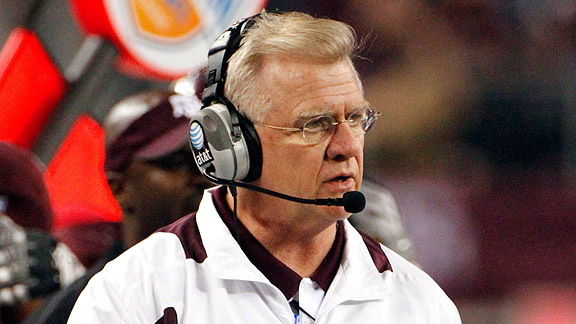 AP Photo/Tony GutierrezMike Sherman is the opposite of Raheem Morris, and that may make him Tampa's top target.
All indications are the
Tampa Bay Buccaneers
aren't ready to end their search for a head coach. Monday will mark the three-week anniversary of Raheem Morris' firing.
Since then, the Bucs seemingly have been talking to anyone (almost everyone), but don't appear close to making a hire. They could be waiting to talk to more coaches that are still involved in the postseason. Or they soon could be narrowing their lengthy list and bringing a few candidates back for second interviews.
What we do know is that by the end of this week the Bucs will have interviewed at least eight candidates. We don't know exactly how those candidates stack up in the team's eyes.
But I'm going to give you my rankings of the candidates that are known to have interviewed or are expected to interview by the end of the week. I'm factoring in some insight on what it appears the Bucs are looking for in an ideal candidate. I've also talked to coaches and front-office types who have worked with some of the candidates as well as media members who have covered them.
So let's take a look at my list:
1. Mike Sherman.
Even before Morris was fired, Sherman's name was tied to this job. Part of it was due to the fact Sherman uses the same agent as general manager Mark Dominik, who undoubtedly is going to have a big say in this hire. The Bucs want a cohesive relationship between their front office and the coaching staff and all indications are Sherman and Dominik would work well together.
But there are more reasons why Sherman remains No. 1 on my list. The first is that he's almost exactly the opposite of Morris in just about every way and that appears to be what the Bucs want. Sherman is 57 with lots of experience. Although his most recent job was a lackluster tenure at Texas A&M, he has been an NFL head coach before. A lot of people tend to forget Sherman's time in Green Bay was pretty productive.
He produced a winning record in five of his six seasons. He comes from an offensive background and I think that scores points with the Bucs. Tampa Bay needs quarterback
Josh Freeman
, who it wants to be the foundation of the franchise, back on track after a disappointing 2011 season.
Also, there's the fact that Sherman is a strong disciplinarian, another thing Morris was not.
[+] Enlarge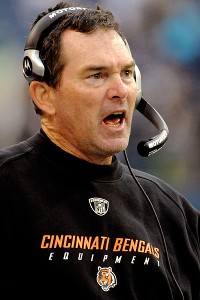 Kirby Lee/US PRESSWIREMike Zimmer has an impressive defensive coaching background in the NFL, but is that what the Bucs are looking for?
2. Mike Zimmer.
Like Sherman, Zimmer is mature and would clean up the lack of discipline and accountability that plagued the Bucs under Morris. Zimmer hasn't been a head coach, but he's got a long résumé as a defensive coordinator -- he's currently working in Cincinnati with stints in Atlanta and Dallas before that. Zimmer is universally respected in league circles and the only potential knock against him for this job might be that he doesn't come with an offensive background.
But Zimmer could end up with this job if he can convince the Bucs he can bring in a strong offensive coordinator and quarterbacks coach.
3. Tom Clements.
He's 58 and has never been an NFL head coach and only did a two-year stint as a coordinator in Buffalo, but he still has pretty strong credentials. He's been the quarterbacks coach of the
Green Bay Packers
for six seasons and you could say that coaching
Brett Favre
and
Aaron Rodgers
is a lot like being the Maytag repairman. But those who know him well say Clements is a big part of the reason the Packers made such a strong transition from Favre to Rodgers.
Prior to joining Green Bay, Clements was quarterbacks coach in Pittsburgh, Kansas City and New Orleans. He also played quarterback at Notre Dame (back when the Notre Dame quarterback pedigree meant a lot) and was a Hall of Fame player in the Canadian Football League.
Clements, who also is an attorney, is known for his no-nonsense approach.
4. Marty Schottenheimer.
If you based it only on experience, which obviously is a big factor, Schottenheimer would be the hands-down choice. He spent 26 years as an NFL head coach, with stints with the Browns, Chiefs, Redskins and Chargers. Schottenheimer's career record is 327-200, which almost makes it easy to overlook his 5-13 postseason record. Freeman potentially could be better than any quarterback Schottenheimer ever worked with (and that includes
Drew Brees
only as he was in San Diego, not after he got to New Orleans).
But Schottenheimer is the one candidate who age could work against. He's 68 and hasn't coached in the NFL since 2006. He's been a successful builder before, but can he do it again at this age?
5. Rob Chudzinski.
At 43, he's the youngest of the known candidates. He had a two-year stint as offensive coordinator in Cleveland and helped
Derek Anderson
(yes,
that
Derek Anderson) get to a Pro Bowl. But Chudzinsk's a hot name right now almost entirely because of his work in his first season in Carolina.
Without an offseason program, he installed an entirely new offense and rookie quarterback
Cam Newton
had a record-setting season. If Chudzinski did that for Newton, the Bucs have to be imagining what he could do with Freeman. But Chudzinski also would have to convince the Bucs he could bring them a proven defensive coordinator.
6. Jerry Gray.
He currently is the defensive coordinator in Tennessee and had a pretty successful run as coordinator in Buffalo when Gregg Williams was the head coach. Williams also has a strong background as a secondary coach.
Gray also had a good NFL career as a defensive back and finished his playing career with the Bucs in 1993. The fact that he's a former player helps his candidacy because he can relate to players. But the fact that he is 49, means that unlike Morris, he would not be a contemporary to the players.
7. Joe Philbin
. The offensive coordinator for the Green Bay Packers, Philbin already has had a second interview for the job as Miami's head coach. Philbin has led a very good Green Bay offense since becoming coordinator in 2007. But head coach Mike McCarthy has handled play-calling duties. Although Philbin had 19 years of experience in the college ranks, the Packers are the only NFL team he has worked for. His rise has been pretty rapid. Philbin joined the Packers (then coached by Sherman) in 2003 as an assistant offensive line coach and became tight ends coach the next year. He later became offensive line coach for one season before becoming coordinator.
8. Brad Childress.
Yes, Childress had some success as head coach of the
Minnesota Vikings
. He had a winning record in two of his five seasons, but his tenure was marked by inconsistency and turbulence, including the fiasco in which
Randy Moss
returned to the Vikings. Some who have covered Childress say stability isn't necessarily his biggest strength. In Minnesota, he seemed prone to go with the quick fix, bringing in Favre and begging him to stay for a second season. That's the kind of approach that could remind the Bucs, who are going to remain committed to building through the draft, a little too much of the Jon Gruden era, in which there never seemed to be a long-term plan.
Before joining the Vikings, Childress was offensive coordinator in Philadelphia. But head coach Andy Reid called the plays. I do think there's a chance Childress could be hired by Tampa Bay, but as the offensive coordinator for one of the other candidates.
January, 17, 2012
1/17/12
12:48
PM ET
I'm just looking at
the latest on the Tampa Bay Buccaneers' coaching search
and starting to wonder if the Bucs are trying to set some sort of record.
The latest is the Bucs will interview Green Bay offensive coordinator Joe Philbin and quarterbacks Tom Clements at some point soon. The Bucs are interviewing Cincinnati defensive coordinator Mike Zimmer and Carolina offensive coordinator Rob Chudzkinski on Tuesday.

The Bucs previously interviewed former NFL head coaches Mike Sherman, Marty Schottenheimer and Brad Childress as well as Tennessee defensive coordinator Jerry Gray.
Check my math here, but assuming the Bucs do interview Clements and Philbin, that will bring the number of interviews to eight. And that also is assuming the media as reported every coach who has interviewed. We chase these things like crazy, but sometimes an interview or two can slip through the cracks. The Bucs also could decide to interview more candidates that are still involved in the playoffs. There's been some speculation about New York Giants defensive coordinator Perry Fewell possibly being a candidate.
But, for now, the number will stand at eight, probably later this week. I seriously think that might be some kind of record. ESPN Stats & Information does a wonderful job, but does not keep numbers on how many candidates have interviewed for any given job throughout history.
I've been through a few coaching searches in my day. Generally speaking, most teams interview three or four candidates and I think five is the highest number I've ever seen.
But I'm not seeing any huge drawback with Tampa Bay's methodical approach. Indications are, the Bucs could narrow their list and bring back a few candidates for second interviews. That makes it sound like we might not see a hire for at least another week.
Assistant coaches are being hired all over the league and the Bucs may be missing out on some good candidates. But there still are lots of other assistants available. The East-West Shrine Game is this week and the Senior Bowl is next week.
Ideally, you'd like to have your full coaching staff in place for those two events, so the coaches can get a good look at the college prospects. But any assistant that's available will be at the Senior Bowl and will be watching players on their own.
Besides, the coaching staffs aren't the ones who do the bulk of the work at the college all-star games. The scouting staff does that.
Yeah, there comes a point when coaches need to start evaluating the current roster and getting ready for free agency. But, as long as Tampa Bay has its staff in place by the end of the month, there's plenty of time for that.
I know a lot of Tampa Bay fans are looking at the candidates and saying there's no one with a "wow factor." That's true, but was there anybody with a "wow factor'' out there to begin with? Maybe Jeff Fisher, who ended up in St. Louis. But Fisher is a good, but not tremendous coach and his stock was elevated in a year when Bill Cowher, Tony Dungy and a few other big names refused to join the league-wide candidate pool.
The Bucs aren't going for the "wow factor" and there's nothing wrong with that. The deliberate approach might be the right thing. Maybe the Bucs will get a coach who is the right fit. Then, two years down the road or so, maybe fans will say "wow'' at what that guy has done.
January, 17, 2012
1/17/12
9:39
AM ET
Time for a Tuesday morning look at the top headlines from around the NFC South.
— A lot of Carolina fans are asking why the Panthers simply don't block offensive coordinator Rob Chudzinski from interviewing for the head coach job in Tampa Bay. Joe Person reports the Panthers
aren't allowed to stop
Chudzinski from taking a step up. The team also could offer Chudzinski more money to stay, the way Wade Phillips did in Houston. But Chudzinski's a young guy who wants to explore opportunities as a head coach. If he ends up staying, he probably will get a nice raise. By the way, Chudzinski is interviewing with the Bucs today. Cincinnati defensive coordinator Mike Zimmer was supposed to interview Monday. But Zimmer encountered some travel issues and he also will interview with the Bucs today.
— Former Minnesota head coach Brad Childress said he
has yet to hear back
from the Bucs after interviewing for their job. Childress said the team told him the search would take some time. He also said he wouldn't be opposed to coming to Tampa Bay as an offensive coordinator, if another candidate is hired.
The Bucs also are
expected to interview
Green Bay quarterbacks coach Tom Clements later this week. There also have been reports the Bucs have
asked for permission
to interview Green Bay offensive coordinator Joe Philbin.
— John DeShazier points out the Saints would have
ended up hosting
the NFC Championship Game if they had won in San Francisco. They would have hosted the New York Giants, who upset Green Bay. The Saints beat the Giants at home in the regular season. I'm sure everyone who works for the Saints — and all of their fans — are wondering what could have been if the Saints played the NFC Championship Game in the Mercedes-Benz Superdome. By the way, coach Sean Payton is scheduled to meet with the New Orleans media later Tuesday to review the season.
— Atlanta fans
continue to be shocked
at the hiring of Dirk Koetter as offensive coordinator. One of their main gripes is the Falcons didn't even go through the process of interviewing other candidates. We don't know for sure that's true. The media doesn't always get every interview. Besides, coach Mike Smith knew for a good month that former coordinator Mike Mularkey probably would end up as the head coach in Jacksonville. Smith had plenty of time to think about a replacement and he has history with Koetter.
January, 15, 2012
1/15/12
10:32
AM ET
Since we had a lot on the Saints on Saturday -- and I'll be coming back with more on their playoff loss to San Francisco later Sunday -- let's take a quick break from New Orleans and look at what's going on around the rest of the NFC South.
The Atlanta Falcons
plan to talk to
Green Bay quarterbacks coach Tom Clements and former Jacksonville offensive coordinator Dirk Koetter about their vacant position at offensive coordinator. Either of these guys would be a good fit. Clements has been a hot name around the league because Green Bay and quarterback Aaron Rodgers have had so much success in recent years. Jacksonville didn't have a lot of offensive success in 2011, but Koetter is viewed as one of the league's better coordinators. This is going to be a huge hire for the Falcons. They have to get a guy that can figure out how to get their very talented offense to achieve.
The Panthers reportedly
have hired
Steve Wilks as their secondary coach. Makes sense on several levels. Wilks is a Charlotte native and he worked with head coach Ron Rivera in San Diego. Wilks will replace Ron Meeks, who was not retained after three seasons in Carolina.
Scott Fowler compares the rookie season of Carolina quarterback Cam Newton to some of the
best rookie seasons in NFL history
. He concludes Newton had the best rookie season ever, ahead of some really big names. I can't say I disagree with my friend and former co-worker.
While reflecting on the season and looking ahead to 2012, Atlanta general manager Thomas Dimitroff said the Falcons will be looking for some "
battling souls
." In other words, he thinks his team needs to get tougher. I think that's especially true on defense, where the Falcons have some good talent, but lack a real identity.
Gary Shelton writes that it's
not a good sign
that Wade Phillips and Jeff Fisher wouldn't interview with the Buccaneers for their job as head coach. There's some truth in that and you have to at least wonder if they were scared off by a team that hasn't spent a lot of money on free agents in recent years. But Phillips' situation was unique because the Texans went out of their way to make it attractive for him to stay in Houston. As far as Fisher, a lot of people thought he was the best coach available, but I don't think the Bucs ever had that opinion and weren't really chasing him. I know a lot of people are starting to laugh at the Bucs' coaching search. But I think there's something to be said for being thorough. They're not rushing into anything. They're looking for the best fit for their organization. If they figure out who that guy is, then their process will look good.
January, 13, 2012
1/13/12
11:33
AM ET
As we told you Thursday night,
Houston Texans
defensive coordinator Wade Phillips has
pulled out
of
Tampa Bay Buccaneers
' search for a head coach.
But that doesn't mean Tampa Bay's choice will come straight from a list of Mike Sherman, Marty Schottenheimer, Brad Childress and
Jerry Gray
. Those four have interviewed for the job and any of them could end up as the next coach. But a league source said Tampa Bay's list of candidates goes deeper than that.
The source wouldn't specify if other candidates have interviewed or if the team is waiting to talk to candidates that are still involved in postseason play. It's possible the Bucs could want to talk to some coaches still involved in the playoffs.
Let's take a look at some coaches still in the postseason that could be candidates:
Tom Clements, Green Bay Packers, quarterbacks coach.
His name has been tied to a lot of jobs in recent weeks. Clements hasn't been an NFL head coach, but he's looked very good as
Aaron Rodgers
' position coach. He's very experienced and respected around the league.
Winston Moss, Packers, assistant head coach/inside linebackers coach.
His name is getting tied to the Raiders' opening. But Moss also could make some sense for Tampa Bay. He played linebacker for the Buccaneers.
Darren Perry, Packers, secondary-safeties coach.
Another hot name on Green Bay's staff. He is considered a rising star. Even if he doesn't get a job as a head coach this year, he could be in line for a job as a coordinator.
Gregg Williams, New Orleans Saints, defensive coordinator.
He's been a head coach before. He's a strict disciplinarian, which appears to be a quality the Bucs look very favorably upon these days. If the Bucs are going to compete in the NFC South in the immediate future, they have to go through the Saints. Williams knows New Orleans' offense as well as anyone because he has to practice against it every day.
Pete Carmichael, Saints, offensive coordinator.
This is probably a long shot because Carmichael has been in the shadow of head coach Sean Payton. But Carmichael started calling the plays when Payton broke his leg and has done a nice job. Carmichael has a very low-key personality and the Bucs might be looking for someone more dynamic.
Perry Fewell, New York Giants, defensive coordinator.
He has experience as an interim head coach. He has been a candidate for other jobs in the past and some teams that have met with him say Fewell interviews extremely well.
Mike McCoy, Denver Broncos, offensive coordinator.
More than head coach John Fox, McCoy is the one who has adjusted Denver's offense to suit quarterback
Tim Tebow
. McCoy is viewed as a rising young star and has an outgoing personality. He also shares the same agent as Tampa Bay general manager Mark Dominik.
Cam Cameron, Ravens, offensive coordinator.
His previous stint as a head coach in Miami did not go well, but Cameron probably learned some things from that experience. He's had lots of success as a coordinator and could get another look as a head coach.
January, 12, 2012
1/12/12
3:02
PM ET
It looks like the
Atlanta Falcons
are aiming high in their search for an offensive coordinator.

They need to replace Mike Mularkey, who left to become Jacksonville's head coach. The early list of candidates includes some pretty big names.
Reportedly, former Baltimore head coach Brian Billick, former Jacksonville coordinator Dirk Koetter, former Jets coordinator Brian Schottenheimer and Green Bay quarterbacks coach Tom Clements
are on the list
.
Koetter and Billick each have deep ties to Atlanta coach
Mike Smith
. Koetter and Smith worked together in Jacksonville. Smith once was on Billick's staff in Baltimore and the two are related through marriage
Atlanta quarterbacks coach Bob Bratkowski, who previously was a coordinator in Cincinnati, also could be a possibility.
Whatever direction the Falcons end up going in, they need to make some adjustments to their offense. Atlanta's offense was very inconsistent in the 2011 season. There were times when
Matt Ryan
,
Roddy White
,
Julio Jones
,
Tony Gonzalez
and the passing game looked good and there were times when
Michael Turner
ran the ball well.
But the Falcons never truly were able to establish an offensive identity. Smith and whoever he hires as his new coordinator need to come up with a clear plan of exactly what kind of offense the Falcons want to have in the future.
January, 31, 2011
1/31/11
3:40
PM ET
The NFC South doesn't have a team in the Super Bowl. But it's got almost a full team of coaches.
Take a look at
Green Bay's coaching staff
and take a look at
Pittsburgh's coaching staff
. Between the two teams, there are 37 coaches. Twenty of them have either coached or played for an NFC South team and that includes Green Bay coach Mike McCarthy and Pittsburgh coach Mike Tomlin.
Here's a look at each staff and its NFC South ties.
Green Bay
McCarthy. Assistant coach with Saints, 2000-04.
James Campen, offensive line. Played for the Saints, 1987-88.
Dom Capers, defensive coordinator. Head coach Carolina Panthers, 1995-1998.
Tom Clements, quarterbacks. Assistant coach for the Saints, 1997-99.
Jerry Fontenot, assistant offensive line. Played for the Saints, 1997-2003.
Kevin Greene, outside linebackers. Played for the Panthers, 1996, 1998-99.
Ben McAdoo, tight ends. Assistant coach for Saints, 2004.
Chad Morton, special teams assistant. Played for the Saints, 2000.
Winston Moss, assistant head coach/linebackers. Played for the Buccaneers, 1987-90 and assistant coach with the Saints, 2000-05.
Darren Perry, defensive backs. Played for the Saints, 2000.
Jimmy Robinson, wide receivers. Assistant coach with Falcons, 1990-93 and assistant coach with Saints, 2004-2005.
Mike Trgovac, defensive line. Assistant coach with Panthers, 2002-08.
Joe Whitt Jr., cornerbacks. Assistant coach with Falcons, 2007.
Pittsburgh
Tomlin, 2001-05
Bruce Arians, offensive coordinator. Assistant with Saints, 1996.
James Daniel, tight ends. Assistant with Falcons, 1997-2003.
Al Everest, special teams. Assistant with Saints, 2000-05.
Garrett Giemont, conditioning coordinator. Assistant with Buccaneers, 2003-06.
Scotty Montgomery, wide receivers. Played for Panthers, 2000.
Kirby Wilson, running backs. Assistant for Buccaneers, 2002-03.