October, 11, 2012
10/11/12
1:00
PM ET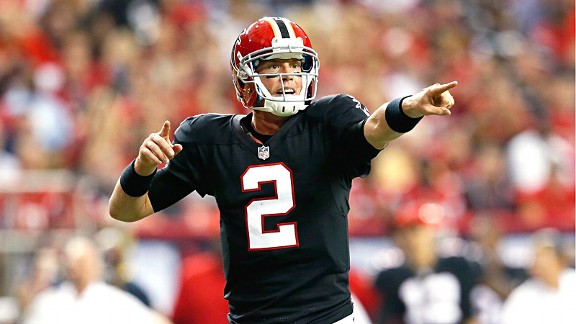 Kevin C. Cox/Getty ImagesThe Atlanta Falcons should make Matt Ryan the highest-paid player in the NFL.
Everything I've seen out of
Matt Ryan
this season makes me think it's his turn.
No, I'm not saying it's Ryan's turn to win the Super Bowl, although it might be. I'm not even saying it's time for Ryan and the
Atlanta Falcons
to win a playoff game, although I think they probably will.
I'm simply saying it's time -- or soon will be -- for the Falcons to make Ryan the highest-paid player in the NFL.
The fifth-year quarterback is blossoming. People are talking about him as the
early favorite for MVP
. It makes sense on a football level. It also makes sense on every level the Falcons are all about.
They preach continuity. They preach character. They also want a new stadium around 2017.
Go ahead and give Ryan a contract for a dollar more than the five-year, $100 million deal New Orleans'
Drew Brees
signed in the summer. And do it fast.
The undefeated Falcons have a bye after Sunday's home game against Oakland. If general manager Thomas Dimitroff is half as smart as I think he is -- and I think he's very smart -- he'd use that week to work out an extension for Ryan.
I know that may not be realistic or possible. Ryan is a private and focused guy, and he probably wouldn't want the distraction of a new contract in the middle of the season.
But the Falcons shouldn't wait too long to pull this off. If Dimitroff hasn't done so already, the day after the Falcons wrap up their season, he should be on the phone to agent Tom Condon about a deal that will wrap up his quarterback for the next five or six years.
[+] Enlarge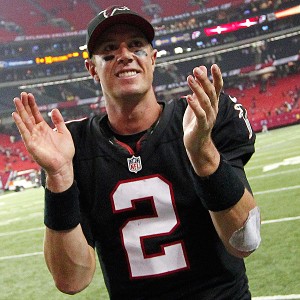 AP Photo/John BazemoreFalcons quarterback Matt Ryan is off to an MVP-type start to the season, and that could mean a big contract.
Ryan's contract runs through 2013, but there is no way the Falcons should let him get any closer to free agency. Just look at how the waiting game didn't translate into on-field success for Brees and the Saints. It even divided New Orleans fans.
Speaking of Brees, you might argue my point that Ryan should get a larger contract. I understand that. Yeah, Brees has won a Super Bowl. So has
Peyton Manning
, who has the second-biggest contract at $19.25 million per year. To date, Ryan hasn't won anything, except for a lot of regular-season games.
But Condon, who also represents Brees and Manning, is going to argue that Ryan deserves more money. That's Condon's job. But it's also a valid point.
Brees was 33 when he signed his new deal. Manning was 35, coming off neck surgery and since has turned 36. To some degree, the Saints and Broncos were paying for what Brees and Manning did in the past.
Ryan is only 27. He has been paid nicely under the terms of his rookie deal, which was for six years and $63.7 million.
But it's easy to make the case that Ryan deserves more because he still has so much upside. He has been showing it every week, and the Falcons know it.
They finally have made this Ryan's team. Under new offensive coordinator Dirk Koetter, the Falcons have become much more of a passing team. They're letting Ryan throw deep and, although critics once said that wasn't a strength, he's thriving.
Fans in Atlanta are more excited about the Falcons than they ever have been. Owner Arthur Blank knows he has a good thing going with Ryan, Dimitroff and coach Mike Smith. Blank has visions of a new retractable-roof stadium in downtown Atlanta and you can bet he envisions it packed every Sunday.
The way to make sure that happens is to stay ahead of the curve. Lock up Ryan before his play drives up the price tag even more.
Sure, it's complicated any time you talk about a contract for a franchise quarterback. But this one doesn't have to be as complicated as most. The Falcons know they want Ryan for the long haul, and he seems very comfortable with the organization and the city. Condon has established the high end of the market with Brees and Manning.
Dimitroff and Condon have a good relationship -- they got Ryan's rookie deal done in May 2008, back at a time when rookie deals didn't get done until July, August or September. There's no real reason why a new Ryan deal couldn't be done at any time.
And, although it's important, let's not get too caught up in the salary cap. The Falcons aren't flush with cap space. They already have $114 million committed toward 2013, which would put them roughly $10 million below the cap. That's not including next year's rookie class or any of their own free agents they want to keep (
Brent Grimes
and
Sam Baker
?).
But Ryan already is scheduled to count $12 million against the 2013 cap, and that number could go up if the quarterback meets some not-likely-to-be-earned incentives in his current contract.
There's plenty of room to get a deal done even before we begin speculating after the season that defensive end
John Abraham
(scheduled to count $6.25 million against the 2013 cap) could retire or that running back
Michael Turner
($7.5 million for next season) could be gone or playing for a lot less.
But you don't even need to think too much about the likes of Grimes, Baker, Abraham or Turner at this point. If a new deal for Ryan is structured properly, his cap figure could even drop for next year. Brees' cap hit for this year is only $10.4 million.
This prospective deal really is all about Ryan. He's a quarterback just entering his prime, and that drives his value so high that Blank may have to open his retractable wallet.
But that would be worthwhile because it would secure Ryan, the future of the Falcons, until he's at the age when Brees and Manning were getting paid largely for past deeds.
July, 9, 2012
7/09/12
11:22
AM ET
I'm sure agent Tom Condon has done tons of homework as he tries to get a long-term deal for New Orleans quarterback
Drew Brees
. But, just in case, here's something more Condon might want to throw at the Saints.
Brees
SportsCenter just aired the latest segment of Jaws' QB Countdown, in which Ron Jaworski ranks the top 30 quarterbacks in the NFL. Brees is No. 2. No. 1 won't be announced officially until Tuesday, but I think it's pretty safe to assume who the winner is because Green Bay's
Aaron Rodgers
has yet to show up in any of the other 29 spots.
I respect Jaworski's opinions, and I certainly respect Rodgers' ability. But I think you can also make the case that Brees easily could be No. 1. He's coming off a record-setting season and, although a lot of people moved Rodgers ahead of Brees,
Tom Brady
and
Peyton Manning
as Green Bay went 15-1 last season, the Packers didn't make the Super Bowl. They won it the season before and the Saints won it in the 2009 season, so Rodgers and Brees each have one Super Bowl title.
Brees' statistics were better than Rodgers' in some areas last season, and his ability as a leader is unquestioned. In fact, Jaworski said Brees is the best quarterback in the league in at least one area.
"No quarterback is as consistently precise with his throws as Brees,'' Jaworski said. "Throughout his Saints career, Brees has thrown the seam routes as well as any quarterback in the NFL. In fact, those vertical seams have been a foundation of the Saints' passing game, especially effective in scoring territory.
"Brees' last three seasons have been the most accurate stretch any quarterback has strung together in NFL history. What have I always said is the most overlooked element of quarterbacking? Accuracy. Brees possesses many attributes of high-level quarterbacking. But there's no question that his consistent success over time has been mostly a function of his remarkable ball control.''
Jaworski did touch on the one thing people sometimes use to knock Brees -- arm strength. But Jaworski said Brees more than compensates for not having the league's strongest arm.
"His touch and his accuracy, especially on deep throws, is outstanding,'' Jaworski said. "Brees sets the ball right on the receiver''s hands. He does not just throw to his receiver. He hits a smaller, more defined point. It's simple math. The margin of error decreases the smaller the target at which you aim. Brees controls his throws better than any quarterback in the NFL.''
That's why I'm saying I don't think it would be wrong for anyone to rank Brees as the best quarterback in the league.
June, 12, 2012
6/12/12
2:43
PM ET
There were a few reports last week the
New Orleans Saints
and quarterback
Drew Brees
were close to finalizing a long-term contract.
Brees
To date, there's been no announcement of a deal, so it appears those reports were premature. I've said before that I expect this thing to drag into July.
Colleague Andrew Brandt, who knows much more about contract negotiations than I do, has a similar opinion. In this
detailed column
about the Brees contract situation, Brandt writes that he expects things to go down to the wire.
"Deadlines spur action, and the deadline in this case, due to tag requirements, is July 16,'' Brandt wrote. "I expect the deal to be done between July 10-15 with a $20 million APY, between $50 million and $52 million guaranteed and $60 million to $62 million over the first three years.''
I encourage you to read Brandt's column. Brandt once negotiated Brett Favre's contract for the
Green Bay Packers
. He lays out what he thinks are the likely arguing points being made by New Orleans general manager Mickey Loomis and Brees' agent, Tom Condon, and also points to three recent quarterback contracts that probably are factoring into the negotiations.
Oh, one other reason why I think this drags into July -- Brees and the NFL Players Association have asked for a ruling on whether his current franchise tag counts as his first. Brees also carried the franchise tag when he was in San Diego. But that was long before the new labor agreement was signed last summer. That ruling isn't expected to come until late June. As a member of the NFLPA's executive committee, Brees would be doing other players a favor by getting a ruling on this issue.
May, 16, 2012
5/16/12
9:21
AM ET
Time for a look at the top Wednesday morning headlines from around the NFC South.
March, 20, 2012
3/20/12
1:13
PM ET
There obviously has been quite a bit of hysteria, probably all around the world, about
Peyton Manning
signing with the
Denver Broncos
.
Brees
But, as Jeff Duncan
points out
, there might not be anyone happier about Manning's deal than
Drew Brees
.
The New Orleans quarterback is currently carrying the franchise tag because he and the team couldn't come to a long-term deal before the start of free agency. There were reports that the Saints had offered a deal that averaged $18.5 million a season and reports that Brees countered with $23 million.
The five-year deal Manning got with the Broncos is worth $96 million. That's an average of $19.2 million, which sets a new bar that gives Manning the highest average salary of any quarterback.
Tom Condon is Manning's agent. He also is Brees' agent. Condon's one of the top agents in the business and I think he can point to Manning's contract whenever he talks with the Saints next. He can point to the fact Brees is healthier and younger than Manning. I think you could also make a very strong case that Brees is a better quarterback than Manning at this stage of their respective careers.
I'm not sure if Condon and Brees will get the full $23-million average. But Manning's deal certainly could be a steppingstone toward that number.
October, 28, 2011
10/28/11
10:15
AM ET
Let's weigh in on some stories of note around the NFC South.

Clausen
Carolina's
Jimmy Clausen
sounds like he's
accepting his role
as the No. 3 quarterback as well as anyone could hope. That's great and it's really the only way Clausen can handle things in the short term. But, with
Cam Newton
in place as the starter, Clausen really has no future in Carolina. The best thing that can happen for him is for the Panthers to let him go after the season. If Clausen is going to ever have a chance to be a starter, he needs a fresh start. But I think it's safe to cross Denver off the list of possible landing spots. I don't see Clausen or Denver coach John Fox wanting a reunion.
Newton is
averaging a league-high
10.3 air yards per pass. You have to respect the way the Panthers are letting the rookie quarterback use his strong arm. It helps that Newton has a downfield threat like
Steve Smith
.
Mike Triplett reports that the Saints
could touch base
with Tom Condon, the agent for
Drew Brees
, this weekend. The Saints are playing in St. Louis and Condon is based in Missouri. Brees' contract is up after this season and the sides have been talking off and on and no deal appears to be close. It might be time to get down to business. Everyone wants the same thing – Brees back in New Orleans – and it doesn't make a lot of sense to let this situation drag on all season.
New Orleans coach Sean Payton won't reveal whether he or offensive coordinator Pete Carmichael
will call the plays
Sunday. Like it matters? The Saints are playing the winless Rams.
Stephen Holder writes that any thoughts of a rift between Tampa Bay quarterback
Josh Freeman
and tight end
Kellen Winslow
are
off base
. He's right. The two spent the offseason working out together and built a very strong bond. Winslow got a reputation for being a selfish player early in his career. But he's pretty much been a model teammate since coming to Tampa Bay.
September, 14, 2011
9/14/11
10:17
AM ET
Time for a look at the headlines from around the NFC South.
The Panthers kept the revolving door at defensive tackle spinning as they
added
veteran Ronald Fields, who previously has been with Miami, San Francisco and Denver. The Panthers also added offensive lineman Reggie Wells, who previously was a starter for Arizona.
The Buccaneers
waived
long-snapper Christian Yount. Presumably, Tampa Bay will be adding a new long-snapper Wednesday.
Atlanta defensive coordinator Brian VanGorder said the Falcons have to
improve their tackling
.
Atlanta offensive coordinator Mike Mularkey said the Falcons will
try to throw deep passes
, but won't force them if they're not there.
Mike Triplett reports that Tom Condon, the agent for New Orleans quarterback Drew Brees, had a
"substantial talk''
with general manager Mickey Loomis about a contract extension Tuesday. But Condon wouldn't elaborate when asked if a deal was close.
Tampa Bay defensive tackle Brian Price
left Sunday's game
, but it was not related to the surgery he had on his pelvis last year. Price merely was fatigued.
Carolina receiver Steve Smith said he's
having fun again
. That's largely because the Panthers now have a quarterback (Cam Newton) who can get him the football.
September, 13, 2011
9/13/11
5:21
PM ET
Some significant news out of New Orleans and some other items of interest from around the NFC South.
Mike Triplett reports that Drew Brees' agent, Tom Condon, is in New Orleans to
meet face to face
with general manager Mickey Loomis about a contract extension for the quarterback. It previously has been reported the two sides aren't close. But when you put a general manager and an agent in the same room, things can change quickly. Besides, this one doesn't need to linger on for long. Everyone knows Brees' value to the Saints and the team can't afford to let him get to free agency.
In this Insider post, Football Outsiders takes
an in-depth look
at the Falcons and an offense that struggled in the season opener at Chicago and in last season's playoff loss to Green Bay.
Charlie Campbell, who has spent a lot of time observing Tampa Bay quarterback Josh Freeman on and off the field, writes that Freeman looked out of rhythm in the season opener and
seemed frazzled
when speaking to the media after the game.
Tampa Bay rookie middle linebacker Mason Foster said he expects to
get better every week
.
Carolina linebacker Jon Beason said that he
didn't return to the playing field too quickly
. Beason had problems with his foot and ankle in the preseason before suffering a torn Achilles tendon in the season opener. Beason said he'd make the same decision to play if he had the chance to do it again.