July, 23, 2013
7/23/13
12:53
PM ET
TAMPA, Fla. -- Add another name to the list of veterans who worked out for the
Tampa Bay Buccaneers
on Tuesday.
Defensive tackle
Tommie Harris
worked out for the club, according to a league source.
Harris did not play in 2012. He was with San Diego in 2011 and spent seven seasons before that with Chicago.
As previously reported, the Bucs also worked out running back
Peyton Hillis
and tight end
Visanthe Shiancoe
.
The Bucs appear ready to start rookie
Akeem Spence
next to
Gerald McCoy
at defensive tackle. But Harris could bring some much-needed depth to the middle of the defensive line.
May, 12, 2011
5/12/11
12:00
PM ET
The NFL draft is long over and all we have to look forward to now is free agency, though we don't know when or how it will come or exactly what it will look like.
But if there is a 2011 season, it will have to be preceded by some sort of free-agency period, one last window for teams to fine-tune their rosters with what they couldn't get in the draft.
We'll spare you most of the boring details of the labor negotiations, but we do have to point out that the rules for a potential free-agency period aren't set. They could be determined if a new labor agreement is reached and that probably would include some tweaks to past rules. It has long been assumed that if the lockout is lifted before an agreement that free agency rules will be the same as they were in 2010. But word has started to trickle out in the past few days that might not be the case.
At this point, we only can look at hypothetical situations -- all you can do is dream and you might as well dream big. With that in mind, let's take a look at one free-agency dream scenario for each NFC South franchise.

Atlanta Falcons
-- This is the easiest call in the division because you can see it coming like a slow-moving storm or Arthur Blank strolling to the sideline late in a game. Let's go ahead and make Atlanta's dream move signing Minnesota defensive end
Ray Edwards
.
Some of our coming moves are pie-in-the-sky scenarios that probably won't happen, but this one has serious potential. Edwards has five seasons in the league, which could make him a restricted or unrestricted free agent, depending on the rules of free agency. If at all possible, I think the Falcons will pursue a player who had eight sacks in 14 games last season and 8.5 the season before that.
Edwards is just hitting his prime and sure looks like the one missing link between the Falcons being a team that exits the playoffs early and one that can challenge for the Super Bowl. Blank and general manager Thomas Dimitroff already put most of their chips on the table when they traded up on draft night to get wide receiver
Julio Jones
. He's the explosive player they wanted on offense.
Edwards can be the explosive guy on defense. Carolina's
Charles Johnson
, a probable restricted free agent, and Green Bay's
Cullen Jenkins
could be fall-back options. But the Falcons already have shown strong signs this offseason they're not interested in falling back.

Carolina Panthers --
Let's imagine for a moment that Carolina owner Jerry Richardson opens his free-agent checkbook for the first time in several years to bring in cornerback
Johnathan Joseph
, who has been playing with Cincinnati and is another five-year player.
If Joseph is a free agent, this move would make all sorts of sense. He's a local product, from just over the border in Rock Hill, S.C. He also has nine interceptions the past two seasons. Carolina has
Richard Marshall
and
Chris Gamble
, but their futures are very uncertain.
Richardson has had some success in the past bringing local products home --
Stephen Davis
,
Kevin Donnalley
,
Ricky Proehl
-- and Carolina has invested a lot in its young defensive line and has a good group of linebackers. Joseph could solidify the secondary and new coach Ron Rivera suddenly could have a nice defense. By the way, I know there's speculation about defensive tackle
Tommie Harris
ending up with the Panthers because of his Chicago ties to Rivera. That could happen. But I don't view Harris as a dream scenario. I view him as a guy with questions about his knees, who could be a decent pickup if he can stay healthy.

New Orleans Saints
-- This one's tough because the Saints have a bunch of young and talented, but totally unproven players at outside linebacker. Plus, veteran outside linebacker
Scott Shanle
can become an unrestricted free agent. The list of players at outside linebacker who definitely will be unrestricted is pretty thin. You could take a veteran such as Detroit's
Julian Peterson
and gamble that he'll regain some of his early-career magic the way some other veterans have with the Saints in recent years. The Saints have shown willingness to gamble on injured guys in the past and Carolina's
Thomas Davis
has huge upside.
But Peterson's no long-term solution and Davis is a total unknown because he's had two major knee injuries. In a best-case scenario, the Saints will re-sign Shanle. Then, they'll go after Buffalo's
Paul Posluszny
. He's a four-year player and could end up being restricted. But hey, we can dream.
Put Posluszny with Shanle and
Jonathan Vilma
and the Saints would be better off at linebacker than they were in 2009, when Shanle and Vilma were joined by
Scott Fujita
.

Tampa Bay Buccaneers --
The Bucs spending big money in free agency? Well, they haven't done it in some time unless you count
Derrick Ward
, and that didn't work out. But there's one sure-fire move that could excite a fan base that wasn't buying tickets during a 10-6 season in 2010 and put this team over the top: sign cornerback
Nnamdi Asomugha
.
Asomugha's the one true gem we know will be in this free-agent class and his price tag is going to be astronomical. But if there is a salary cap, the Bucs will have more room under it than any team in the league. The Bucs showed a willingness to spend big money once before, offering more to defensive tackle
Albert Haynesworth
than the Redskins did before Haynesworth went to Washington. There are strong rumors Asomugha will end up in the NFC East, but Tampa Bay can use the lack of a state income tax in Florida, a great natural-grass field, the weather, a team on the rise and coach Raheem Morris (a former defensive backs coach) as selling points.
The future of
Aqib Talib
is unsure because of off-field problems. Sign Asomugha and the Bucs have a corner more talented than Talib who doesn't come with the headaches. Put him out there with veteran
Ronde Barber
, who still plays at a high level, and younger players such as
E.J. Biggers
and
Myron Lewis
. If the pass-rushers taken in the draft (
Adrian Clayborn
and
Da'Quan Bowers
) work out, Tampa Bay's corners suddenly could be dominant.
Remember, it's all hypothetical. But wouldn't the NFC South be a better and more exciting place if these dream scenarios actually came true?
May, 11, 2011
5/11/11
12:08
PM ET
Football Outsiders has
this Insider post
on the top remaining needs for each NFC South team now that the draft is over.

They list defensive end as Atlanta's biggest need and that one's obvious. The Falcons got their explosive player on offense, taking receiver
Julio Jones
in the draft. They need a pass-rusher and depending on the rules of free agency, whenever it opens, guys like
Ray Edwards
and
Charles Johnson
could be possibilities. I've also heard Green Bay's
Cullen Jenkins
tied to the Falcons a little bit. Jenkins has been a productive pass-rusher, but that's not really his forte. He's a big defensive end who can slide inside to defensive tackle in some situations.

Although the Panthers used to third-round picks on defensive tackles, defensive line is listed as one of their top needs. There's even speculation that Ron Rivera's ties to Chicago could lead him to pursue defensive tackle
Tommie Harris
.

New Orleans' biggest need is listed as outside linebacker, even though the Saints drafted
Martez Wilson
in the third round. But
Scott Shanle
could become a free agent and Football Outsiders speculates that the Saints could pursue Buffalo's
Paul Posluszny
, who could be a restricted free agent.

Tampa Bay's biggest needs are listed as cornerback and defensive end. Although the Bucs just drafted
Adrian Clayborn
and
Da'Quan Bowers
, they can use more defensive ends because they had virtually nothing at that position last season. There has been some speculation that the Bucs, who haven't been big players in recent years, could make a splash and pursue
Nnamdi Asomugha
in free agency. Although I suspect Asomugha is headed for the NFC East, I'm not totally ruling this one out.
Speaking of ways to fill holes, Scouts Inc. has
an Insider post on the top 40 undrafted free agents
. Teams can't sign these guys until the lockout is lifted, but you can bet that every team has a list of guys it is ready to contact the moment the doors to signing players open.
March, 5, 2011
3/05/11
3:36
PM ET
We'll start of our session of team-by-team mailbags with the
Atlanta Falcons
and go in alphabetical order (by city or region).

Not sure yet if we'll roll through the entire division today or if we'll do the Falcons and Panthers for now and save the Saints and the Bucs for Sunday. Either way, stay tuned.
Kishon in Long Island
said he loved
the article about Vidal Hazelton
and asked if the Falcons might give him a shot.
Pat Yasinskas:
Let's be real objective about Hazelton. Even if he lights it up at his pro day, he probably will be a late-round pick or an undrafted free agent. He's a guy with a world of talent, but he didn't get to play a lot of college football because of his transfer from Southern California to Cincinnati, and injuries. But he had a high profile coming out of college, and teams are going to keep an eye on him. Hazelton spent part of his life in Georgia, has family there and has made it clear he'd love to play for the Falcons. I think Atlanta could be looking at other receivers earlier in the draft. But Hazelton is the kind of guy the Falcons and a lot of other teams could take a chance on very late in the draft or sign as an undrafted free agent. There's not a lot of downside because he's not going to cost much. And there's big upside if Hazelton can stay healthy and finally live up to his potential.
---
Joe in Atlanta
asks if the Falcons could be a landing spot for
Tommie Harris
.
Pat Yasinskas:
I never like to say never, because anything is possible. Teams will surprise you, like the
Carolina Panthers
did when they signed
Jeremy Shockey
. But I would say Harris is a long shot. The Falcons don't have a huge need at defensive tackle. They have a very good veteran in
Jonathan Babineaux
, and they believe
Peria Jerry
can make an impact next season as his knee continues to get stronger. They're also pretty pleased with
Corey Peters
, a third-round pick last season, who wound up as a starter.
---
Alex in Atlanta
asks if defensive end
Ray Edwards
could be a possible target for the Falcons in free agency.
Pat Yasinskas:
Entirely possible, but we'll have to see what happens with the labor situation. We all know the Falcons want to improve their pass rush, and that might come in the draft. But the Falcons have been pretty deliberate under coach Mike Smith and general manager Thomas Dimitroff. They might only make one or two moves via free agency or trade per offseason, but they usually are pretty big ones. Edwards certainly fits the profile of what might be Atlanta's biggest need – a pass-rusher up front.
---
David in Atlanta
wonders if receiver
Michael Jenkins
can raise his level of play and match
Roddy White
's production.
Pat Yasinskas:
Short answer: No. Long answer: The Falcons aren't looking for Jenkins to be anything like White. They're two very different types of receivers. Jenkins is a role player. He's a big guy, and is considered one of the top blocking receivers in the NFL. That alone gives him an important niche in Atlanta's offense. He also is a decent possession receiver who makes some catches when needed. But he's clearly the No. 3 option in the passing game behind White and tight end
Tony Gonzalez
. The Falcons might look for a speed receiver in the draft, but Jenkins' role in this offense is valued a lot more by the coaching staff than most people realize.
---
Jason in Atlanta
asks if cornerback
Brent Grimes
ever can be an elite player, because he seems to give up as many big plays as he makes.
Pat Yasinskas:
I think Grimes already qualifies as a very good player. Can he become elite? Probably not. He has one big limitation. That's his height. The reality is Grimes is really about 5-foot-8. He does a nice job of making up for that with his athleticism and leaping ability. But NFL coaches are smart, and they're going to try to set up as many matchups as possible where Grimes has to cover a 6-4 receiver. He's going to lose some of those battles. But Grimes has become more of a player than anyone ever expected when he came out of college. If Grimes were 6-1, he might be the best cornerback in the league. But he'll never be 6-1, so he just has to continue making the most of the hand he was dealt. So far, he's done a nice job with that.
February, 28, 2011
2/28/11
4:49
PM ET
We've had a couple of big-name releases in the NFL on Monday.
Washington cut ties
with running back
Clinton Portis
and
Chicago released
defensive tackle
Tommie Harris
.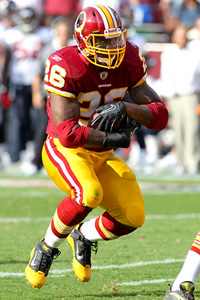 Jeff Fishbein/Icon SMIClinton Portis has almost 10,000 career rushing yards, but he had just 227 last season.
I haven't had a chance to check the mailbag yet, but I'm sure there already are some questions about if either player might be a fit in the NFC South. Let's start with the usual labor clarifications. Portis and Harris would be available to sign as free agents immediately since they were released and didn't become free agents by playing out their contracts. But the window of opportunity could be very limited. If a labor lockout starts Saturday, as many expect, Portis and Harris would join the other 500 or so potential free agents in a situation where all signings would be frozen until there is a new labor agreement.
Could Portis or Harris be candidates to get anything with an NFC South team by the end of the day Friday?
Let's take a look at each and we'll start with Portis. He once was one of the league's top running backs, but he's 29 now and has a lot of mileage. His days as a feature back probably are over, but Portis could fit in as a role player. I think Carolina's set at running back. Tampa Bay's got
LeGarrette Blount
as a feature back and would like to keep
Cadillac Williams
as a third-down back. The Bucs could use a quality backup for Blount, but I'm thinking they want a younger set of legs. Same for Atlanta, as the Falcons search for a speed back to go with
Michael Turner
and
Jason Snelling
.
That leaves New Orleans and I see Saints as the one team in the division that could have an interest in Portis.
Chris Ivory
will be back and
Reggie Bush
probably will be back.
Pierre Thomas
is likely to leave as a free agent and that means the Saints need someone to go in their rotation with Ivory and Bush. My gut is the Saints would like to get a younger running back, but they're the team in the division that has shown the most willingness to bring in veterans in recent years. Might be a long shot and the Saints may wait until everything is sorted out with the draft and the labor situation, but New Orleans is the one team I could at least see looking into Portis.
Now, let's move to Harris. He was a three-time Pro Bowler, who fell out of favor and into a limited role last season. But he is a guy who could produce some with a fresh start. I'll scratch Tampa Bay and Atlanta off the list immediately because they seem set at defensive tackle and have lots of youth. Carolina has a need and Ron Rivera was in Chicago for part of Harris' time there. Even though the Panthers might use the first overall draft pick on Auburn's Nick Fairley, I wouldn't rule out the possibility of bringing in Harris.
New Orleans at least make sense in the case of Harris. The Saints have
Sedrick Ellis
, but not much else at defensive tackle. The Saints had very good luck bringing in linebacker
Jonathan Vilma
and decent luck with tight end
Jeremy Shockey
, a pair of guys who had flamed out in their previous homes. Although Shockey was released last week, the Saints got some production from him. I view Harris as a guy like Vilma and Shockey. He still has some ability, but wasn't a fit in Chicago. I'm not saying Harris will come in and suddenly be a Pro Bowler again, but I think he'd be an upgrade for the Saints and that makes him worth at least considering.