NFC South:

Tommy Gallarda
June, 6, 2013
6/06/13
4:44
PM ET
Let's take an afternoon look at some news and notes from around the division:
ATLANTA FALCONS
With tight ends Tony Gonzalez and Levine Toilolo away from offseason workouts, the Falcons are using the time to take a
long look
at Chase Coffman, Tommy Gallarda and Andrew Szczerba. The Falcons also signed tight end Anthony Miller on Thursday. Gonzalez is set as the starter and Toilolo almost certainly will make the roster. That means the other four tight ends are competing for one roster spot.
CAROLINA PANTHERS
Defensive end Greg Hardy has
missed multiple organized team activities sessions
, according to coach Ron Rivera. These practices are voluntary. But Hardy is entering the final year of his contract and you have to at least wonder if he's making a statement that he wants a new deal. The answer to that should come next week when we see if Hardy shows up for the mandatory minicamp.
NEW ORLEANS SAINTS
Receiver Joe Morgan
spoke publicly
Thursday for the first time since his arrest for driving under the influence two weeks ago. Morgan said he made a mistake and has learned from it. Morgan has a shot at winning the third receiver spot, so it's critical that he avoids any more trouble.
TAMPA BAY BUCCANEERS
General manager Mark Dominik won't be the only member of the organization getting his head shaved to help
raise money
for the Pediatric Cancer Foundation. Quarterback Josh Freeman and 12 other players also will participate.
The Buccaneers signed guard Jeremy Lewis on Thursday and waived guard Desmond Wynn.
February, 12, 2013
2/12/13
9:51
AM ET
Considering injuries played such a big part in holding him back the first four years of his career, Atlanta tackle
Sam Baker
reached a remarkable milestone in the 2012 season. The left tackle did not miss a single snap.

Baker participated in all of Atlanta's 1,060 offensive plays. So did guard
Justin Blalock
.
Let's take a look at the rest of the playing time percentages for the rest of Atlanta's offense.
January, 8, 2013
1/08/13
3:00
PM ET
We already showed you the playing-time breakdown for the
Atlanta Falcons
defense.
Now, let's switch over to the offensive side, where the Falcons had 1,073 plays. Here's the complete breakdown of how many snaps each offensive player got, followed by my thoughts:
My thoughts:
In the final analysis, the Falcons had Rodgers on the field about as much as Turner. Limiting Turner's playing time was a goal at the start of the season and Rodgers seemed to gain more trust from the coaching staff as time went on. … Konz was the only member of the rookie class to get much playing time. Although some fans thought Holmes had a chance to start, the team viewed him as a project. … Baker played every snap and stayed healthy for an entire season. He turned in a solid year and that probably means the Falcons will make a fairly strong effort to keep him from leaving as a free agent.
November, 14, 2012
11/14/12
11:33
AM ET
The big topic in Atlanta this week is the Falcons' short-yardage running game.
It should be because the Falcons are a yard away from being 9-0. They had three plays at the New Orleans 1-yard line late in Sunday's game, but couldn't score. Two
Matt Ryan
passes fell incomplete, but the play most people are focusing on was the third-down run where
Michael Turner
got stuffed.
That's a big deal because it's become a trend for the Falcons this year.
"They are challenging because you need 1 yard and everybody knows you need 1 yard,'' offensive coordinator Dirk Koetter
told the media
Monday. "That's what makes it challenging. It's like you're trying to make 1 yard and they're trying to defend 1 yard. Maybe we ought to just pretend it's third-and-10 and we might be better off."
Might not be a bad idea because the Falcons aren't getting the job done in short-yardage situations.
According to ESPN Stats & Information, Turner has had nine carries inside the 3-yard line this season. They've resulted in two touchdowns and 1 net yard rushing. In goal-to-go situations, Turner has carried 17 times for three touchdowns and totaled 18 net yards.
But the problem isn't just limited to the goal line. The Falcons have struggled in all short-yardage situations. When needing 2 or fewer yards on third or fourth down, the Falcons have converted 7 of 15 rushes (46.7 percent) into first downs. Only Detroit (37.5) has a worse percentage and the league average is 66.7 percent.
"It's a bad thing,'' Koetter said. "If you had a magic wand and could wave it, then it would be easy to fix everything if you had that magic wand.''
There is no magic wand, but this is clearly an area where the Falcons have to improve if they're going to go deep into the playoffs.
Let's run through some suggestions on how to fix it:
Stop using Turner as the short-yardage back:
It's easy to put the blame on Turner. It's pretty obvious age is catching up to him and he lacks the same explosiveness he had a few years ago. But who else are you going to turn to?
Jason Snelling
has good size, but he never has been a great short-yardage runner.
Jacquizz Rodgers
doesn't have great size, but he's got some muscle on him, is quick and can find holes. If you're going to make a switch, Rodgers is the guy to go with. But he might not fare any better because maybe the problem isn't all about Turner.
It starts up front:
The offensive line has done a nice job pass blocking, but the overall run blocking hasn't been good. It also didn't help that blocking tight end
Tommy Gallarda
went down with a season-ending injury early in Sunday's game. I don't know that you can totally fix the overall run blocking in the middle of a season. But there are things you can do to help in short-yardage rushing. When the Falcons had some injuries at tight end and fullback earlier in the season, they used tackle
Mike Johnson
as an extra tight end and guard/center
Joe Hawley
as a fullback. The Falcons don't have great blockers at tight end or fullback. It might be time to get Johnson and Hawley back on the field in those situations.
Forget the run?
If everything continues to fail, maybe the Falcons should just abandon the run in goal-line situations. It wouldn't be conventional, but it might be practical. When it comes to goal-to-goal passing, Ryan is among the league leaders. In those situations, he has completed 16 of 26 passes for 11 touchdowns.
November, 13, 2012
11/13/12
7:12
PM ET
The
Atlanta Falcons
shook up their roster a bit Tuesday evening, but it wasn't anything as major as when they released defensive end
Ray Edwards
on Monday night.
They had Edwards' roster spot to work with and another came available as the Falcons placed reserve tight end
Tommy Gallarda
on injured reserve.
To fill those two spots, the Falcons signed wide receiver Tim Toone and promoted tight end
Chase Coffman
from the practice squad. They also signed tight end Andrew Szczerba to the practice squad.
Toone was with the Falcons in the preseason but was waived-injured on Sept. 6. Toone's presence possibly could help free up wide receiver
Harry Douglas
to handle punt returns.
Dominique Franks
has been doing that without much success and Douglas has had some past success on punt returns. Although Toone has never played in a regular-season NFL game, it also is possible the Falcons consider him as a punt returner. Toone earned the Mr. Irrelevant title by being the last player chosen in the 2010 draft and had
some long punt returns
in college.
The loss of Gallarda hurts because he was often used as the team's blocking tight end. Starter
Tony Gonzalez
doesn't get asked to do a lot of blocking, so Coffman will be asked to share blocking duties with backup
Michael Palmer
.
October, 12, 2012
10/12/12
10:37
AM ET
Let's take a look at the Friday morning headlines from around the NFC South:
TAMPA BAY BUCCANEERS
Scott Reynolds writes that middle linebacker Mason Foster is
prospering in his second season
. That's a wonderful sign for a young team that's looking for bright spots. It's also an early indication the coaching staff and front office were right to leave Foster in the middle. There was some temptation to draft Luke Kuechly and there was at least a flirtation with veteran free-agent Curtis Lofton, who wound up in New Orleans.
Martin Fennelly writes that, despite their 1-3 record, the Bucs are much
more competitive
than last season. He's right. The Bucs have been in every game and, had a couple of plays gone differently, there record could be much better. I take that as a sign that coach Greg Schiano has this team on the right path. It might take time to turn the corner. But I'm seeing the same thing from this team that I saw from the Bucs when Tony Dungy first took over and from the Panthers when John Fox took over -- gradual improvement.
NEW ORLEANS SAINTS
Mike Triplett writes that, if the Saints are going to turn around their season (and their defense), they need free safety Malcolm Jenkins to finally play to his
star potential
. That's very true. Jenkins might be the biggest mystery in the NFC South. For the past few seasons, I've been waiting for him to have a breakout year. Scouts and coaches around the league say he has the talent to be a big-time playmaker. I thought Jenkins might start to shine in coordinator Steve Spagnuolo's new scheme. But, so far, Jenkins really hasn't been a factor.
Ed Werder previously reported that linebacker Jonathan Vilma has
filed an appeal
of his season-long suspension. As you probably expected, it's now being reported that current New Orleans defensive end Will Smith and former New Orleans players Scott Fujita and Anthony Hargrove also have
appealed their suspensions
.
CAROLINA PANTHERS
Jonathan Jones has a good overview of the
Lisfranc foot injury
, the same injury that will sideline center Ryan Kalil the rest of the season. It's a fairly common injury and will require surgery. But Carolina team doctor Robert Anderson is considered one of the world's top surgeons for this type of injury.
ATLANTA FALCONS
With backup tight end Michael Palmer out with an injury the past two games, Tommy Gallarda has done a nice job
filling in
. He's been used mainly as a blocker, but also is getting some opportunities as a receiver.
Defensive tackle Corey Peters, who has been on the physically unable to perform list, is eligible to start practicing next week. But I'd look for the Falcons to wait a bit on their three-week window on Peters. They have a bye next week and won't be doing much practicing. Even then, I think it might take Peters a few weeks to get on the field. Coach Mike Smith said it's going to take Peters some time to get into
football shape
.
September, 28, 2012
9/28/12
5:02
PM ET
The final injury reports are in for Sunday's game, so let's take a look at the most significant injuries around the division.
The news isn't good for a New Orleans defense that already was struggling. Linebackers
David Hawthorne
and
Jonathan Casillas
and defensive end
Turk McBride
have been declared out for Sunday's game at Green Bay. Casillas had been backing up Hawthorne. With both of them out,
Will Herring
appears likely to get the start.
Carolina middle linebacker
Jon Beason
(knee and shoulder) practiced Friday. Coach Ron Rivera said the team will see how sore Beason is Sunday before making a decision on his status. If Beason can't play against Atlanta,
Jason Phillips
is expected to start in the middle. Running back
Jonathan Stewart
is listed as probable and expected to play for just the second time this season.
The Falcons have declared tight end
Michael Palmer
, cornerback
Christopher Owens
, running back
Antone Smith
and fullback
Lousaka Polite
out for Sunday. That means
Dominique Franks
likely will be used as the nickel back and running back
Jason Snelling
probably will get some time at fullback.
Tommy Gallarda
is expected to take Palmer's place as the backup tight end.
The Buccaneers are relatively healthy compared to the other three teams. Reserve cornerback
Anthony Gaitor
is out for Sunday, but everyone else (including guard
Carl Nicks
and cornerback
E.J. Biggers
) is no worse than probable.
September, 28, 2012
9/28/12
11:56
AM ET
Let's take a run through the headlines from around the division:
ATLANTA FALCONS
Offensive coordinator Dirk Koetter said the fact quarterback Matt Ryan has been sacked only four times in three games is
"pretty good.''
But Koetter would like to see the average drop to one sack (or less) per game. Still the offensive line is playing much better than a year ago, when Ryan was sacked 26 times and took a lot of other hits.
With backup tight end Michael Palmer out with an injury, look for Tommy Gallarda to get a lot of
playing time
Sunday against Carolina. The Falcons don't like to put all the blocking responsibilities on veteran starter Tony Gonzalez, and they also like to use some two-tight-end sets.
CAROLINA PANTHERS
Rookie cornerback Josh Norman said he has his
confidence back
after getting picked on by Eli Manning and the New York Giants. He better have his confidence back, because he's going to have to deal with Ryan, Roddy White and Julio Jones on Sunday.
Here's a stat that didn't get very much attention because it was overshadowed by how badly the Panthers lost to the Giants. But linebacker James Anderson set a
team regular-season record
with 20 tackles in that game.
NEW ORLEANS SAINTS
Mike Triplett writes about how the Saints have
fared with the screen pass
. Like just about every other part of the offense, it hasn't been as good as in the past.
The New Orleans offensive line, which has allowed Drew Brees to be pressured more than in recent years, faces a
tough challenge
Sunday when it faces a Green Bay defense that is tied for second in the league with 12 sacks.
TAMPA BAY BUCCANEERS
Quarterback Josh Freeman said there's a
learning curve
involved with a new offensive system and the offense will improve. It needs to. This offense has a lot of talent, but has yet to produce with any sort of consistency.
For those calling for Freeman to run more often, I doubt that's going to happen. Coach Greg Schiano said he doesn't like his quarterback
going out of the pocket
and exposing himself to injury. Schiano said, when Freeman does run, he wants him sliding to avoid taking big hits.
September, 24, 2012
9/24/12
6:33
PM ET
Time for a Monday evening look at the biggest headlines from around the NFC South.
ATLANTA FALCONS
Coach Mike Smith said backup tight end Michael Palmer will
miss Sunday's game
with Carolina due to a shoulder injury. The Falcons have starter Tony Gonzalez, but don't like to overload him with blocking duties. Tommy Gallarda is likely to take on a role as a blocker. The Falcons also may consider activating Chase Coffman off their practice squad.
CAROLINA PANTHERS
Coach Ron Rivera said he wished wide receiver Steve Smith had
not told the media
about getting on Cam Newton when the quarterback was sulking at the end of Thursday night's loss to the Giants. I understand that what happens between teammates should stay between them. But I don't have any big problem with Smith acting as a veteran leader. Newton made a big deal in the offseason about saying he wanted to be a better teammate. Smith has had his own ups and downs, but he's dealt with them. If Smith sees a quarterback with his head wrapped in a towel in the final minutes, he has every right to get on him.
NEW ORLEANS SAINTS
Defensive coordinator Steve Spagnuolo said rookie defensive tackle Akiem Hicks will start to get
more playing time
. Not a bad idea. Hicks has looked good in limited action and I don't know that Sedrick Ellis has a real bright future with the Saints.
Quarterback Drew Brees insists the Saints will
turn their season around
after an 0-3 start. That's still possible, but the Saints have very little margin for error if they want to make a serious bid for the playoffs.
TAMPA BAY BUCCANEERS
With defensive end Adrian Clayborn
done for the season
after suffering a knee injury Sunday, there still is some hope Da'Quan Bowers could return later this season. Bowers tore his Achilles tendon in the offseason and is on the physically unable to perform list. Bowers spoke briefly to the media on Monday and
talked about his rehabilitation
without going into any detail about a time line for his return. But team officials previously have expressed optimism that Bowers might be able to start practicing when he's eligible in Week 6.
September, 5, 2012
9/05/12
8:51
AM ET
As we count down to the start of the regular season, let's take a look at the Wednesday morning headlines from around the division.
ATLANTA FALCONS
As he gets ready for Sunday's return to Arrowhead Stadium, tight end
Tony Gonzalez
reflected on his 12 years
in Kansas City. He talked a lot about 1998, which certainly wasn't his best season. Gonzalez dropped 17 passes that year. That prompted him to start reading inspirational books, seeking advice from veterans and staying after practice to catch passes. The result was the drops stopped and Gonzalez has caught more passes than all but one player (Jerry Rice) in NFL history.
Speaking of Atlanta tight ends, Tommy Gallarda made the roster and is
third on the depth chart
behind Gonzalez and Michael Palmer. But I think you'll see a fair amount of Gallarda. He is Atlanta's best blocking tight end.
Defensive coordinator Mike Nolan said his
expectations
for defensive tackle Peria Jerry were "in limbo'' entering training camp. Jerry had struggled since suffering a knee injury early in his rookie season (2009). But Nolan said Jerry has had an impressive preseason. That should help, because Jerry is expected to start with Corey Peters out for at least the first six games of the regular season.
CAROLINA PANTHERS
Special teams were a
problem area
last season, so the Panthers made a bunch of changes in the offseason. The results weren't apparent in the preseason, but coach Ron Rivera said he's confident the special teams will be better in the regular season. They better be. The Panthers made changes at kicker and punter and plan to play several starters extensively on special teams. If the performance isn't any better, the Panthers won't have any excuses.
Although the Panthers arrived in Florida on Tuesday night and will practice in Bradenton starting Wednesday, a team of staff members have stayed back at Bank of America Stadium. Team president Danny Morrison said those staffers are helping
behind the scenes
with the Democratic National Convention and will join the team in Florida on the weekend.
NEW ORLEANS SAINTS
Mike Triplett caught up with suspended New Orleans coach Sean Payton, who is helping coach his team's youth-league football team. Payton said he's kept a
close eye
on the Saints throughout the preseason, but largely has stayed quiet on the league-imposed suspensions. Payton said he, assistant head coach Joe Vitt and general manager Mickey Loomis are in a different position than the players, because they don't have a union to challenge the NFL. He said his ultimate goal is to get reinstated at the right time, and he's received no indications the league would consider reducing his suspension.
The NFL Players Association is making a last-ditch effort to get a
temporary restraining order
that would stop suspensions for New Orleans defensive end Will Smith and two other former Saints (Scott Fujita and Anthony Hargrove) before the season opens. A similar motion previously was filed for linebacker Jonathan Vilma. The union is arguing irreparable damage will be done to the players if they're suspended at the start of the season.
TAMPA BAY BUCCANEERS
At least according to the latest unofficial depth chart put out by the team, Preston Parker has
lost his job
as the No. 1 punt and kickoff returner. Sammie Stroughter is listed as the top punt returner and Michael Smith as the top kickoff returner. If the depth chart is accurate, it's not a huge surprise. Parker has struggled with returns and the Bucs might have been forced to keep Stroughter over receiver Tiquan Underwood because they wanted to make sure they had someone dependable to field punts.
Coach Greg Schiano and co-chairman Bryan Glazer asked fans to help give the Bucs a
home-field advantage
at Raymond James Stadium. The team has struggled to get good attendance in recent years, and Bucs' fans are sometimes outnumbered by those of opponents. The Bucs have repeatedly said this offseason that they want to reconnect with their fan base. They're doing their part so far, but the next step is to win consistently.
August, 2, 2012
8/02/12
12:00
PM ET
FLOWERY BRANCH, Ga. -- As you first watch and listen to the
Atlanta Falcons
in training camp, you quickly realize something is different.
They've got a bunch of marquee players (
Matt Ryan
,
Roddy White
,
Julio Jones
,
Tony Gonzalez
,
Michael Turner
,
John Abraham
and
Asante Samuel
), but the buzz isn't about them. Instead, most of the talk is about two new assistant coaches -- offensive coordinator Dirk Koetter and defensive coordinator Mike Nolan. That's understandable, because a lot of people thought the Falcons needed some major changes after they got thumped by the
New York Giants
in the first round of last season's playoffs.

With offensive coordinator Mike Mularkey (now head coach in Jacksonville) and defensive coordinator Brian VanGorder (now defensive coordinator at Auburn) leaving, Koetter and Nolan are big storylines. They might not have star power all by themselves, but watch and listen a little more and you'll see the two new coaches have plenty of star power behind them.
"Mike Nolan and Dirk Koetter have done a fine job of bringing their respective systems to the table and working with (coach)
Mike Smith
and the rest of the staff and developing a system that is melding well with all of our coaching opinions,'' general manager Thomas Dimitroff said. "It's a collaborative effort. It's not just one stamp from one coordinator or the other. It's been really interesting seeing everyone come together on the respective sides of the football to develop this new system.''
In conversations with Smith and Dimitroff, each repeatedly emphasized that key players (the guys listed above and a few others) have had extensive input into what the Falcons will do on each side of the ball. As soon as league rules allowed coaches and players to get together in the offseason, Ryan and Koetter began meeting regularly and discussing what the playbook should look like.
"There are a lot of things we've done well over the last few years, and the first thing Dirk asked me was what I liked and what I felt most comfortable with,'' Ryan said. "Then, we took the things I said and looked at our production in those situations and some of it was surprising because we didn't have as much success as I would have thought in some of the things I said I was most comfortable with, and we had some pretty good success with some of the things I didn't necessarily think I liked.
"We also watched a lot of film of Jacksonville (where Koetter was offensive coordinator last year), and we talked a lot about why they did certain things at certain times. There was a lot of very good give-and-take. He's extremely open to input, which is great for players, and I know he sat down and did the same thing with some other guys. But he also has his own opinions and is firm on his own opinions, and I like that about him.''
The Falcons have been very public about some of the ways their offense will change. They said they don't want Turner having to endure a 300-carry season. They said they want to use the screen pass more, after almost completely ignoring it in recent years. And they've made it very clear that they want to improve their downfield passing game.
What the actual playbook looks like is likely to be a combination of what both Koetter and the Falcons have done in the past.
The changes on defense are likely to be similar because Nolan also has consulted extensively with his key players. Nolan has spent 14 years as a defensive coordinator in the NFL, seven of them in the 4-3 defense and seven in the 3-4. The Falcons will continue to use the 4-3 as their base, but there could be some 3-4 looks and principles.
"We just have a lot of different things that we can do,'' outside linebacker
Sean Weatherspoon
said. "We're going to be aggressive. We're not being passive at all. Our mindset is that we want to go out there and dictate. We don't want to adjust to what an offense is doing. We want to put it on them to make changes.''
That would be a change from the VanGorder days, when the Falcons had some individual talent and a fair amount of overall success, but never really had an identity as a defense. The Falcons will be different on both sides of the ball.
"When you have new eyes, so to speak, you get a different view,'' Smith said. "We may have had a view that this guy's strengths are A, B and C and his weaknesses are D, E and F, and a new guy comes in and, because he's coming from a different perspective, he sees it differently. I think that's interesting in terms of evaluating your roster because you have two new sets of eyes.''
Maybe the eyes will have it. Maybe the new coordinators and new playbooks will be enough to help the Falcons win a playoff game for the first time since Smith, Dimitroff and Ryan arrived in 2008.
THREE HOT ISSUES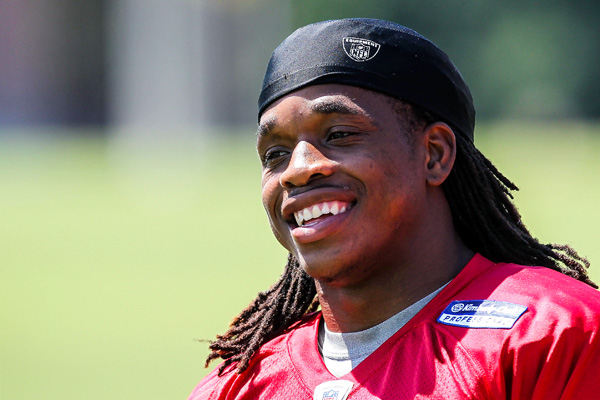 Daniel Shirey/US PresswireSecond-year running back Jacquizz Rodgers could play a larger role in the running game this season.
1. The running game with Turner's limit on carries.
Despite all the talk about the downfield passing game, I don't think the Falcons want to suddenly just abandon the running game. Turner still is powerful and can help open things up for the passing game. The Falcons just don't want to wear him out. They've used
Jason Snelling
at times to give Turner some rest, and Snelling will be involved again this season. But I don't think he's really the guy the Falcons are looking at to pick up a big chunk of Turner's carries.
I'm almost certain they have big plans for second-year pro
Jacquizz Rodgers
, and I think those plans might be a lot bigger than people realize. That's largely because Rodgers is bigger than the Falcons realized when they drafted him last year.
"Jacquizz is not little,'' Smith said. "He's short, but he's thick. People projected him to be a third-down back, a change-of-pace back. I think the guy has the skill set to play on all three downs. One of the things that stood out to me more than anything is his ability to pass protect. A lot of times, your change-of-pace back, you've got to get him the ball and not ask him to be a part of the protection. I don't think that's the case with Jacquizz. I think Jacquizz is an all-around back that can play on all three downs.''
Translation: The Falcons aren't looking for Rodgers to be what
Jerious Norwood
once was. They want him to be more like what
Warrick Dunn
once was.
2. Positive reinforcement.
I don't know if they were veiled shots at Mularkey, VanGorder and former middle linebacker and defensive leader
Curtis Lofton
, but I think it was significant that Smith and Dimitroff repeatedly used the word "positive'' when they talked about the coaching styles of Koetter and Nolan, and as they talked about the leadership qualities Samuel brings, and what kind of leader they expect Weatherspoon to become.
"Sean is such a positive guy,'' Smith said. "He is vocal, but he's never negative in the way he speaks. He's always very positive.''
Samuel was described in the same way. So were Nolan and Koetter.
I never sensed a lot of negativity from Mularkey, VanGorder or Lofton, but I also never sensed any of them were rah-rah guys. It sure seems like Smith and Dimitroff feel their team needed more positive reinforcement.
3. The pass rush.
For far too long, Atlanta's pass rush has consisted of Abraham and almost nothing else. Maybe fellow defensive end
Ray Edwards
steps up after an injury-filled season that limited him to 3.5 sacks. Or maybe reserves
Lawrence Sidbury
and
Kroy Biermann
produce more. But I get the sense Nolan isn't looking to have only defensive ends rush the passer.
"The way practice is going right now, we're really excited about getting the linebackers more involved in rushing the passer,'' Weatherspoon said. "Even in seven-on-seven, we're going. That will help those guys out there on the edge because now offenses are going to have to account for us all day. It'll be better because we'll be able to keep them on their heels.''
And it won't be just the linebackers. Look for the cornerbacks and safeties to also get plenty of opportunities to blitz.
REASON FOR OPTIMISM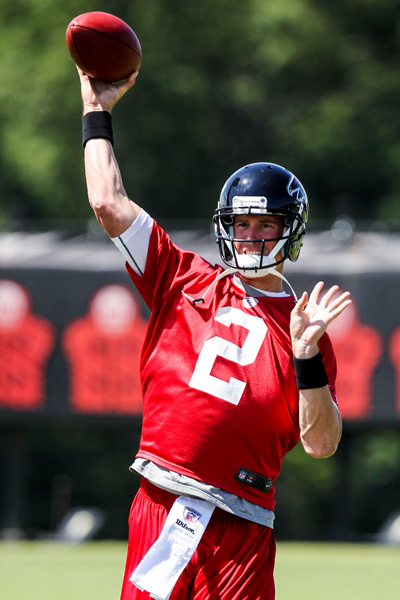 Daniel Shirey/US PresswireIs this the season Matt Ryan puts it all together and joins the echelon of elite quarterbacks?
Time to fly.
A lot of great young quarterbacks have seemed to hit a wall early in their careers. Even
Peyton Manning
had a reputation for not being able to win the big one early in his career, and look how that's worked out. I'm not saying Ryan is going to turn into the second coming of Manning, but I think this is the year in which Ryan finally can earn a firm spot in the category of elite quarterbacks.
The guy has done some very good things in his first four seasons and he's worked very hard to bulk up this offseason, so that he's not worn down when the playoffs roll around. Ryan has a good arm, excellent mental skills and a strong work ethic. But, for some reason, he just hasn't been able to take the next step. Last year, the Falcons brought in Jones to give him another weapon to go with White and Gonzalez. This year, they brought in Koetter, who has obvious instructions to get the most out of Ryan's skills.
When you keep doing things the right way, sooner or later it's all bound to click.
REASON FOR PESSIMISM
The offensive line.
This was a big problem spot last year. Ryan frequently didn't have enough time to throw the deep ball. The Falcons got rid of offensive line coach Paul Boudreau and replaced him with Pat Hill, who has a nice history with offensive lines. They also used their second-round pick on guard
Peter Konz
.
But were those two moves enough to bring dramatic improvement up front? Should the Falcons really be sticking with
Sam Baker
at left tackle? And even if they want to give Baker another shot, shouldn't they at least have brought in a viable alternative in case he struggles?
I know a lot of fans think the Falcons should have done more up front. But the Falcons think they've done enough. We'll find out who is right soon enough.
OBSERVATION DECK
July, 28, 2012
7/28/12
7:11
PM ET
FLOWERY BRANCH, Ga. – Falcons coach
Mike Smith
termed
the release
of veteran guard
Vince Manuwai
as a "football decision.''

The translation there is simple. Manuwai, who sat out last season and spent part of his career with Smith in Jacksonville, wasn't injured. The Falcons simply decided they like what they've seen out of their younger guards early in training camp and they're going to go in that direction.
Garrett Reynolds
, who started seven games at right guard last season, seemed to get most of the first-team work during Saturday afternoon's practice. But rookie
Peter Konz
,
Joe Hawley
,
Mike Johnson
and
Andrew Jackson
also are in the mix. Hawley also can play center, while Johnson also can play tackle.
"We've got a real competitive situation across the board on the offensive line,'' Smith said. "I think you'll notice that we're rolling the guys. They're not all going out right now, first team or second team. We're going to roll them in and out, look at the different combinations and come up with the best combination of seven offensive linemen. That's important, it's not just the first five, but seven offensive linemen because you've got to have the backups cross-train. We've got to have a second snapper, an emergency snapper. We've got to have tackles that can play guard and guards that can play center.''
Left guard
Justin Blalock
and right tackle
Tyson Clabo
might be the only guys who are penciled in as starters right now. The Falcons also are hoping left tackle
Sam Baker
can bounce back from the injuries that hampered him last season. If not,
Will Svitek
could be an option. Veteran
Todd McClure
is the incumbent starter at center. But McClure is 35 and, if he's showing signs of slowing down, Hawley could be a candidate to start at center.
Some other quick notes out of Saturday's practice:
Brent Grimes, who is carrying the franchise tag, might have another role than just playing cornerback: He has been getting some work as a punt returner. That's a job that's wide open after the departure of Eric Weems via free agency. Smith said wide receiver Harry Douglas and cornerback Dominique Franks also have been fielding some punts. Smith said he also may look at some young players on punt returns soon.
The play of the day came on a jump ball between two of Atlanta's best athletes. Grimes had good coverage on a pass that was thrown high for wide receiver Julio Jones. Grimes, whose vertical leap has been measured at more than 40 inches, went up as high as he could. But Jones, who also has some spring in his legs, came down with the ball.
The runner-up for play of the day came from a surprising combination. Backup quarterback Chris Redman hooked up with undrafted free agent Kenny Stafford on a touchdown pass of about 45 yards.
Speaking of backup quarterbacks and undrafted free agents, I was pretty impressed by the arm strength of Dominique Davis from East Carolina. He can throw the heck out of the ball. But the potential problem I see is that every pass comes at full speed and there's not a lot of touch.
The Falcons are currently carrying six tight ends. Veteran Tony Gonzalez is the starter and Michael Palmer did some good things last season. But the third roster spot at tight end appears to be up for grabs. There's a lot of camp and four preseason games ahead that will determine a lot. But I did see Tommy Gallarda make one very nice catch in traffic over the middle.
I got some one-on-one time with veteran defensive end John Abraham, who touched on a lot of subjects (including his thoughts on new defensive coordinator Mike Nolan, his decision to return to Atlanta after testing free agency, his belief that maligned teammate Ray Edwards is ready for a big season and some other things). I'll share those with you over the coming days. I'll be back out Sunday and Monday, watching the Falcons practice and doing interviews, and we'll run their Camp Confidential profile later next week.