September, 6, 2010
9/06/10
12:01
PM ET
The
Carolina Panthers
just put out the official announcement of their eight-man practice squad and it's got some familiar names.
Receiver
Trent Guy
, who had some flash plays in training camp, and defensive tackle
Corvey Irvin
, a draft pick from last year, highlight the list. Other players signed to the practice squad who were with the Panthers in the preseason are fullback
Rashawn Jackson
, running back Josh Vaughn, linebacker
Sean Ware
and cornerback R.J. Sanford. The list also includes guard
Dan Santucci
, a seventh-round draft pick by Cincinnati last year, and guard Sean Murphy, who was a fourth-round pick by Miami in 2008.
August, 29, 2010
8/29/10
11:25
AM ET
Let's hit the links to review Carolina's preseason 15-7 victory against Tennessee on Saturday night.
Tom Sorensen writes that the continued
lack of offensive production now is a legitimate concern
. With the starters getting extensive playing time in the third preseason game, that's when you get the best glimpse of what the regular season will look like. If this is what Carolina's offense is going to look like in the regular season, the Panthers could be in big trouble. But, keep in mind, they've been playing without receiver
Steve Smith
and running back
Jonathan Stewart
, who are expected back for the start of the season.
Carolina's
defense continues to play exceptionally well
. That's a little surprising, because the Panthers have a bunch of no-names up front, they'll probably be without injured linebacker
Thomas Davis
for the entire season, and the secondary, aside from
Chris Gamble
, doesn't appear to be anything special on paper. But always remember that John Fox can coach, especially on the defensive side of the ball.
Three guys that likely are on the roster bubble
suffered injuries
against the Titans. Receiver
Wallace Wright
(shoulder), running back
Tyrell Sutton
(shoulder) and receiver
Trent Guy
(hamstring) were the players Fox said were injured in the game. We probably won't know the severity of any of the injuries for another day or two.
Steve Reed points out that
the Panthers have spent most of their preseason working on the passing game
. They've virtually ignored the run. While there's no doubt they need improvement in the passing game, and Smith's return should help, do you really think Fox is going to continue to abandon the running game in the regular season?
August, 27, 2010
8/27/10
2:59
PM ET
We finished the NFC South chat a little bit ago. As always, we covered a lot of ground. I'll throw out one highlight per team here.
Ryan (Tampa): Josh Freeman will definitely be 100% by opening day?

Pat Yasinskas: Every indication I have is Freeman will be ready for the opener.

nisarg (tarboro, nc): Who is the one guy on thePanthers we don't know of on the roster but should?

Pat Yasinskas: Greg Hardy, but the word's kind of already out on him. Trent Guy would be another one.

Eric (Atlanta): Please give us your thoughts on John Parker Wilson's performance last game. I thought he looked pretty good. Does the brass think he will ever be able to "rise up" to # 2 QB?

Pat Yasinskas: Thought he looked good in last game. But I wasn't impressed with him when I saw him in practice a couple weeks ago. But he wouldn't be on the roster if Falcons didn't think there was potential for him to grow into No. 2 job. Not sure if he's there yet, though.

Jane (NOLA ): Pat, the news on the Saints has been really quiet. Is this the calm before the September 9 storm?

Pat Yasinskas: Yep, quiet and calm is good right now. The injuries aren't piling up -- to key players anyway and everyone seems happy. So I think Saints are in a good spot. Things certainly will heat up as we get closer to Sept. 9. But Saints have to like the fact they're stress free right now. Vikings can't say that.
For the complete transcript of the NFC South chat, click
here
.
August, 5, 2010
8/05/10
2:58
PM ET
ESPN.com NFL Power Ranking (pre-camp): 22
SPARTANBURG, S.C. -- In the kindest of terms, fans and media are referring to the
Carolina Panthers
as a team in a youth movement.
There's some basis for that as they opened camp with the league's third-youngest roster after saying farewell to popular veterans such as
Julius Peppers
,
Jake Delhomme
and
Brad Hoover
.
In the harshest of terms, fans and media have referred to those departures as a "bloodletting'' and are talking about the Panthers as a team without an identity, a team that's not going to be very good.
Now, let's turn to two guys who beg to differ.
"How do you say we're going through a youth movement, when we beat those teams late in the season using the same key components?'' running back
DeAngelo Williams
said. "People can say what they want to say. But we know what it takes to win and we have what it takes to win.''
"The way I look at it is, I like our core guys,'' linebacker
Jon Beason
said. "I think we have a great nucleus. Now we're looking for a few good men, a few young guys who are talented. For those young guys, it's an opportunity to come in and do great things.''
Maybe Beason and Williams have valid points. They're two team leaders with a pretty good feel for the pulse of the locker room. They also have impressive résumés. Williams was one of two Carolina running backs (
Jonathan Stewart
was the other) to run for 1,100 yards last season. Scouts, coaches and players everywhere will tell you Beason is one of the best linebackers in the NFL.
Can you really call the Panthers a team without a face?
That's kind of a difficult statement to make when you look at Carolina's roster and see Beason and Williams. Then, keep looking and you see Stewart, left tackle
Jordan Gross
, center
Ryan Kalil
, right tackle
Jeff Otah
, receiver
Steve Smith
and cornerbacks
Chris Gamble
and
Richard Marshall
. Those are all guys the Panthers view as core players. Look around the league and see how many teams have that many core players in place.
"There are question marks, sure,'' coach John Fox said. "Anytime you have question marks, the expectations on the outside might not be that high. But on the inside, we know we've got some very good core players and those core players are going to have to have big seasons.
THREE HOT ISSUES
[+] Enlarge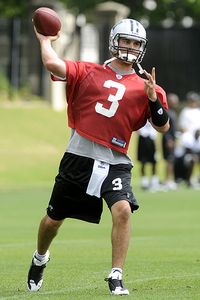 Sam Sharpe/US PresswireThe Panthers' confidence in quarterback Matt Moore appears to be growing.
1. Can this team win with Matt Moore as the quarterback?
Let's cut to the chase. This team already has won with Moore as the quarterback. Moore started the final five games of last season after Delhomme was injured. The Panthers won four of those games and Moore looked sharp the entire time.
Sure, that's not the longest of track records and the Panthers did draft
Jimmy Clausen
in the second round. But this isn't the Carolina camp of 2001, where the Panthers were kind of expecting Jeff Lewis to fail and to hand the job to rookie Chris Weinke.
Williams' point about the youth movement taking place last year might be right. Moore won this job with his play down the stretch and, so far in camp, the team's confidence in him is only growing.
"Matt Moore is a gamer,'' Williams said. "When he mentally locks in, the game comes easy for him. All quarterbacks in the league are pretty much the same. They can all throw the ball or they wouldn't be here. The thing that separates the good ones from the bad ones is decision making. Matt Moore can make decisions. Matt's going to be fine.''
Let's keep one other thing in mind. With an excellent offensive line, two very good running backs and Smith at wide receiver, Moore has a pretty strong supporting cast. He doesn't need to be
Peyton Manning
or
Drew Brees
. He just needs to keep mistakes to a minimum and the job can be his as long as he wants.
2. Can the defensive line be any good?
For much of Fox's tenure, the defensive line has been the foundation of the team. But Peppers was the last in a line of supernovas that used to include
Mike Rucker
,
Kris Jenkins
and
Brentson Buckner
. There are no current stars on this defensive front.
But Fox and the Panthers don't appear to view that as a bad thing. They're not expecting any single guy to come in and replace Peppers. They believe they can get quality out of quantity and are hoping the defensive front can attack in waves. They've got high hopes for
Charles Johnson
and
Everette Brown
, and rookies
Eric Norwood
and
Greg Hardy
have been very impressive in camp. They brought back
Tyler Brayton
for a bit of continuity, but they feel they've got some pass-rushers who can emerge.
They also have a better feeling about defensive tackles
Louis Leonard
,
Tank Tyler
and
Ed Johnson
than a lot of people realize. This might not be the traditional Fox defensive front with a huge run-stuffer in the middle and a big name on the outside. But, keep in mind, the Panthers brought in Ron Meeks as defensive coordinator last year and his system is based more on speed than power up front.
"We were eighth in the league in defense a year ago with a new scheme,'' Fox said. "It's kind of early to tell, but we should be better with our scheme the second time around.''
[+] Enlarge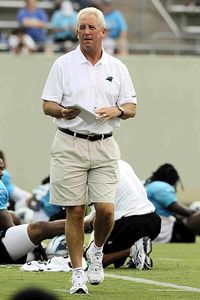 AP Photo/Chuck BurtonJohn Fox owns a 71-57 record in eight seasons with the Panthers.
3. Does all this talk about Fox being in the last year of his contract really make a difference?
Not at all. Fox is a creature of habit and he's going to coach the way he always has coached.
He's a confident guy with a pretty solid résumé. He's not losing sleep because he knows he can get another job if it comes to that. But he wants to make it work in Carolina, a place where his family has set down roots. Keep in mind, Fox never has had a truly bad season. There have been some disappointing years, but the record's always been close to or above .500. He's sometimes stumbled a bit when expectations were high, but he always has done his best job when people weren't counting on much out of the Panthers.
BIGGEST SURPRISE
Greg Hardy. The defensive end was a sixth-round draft pick because his college career didn't end all that well. But the Panthers took a shot because they thought there was uncommon physical talent sitting out there late in the draft. So far, they feel as if they might have hit a home run. Hardy has looked great in camp. Coaches are noticing him and so are other players. There were some questions about Hardy's ability to focus on football at the pro level. But so far, so good on that end. Brayton, Johnson and Brown are competing for the starting jobs, but Hardy appears to be carving out some playing time.
BIGGEST DISAPPOINTMENT
Dwayne Jarrett
. As they've been doing for his entire career, the Panthers are hoping the light suddenly comes on for this wide receiver. He's still running with the first team, but all indications are it's just not happening for Jarrett. There's still some work to be done and polish to be added, but the Panthers are starting to think rookie
Brandon LaFell
is their best option at the starting position opposite Smith. Jarrett basically is fighting for a roster spot at this point. The fact he's still making mental mistakes this far into his career means there's a good chance he's gone before the preseason is over.
[+] Enlarge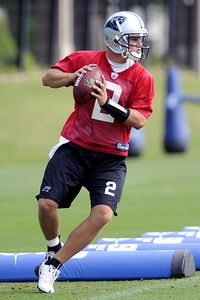 Sam Sharpe/US PresswireCarolina has been pleased with how Jimmy Clausen has looked in the early part of camp.
OBSERVATION DECK
As mentioned above, the Panthers are singing Moore's praises and that's all very legitimate. But behind the scenes, the Panthers also are thrilled with what they've seen from Clausen. His physical skills and mechanics are as solid as expected and Clausen's doing everything right on and off the field. There's not a sense of urgency to play him because Moore has looked so solid. But the Panthers believe they got a steal when they took Clausen in the second round.
There's been a lot of hype about third-round draft pick Armanti Edwards. Understandable because he was a college quarterback and came from Appalachian State, which automatically makes him popular in the Carolinas. The Panthers aren't disappointed with Edwards by any means, but the reality is he's just feeling his way as a receiver and a return man. Don't look for him to be a huge contributor instantly. There's big upside here because Edwards is so dynamic and he might be in a few packages early on. But it's going to take some time for him to become a staple in this offense.
The Panthers let go of Keydrick Vincent, who played every snap at right guard last season, for a reason. He was older and they had Duke Robinson waiting in the wings. Coaches, players and the front office believe Robinson can be a punishing run-blocker. Put him on the right side with Otah and the Panthers believe that side of the line can be just as good as the left, where Gross and Travelle Wharton are outstanding.
If you're looking for a long shot to make the roster, I'll throw out Trent Guy's name. This is a tiny wide receiver, but every time I looked up during my visit to Wofford College, Guy seemed to be making a play. He's got rare speed and good hands, and also could be a factor in the return game.
Thomas Davis, who had major knee surgery in June, has been hanging around at camp and working hard at his rehab. The Panthers haven't ruled out a possible return for him later this season, but I don't see that happening for a guy who has torn his ACL twice in less than a year. The Panthers wouldn't have moved Beason from the middle to the weak side unless they thought he'd stay there for the long haul. At the moment, they're happy with what they've seen from Dan Connor in the middle and James Anderson on the strong side. That better stay that way because, aside from Jamar Williams, there's no real depth at linebacker.
A lot of people have questioned why the Panthers would take Beason out of the middle where he's been such a dominant player. The answer is simple. Under Meeks, the Panthers run the "Tampa 2'' defense. In that scheme, everything goes through the Will linebacker. Think Derrick Brooks.
August, 2, 2010
8/02/10
2:36
PM ET
SPARTANBURG, S.C. -- Apologies that I haven't checked in from here sooner today. But I spent Monday morning watching the
Carolina Panthers
practice. After that I had meetings with coach John Fox and linebacker
Jon Beason
for some future things I'm working on.
I'm supposed to be meeting with general manager Marty Hurney a bit later this afternoon. But I wanted to check in with some quick observations from this morning and from the regular media interviews.
[+] Enlarge

AP Photo/Chuck BurtonPanthers quarterback Matt Moore is taking a more active role in the offense.
August, 1, 2010
8/01/10
6:12
PM ET
SPARTANBURG, S.C. -- Kind of a scary stretch for the
Carolina Panthers
in the middle of Sunday afternoon's practice.

Within the course of about two minutes, defensive lineman
Nick Hayden
and running back
Mike Goodson
went down with injuries that, at first, looked pretty serious.
Hayden went down first and trainers still were working on him when Goodson went down. Goodson's injury was to his ankle and he was quickly carted to the locker room for X-rays.
Coach John Fox had a bit of good news after practice. He said Goodson's ankle was not broken, but he didn't know any details beyond that. If Goodson's going to miss much time, and that looks like a possibility, the Panthers might have to add a running back or two just to get through camp and the preseason because
Jonathan Stewart
and
Tyrell Sutton
haven't been practicing because of injuries.
Hayden's injury did sound as if it was as serious as it first looked when he was crumpled on the grass. He eventually got up and was moving around. Fox said the injury was to Hayden's side, but not his ribs. Hayden was wearing an ice pack that appeared to be lodged between his hip and ribs.
Some other observations from Carolina's practice:
First off, it wasn't an especially tough practice because the Panthers were coming off a Saturday night session. There wasn't a great deal of hitting going on, so you'll have to wait for me to give any realistic observations on linemen after I see them in practice Monday and Tuesday.
With Steve Smith sidelined for the moment, it looked like Kenneth Moore and Dwayne Jarrett were getting most of the work as the first-team receivers. The early word I'm hearing from people who've observed all the practices is that Moore has performed well. They're not saying the same thing about Jarrett, who may be down to his last opportunity.
Speaking of receivers – and again this was a tough practice to judge much – I did see rookie Armanti Edwards make one very nice catch.
I remember chuckling at one point during the draft because our television side was running "key additions'' for each team. All that was listed for Carolina was safety Aaron Francisco, who came from Indianapolis and hasn't exactly had a storied career. Well, I'm not laughing now. I'm not saying Francisco's going to start or do anything outstanding. But I did notice him making some plays out there. Looks like a guy who can help this team as a safety and on special teams.
The most exciting play I caught involved two rookies, who don't figure to be in prominent roles anytime soon. But quarterback Tony Pike threw a nice deep path that was caught by a leaping Trent Guy in the end zone.
Like I said, I'll have much more on the Panthers on Monday and Tuesday and I'll be working on their Camp Confidential segment for later in the week and their overall preview as we get closer to the start of the regular seasons.
June, 21, 2010
6/21/10
3:26
PM ET
Carolina receiver
Steve Smith
broke
his left arm sometime over the weekend
and there is a bit of discrepancy over the details. Smith's agent has said the injury came during Smith's annual youth camp. All the team will say is the injury happened during a flag football game.
No matter who Smith was playing with, this isn't good news for the Panthers in any way. Their best player won't be available for the start of training camp. All indications are Smith should be ready for the start of the regular season. But he's going to miss some valuable practice time with quarterbacks
Matt Moore
and
Jimmy Clausen
. That's going to hurt Moore and Clausen more than it will Smith.
If you're looking for some sort of bright spot, here's a small one. Smith's injury means the rest of the receivers will get more work in camp. That's a good thing because the rest of the receiving corps needs all the work it can get.
Carolina drafted
Brandon LaFell
,
Armanti Edwards
and
David Gettis
this year. The Panthers also have
Dwayne Jarrett
, who's been a bust since coming into the league. Other than that, the roster looks like this:
Trent Guy
,
Dexter Jackson
,
Charly Martin
, Kenneth Moore,
Wallace Wright
and
Oliver Young
.
Maybe the Panthers will go out and sign another receiver or two before camp, but don't expect anything big from a team that's not making any big moves right now. It's more likely the Panthers will just throw all those young guys out there in camp and see who rises up.