April, 19, 2012
4/19/12
10:03
AM ET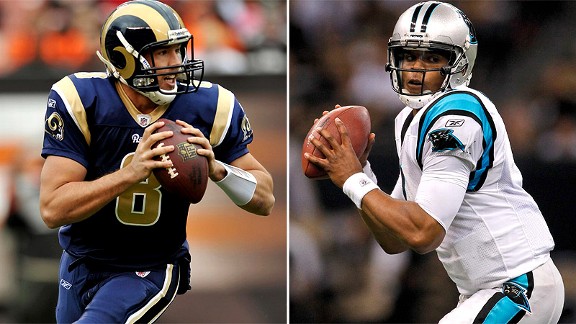 US PresswireSt. Louis' Sam Bradford, left, and Carolina's Cam Newton have helped change the thinking that a Heisman Trophy-winning quarterback won't be successful in the NFL.
There was a time -- like pretty much the last 50 years -- when a Heisman Trophy wasn't a very good thing for a quarterback to have on his résumé as he entered the NFL.
When Baylor's
Robert Griffin III
gets taken early in next week's NFL draft, he could be the latest piece in the trend of turning around the apparent curse on quarterbacks who won the Heisman. It has started to change only recently, but all of the sudden it's looking like the trophy isn't an anchor guaranteeing NFL mediocrity or obscurity for a quarterback.
Look back at 2010 winner
Cam Newton
. He was last year's offensive rookie of the year for the
Carolina Panthers
and set all sorts of rookie passing (and rushing) records. There's big hope in St. Louis that 2008 winner
Sam Bradford
can get back to the promise he showed as a rookie after struggling through a rough 2010 season. Then there's 2007 winner
Tim Tebow
. He couldn't throw spirals in Denver, but he won games. That at least created a market for Tebow to get traded to the
New York Jets
, where it remains to be seen if he'll ever be able to win the starting job away from
Mark Sanchez
.
But there's at least hope that Griffin, Newton, Bradford and Tebow can go on to have long and prosperous NFL careers. Before they came along, there were decades of evidence that suggested quarterbacks should just quit the game after winning the Heisman.
Remember
Troy Smith
,
Eric Crouch
,
Danny Wuerffel
, Charlie Ward and
Gino Torretta
? How about
Ty Detmer
,
Andre Ware
or Pat Sullivan?
They had little to no success in the NFL.
And remember Jason White?
I honestly did not at first. I had to go back and look up White, who won the trophy not all that long ago. He won it in 2003 while putting up some gaudy numbers at the University of Oklahoma. White didn't even get drafted and quit football altogether after a short training-camp stint with the
Tennessee Titans
. He never even played in a regular-season NFL game.
[+] Enlarge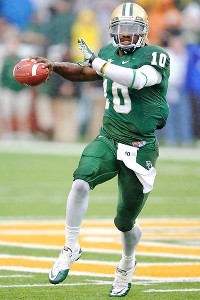 Jerome Miron/US PresswireRobert Griffin III threw for 4,293 yards and 37 touchdowns on his way to winning the Heisman Trophy last season.
Guys like White, Smith, Crouch, Wuerffel, Ward, Torretta, Detmer, Ware and Sullivan all had some things in common. In general, they were able to win the Heisman because they put up big statistics at programs where they were surrounded by elite players. They also had limitations -- usually in size, speed or arm strength -- that prevented them from being taken very seriously by NFL talent evaluators.
But those same evaluators also missed on some Heisman winners who seemed to have what the NFL wanted. Remember
Matt Leinart
?
He came from one of those football factories (USC), where he was surrounded by guys like
Reggie Bush
, but Leinart was supposed to be the one whose college success could transfer to the NFL. That's why the
Arizona Cardinals
drafted him in the first round. But Leinart was nothing short of a tremendous disappointment.
When he flopped, it looked like there really was something to the Heisman Curse.
Prior to Tebow, Bradford, Newton and Griffin, you've got to look at a list of 18 quarterbacks who won the Heisman before you find one who really made it big. You've got to go all the way back to Roger Staubach, who won it for Navy in 1963. He went on to have a great career for the
Dallas Cowboys
and earned a spot in the Pro Football Hall of Fame. Since Staubach won the Heisman, other quarterbacks have had to settle for just getting into the College Football Hall of Fame.
Sure, there have been a few Heisman winners to come out and have some success. Jim Plunkett won two Super Bowls, but his career didn't really take off until he landed with the Raiders after mediocre stints in New England and San Francisco.
Vinny Testaverde had an extremely long NFL career and the longevity led to some impressive career statistics. But Testaverde never had the kind of career so many people imagined when he was coming out of the University of Miami and taken No. 1 overall by the
Tampa Bay Buccaneers
in 1987.
Guys like Steve Spurrier and
Doug Flutie
bounced around and had some success. Then there's
Carson Palmer
, who has had some bright moments, but still is trying to fully live up to the Heisman hype.
But Newton, Griffin, Tebow and Bradford finally might be able to put a stop to the near-half-decade drought of Heisman Trophy winners truly excelling in the NFL.
"Cam Newton is the best thing to ever happen to Robert Griffin III,'' former NFL quarterback
Chris Weinke
said as we discussed this year's crop of quarterbacks back in February. "Just like
Drew Brees
is the best thing to happen to [Wisconsin draft prospect Russell Wilson]. Cam showed that a big, athletic quarterback that can run can be great in the NFL. Brees showed that a guy that's not 6-foot-4 or 6-foot-5 can throw for 5,000 yards in an NFL season. We all know the NFL is a copycat league. Cam's success and Drew's success helps the draft stock of guys like Robert and Russell.''
Ironically, Weinke's name is another one on that
Heisman list
. His story might be the most unique of all the Heisman-winning quarterbacks. Weinke enrolled at Florida State after giving up a minor-league baseball career. He won the Heisman in 2000 and seemed to have the talent of a classic drop-back passer, but the fact he would turn 29 in his rookie training camp, pushed him into the fourth round of the 2001 draft. The Carolina Panthers took him and he started under coach George Seifert as a rookie, but never could quite won over John Fox, who took over the next year.
Weinke spent the next five seasons as a backup in Carolina and finished his career in 2007 with San Francisco.
These days, Weinke has carved a niche as a quarterback guru. He is the director of football operations at IMG Academies in Bradenton, Fla. He has worked extensively with Newton and some other quarterback prospects over the past few years.
Weinke says he's seen the game change just since his playing days ended. Like just about everyone else, he says the NFL has become more driven by quarterbacks. He says natural talent is a prerequisite for NFL success and he points to guys like Newton and Griffin, saying they could be a new prototype. And he goes back to his point about the NFL being a copycat league.
"People are always looking for what works,'' Weinke said. "Cam obviously had a fantastic rookie season. So people look at Robert and say he can do the same thing because the skill sets are similar.''
For Griffin, Newton and Bradford -- and perhaps even Tebow in his own way -- maybe the skill sets are so good that it no longer matters if a quarterback is lugging around a Heisman Trophy.
June, 24, 2011
6/24/11
11:42
AM ET
We already have talked quite a bit about players from the NFC South who are expected to become unrestricted free agents. We're going on the assumption that players not under contract who have at least four accrued seasons can become unrestricted free agents.
With that in mind, and with some help from ESPN Stats & Information, let's take a look at some of the more prominent potential free agents from the rest of the league.
QUARTERBACKS:
Marc Bulger
,
Kerry Collins
,
Rex Grossman
,
Matt Hasselbeck
,
Patrick Ramsey
,
Alex Smith
,
Billy Volek
,
Kellen Clemens
,
Brodie Croyle
,
Trent Edwards
,
Bruce Gradkowski
, Tarvaris Jackson,
Matt Leinart
,
Troy Smith
and
Tyler Thigpen
.
RUNNING BACKS:
Cedric Benson
,
Ronnie Brown
,
Kevin Faulk
,
Mewelde Moore
,
Sammy Morris
,
Clinton Portis
,
Dominic Rhodes
,
Tony Richardson
,
Kevin Smith
,
Darren Sproles
,
Fred Taylor
,
Brian Westbrook
,
Ricky Williams
,
Joseph Addai
,
Ahmad Bradshaw
,
Jerome Harrison
,
Brandon Jackson
,
Laurence Maroney
and LeRon McClain.
WIDE RECEIVERS
:
Mark Clayton
,
Braylon Edwards
,
T.J. Houshmandzadeh
,
Randy Moss
,
Santana Moss
,
Terrell Owens
, Donte' Stallworth,
Steve Breaston
,
Malcom Floyd
,
Santonio Holmes
,
James Jones
,
Sidney Rice
,
Mike Sims-Walker
,
Brad Smith
and
Steve Smith
(of the
New York Giants
, not the Steve Smith of Carolina).
TIGHT ENDS:
Desmond Clark
,
Donald Lee
,
Randy McMichael
,
Bo Scaife
,
Kevin Boss
,
Owen Daniels
,
Daniel Fells
,
Zach Miller
,
Ben Patrick
and
Matt Spaeth
.
OFFENSIVE LINEMEN:
David Baas
,
Jammal Brown
,
Robert Gallery
,
Adam Goldberg
,
Kyle Kosier
,
Olin Kreutz
,
Matt Light
,
Sean Locklear
,
Casey Rabach
,
Chris Spencer
,
Langston Walker
,
Casey Wiegmann
,
Floyd Womack
,
Damien Woody
,
Chris Chester
,
Jeromey Clary
,
Daryn Colledge
,
Willie Colon
,
Doug Free
,
Jared Gaither
,
Charlie Johnson
,
Deuce Lutui
,
Samson Satele
,
Lyle Sendlein
and
Marshal Yanda
.
DEFENSIVE TACKLES:
Aubrayo Franklin
,
Tommie Harris
,
Chris Hoke
,
Chris Hovan
,
Kris Jenkins
,
Bryan Robinson
,
Gerard Warren
,
Jamal Williams
,
Pat Williams
,
Alan Branch
,
Barry Cofield
,
John McCargo
and
Brandon Mebane
.
DEFENSIVE ENDS:
Jason Babin
,
Dave Ball
,
Raheem Brock
,
Andre Carter
,
Shaun Ellis
,
Cullen Jenkins
,
Travis LaBoy
,
Trevor Pryce
,
Marcus Spears
,
Ray Edwards
and
Mathias Kiwanuka
.
LINEBACKERS:
Akin Ayodele
,
Keith Bulluck
,
Kevin Burnett
,
Dhani Jones
,
Kirk Morrison
,
Julian Peterson
,
Matt Roth
,
Takeo Spikes
,
Jason Taylor
,
Mike Vrabel
,
Stewart Bradley
,
Bobby Carpenter
,
Manny Lawson
,
Paul Posluszny
,
Ernie Sims
and
Stephen Tulloch
.
CORNERBACKS:
Nnamdi Asomugha
,
Phillip Buchanon
,
Chris Carr
,
Drayton Florence
,
Ellis Hobbs
,
Carlos Rogers
,
Lito Sheppard
,
Ike Taylor
,
Fabian Washington
,
Drew Coleman
,
Antonio Cromartie
,
Chris Houston
,
Johnathan Joseph
,
Dimitri Patterson
,
Josh Wilson
and
Eric Wright
.
SAFETIES:
Aaron Francisco
,
Ken Hamlin
,
Michael Lewis
,
Brandon McGowan
,
Quintin Mikell
,
Lawyer Milloy
,
Brodney Pool
,
Gerald Sensabaugh
,
Roy Williams
,
Gibril Wilson
,
Atari Bigby
,
Melvin Bullitt
,
Abram Elam
,
Dashon Goldson
,
Michael Huff
,
Dawan Landry
,
Danieal Manning
,
Bernard Pollard
,
Eric Weddle
and
Donte Whitner
.
November, 21, 2010
11/21/10
6:56
PM ET
Time to wrap up Tampa Bay's
21-0 victory
against San Francisco.


What it means:
The Bucs are 7-3. This victory wasn't as dominant as the score might indicate, but who cares? When you go across the country and win, it shows you're a good football team. We'll keep in mind it came against a bad San Francisco team with
Troy Smith
as the quarterback. But a shutout in the NFL is still hard to come by. This isn't the dominating Tampa Bay defense of old but this kind of game builds confidence. The Bucs generated a steady pass rush for the first time all year and the run defense also had perhaps its best showing.
What I liked:
Undrafted rookie running back
LeGarrette Blount
continues to impress and he ran with plenty of power against San Francisco. But the best news of all with Blount is that he still has plenty of room for improvement. At the moment, he's just getting by with power and athleticism. He can take his game to another level if he can learn to hit the right hole and make better decisions.
What I didn't like:
The Bucs used
Josh Johnson
in the Wildcat formation as the quarterback a couple times and had success. They also used the backup quarterback as a receiver on a couple of plays, but that didn't result in anything. There's no doubt Johnson is a good athlete. Maybe I'm old school but I believe you only use gimmicks like the Wildcat formation when you don't have a real quarterback. With
Josh Freeman
, the Bucs have a very real quarterback and it doesn't make sense to take the ball out of his hands.
The rise continues:
Defensive tackle
Gerald McCoy
, the third overall pick in the draft, got off to a slow start. But he's come on strong the past couple games. That continued against the 49ers as McCoy had a sack and put pressure on the quarterback several times while turning in a solid game against the run.
Earning his salary:
The Bucs gave left tackle
Donald Penn
a huge contract in the preseason. Penn's responded by having a very solid year as a blocker. But he elevated his game to a new level Sunday. On a tackle-eligible play, Penn caught a touchdown pass from Freeman in the fourth quarter.
What's next:
The Buccaneers travel to Baltimore to play the Ravens on Sunday. Initially scheduled for a 1 p.m. start, this game already has been "flexed'' to 4:15 p.m. ET.
September, 11, 2010
9/11/10
4:12
PM ET

The
Tampa Bay Buccaneers
are next in our series of team-by team mailbags.
Drew in Tampa writes:
Where would you rank
Earnest Graham
as a running back in the NFC South? I personally believe he's better than Caddy, I love Caddy and I keep hearing a lot of good things about him, but he's never been the same guy since his first injury towards the end of his rookie season, plus he likes to fumble the ball whenever he runs into the back of his offensive lineman. Graham had a very productive season a few seasons back behind a bad offensive line and was the only real threat on offense. Even though each week he was the guy teams focoused on stopping, he kept having quality outings. I don't understand why the Bucs are so set on keeping him as strictly a fullback. He deserves to carry the ball or at least split carries in a complimentary role.
Pat Yasinskas:
If Graham played only at tailback and got the bulk of the carries, I'd probably put him in the same spot where I put Williams, which was No. 5. I thought Graham was a quality running back and still could be one if the Bucs put him back at tailback. But they moved him to fullback and it looks like he's staying there. He's a pretty good fullback, too and he and Williams give the Bucs a nice combination in the backfield
---
David in Germany writes:
I've written you several times in the past about
Troy Smith
and the Bucs. Now that he's a FA, what do you think? He's still young and wouldcould push
Josh Johnson
to perform since they both run well.
Pat Yasinsks:
I'm really not sold on Josh Johnson, but it seems like the Bucs are. They see Johnson as a quality backup, who could start if needed. Again, I don't share that opinion, but I don't think the Bucs are in the market for another quarterback.
---
Eric in Paris, France, writes:
Can you explain us what is going on with the TV blackout in Tampa? How does it work? If Ray Jay is not full, so there won't be games on TV? Is it that simple?
Pat Yasinskas:
Yes, it is pretty much that simple. If the games are not sold out, they won't be televised on local television – within a 75 mile radius of Tampa. You might be able to catch the Bucs where you live, but people in the immediate Tampa Bay area will not get to see home games on television if they're not sold out. From what I've been told, the Bucs aren't expecting many sellouts this season.
October, 3, 2009
10/03/09
8:11
AM ET

Posted by ESPN.com's Pat Yasinskas
We'll start a series of team-by-team mailbags with the
Tampa Bay Buccaneers
.
Mark in Antioch, Calif., writes:
Pat, I love your analytical
break down on the Tampa Bay Buccaneers
. I am a huge fan and have never lived in Florida. I follow them and cheer them on with every chance I get. I also am one that felt their focus was more on the Manchester United Team instead of the Bucs. But since seeing your breakdown, I truly believe that this is their take. I will encourage other Bucs fans to hang in there as well.
Pat Yasinskas:
Thanks. That's why I wrote that because I thought there were some misconceptions out there. I'm not saying the Bucs or the Glazer family has done everything perfectly by any means. I certainly question some of their decisions. However, it really bothers me when someone says they're cheap because that's flat-out wrong. I saw cheap back in the days when Hugh Culverhouse owned the Bucs and didn't let his scouts cross the Mississippi River. The Glazers don't come anywhere close to falling into that category. They've spent a ton of money on this team. You can criticize them for a lot of things, but not for that.
---
Dave in Iraq writes:
Do you think it would be worth floating a fourth this year and third next year in the draft for say,
Troy Smith
? I think that Troy would help the Tampa offense greatly and I think that he's available right now. Reason I think he's available now is that he's got one year left on his contract(Unless I missed the news of him resigning) and if he ever wants to be a starter in the NFL he's going to have to leave the Ravens, so the Ravens should be willing to trade him so they get something in return. He's looked good in his little playing time and I think that the third next year would seal the deal.
Pat Yasinskas:
I like Troy Smith, but I see no chance of this happening. The Bucs invested this year's first-round pick in
Josh Freeman
and he's going to be the starter next year and probably sooner than that. The Bucs have enough other areas that they need to address, so I don't think they'll be parting with any draft picks for a guy who's not going to be their starting quarterback.
---
Jeff in Land O' Lakes writes:
Pat, You may have heard this question before, but I haven't seen it answered, so here goes. After watching the all-too-predictable crash and burn of
Byron Leftwich
, and remembering some of the chatter around weeks 2-3 of the preseason - Do you think there's any possibility that the Bucs dealt
Luke McCown
because he was the only one they could get anything for in return? I guess we have to wait until next April to see what pick they received for Luke. Byron was still making the same garbage throws in week 3 of the regular season as he had made (or missed) in week 1 of the preseason. It seems possible to me that they kept him only because they had to, and knew all along that they'd be bringing in one or both of the Josh's before the season's halfway mark. Possible??
Pat Yasinskas:
I definitely think the Bucs were happy to trade Luke McCown simply because they were able to get something in return for him. I don't think there was much difference between McCown and Leftwich in the preseason. If anything, I thought McCown was better. By no means do I think the Bucs were hoping Leftwich would fail. I think they hoped to get at least half a season out of him before turning it over to Josh Freeman. That didn't happen and the entire offense struggled so badly that I think Leftwich was made to be the scapegoat. The Bucs will try
Josh Johnson
for a few games, but I suspect Freeman will be in there by the second half of the season.
---
Chris in Nashville writes:
Hey Pat, love your coverage of the NFC South. My question: You claim the Bucs fired Gruden because he lacked any long-term plans -- Yet this season we have seen Dominik and Raheem Morris fire the Off. Coordinator a week before the season starts, bench their starting QB after trading away his pre-season competition, and go with Morris' self proclaimed "career backup" for Week 4. These are things you have not seen from other first year coaches (except maybe Todd Haley, who is also struggling). Rebuilding year comments aside, what are your thoughts?
Pat Yasinskas:
All those are valid points. Throw in the fact the Bucs were going away from the Tampa Two defense and, now, they're back to playing it, at least some of the time. One thing Tony Dungy did when he took over the Bucs was stick to his plan – sometimes to the point of being stubborn. Morris is sticking with going young and we have to give him some time to see how that plays out. But I agree that some of those plans he hasn't stuck to are a bit of a concern.