NFC South:

Tyji Armstrong
February, 13, 2014
Feb 13
8:00
AM ET
Basketball's
LeBron James
caused a stir when he said
he should be on the NBA's Mount Rushmore
. With that in mind, let's have a little fun.
Let's talk about a Mount Rushmore for the
Tampa Bay Buccaneers
.
There are only four slots available and I'm not seeing anyone on the current roster who deserves that status. There are some current players who can get there, but they're not there yet. That's why I think you have to go back into Tampa Bay's past to determine who deserves to be included.
At least in my eyes, the first three spots are easy. Then, there's a tough call for the fourth spot.
Here are my four choices for a Buccaneers' Mount Rushmore. Feel free to add your thoughts in the accompanying comments section.
Lee Roy Selmon:
You have to start with Selmon because he was Tampa Bay's first superstar. He brought respectability to the franchise in its early years and had a Hall of Fame career.
Derrick Brooks:
For years, Selmon was unquestionably the best player in franchise history. Selmon's greatness hasn't diminished, but I'd give Brooks the nod as the best player in franchise history now.
Warren Sapp:
Like him or not -- and many don't -- you have to give Sapp his props as a player. He was the first Tampa Bay player to make the Pro Football Hall of Fame on the first ballot.
Tony Dungy:
This one's a tough call and I had a tough time choosing Dungy over
Ronde Barber
,
John Lynch
,
Mike Alstott
, Doug Williams, Jon Gruden and John McKay for the final spot. But I'm going with Dungy because he was the first coach to make this franchise consistently respectable. By the way, I'm giving retired tight end
Tyji Armstrong
special honorable mention for his many contributions.
November, 17, 2012
11/17/12
8:27
AM ET
During Friday's
NFC South chat
, I got a couple of persistent questions from Tampa Bay fans.
One had to do with why the Bucs traded away their best cornerback (
Aqib Talib
) in the middle of the season. I've answered that multiple times and I'll do it in a nutshell here. Although talented, Talib was probably the most prone to trouble player the Bucs have had since the great Tyji Armstrong in the 1990s. Talib's contract was scheduled to expire after the season and there was no way he was going to be on a team coached by Greg Schiano next year. The Bucs had a fourth-round draft pick dangled in front of them by New England and they wisely grabbed it. Talib still had one game remaining on his four-game suspension and as a repeat violator of the NFL's personal-conduct policy, he was one mistake away from being banned for an entire season or permanently.
Talib's departure and Tampa Bay's lack of quality depth at cornerback also has brought up another question that got a lot of play right after the draft and it's surfacing again: Why didn't the Bucs draft cornerback
Morris Claiborne
?
[+] Enlarge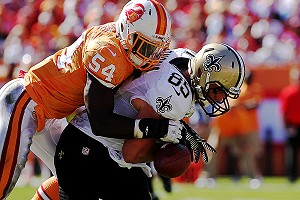 Kim Klement/US PresswireTampa Bay LB Lavonte David has emerged as arguably the league's top rookie defender.
Seriously, there are people out there questioning Tampa Bay's draft, which might have been the best in the NFL this year?
Let's think about this a little before we go into more depth on the cornerback situation. If the Bucs had drafted Claiborne, they wouldn't have strong safety
Mark Barron
. More importantly, they also wouldn't have running back
Doug Martin
and linebacker
Lavonte David
, who are at least being mentioned as candidates for the Offensive Rookie of the Year and Defensive Rookie of the Year.
Think back to the draft. When it started, the Bucs were holding the No. 5 overall pick. When they were on the clock (and Claiborne still was on the board), they traded down to No. 7 and they added a fourth-round pick, which may turn out to be one of the great draft moves ever if Martin, David and Barron continue to produce like they have.
Adding that fourth-round pick set off a series of events that landed Martin and David in Tampa Bay. The Bucs had a second-round pick, No. 36 overall, but they feared Martin wouldn't last that long. They packaged picks and jumped back into the first round and got Martin.
Then, the Bucs used the acquired fourth-round pick and their third-round pick (No. 68 overall) to move back into the second round and get David at No. 58.
The Bucs got three guys that have been starters since Day One. They should only continue to get better and should be core players for the next five years or so.
You'd prefer Claiborne over that?
Yeah, I know Tampa Bay's immediate cornerback situation isn't great.
Eric Wright
has been banged up and there was a FOX Sports report that he could be facing a suspension for violating the NFL's policy on performance-enhancing substances.
That's forced the Bucs to play
E.J. Biggers
and
Leonard Johnson
lots more than they probably wanted to play them. Rip on Biggers and Johnson all you want, but let's take a look at how what they've done compares to what Claiborne has done in Dallas.
Johnson has three interceptions and Biggers has one. Claiborne has one interception. According to Stats Inc., teams have completed 61.5 percent of their passes on which Claiborne has been targeted. The same survey says teams have completed 47.1 percent of their passes against Biggers and 44.8 percent of their passes against Johnson. Claiborne also is ninth in the league in
touchdown passes allowed
with four.
Oh, by the way, did you happen to catch Claiborne's recent outing against Philadelphia? He was
flagged five times
, including one penalty that negated an interception by a teammate.
Yeah, Biggers and Johnson aren't going to the Pro Bowl and the Bucs are likely to continue to struggle with pass coverage the rest of this season. But you can't solve all your problems at once.
The Bucs elected not to draft a cornerback early this year and the word is Schiano wasn't sold on Claiborne's tackling ability, which is kind of an important item for a coach like Schiano. But the Bucs walked out of the draft with solid starters, maybe potential stars, in Barron, Martin and David.
They can address cornerback in next year's draft or free-agency period.
October, 21, 2011
10/21/11
12:44
PM ET
With the news now official that Tampa Bay running back
LeGarrette Blount
will
miss a second straight game
with a knee injury, it's time for a look at the next man up.

That's veteran
Earnest Graham
and that's not a bad thing. When Blount was out last Sunday, the Bucs simply turned to Graham and he responded with 109 rushing yards in a victory against New Orleans.
Lots of fans said the Bucs should have added a backup to or a complement for Blount in free agency. I was a member of that club. But last week showed the Bucs knew what they were doing.
They have a lot of confidence in Graham, a player many forget about. Gary Shelton recently wrote
this column
in which he referred to Graham as the most underrated player in franchise history. I might put former tight end
Tyji Armstrong
in that argument. Then again, no.
Graham is 31 and he's played tailback, fullback and special teams during his career. He's played them all very well.
Part of me wants to say the Bucs should go out and find another running back if it looks like Blount's injury is going to linger. Part of me wants to say Graham can't do what he did last week over the long haul.
But the one thing Graham has shown throughout his career is that you never should sell him short.
July, 1, 2011
7/01/11
1:00
PM ET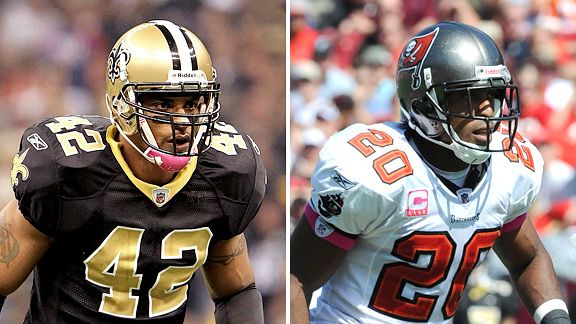 Getty ImagesSafety Darren Sharper, left, and cornerback Ronde Barber could benefit from a few more big seasons to help their Hall of Fame candidacy.
Let's be clear here: We're playing zone, not man-to-man coverage.
We're not putting Saints S
Darren Sharper
and Buccaneers CB
Ronde Barber
against each other straight-up and declaring that one or the other has a better shot at the Pro Football Hall of Fame. We're just lumping these two veteran NFC South defensive backs together and exploring their chances of one day being enshrined in Canton, Ohio. (For what it's worth, voters in our
recent NFC South poll
think Barber has the edge.)
Fans may think Sharper and Barber already are locks for the Hall of Fame because each has put up impressive career statistics. But it's not nearly as easy as you might think to make the Hall of Fame when you're a defensive back, especially when you're a safety like Sharper.
Take a look at this
list of Hall of Fame members
. It's broken down by position, and defensive backs are one of the most exclusive clubs. When Deion Sanders goes in later this summer, the Hall of Fame will be home to 22 defensive backs. That number includes cornerbacks, safeties and guys who were a combination of the two. It also includes some guys like Sanders who were more than defensive backs. Sanders also was a return man, occasionally a wide receiver and, in his prime, one of the most famous athletes on the planet.
Barber and Sharper each have had excellent careers, but I don't think you can look at either of them and say they're sure-fire, first-ballot Hall of Famers. If they're going to get in, it might take some time and some effort in the voting room. It also might take some more work by each of them.
Let's start with Sharper. He's property of the
New Orleans Saints
for the moment, but can become an unrestricted free agent once the lockout is over. We don't know if Sharper will re-sign with the Saints or move on. but we do know he has already put up huge numbers in a career that's been divided between the Packers, Vikings and Saints.
Sharper has 63 interceptions, the most among active players and No. 6 on the all-time list. Sharper's been to five Pro Bowls and made the all-decade team for the 2000s. But he is a safety, and even his spectacular numbers might not be enough.
You want evidence? I give you Paul Krause, a safety with more career interceptions (81) than anyone in history. Krause went to eight Pro Bowls, was All-Pro eight times, and put up his numbers in an era when teams didn't throw nearly as often as they do now. He finished his playing career in 1979, but didn't get into the Hall of Fame until 1998.
Statistically, Krause might have been the best centerfielder safety ever, but voters haven't given easy passes to guys who were pure safeties. Besides Krause, there are only four other enshrinees who played their entire careers at safety. Guys like Ronnie Lott and Rod Woodson spent much of their careers at safety, but also played some cornerback.
Sharper is tied with Lott in career interceptions, and four of the five guys in front of them are in the Hall of Fame. But wherever Sharper plays this season, he needs to keep adding to his numbers to improve his chances at the Hall of Fame.
Sharper played on some good teams in Green Bay and Minnesota, but he didn't win a Super Bowl until he joined the Saints. Another Super Bowl title, or at least a good playoff run, would help. Sharper's biggest strength, besides his interception total, might be what he's done after he's intercepted passes. He's returned 11 interceptions for touchdowns, which puts him second in history.
Still, if Sharper's going to get to Canton, he needs to keep building his numbers this year and maybe even beyond that.
It's a similar story for Barber, who has spent his entire career playing cornerback for Tampa Bay. He's got strong career numbers -- 40 interceptions, 26 sacks -- and Bucs fans will proudly tell you Barber is the only player in history to register at least 40 interceptions and 25 sacks.
That's a neat little bit of trivia, but I don't think being the best pass-rushing cornerback ever will be enough to get Barber automatic entry into the Hall of Fame. That title may be nice, but it sort of equates to being the first baseman with the strongest throwing arm in baseball history. Strong arms for first basemen and pass-rushing skills by cornerbacks aren't bad things to have, but they're not really part of the job description.
Besides, even if you focus just on Barber's interception total and skills in coverage, which is what Hall of Fame voters generally do with cornerbacks, he might be sitting on the bubble at best.
There are scouts, coaches and players who will tell you Barber never has been a dominant shutdown corner. They'll tell you he's a very nice player, but, in his prime, was a product of a Monte Kiffin defense that was built around DT Warren Sapp and LB Derrick Brooks. They'll also tell you offenses never spent a lot of time worrying about Barber because their focus was on Sapp and Brooks.
Those two guys and others also could present another hurdle for Barber. Tampa Bay fans seem to think Brooks, Sapp, Barber, safety John Lynch, fullback Mike Alstott, defensive end Simeon Rice, former coach Tony Dungy and probably even tight end Tyji Armstrong will all waltz right into Canton.
Well, it doesn't quite work that way. The Bucs of that era won precisely one Super Bowl title. They were not the
Pittsburgh Steelers
of the 1970s and voters take that type of stuff into strong consideration. Brooks should have no problem getting into the Hall of Fame and Sapp's right on his heels. Dungy probably gets in, but a good bit of his work was done later with the
Indianapolis Colts
.
That might be it for a Tampa Bay team that was known for its great defense in the late 1990s and early 2000s. Barber and Lynch each have a shot. But, at absolute best, maybe one of them gets in someday.
It should be pointed out Barber has transcended eras. He's continued going strong since the departure of Kiffin after the 2008 season and has provided stability as Tampa Bay has gone through a youth movement.
Barber is 36 and has committed to at least one more season. Durability counts for something, but Barber might need a big 2011 season and maybe more to really get his résumé shining for the Hall of Fame.
Barber's 40 career interceptions rank No. 75 on the all-time list. I'm looking at the guys ahead of him and seeing names like Terrell Buckley, Troy Vincent and
Dre' Bly
. I seriously doubt any of those guys will be in the Hall of Fame. When it comes down to voting time, Barber's going to have to deal with contemporaries like
Champ Bailey
, who has been viewed as a shutdown corner most of his career.
Like Sharper, one of Barber's strengths is what he's done after intercepting passes. He has seven career interception returns for touchdowns, which ranks No. 8 in history, and also has returned four fumble recoveries for touchdowns.
There's one way Barber can make himself a clear Hall of Famer: put up big numbers for another season, or several seasons, and help the Bucs build another great defense. If he can get to somewhere around 50 career interceptions, add a few more playoff wins and maybe even another Super Bowl ring, then Barber's path to the Hall of Fame will be much easier than it is right now.
August, 18, 2010
8/18/10
1:00
PM ET
I just received a press release that's not really relevant to the current NFC South. But it's kind of interesting, on many levels.

The Omaha Nighthawks of the United Football League are going to hold a press conference in Council Bluffs, Iowa Wednesday night. There, Omaha coach Jeff Jagodzinski will announce he's signed quarterback Jeff Garcia.

For those with short memories, Garcia and Jagodzinski had stints with the Tampa Bay Buccaneers, although Garcia's stint was a bit longer than Jagodzinski's. Garcia, now 40, was a fairly competent quarterback for the Buccaneers for two seasons.

Jagodzinski joined the Buccaneers after Garcia left and didn't last long. Raheem Morris hired Jagodzinski to be the offensive coordinator, but was fired before the season even started.

Not sure the Nighthawks are ready to cough up huge salaries, but my UFL sources tell me they've had some talks with Scott Milanovich, Casey Weldon, Jim Pyne, Marcus Jones and Tyji Armstrong.
June, 14, 2010
6/14/10
10:34
AM ET
The
Tampa Bay Buccaneers
will hold a news conference Wednesday to announce who this year's addition to the Ring of Honor will be. They're not saying who it will be and that's a smart move because it creates a little intrigue for a franchise that needs anything positive it can get.
Last year, the Bucs made Lee Roy Selmon the first person to receive the honor and that was a no-brainer because he was the first Hall of Famer in franchise history -- and Derrick Brooks still was holding on to the illusion that he could play.
This year's choice isn't nearly as clear. I want to say Brooks because he's the best player in franchise and NFC South history and a certain Hall of Famer. But I'm not sure that's going to happen because I think the Bucs might want to work their way through their history a little more gradually. In other words, if Brooks is going to have to wait, so will guys like Warren Sapp, John Lynch, Tony Dungy, Jon Gruden and Mike Alstott.
So I'm guessing on someone from the more distant past. I think it's safe to rule out Doug Williams, who just had a rather unpleasant parting as a member of the front office. Besides, Williams kind of rained on Selmon's parade last year. When the Bucs asked Williams to talk to the media about Selmon, he barely mentioned the defensive tackle's name and, instead, focused his talk on himself and the rest of the 1979 team.
I think you might see someone like initial Tampa Bay coach John McKay, former running back Ricky Bell, offensive tackle Paul Gruber or linebacker Hardy Nickerson get the honor this year. Oh wait, I almost forgot former tight end Tyji Armstrong. You can't rule him out because of his many contributions on -- and off -- the field.
July, 27, 2009
7/27/09
4:15
PM ET
Posted by ESPN.com's Pat Yasinskas
Just moments after he walked into One Buccaneer Place (the old dump out on the airport runway) in 1996, Tony Dungy showed Lamar Thomas and Tyji Armstrong the door.
Thomas was going through some ugly domestic issues and Armstrong had run up a lengthy rap sheet under former coach Sam Wyche. That was Dungy's way of telling his team he wasn't going to put up with trouble.
He never went out and sought guys with character questions, and he even kept Warren Sapp in check. In the early days of Dungy's regime in Tampa, watching practice often gave you the feel you were at a church league flag football game. I think it stayed that way into his later days in Tampa and on to Indianapolis.
If a player played for Dungy or a coach coached under him, he was almost always a nice, well-behaved guy with no character issues.
So what is Dungy doing now? He's reaching out to Michael Vick.
Dungy and Vick is a mismatch if ever there was one, it seems. But this pairing could turn out to be great.
Dungy is going to work as Vick's mentor as the former Atlanta quarterback tries to get fully reinstated into the league. When Dungy left coaching last year, he said it was partly because he wanted to do something more than coach. The fact is, Dungy always was a mentor while he was a coach, maybe even more of a mentor than a coach.
Here comes his next challenge. I've got no doubt about what Dungy brings to the table. I had the pleasure of covering him for The Tampa Tribune and learned a lot about life just by watching how the man conducts himself. That was from a distance.
Vick's going to get the up-close class and they're going to be cramming. It's actually a wonderful opportunity for Vick. Say what you want about the horrible things he did to put himself in this spot. They were despicable and then some.
But if Vick really is contrite and really wants to straighten out his life, there's no one better to help him than Dungy. I've had a chance to talk with former Atlanta coach Dan Reeves several times and some other people who have been with the Falcons. They're all sour on what Vick did, but they also say he's a young man with some good qualities if he can just make better decisions and stay away from some of his friends who drag him down.
If Vick can just reach out to Dungy, the coach is going to pull him up higher than he's ever been. I've long said Dungy should be in the Hall of Fame when his time comes. If he gets Vick to fly right and resurrect his career, Dungy's got an automatic pass to Canton.
Virginia Tech coach Frank Beamer talks about Vick's conditional reinstatement.
November, 14, 2008
11/14/08
4:46
PM ET
Posted by ESPN.com's Pat Yasinskas
TAMPA, Fla. -- In the early to mid-1990s, being a fan of the Tampa Bay Buccaneers was no fun. Covering them as a sports writer, where it's not supposed to matter if the team you cover wins or loses, was pure drudgery.
That's because the Bucs were beyond bad. Walking into the locker room in those days was miserable. First off, the locker room was in the old One Buc Place, where part of the weight room was outside on a porch and it wasn't uncommon to see rats in the hallways.
Coach Sam Wyche was coming apart at the seams and the players (we're talking the likes of Tyji Armstrong and Alvin Harper) were running the team. And double-digit losses in a season were the norm.
There weren't many smiles out at One Buc Place in those days, except from my co-worker and mentor at The Tampa Tribune, the great Nick Pugliese, who always was in a good mood.
And John Lynch.
Back in those days, Lynch was a breathe of fresh air in a place that desperately needed it. In a very bad situation, the young safety brought class and dignity. He didn't play a lot under Wyche and Lynch even admitted he was having doubts about his decision to give up a career in baseball.
July, 15, 2008
7/15/08
3:48
PM ET
Posted by ESPN.com's Pat Yasinskas.

Brooks
Just before vacation, I posted an item on the best players in the history of the Carolina Panthers and promised to do the same for the rest of the NFC South teams. It's time for the next step -- the top five Tampa Bay Buccaneers ever.
1. Derrick Brooks. This is easy. Brooks is on his way to the Hall of Fame and is, by far, the best player the Bucs have ever had. I'll take it one step further and say Brooks is the best player ever to play for an NFC South team.
2. Lee Roy Selmon. The defensive end is Tampa Bay's only Hall of Famer -- for now -- and was a rock in the franchise's early years.
3. Doug Williams. If former owner Hugh Culverhouse had paid Williams what he was worth, the franchise wouldn't have had such hard times through the 1980s. It's a big positive that Williams is back with the team and working in the personnel department.
4. Warren Sapp. Along with Brooks and former coach Tony Dungy, Sapp was instrumental in making this franchise respectable.
5. John Lynch. Tough call for the final spot and it's hard to overlook Ronde Barber, Mike Alstott and one-of-a-kind tight end Tyji Armstrong, but I'm going with Lynch. His contributions -- on and off the field -- were huge.
We'll get to the Falcons and Saints in the coming days, and I want to hear your opinions. That's what the link to the mailbag under my mug is for. I'm going to empty the mailbag and periodically answer your questions in this space.