July, 12, 2013
7/12/13
12:00
PM ET
»
NFC Eight in the Box:
East
|
West
|
North
|
South
»
AFC:
East
|
West
|
North
|
South
A look at the one move each team in the NFC South needed to make but didn't.

Atlanta Falcons:
There still is time to sign a veteran like
Richard Seymour
, but I'm surprised the Falcons didn't do more at defensive tackle during the offseason. The team invested two draft picks in defensive ends but didn't touch the middle of a defensive line that isn't exactly a strength.
Jonathan Babineaux
is aging and heading into the final year of his contract.
Corey Peters
and
Peria Jerry
also are headed into the last year of their contracts. The Falcons stayed away from quick fixes this offseason, but they might get to training camp and realize they need another defensive tackle.

Carolina Panthers:
This one is almost too easy. The Panthers went into the offseason with a glaring need at cornerback. They signed some midlevel players and have hopes for some of their young corners. But this team doesn't have anything close to a No. 1 cornerback. In a division in which you're going up against the likes of
Roddy White
,
Julio Jones
,
Vincent Jackson
and
Marques Colston
, that's a scary proposition. The Panthers did put a lot of emphasis on their defensive line, which better generate a tremendous pass rush to compensate for the lack of elite talent at cornerback.

New Orleans Saints:
General manager Mickey Loomis worked some minor miracles to get out of a nightmare salary-cap situation in the offseason. But the Saints, who are converting to a 3-4 defensive scheme, didn't bring in any elite pass-rushers. They thought free agent pickup
Victor Butler
could blossom into something, but Butler will miss the season after suffering a knee injury during an offseason workout. That leaves the Saints looking to
Will Smith
,
Junior Galette
and
Martez Wilson
as their outside linebackers. Smith is aging and converting from defensive end to linebacker. Wilson and Galette have shown some potential, but neither is a proven pass-rusher.

Tampa Bay Buccaneers:
Sources have told me the Buccaneers would have given strong consideration to drafting tight end
Tyler Eifert
with their first-round pick if they hadn't traded it away in the deal for cornerback
Darrelle Revis
. That tells me the Bucs realized they had a significant need at tight end. The shocking thing is they didn't make some other dramatic move to improve the situation at the position. Instead, they're going with
Luke Stocker
and
Tom Crabtree
. There are indications that the Bucs think Crabtree can be a productive pass-catcher. But I wouldn't count on the tight ends being a big part of Tampa Bay's passing game this season.
April, 15, 2013
4/15/13
4:15
PM ET
I owe a debt of gratitude to Atlanta general manager Thomas Dimitroff as I prepare to make the Falcons' first pick in the Blog Network mock draft next week.
Although there are countless variables that could play out before Atlanta picks at No. 30, I'm pretty confident I at least know what direction I'll be heading in. That's due to the fact that Dimitroff has done an exceptional job this offseason of narrowing his needs.

In fact, I see the Falcons with only one major need. That's at cornerback and, at least at this moment, I feel pretty confident that I'll go in that direction.
I'm not sold on Washington's
Desmond Trufant
or Florida State's
Xavier Rhodes
when I consider them as possibilities for the other three NFC South teams, who each are picking in the middle of the first round. But I think the value could be right for Rhodes or Trufant if they're around at No. 30.
But they're not the only two cornerbacks I'm pondering for the Falcons. Houston's
D.J. Hayden
and Boise State's
Jamar Taylor
seem to have their stock rising in recent mock drafts. Taylor, in particular, is growing on me and I might even consider him ahead of Rhodes or Trufant.
Again, I see cornerback as Atlanta's big need and think there's a strong chance the Falcons will go in that direction. But I have to be prepared for other scenarios, in case things in front of No. 30 get thrown dramatically off course.
One such scenario would involve Florida State defensive end
Bjoern Werner
. The values being placed on him are wildly different. Some people have him as a top-10 pick. But I'm also seeing some mock drafts where Werner is falling. If he's available at No. 30, I'd have to consider him. The Falcons could use a pass-rusher to complement
Osi Umenyiora
in the short term and replace him in the long term.
I'm not a big believer in the Falcons using their first-round pick to get the heir apparent to tight end
Tony Gonzalez
. That would mean sitting your first-round pick most of his rookie season and the Falcons are very much in a win-now mode. I think they can find a tight end prospect somewhere later in the draft.
But, just for the sake of conversation, let's say that Werner is gone and let's say the available cornerbacks aren't ones the Falcons really like.
Tyler Eifert
and
Zach Ertz
are considered to be pretty close to can't-miss prospects. Although that's not a direction I'm leaning at all, I'd have to consider them if the other options aren't right.
Let's hear your feedback in the comments section below. And I'm certainly open to hearing any alternative scenarios you might have.
April, 15, 2013
4/15/13
1:04
PM ET
The ESPN Blog Network mock draft is coming next week and I've got some good ideas of what I plan to do for all four teams.
But this isn't like the 2011 draft when I knew weeks in advance that I'd be taking
Cam Newton
for the
Carolina Panthers
at No. 1 overall.

Without an NFC South team picking until nearly the middle of the first round, I'm going to be at the mercy of those picking above me.
I'm going to run through the four teams and share with you what scenarios I'm thinking about and invite you to share your thoughts in the comments section below.
Let's start with the
Tampa Bay Buccaneers
, who have the No. 13 overall pick.
A lot depends on whether the Bucs pull off a trade for cornerback
Darrelle Revis
. Although I think that trade is likely, I have to prepare with the assumption it will not happen.
Without Revis, there's a glaring need at cornerback. My leading scenario at the moment would be to have the Bucs trade up (probably into the top five) to get Alabama cornerback
Dee Milliner
. He's the only sure-thing as a cornerback in the draft, and I think it makes sense to go get him.
If the Bucs stay put at No. 13, I'm not feeling great about the cornerback options. I would consider Florida State's
Xavier Rhodes
and Washington's
Desmond Trufant
. But my personnel thought is that No. 13 is too early to take either player. However, there are rumblings the Bucs are really high on Rhodes.
Although I'm not as high on Rhodes, I might take him if the rumblings continue to get stronger.
But I'm also considering a few other options beyond cornerback. Utah defensive tackle
Star Lotulelei
was considered as a possibility for the No. 1 overall pick before a medical concern was raised. Lotulelei reportedly has been medically cleared, but you see him all over the board in mock drafts.
If he's available at No. 13, I'll consider him. Once upon a time, the Bucs took a shot on a defensive tackle whose stock had fallen. That was Warren Sapp in 1995 and he'll be going into the Pro Football Hall of Fame this summer. I might also consider Missouri defensive tackle
Sheldon Richardson
for the Bucs.
I also may consider West Virginia receiver
Tavon Austin
. Although I don't think the Bucs really need him, there's been some buzz that the team is enthralled with him. If I get more indications that's true, I might go with Austin.
And I'll end it with one scenario that's received almost no attention. Under the right circumstances, I might even consider Notre Dame tight end
Tyler Eifert
. This might be a little early for a tight end, but Eifert has the potential to be a great one. At the moment, the Bucs have nothing but mediocrity on their roster at tight end.
April, 10, 2013
4/10/13
1:33
PM ET
Even though
Tony Gonzalez
decided to come back for one more season, there's been a lot of talk about how the
Atlanta Falcons
could use their first-round draft pick (No. 30 overall) to select a tight end.
Notre Dame's
Tyler Eifert
and Stanford's
Zach Ertz
are considered the two top tight ends in this draft and they could be available when it's Atlanta's turn to pick. So let's turn to ESPN Stats & Information for a by-the-numbers look at Eifert and Ertz.
Both have shown the ability to get open downfield. Since the start of the 2011 season, Ertz had 24 receptions on throws of more than 15 yards while Eifert had 21. Ertz averaged 26.1 yards per reception on those throws and Eifert averaged 27.2 yards.
On those numbers alone, Ertz and Eifert sound pretty much the same. But let's take it one step further and disregard passes that were off target. When you do that, Eifert comes out as a clearly better downfield threat.
On throws that were on target of more than 15 yards since the start of the 2011 season, Eifert had an 84 percent catch percentage while Ertz came in at 72.7. Eifert didn't drop any of the 25 such throws he was targeted on while Ertz had four drops. Eifert averaged 22.9 yards per attempt on those throws while Ertz averaged 19 yards.
April, 2, 2013
4/02/13
12:02
PM ET
Almost all of the offseason talk about the
Tampa Bay Buccaneers
has focused on a defense that ranked No. 31 in the NFL last season. But there's one huge need on the other side of the ball that hasn't drawn a lot of talk.

The Bucs need a pass-catching tight end. All the other teams in the NFC South have one (
Tony Gonzalez
in Atlanta and
Greg Olsen
in Carolina) or two (
Jimmy Graham
and
Benjamin Watson
in New Orleans).
But the Bucs, who like to say one of their priorities is to surround quarterback
Josh Freeman
with talent, have a gaping hole at tight end.
They have not re-signed free agent
Dallas Clark
. They did add
Tom Crabtree
, but he never has caught more than eight passes in a season. Crabtree can compete with
Luke Stocker
,
Nate Byham
,
Drake Dunsmore
and
Zach Miller
for the role as the complementary tight end. But the Bucs need a pass catcher.
The problem is, there aren't a lot of pass-catching tight ends left in free agency. Take a look at our
Free-Agent Tracker
. Clark is tied for the highest grade among the unsigned unrestricted free agents. And the guy he's tied with is
Kellen Winslow
, who I highly doubt will be returning to Tampa Bay anytime soon.
The Bucs may have to bring back the aging Clark, who was decent last season, but not nearly as prolific as he was in his prime in Indianapolis. Unless some veteran gets released, there aren't many other proven pass catchers on the market.
The draft features two premier tight ends in
Tyler Eifert
and
Zach Ertz
. But it's hard to imagine the Bucs using the 13th overall pick on a tight end when they have such big needs on defense.
Maybe the Bucs will draft a tight end after the first round. Or maybe they'll find one somewhere else in free agency.
But the Bucs have to find a pass-catching tight end for Freeman somewhere.
February, 20, 2013
2/20/13
12:35
PM ET
BRADENTON , Fla. -- As the
Atlanta Falcons
watch the workouts at the NFL scouting combine this week, it's pretty much a certainty their coaches and scouts will be keeping a close eye on Notre Dame tight end
Tyler Eifert
.
The Falcons have been lobbying hard for
Tony Gonzalez
to return for one more season, but they have to be ready in case the veteran decides to retire. That's the scenario in which Eifert could be a target with the 30
th
overall pick in the draft.
"Tyler is going to be a guy that's going to step in and be an impact player, probably much easier than the typical player making this transition,'' said Chris Weinke, director of football operations at IMG Academy, where Eifert has spent the past six weeks preparing for the combine.
[+] Enlarge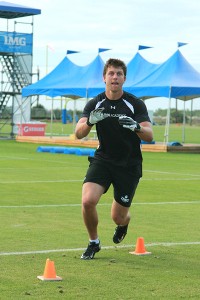 Courtesy of IMG AcademyTight end Tyler Eifert said he feels that having basketball in his background will help him with his transition to the NFL.
Eifert and Stanford's
Zach Ertz
are widely considered to be the top two tight ends in the draft and many mock drafts have them going late in the first round. Bringing back Gonzalez is Atlanta's preference, but Eifert might be the best alternative.
"I thought he was a great player when he got here, but I think he's even better now,'' Weinke said. "What I mean by that is he's got the God-given athletic ability, but he's taken that and maximized it. Just his fluidity in his route running and his consistency catching the ball, what I've seen over the last few weeks is a guy that's even better than when he came in here. The most important thing to me is the way he carries himself. This kid already is a pro.''
If Gonzalez does decide to retire, it could disrupt Atlanta's entire offense. Gonzalez has been an integral part of the passing game and few tight ends can duplicate his skill set. But Eifert is a reasonable facsimile and he already is fairly polished.
He had 50 catches for 685 yards and four touchdowns last season and had 140 catches for 1,840 yards and 11 touchdowns in his college career. Like Gonzalez and some other top tight ends, Eifert has basketball in his background.
His father, Greg, played basketball at Purdue in the 1980s. Eifert was a very good high school basketball player in Indiana.
"I think there are a lot of similarities,'' Eifert said. "Just the way you use your body in basketball to get position. It's similar to what a tight end has to do.''
Early in his college career, Eifert wasn't known as much of a blocker.
"That's always been kind of my knock, that I can't block,'' Eifert said. "But I think I've gotten better at that and continue to improve. I think I'm a pretty good blocker now.''
Eifert says he has no strong preference about which team drafts him. But he does have a clear vision of what he thinks his role will be in the NFL.
"As a complete tight end that can stay on the field for all three downs, that can make plays and stretch the defense,'' Eifert said.
That could be exactly what the Falcons are looking for.
February, 18, 2013
2/18/13
5:37
PM ET
I just returned to NFC South headquarters after spending most of the day watching draft prospects prepare for the combine at IMG Academy.
I started off with this item on former Notre Dame linebacker
Manti Te'o
because he obviously has been one of the biggest stories of the last month or so and that will only continue when he gets to the combine. I don't know if Te'o will end up in the NFC South or not, but I did see several prospects I think could be natural fits in the division.
I sat down with Florida defensive tackle
Sharrif Floyd
, Missouri defensive tackle
Sheldon Richardson
, Notre Dame tight end
Tyler Eifert
, Wisconsin running back
Montee Ball
and SMU defensive end
Margus Hunt
. I've got a tape recorder filled with interviews to transcribe and I'll be writing about each of those players in the coming days.
In the meantime, why don't you have some fun and discuss in the comments section below where in the NFC South you can see Floyd, Richardson, Eifert, Ball and Hunt landing. In a couple of cases, I can see potential targets for more than one NFC South team.
February, 18, 2013
2/18/13
2:46
PM ET
BRADENTON, Fla. -- Former Notre Dame linebacker
Manti Te'o
will be the center of attention when the NFL scouting combine opens later this week and most of the NFC South teams are likely to be watching closely.
Te'o
Te'o has been in the headlines since it was revealed that he was the victim of what he said was a hoax that led him to have an online relationship with a woman that did not exist.
The story came to light soon after Te'o arrived at IMG Academy to begin preparing for the combine.
"He missed precisely one day,'' said former NFL quarterback Chris Weinke, the director of football operations at IMG Academy where Te'o has been preparing for the combine. "He's gone about his business and been the same guy all along. I really admire that because a lot of guys his age would not be able to handle this as well as he has. I haven't seen any signs of it being a distraction and I expect him to go up to Indianapolis and have a great combine.''
Those closest to Te'o said he's shown no signs of being distracted by the off-field drama.
"Manti has been the same Manti I went to college with,'' said former Notre Dame tight end
Tyler Eifert
, who also has been working out at IMG. "He left to do the Katie Couric interview for one day and I think he was back that same night. He's been out on the field working just like he's always worked. I've tried to be there for him, but I don't know that he's needed all that much help because he's such a strong person to begin with.''
Teams are likely to grill Te'o about his situation during his individual interviews at the combine. Most draft gurus have been projecting Te'o as a likely first-round pick.
The Saints, Buccaneers and Panthers all pick in the middle of the first round and the
Atlanta Falcons
are scheduled to pick No. 30 overall. New Orleans needs some stability in its linebacker corps and Tampa Bay could be looking to add a linebacker because
Quincy Black
suffered a major injury last season. Carolina doesn't appear to have much need at linebacker, but it remains to be seen if veteran
Jon Beason
will be a salary-cap casualty.
It may be a long shot that Te'o is still available when the Falcons pick. But, knowing how thorough the Falcons are, I'm sure they'll do their homework on Te'o just in case.
February, 18, 2013
2/18/13
7:47
AM ET
I'm about to begin my annual pilgrimage down to IMG Academy in Bradenton, Fla. To do some pre-combine stories.
IMG has more than 30 prospects who have been doing its combine preparation, which is run by former NFL quarterback Chris Weinke. Ironically, or maybe no coincidence whatsoever, Weinke spent most of his career with Carolina and the Panthers have used their last two first-round picks on players who have trained at IMG (Cam Newton and Luke Kuechly).
I'll try to pin Weinke down and see if I can get an early read on who Carolina's top pick will be this year. I'm only kidding – sort of – on that part, but I'll be getting scouting reports from Weinke and talking to several players, and that will lead to several stories in the coming days. I'll be back later on after watching the workouts and doing interviews.
Here's the list of prospects who have been working out at the facility, according to IMG Academy:
Offensive tackle Luke Joeckel, Texas A&M
Quarterback Geno Smith, West Virginia
Defensive end Bjoern Werner, Florida State
Defensive tackle Sheldon Richardson, Missouri
Tight end Tyler Eifert, Notre Dame
Defensive tackle Sharrif Floyd, Florida
Receiver DeAndre Hopkins, Clemson
Safety Eric Reid, LSU
Guard/center Barrett Jones, Alabama
Quarterback Tyler Wilson, Arkansas
Receiver Justin Hunter, Tennessee
Quarterback Zac Dysert, Miami (Ohio)
Defensive end Margus Hunt, Southern Methodist
Running back Montee Ball, Wisconsin
Cornerback Blidi Wreh-Wilson, Connecticut
Cornerback Robert Alford, Southeastern Louisiana
Receiver Aaron Dobson, Marshall
Offensive tackle Menelik Watson, Florida State
Linebacker Trevardo Williams, Connecticut
Linebacker Gerald Hodges, Penn State
Defensive tackle Everett Dawkins, Florida State
Defensive tackle Kwame Geathers, Georgia
Fullback Tommy Bohanon, Wake Forest
Tight end Gavin Escobar, San Diego State
Fullback Zach Line, Southern Methodist
Tight end Vance McDonald, Rice
Guard J.C. Tretter, Cornell
Linebacker Albert Rosette, Nevada
Offensive tackle John Wetzel, Boston College
Linebacker Ty Powell, Harding
Offensive lineman Garrett Gilkey, Chadron State
Cornerback Devin Smith, Wisconsin
Defensive tackle Nick Williams, Stanford
Running back Covaughn DeBoskie-Johnson