March, 13, 2014
Mar 13
8:00
AM ET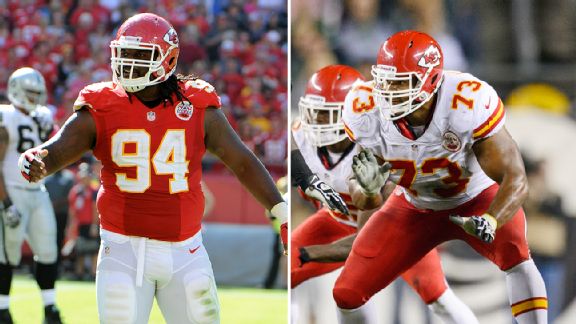 USA TODAY SportsEx-Kansas City linemen Tyson Jackson and Jon Asamoah should give Atlanta toughness in the trenches.
The
Atlanta Falcons
raided the roster of the
Kansas City Chiefs
in the opening moments of the free-agent signing period, adding defensive end
Tyson Jackson
and guard
Jon Asamoah
. Jackson was the Chiefs' first-round draft pick in 2009 and the third choice overall. Asamoah was selected by the Chiefs in the third round of the 2010 draft.
ESPN NFL Nation reporters Adam Teicher (Chiefs) and Vaughn McClure (Falcons) discuss the signings.
Teicher
: Vaughn, tell us how Jackson and Asamoah fit into the Falcons' plans and why they liked those players more than some other available players at their positions.
McClure
: In my opinion, they're both great fits for a team that lacked some toughness up front on both sides of the ball. The offensive line getting pushed around last season led to
Matt Ryan
being the league's most-pressured quarterback and the running game being the league's worst. Asamoah will step in immediately at right guard, where the Falcons tried three players last season but had little success. In terms of Jackson, he has 3-4 experience, and the Falcons are set to move more toward a 3-4 base defense. And if Jackson is as good a run-stuffer as Asamoah touted him to be, the Falcons should be in business.
From the Chiefs' perspective, what were the pros and cons to keeping or parting ways with both Jackson and Asamoah?
Teicher
: The Chiefs would have liked to have retained Jackson but not at the price the Falcons got him for (five years, $25 million). He developed into a solid run defender the past couple of seasons but was still just a part-time player who came out of the game on passing downs. Still, the Chiefs may have to go out and find his replacement in free agency or the draft. They also thought Asamoah was too pricey for them at more than $4 million per year. The Chiefs last year had some good depth on the offensive line. They drafted five linemen in the top three rounds over the previous four drafts. Asamoah was one of them and the other four will start for them next year. They didn't re-sign any of their three free-agent offensive linemen and never came close to reaching a deal with any of them. The Chiefs have some developmental prospects they may try to plug into the starting right guard spot that is now vacant or they could find a guard in free agency or the draft.
These signings have Scott Pioli's fingerprints on them. He was the Chiefs' general manager when they drafted Jackson and Asamoah and is now Atlanta's assistant GM. How much say do you think he has on personnel matters for the Falcons?
McClure
: I think it will be a team effort, Adam, with general manager Thomas Dimitroff, director of player personnel Lionel Vital, and Pioli leading the way. Of course, Pioli obviously had some input in these signings. He had a familiarity with both Asamoah and Jackson and could speak on their behalf. But Pioli learned some lessons from his experience in Kansas City, particularly how to be more open-minded. So, like Dimitroff said, Pioli will be another voice at the table. I'm curious now to see how they all put their minds together and decide what to do in the draft. They need both an offensive tackle and edge pass-rusher.
Adam, since we're talking, I have to ask you this question. My sources told me that the
Seattle Seahawks
indeed talked about trading for Tony Gonzalez. And there were reports that Kansas City felt the same way. What exactly happened there? And Gonzalez is a free agent now, you know?
Teicher
: Bringing Gonzalez back to Kansas City for the last half of last season would have made sense on a number of levels. They had some injuries at tight end and needed a pass-receiver at that spot. The fans would have loved it. But the Chiefs never seemed serious about it. It was fun for everyone to talk about, but it was never close to becoming a reality. That would be something if the Chiefs signed Gonzalez now as a free agent, but their chance to get something done with him was last year.
March, 11, 2014
Mar 11
5:45
PM ET
It was clear from the outset how the
Atlanta Falcons
wanted to approach free agency: Get stronger up front.
The offensive and defensive lines struggled miserably last season. So if money was going to be spent on free agents, it was bound to be spent on offensive and defensive linemen, not safeties or tight ends.
Such was the case when the Falcons agreed to terms with defensive linemen
Paul Soliai
and
Tyson Jackson
, and offensive guard
Jon Asamoah
.
Soliai
Asamoah
Starting with Soliai, the Falcons rewarded the big nose tackle with a five-year contract with a max value of $33 million with $14 million guaranteed, according to a source familiar with the negotiations. The 6-foot-4, 340-pound Soliai immediately becomes the Falcons' most intimidating defensive lineman. And he'll be counted upon to take on double teams and pave the way for the linebackers to make plays with the Falcons expected to move toward more of a 3-4-based scheme.
Jackson (6-4, 296) will be a key figure up front, too. The former third-overall pick in 2009 was drafted by Falcons assistant general manager Scott Pioli when Pioli was the Chiefs' general manager. Jackson reportedly received a five-year deal worth a max of $25 million.
And Asamoah, who also agreed to a five-year deal (financial terms were not immediately available), might be the guy with the biggest burden to carry. The offensive line has been horrendous, allowing
Matt Ryan
to be the league's most pressured quarterback last season. The Falcons hope Asamoah steps in at right guard and develops into a stabilizing force. He is known for his pass protection and should be able to provide support as a run-blocker.
"Jon is a physical, experienced offensive lineman that will add a veteran presence to our offensive line," Falcons coach Mike Smith said about Asamoah.
The Falcons got it right. They addressed the most pressing needs from the outside and also re-signed two other key figures in center
Joe Hawley
and defensive tackle
Jonathan Babineaux
. Hawley should start in the middle with Asamoah and left guard
Justin Blalock
next to him. Babineaux should add depth to the defensive line rotation.
It all could equal a climb back to the top for the Falcons, although other aspects still need to take shape. The release of former Pro Bowl free safety
Thomas DeCoud
means the Falcons have to find a capable replacement next to strong safety
William Moore
. There is still a void at tight end with
Tony Gonzalez
retiring, although
Levine Toilolo
will be counted upon to elevate his game.
More importantly, the Falcons need to look at adding an offensive tackle and pass-rusher, maybe through the draft. The names that immediately come to mind are Auburn offensive tackle
Greg Robinson
, Texas A&M offensive tackle
Jake Matthews
, Michigan offensive tackle
Taylor Lewan
and Buffalo outside linebacker
Khalil Mack
. Right now, the Falcons hold the sixth-overall pick in the draft.
It will make for some interesting decisions to come. But for now, the Falcons made the right choice.
"We were focused on adding pieces along our offensive and defensive lines, and I feel we were able to accomplish that today," general manager Thomas Dimitroff said.
Certainly the Falcons have much more to accomplish.
March, 31, 2010
3/31/10
1:00
PM ET
»
NFC History
:
East
|
West
|
North
|
South
»
AFC
:
East
|
West
|
North
|
South
»
Draft Watch
:
Biggest needs
(2/17) |
Busts/gems
(2/24) |
Schemes, themes
(3/3) |
Recent history
(3/10) |
Needs revisited
(3/17) |
Under-the-radar needs
(3/26) |
History in that spot
(3/31) |
Draft approach
(4/7) |
Decision-makers
(4/14) |
Dream scenario/Plan B
(4/21)
Each Wednesday leading up to the NFL draft (April 22-24), the ESPN.com blog network will take a division-by-division look at key aspects of the draft. Today's topic: History in that spot.

Tampa Bay Buccaneers
They're sitting at No. 3 and recent history indicates they'll get a big name, but not necessarily a guaranteed star. The jury is still very much out on defensive end
Tyson Jackson
, who went to Kansas City in this spot last year. Jackson didn't record a sack in his rookie year. Atlanta quarterback
Matt Ryan
went No. 3 overall in 2008 and is off to a very good start, and the same can be said for 2007 No. 3 pick
Joe Thomas
. The Cleveland offensive tackle already has been picked for three Pro Bowls. But 2006 third pick
Vince Young
and 2005 No. 3
Braylon Edwards
have both had very uneven careers thus far.

Atlanta Falcons
They hold the No. 19 pick and the recent history in that spot has been solid. Philadelphia receiver
Jeremy Maclin
and Carolina offensive tackle
Jeff Otah
are off to strong starts. Tennessee safety
Michael Griffin
, who went in this spot in 2007, has been a very solid player and 2005 pick
Alex Barron
has been a regular starter at offensive tackle for the Rams. The biggest question mark at this spot in recent history is
Antonio Cromartie
. He had a few very productive years in San Diego, but slumped last season, prompting his move to the
New York Jets
.

New Orleans Saints
They hold the No. 32 pick, the final one in the first round because they won the Super Bowl. There are no guarantees of instant success when you're picking this late.
Ziggy Hood
went in this spot to Pittsburgh last year and the Steelers are bringing him along very slowly. Safety
Kenny Phillips
went No. 32 to the Giants in 2008. He was primarily a backup as a rookie and got hurt early last year. It's a similar story for 2007 pick
Anthony Gonzalez
of the Colts. He showed promise in his first two seasons as a backup, but an injury derailed him last year. The Giants have had mixed results with defensive end
Mathias Kiwanuka
, whom they took in this spot in 2006. He hasn't been spectacular, but he has been somewhat productive. The real gem in this spot has been 2005 pick
Logan Mankins
. The New England guard has been to two Pro Bowls.

Carolina Panthers
The Panthers traded this year's first-round pick to San Francisco last year. As a result, their top pick is in the second round and it's No. 48 overall. History has shown you still can get a productive player at this spot. Cornerback
Darcel McBath
got off to a good start with Denver last year before being sidelined with an injury late in the season. Tight end
Fred Davis
had a quiet rookie season with the Redskins in 2008, but started to emerge last year. Jacksonville linebacker
Justin Durant
was a part-time-starter as a rookie in 2007, but has been a full-time starter the past two seasons. Cornerback
Cedric Griffin
has developed into a solid starter in Minnesota after being selected by the Vikings in 2006. Then, there's the sad story of linebacker
Odell Thurman
, whom the Bengals took at No. 48 in 2005. He played only two seasons before suspensions and off-field problems derailed his career.