NFC South:

United States Football League
November, 15, 2012
11/15/12
11:30
AM ET
This really has been true for only five weeks, but I don't think I'm going out on a limb by saying the
Tampa Bay Buccaneers
have the most exciting offense in franchise history and they have a true franchise quarterback for the first time.
Start thinking about the history of this franchise, because that's a part of why I feel comfortable making those statements. We'll run through that inglorious history in just a moment, but let's start with the past five games.
In that stretch,
Josh Freeman
, who entered the season as a huge question mark, has established himself as a big-time quarterback. Rookie running back
Doug Martin
has become such a phenomenon that he finally might have shed
that nickname
he doesn't like. And wide receiver
Vincent Jackson
has turned out to be worth every penny of that five-year, $55 million contract he signed back in March.
In each of the past five games, the Bucs have scored at least 28 points. When's the last time that happened?
Never.
What's happened in the past five games has vaulted the Bucs into the league lead in average yards per play (6.21). They're averaging 28.9 points per game, which ranks them behind only New England (see
Brady, Tom
) and Denver (see
Manning, Peyton
). Speaking of Manning, he's second in the league with an average of 8.20 yards per pass attempt. Freeman is No. 1 at 8.27.
Martin had a 251-yard, four-touchdown game at Oakland and has turned out to be the "all-purpose back" that coach Greg Schiano and general manager Mark Dominik talked about on the night they drafted him.
Jackson's leading the league among players with at least 30 receptions by averaging 21.4 yards per reception. Heck, teammate
Mike Williams
is second at 18.3.
Heck, if this keeps up, we might be calling Freeman, Martin and Jackson "The Triplets," the way Troy Aikman, Emmitt Smith and Michael Irvin used to be referred to in their Dallas glory days. At times, some people got carried away and called the Cowboys' stars "The Quadruplets" because they actually thought Alvin Harper was good.
That's a perfect way to jump back into the history of offensive football and the Buccaneers. Harper was the receiver the Bucs signed in the mid-1990s to be their Irvin. Instead, the thing most Tampa Bay fans remember about him is that he got part of his finger sliced off in a training room accident.
For their entire existence, including the good years, the Bucs have been anywhere from dismal to mediocre on offense. They won a Super Bowl with Brad Johnson as their quarterback and Monte Kiffin commanding a defense for the ages. They won a lot of games and tasted their first sustained success under coach Tony Dungy ... with Kiffin commanding a defense for the ages.
At one point in the 1990s, Tampa Bay's bread-and-butter offensive play was having Errict Rhett run into Mike Alstott's back and fall as far forward as possible. They later upgraded and had Warrick Dunn run into Alstott's back and actually make a cut or two.
Even back during the first rise to prominence (1979), Tampa Bay was much more defined by Lee Roy Selmon and the defense than it was by the offense and Doug Williams.
Speaking of Williams, he was the best quarterback in franchise history -- until Freeman's emergence. Between them, the Bucs have trotted out the likes of Steve Young (before he became Steve Young in San Francisco), Vinny Testaverde, Craig Erickson, Trent Dilfer, Shaun King, Brian Griese and Jeff Garcia.
[+] Enlarge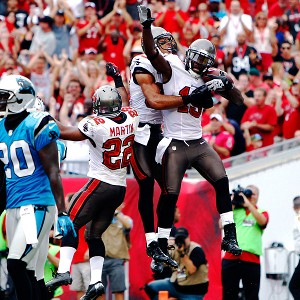 Matt Stamey/US PresswireA supporting cast that features receivers Mike Williams (19) and Vincent Jackson (83) and running back Doug Martin makes the Bucs' offense so fearsome.
Although Young, Testaverde and Dilfer had talent, they never had a chance in Tampa Bay because they didn't have a supporting cast. Williams was easily the best quarterback in Tampa Bay history, but I'm not sure you can call him a franchise quarterback because his tenure lasted from 1978 until he left for the United States Football League in a contract squabble following the 1982 season.
Freeman's not going to follow a similar route. He's under contract through 2013, but, after what he has shown this season, I think it's safe to say Freeman's going to be around a lot longer than that. Sometime in the offseason, the Bucs almost certainly will give Freeman a big contract extension.
Freeman has bounced back from the disastrous final season of the Raheem Morris era. He's turned out to be everything Schiano and offensive coordinator Mike Sullivan said he would be upon their arrival. Schiano and Sullivan said they wanted to build an offense that ran the ball consistently and they wanted to take some shots downfield in the passing game.
That formula's working. According to ESPN Stats & Information, Freeman leads the league with 19 completions on throws of 20 yards or more. Jackson leads the NFL with 10 receptions on throws of 20 yards or more.
Mike Williams has revived a career that seemed to stall last year. The Bucs plucked receiver
Tiquan Underwood
off the scrap heap and he's turning in big plays. Martin is making things happen in the running game and as a receiver, and the offense is clicking, despite the fact the Bucs are without injured Pro Bowl guards
Carl Nicks
and
Davin Joseph
.
For the longest time, there was a joke in Tampa that the most exciting offense the region ever saw was the "Fun and Gun" orchestrated by Steve Spurrier and the USFL's Tampa Bay Bandits, who, briefly, were more popular than the Bucs in the 1980s.
Those Bandits were wildly entertaining, but part of the reason they're so fondly remembered is because the Bucs always were boring -- and usually bad -- on offense.
Until now.
April, 28, 2011
4/28/11
1:48
PM ET
CHARLOTTE, N.C. -- Great stat from Elias Sports Bureau by way of ESPN Stats & Information.
Since it's looking like the Panthers will take
Cam Newton
with the first pick in tonight's draft,
Jimmy Clausen
has a chance to join some pretty unflattering company. The Panthers used a second-round pick on Clausen last year.
Since 1970, only two teams have drafted a quarterback within the top 50 picks in back-to-back drafts. Both came in 1982 and 1983. In 1982, the Bills drafted Matt Kofler at No. 48 overall. In 1983, they followed by taking Jim Kelly at No. 14. Kelly went to the United States Football league before joining the Bills in 1986.
In 1982, the Baltimore Colts drafted Art Schlichter at No. 4. In 1983, they took John Elway at No. 1. Elway never played for the Colts and eventually was traded to Denver.
But the moral of this story is that you don't want to be the guy taken the year before your team turns around and uses a higher pick on a quarterback. Heck, the true moral of the story is you don't want to be Schlichter or Kofler.
Looks like Clausen is about to join that club.
April, 27, 2011
4/27/11
9:00
AM ET
Let's go ahead and introduce you to the man who is about to become the most famous equipment manager in the world.
His name is Jackie Miles and he'll be wearing a new suit, bought specifically for the moment he'll hand in the card with the No. 1 pick in the NFL draft for the
Carolina Panthers
on Thursday night in New York.
As television leads us into the moments before the pick, you'll see plenty of Miles. He'll be at Carolina's table with a helmet in front of him. When the time is right, he'll hand in the pick that will shape the draft.
[+] Enlarge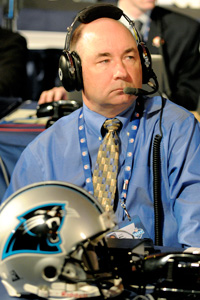 James Escher/Icon SMIJackie Miles will be the Panthers' "eyes and ears" at the NFL draft.
Kind of ironic because Miles is the kind of guy who doesn't like attention. His humble beginnings came working in the equipment departments of the
Philadelphia Eagles
, the United States Football League's Philadelphia Stars and the University of Pennsylvania. He was one of the first people hired by the Panthers before the expansion team started in 1995 and, quietly, he's been injecting South Philadelphia into Charlotte since then.
Millions will see him, but Miles already is downplaying his role. First, he wants to make it clear, he's not the guy handing the card to Commissioner Roger Goodell.
"That's a myth,'' Miles said. "When we're on the clock, there will be two league employees behind our table. I'll hand the card to one of them and that person will walk the card up and hand it to the Commissioner.''
If Miles sounds like a man who knows the process, it's only because he's been Carolina's man in New York for every draft since the team came into the league. The difference this year is that the Panthers have the top pick and that puts Miles on center stage.
"Don't let Jackie sell you short on what he does,'' Carolina general manager Marty Hurney said. "He is our eyes and ears at the draft. He's a smart guy and he's invaluable. He knows how to watch the room and he's got a pretty good sense when there's a trade going down or the clock is getting ready to run out and he alerts us to things like that. We can get a grasp from television. But Jackie's right in the middle of it and there's nobody else I'd rather have in New York.''
Miles will be in the middle of Carolina's table, surrounded by assistant equipment manager Donnie Toner and video assistant Jeff Mueller. I know most of the people who work for the Panthers, and, if I had to pick two guys to be my wing men on a road trip, they would be Toner and Mueller. They're sharp and they're there for more than show.
"Jackie's our point guard up there,'' Hurney said. "There's no room for mistakes. We trust him, Donnie and Jeff as much as anybody in our building. That's why they're there.''
Miles will wear an earpiece hooked to a speaker phone in the room where Hurney, all the scouts and coaches will be sitting in Charlotte. The line is open throughout the draft and Miles can hear everything that's said from Charlotte. In New York, Miles is the only one who can hear what's coming out of Charlotte.
Toner's on one side and his job is to monitor the trade phone. The details of any transaction are given to all teams at the same time. It may come only a minute before the announcement is made on television. But it's up to Toner and Miles to get information back to Hurney as soon as they get it because every second is precious.
Mueller sits on the other side of Miles and he's got a list of correct spellings, positions and colleges for every player in the draft, including a couple hundred guys who won't get drafted. Mueller's job is to make sure Miles has the correct information when Hurney tells him to make a pick.
"I don't want to be that guy that screws up and becomes a part of NFL lore for all the wrong reasons,'' Miles said.
Miles never has messed up and there have been a few times he's saved the Panthers. Take the time back in 2003 when the clock was running down on Minnesota's first-round pick with Jacksonville on deck and Carolina in the hole.
"I started saying "Marty, we're at 30 seconds and they don't even have a card ready. Give me a pick'','' Miles said. "I could hear them saying it was no big deal because Minnesota would get the pick in. I said, 'No, this thing is running out and Jacksonville's ready to pounce. Let's be ready, too.'"
Hurney listened. The clock ran out. Jacksonville made its pick and Miles immediately handed in a card with Jordan Gross' name before the Vikings could jump back in.
The most nerve-wracking moment came in the seventh round in 1997. As instructed, Miles handed in the card for pick No. 228 with the name of tight end
Kris Mangum
.
Someone back in Charlotte was on a line with Mangum, who was on his cell phone and just heading into a tunnel. The connection was lost and, fearing a worst-case scenario, people in Charlotte told Miles to pick someone else.
"I was like, 'Guys, I've already handed in the card. It's too late,'" Miles said. "(Former general manager) Bill Polian was on the other line, screaming 'No, go grab it. Get it back.'"
About the same time, Mangum emerged from the tunnel, called the Panthers back and assured them he was fine. Things went happily ever after as the tight end had a long career with Carolina.
The stakes are higher with the top pick, but the Panthers aren't worried. Hurney will say the word whenever he's ready or perhaps tip Miles off several hours before the draft.
Once the pick is made, Miles will spring into another role. As of late last week, Miles didn't know the pick, so he planned to take several jerseys to New York. He'll present the appropriate one to the player and say a few words.
"Whoever the player is, I can tell you already what my message is going to be,'' Miles said. "I'll just tell him that he's coming to a great place and we're going to take good care of him.''
At least for those few moments, the No. 1 pick will be in the very trusted hands of the world's most famous equipment manager.
February, 21, 2011
2/21/11
6:38
PM ET
Doug Williams, who is returning for a second stint as head coach at Grambling State University, took some strong shots at the
Tampa Bay Buccaneers
, particularly general manager Mark Dominik,
in this story by The St. Petersburg Times
.
Williams had spent six years working in Tampa Bay's personal department before he was pushed out last offseason. The Bucs hired him away from Grambling and, at the time, that move was celebrated by Tampa Bay fans. Williams was Tampa Bay's quarterback in the early years and was a fan favorite. When Williams left the Bucs for a contract in the United States Football League, former Tampa Bay owner Hugh Culverhouse was portrayed as the villain for not paying Williams enough money.
His more recent departure from the Bucs wasn't nearly as public, but Williams apparently views it as a situation where he was treated unfairly, similar to when he left as a player.
"The good ol' boy network is alive and well,'' Williams, who most recently was working as a general manager in the United Football League, told The Times. "But it's changed from the good ol' boy network to the fraternity. I always find a way to overcome and just keep going forward.
"I look at it this way, you've got guys sitting in the front office that never coached. I just didn't coach college, I coached high school. If you've got the patience and time to coach high school, you can do other jobs. There are guys who learned the (football) language and never got their hands dirty, per se. They can't go back and get their hands dirty again.''
It doesn't take much to figure out Williams is talking about Dominik, who has spent his entire adult life working on the personnel side. It's been well known in Tampa Bay that Dominik and Williams didn't get along and that led to the departure.
Williams won the battle of public opinion in a landslide in his first departure. Maybe that was an accurate portrayal of what happened at the time. Maybe Williams has some points this time, too.
But, just remember, there are two sides to every story.
January, 25, 2011
1/25/11
12:20
PM ET
Somewhere in Hawaii, Atlanta Pro Bowl running back
Michael Turner
is probably waking up right about now. But the good news for Turner is he can roll over and go back to sleep. Pro Bowl practices don't start until Wednesday and there is another bit of news that isn't going to cause Turner to lose any sleep.
Herschel Walker says he wants to
make a football comeback and he wants to play
for the
Atlanta Falcons
. I'm not sure how serious Walker was when he made those comments during a conference call to promote an upcoming MMA event, but … come on, Walker is 48 years old.
Yes, Walker always has been an athletic freak and he claims his MMA training has him in better shape than ever. I don't question that, but the fact is Walker last played in the NFL in 1997.
Could the Falcons use another running back to go with Turner and
Jason Snelling
? Sure, they could use a speed back to fill the role they always wanted
Jerious Norwood
, who is about to become a free agent, to fill. But they can do that in the college draft.
The Falcons don't need a side show, even though Walker is a Georgia native and played at the University of Georgia. Speaking of that, there was a time in the early 1980s when a lot of people said Walker was the greatest college football player ever. Then, in his last college game, Walker ran into Joe Paterno and Penn State and he never really looked the same after that (Paterno and Penn State did the same thing to Vinny Testaverde a few years later).
Walker went on to have a nice professional career in the United States Football League and the NFL, but he never quite was the dominant player he was through much of his college career. Yeah, all this talk about a return is going to bring Walker some attention.
But he should stick to the MMA thing. Paterno's got more football left in him than Walker does.
December, 15, 2010
12/15/10
8:00
AM ET
»
NFC Stock Watch
:
East
|
West
|
North
|
South
»
AFC
:
East
|
West
|
North
|
South
FALLING
1. Jeff Davidson, Panthers offensive coordinator.
It's kind of tough to come up with guys whose stock is falling when three NFC South teams are coming off victories and virtually everybody with the Panthers has been used in this category at one point or another. So we're going to be creative -- in other words, something Davidson is not. I know the head coach sets the tone for what his coordinators do and there's no question John Fox has limited his offense for virtually his entire tenure. But Davidson deserves some heavy blame. I mean, at least try to come up with ways to get
Steve Smith
the ball. As Fox's time in Carolina comes to an end and I reflect on it, I think one of the worst moves was making Dan Henning the scapegoat for a disappointing 2006 season. Fans thought Henning lacked imagination. After four years of watching Davidson's offense, Henning's offense, in hindsight, looks like the Tampa Bay Bandits of Steve Spurrier in the United States Football League. Fox's staff will be scrambling for jobs. Davidson might have to return to his roots as an offensive line coach because his coordinator résumé isn't looking too good.
2. Geno Hayes, Buccaneers linebacker.
He's doing fine on the field, but he
got into trouble
in the wee hours of Monday morning. If the Bucs really are a playoff team, they should be focused entirely on football at this time of year.
[+] Enlarge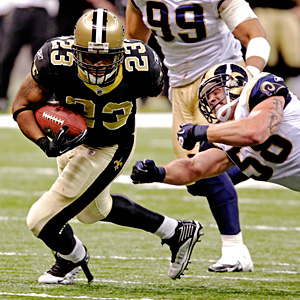 AP Photo/Bill HaberPierre Thomas accounted for 68 yards of offense in his first action since Week 3.
3. Charter flights for the Falcons
. They have to cross the country to Seattle this weekend after playing road games at Carolina and Tampa Bay. But if the Falcons keep doing what they're doing, they won't have to get on a plane again this season -- unless it's to Texas for the Super Bowl.
RISING
1. Pierre Thomas, Saints running back.
Thomas, who injured his ankle in late September, returned to the playing field Sunday when the Saints defeated the Rams. He wound up probably getting even more playing time than the Saints envisioned. The logical thing to do would have been to ease Thomas back into a rotation with
Chris Ivory
and
Reggie Bush
. But that plan went out the window when Ivory started experiencing hamstring issues early in the game. Thomas ended up carrying 12 times and catching four passes. His numbers weren't overhelming (39 rushing yards and 29 receiving yards), but he held up well. Thomas' long-term future in New Orleans might not be all that bright because of Ivory's emergence. But a strong finish could help Thomas get a nice contract somewhere else.
2. Michael Turner, Falcons running back.
With backup
Jason Snelling
banged up, the Falcons have been riding Turner even more than usual. He carried 28 times in Sunday's victory against Carolina and produced 112 yards and three touchdowns. Turner has rushed for more than 100 yards in three of the past four games and five times in Atlanta's seven-game winning streak. He has scored at least one touchdown in four straight games.
3. Arrelious Benn, Buccaneers wide receiver
. He was chosen in the second round of this year's draft and fellow receiver
Mike Williams
was picked in the fourth round. But Williams emerged instantly as the No. 1 receiver and Benn wasn't much of a factor early on. But Benn had a huge game in Sunday's victory at Washington. He had a career-high four catches for a career-high 122 yards.
November, 14, 2010
11/14/10
6:44
PM ET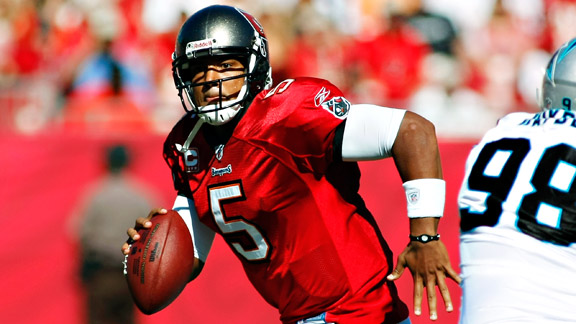 AP Photo/Brian BlancoBucs QB Josh Freeman completed 18 of 24 passes for 241 yards and two TDs against Carolina.
TAMPA, Fla. -- Once upon a time -- as in any time before Sunday -- the talk in these parts was about if the
Tampa Bay Buccaneers
could make the playoffs. Times have changed. Fact is, the Bucs
should
make the playoffs.
Look at their schedule. If the Bucs simply do what they should do, they will be in the playoffs.
That's precisely what the Bucs did Sunday as they defeated the
Carolina Panthers
31-16
. It wasn't particularly pretty and it came against a very bad team.
But guess what? The Bucs are now 6-3. Look at their remaining schedule. In San Francisco, Washington, Detroit and Seattle, the Bucs have four opponents that aren't much better than the Panthers. They've also got games with Baltimore, Atlanta and New Orleans. Pull off a surprise in one of those and the Bucs could even end up with an NFC South title or at least be above the No. 6 seed in the playoffs.
"We'll get better and better as the process of the season goes on,'' Tampa Bay coach Raheem Morris said.
They might because they already have improved more than anyone could have imagined in doubling their win total from last season. But just for the moment, let's say the Bucs go 4-3 the rest of the way and let's also say the
Atlanta Falcons
and
New Orleans Saints
do what they're supposed to do.
There could be a few variables from the NFC East and NFC North. But let's forget variables for now. If the Bucs do what they should do, they're 10-6, and that should get them into the playoffs and could give the NFC South three teams in the postseason.
You couldn't judge it from the crowd because Raymond James Stadium was far from sold out again. But some people are starting to believe.
"We feel as a whole in this locker room that there's unfinished business,'' said veteran center
Jeff Faine
.
There was some evidence of that on the field as Carolina's 16 points basically represented an offensive explosion for the Panthers, fourth-string running back
Mike Goodson
rushed for 100 yards and the Bucs committed 10 penalties for 80 yards.
Keep in mind, though, Tampa Bay started seven rookies Sunday, some by choice and some because of injuries.
"We like to say it's the non-blink factor,'' Morris said. "All these guys have the ability to go out and contribute.''
The Bucs didn't do much blinking as rookie
Arrelious Benn
caught a touchdown pass for the second straight game and rookie running back
LeGarrette Blount
rushed for 91 yards and a touchdown. All that came a week after the Bucs lost an emotional and physical game to Atlanta in the final minutes.
Pretenders blink after a loss like the one in Atlanta. Contenders do what the Bucs did against the Panthers.
As they've done all season, the Bucs simply relied on second-year quarterback
Josh Freeman
and hoped a few other guys stepped up. Freeman, who seems to get better each week, turned in a nearly flawless performance. He completed 18 of 24 passes for 241 yards, two touchdowns, no interceptions and had a 134.2 passer rating. He also found tight end
Kellen Winslow
in the end zone for the first time this season.
"When we took over this program, [general manager] Mark Dominik and I sat down together and said we know it's a lot easier to win with a quarterback,'' Morris said. "It wasn't a popular decision at the time to go against our defensive town, but it's a lot more fun to win like this with a quarterback. And it's a lot easier to win when you have a quarterback of this caliber that can go out there and get the ball to all these weapons.''
There now is no doubt drafting Freeman last year was the right call. And it sure looks like the Bucs made the right calls in the offseason to set him up with a good, although extremely young, receiving corps. For the first time in franchise history, the Bucs are a team that can win with the quarterback after generations of playing great defense and asking the quarterback to be a game manager.
"I keep saying it, but it is fun to watch,'' Morris said.
Morris was talking about watching the emergence of guys like Freeman, Benn, Blount and rookie receiver
Mike Williams
. He's right. These Buccaneers could be the most exciting offense Tampa Bay has seen since the days when Steve Spurrier was calling the plays for the Bandits of the United States Football League.
It's kind of sad, though, that much of Tampa Bay isn't seeing it in person or live on television. Last year's 3-13 record, the economy and Florida's transient population often are cited as reasons the Bucs haven't had a sellout this season after selling out every previous home game since Raymond James Stadium opened in 1998.
According to the Bucs, Sunday's paid attendance was 44,264, and the game was blacked out on television in the Tampa Bay market. The sudden winning hasn't caused attendance to jump -- yet.
Intentionally or not, the Bucs might have pulled off a marketing coup last week when they announced 2011 ticket prices would either stay the same or drop (depending on the location) and offered a 10-month payment plan.
Gee, Christmas is coming and maybe more than a few stockings will be stuffed with season tickets. Much like it's easier to win with a quarterback, it's easier to sell tickets when you've got a serious playoff contender with lots of upside for the future. Even though the Bucs are probably another offseason away from having the talent to go deep in the playoffs, they should at least get there, if they just do what they're supposed to do.
"We have the skill level to get things done and take care of business,'' Faine said. "It's going to be competitive all the way down to the end.
"And it's definitely going to be a good race.''
October, 8, 2010
10/08/10
4:20
PM ET
I don't know that I've ever been happier to post an item on the NFC South Blog than this one.

Let's go ahead and declare Nov. 2 a holiday or day of celebration throughout the entire NFC South. On that day, Saint Leo University (my alma mater) will host a luncheon to announce the exhibit "Tom McEwen: A Tampa Bay Treasure.''

McEwen was the longtime sports editor and columnist for The Tampa Tribune. For those in other NFC South cities, don't stop reading because McEwen also had an impact on each of your franchises and cities.

In fact, I'm going to make a case right now that McEwen is the single most important figure in the history of the NFC South -- owners, players and coaches come and go, but Tom has been a presence through all of it. Tom came from a different era, when columnists were more like ambassadors or sports mayors of their cities. In that regard, McEwen was the king.

He was the driving force behind the effort that landed Tampa Bay an expansion team. The NFL granted the franchise to Tampa Bay before it even had an owner in place and the Bucs began play in 1976. That's when McEwen really started to develop clout with owners across the NFL and in the league office in New York.

He's a big part of the reason Tampa has become a regular Super Bowl host. McEwen also was instrumental in keeping the Bucs in Tampa Bay when they were looking for a new stadium in the mid-1990s. McEwen worked behind the scenes with NFL officials and owners to make sure the Bucs didn't leave and that resulted in the construction of Raymond James Stadium.

The greatest demonstration of the power of McEwen might have been when he helped get Lee Roy Selmon elected to the Pro Football Hall of Fame. I've been in that room on a couple of election days and I know how things work. Unless you're the prototypical first-ballot guy, your candidacy depends largely on the guy who is making your case. I wasn't in the room the day Selmon got elected, but I spent most of the rest of the day with McEwen. Other voters repeatedly came up to him and said he made the most convincing case they'd ever seen.


June, 15, 2010
6/15/10
8:00
AM ET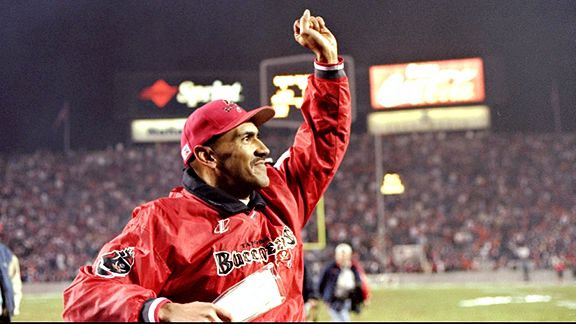 Jamie Squire/AllsportTony Dungy's influence on the Buccaneers can still be felt today -- almost nine years after he coached his final game for Tampa Bay.
In the end, I went with my gut. My heart and head, too. In the end, I went with Tony Dungy.
Yes, I'm going to go ahead and declare Dungy the greatest coach in NFC South history. (For background purposes, here's
how all this started and some of the ground rules we laid out
. And here are
some of your opinions
on the topic.)
Let me make it clear, I came real close to going with New Orleans' Sean Payton. I agonized over this one for days and I don't think going with either one would have been a wrong decision.
But I know going with Dungy is right. I looked at win-loss records, Super Bowl titles and all that stuff. But I'm not really a numbers' guy. I like to look at the big picture and have some flexibility outside the lines. That's why, even though I gave some thought to guys like Jon Gruden, John Fox, Dan Reeves, Jim Mora, John McKay and Ray Perkins (well, not really on Perkins), I knew right away they belonged a little further down my list.
This was a two-man race between Dungy and Payton. In a lot of ways, they're the same guy. Cover your eyes toward times, dates and places and Dungy and Payton did basically the same thing.
They came into franchises that were beyond destitute. They built winning teams, shaped character, pulled communities together and completely changed the way their franchises were viewed from up close and afar.
When it came right down to it, I guess the main reason I'm giving Dungy the slightest of edges over Payton might not even be fair. It's mainly because Payton is still coaching and Dungy's legacy in Tampa Bay already has plenty of angle and distance. In fact, there probably is way too much distance and angle between where the Bucs are at right now and where they were under Dungy.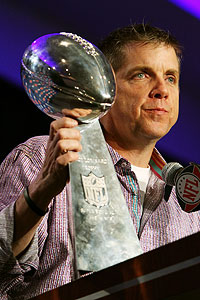 Doug Benc/Getty ImagesBy the end of his career, Sean Payton will probably top this list.
Payton probably can put himself as the undisputed winner of this argument with another Super Bowl title or even a couple more playoff years. But, for the moment at least, I'm going with Dungy.
Yeah, Dungy never won a Super Bowl until he got to Indianapolis (and that factored into my thought process). Dungy did set the table for Gruden, but he did so much more than that. He came into a franchise that hadn't had a winning season in a generation, was beyond dysfunctional and was on the verge of moving to Cleveland, Sacramento, Orlando or anywhere that would give the Bucs a new stadium.
The Bucs stayed in Tampa Bay. They started winning games with Dungy. They got a sparkling new stadium built and, for the first time in franchise history, made it fashionable for people to go to games on Sundays.
That trend has lasted and the Bucs have sold out every game since the opening of Raymond James Stadium. That streak probably is going to come to an end this season, unless Raheem Morris suddenly becomes the second coming of Dungy.
The Saints and New Orleans are as high as a franchise can be right now and fans should be grateful they're watching history in the making. That's why I'm going with Dungy because I see fans in Tampa who remember how it used to be. They remember how it was when Dungy coached the Bucs. They don't even remember what it was like before him, even though the team is playing like that again.
Beyond Dungy and Payton, my list of the greatest coaches in the history of the NFC South goes like this:
3. John Fox, Carolina Panthers.
Yep, I did it. I picked Fox over a guy who won a Super Bowl (Gruden). If I wanted a guy to come in and draw up one offensive play, it would be Gruden. If I wanted a guy to come in and provide consistent excellence for a franchise, well, let's just say I already have three guys ahead of him. I'll explain what I view as the downside of Gruden in a minute, but, first, let's talk about the virtues of Fox.
He's the only head coach who has been with a single NFC South team for the entire existence of the NFC South. If Fox could have put together back-to-back winning seasons once or twice, he might even be higher on my list. But Fox has kept the Panthers at least respectable for the entire time he's been in Carolina and that's a pretty big accomplishment these days. Fox cleaned up George Seifert's 1-15 mess and had Carolina in a Super Bowl two seasons later. When Fox is at the top of his game, he's as good as any coach in the league.
4. Jim Mora, New Orleans Saints.
I'm doing it again. I'm looking at the big picture. Remember what I said about Dungy and Payton about how they changed the climate of their franchises? Well, Mora did the same thing in New Orleans in the 1980s. He came out of the United States Football League and made the Saints respectable -- something they never had been before.
5. Jon Gruden, Tampa Bay Buccaneers.
All right, Gruden won a Super Bowl and you can never take that away from him. He put Tampa Bay over the top after Dungy couldn't. He won a Super Bowl with
Brad Johnson
as his quarterback and no true superstars on offense. I'm not going to say Dungy or defensive coordinator Monte Kiffin deserve the credit for that Super Bowl. Gruden deserves the credit. But what did Gruden really do beyond that? He was supposed to be an offensive guru, but he never could find a franchise quarterback or anyone to truly build his offense around. General manager Bruce Allen made some questionable personnel moves, but Gruden was heavily involved in each one. In the big picture, Gruden deserves credit for the Bucs winning the Super Bowl. He also deserves credit for them being where they are right now.
6. Dan Reeves, Atlanta Falcons.
There was a part of me that wanted to put Reeves ahead of Gruden for this simple fact: He reached a Super Bowl with
Chris Chandler
as his quarterback. What Reeves and the Falcons did in the 1998 season came before the official birth of the NFC South, but they won 14 games and were spectacular. If Reeves could have followed up that season with something better than the 5-11 and 4-12 years that followed, he might have been much higher on this list.
August, 5, 2009
8/05/09
12:32
PM ET
| | |
| --- | --- |
| | |
| | ESPN.com Illustration |
| | Who's not in the Hall of Fame who should be? ESPN.com's panel makes the case for Dermontti Dawson, Cris Carter, Doug Flutie and Rickey Jackson in future classes. |
Posted by ESPN.com's Pat Yasinskas
The Pro Football Hall of Fame will induct another class Saturday. It will not include Rickey Jackson, Dermontti Dawson, Cris Carter and Doug Flutie.
2009 Hall of Fame Induction Coverage
Saturday in Canton, Ohio, six men will be hailed as the latest members of the Pro Football Hall of Fame. Bruce Smith, Rod Woodson, Ralph Wilson, Randall McDaniel, and posthumous honorees Derrick Thomas and Bob Hayes form the Class of 2009. The ceremonies will air live, beginning at 7 p.m. ET, on ESPN and ESPNHD. Follow ESPN.com's coverage.

• Our future HOF nominees: Story | Podcast


• Chat: Hall of Fame inductee Rod Woodson
• Chat: Hall of Famer Warren Moon
• Wickersham: Wilson valued for impact
• Scouts Inc.: Top 5 CBs in the NFL today


• Walker: Is Rod Woodson the best CB ever?
• Graham: Bruce Smith, Sackmaster
• Blogs: More Hall of Fame coverage

But future classes should.
At least that's the argument our four-man panel (Jeremy Green, Matt Williamson -- each from Scouts Inc. -- Football Today producer Jay Soderberg and myself) makes in this edition of Double Coverage. In this series, we usually debate matters. But we're not going to debate this time. We each make our cases and we're going to make them passionately.
That's because each of us reacted strongly when we were asked to nominate a player who is not in the Hall of Fame but deserves to be. As the NFC South blogger, I instantly threw out Jackson's name because Saints fans have been hitting me with pleas for his case since I've taken this job. I know Green spent a large chunk of his life in Minnesota around Carter and he took all of about three seconds to nominate him.
Williamson was so eager to make his case for Dawson that he sent me his argument the day we were assigned this project two weeks ago. Soderberg owns up to the fact he's a Patriots fan, but claims that's not the only reason he thinks Flutie has been shorted.
Enough with the introduction. Listen to the discussion by clicking here

, and read the presentations below.
RICKEY JACKSON (by Pat Yasinskas)
I started off this project knowing Jackson was a darn good player. I got hit with statistics and passion when I asked Saints' fans for input. But I didn't want to rely just on my own recollections of Jackson's playing career, the numbers or folks who might be biased.
| | |
| --- | --- |
| | |
| Peter Brouillet/NFL | |
| Rickey Jackson piled up some impressive numbers: six Pro Bowl selections and 136 sacks. | |
I wanted to hear from someone up close why Jackson belongs in the Hall of Fame. That's why I turned to the trusted veteran eyes of Carolina Panthers assistant head coach Jim Skipper. He was a New Orleans assistant coach during Jackson's time with the Saints. He saw him in games, in practice and in the locker room.
"The City Champ belongs in the Hall of Fame, no doubt," Skipper said. "He was as good as anyone who's in there. ... He's the guy who made the Dome Patrol (which also featured linebackers Sam Mills,Pat Swilling and Vaughn Johnson) go and some people say they were the best group of linebackers ever. It all started with him. You want to talk about tough? Rickey was so tough, he once got into a car accident and broke his jaw. He still went out and played in that game."
How do you top that?
You don't. You just throw in the numbers -- six Pro Bowl selections and 136 sacks. You can point to the fact that New Orleans is a small market. But Jackson moved onto San Francisco near the end of his career and got a Super Bowl ring. The only thing he's missing is a spot in the Hall of Fame. It's long overdue.
DERMONTTI DAWSON (by Matt Williamson)
I fully understand that the position of center, and the offensive line in general, is not
a glamour position. Arguing for or against such players as potential Hall of Famers is a very difficult chore. But Dawson deserves enshrinement.
A 10-year starter, Dawson followed Mike Webster, one of only six centers in the Hall of Fame, to establish a legacy at the position like none other in the history of the game. During that stretch, Dawson started 171 straight games, went to seven Pro Bowls, was All Pro six times and was selected to the 1990s All-Decade Team. He started 13 playoff games, three AFC Championships and Super Bowl XXX. In comparison, Hall of Fame center Dwight Stephenson played in just 114 games with five Pro Bowls and four All-Pro selections.
Dawson's statistics are surely impressive, but his scouting report is even more extraordinary. In protection, bull rushing him was nearly an impossible chore, as he pass-blocked with tremendous leverage and technique. The ultra-quick upfield defensive tackles rarely beat Dawson. He routinely snapped the ball, pulled with his great athleticism and led an outside run with precision and grace. He also was able to quickly get into a defensive tackle who was lined up over the guard and neutralize that defender's charge while his teammate acted as a pulling guard. You just don't find centers who do that.
Dawson did it all as well as anyone who has ever played the position and he did it with consistency, longevity and class. It is a crime that he has yet to be inducted into the hallowed Hall of Fame.
CRIS CARTER (by Jeremy Green)
One of the biggest oversights in Hall of Fame voting history is former Minnesota Vikings wide receiver and current ESPN analyst Cris Carter.
| | |
| --- | --- |
| | |
| | US Presswire |
| | Cris Carter is third on the all-time receptions list with 1,101 catches. |
If there is ever a player who should be a first-ballot Hall of Famer, it's Carter [who became eligible in 2008). He is arguably the second-best wide receiver to ever play the game behind only one man: Jerry Rice, who has yet to become eligible for the Hall of Fame ballot.
Despite not having blazing speed, Carter adapted into a big-time playmaker in Minnesota. He could play the X and Y positions. He was unbelievable in the slot in the Vikings' 3-deep wide receiver concept during the Dennis Green era [Editor's note: Dennis Green is Jeremy Green's father]. Carter is the second- best route-runner I've ever seen, ranking behind only Rice. I had the pleasure to watch both in numerous practice sessions and live games from both field and coaching box levels.
The numbers do not lie when it comes to Carter. He is third on the all-time receptions list with 1,101, trailing only Rice (1,549) and Marvin Harrison (1,102). Despite playing the majority of his career opposite another receiver who will be in the Hall of Fame in Randy Moss (13,201 career receiving yards), Carter currently ranks seventh on that all-time list with 13,899 yards. Carter is fourth on the all-time touchdown reception list, trailing only Rice (208), Terrell Owens (141) and Moss (136), with 131 receiving touchdowns.
The statistics were there for Carter to be a first-ballot HOF candidate. What I think is almost as important: Carter is a man who changed his life. After battling both alcohol and drug use in his early years with the Philadelphia Eagles and being released, the Vikings were one of the few teams willing to take a chance on him. They picked him up for a $100 waiver claim and Carter rewarded them by changing his life and blossoming. In my mind, he's second-best receiver to play the game.
DOUG FLUTIE (by Jay Soderberg)
We probably should start by saying that my bias for New England Patriots players is well documented, but that is not what has led me to the belief that Doug Flutie belongs in the Pro Football Hall of Fame. What has led me to this conclusion is the name of the shrine in Canton itself: PRO FOOTBALL Hall of Fame, and Doug Flutie was one of the greatest quarterbacks ever in the Canadian Football League.
Flutie, who retired from the NFL in 2006, does not become eligible for Hall Of Fame consideration until 2011. But he's got plenty of ammunition, in my opinion.
His career stats in Canada alone are worth noting: 61.4 completion percentage, 41,355 total passing yards, 270 passing touchdowns and only 155 picks in a pass-oriented league. He was the first quarterback to pass for more than 6,000 yards in a season; he did it twice and came close a third time. He won three Grey Cup championships, and was named the CFL's Most Outstanding Player a record six times.
Flutie was never given a real chance to be a starter in the NFL, whether battling the issue of his height (he's listed as standing 5 feet, 10 inches), battling for a job as a backup (with Rob Johnson in Buffalo, Drew Brees in San Diego), or being labeled a "scab" for crossing the picket lines early in his NFL career with the Patriots. Combine the stats from all three professional leagues he played in (he played one year in the USFL for Donald Trump's New Jersey Generals) and his numbers -- 58,179 total passing yards, 369 passing touchdowns, 6,759 rushing yards and another 82 rushing touchdowns -- are definitely worthy of consideration. Don't forget his numerous, memorable fourth-quarter comebacks.
Just for kicks, let's add that he was the last player to drop-kick an extra point during an NFL game.

Listen to the podcast

for more on our nominees and join the discussion below.
January, 10, 2009
1/10/09
12:47
PM ET
Posted by ESPN.com's Pat Yasinskas
CHARLOTTE, N.C. -- A few random thoughts to help get through the long wait before tonight's game between the Cardinals and Panthers.
We've written tons about Carolina's "Double Trouble" backfield already, but here's a stat I hadn't seen before. According to the Elias Sports Bureau, the Panthers had the league's highest rushing average on sweeps and pitchouts this season. The Panthers averaged 5.3 yards per carry on those plays, gaining 433 yards and three touchdowns.
Here's another stat on "Double Trouble" that's been written before, but numerous readers have asked me to write it again, so I will. DeAngelo Williams has not fumbled this season.
Great column by friend and former co-worker Tom Sorensen in this morning's Charlotte Observer about the legacy of former Carolina linebacker and assistant coach Sam Mills. Sorensen starts off with some great anecdotes from Carolina equipment manager Jackie Miles, who first got to know Mills when they were with the Philadelphia Stars of the United States Football League. Reading that reminded me of one of the most memorable interviews I've had in this business. About a month before Mills died of cancer, I sat down with him and Miles for a talk about the USFL for a freelance story I was writing. That's a memory I'll always treasure and every time I go to Miles' restaurant in South Carolina, I go look at the framed copy of the story he has on the wall and remember Mills very fondly.
There's been a lot of talk about the weather perhaps impacting tonight's game. You wouldn't anticipate any problems if you were in Charlotte right now. It was a beautiful, sunny morning. It has clouding up a bit now, but it's still nice and the temperature is in the upper 50s. But the forecast still doesn't look good. A steady rain is supposed to start late this afternoon or early this evening.

NFC SOUTH SCOREBOARD
Friday, 8/22
Saturday, 8/23