NFC South:

University of Miami
February, 5, 2010
2/05/10
12:45
PM ET
MIAMI -- Thought you might enjoy a little behind-the-scenes atmosphere from the Super Bowl.

Although much of the hoopla, including the Colts' team hotel and NFL headquarters, is in Fort Lauderdale, the Saints are staying in Miami. They're staying at a downtown Miami hotel and working out at the University of Miami.

The media is not allowed to stay at the Saints' hotel. Neither are the families of the players. I'm about a mile up the road from their hotel and, by coincidence, this is the same hotel where the Saints' families are staying. I believe they arrived last night, but I just took a walk down to the gift shop to get some cough medicine and it was real easy to pick out the families of the Saints.

They're the ones all dressed up in the high-quality Saints memorabilia. Several families were at the Super Bowl souvenir stand in the lobby and I'm almost certain I saw the parents of rookie punter Thomas Morstead -- at least they were the same people I saw hugging him in a Superdome hallway moments after the NFC Championship Game.
February, 3, 2010
2/03/10
1:39
PM ET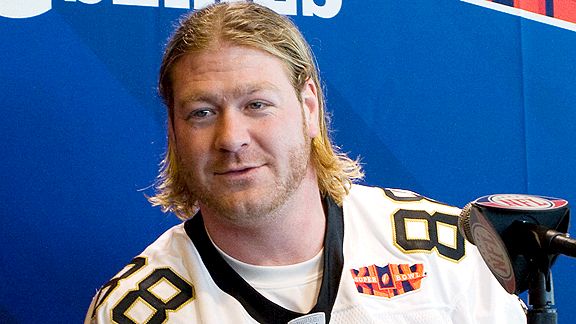 Curt Johnson/ESPN.comJeremy Shockey revealed at Super Bowl media day that he'd warned his Saints teammates about Miami's temptations.
MIAMI -- He strolled in to Wednesday's media session about 20 minutes late and offered no real explanation. But
Jeremy Shockey
offered just about everything else.
The New Orleans tight end, spoke for a good 20 minutes and didn't hold much back. For the next 15 minutes, Shockey covered ground from Miami to New York to New Orleans. Never known for being a team leader, Shockey revealed that he has talked to the Saints about the temptations of Miami.
"Having lived here, I've done every temptation there is in the offseason,'' Shockey said. "I was telling all the guys on the team, you're going to be invited to every party. You're going to be approached by every girl. You're going to have movie-star status. Just resist that for one week and, then, we'll come back and I'll pay for everyone's plane ticket and I will show you around Miami, the local style.''
Shockey also talked a lot about his days at the University of Miami and especially about his relationship with New Orleans linebacker
Jonathan Vilma
, who was Shockey's teammate with the Hurricanes. They both went to New York -- Shockey to the Giants and Vilma to the Jets -- before being traded separately to the Saints before the 2008 season.
"He got drafted to New York and I got drafted by a New York team,'' Shockey said. "We've never really been far away from each other. He got traded here and then my trade went down and I was just ecstatic to be back with him. Seeing him play in New York and how he got treated in New York wasn't right. He proved to his team that they made a bad decision in getting rid of him. He's had a great year. Our friendship is strong and it will remain strong for a long time.''
Shockey also answered a lot of questions about his previous Super Bowl, which wasn't super for him. He had a broken leg and couldn't play and there was controversy that the Giants might have been better off without him. You've heard Shockey's side of the story many times before so we won't rehash that, but he was emphatic that he was happy his teammates won the Super Bowl.
"I wasn't forced out of New York,'' Shockey said. "It was more of an option than anything. It was just my time to leave. No matter what happened when I came back, even if I had my best season ever, it would be a distraction just because of the stories that were written before the Super Bowl.''
Shockey, who has said before he's been fined by coach Sean Payton for talking about injuries, wouldn't talk much about the knee problem that's been hampering him for several weeks.
"I'm doing good,'' Shockey said.
Then, he suddenly turned it all off.
"That's it,'' Shockey said. "I've got to go catch a bus [to practice], fellas.''
February, 1, 2010
2/01/10
7:14
PM ET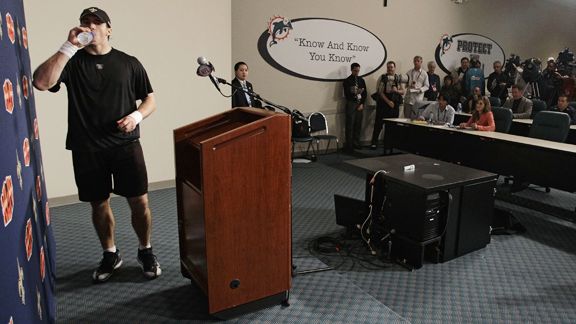 AP Photo/Mark HumphreyOn Monday in the Dolphins' media room, Drew Brees reflected on how he almost signed with Miami in 2006.
DAVIE, Fla. --
Drew Brees
stood under a
Miami Dolphins
logo Monday and talked about playing in the Super Bowl.
Funny, but that's exactly how it was supposed to be just about four years ago. It's funny, but just about everything about Brees and Super Bowl XLIV is soaked in irony several times over.
It was totally by accident that Brees wound up talking in the auditorium at the Dolphins' practice facility Monday evening. The Saints arrived at Miami International Airport near noontime and were supposed to have a practice at the University of Miami.
But heavy rains ruined that and left the league and the Saints scrambling for alternatives. They wound up calling on the Dolphins, who have a practice bubble at their complex.
"That bubble wasn't here when I was here, but everything else brought back memories of that free agency period and 2006,'' Brees said.
Brees almost landed with the Dolphins, instead of the Saints. History might have been altered on many levels when Brees made that decision back in 2006. Had it gone the other way, maybe Nick Saban still would be coaching the Dolphins, maybe the Saints still would have
Aaron Brooks
and a losing record and nothing else going for them.
Truth be told, the Dolphins were very much in the mix for Brees when he was a free agent coming out of San Diego. The Chargers had turned Brees loose because he had surgery on his throwing shoulder and they already had
Philip Rivers
waiting to take over.
There's a story that's been told for years about how Saban called Brees at 12:01 a.m. on the day free agency started. Turns out that's not true.
"He probably called me before that,'' Brees said with a laugh.
Saban's free and clear from a rules violation because he's back coaching in college after a disappointing tenure with the Dolphins.
It's almost laughable now, but the Dolphins and the Saints really were the only teams showing any interest in Brees back then. Brees has talked before about how the Dolphins told him their medical personnel thought there was only a 25-percent chance of his shoulder being healthy enough to play in the NFL again.
He didn't go through that story on Monday and had nothing but nice things to say about the Dolphins, in addition to the Saints.
"I have great respect for both organizations,'' Brees said. "In the end, I felt New Orleans was my calling, not only to play football but to help that whole region rebuild. It goes way beyond football.''
February, 1, 2010
2/01/10
11:56
AM ET
MIAMI -- The charter flight carrying the
New Orleans Saints
should be arriving at Miami International Airport right about now.
The Saints are going to get checked into their hotel. Then, they're scheduled to have a light workout followed by media availability at the University of Miami at about 3:45 p.m. ET. I'll be heading down to Coral Gables in a bit and will bring you whatever comes out of the media session.